Armchairs. Aren't they comfy?! Another great thing about armchairs–they don't take up too much space! While some people may be hesitant to purchase a long sofa in a bold hue or cutting edge design, many are more than willing to buy an armchair with a distinct look. Why not add a vivid pop of color with an armchair in fire red? Or make a statement with a contemporary tufted piece? You will find these styles and more in the images below.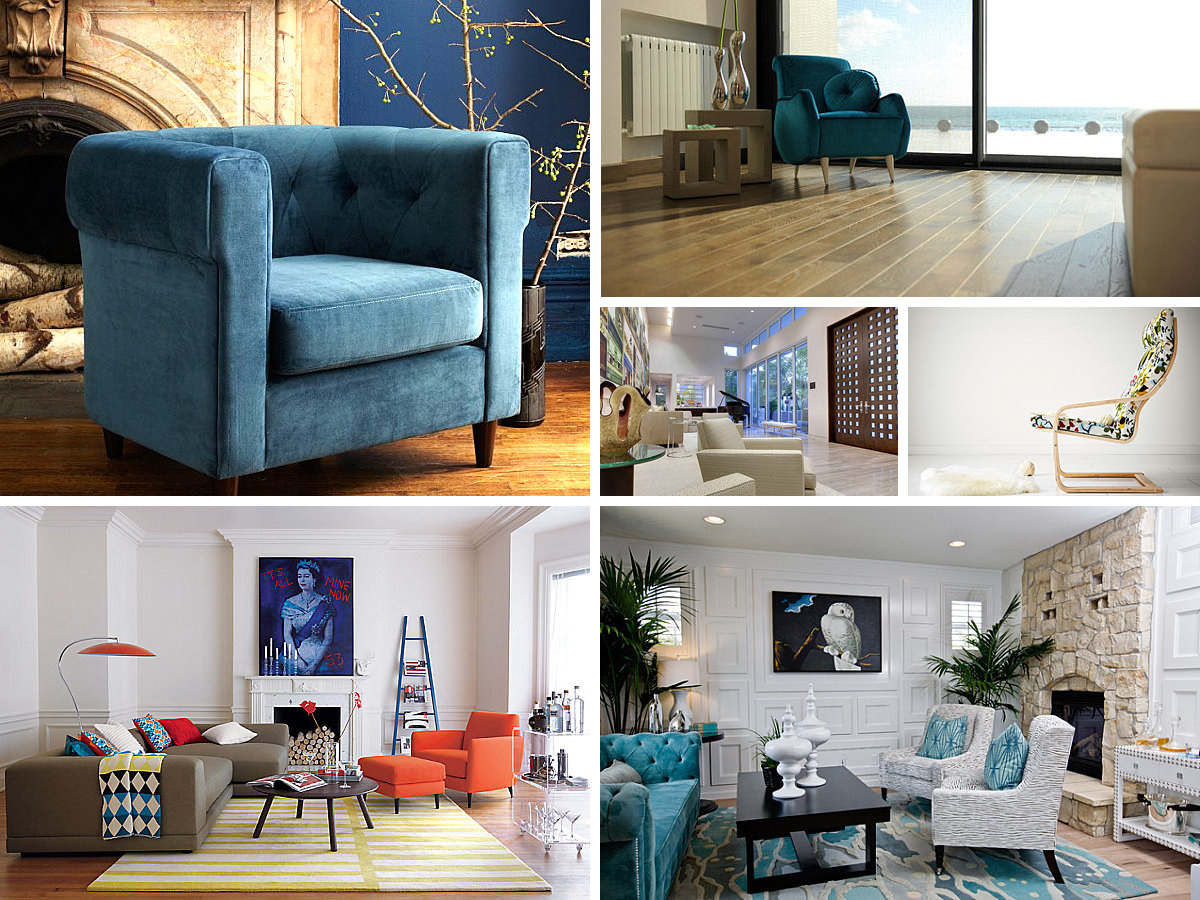 As you browse today's armchair roundup, don't forget to consider the true purpose of the furnishing at hand. An armchair can be as cute as a button, but if it's not comfortable, it's not worth the money. Will you be using the chair as a reading spot? Perhaps it should have arms that you can use for propping an elbow. Do you want to curl up and take a nap in your armchair? It had better be roomy! Check out the selections below:
Armchairs in Solid Colors
An armchair in a solid hue can blend nicely with other patterned furniture. Not to mention, you can use it strategically, as shown in the image below. The silvery green shade of this Tulip Upholstered Chair from West Elm acts as a neutral against bright wall colors. A great way to add color without overpowering a room! Not to mention, the chair's curved, elegant form is compatible with the most glamorous of interiors: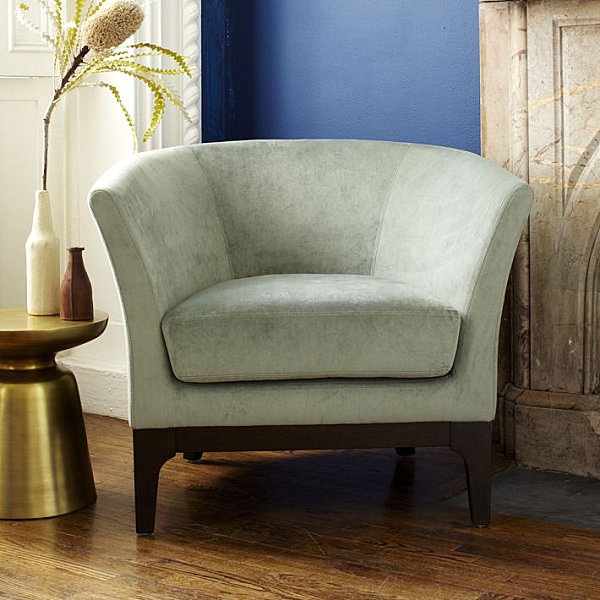 The bold color of the parlour atomic orange chair from CB2 is perfect for a room that celebrates vibrant design. Or it can serve as that one bright spot in an otherwise-neutral space. Inspired by Danish design, this piece is a true standout: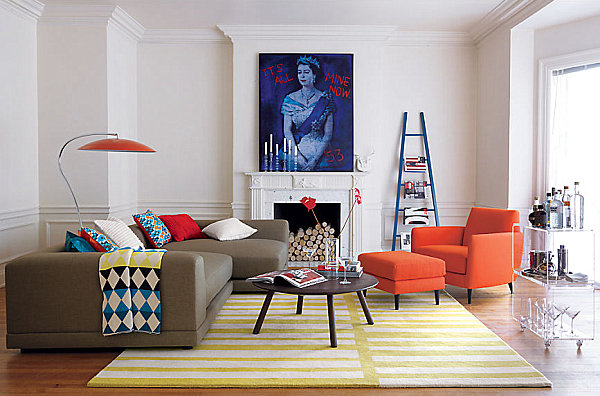 You don't have to be fiery to be bold! A sleek blue hue can be just as powerful, as shown below with this modern chair in an equally modern space. [from Utopia Lifestyle]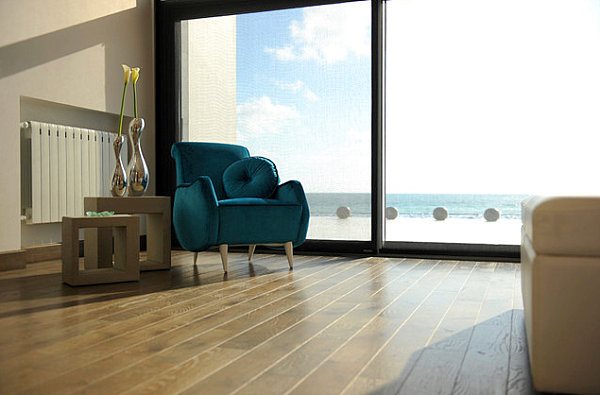 The deconstructed look is in! Is the Deconstructed Shelter Arm Chair from Restoration Hardware a chair or an art piece! We think it's both. Inspired by 19th-century wing chairs, this piece definitely has a modern twist. The distressed walnut frame makes us wonder… Is this the new shabby chic?!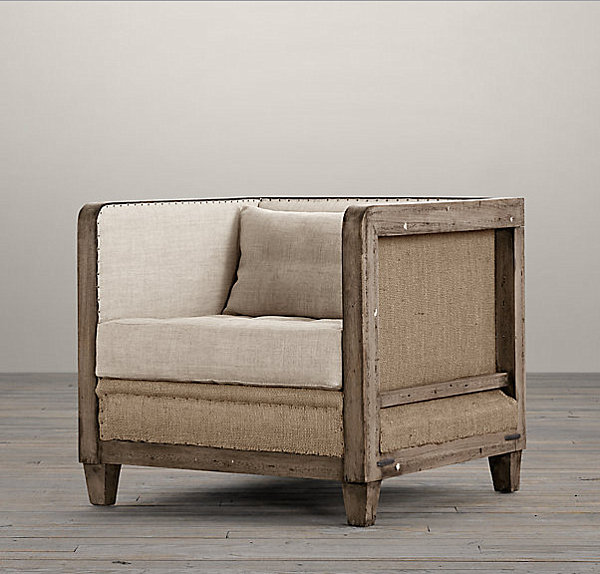 Don't forget that many vintage pieces can bring armchair style to your interior! Like this Peacock Blue Mid-Century Modern Armchair from Etsy shop Restyled by Valerie. This reupholstered piece features angled wooden legs that pop against the deep blue of the chair.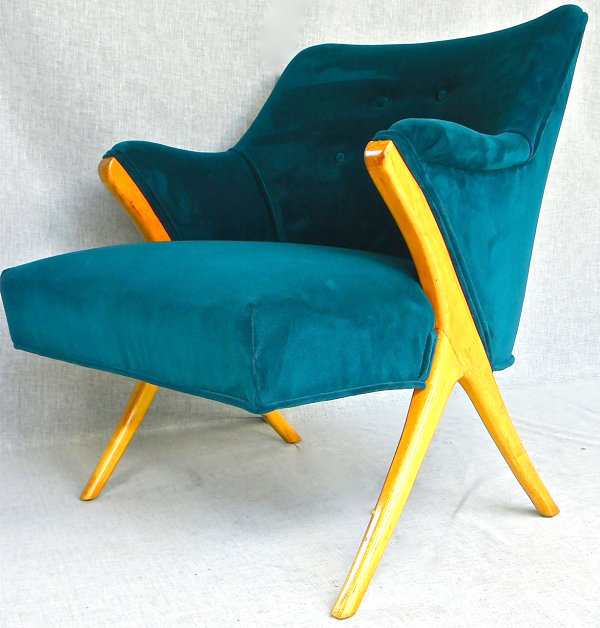 Speaking of standout legs, the Boston Armchair by Cressina features a stainless steel sleigh base that serves as a shiny contrast to the piece's fluffy down cushions: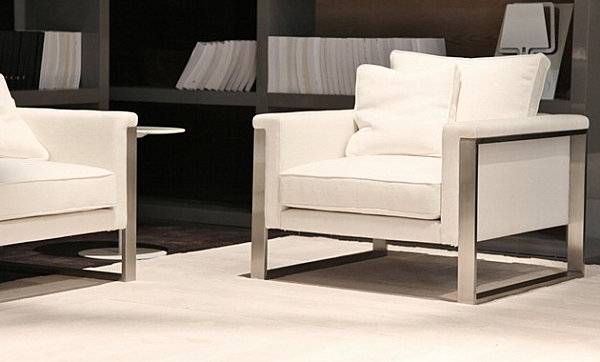 If you like metal construction but want to add some cushioning, go with padded arms, as shown with the clean-lined pieces below. [from Nicole Hollis]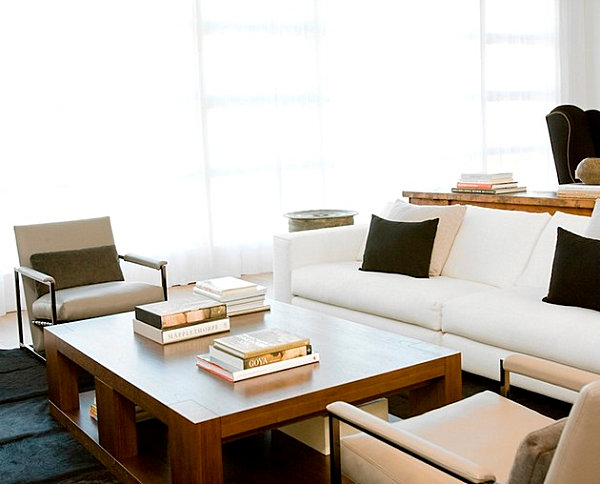 Two-Toned Armchairs
Selecting a chair in two tones is a great way to create contrast within one piece of furniture. And who doesn't love the complimentary color combination of blue and orange? The club chair with piping from CB2 displays a striking match-up of light blue and fiery orange. Powerful, yet not too powerful at the same time!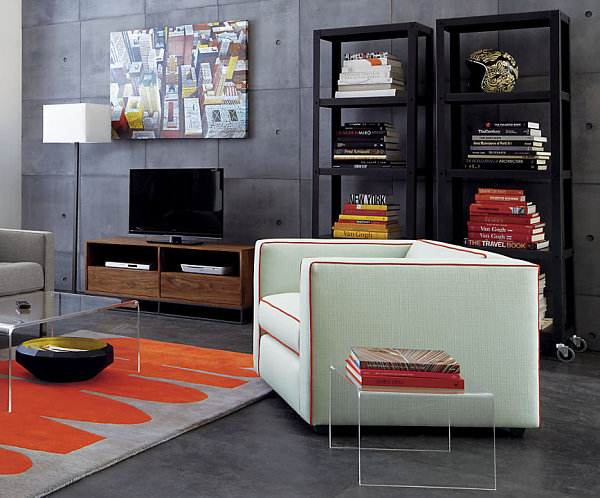 For a similar look, check out the club 2-tone chair. Instead of creating contrast between upholstery fabric and piping, this piece juxtaposes a linen look with a chartreuse seat cushion. [from CB2]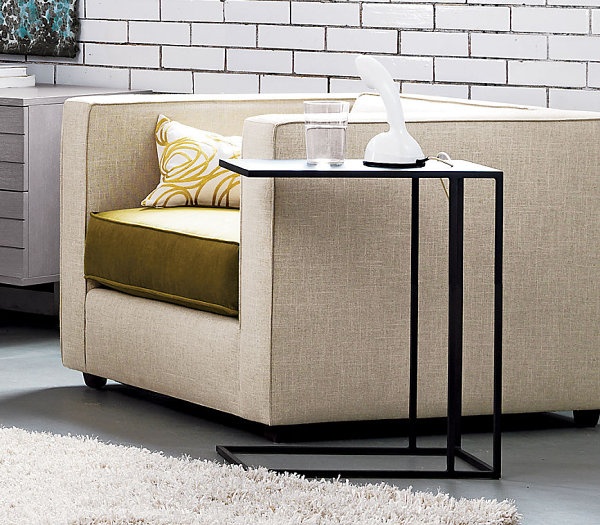 Nail head trim is another wonderful way to add two-tone style, especially if the fabric is a darker shade such as aubergine. Below we see the Pierre Chair from Z Gallerie, complete with silver trim: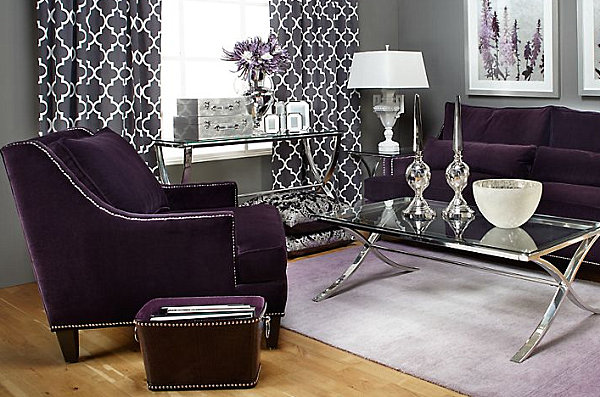 Or create a two-tone look with a wooden frame! In the next image, we see two contemporary armchairs that catch the eye with dark wooden cutout frames and hot orange cushions. [from Causa Design]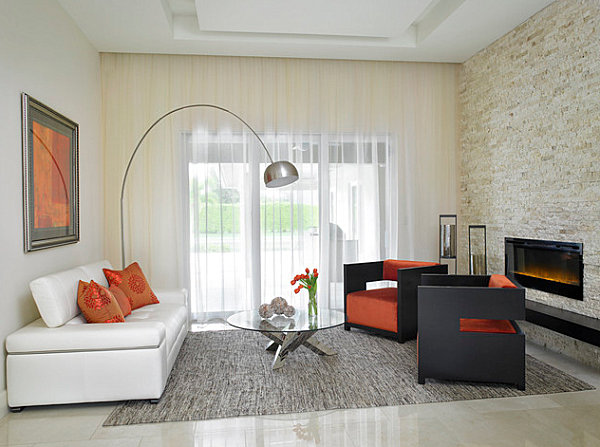 Sometimes two-tone style can be conveyed with something as simple as a small cushion. Below we see deep brown chairs and mustard yellow pillows in a contemporary space. [from Cynthia Lynn Photography]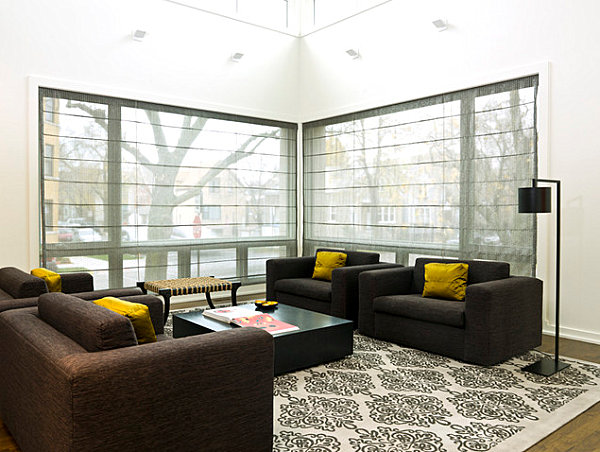 Tufted Armchairs
It's all about the tufts! Tufted armchairs are undeniably glamorous, yet don't assume that every tufted piece is a traditional one. Below we see the Soho Tufted Upholstered Chair from Restoration Hardware. The piece boasts a plush look, yet an abundance of tufts and a contemporary form definitely defy expectation!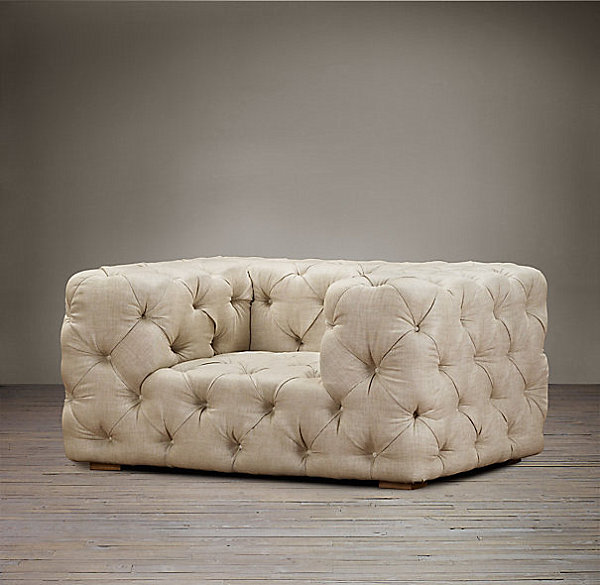 The Elton Chair from West Elm confines the tufting to the seat back. High arms make reading a joy, and chocolate-stained wooden legs provide contrast: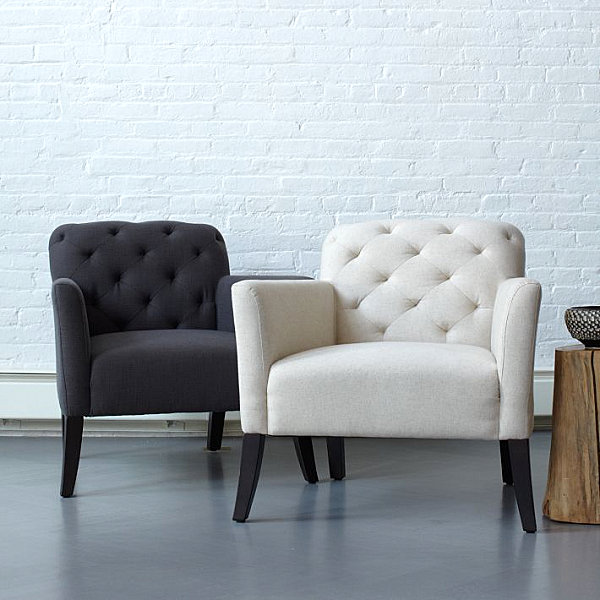 We're crazy about the Chester Tufted Upholstered Chair, unforgettable with its deep seat and squared arms. Why not put this midnight blue chair in a midnight blue room, as shown below?! [from West Elm]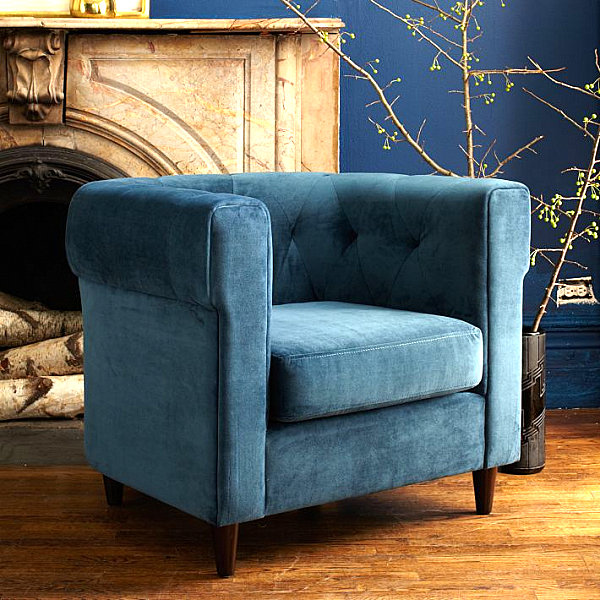 Do want your armchair to be part of a set? Check out the Domino Chair from Z Gallerie, complete with bonded leather, padded arms and subtle tufting: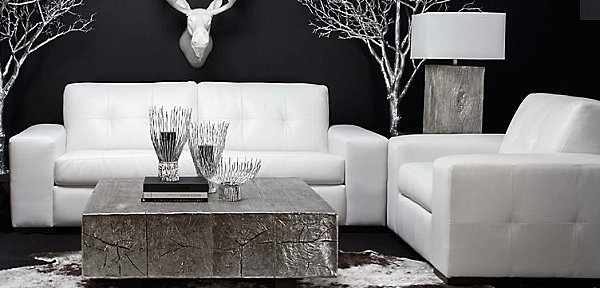 Patterned Armchairs
Sometimes you've gotta have a pattern! And an armchair is a great way to introduce a print into the room. Below we see the Everett Striped Chair, inspired by Mid-Century design. The irregularity of the striping is one of the chair's best features, don't you think?! [from West Elm]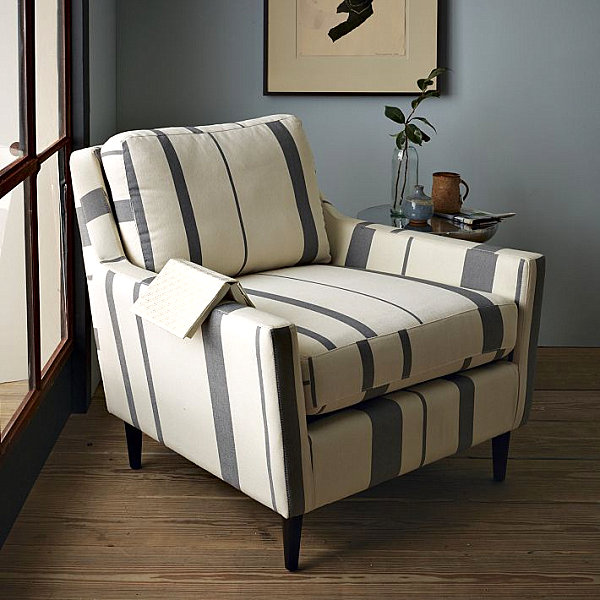 Subtle patterning can create a neutral effect that is perfect for spaces that feature other bold statements, as shown in this next modern foyer. [from Phil Kean Designs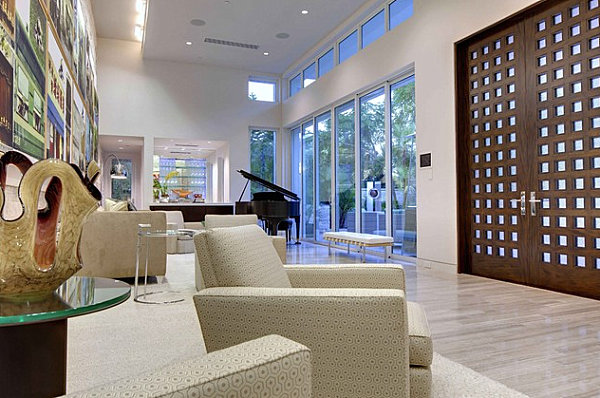 If patterns are different sizes, they can complement rather than fight one another. In the room below, a large rug with a bold pattern anchors a space that features upholstered chairs in white and gray. With their wavy lines, the chairs manage to be soothing, blending well with the blue print of the pillows. [from Lulu Designs]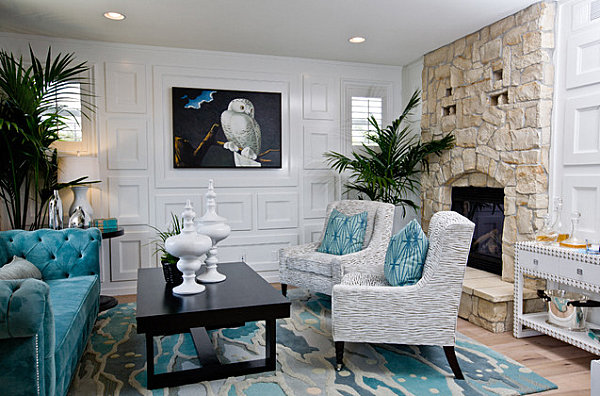 Don't be afraid of rich tones! The patterned armchairs below boast shades like chocolate, burgundy and gold, serving as ideal tie-in pieces and focal points of the room. [photo by Eric Freedman via Maxey Hayse]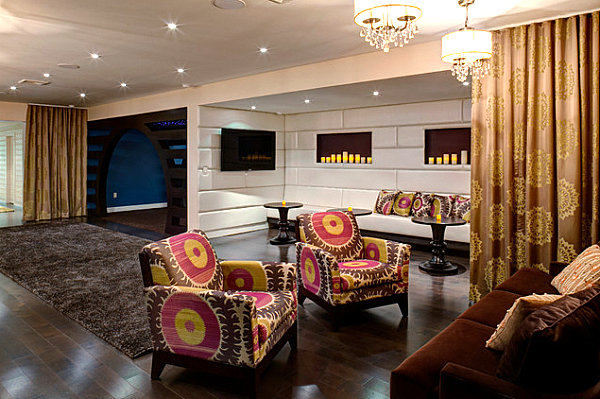 For an unconventional twist on the armchair, check out the POÄNG chair from IKEA. A bentwood birch frame keeps this chair compact, making it perfect for small spaces. Not to mention, the patterned fabric helps create a truly modern statement.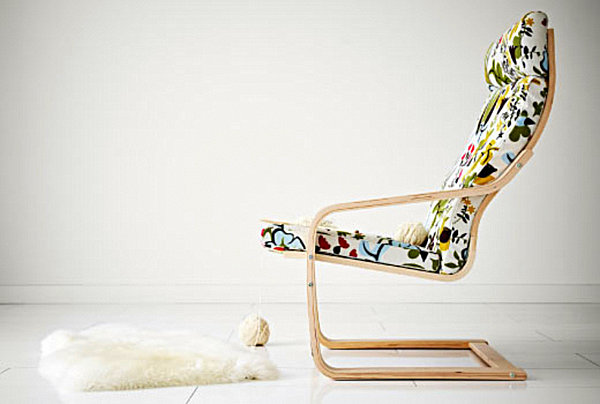 Which armchairs are your favorites? Do you prefer patterns or solids? Are you a fan of tufting? Share your thoughts by leaving a comment below…