If you've decked the halls but are still looking for a few finishing touches, you'll love today's post on DIY Christmas garlands! You may be surprised by how easy it is to add some festivity to your space. In fact, if you find yourself asking, "What else does the room need?," consider that a garland may be your decorating solution!
Some of the DIY garland projects below can be created with a few simple supplies, such as paper, a needle and thread. Others are a bit more involved, but well worth the time and effort. After all, investing some patience and imagination this season can bring you holiday joy for seasons to come! Hang these garlands, drape them, or wrap them around the tree. Most importantly, enjoy the results of your DIY determination!
Paper Garlands
We begin with a series of paper garlands that use simple supplies to create magnificent results. The Christmas paper bauble garland below is crafted of paper, string and glue. A circle punch makes shaping the dots easy and fun. To find out how to connect them, check out the full tutorial at Kidspot.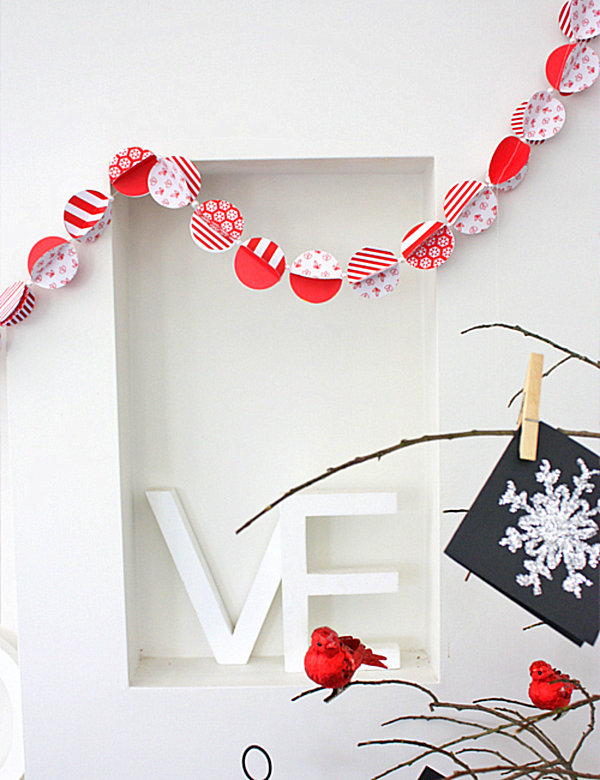 You can do wonders with paper strips! Inspired by a tutorial from The Cheese Thief, this woven paper ball garland is crafted of paper, tape and string. Check out How About Orange for details on how to create the charming 3-D balls you see in the next image.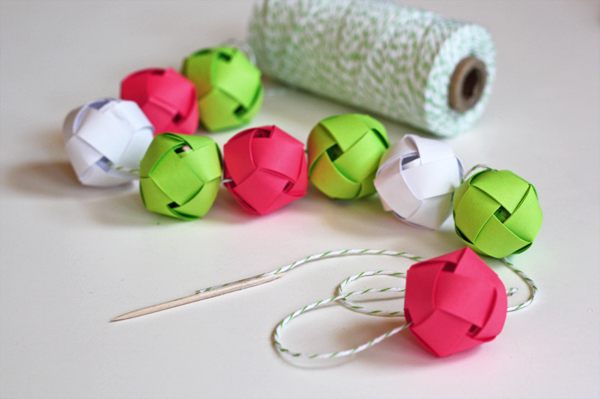 Paper snowflakes are magical! But you don't have to cut these out by hand… The paper snowflake mini-garland DIY project is designed by Evita of Le Papillon Vert. Using heavy paper, thread and a snowflake punch, this project is a snap! Visit Design Sponge for the full tutorial…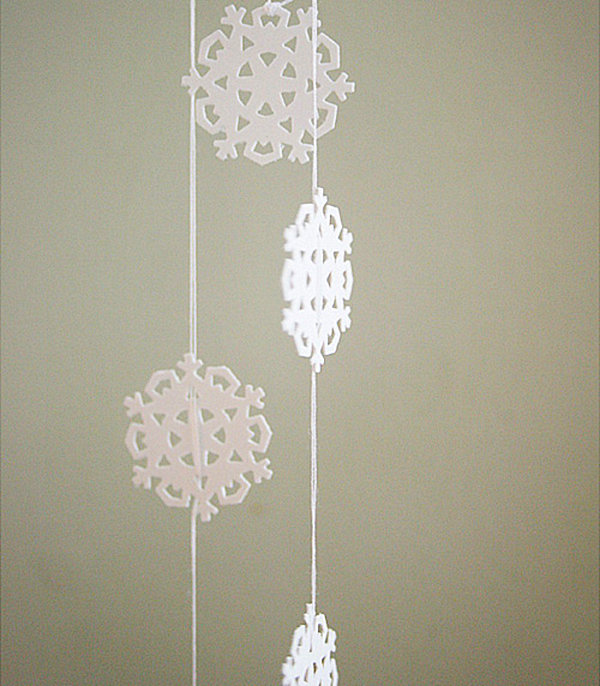 From snowflakes to lacy paper chains… Our next DIY project comes from Kjerstis Lykke via To Be Charmed. As you can see, a paper punch is once again utilized, this time to create long strips that take the classic paper chain concept to an intricate new level: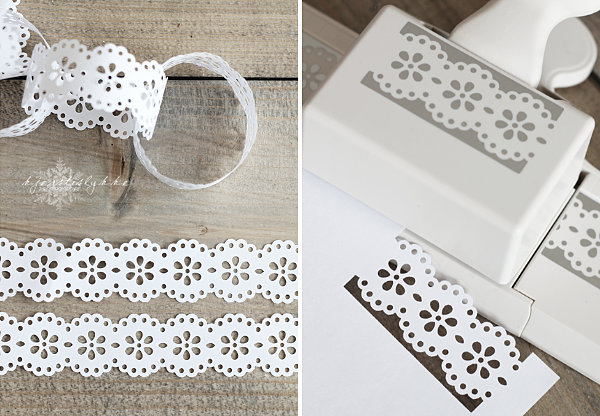 Nature-Inspired Garlands
Why not let nature be your inspiration? The DIY garland below makes use of acorns that are decorated with craft paint. Add a little hot glue and twine, and you have a garland that can stay up from Thanksgiving until the new year. Check out the full tutorial at Julep.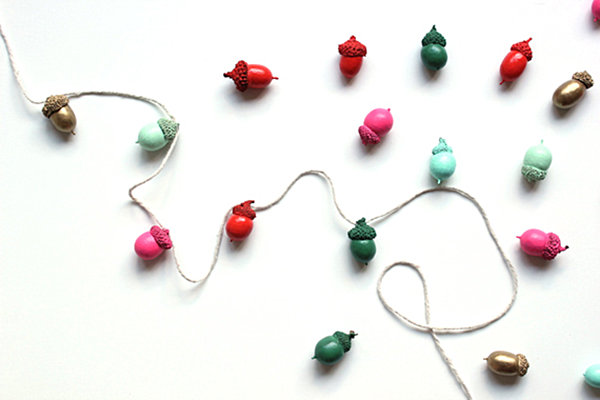 For another DIY project that you can make by gathering items from the backyard, take a look at the pine cone flower garland. Pine cones, felt, beads, paint and a few other simple supplies combine to create an earthy garland with an enchanting look. Thank you, Two Shades of Pink, for your clever tutorial!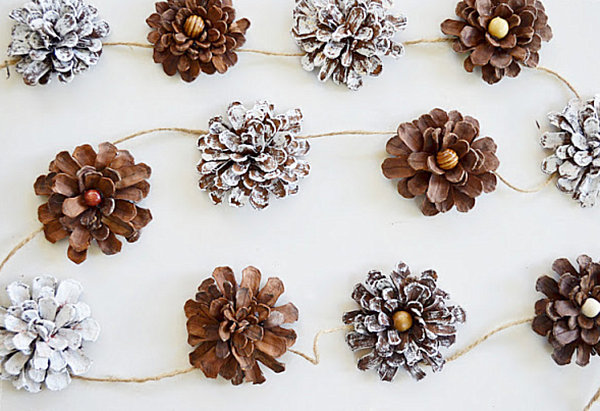 Our next featured garland blends pearls and glitter ribbon with the help of head pins. The best part: the finished product can be added to a garland of greenery for a shimmering display that celebrates the magic of the holiday. A full tutorial can be found at Love Maegan.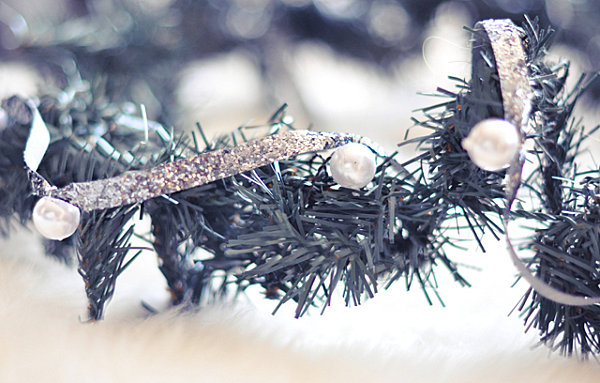 Christmas Garlands Made From Assorted Craft Supplies
Our final batch of garlands are fashioned from a range of craft supplies, from Christmas bows to decorative tape! The DIY pom pom garland below is whimsically colorful, and it's easy to create with pom poms, a needle and twine. The full tutorial at Oh So Pretty proves that keeping it simple can be the answer to your holiday decor dilemma!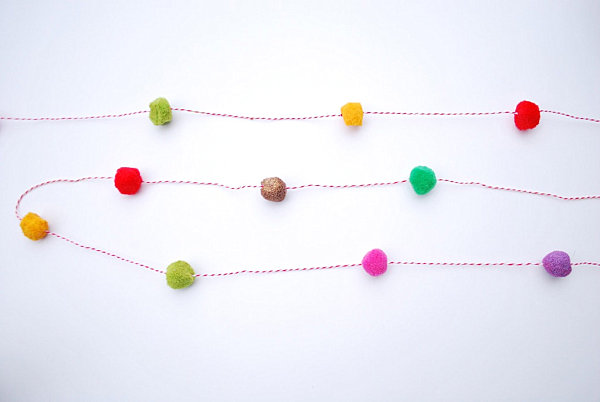 The next featured Christmas garland combines the look of strung berries with the style of flag pennants! All you need are styrofoam balls, masking tape, a needle, thread and scissors. Check out Funkytime for the how-to: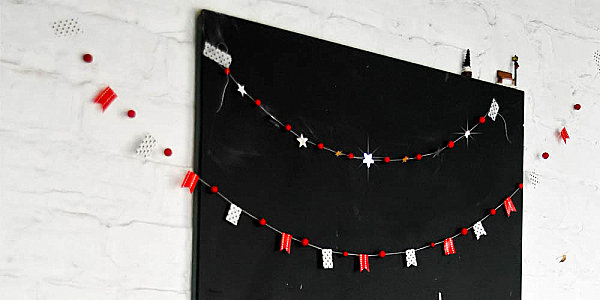 With the allure of peppermint candy, the twisted felt garland below looks good enough to eat! You'll be surprised that this stunning DIY project requires very little sewing and is easier than it looks! Visit The Purl Bee for details…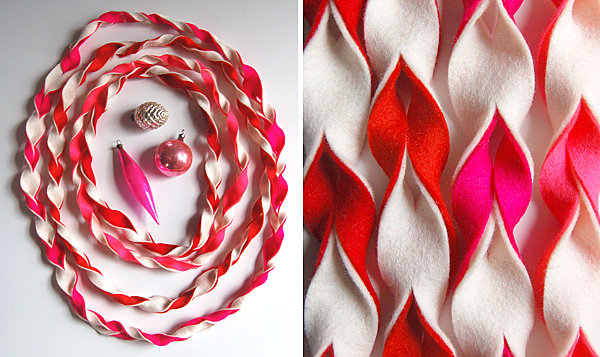 Lights–check! Gift bows–check! And there you have a creative Christmas decoration! The DIY Christmas bow string lights in the next featured image make use of LED lights, because they take longer to heat up. And that's important when they are resting in a bouquet of ribbon! As stated in the tutorial at Studio DIY, do not leave this string of lights unattended for long periods of time: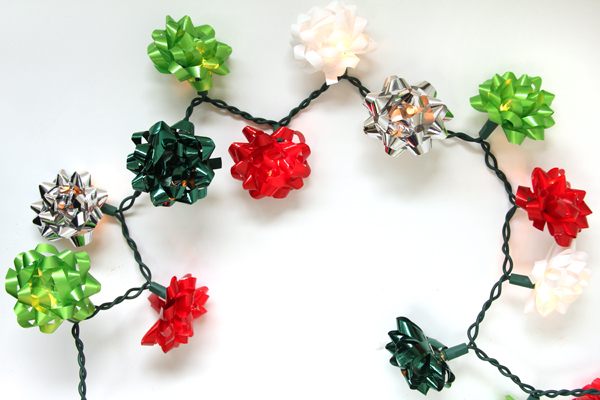 We end with a shimmering showpiece! The mirror garland and white light creation below is created with the help of an aluminum rod, mirror garland, and yes, white lights… A full tutorial at Apartment Therapy explains just how this clever idea can result in an art installation just in time for the holidays!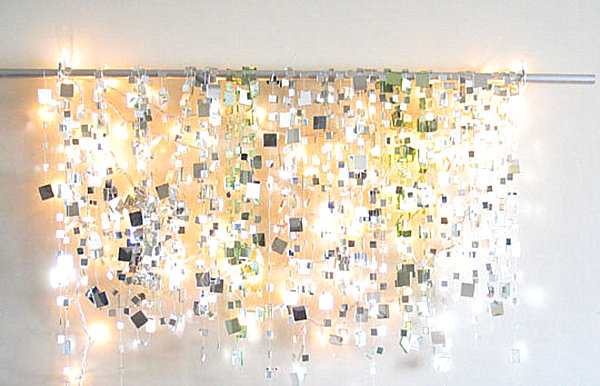 Which garland above is your favorite? Have you tried any of these DIY projects? Leave us a comment below…