Console. Cabinet. Sideboard. Buffet. All of these words are used to describe the furnishing featured in today's post, also known as the credenza. While many use these substantial pieces to hold dishes and other serving items in a dining room setting, others fill them with media products and place a television on top. Some use them in the entryway, while others use them in the office. The versatility of the credenza is indeed a true selling point!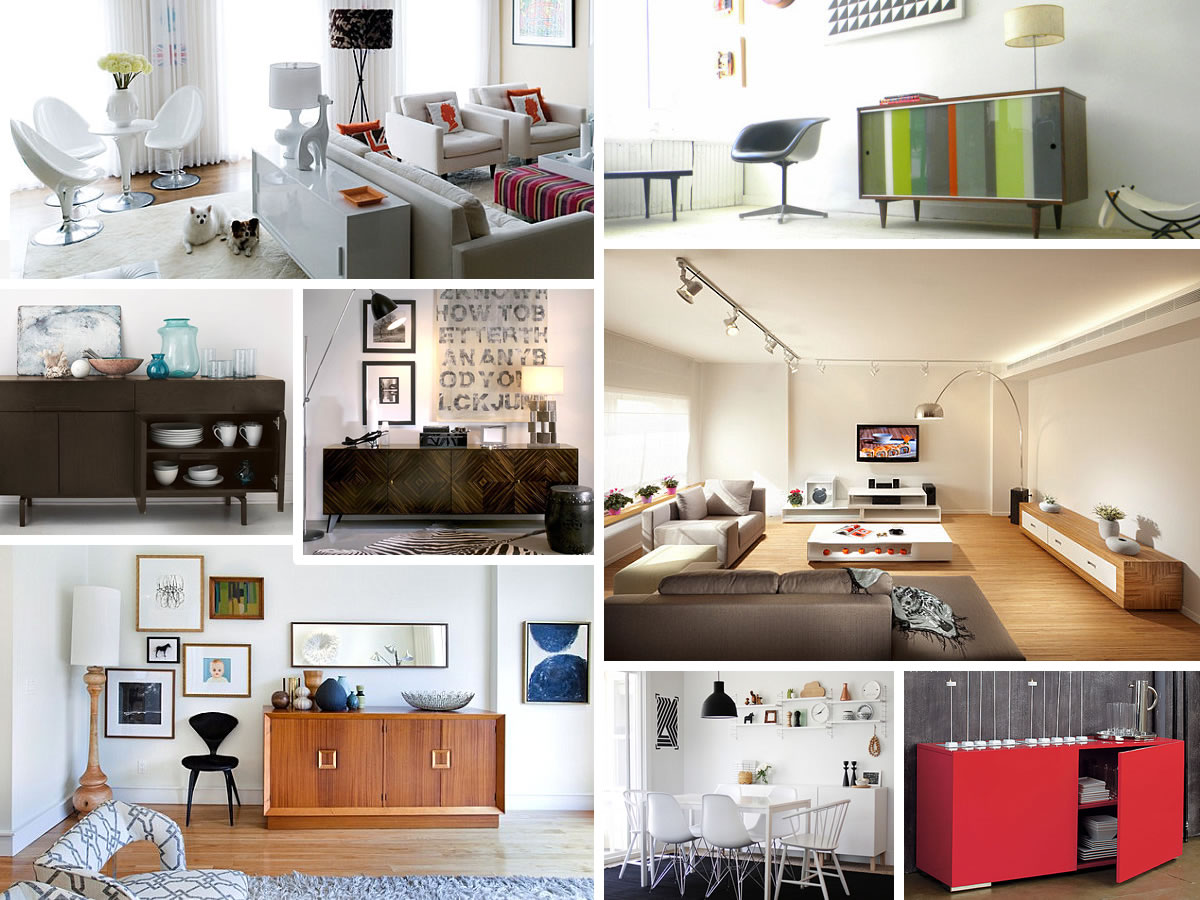 These furnishings are long, lean and frequently modern in design. Clean lines and dark woods are popular, but so are other varied elements, such as metal, lacquer, and even Lucite! We've rounded up an array of credenzas, from metal selections to true vintage finds. As you browse the images below, also take note of the decor placed on top of each piece. After all, the surface of a credenza makes a great stage for displaying your favorite decorative finds!
Wooden Credenzas
Since so many credenzas are wooden, we start with pieces that are crafted of this popular building material, a true favorite for modern interiors! The Floating Storage Console from West Elm can hold anything your heart desires, from office papers to dishes. Design aficionados will appreciate how the long, thin legs of the piece give it the appearance of floating.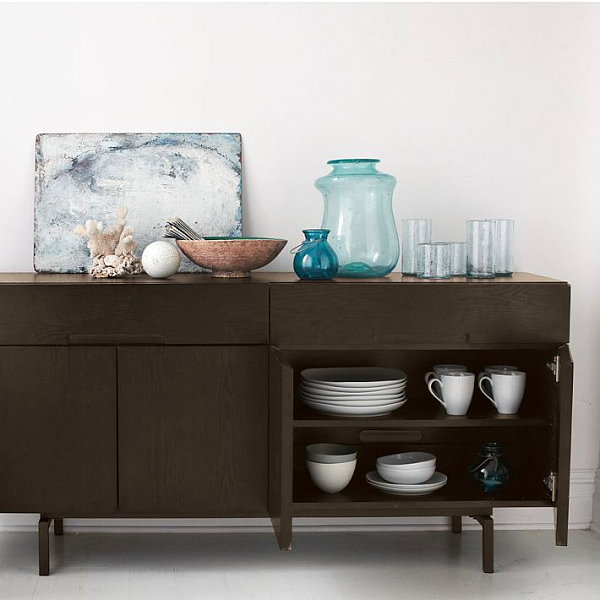 If you're a fan of Parsons design, you'll appreciate this Parsons Media Console, crafted of engineered wood and finished with a chocolate-stained oak veneer. The legs are the same thickness as the shelves, giving this piece a striking uniformity. Not to mention, a power strip at the back ensures that the console can be used to hold televisions and other media-related items.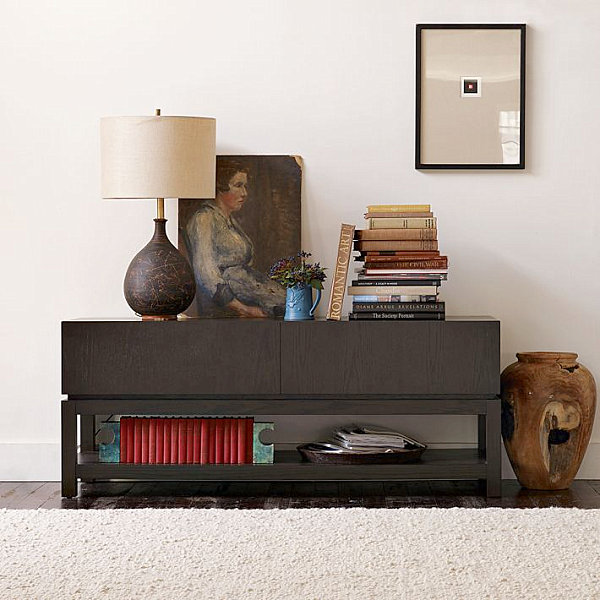 The Calligaris Horizon Buffet below features metal legs for contrast, as well as interior glass shelving. In fact, four cabinets and a drawer ensures that this piece, available through AllModern, allows plenty of room for storage.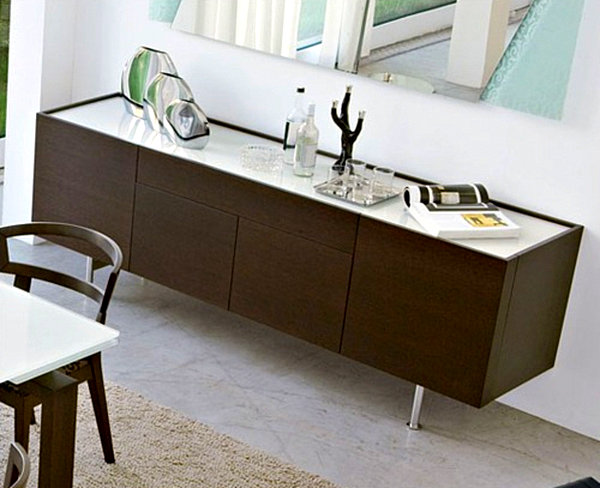 A deep finish is a true highlight of the Spotlight Ebony Credenza from Crate & Barrel. Another perk: it can even hold files! Try using this piece in the office. Note how it pops against light walls and flooring, especially when topped off with a colorful glass bowl.
It's hard not to love the next sideboard from Usona, an eye-catching piece that stands out with its diamond-pattern motif. In fact, you may be tempted to avoid placing other patterned items nearby, but the image below clearly shows that all is well, especially when a zebra print is involved.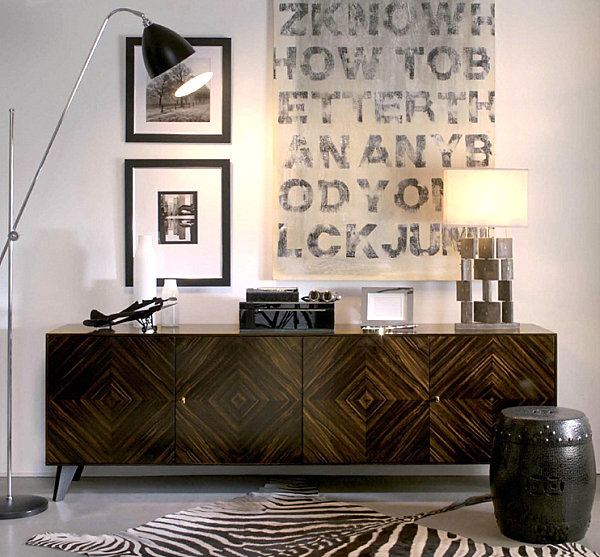 The Oslo Sideboard from Crate & Barrel boasts a finish that is both rich and slightly golden. Scandinavian style, curved corners, and doors that open to shelving are other highlights. Don't be afraid to integrate this warm piece into a cool-toned room. As you can see, the contrast is quite refreshing.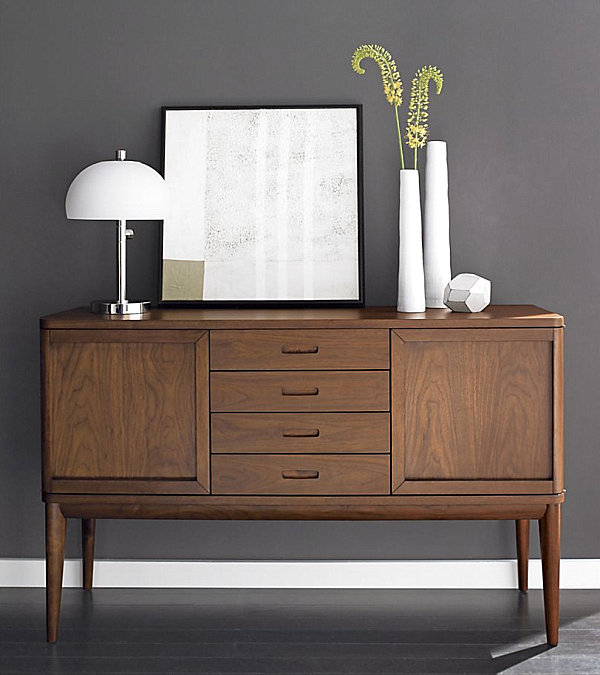 The Emmerson Buffet from West Elm is both rustic and modern. That's because it's crafted of reclaimed pine shipping palettes! We love the multi-toned planks, as well as the way the room below uses bursts of red color to complement the piece's wooden glow.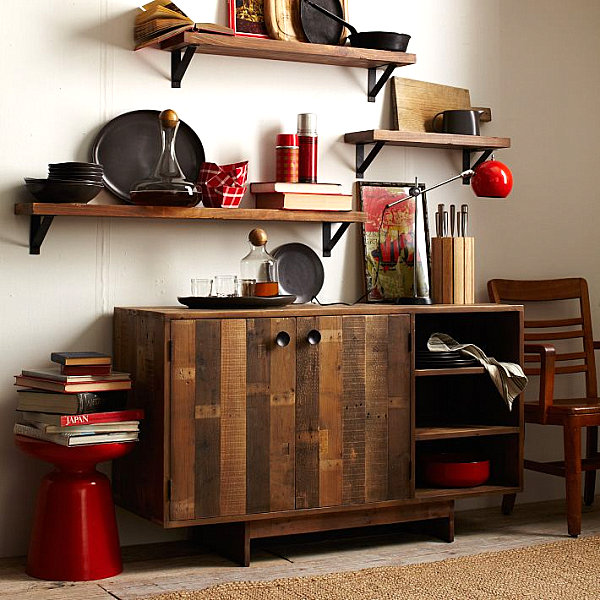 An Array of Materials
Yes, many of today's featured credenzas are crafted of wood, but others showcase a range of materials. The piece below uses patterned wood, as well as what appears to be white lacquer. The contrast between drawer and frame is stunning, don't you think?! [from Segev Photography]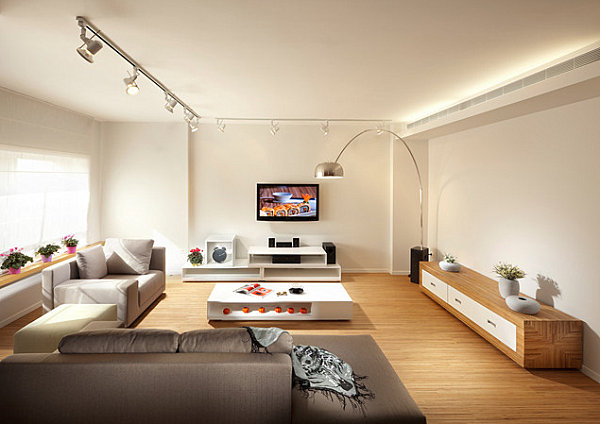 Speaking of mixed materials, metal and wood combine in the next credenza, which features a two-layer surface, as well as cabinet and drawer space. Note how the piece is placed behind the sofa, adding storage to the middle of the room without breaking up the flow of furniture. [from John Lum Architecture, Inc.]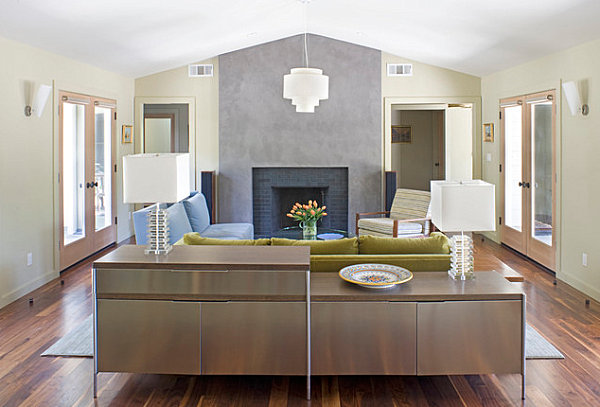 The all-metal credenza below has an industrial look that evokes the vintage appeal of a medical cabinet (yes, antique medical furniture is highly sought after in today's design world)! [from ABCD Design]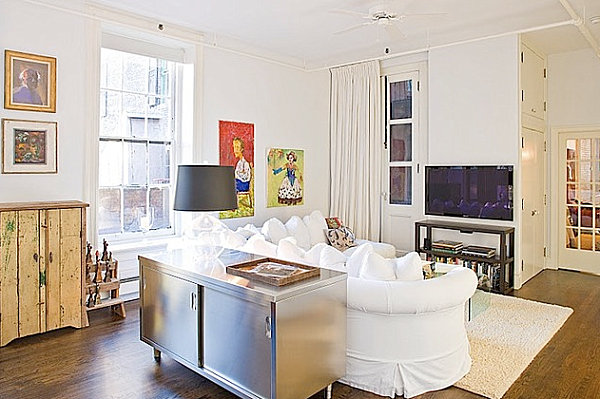 Bring on the mirrors! The Foxed Mirror Buffet from West Elm, celebrates '20s style with an Art Deco-inspired motif. Perfect for glamorous spaces, the piece is practically made for displaying sparkling barware. Plus, with two cabinets and four adjustable shelves, there's plenty of room for storing glasses and serving pieces.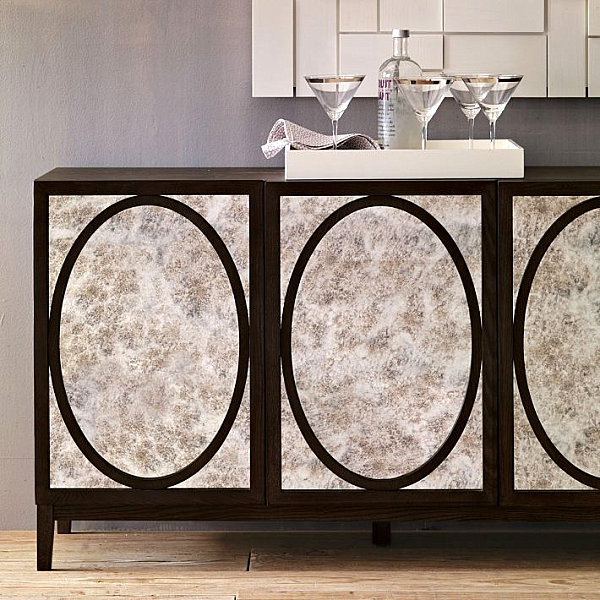 Is it lacquer? Is it plastic? One thing's for sure: the credenza below sure is glossy! Which makes it perfect for crisp modern spaces. Plus, white is an ideal shade for the display of colorful accents, such as colorful pottery. [from Naked Decor]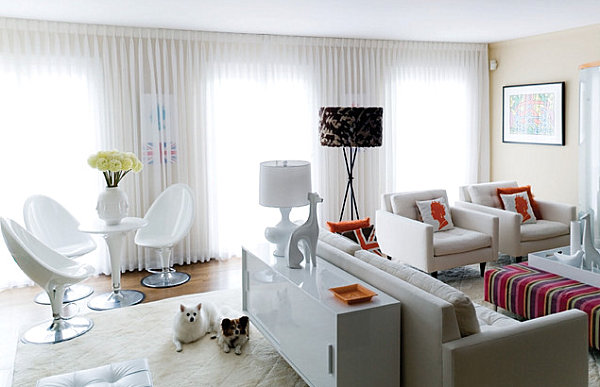 In fact, a white-on-white color scheme is a great choice for spaces that place special emphasis on decorative objects and accents. Note how each item on the modern credenza below truly stands out, especially against the white walls in the background. [from A Merry Mishap]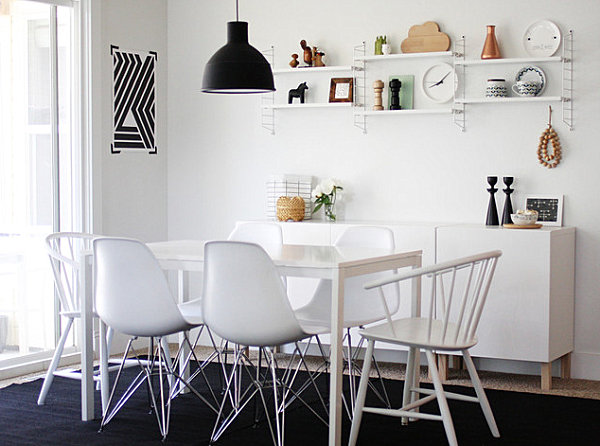 White credenzas are also popular for spaces featuring vivid walls. The Hollywood Regency-style piece in the next image is positively radiant against the room's vivid striped wall. In fact, the credenza picks up the white tones in the wall's pattern, resulting in a truly cohesive look. [from Room Service]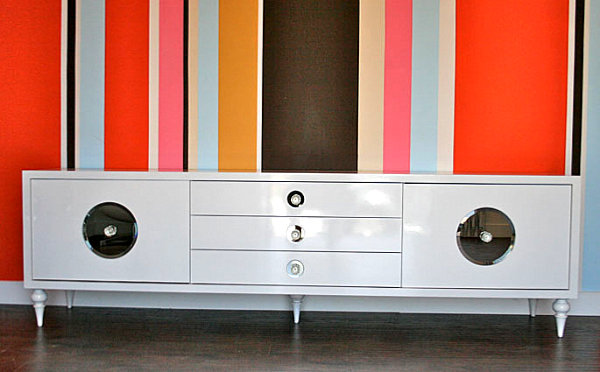 The candles below aren't the only decorative items on fire! The Fuel Red Credenza from CB2 is bold with its hot red hue. The piece is crafted of engineered wood with a hi-gloss lacquer finish. Not only can it hold dishes or media items, the credenza features steel feet with a brushed nickel-plated finish.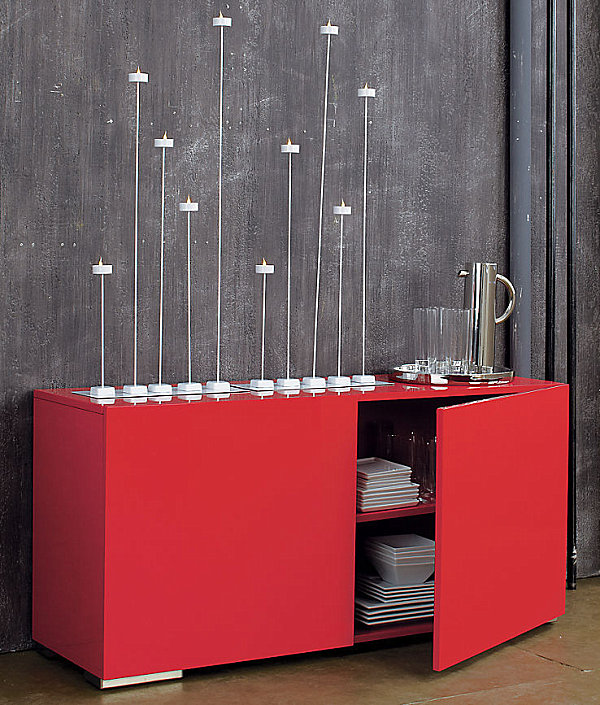 A Lucite revival has occurred in recent years, with many pieces being transparently clear rather than vividly adorned with stripes. Which is why this 5 ft. Walnut and Lucite Credenza from Modology is so unique! Designed by Keith Chrapliwy, the piece features two sections for storage, as well as movable shelves and Nelson-inspired legs! And of course, striped Lucite doors… [from designskool]

Vintage Credenzas
Want a unique credenza with a past? Select a vintage piece. Many of today's retro credenzas are Mid-Century modern in style, like the wooden piece below. Note the hand-built porcelain wall tiles from Element Ceramics displayed on the wall above this vintage find.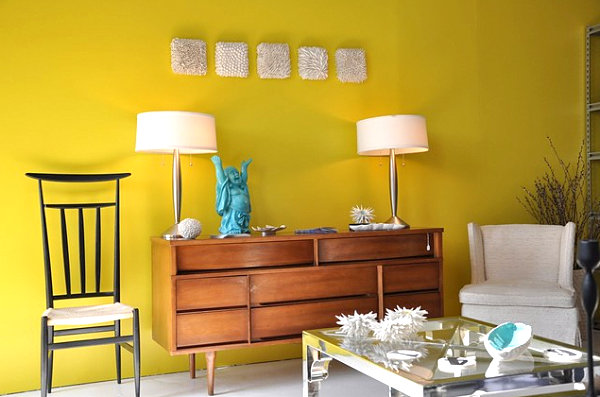 Since they sit low to the ground, credenzas leave plenty of room for the hanging of artwork above. The piece in the next featured image appears to be vintage. Note how it blends well with contemporary details, such as modern bedding. [from Brad Ford ID]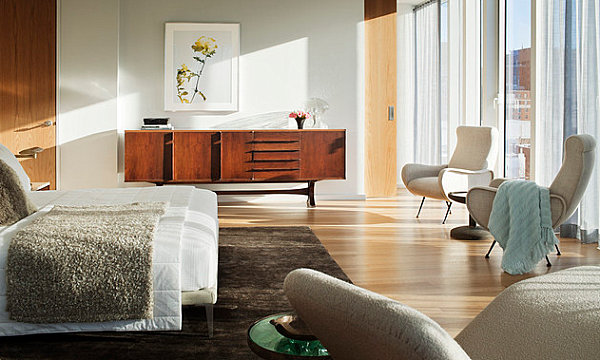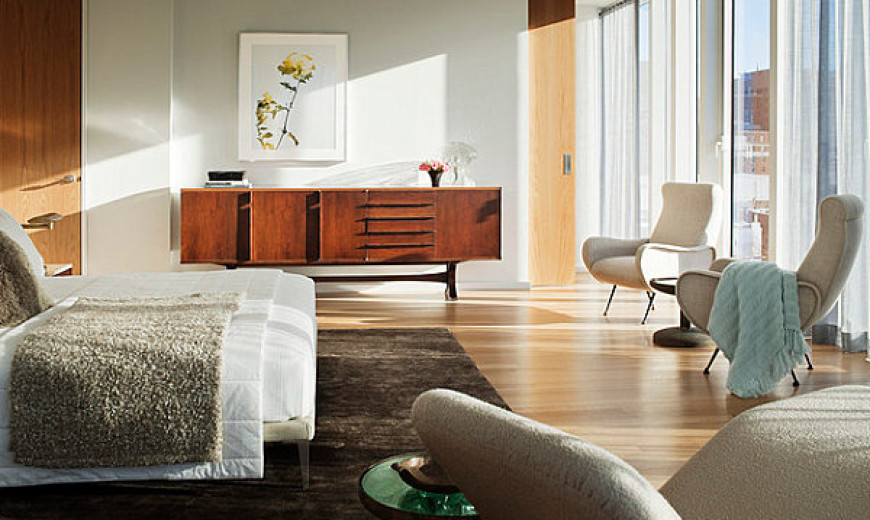 Vintage credenzas aren't just for retro rooms. The space below (designed by Mhouse Inc.) blends an array of furnishings, art and decor. It's hard to tell what's old and what's new, which makes the simple yet striking design of the gold-toned wooden credenza absolutely perfect for the space.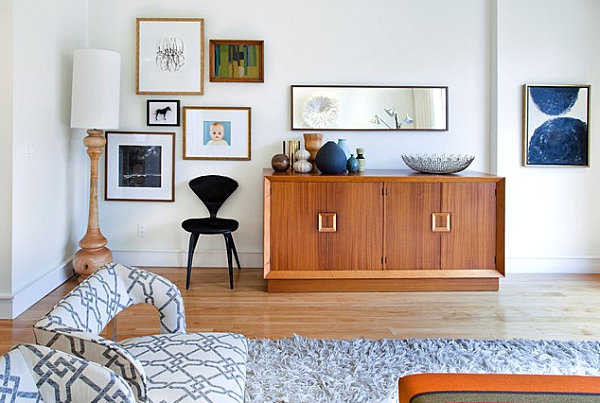 We end with a piece that celebrates the power of paint. In this next image from Nirmada Interior Architectural Design, we see a vintage lacquered American of Martinsville chest, which brings its royal blue style to the sky-blue space!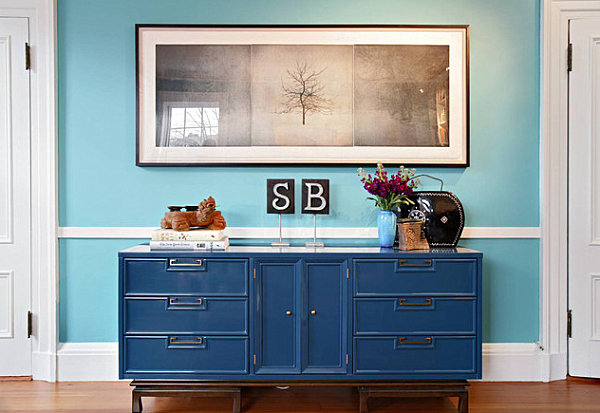 Paintings. Lamps. Bowls. Books. Pottery. Flowers. Curiosities. Candles. Bar ware. Figurines. All of these items are featured above as credenza-top decor. Not sure what to display on your lean cabinet once it's been purchased? Take a cue from the images above, and let your imagination do the rest…