Console tables are chic, long and lean. Their skinny surfaces are the perfect place to display eye-catching decor, yet the limited space poses a challenge. Should they hold functional household items or purely decorative pieces? How much is too much? In some ways, you can view the console tabletop as a microcosm of your design preferences. Can you make a statement that is compact while at the same time expressing your style? How much can you say about yourself on this small surface without overwhelming the space?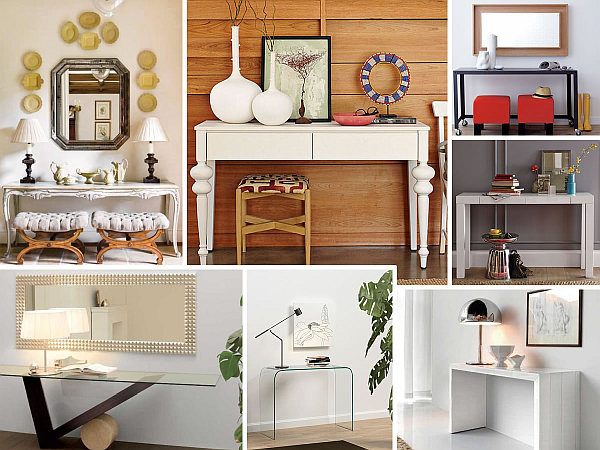 Today we answer these question by reveling in console decor. The images below feature sparsely decorated console tables as well as richly layered tabletops. There is modern decor and traditional decor. Anything goes, but by following a few simple tips, you can create a stylish console vignette that speaks volumes!
Less Is More
Our first few images are a great reminder that sometimes less is more when it comes to design. Rather than cluttering a surface with a little of this and a little of that, making a few strong choices can have twice the impact. Below we see The Portofino Console by Cattelan Italia, with its sparse museum-like decor. A chrome dome lamp and cubist bowls are intriguing pieces that nicely complement the space. [from fci]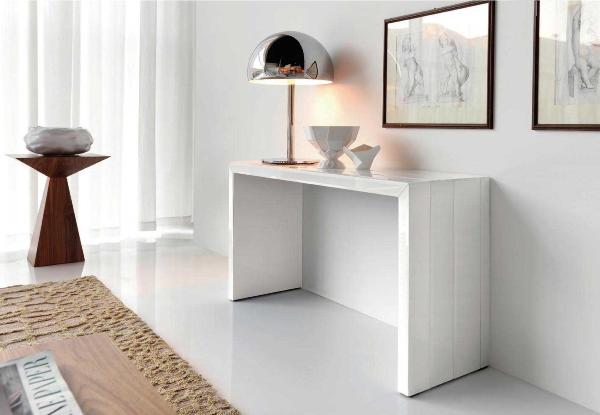 A mirrored version of the console above reveals some interesting decor choices: black and white photo art, a modern lamp, and a few clear glass pieces. Now there's an idea…creating the illusion of space by using see-through items for tabletop decor! [from fci]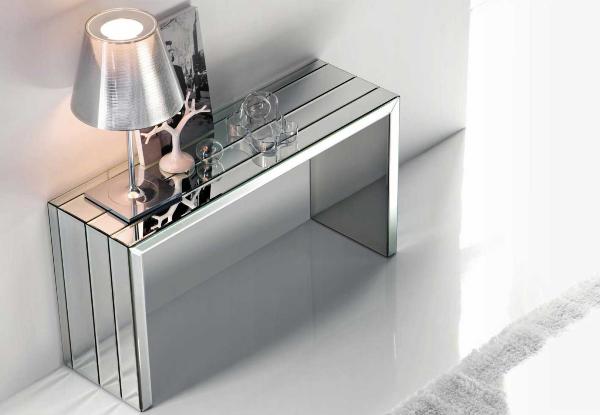 Talk about a clean look! The Mecca Console Table is made of clear tempered glass. Not only can you see through it, the decor it holds is anything but cluttered. After all, why would you want to hide its curved form? [from Modern Furniture One]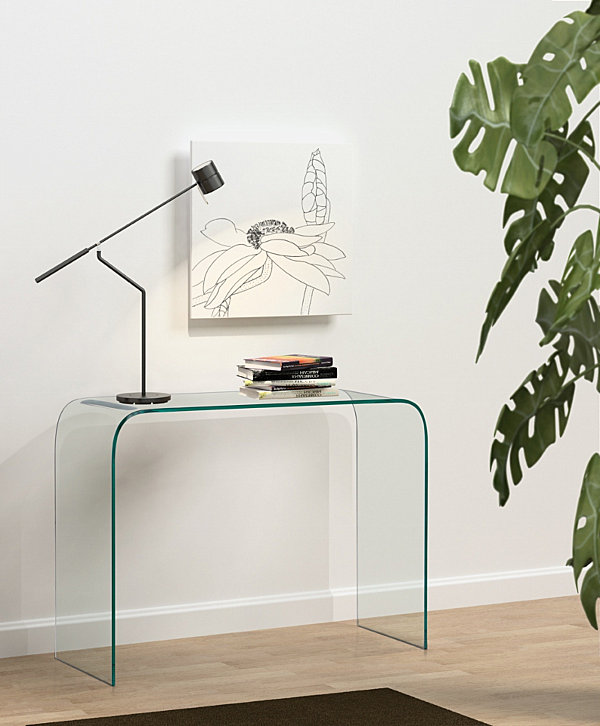 Once again we have a chrome dome lamp, this time brightening the surface of the Respite Console Table. Is this piece a modern console must or what?! When the lighting and artwork are this good, who needs more than a couple of vases to top it all off? [from Modern Furniture One]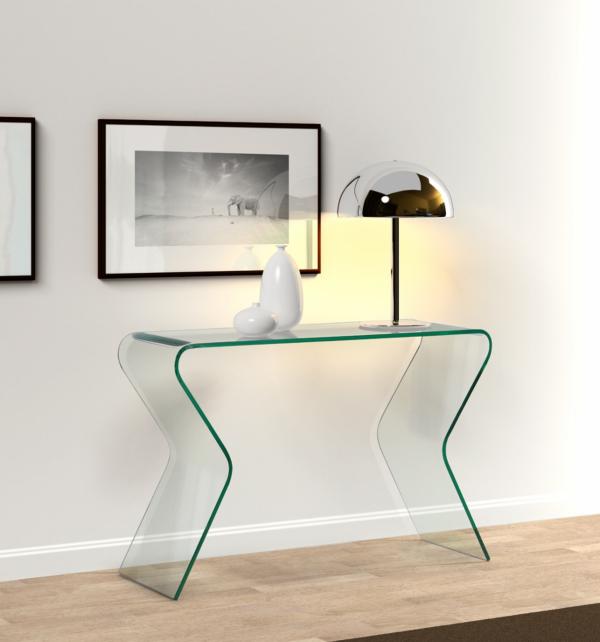 The Valentino Console Table is another piece that makes such a big statement it needs little embellishment. Not to mention, a lean mirror draws attention to the table's long form. Introducing additional clutter wouldn't make sense in the context of this space! [from PadStyle]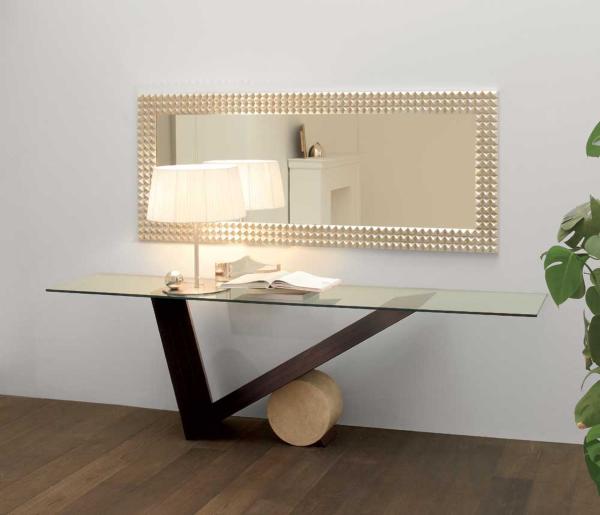 And finally…an unusual console table demands an unusual centerpiece! Check out the Cooper Console Table from Ltdmod: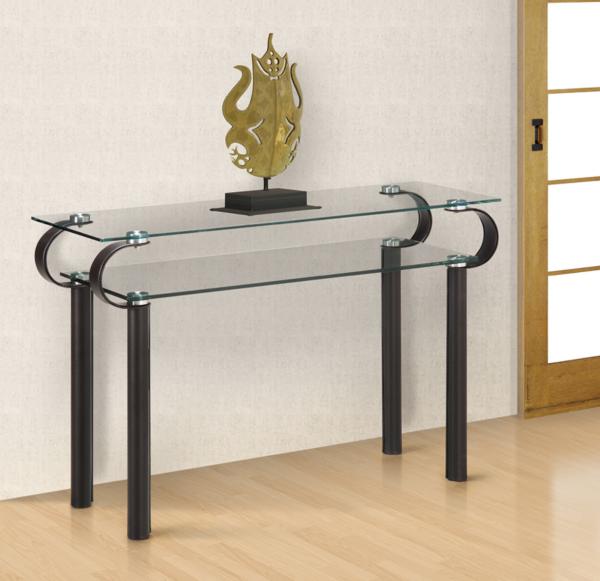 Balance It Out
Sometimes the personality of a room screams "The more the merrier!" If a layered look makes more sense than a sparse one when it comes to your decor, try arranging your treasure trove symmetrically. Notice how the arrangement below has a tidy appearance thanks to matching items on each side of the table. [from Elizabeth Kimberly Design via Marcus Design]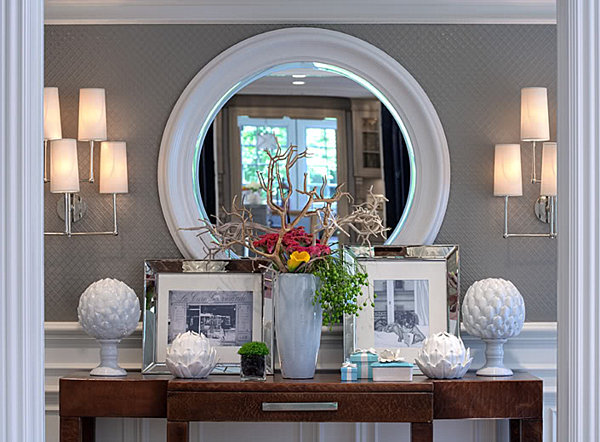 We now see another version of the same idea, this time with a pair of lamps that add symmetry to the vignette. For more information about the DIY project that created these charming twin lamps, check out Running With Scissors.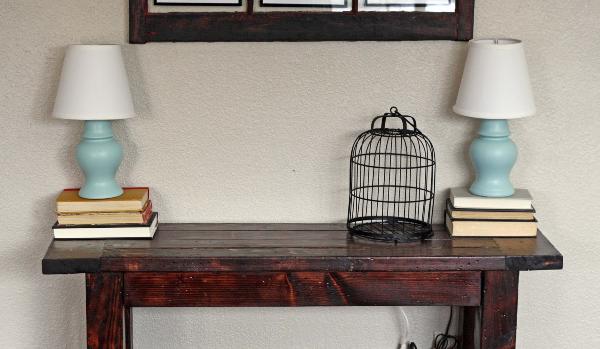 Same idea, different lamps. Check out the antique console table below. Not only do the lamps bring symmetry to the decor, even the vases are perfectly arranged to create balance! [from Eclectic Revisited by Maureen Bower]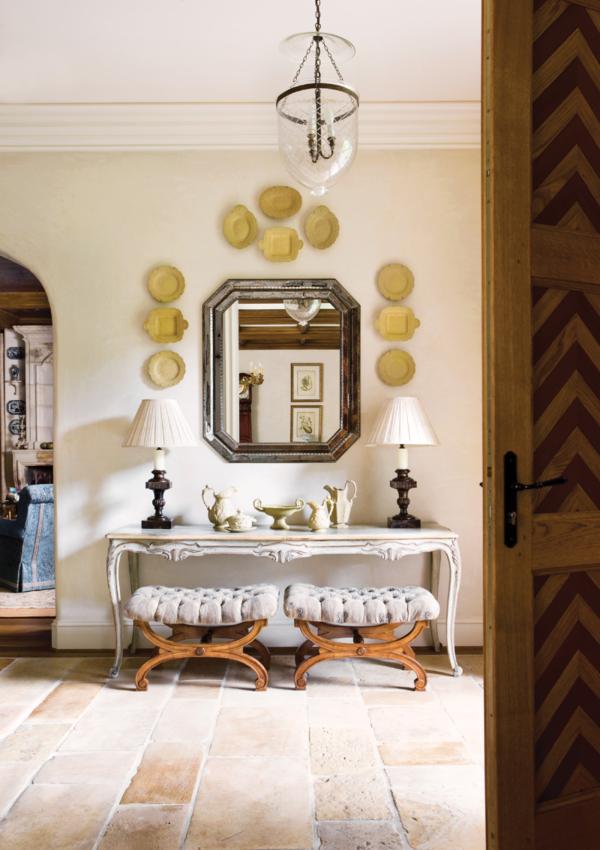 In the next image, we see an oatmeal console table with antique flair. Instead of covering the piece with ornamental decor, vintage industrial finds are selected to bring the console to life. Note how they are nicely spaced and balanced so they don't overwhelm the table. [from Altar'd Designs]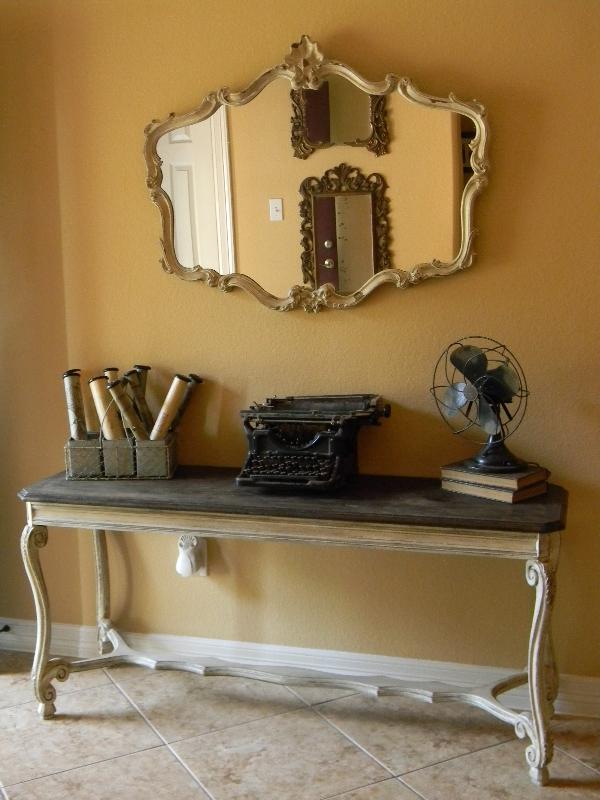 Variety Is Key
Adding variety to your console table decor keeps a vignette from becoming monotonous. In the image below, a Pottery Barn table holds a tall vase of flowers and a short stack of books, among other treasures. [from Strictly Simple Style]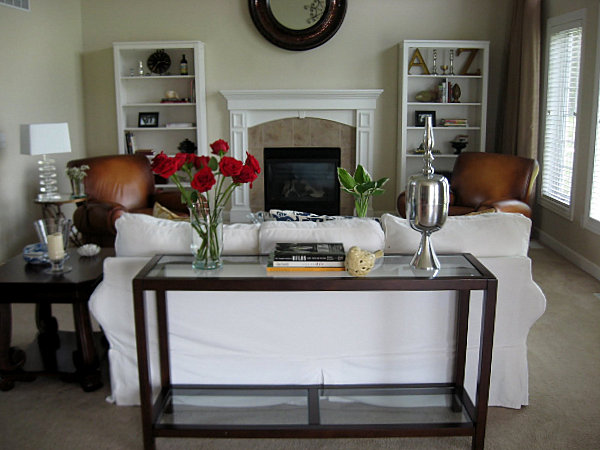 In an image featuring the Source Console, variation in height is achieved by vases of branches, artwork and a low bowl. [from West Elm]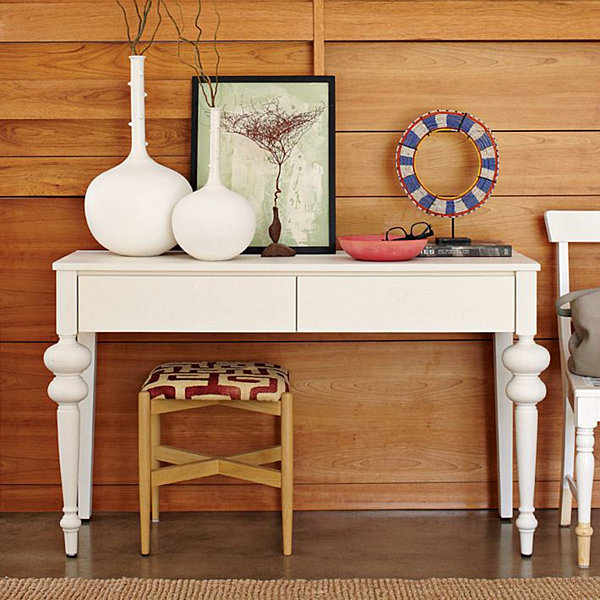 Below we have two levels of vignettes, thanks to the Rustic Storage Console! Vibrant artwork and a verdant plant are offset by a white bowl and two stones. On the lower level, coral is elevated by a stack of magazines while a fish rests nearby. [from West Elm]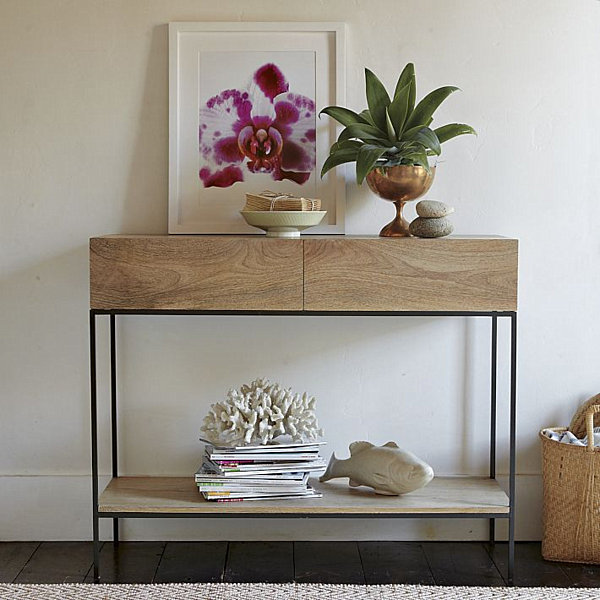 Don't forget that color and texture can add variety to your console decor. For example, two cushy bright orange stools make the Go-Cart Carbon Console Table pop. [from CB2]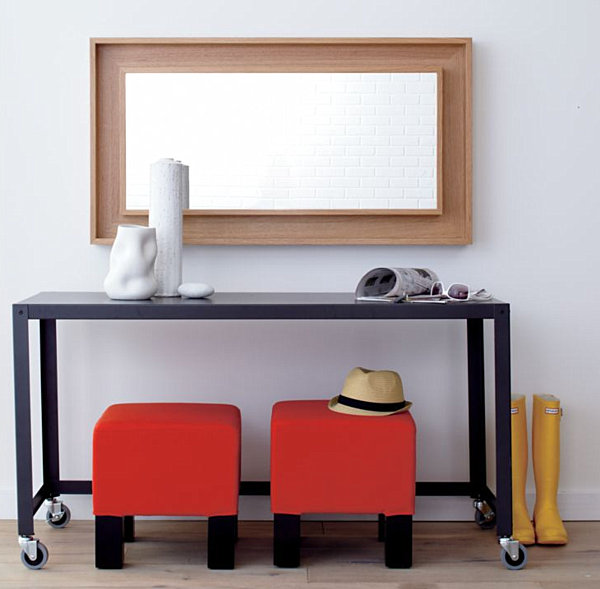 Functional Decor
Sometimes practical outweighs pretty, but there's no need to sacrifice style for function. If your console table is in an entryway, you may need for it to hold items such as the newspaper or that stack of books you're taking to work. Don't be afraid to use the space below to stash keys and a purse, as shown in this next image featuring the Parsons Console. [from West Elm]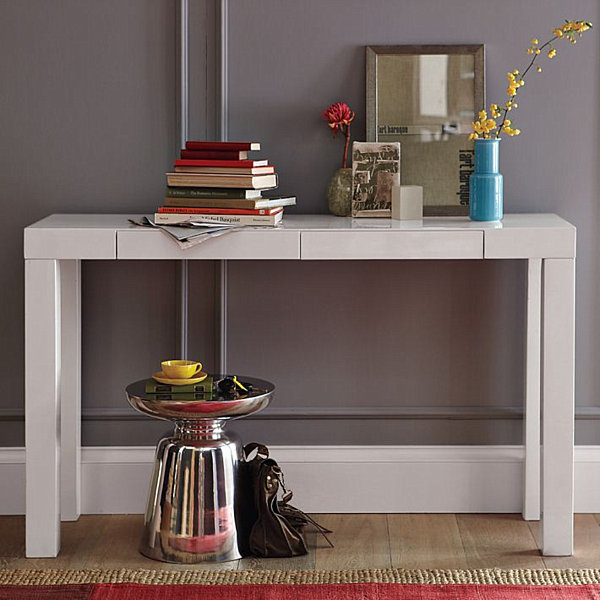 Can your console pull double duty while you entertain? In this next image, the Element Console Table is used to hold drinking glasses and punch. In fact, two of these tables are arranged side by side for twice the surface space! [from CB2]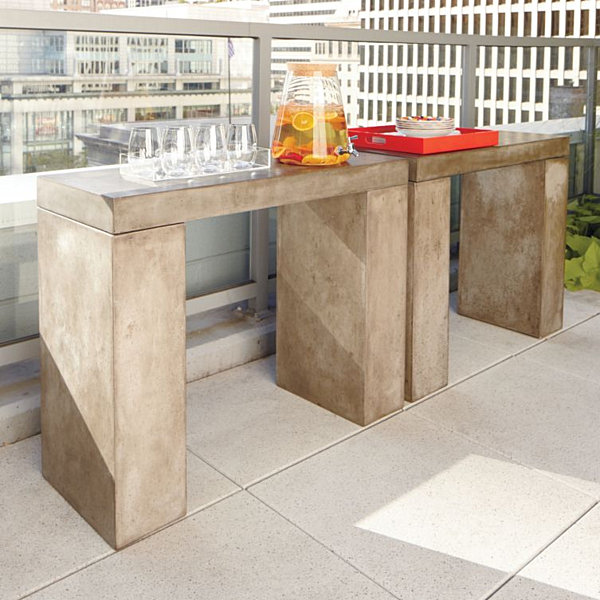 Some consoles are meant to be practical! The Grid Media Console holds a television and other electronic items, making TV time stylish. [from CB2]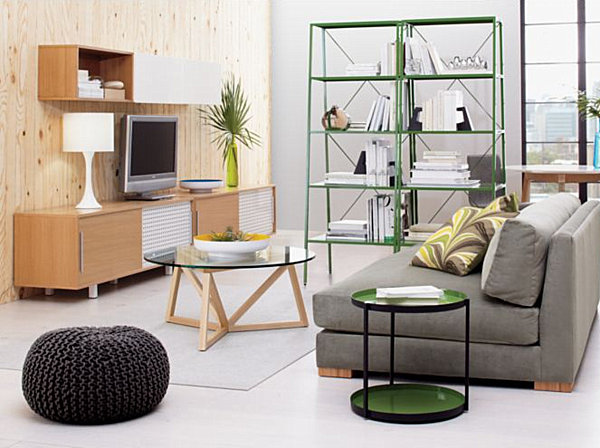 In other cases, leaving a space for that extra something is all it takes to add a dose of functionality to your console. In the image below, the Antoine Console is covered in interesting decor, yet there's room for a purse, book or lunch bag for those busy mornings when setting your belongings by the door is a sure-fire way to remember to bring them with you. Or the evenings when you quickly need to unload your stash so you can settle in for the night! [from Dwell Studio]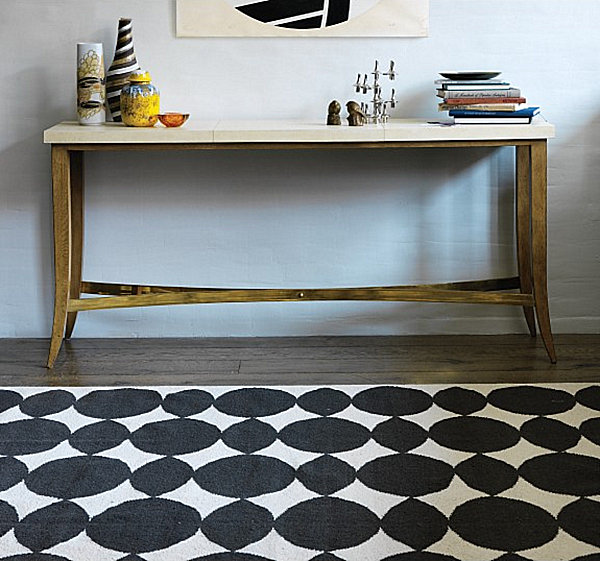 When deciding on console decor, make sure your choices fit with the rest of the space. If your room is minimalist modern, use the table surface to showcase one or two key pieces. If you have a feminine vintage aesthetic, an antique bowl of roses and some Lucite frames may be just what your table needs. The slim frame of a console table is naturally elegant and chic. Enjoy the chance to have an extra space to showcase a few of your favorite items. Happy decorating!