We already have had some amazing delights from IKEA this season. First with the unveiling of their 2013 Catalog that cut across various platforms and was available even on smartphones and tablets ; then the IKEA Christmas Decorations Catalog that stole the show with its festive delights and decoration inspiration for the holiday season.
While the catalog for 2013 gave us a glimpse of what we can expect in terms of interior design for the next year, it is now the turn of the IKEA Kids Rooms Catalog that gives us colorful, bright and effervescent ideas about how to redo, redesign and plan for kids' bedrooms, while incorporating the many unique and practical furnishings, accessories and bedding creations from IKEA themselves.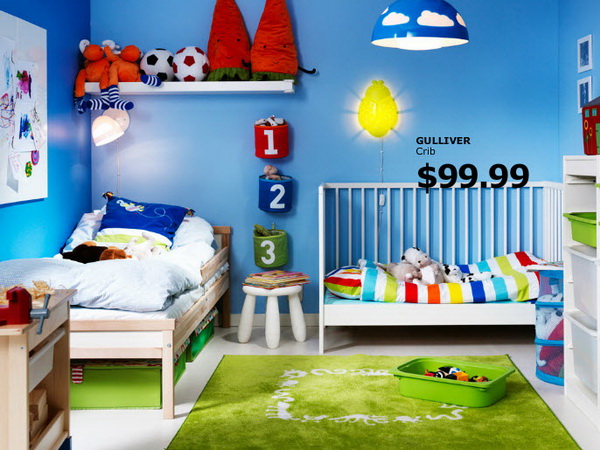 The kids rooms catalog is filled with interior ideas and themes that range from those ideal for tiny tots to young boys and girls who are ready to step into their teens. It also caters to both boys and girls with individual designs that throw in loads of lively patterns, various color schemes and cool additions from IKEA that will stand out as centerpieces and add that extra bit of oomph.
Since there can never be enough color around in kids room, the IKEA Catalog features whole array of color patterns that range from bright red and orange to cool blue and cute pink. From the Gulliver and the Sundvik crib designs to the pendant lamps and comfortable bedding designs, there is something on offer for everyone.
Collection of children's chairs like the Kritter which are both simple and stylish and the PS Lomsk swivel chair that promises loads of fun in dazzling form, you can incorporate these singular elements into your own choice of interiors or even existing kids' room to create an exclusive and inimitable design of your own.
Practical, insightful and rich, the IKEA Kids Rooms Catalog is a whole lot of fun to delve into — Enjoy!