Move over, fabrics–a new wave of patterns is in town! Trends seem to come in cycles. Crisp geometric prints with Hollywood Regency-style flair are still out there, but consumers are clearly ready for a change of pace. The result: a fresh batch of designs, many of which channel tribal style. Also of note are patterns with roots in the 1970s and 1980s.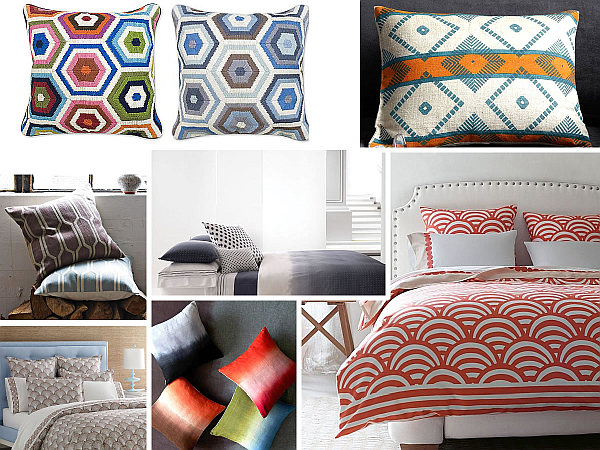 If you're sad to see prints like the lattice, trellis and chevron start to lose traction, never fear. Many of these designs are still around, but with a twist. And other clean, bold styles are emerging. Below we spotlight 5 fabric patterns that are back in style. They are "new" in the sense that they are causing a stir this season, but you've definitely seen them (or some version of them) before. Check them out!
Ikat Chevron
The ikat chevron pattern takes the zig zag of the traditional chevron and gives it a little blur, ikat style. Many ikat chevron pieces have a Southwestern feel that channels 1970s and 1980s fabrics. Wavy bands of color are common with this print, as shown below by the Chevron Ikat Decorative Pillow Cover from Etsy shop Pillow Plush.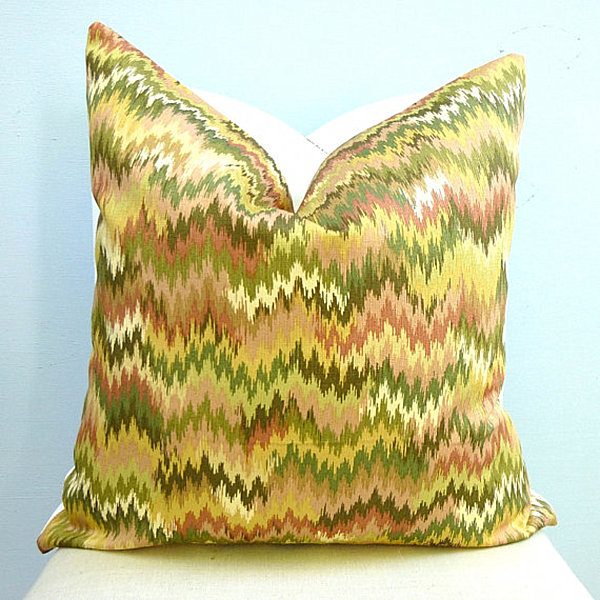 To show how ikat chevron fabric can make a surprisingly modern splash, we present the apartment of designer Evan Lobel, owner of Lobel Modern. Note how the patterned sofa pillows create a chic statement on the Christian Liaigre sofa, along with unexpected design elements like the coffee table mineral specimen: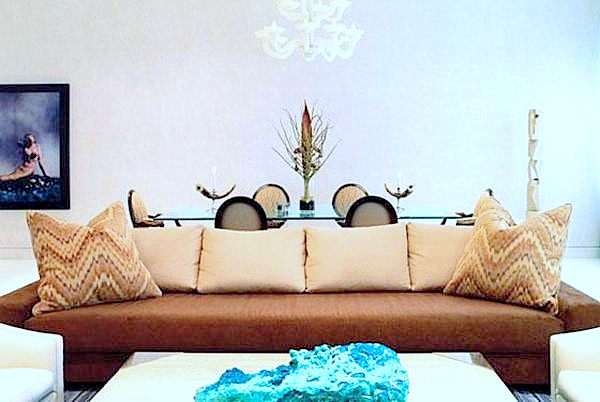 Scales
Sometimes mod, sometimes purely modern, the fish scale pattern can be traced back through a variety of decades, sporting an equal variety of looks. In this decade, the print has re-emerged on pillows, rugs and bedding, such as the Coral Lamu Duvet from Serena & Lily: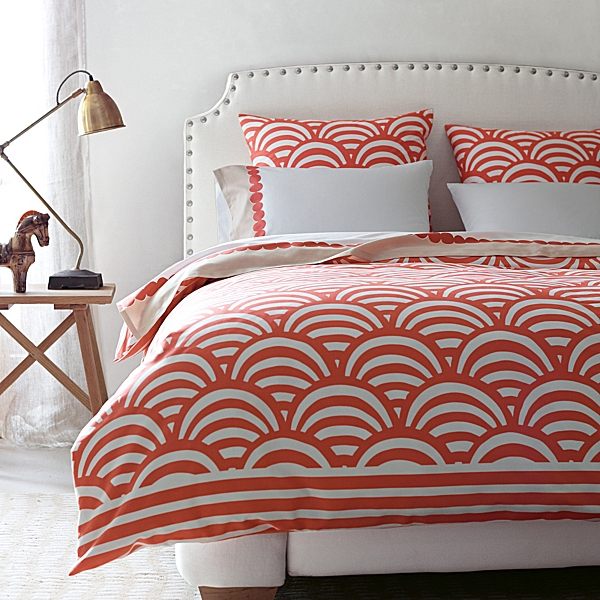 Jonathan Adler has incorporated fish scale prints into his collection for several seasons, and the Blue Bobo Scales Pillow (shown below) is no exception.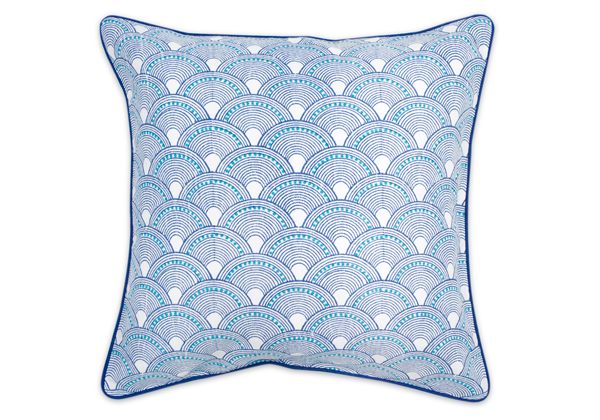 The pattern also comes in shades of brown and coral, making a striking statement as bedding, especially when paired with an upholstered headboard. The Chocolate and Coral Fish Scale Euro Shams can be seen in the images that follow. While the pattern is advertised as sporting a bohemian style, the curves of the print can veer into Art Deco territory with the right accessories.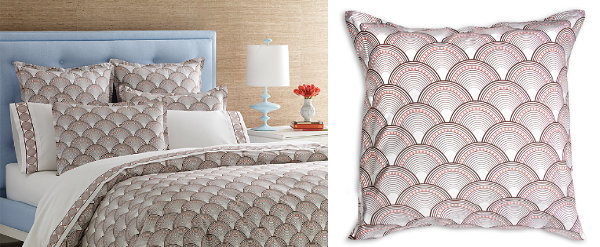 If you're a true Hollywood Regency enthusiast who appreciates a clean-lined geometric pattern, you'll love the Scales Pillows in Citron and Teal from D.L. Rhein, embroidered and down-filled for a comfy, bold effect.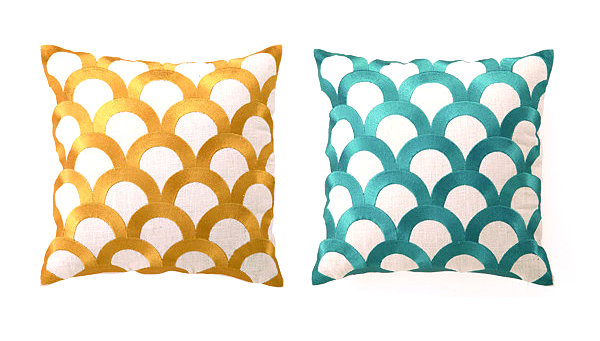 Dip Dye
It's no secret that ombre style has emerged, perhaps as a reaction to the ultra-defined geometric patterns that have made the rounds in recent years. And there's nothing like the laid-back style of gradients and blurry lines. No style exemplifies tie-dye influence quite like the dip dye. In fact, the internet is filled with dip dye DIY projects for pillows, sheets and other home decor items. Below we see Dip-Dye Rainbow Silk Pillow Covers from West Elm, handmade by artisans from the Eco Tasar sustainable silk cooperative.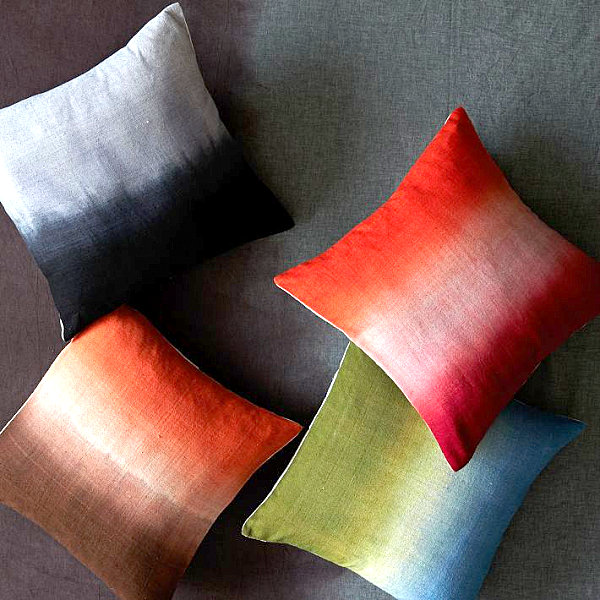 Two shades–one light and one dark–create a strong contrast in the Magical Thinking Dip-Dye Pillow from Urban Outfitters, shown in the next set of images: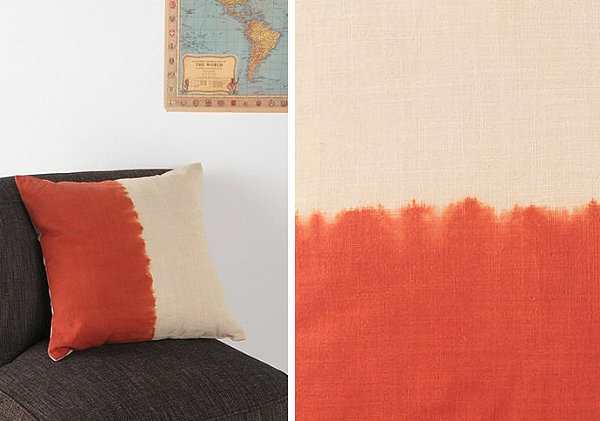 The ombre fun continues with Dip Dye Dots bedding from Vera Wang: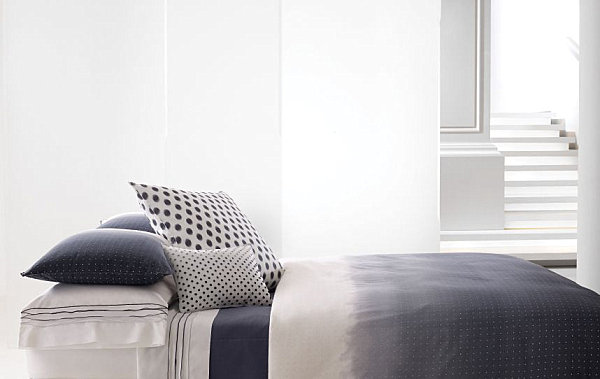 Honeycomb
A honeycomb resurgence has been in the works on for the last few years, but recently designs have shifted away from heavily outlined prints and toward more natural, modern renditions. The Honeycomb Crewel Pillow Cover from West Elm, shown below, features a raised textural surface and an elongated design.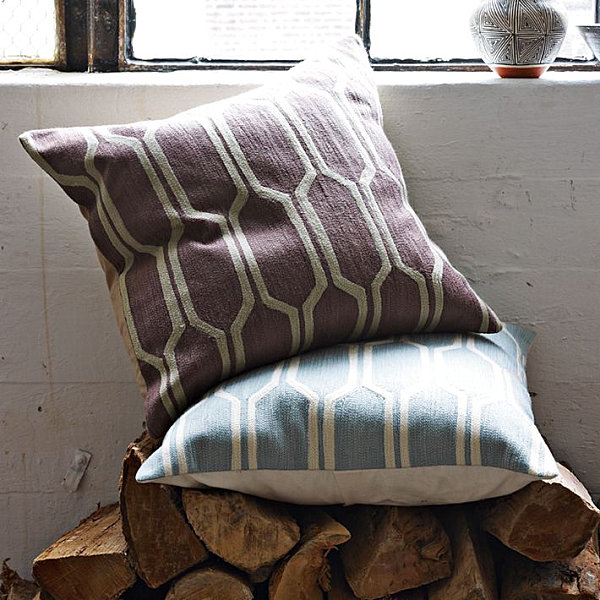 Long hand-embroidered stitching creates a crafty look in the Multi Bargello Honeycomb Pillow and the Blue and Gray Bargello Honeycomb Pillow from Jonathan Adler, featured in the next image: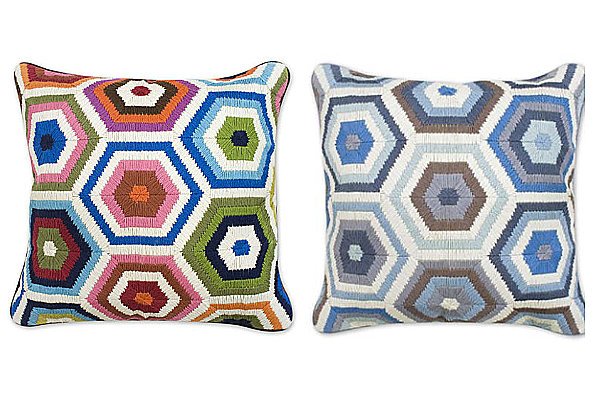 A herringbone print is the background for the Thaddeus Herringbone Pillow from Lafayette & Rushford, featuring hexagonal honeycomb embroidery. Modern and hip, don't you think?!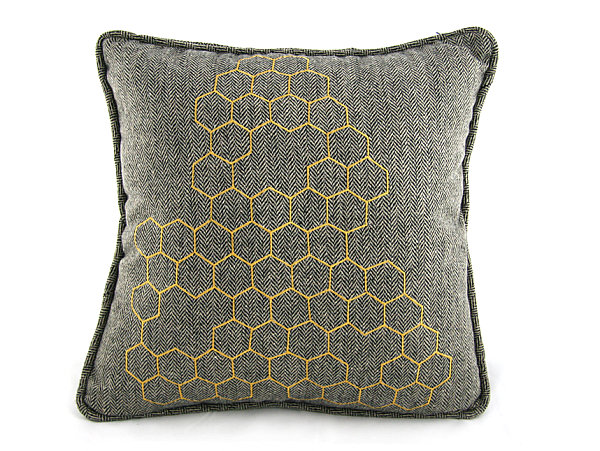 Diamond
Diamonds are forever. This time, they've gone tribal with patterning based on woven designs. The Hand-Blocked Silk Maize Pillow Cover from West Elm is inspired by Indian sari borders and made of sustainable silk. Blue, orange and white are a powerful color combination: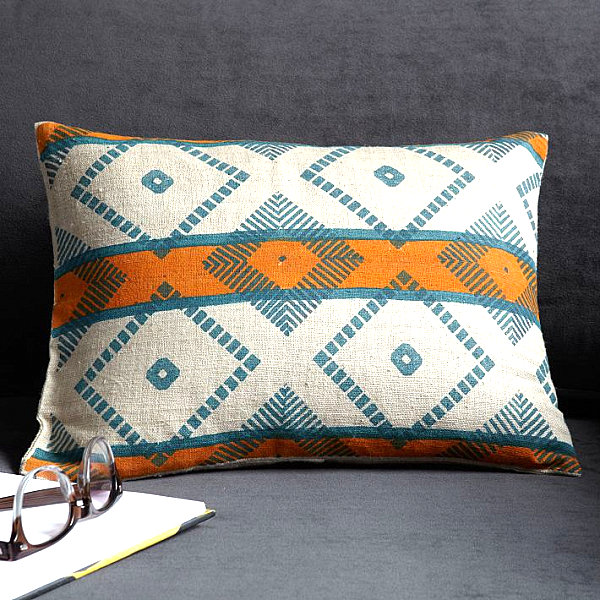 The diamond fun has even reached the realm of rugs (like many of today's featured patterns). Below we see the Magical Thinking Diamond-Stamp Rug (left) and the Magical Thinking Bracelet Stripe Rug (right), both from Urban Outfitters.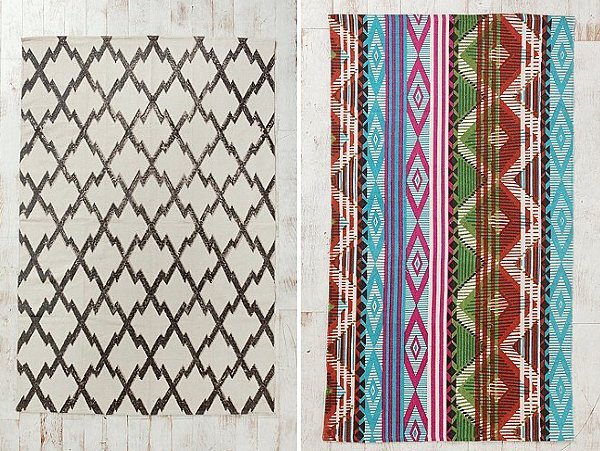 What do you think of this season's "new" fabric patterns? It's nice to change things up, right?! Trends are clearly leaning toward the tribal. If tribal style is a reaction to crisp, clean-lined patterns, then what could be next? Another celebration of defined, outlined prints? Tell us what you think…