Just as acrylic furniture is known for maximizing space, mirrored furniture is celebrated for its ability to maximize light! That's right–when you fill your interior with reflective surfaces, the brightness streaming in from nearby windows will bounce off the sides of your mirrored pieces. Not only is the use of mirrored furniture strategic, it can help you evoke a sense of Old Hollywood glamour. After all, a new batch of mirrored furniture burst on the scene during the most recent Hollywood Regency revival.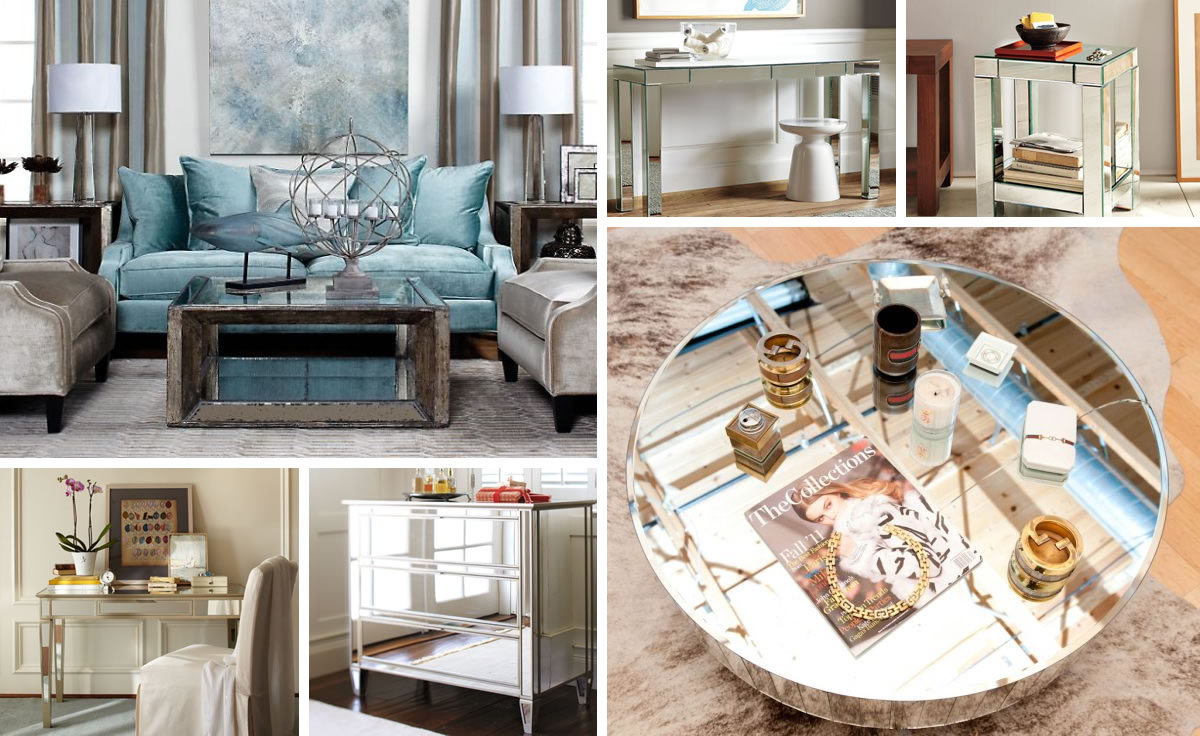 If you're in the market for reflective pieces, you'll love the instant elegance they conjure, especially when combined with glamorous decor. But don't think that every mirrored item is fancy and feminine. In fact, recent offerings playfully pair shiny surfaces with minimalist modern outlines for an unexpected twist. Throw in a variety of finishes, including an antiqued or brushed look, and you have a range of styles at your disposal. We've included a few of our favorite finds below:
Mirrored Tables
We get this mirrored party started with some smaller tables, which are ideal for your first mirrored purchase. They add a dash of shine without overpowering the room. Then, if you like what you see, you may be ready for bigger purchases, such as buffets or large dressers. Below we see the Parsons Mirror End Table, which includes a hidden drawer. Parsons pieces are known for the way they maintain the same thickness throughout. As you can see, the legs of the table are the same width as the top. The result: a perfectly designed modern statement! [from West Elm]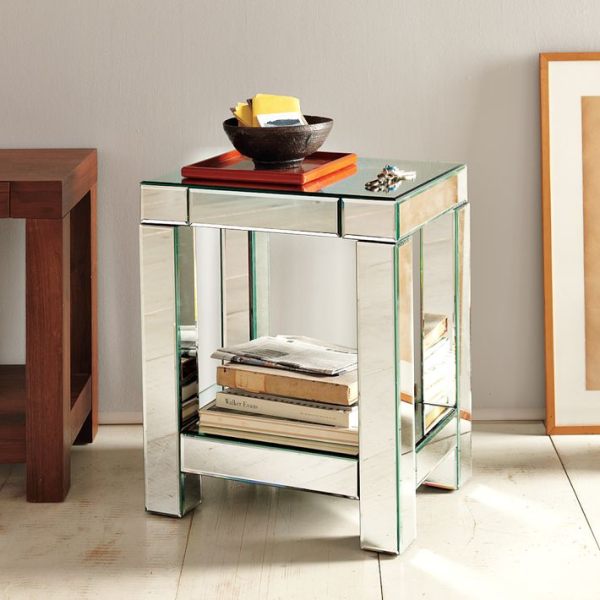 The Foxed Mirror Nightstand is subtle when it comes to shine, thanks to an antique finish over the mirrored portion of the piece. Not to mention, the item's sturdy top is nicely contrasted by thin metal legs. [from West Elm]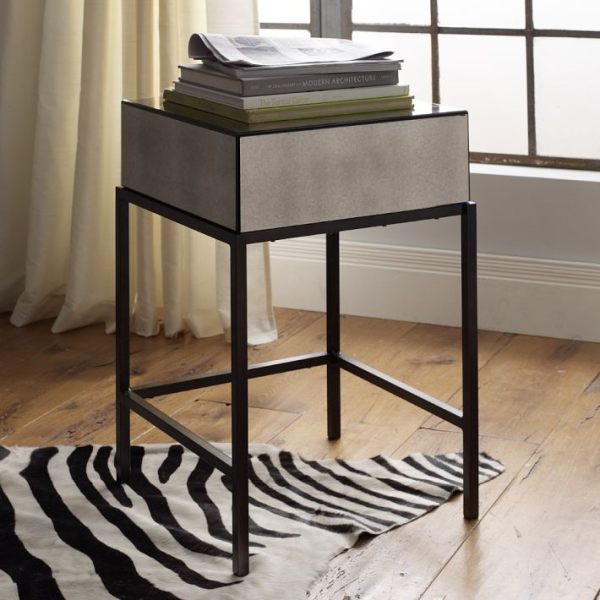 The next featured table is more about the metal than the mirrors. Yet you can't imagine this piece without the reflective discs on both top and bottom. The Ernest White Bar Cart is perfect for those nights when you're entertaining guests. And you've gotta love the Art Deco style! [from CB2]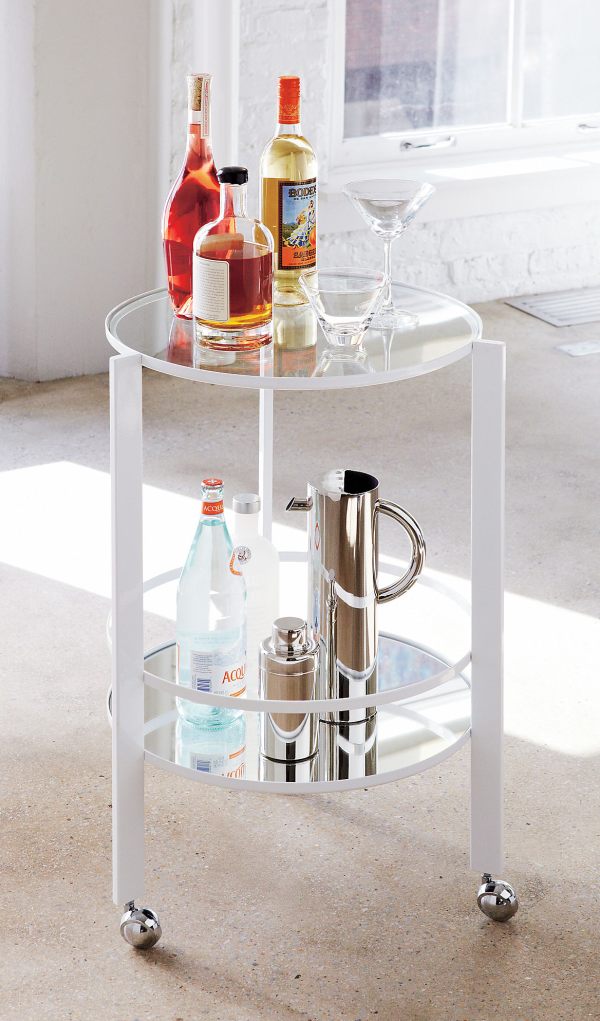 We now broaden the size of our showcased mirrored tables with the Parsons Mirror Console. From the same collection as the Parsons side table above, this piece has not one, but two hidden drawers. Another perk: it can even be used as a dining room buffet! [from West Elm]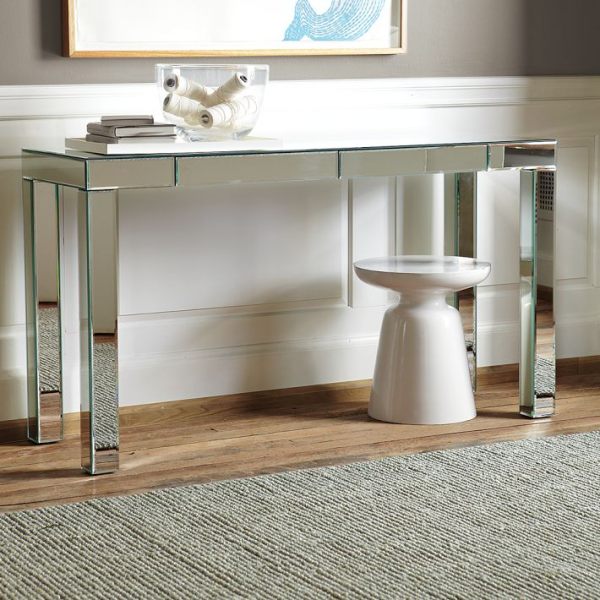 If you're looking for an assortment of matching mirrored pieces, head on over to Z Gallerie, where the Encore Coffee + Side + Console Table Set shine in their minimalist modern glory. Fully beveled mirrors, polished chrome legs, and an overall clean-lined appearance are other undeniable highlights.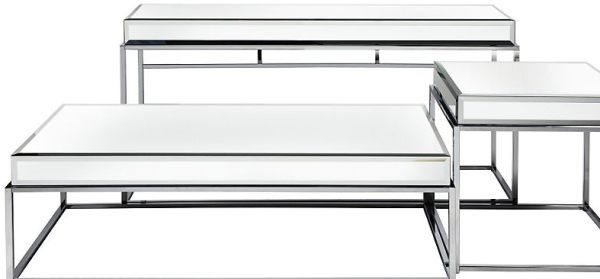 For a weathered look, check out the Pascual Coffee Table, also shown with the Pascual Console Tables on either side of the couch in the image below. The table is hand distressed, which adds a wonderfully worn element to the metallic champagne finish. An antiqued mirror inset and glass top complete the look. [from Z Gallerie]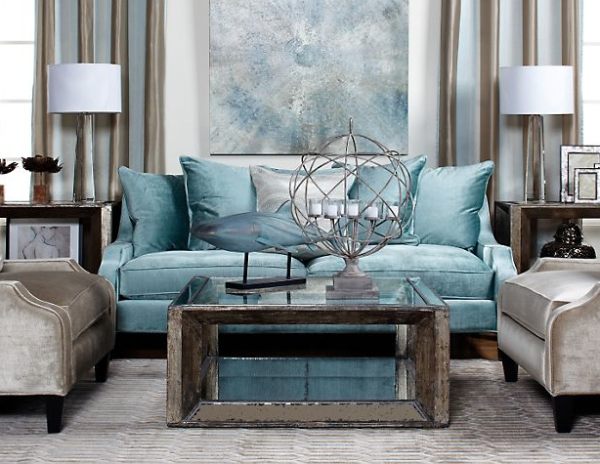 The next picture features a lovely spread of candles and other goods on a round mirrored table from the office of fashion stylist and designer Rachel Zoe. After all, mirrored pieces serve as reflective stages for the decor they hold. If the accessories are chic, they'll only look more beautiful on a shiny table! [from Architecture and Living]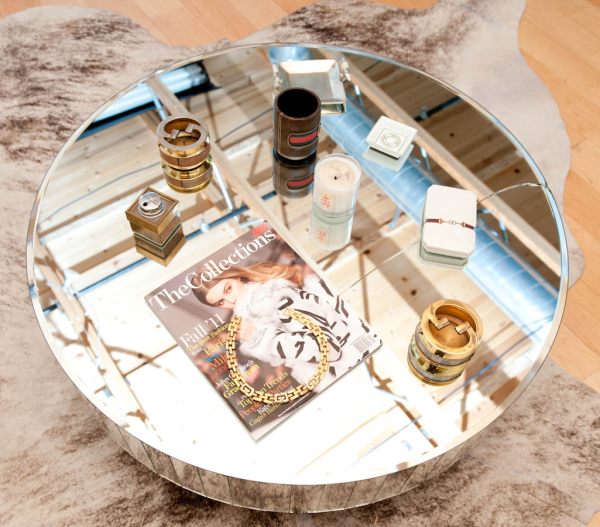 What if you want to bring a little mirrored shine into the dining room? Who are we kidding–a LOT of mirrored shine. The Borghese Table is a pedestal table with a mirrored base. A glass top keeps the surface simple and clear. [from Z Gallerie]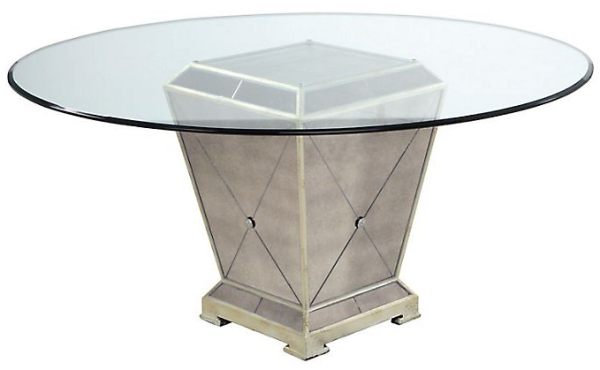 For another round look, check out the charming Mirrored Dining Table from Diane Watts.  A series of inset squares on the piece's curved edge is a point of interest, as is the sturdy base.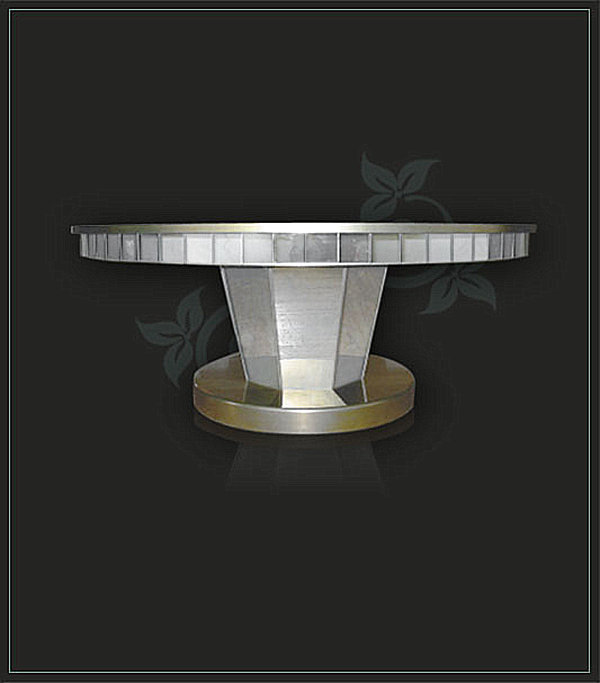 Mirrored Storage Pieces
Sometimes a mirrored piece is more than a pretty statement. It needs to hold stuff! If you thought cabinets and dressers were too big to be reflective, think again. The Andover Cabinet is clean-lined and modern. Yet details like a beveled mirror, antique finish and chrome hardware make this furnishing unforgettable. [from Z Gallerie]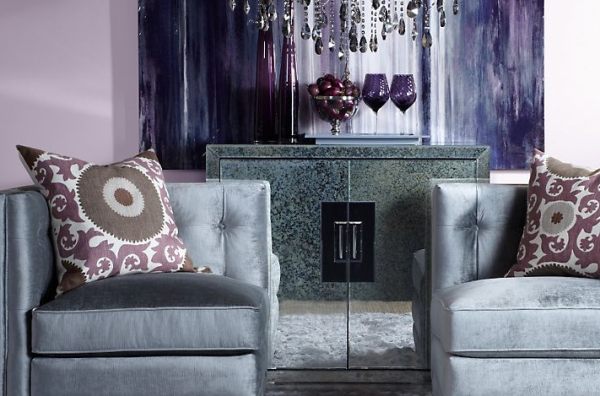 Bring a little 19th-century Empire style home with the Park Mirrored Dresser from Pottery Barn. Traditional elements seem refreshing and even contemporary, thanks to mirrored sides and pronounced edging. Note how each small tapered foot is outlined for impact!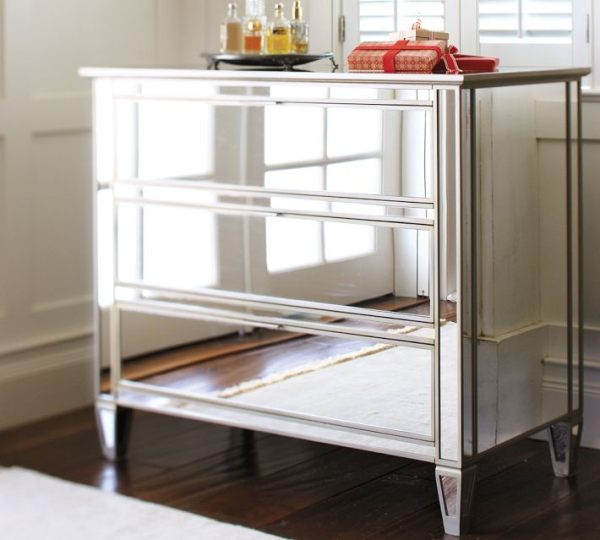 Mirrored Desks
Why choose a mirrored desk? Because it somehow makes being productive more fun. Who can resist a little glamour in the office? The Park Mirrored Desk (from the same Pottery Barn collection featured above) incorporates a healthy dose of Hollywood Regency style. A champagne finish on the piece's wooden trim create stylish contrast.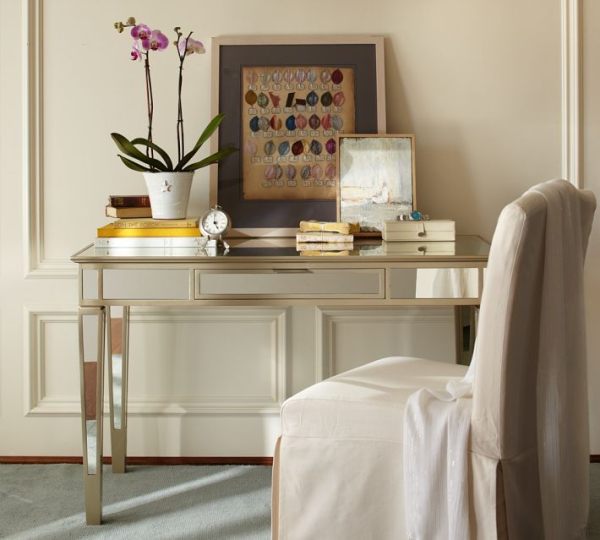 If you're a fan of Art Deco design, you'll love the Strand Mirrored Desk with its French Deco style. Note the clean lines, antique patina and black accents that help define this eye-catching piece! [from Restoration Hardware]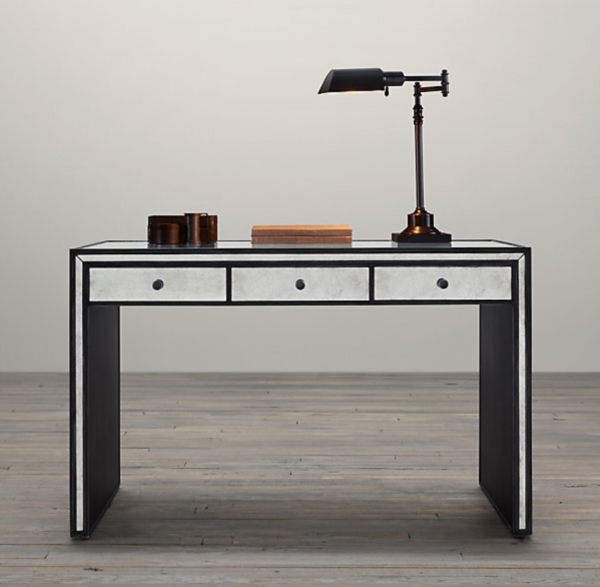 As you can see, mirrored furnishings don't fit neatly into one style category. They draw on a range of eras for their inspiration. That's good news for design enthusiasts who want options. Do you prefer ultra modern mirrored finds, glamorous reflective pieces or those with an antique look? Let us know what inspires you!