Mirrored furniture reflects the light, making spaces appear more open and inviting. These glossy pieces also add a glamorous element to a room, and fans of design movements such as Hollywood Regency are increasingly collecting mirrored items. Most importantly, these furnishings are versatile–they work with any color scheme, and they complement patterned textiles with their shiny yet neutral look.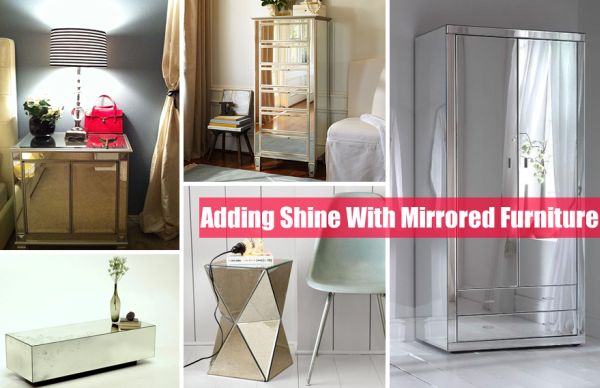 Whether you're on the hunt for a touch of mirrored elegance or you're in search of larger pieces, we've assembled a collection of gorgeous finds for your browsing enjoyment. Note the wide variety of styles represented, from the classic to the modern!
Mirrored Side Tables
We begin with a unique piece that features a collection of angled surfaces. The Faceted Mirror Side Table channels the spirit of old Hollywood, yet its look is so contemporary that it blends well with other modern pieces. Geometrically brilliant! [from West Elm]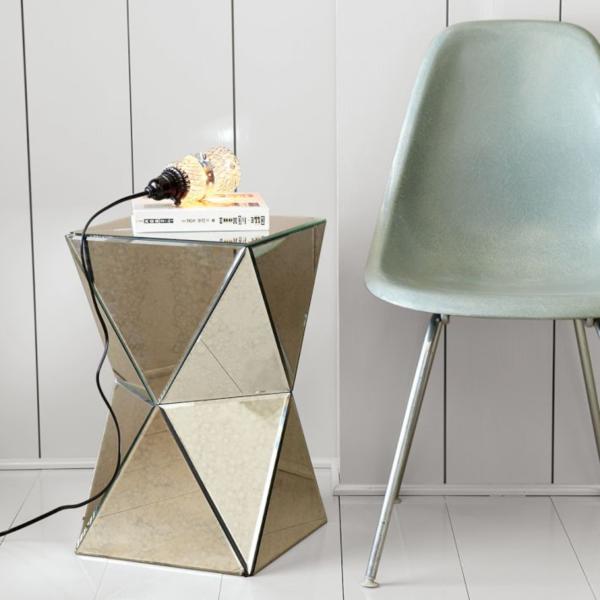 The Park Mirrored Bedside Table showcases tapered legs and a style reminiscent of early 19th-Century Empire furnishings. A hardwood frame keeps it sturdy, but the reflective exterior brightens things up. [from Pottery Barn]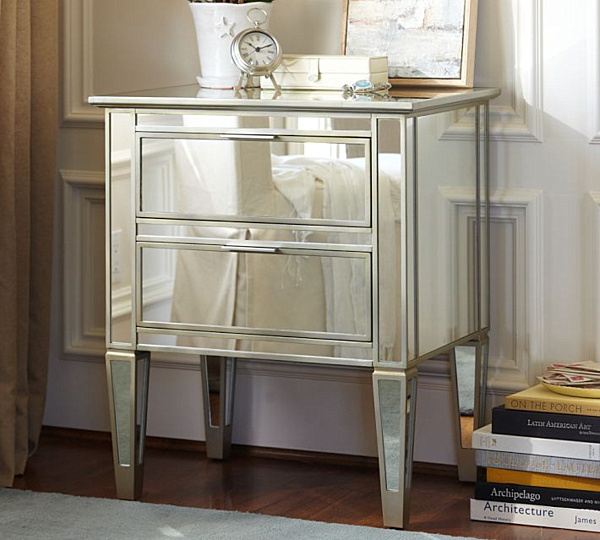 On a similar note, Pier 1 carries an amazing collection of mirrored pieces, from nightstands to headboards. Named for movie star Rita Hayworth, this '30s-inspired line of furniture will not disappoint. [image from Martini & Milk]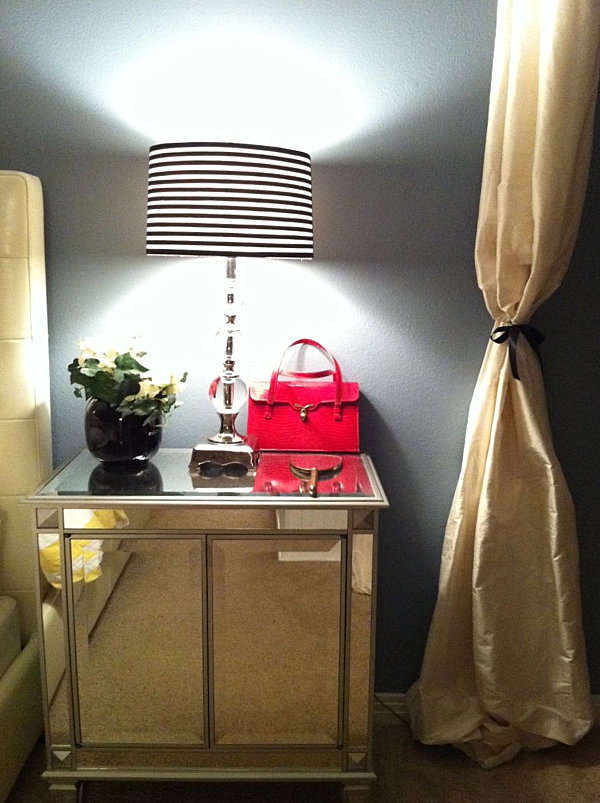 For more Hollywood Regency fun, check out the image below, which features the Hayworth Nightstand, as well as the Hayworth Mirror & Vanity: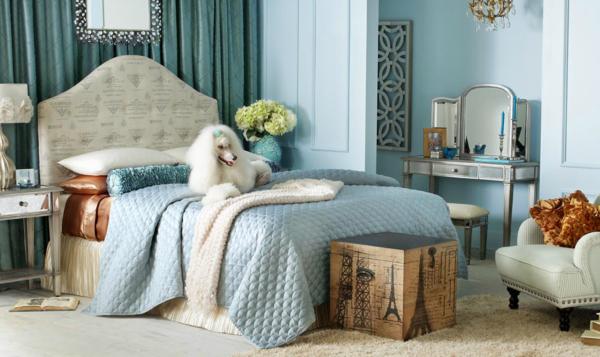 The Barcelona Bedside Table brings some metal into the mix with its chrome steel legs. Add a glass drawer knob and the shine is undeniable! [from Graham and Green]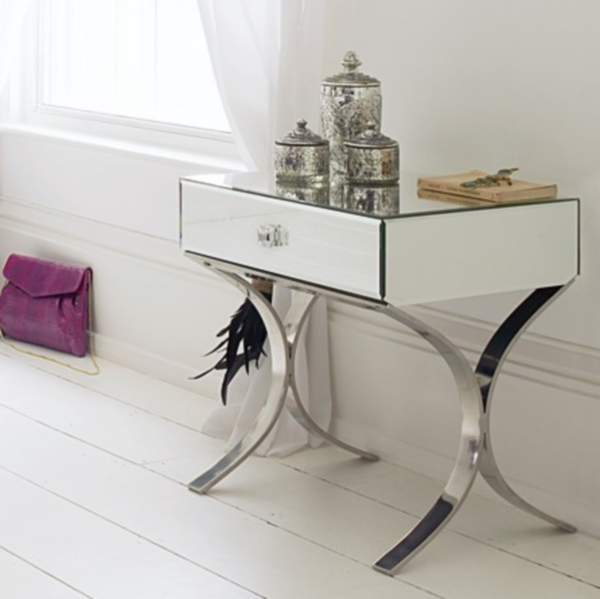 Mirrored Coffee Tables
Z Gallerie offers a large selection of mirrored finds, including the Pascual Coffee Table shown below. The piece combines a distressed finish with a mirror inset for a chic weathered look. Also note the Borghese Mirrored Buffet along the back wall: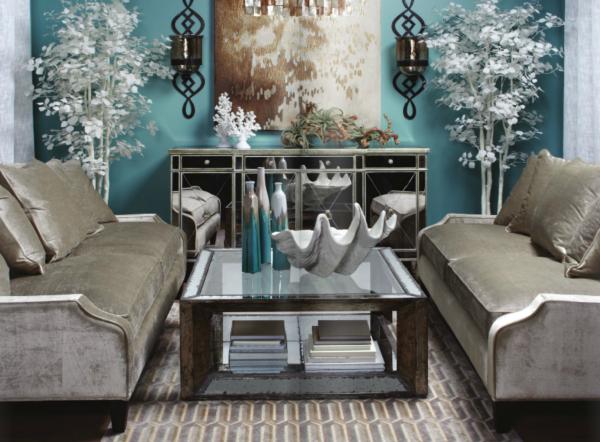 The Mirror Cube Coffee Table with Arabesque Design is a modern block, yet curved detailing is added to the surface as an embellishment. [from Notre Mond]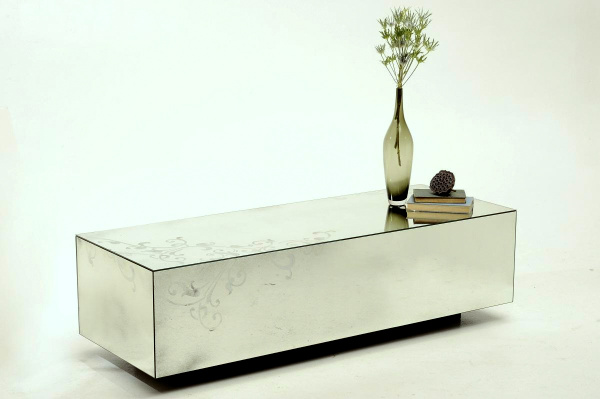 For another take on modern mirrored design, go for a coffee table with a solid border. The white trim is a nice contrast to the piece's glassy top. [from Cattelan Italia]: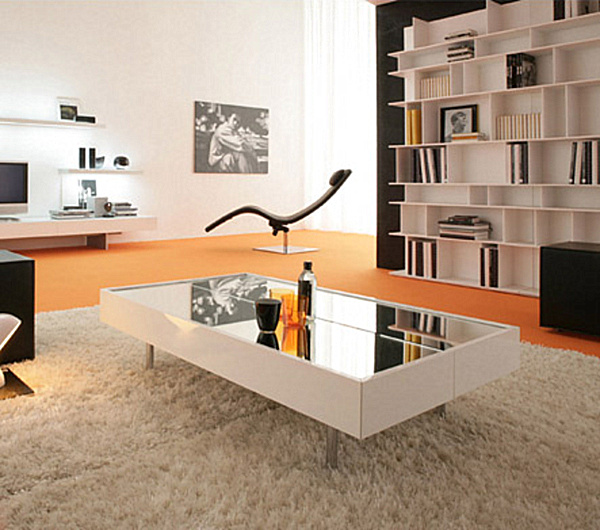 Textured edging and tapered legs give the "Amelie" Mirrored Coffee Table an antique look. Note how the coral is reflected in the tabletop, a testament to the piece's ability to showcase the items it holds. [from Neiman Marcus]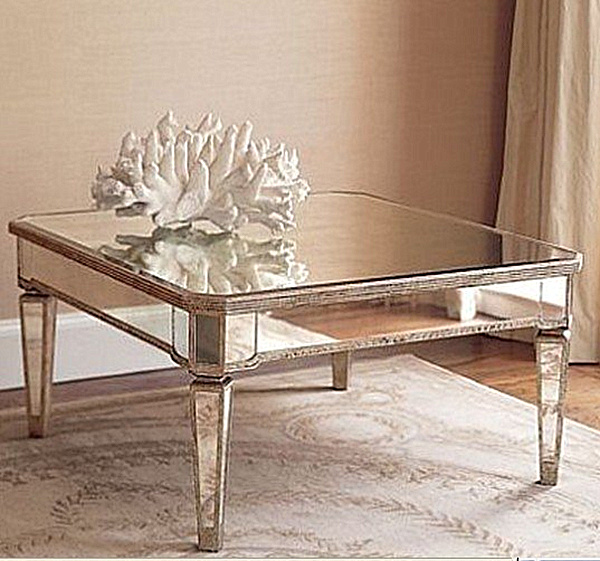 Finally, for a more subtle mirrored effect, check out the Foxed Mirror Coffee Table. Its antiqued mirror top is as striking as the round shape. [from West Elm]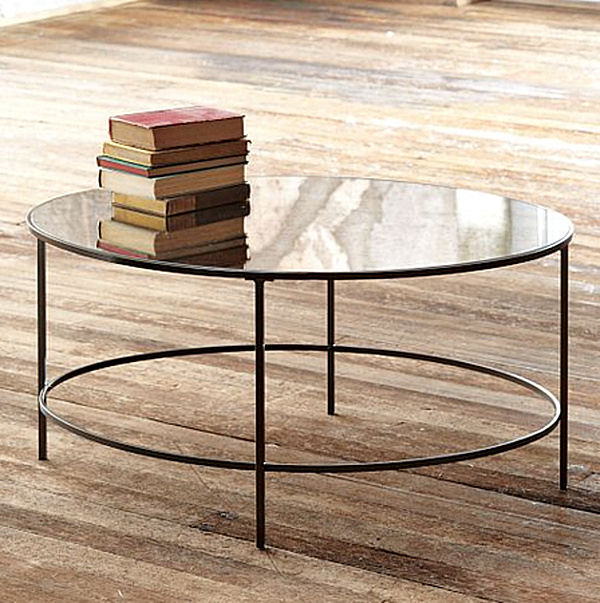 Mirrored Vanities
Vanities provide a grooming area and a place to display cosmetics, perfume and other decadent products. Mirrored vanities accentuate these precious items and celebrate the "look at me" nature of the space. The Colette Mirrored Vanity below features cabriole legs and golden edging. [from NC Furniture Best Buys]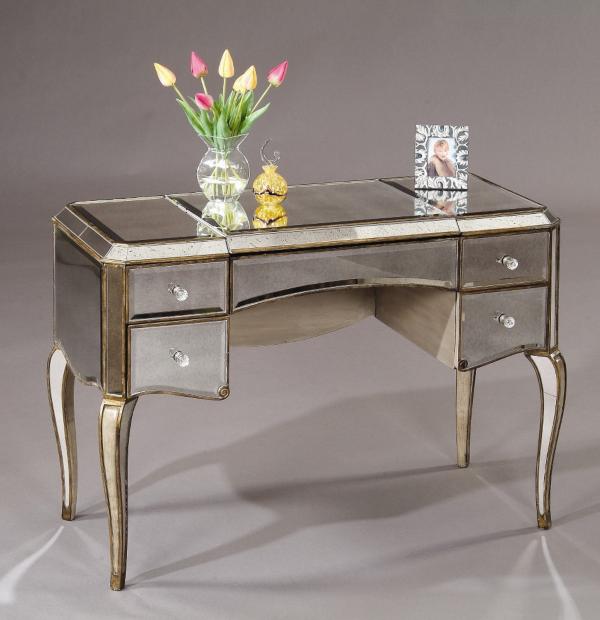 The Beveled Mirrored Vanity with Drawer is an ideal dressing table with the addition of a chair, or it can double as a console table that holds serving items at times of entertaining. [from Notre Mond]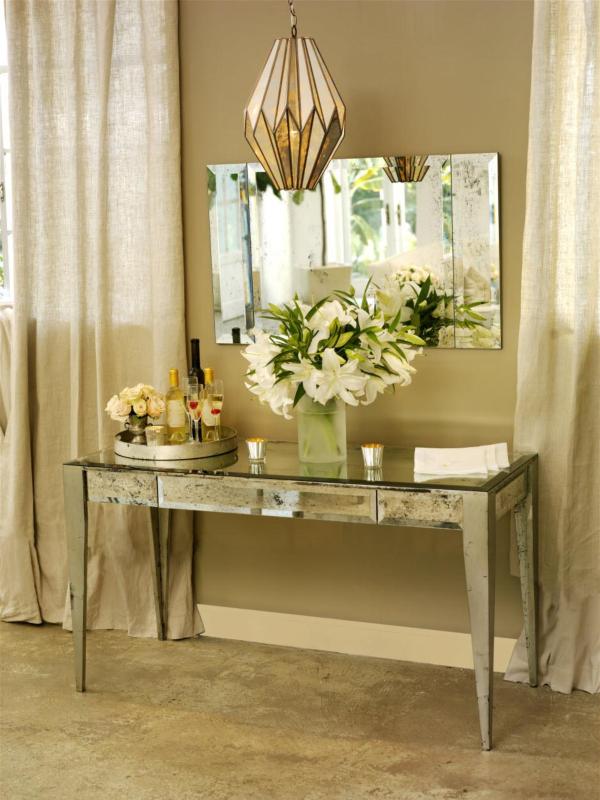 The Romano Mirrored Dressing Table Set comes with a matching stool. A boxy construction is contrasted by the curved mirror, combining the best of modern and romantic styles. [from Homes Direct 365]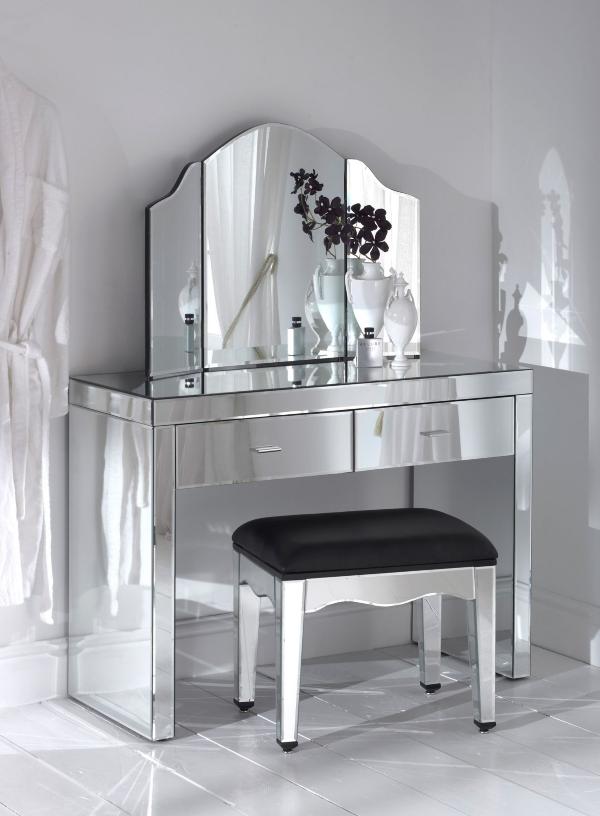 Designed by Jamie Graham, the 50's Style Mirrored Dressing Table features slanted drawers and wooden legs. Pair it with a retro chair to continue the 50's effect. [from Graham and Green]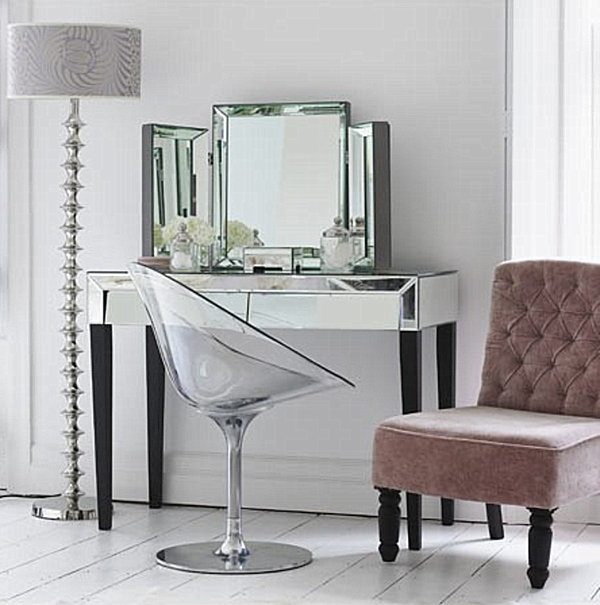 For a thin-legged look, try the Barcelona Mirrored Dressing Table Set with White Barcelona Stool. This fabulous collection of furnishings is anything but bulky, yet the reflective surfaces give the piece substance and sparkle. [from The Furniture Market]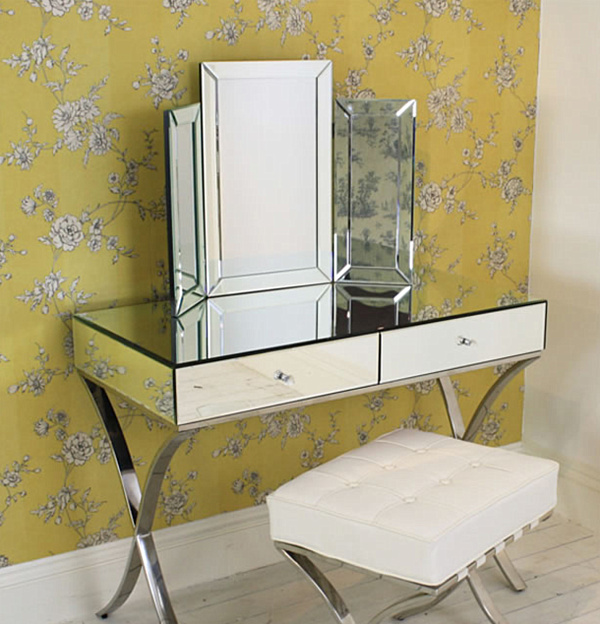 Mirrored Storage Pieces
For a dash of Art Deco, try the the Foxed Mirror Buffet. The oval design over the smoke-stained mirror finish adds interest to this practical piece, which provides plenty of storage space for dishware and serving items. [from West Elm]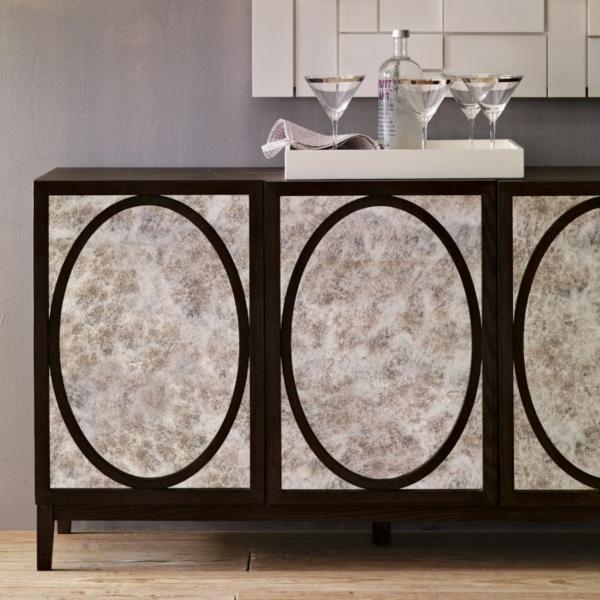 The Simplicity Mirrored 9-Drawer Chest lends a platinum, icy quality to a room, thanks to a silver leaf outline and polished nickel hardware. Notice how its top is the perfect setting for a large piece of art flanked by matching lamps. [from Z Gallerie]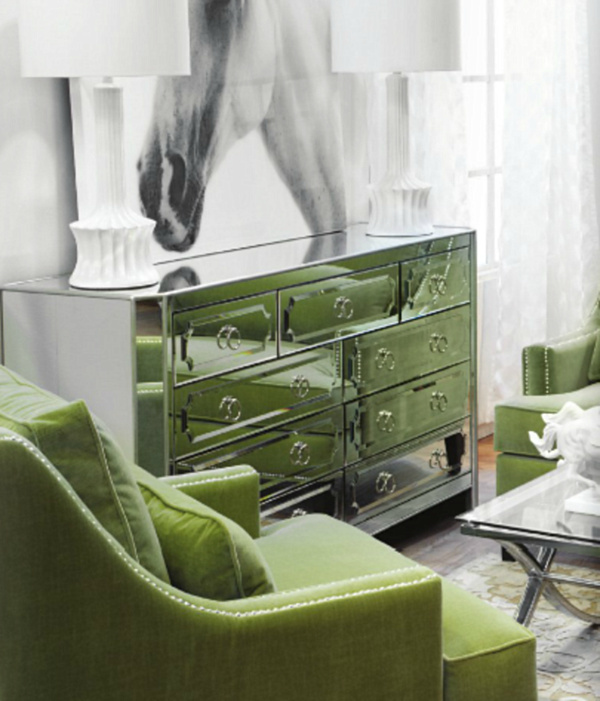 For an unusual spin on the reflective dresser, try the 50s Style Mirrored Chest of Drawers. Slanted drawers and retro wooden legs are true selling points. [from Graham and Green]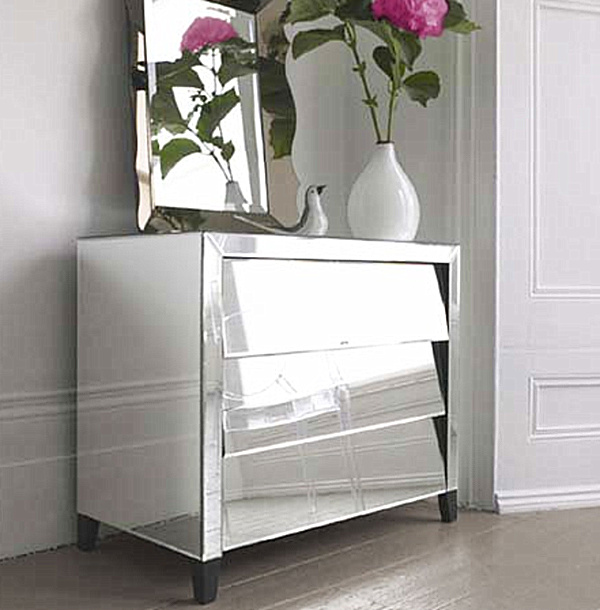 If you're a fan of color contrast, the Park Mirrored Tower Dresser is a piece worth considering. With a dash of Hollywood Regency influence, this silvery mirrored chest is outlined in gold-toned trim. [from Pottery Barn]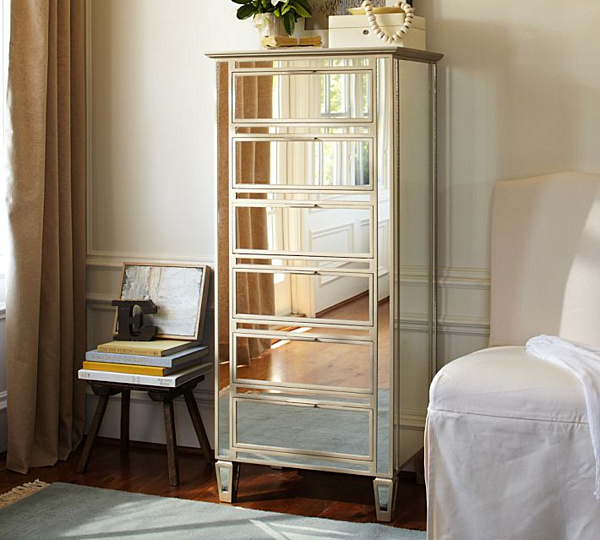 For the mother of all storage pieces, check out the Mirrored Romano Wardrobe. Inspired by the Italian Venetian period, the piece provides ample storage, with an additional two drawers for folded items. [from Homes Direct 365]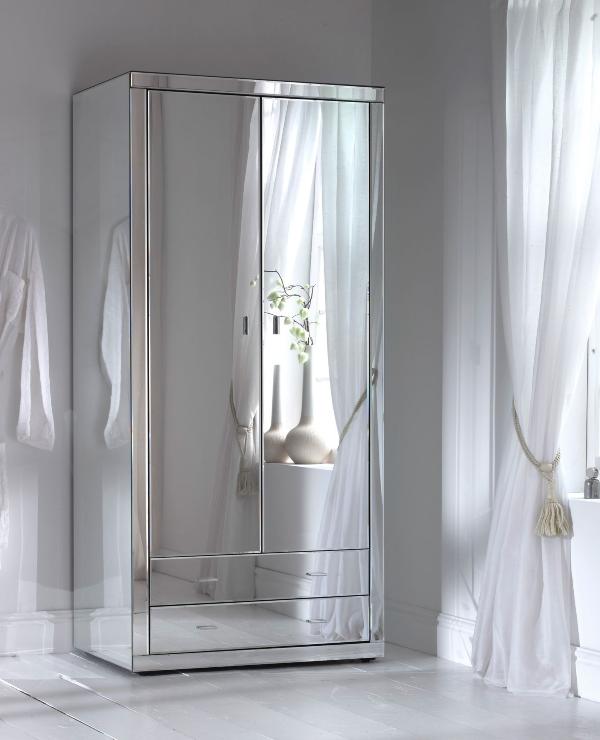 Liked the story? Share it with friends.