Here at Decoist, our love for clear acrylic furniture is no secret. Not only do acrylic pieces add shine, they create the illusion of more space. How? Because you can see the floor through a clear coffee table, and a transparent chair by the window lets the light shine through it. In other words, acrylic pieces don't fight with the dimensions of the room or break up the space in a jarring way. On the contrary, they seem to float in the spaces they inhabit!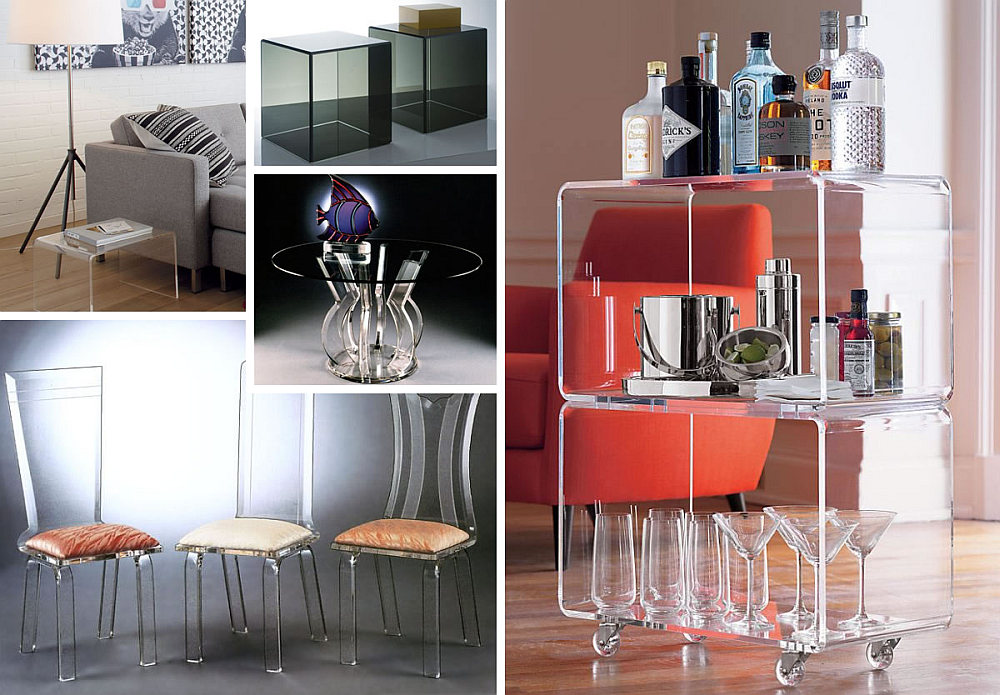 Plus, people are more likely to be organized when using clear acrylic pieces to hold their items. OK, so no research has been done on this topic… But would you want all of your clutter on full display through the transparent drawers of your acrylic desk? Neither would we! Which is why acrylic furnishings encourage neatness, much like you're encouraged to clean your house when you know guests will be viewing its contents. Speaking of viewings, take a look at our new round-up of acrylic furniture finds. Enjoy browsing today's selections!
Acrylic Seating
To kick things off, we turn the spotlight on some truly unique acrylic seating! Wouldn't this Acrylic Bus Bench from Muniz Plastics make an interesting outdoor piece for a modern patio or garden? Picture a potted palm sitting right next to this see-through item, then imagine the bench sparkling in the sunlight!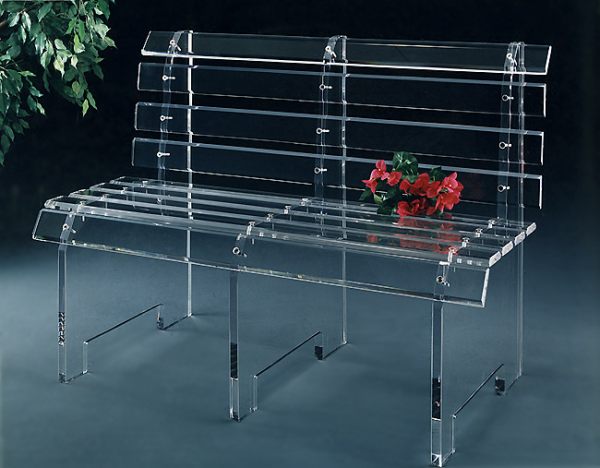 For a comfy sofa with a Lucite base, check out the Impresario Seating by BNO Design. Note how the firm right angles of the arms bring a well-defined element to this piece, which is anything but icy thanks to the help of plush cushions. [from Plexi-Craft]
For an unusual take on acrylic design, have a look at the conversation pieces featured in the next image! They are Aitali Louis Chaise Acrylic Chairs, and the antique vibe they evoke is sharply contrasted by their icy outline in acrylic. Yes, these chairs effectively combine future and past. [from Gibraltar Furniture]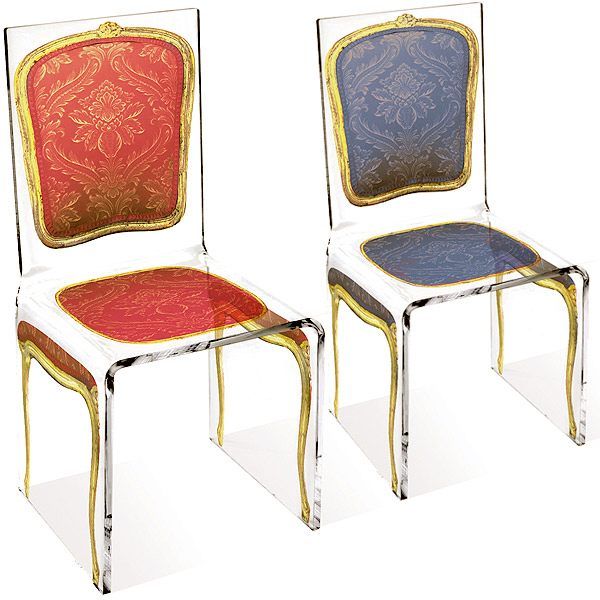 Muniz Plastics also offers a wide variety of chairs, some featuring straight lines, and others celebrating the beauty of curves. Textured cushions nicely complement the transparent elements of this geometric seating, as shown below: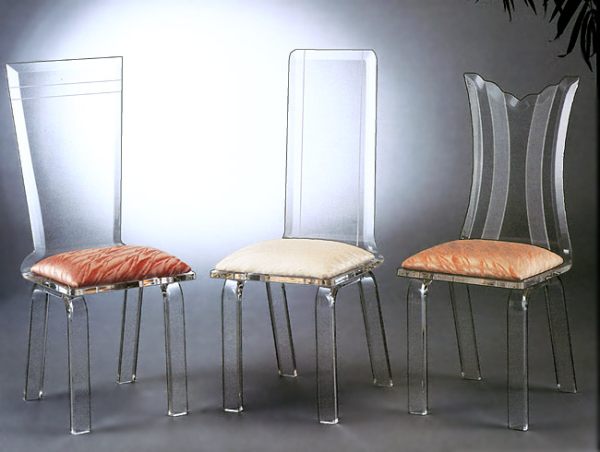 Time to round things out with the Round Back Fancy Chair! With back support this charming, no arms are necessary. Especially when a shiny taupe cushion is involved. [from Plexi-Craft]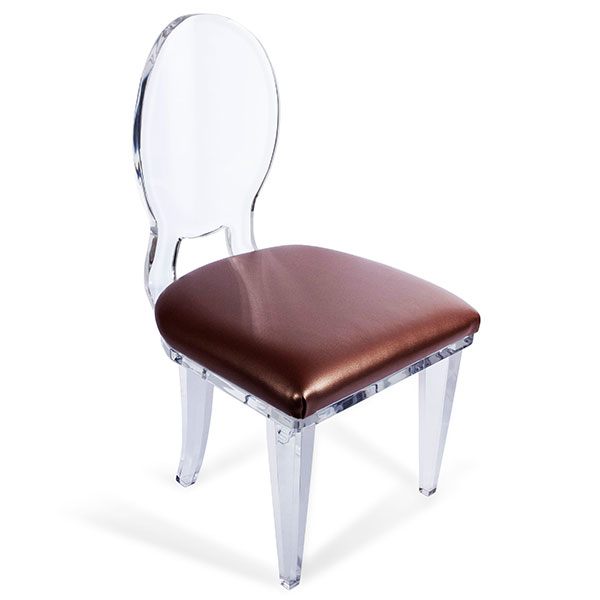 For another rounded option, this time with pronounced arms, check out the Dymas Modern Acrylic Armed Ghost Chair by Baxton Studio. The best part: these chairs can be used indoors and out! [from Novi Decor]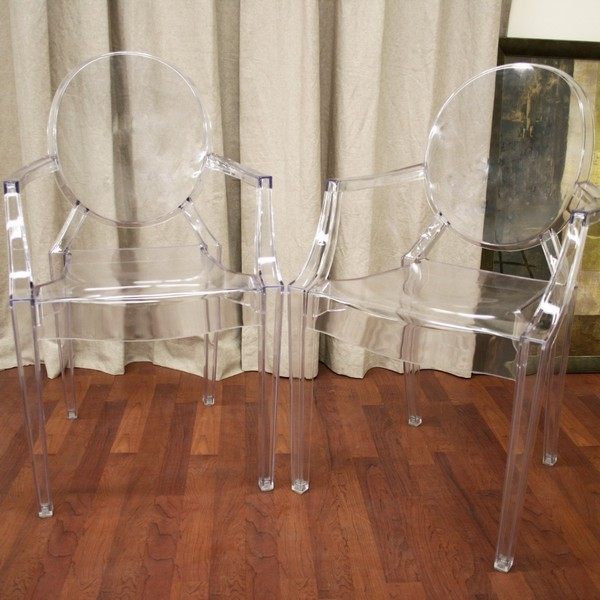 If you're looking for a way to add shine to the office, try the Swiss Acrylic Office Chair by Lumisource. Perfect for small and large desks alike, this piece is accented with a series of nine cutout dots. A base with casters helps you slide from place to place. Don't forget to swivel too! [from Novi Decor]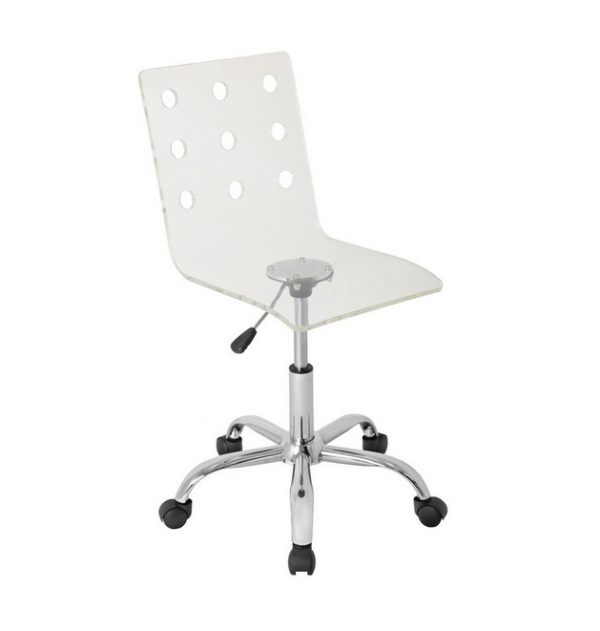 Acrylic Tables
Acrylic tables open up a room, especially since they allow the walls and floor to shine through. Whether you're looking for a coffee, dining or side table, a range of options awaits you. Like the peekaboo rolling two shelf from CB2, crafted of thick molded acrylic. Clear acrylic casters keep the transparent style consistent from top to bottom. A two-tiered design allows for three layers of storage, which can truly come in handy when storing bar items, as shown below.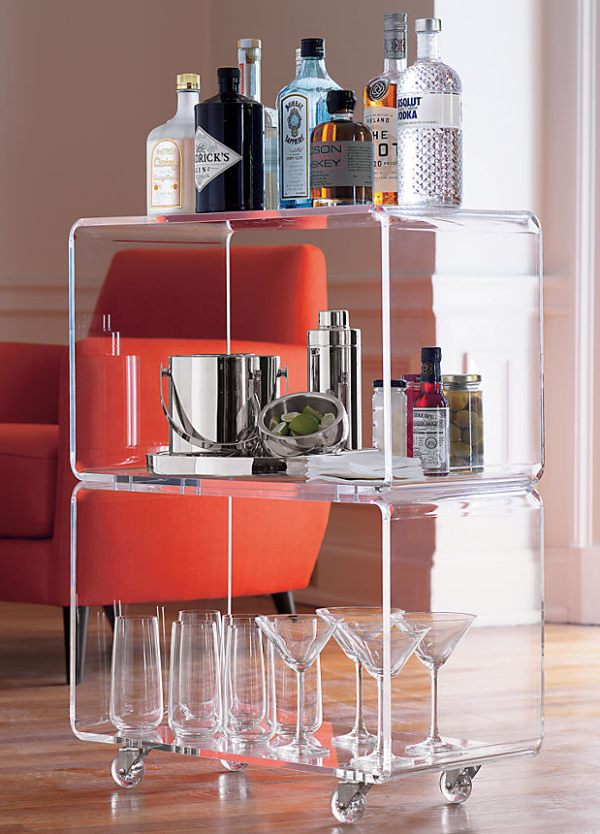 If you're looking for a side table with a top that's not too far from the ground, don't pass up the peekaboo low clear side table. A simple curved design gives this piece it power. This item is ideal for couch- or bedside placement. [from CB2]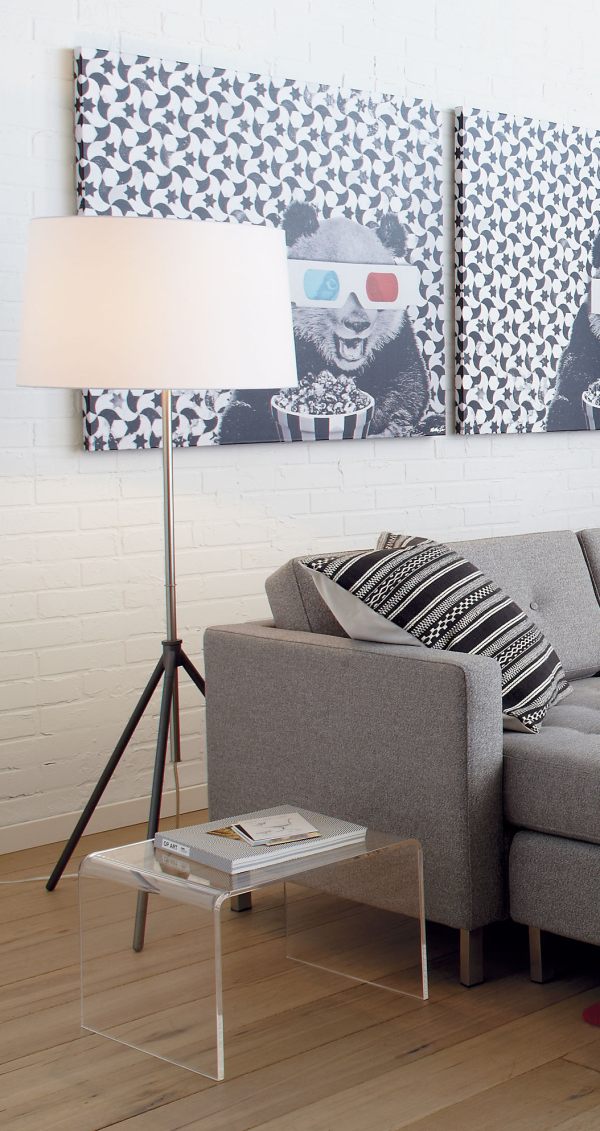 An acrylic handle is one of the many special touches of the Square Side Table, which features a drawer that can be ordered in black or white. As you can see, the contrast between transparent and opaque surfaces is striking, especially since the drawer is encased in a glossy cover. [from Plexi-Craft]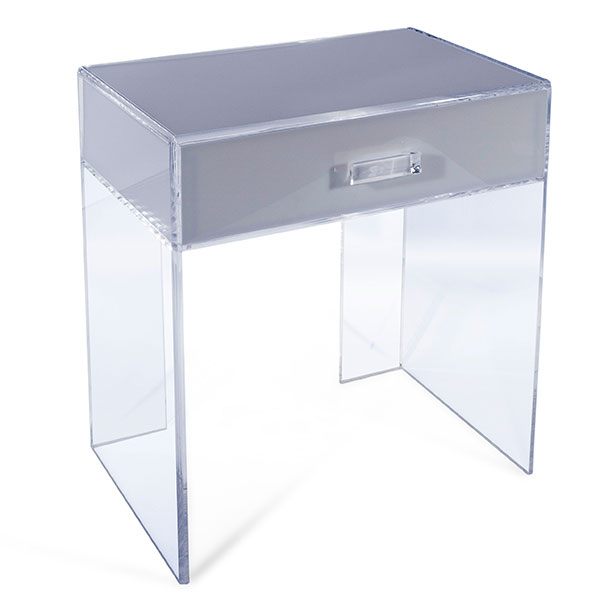 The tables below are anything but simple. In fact, these Trillion Acrylic Side Tables feature a dazzling diamond cut. Not only do they shimmer, but they can be combined to form a modular coffee table. In addition, the edging can be ordered in a variety of colors. [from Alexandra Von Furstenberg]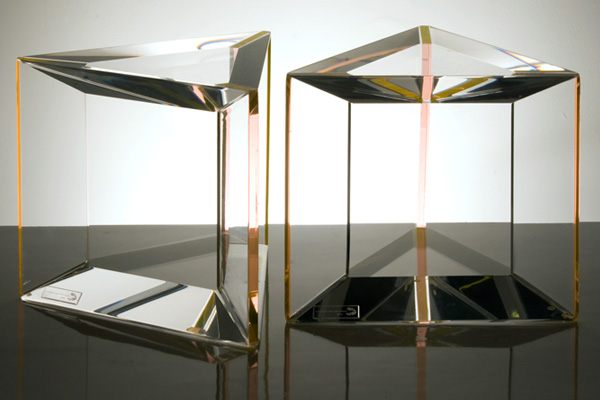 For a smoky touch, try the the M-16 Cube Acrylic End Table. Or purchase a pair! While this piece is see-through, a smoky tint lends an air of mystery, all the while evoking a '70s/'80s vibe. [from Alexandra Von Furstenburg]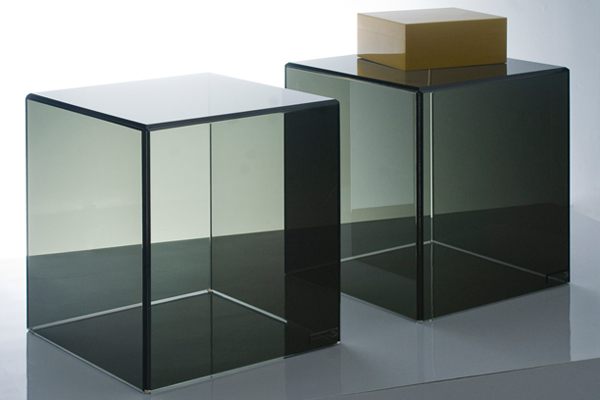 Stylish legs are a highlight of the Butterfly Acrylic Dining Table from Muniz Plastics. In fact, they create an X-shaped base that adds stability to this large piece. A beveled glass surface tops it all off with a solid finish.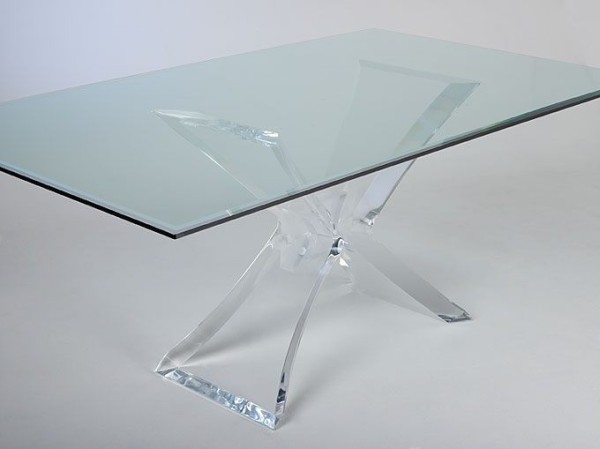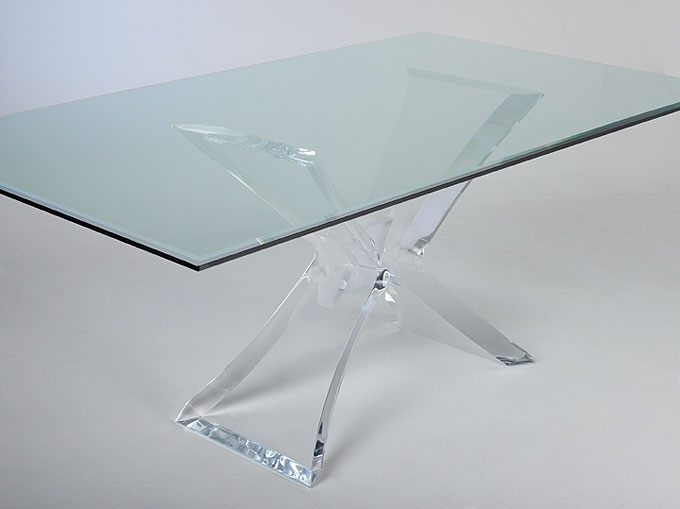 If an elaborate base is more to your liking, check out the Cyrrus Dining Table, complete with a round glass top. Note how the bottom of the curved base mimics the circular form of the table's surface. [from Muniz Plastics]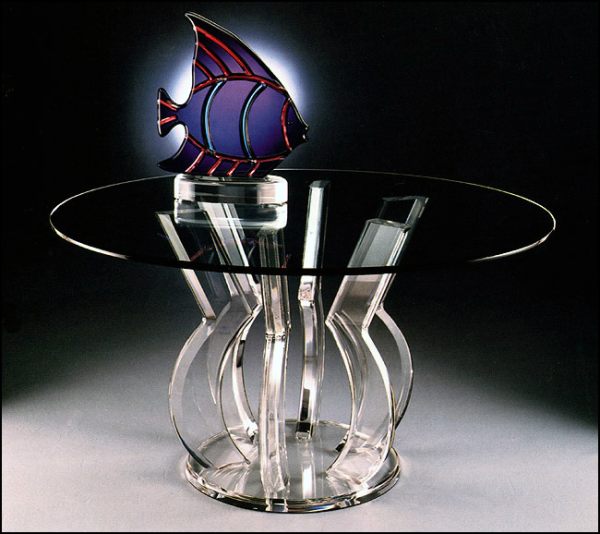 For another curved take on the acrylic table, have a look at the Philippe Round Acrylic Dining Table. Tapered legs give the piece an antique feel, while a beveled glass inset ensures that the top is solid. Surround the table with acrylic chairs, or pick your favorite vintage pieces to complete the look. [from Muniz Plastics]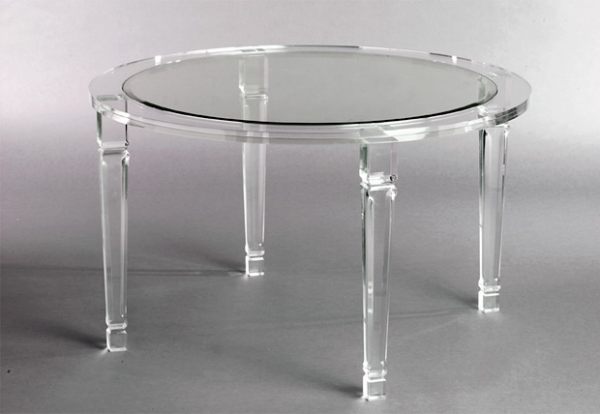 The Z Platform Table is a design wonder. A rectangular top and base are joined by a diagonal leg that offers support and structure. Purely fabulous! [from Plexi-Craft]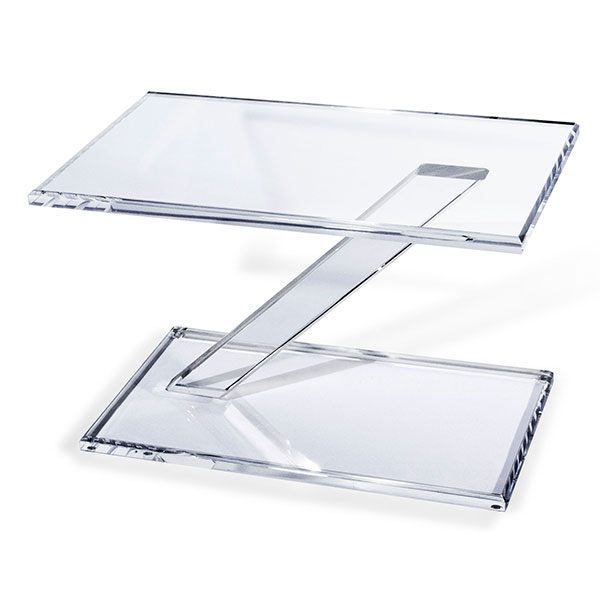 Acrylic Desks
Acrylic desks bring a glamorous twist to the home office. Nicely accented by upholstered, chrome or acrylic chairs, these see-through statements are as functional as they are stylish. The Axle Acrylic Desk in clear and white is another stellar design from Alexandra Von Furstenberg. The white glass insert shown below can actually be ordered in a variety of colors, as can the acrylic frame.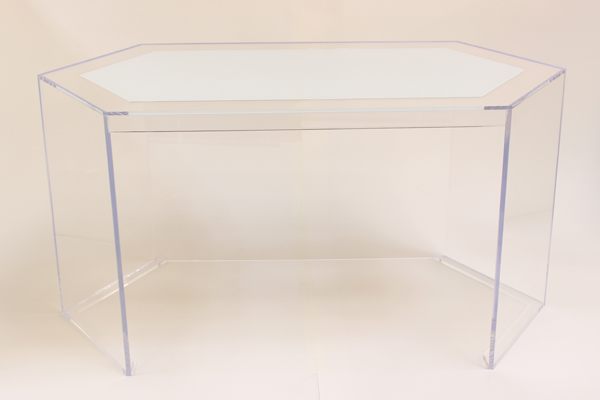 Also from AVF, the Blacksmith Acrylic Desk features an A-frame base. As you can see, the piece is definitely not short on surface space. Perfect for large desk needs, this piece comes in many shades for both tabletop and legs.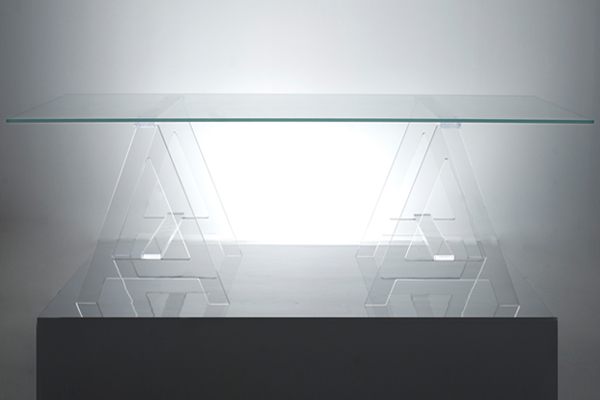 Clear acrylic pieces bring a cool, icy element to a room. Blending easily with modern and vintage pieces alike, they can evoke a range of styles, from the glamor of Hollywood Regency to the minimalist modern chic of today's most contemporary looks. Not sure if you want to go transparent? Start with a small piece such as a side table and see how it suits you. We suspect that in time, it will bring you the clarity you need to go bold with your acrylic purchases!