Concrete is one of those materials that you think of for it's structural purposes. Whether it's for your sidewalk, driveway or even as concrete masonry units or commonly referred to as CMU blocks, we don't think of concrete in an aesthetically pleasing fashion. Concrete has put on a new face in recent years and designers and architects are finding a beauty to concrete. Whether it is polished, or colored or just kept natural, concrete has a beauty that your home will love. Here are a few ways to showcase this forgotten material in your modern interiors.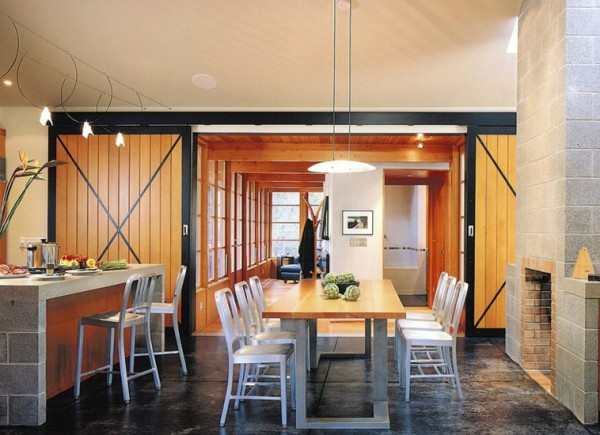 Natural concrete beauty:
 Concrete has long known to be a building material for pouring columns, foundations, and even used for flooring and walls. With urban warehouse lofts trending with their exposed industrial finishes and designers using the bare material as a design aspect, concrete loves to be shown off. Look at how this open floor plan by RGN Construction showcases bare concrete walls, and columns to give this contemporary space a chic industrial feel.
Bringing color and concrete together:
While concrete is inherently gray, there are many ways to add color to the mixture or to stain the surface to give gorgeous new tones. From colorful flooring to adding flecks of colorful stones and aggregate, concrete can beautify any space.  Consider adding colorful textiles in furniture, pillows, area rugs and drapery to give a high contrast between soft and hard textures. This sitting area by Ehrlich Architects is a perfect showcasing of an orange colored sofa amidst a hard concrete wall and built in display area. The perfect marriage of gorgeous contrasting materials and form.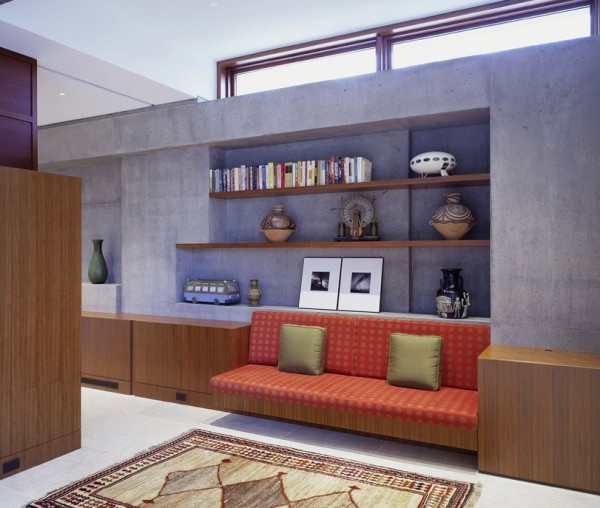 Polished concrete can look so dramatic:
While you may think you have to stick with the matte finish of concrete, just like any aggregate or stone, concrete can be buffed and polished to have a reflectance that is modern and very sophisticated. Take a look at this concrete polished floor in this modern loft apartment. The floor combined with the decorative stone below the dining room table is a great organic touch to avoid the look of a "sea of concrete". For a softer touch, consider adding an area rug to your floor, with a good backing material to avoid the rug slipping! Many designers have found ways to form everyday household items out of concrete as well. Sinks, and bathtubs are given a whole new look with concrete.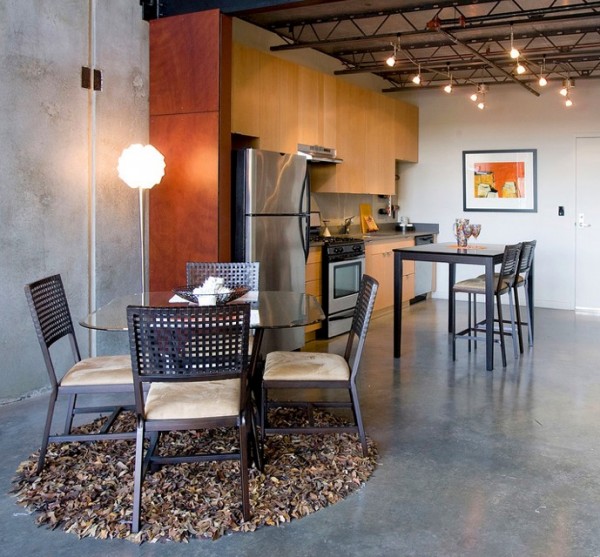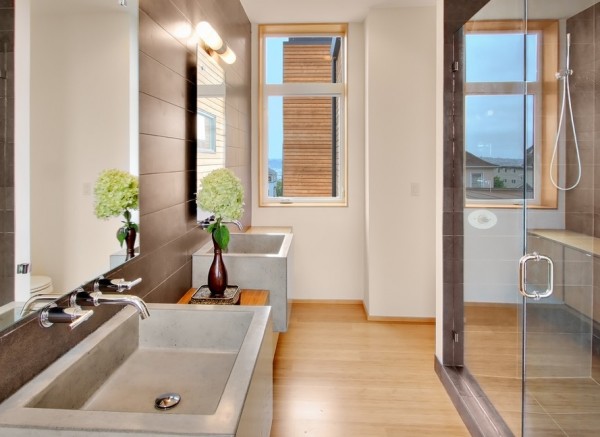 Image via
If you have been wondering how to bring a new design aesthetic into your home, look no further. Concrete is cheaper than most resilient materials, stands up to wear and tear, but can also be formed into beautiful shapes and geometries. Before you run to look at other materials for your interiors, consider concrete. This non-traditional finish can be just as beautiful as marble, granite and slate. With all the possibilities from your walls and flooring to sinks and bathtubs, concrete is no longer just for your outdoor home or hidden behind sheetrock on your walls. Go ahead, expose concrete and see all the comments that you receive!