When it comes to interior design for the modern teenage girl's bedroom, it's often challenging to find ideas that are fresh and original! Should you go with a theme? If so, which style will make a strong statement without being overpowering? Once basics such as wall color and bedding have been selected, how does the room come together in a way that is unique?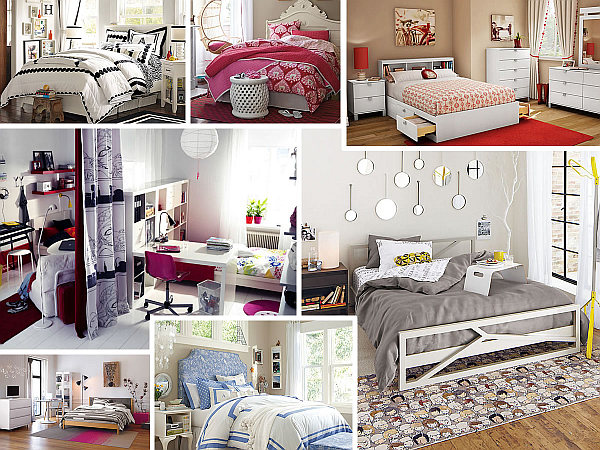 Today we answer these questions with the help of some inspirational pictures. The rooms below are modern, and they stand out precisely because they put a different spin on teen decor. The pics are polished and sleek, but we all know that the rooms of most teenagers have a "lived in" look, so envision the spaces below with a few more posters on the wall, a school bag on the desk chair and some stuffed animals on the designer bedding! See something you like? We've included links to product information where possible. Happy perusing!
Contemporary Bedrooms for Teen Girls
We open with a picture that serves as an important reminder: the teenage girl's room doesn't have to be pink and frilly! Some teens prefer a contemporary look, and it's important to honor the style and colors they love. I the space below, wooden furniture and clean-lined accessories fit the personality of the mature teen, yet playful silhouette artwork keeps the room youthful. [from South Shore Furniture via HGTV.com]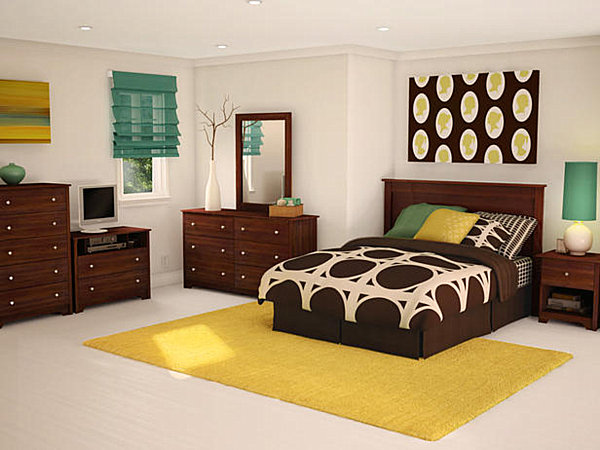 If the room is a shared space, creative solutions can help give both teens privacy. In the room below, a curtain serves as a hip divider, and the personality of each teenager is honored by colorful decor. For product details, visit IKEA.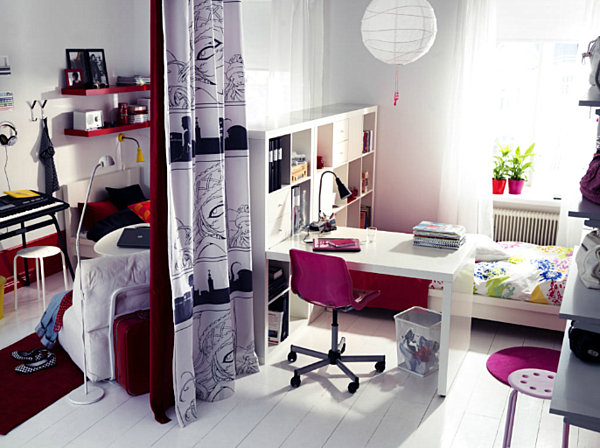 Neutral walls and and red accents make this next room stand out. Add Sparkling Collection furnishings in white, and the space becomes crisp and bright! [from South Shore Furniture]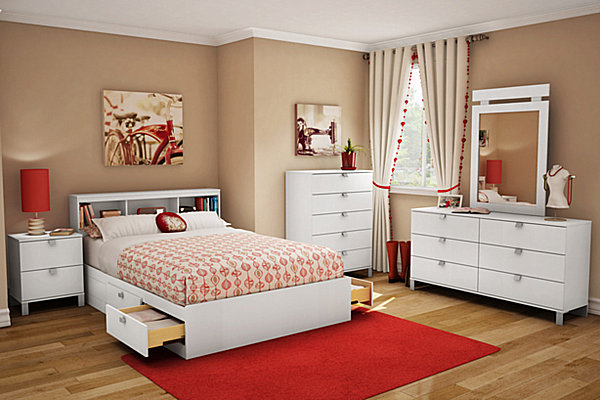 For the ultra modern teen, hip lighting sources and striped bedding put their contemporary stamp on the space, yet pink accents on the rug and side table add a feminine touch. For product information, check out CB2.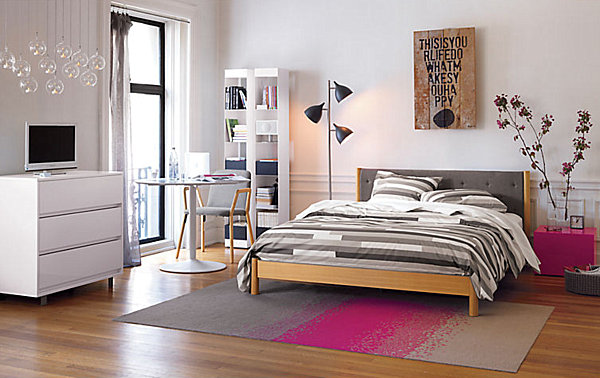 Or go for the unexpected with a neutral palette and quirky details like a collection of hanging mirrors. For more information, check out CB2.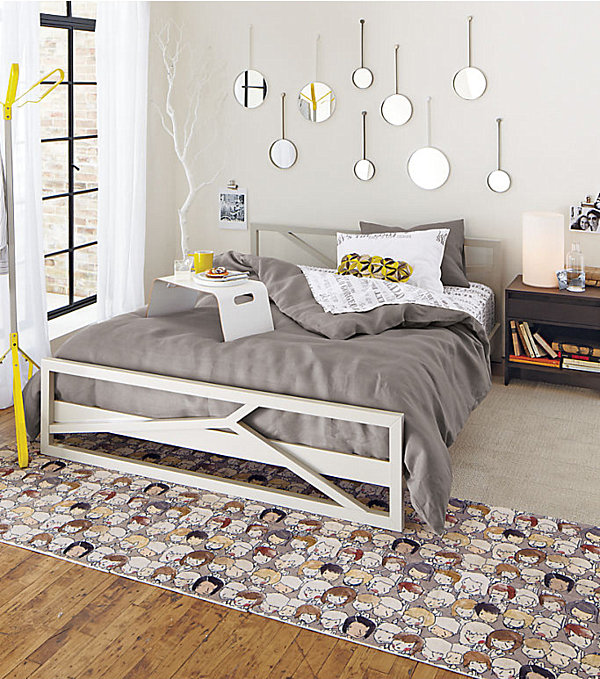 Artsy Bedrooms for Teen Girls
Sometimes sparse and modern does the trick, but other times, it's best to go eclectic and artistic! In the room below (designed by Andreea Avram Rusu), artwork and bright textiles are true focal points. This space was also featured in a previous Decoist article on teenage girls' room inspiration. [from HGTV.com]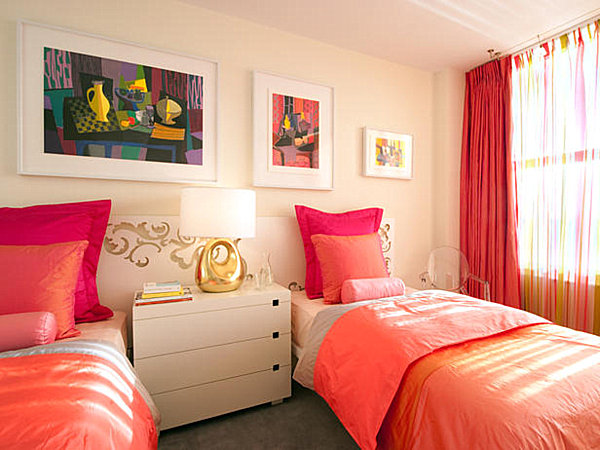 In this next yellow room, pink and red accents make the space pop. Artwork plays a key role in defining the room's aesthetic. [from South Shore Furniture]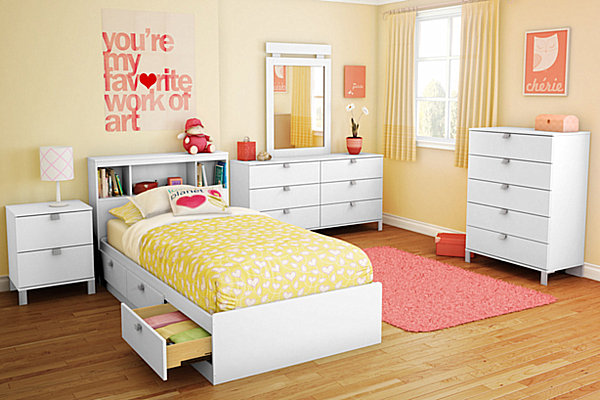 It's a color fest! A bright blue chandelier and upholstered headboard add a chic touch, while artwork in shades of yellow and pink create a vivid gallery wall effect. [from Serena and Lily via HGTV.com]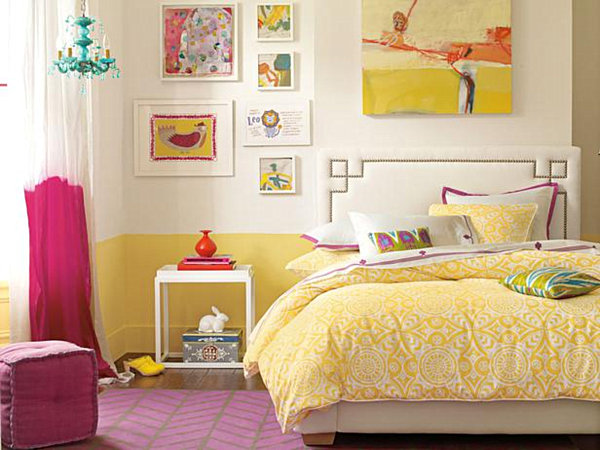 This next bedroom was also featured in the above-mentioned Decoist article on teenage girls' room inspiration. The space, also known as the Zebra Hampton Bedroom from PB Teen, features black and white textiles that establish a distinguished vibe. Not to mention, a collection of photos and shadowbox-framed art pieces add true creativity. For product details, check out PB Teen.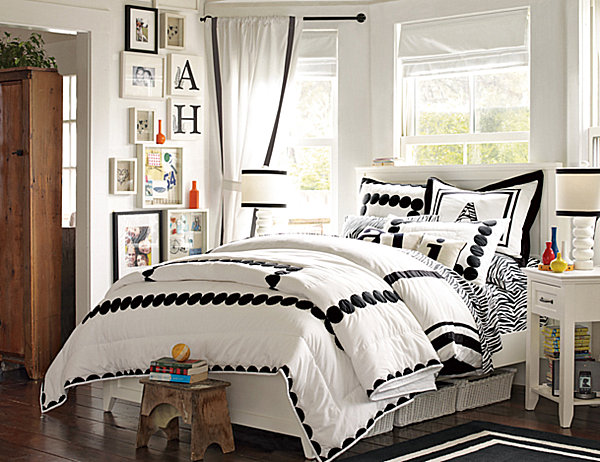 Sometimes a wall mural is the way to go! This woodsy, artistic room is both functional and stylish. In fact, this Bohemian Chatham Bedroom from PB Teen was also featured in our previous post on teen girls' rooms. For product details, check out PB Teen.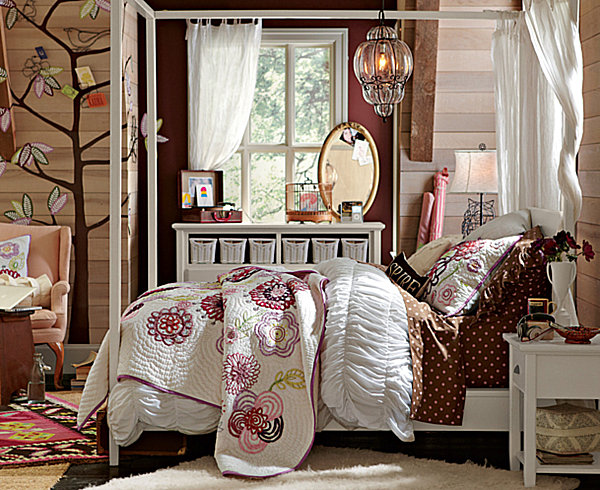 Girly Bedrooms for Teen Girls
It's time to get girly! And what could be more feminine than The Tiara Collection? These white furniture offerings look amazing against a vibrant background, such as the deep pink wall below, complete with decorative molding. [from South Shore Furniture]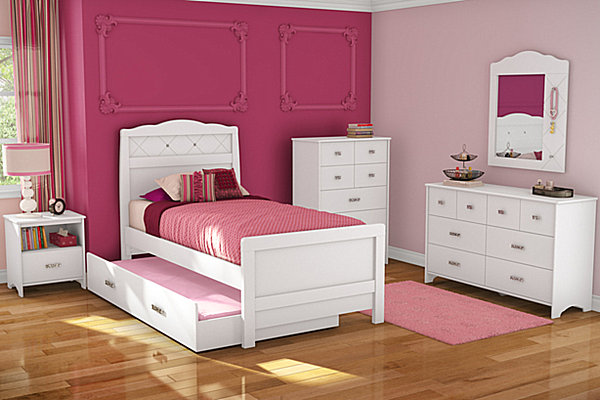 Bring on the fairy tale… The Georgina Headboard from Serena & Lily is inspired by an antique Portuguese design. A white finish shows off the piece's ornate form. Horses and parrots make an appearance in the decor, as does the lattice pattern on both side table and ottoman!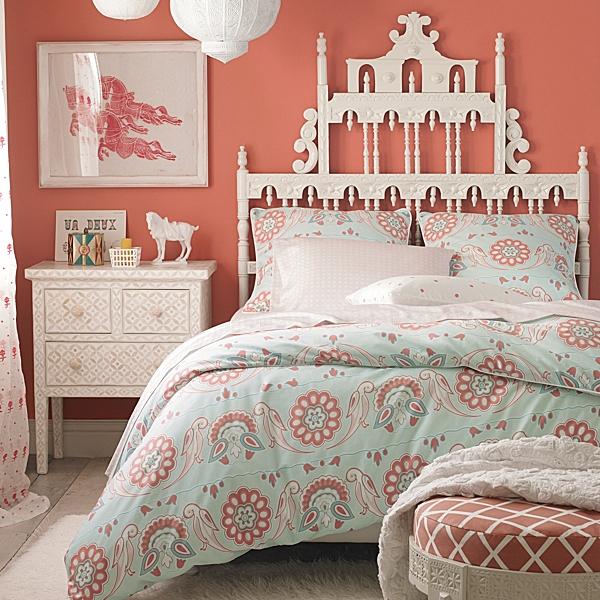 Below we see another piece inspired by Portuguese design–the Bristol Headboard from Serena & Lily. Even though the piece has an old-fashioned feel, it easily mixes with modern seating and a contemporary geometric rug.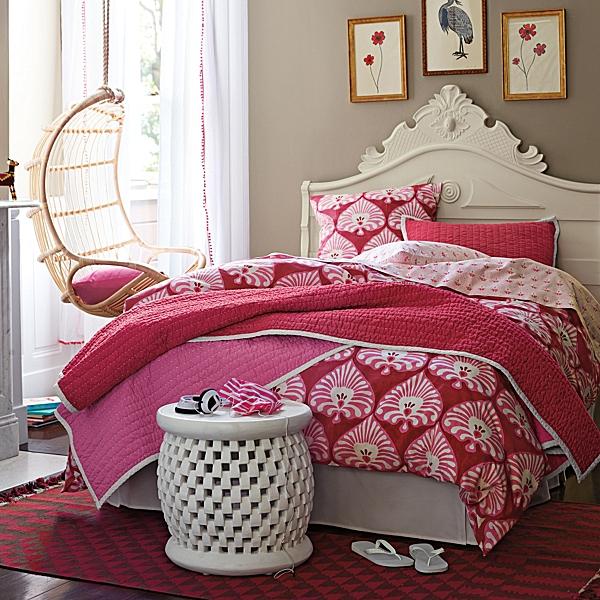 The pink upholstered Octavia Headboard from Serena & Lily is inspired by classic Greek key patterns and accented with nailhead trim. Damask bedding and a bird motif lamp add to the space's feminine feel.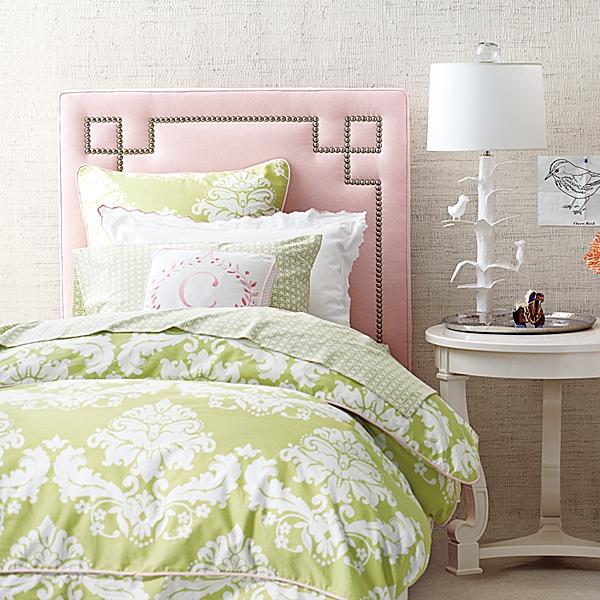 It's hard to get more girly than a floral wall mural with 3-D blooms! Other key features of the room below include ample storage space and a study area. [designed by RMSer mblanchette, image from HGTV.com]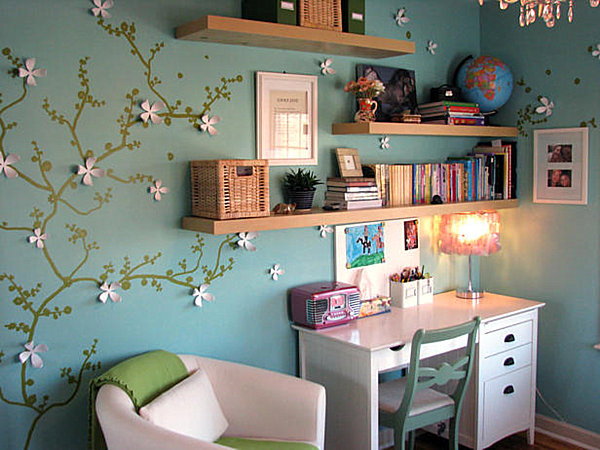 Sophisticated Bedrooms for Teen Girls
The glamour girl needs an equally glamorous space! Some teens feel at home when surrounded by elegance. The lavender room below is soothing, and Hollywood Regency touches like the upholstered headboard reflect today's design trends. [from HGTV.com]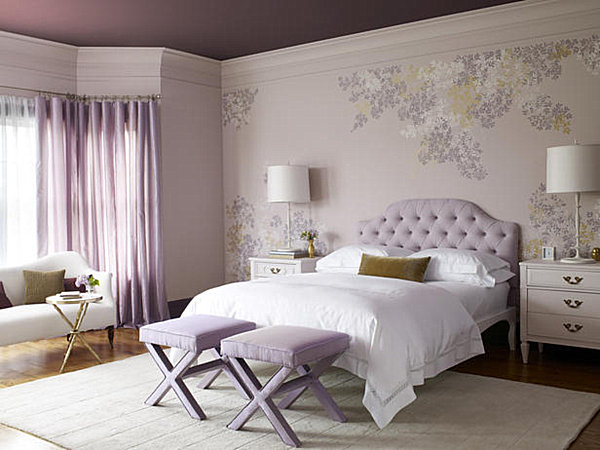 Speaking of Hollywood Regency trends, check out the bedroom below, complete with Greek key wallpaper and Jonathan Adler bedding. [from Jonathan Adler via The Lennoxx]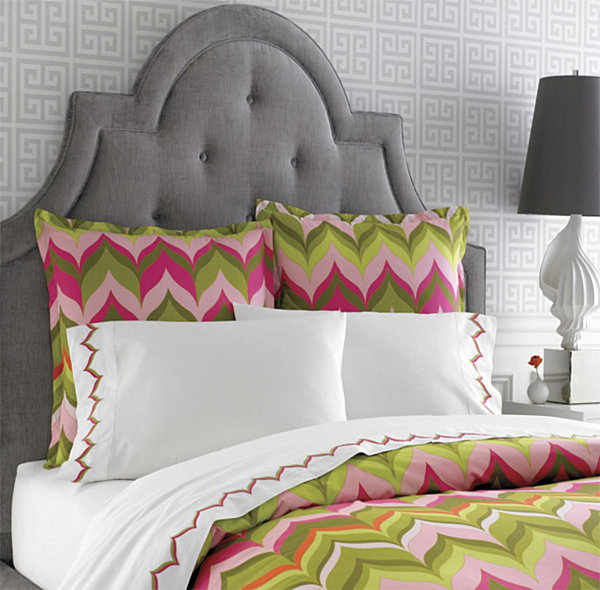 Sophistication can be as simple as an upholstered headboard, bubble base lamp and subtle bedding. The Ditsy Dot Raleigh Bedroom from PB Teen boasts all three! For product information, check out PB Teen.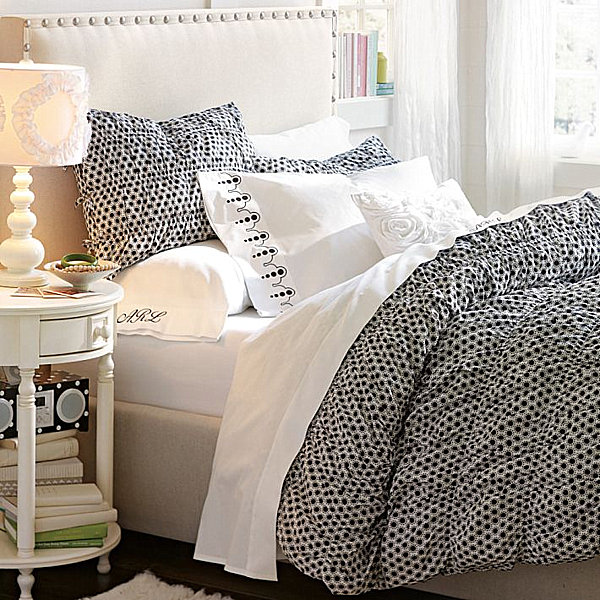 Hotel-style bedding and a capiz shell chandelier are eye-catching elements of the Suite Upholstered Bedroom from PB Teen, shown below. Note how blue fabric pops against the beige walls. For product details, check out PB Teen.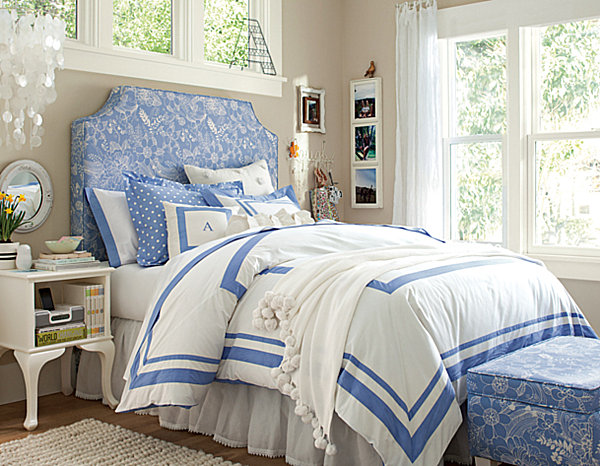 We end with a travel-themed bedroom that gives new meaning to the word "cosmopolitan." Black and white wallpaper is accented by hot pink details. Fun and youthful yet classy, this room brings the magic of Paris and New York home. For a full tutorial on creating this sensational space, check out Housetohome. [photo by Simon Whitmore]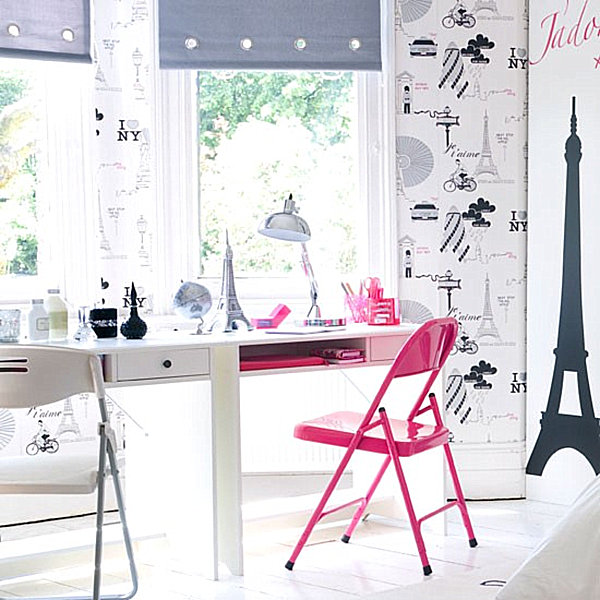 Teens should be involved in planning the look of their spaces. When choosing an overall palette, bedding is a great place to start. If finding the perfect comforter proves tricky, go with a solid and accent with printed pillows, curtains or upholstered seating. Most importantly, keep in mind that while the spaces above may look flawless, no room is perfect. The teen bedroom should reflect the personality of its inhabitant, complete with prized photos, beloved mementos and yes, even a little clutter from time to time!