Home renovations take up a fair bit of energy and resources. They can be really taxing if you are not properly prepared and do not plan ahead. This is truer in case of bathroom renovations and the easiest way to get around this conundrum is to know what you exactly want! As simple as that sounds, most homeowners often change plans on the fly and that can ultimately lead to a disjointed bathroom or unnecessary waste of time and resources. 2020 has been a year where homeowners have veered more towards bathroom renovations since they're spending more time inside. And today we take a look at the trendiest of these bathroom renovations that also usher in an air of opulence –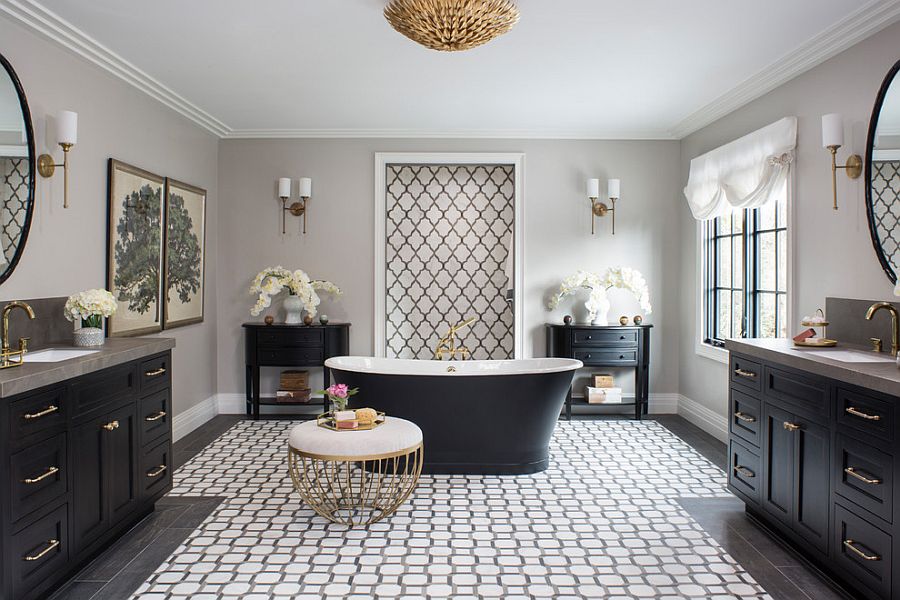 1. Freestanding Bathtub
The comeback of freestanding bathtub is one that we have seen unfold in front of our very own eyes over the last few years. Modern freestanding bathtubs are the central pieces around which luxurious, new-age bathrooms are built. They easily bring home the spa-inspired look and do so while enveloping you in comfort!
RELATED: Exclusive Minimalist Bathroom With Sleek Design And Striking Aesthetics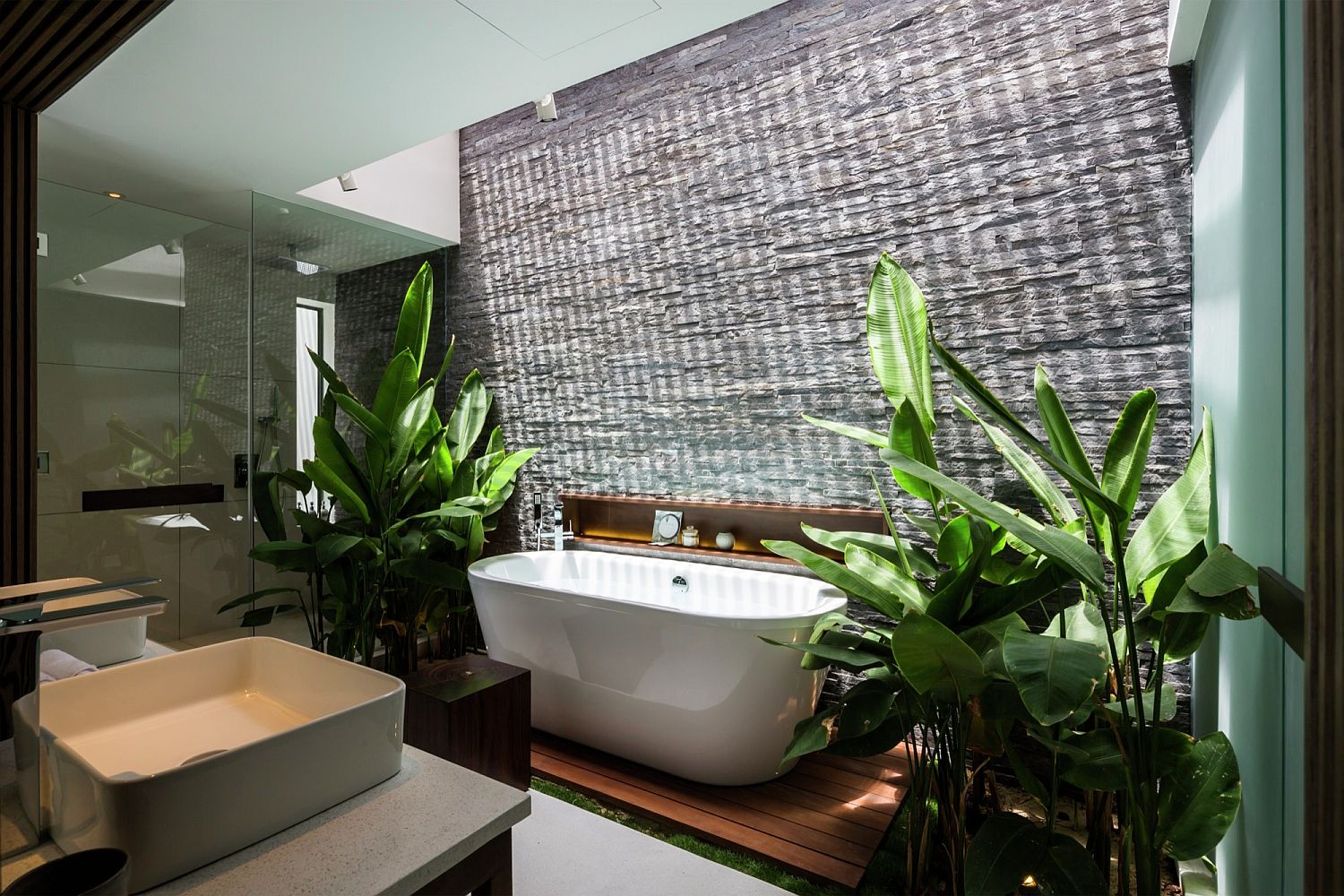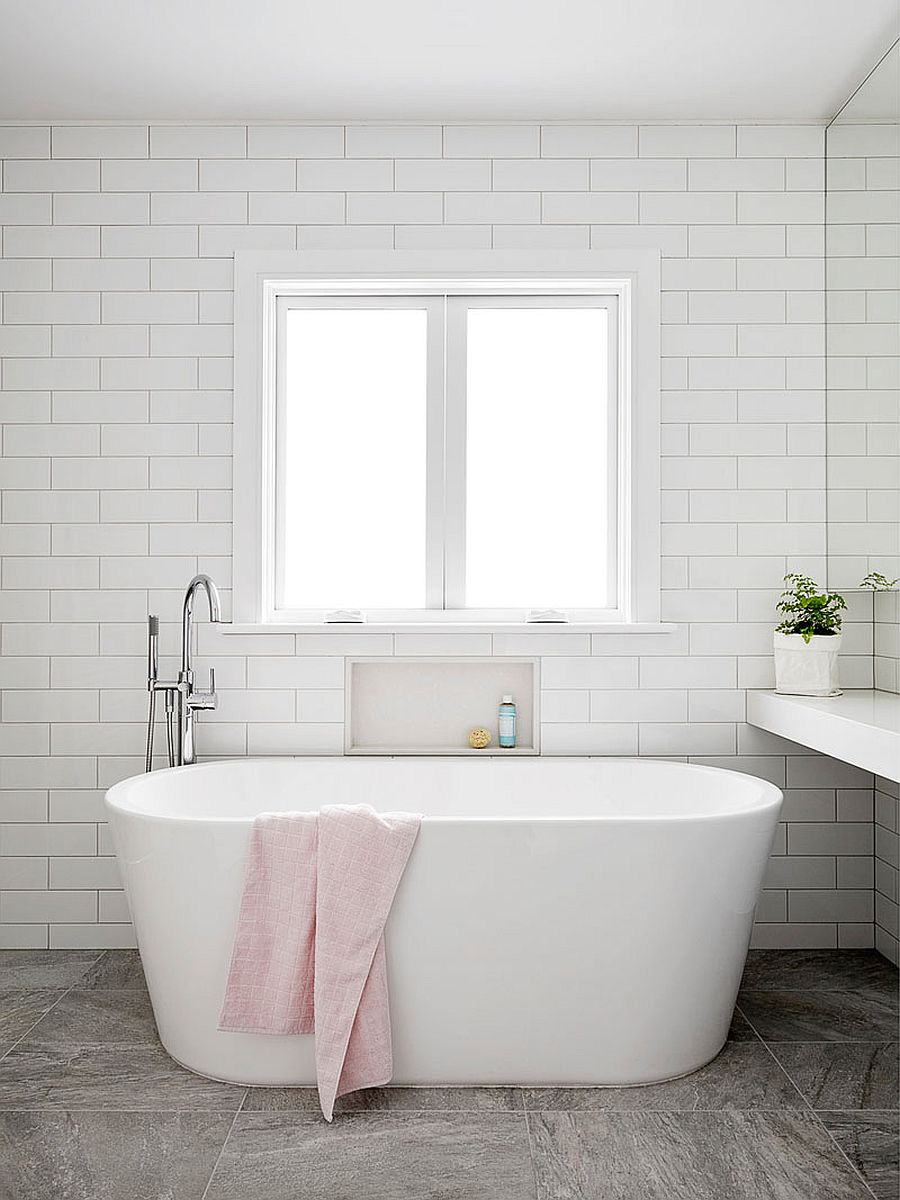 2. Awesome Accent Walls
We always harp on about the virtues of a bathroom in neutral hues. But adding an accent wall is the best way to enliven it without flooding the room with too much color. This is a hit among homeowners irrespective of style and theme of the bathroom and most homeowners are all too happy when it comes to changing accent colors seasonally in the neutral bathroom.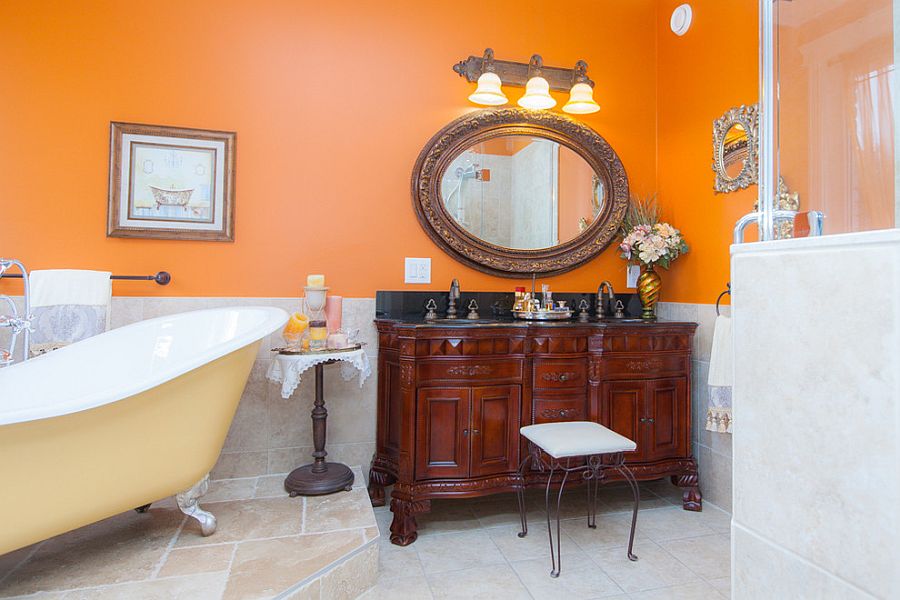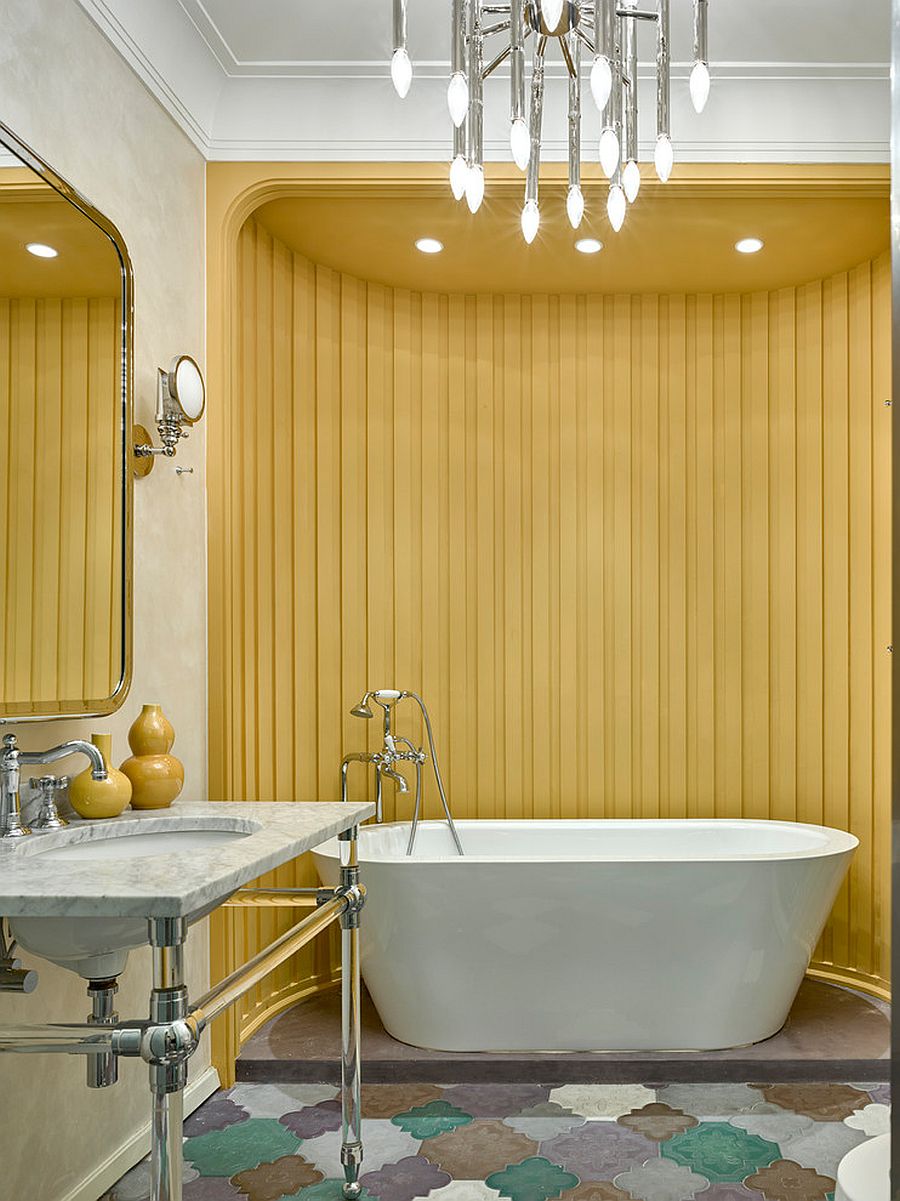 3. Flooring in Ceramic Tile
Yes, wooden floor in the bathroom are fashionable. But even trendier and durable and ceramic tile floors that allow you to add both pattern and color wherever needed. The ceramic tile is a flexible addition that will serve you well in the bathroom even as you switch between styles and colors. Find the perfect tile and get started with the bathroom makeover at your home!
RELATED: Dreamy Bathroom Brings Back Classical Design With Trendy Sophistication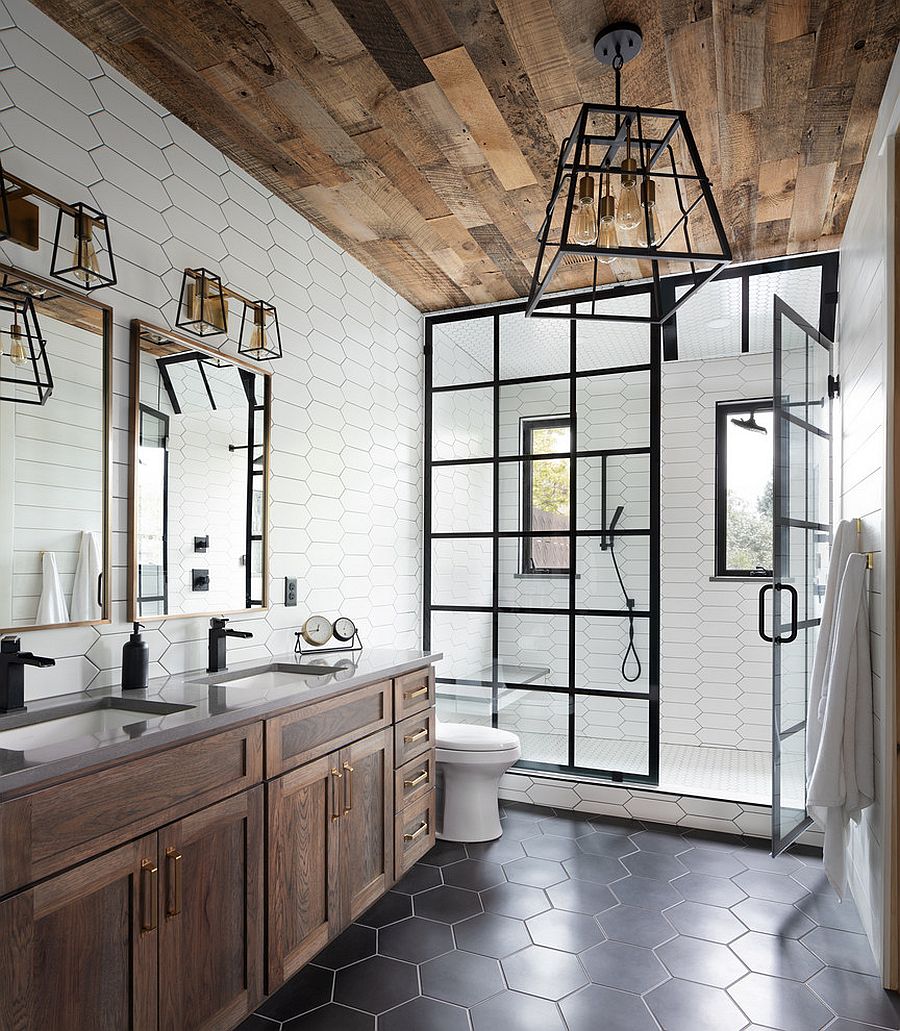 4. A Dazzling Chandelier
It was not too long ago when adding a chandelier to the bathroom was considered something 'Victorian and outdated'. Not any longer, as the same chandelier is now viewed as a sign of luxury and style in the bathroom. Be it the cascading chandelier at its beautiful best or one that is just more contemporary and sleek, the choice in here depends on the style of the bathroom itself.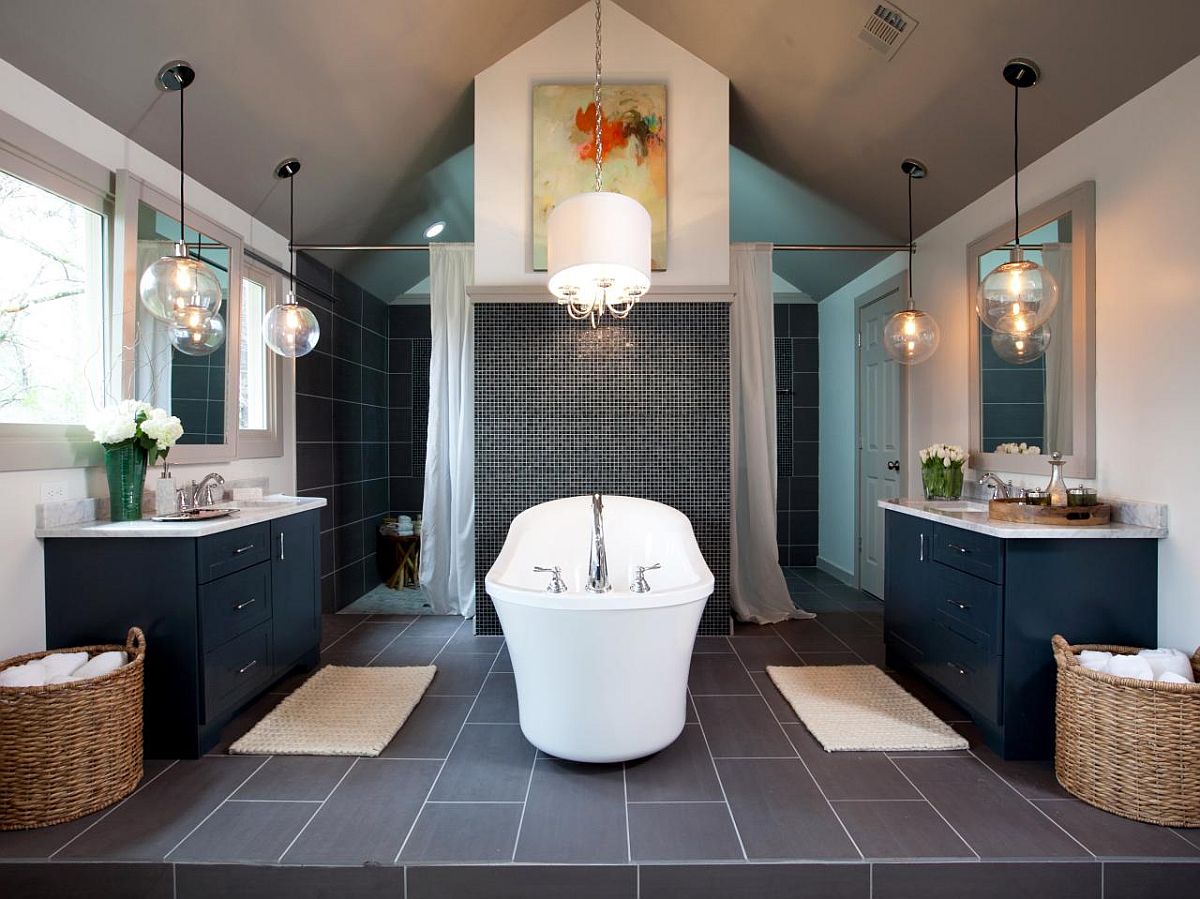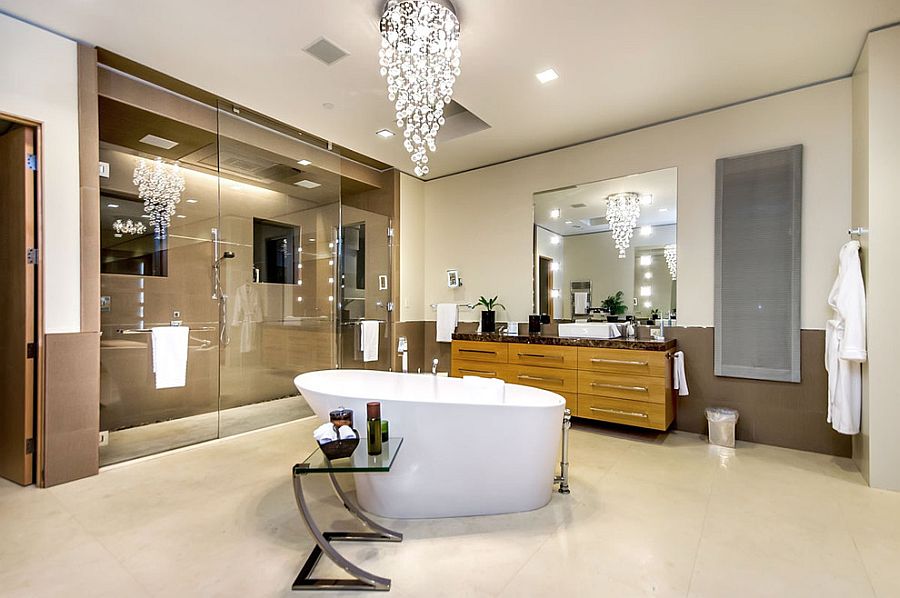 5. Spacious Showers with Rainfall Shower Heads
This might not really come as an obvious choice in bathrooms taking shape this year, but the rainfall shower head is one that almost everyone wants. This is where you pamper yourself and think much beyond sheer aesthetics. Recent surveys have shown that the rainfall shower head is the piece that is involved in most simple bathroom makeovers in 2019 – something that showcases their immense popularity.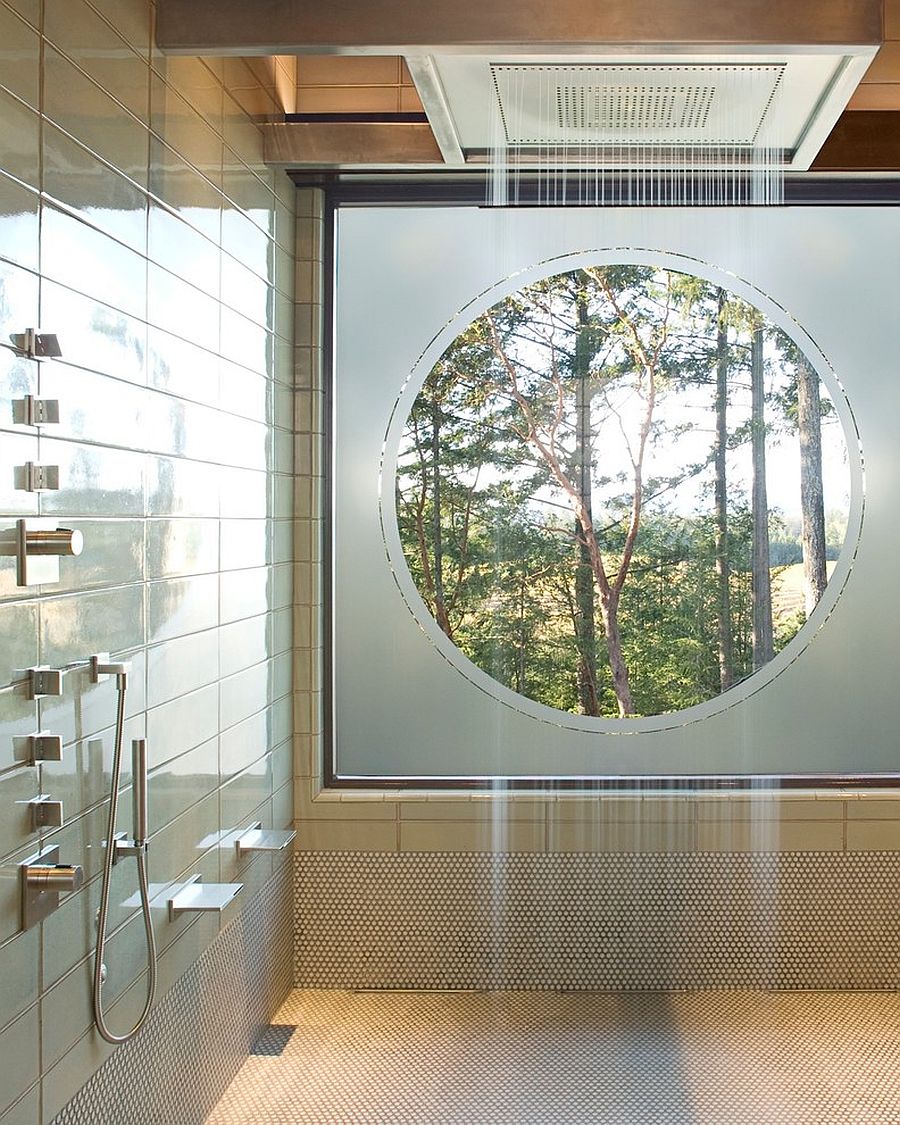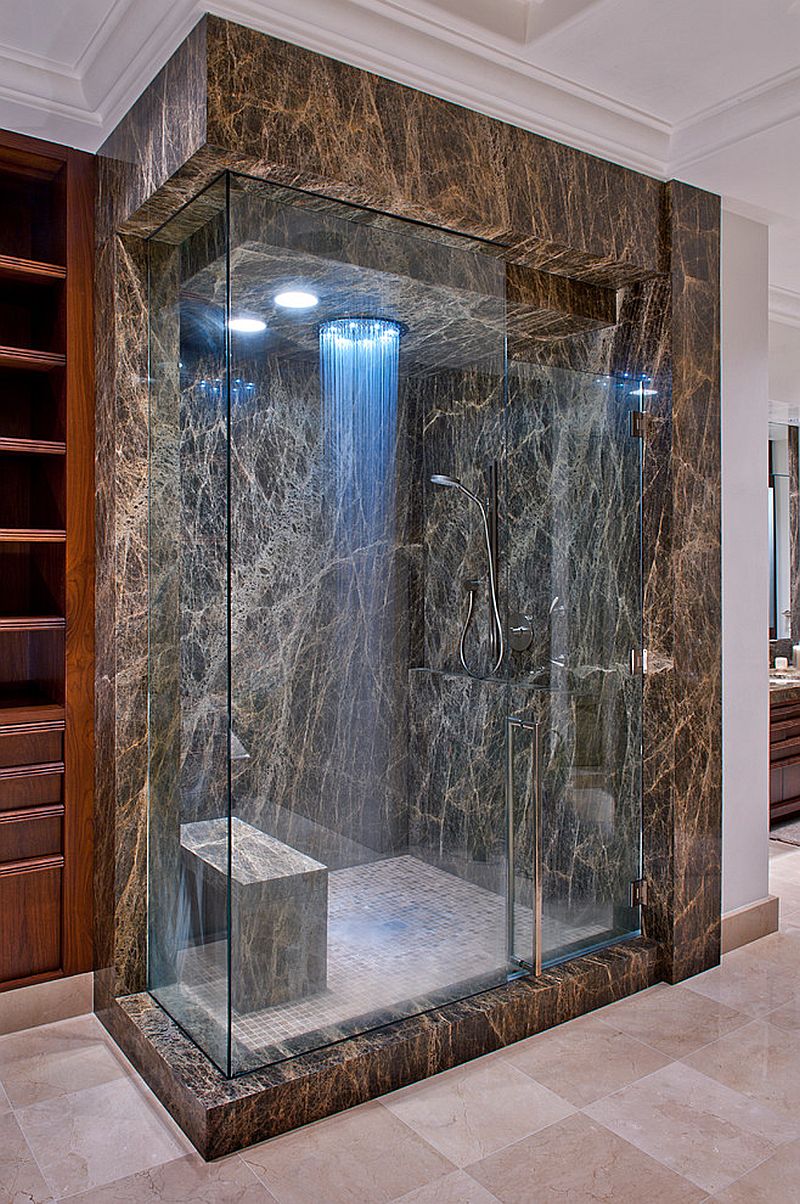 6. Metallic Accents
Metallic accents in the bathroom come in a variety of forms. The easiest way to alter the look of the bathroom and add new metallic glint to it is by changing the faucets; something we will get into later. Other than the fitting, you can also swap out the old cabinet handles for new ones while using similar metal when it comes to sconce or pendant lights in the bathroom. This helps in creating a more curated and pleasing bathroom.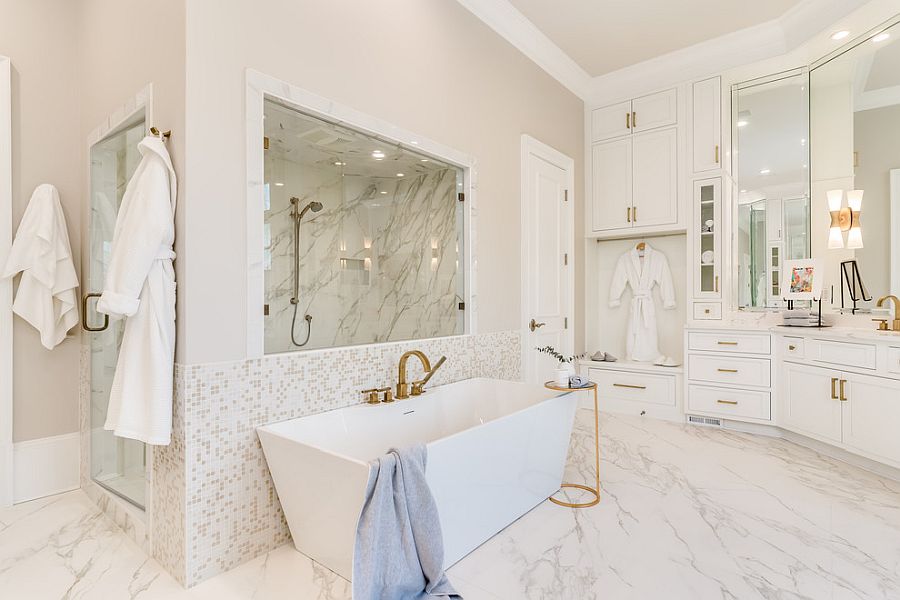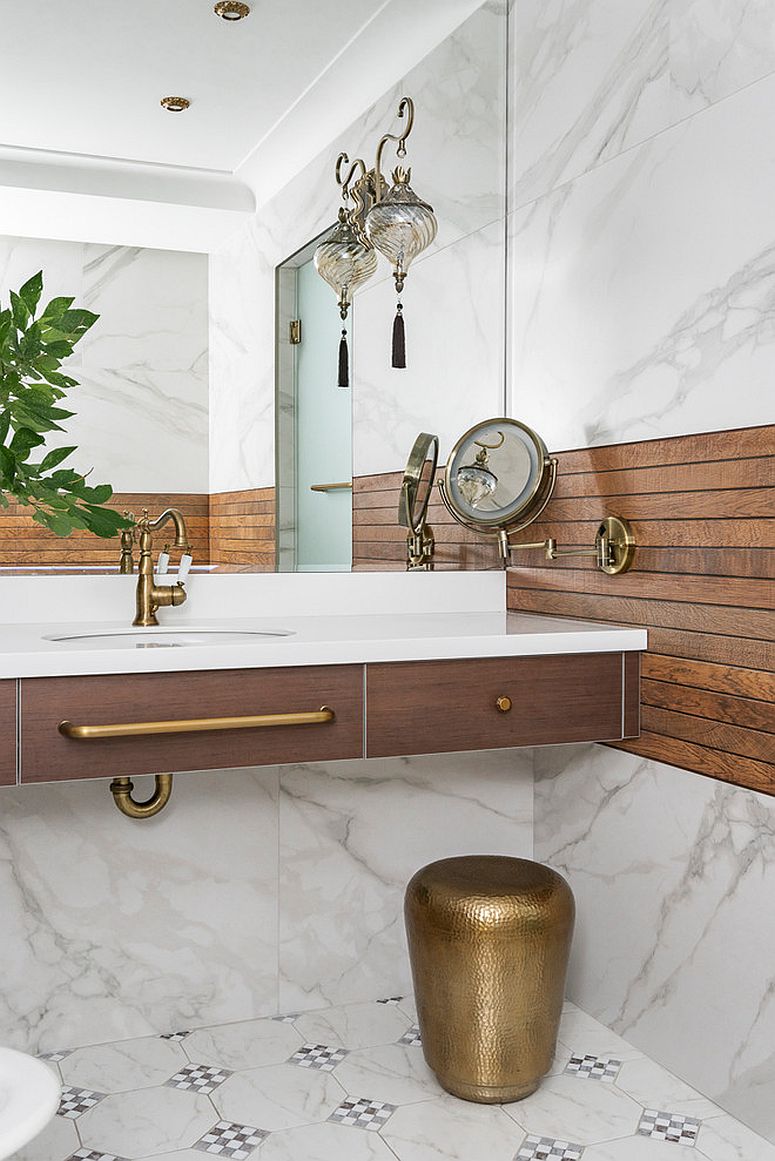 7. Floating Vanity
The floating vanity is a modern bathroom masterpiece that is increasingly becoming a must in modern, transitional and minimal spaces. You might want to consider one in wood for an even greater impact as wood brings warmth and contrast to the modern bathroom. A wooden floating vanity with stone countertop only makes the setting even more special and luxurious!
RELATED: 25 Trendy and Elegant Ways to Bring Color into the Neutral Bathroom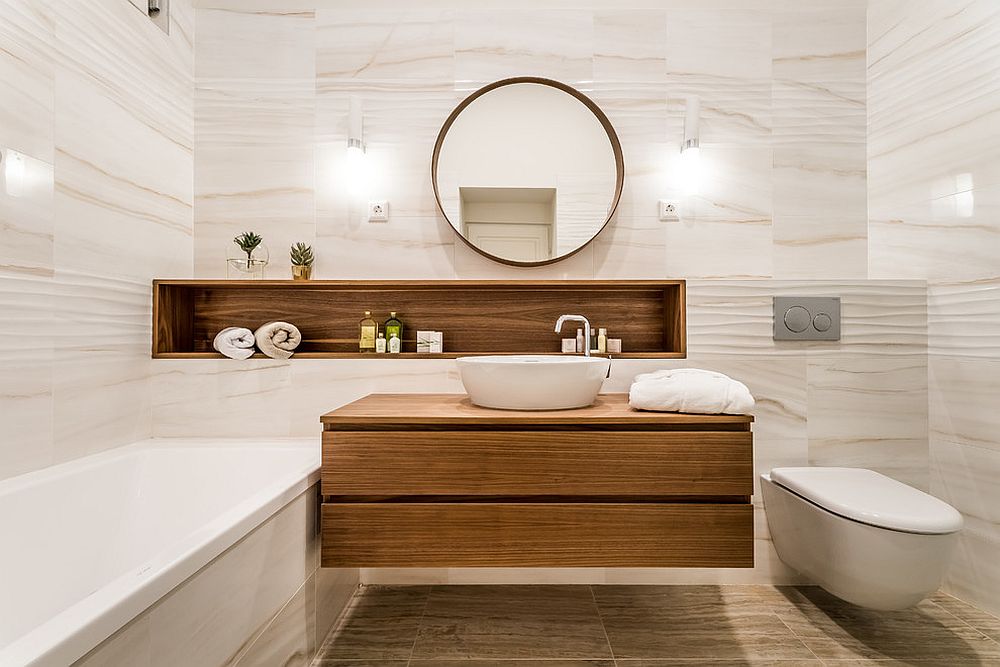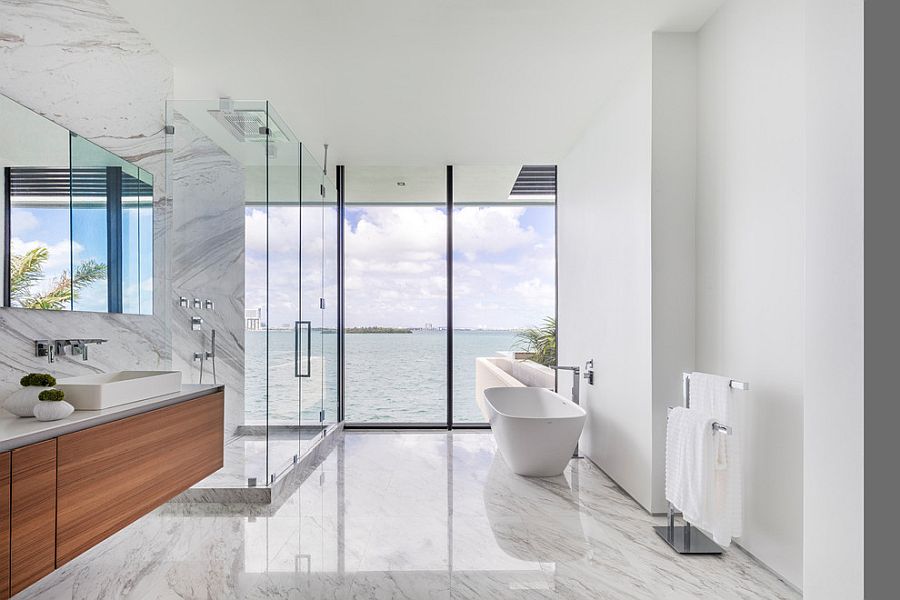 8. A Neutral Backdrop
This might not sound like anything new in itself, but do stay away from using bright colors extensively in the modern kitchen this season or even in the winter ahead. A neutral bathroom in white, gray or mellow yellow can allow other accent colors to shine through without much effort. It also lets you switch between styles without much effort or placing a constant demand on your resources. Adaptable and fun, these bathrooms hold ample potential.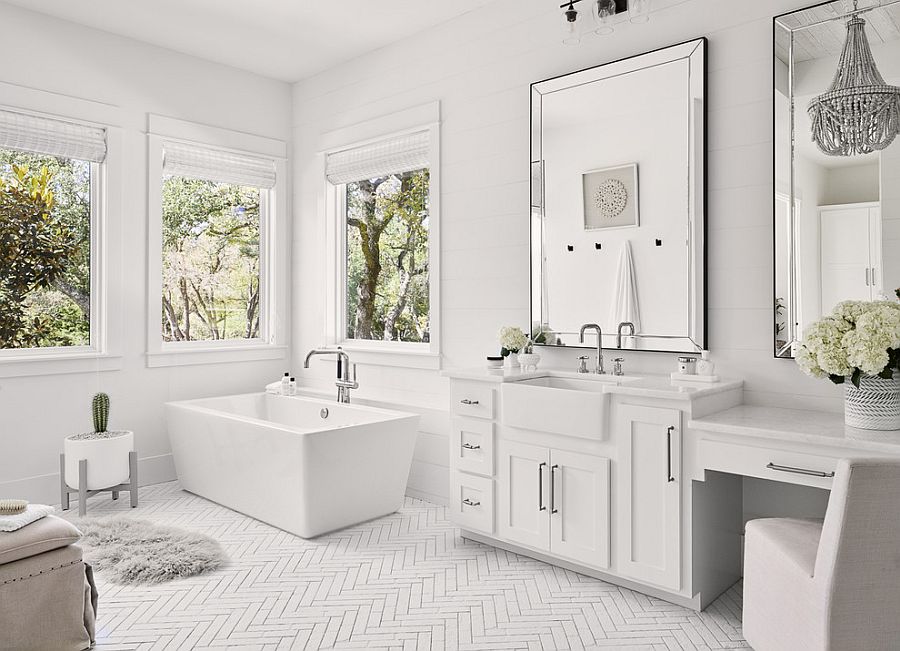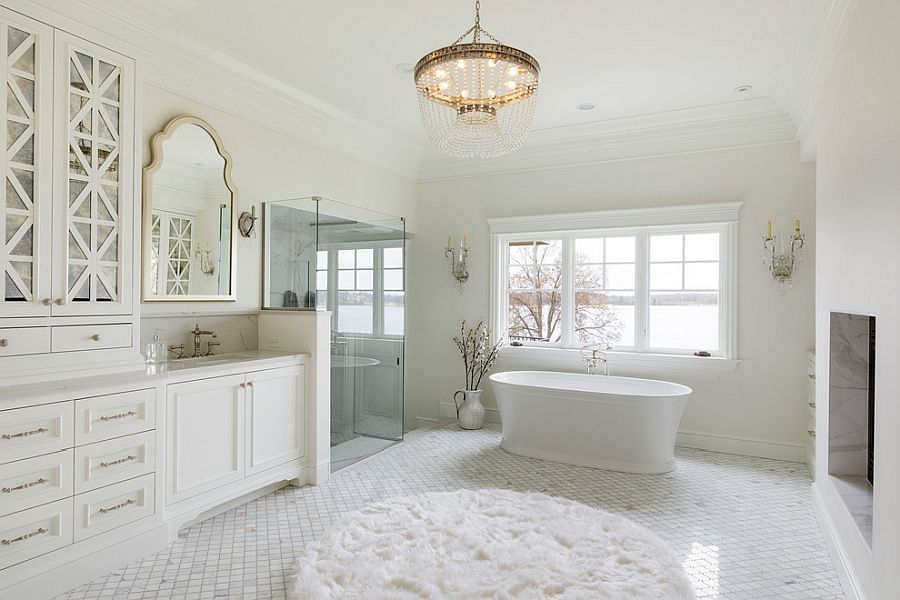 9. Mirrored Medicine Cabinets
A trend that is changing the look of bathrooms across the globe, mirrored medicine cabinets make an impact that is much larger than you would initially imagine. Not only do they turn the boring bathroom into a more sophisticated space with modernity, but they also add visual lightness and brightness. In small bathrooms, these mirrored cabinets help spread light more evenly and give it a spacious appeal.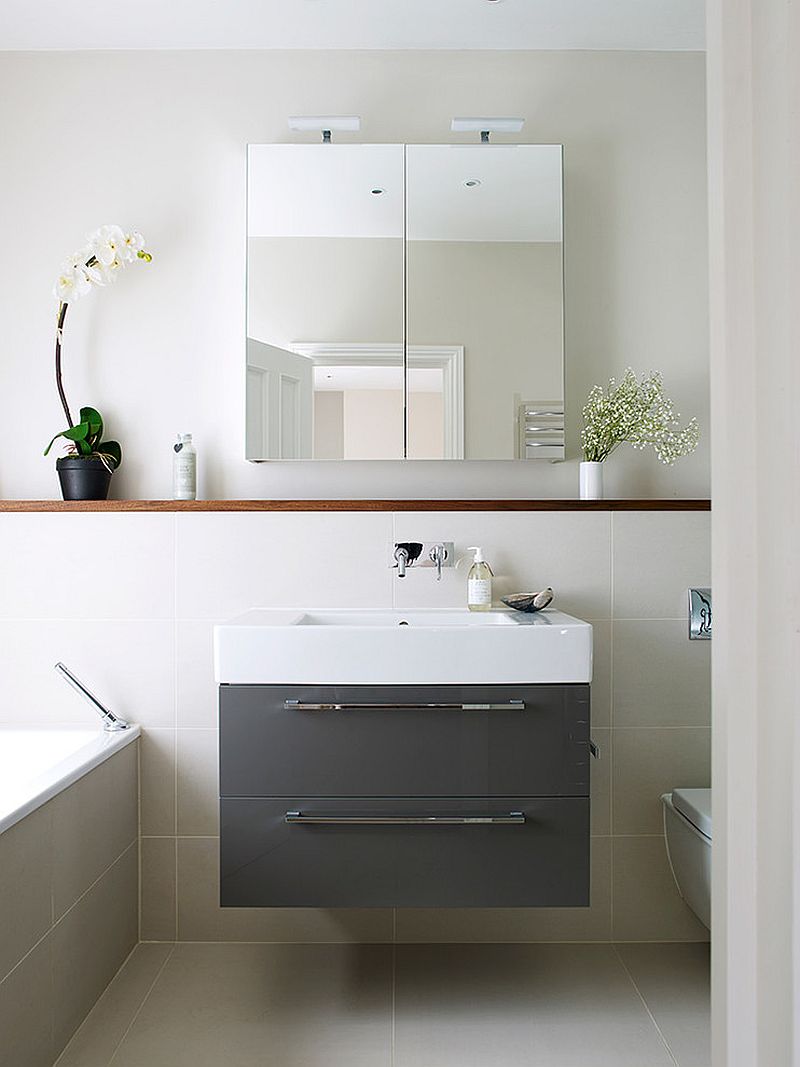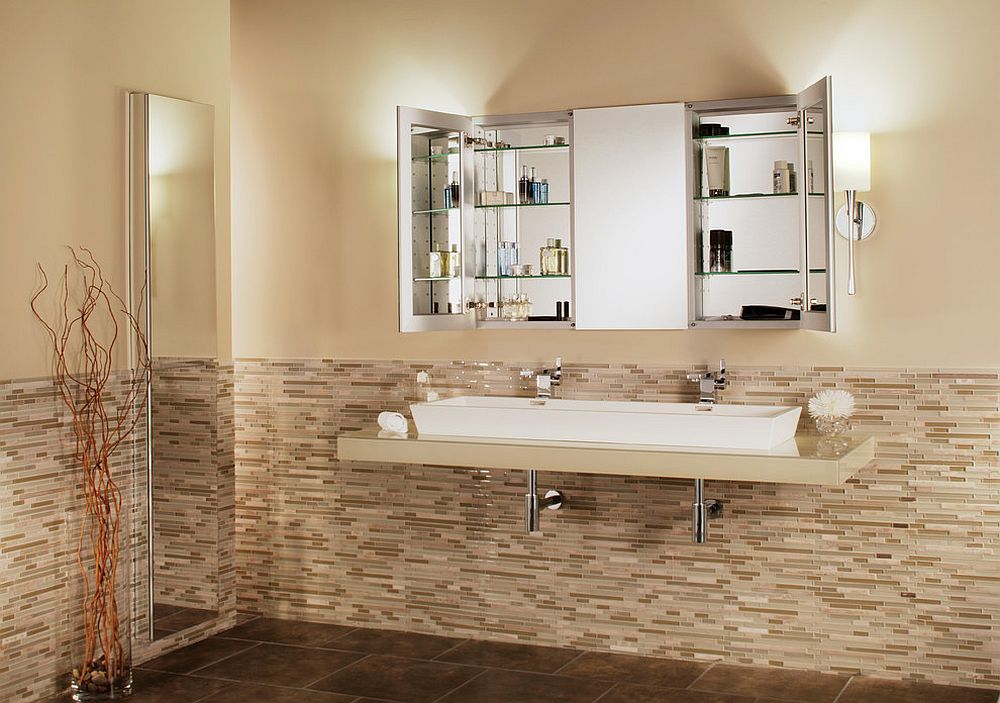 10. Sparkling New Faucets
Nothing helps a bathroom shine through like a new set of faucets and exposed pipes and plumbing with a newfound metallic glint! Brass is the material of choice this fall and is likely to top the trends chart in the months ahead as well. Brass fittings and faucets add golden glitter to the neutral bathroom and look good even with a matte finish in vintage and industrial spaces. It is always about finding that perfect balance…