From efficient prefabs to expansive residences, houses with metallic structures are indeed the hottest new trend. Today we have a collection of 15 fabulous homes that will inspire any design lover …
When it comes to the housing sector, the trend is to think beyond the mundane and the usual. The last few years have seen a distinct shift from the expansive and the opulent to the minimal and the understated. Homeowners are now happy to move away from lavish residences in urban centers to more modest homes in semi-urban locations. Stylish, sleek, lightweight and adaptable metallic structure homes fit this billing perfectly. Constructed using a sturdy steel frame, these smart homes are quickly becoming a popular choice among those looking for efficient, eco-friendly and economically viable alternatives.
Not only are these steel-framed wonders great as exclusive homes, they also give existing homeowners an option of going for an easy and cost-effective renovation. These classy metallic structures allow you to even extend your home by adding open pavilions and glass houses that are contemporary and fashionable.
Rock Reach House by Blue Sky Homes
We start off our steely journey with this gorgeous prefab that is developed by Blue Sky Homes and was designed by o2 Architecture. Located in the arid region of Palm Springs, California, this exquisite little house occupies just 90 square meters and features a compact living area, ergonomic kitchen, beautiful dining space, 2 bedrooms and a bath. Composed of a frame crafted using modular Steel Thermal Efficient Panels (STEPs), the entire home was assembled on-site in just a single day!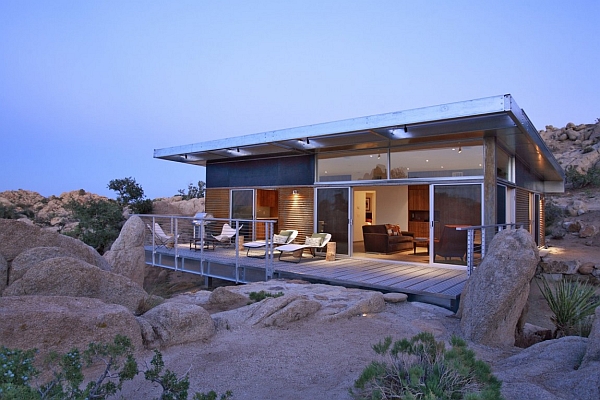 The small home showcases the many advantages of prefab steel structures, and the flat-packed building components also help in delivering an economically and environmentally viable housing solution. Solar energy drives the power and hot water needs of this stylish space that is available for short-term rent.