Ready to throw a party?! With spring on the way, there are many reasons to celebrate. Today we feature a variety of unique party decor options to jazz up your entertaining endeavors. In fact, in creating this post, our goal was to round up the most interesting, colorful, knock-your-socks-off images we could find, and to share them with you!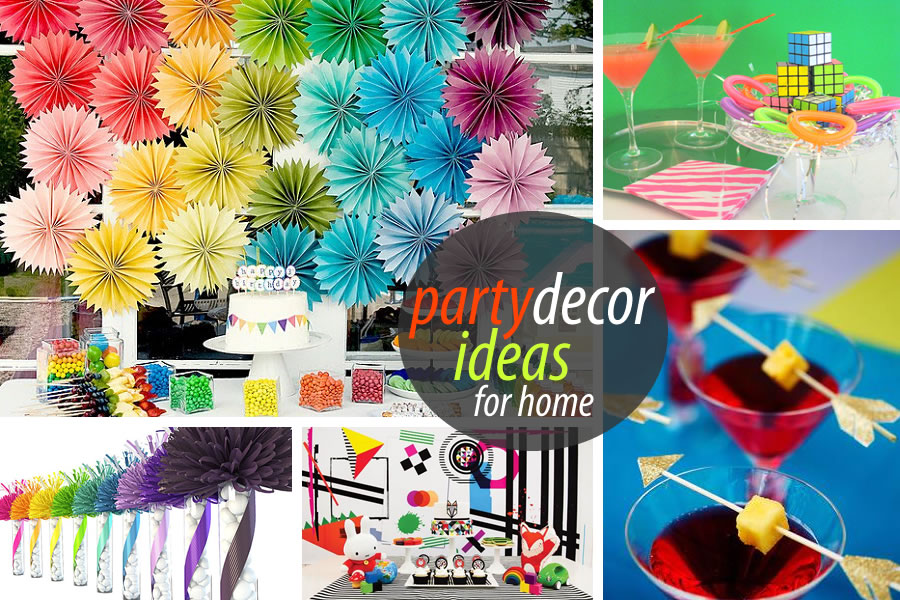 From creating decorations and backdrops that set the stage for an amazing event to presenting food and drinks with flair, these ideas will make your event a true standout. In fact, many of today's ideas are DIY projects that will inspire you to get crafty so you can personalize your party with your signature style. What impresses us most about these party ideas is the fact that each one represents creativity and innovation. Now that's something to celebrate!
Setting the Stage
We start with an important party ingredient: the decorations! In fact, now more than ever, DIY backdrops, garlands and other interesting flourishes are making a big impact on event planning. Take the paper roll backdrop below, created for a wedding packed with DIY projects. [photo by Annie McElwain for Green Wedding Shoes]
The neon and white corporate party in the next image is nothing short of an homage to radiant color. Fluorescent garlands, candles and confetti are undeniably powerful against pure white walls and tablecloths. Check out all of the details at Hey Look:
Speaking of garlands, we couldn't help but notice the metallic pom-pom effect created by this DIY fringe garland from Coco + Kelley. This party showstopper was created using mylar fringe garlands from party stores. Check out the full tutorial here.