What are you looking for, inspiration? Guidance to create your dream kitchen? That something – a detail that you can reinterpret, customize and finally enjoy in your own home?
You might find the answer in the granulation, color palette and versatility of wood.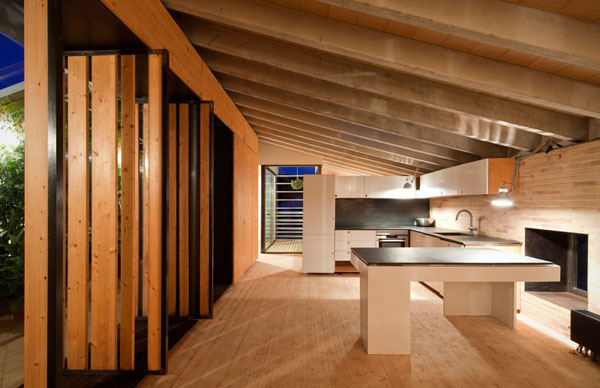 Wood can easily become an interior skin for a modern kitchen. Interrupted here and there by different material insertions, a kitchen dressed in wood showcases the need for comfort and beauty. Opening towards a rooftop garden, the fascinating kitchen pictured above is part of Spanish architect Luis Velasco Roldan's portfolio – an inspirational use of wood.
The wooden heart of your kitchen
A wooden "heart of the home" that seems to pulsate with life whenever the family is hungry, the kitchen gathers loved ones around to lend a hand in creating the unique moments together. When someone is reaching for the bowls while another wants to get to the towels, someone else forgot to restock the ice and others are laughing around the table, caught in the memories whirlpool – you know your family has gathered for dinner. Lights and movement, clinking noises and sudden bursts of laughter are absorbed by wooden details as if they could be captured in the material itself.
And isn't this how memories are shaped? A chair reminds you of an uncle, the kitchen counter evokes memories of quick breakfasts before school, a wooden door frame holds the history of your physical growth – materials around us shape our preferences and visual memories.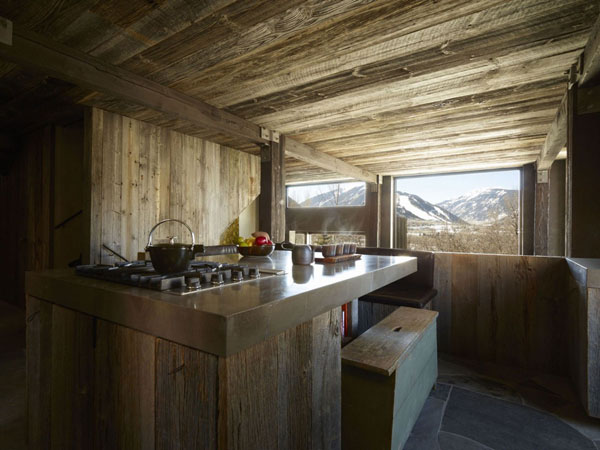 Wood textures and their modern interpretations construct a link between old memories and the promise of new memories to be made. This rustic, environmentally friendly chalet kitchen seen above is part of a residential development in Aspen, Colorado. It was designed by Oppenheim Architecture + Design as a contemporary cooking space with stone floors, reclaimed regional wood skin and steel countertop. Surrounded by forest and mountain panoramas seen from behind the glass, this splendid kitchen makes great use of natural materials and modern shapes.
Below, the wooden kitchen of Annalisa and Peter Zumthor's vacation home evokes a sense of belonging to the snowy landscape beyond the windows. The use of wood opens up the kitchen's interior, creating a warm and inviting atmosphere in spite of the cold steel kitchen furniture.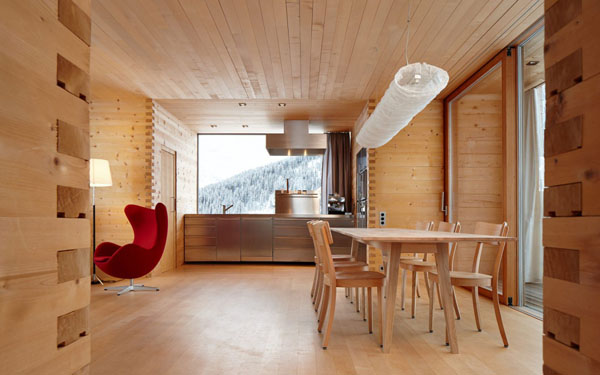 Wood has always been a highly appreciated building material, turning into means to making a profit and becoming eventually a natural need we ourselves have made difficult to enjoy. Cherish each piece you encounter, because every wooden detail holds its own story, noting the story of our presence here.
Spacious versus compact, luxuriously detailed versus minimalist kitchens
Practical, functional and above all, inviting kitchen design comes in all shapes and sizes. From spacious kitchens open to the outdoors to compact cooking spaces perfectly fitted with customized furniture, wooden kitchens evoke a warmth rarely surpasses by any other building material. Sam's Creek by Bates Masi Architects showcases a luxurious cooking space, a tall and majestic kitchen flooded with natural light through large glazing. The texture and color of wood defines a unique display of geometry, constructing an inspiring overall design integrated in the wooden architecture.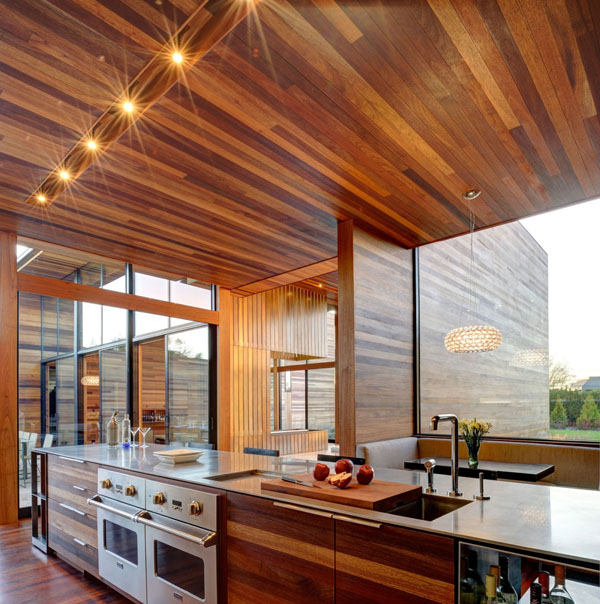 Californian residences like this Jendretzki-designed dream home below display not only great wood details, but also a creative way of partitioning the space. Behind the wooden kitchen, hidden by a cleverly designed wooden sliding door, the bathroom occupies a the length of the kitchen counter.
There is something especially inviting when it comes to wooden kitchens – even if black details are added, a natural feeling lingers. Smart lighting keeps the balance in this edgy kitchen design imagined by Studio Fanetti. Golden larch wood was molded into a contemporary interior design that seems to have been cut from a single block, creating the feeling of uniformity throughout the home.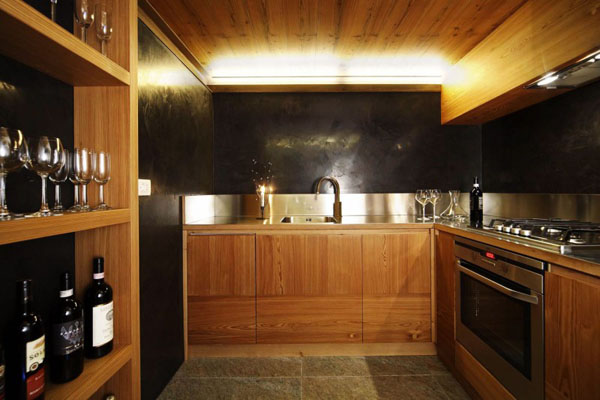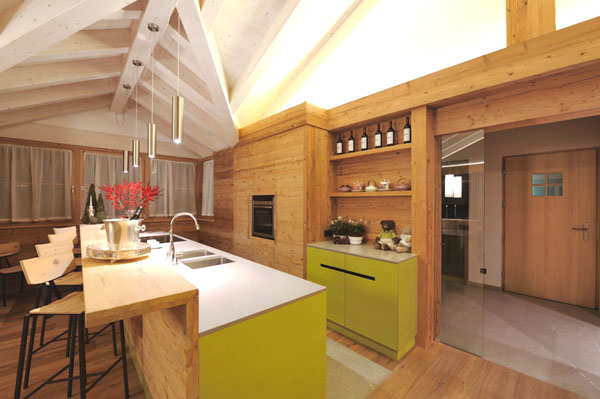 Vivid colors can be introduced to give the wooden kitchen an edgy, energetic feel. Wood and colors go hand in hand to create a dynamic, playful atmosphere where cooking becomes more than a pleasure, it becomes a lifestyle feature. The heart of an Italian village villa, this kitchen is part of a spacious room where cooking, dining and getting lost in the fireplace experience are brought in one place. Encouraging socialization, the warm and inviting atmosphere of brushed and waxed pine accentuates the villa's location in the breathtaking Dolomite Mountains.
Minimalism is also the perfect design environment to showcase the beauty of wood – Matharoo Associates have outdone themselves in creating this creative kitchen for an Indian home pictured below.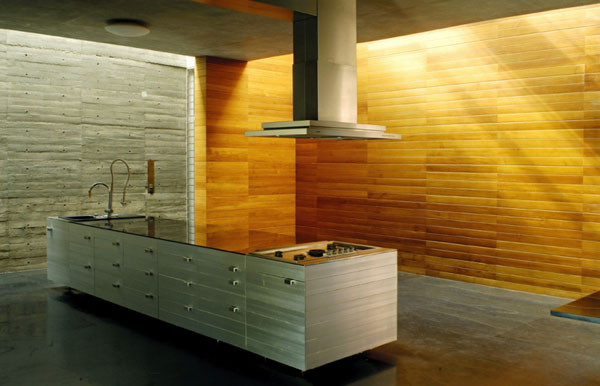 Adorning a kitchen invaded by wood and edgy modern materials with wooden utensils would bring out the different textures and many shapes in which this noble material is available. Indoor trees add a vivid, natural touch to the warm atmosphere – green leaves reminiscent of our natural outdoor surroundings can easily break the monotony.
Exposed brick walls add a sense of historic elegance and prove that modern design incorporates different materials into the creation of an idyllic interior scene – the backstage of a great dinner. The example below is part of a stunning townhouse designed by William Rainero.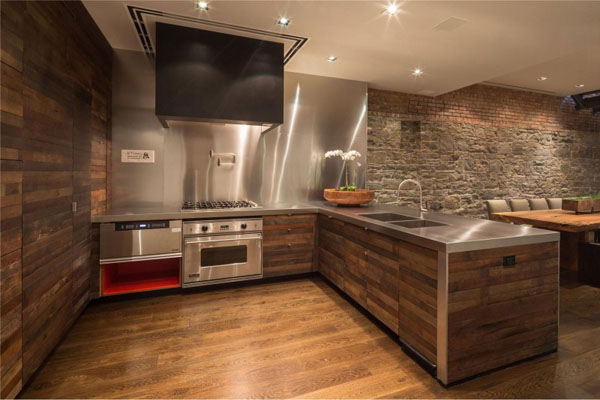 Another scenario is to create new memories in a highly contemporary environment with soft hints towards your love for natural wooden textures – the harsh look of a concrete, industrial-looking kitchen can be tamed with an especially beautiful wooden furniture design as seen below, in one of Amsterdam-based architectural practice Egeon Architecten's portfolio pieces – Villa Rieteiland-Oost.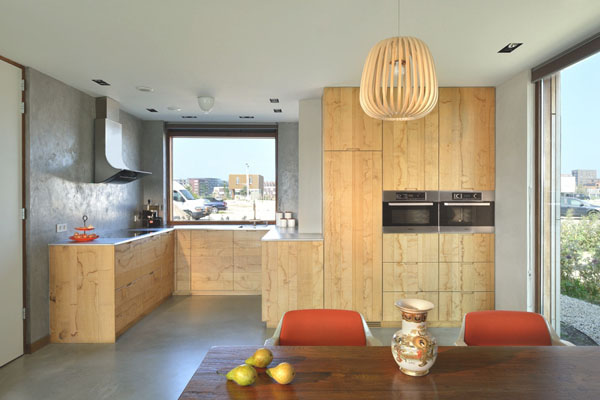 Inspiration leads to evolution – choose your favorite wood texture and color and dress your kitchen in wood with style!