Armchairs. Aren't they comfy?! Another great thing about armchairs–they don't take up too much space! While some people may be hesitant to purchase a long sofa in a bold hue or cutting edge design, many are more than willing to buy an armchair with a distinct look. Why not add a vivid pop of color with an armchair in fire red? Or make a statement with a contemporary tufted piece? You will find these styles and more in the images below.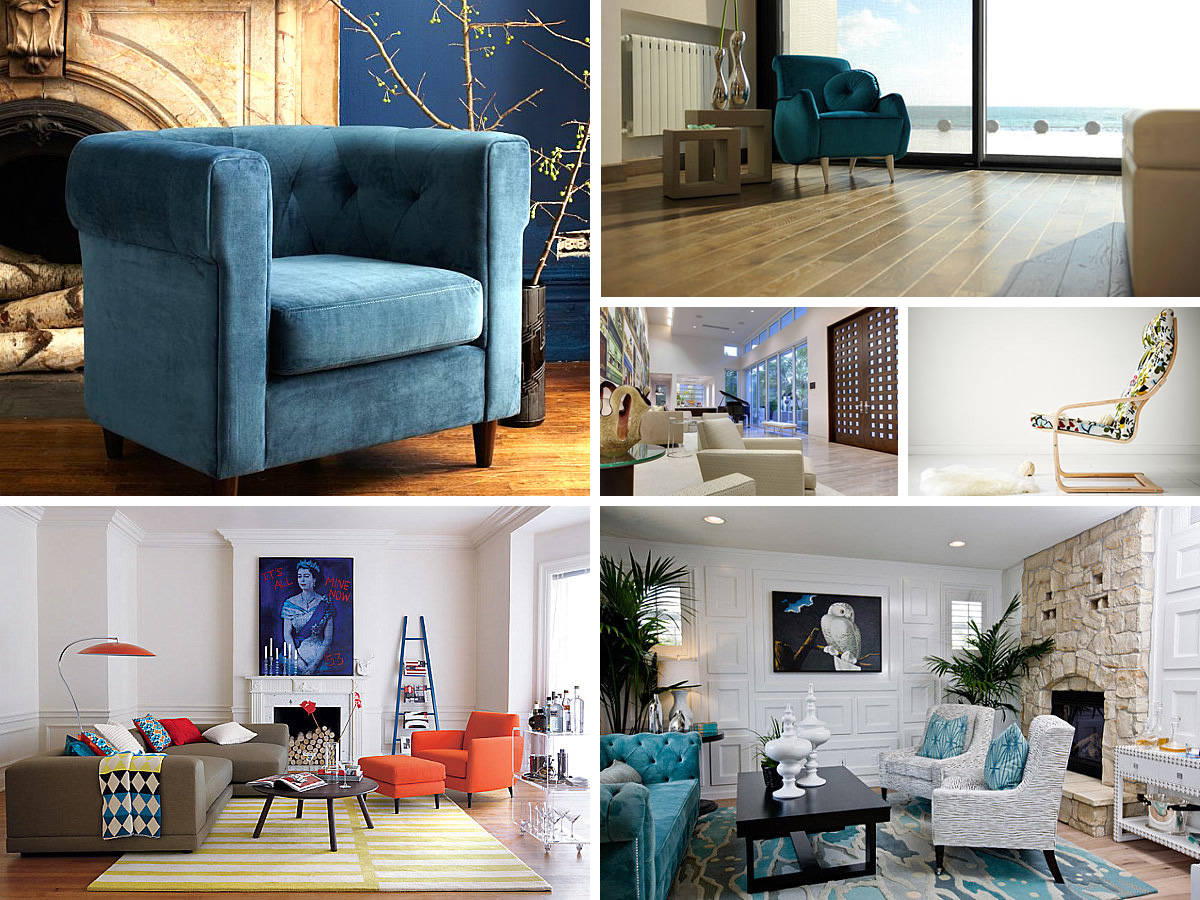 As you browse today's armchair roundup, don't forget to consider the true purpose of the furnishing at hand. An armchair can be as cute as a button, but if it's not comfortable, it's not worth the money. Will you be using the chair as a reading spot? Perhaps it should have arms that you can use for propping an elbow. Do you want to curl up and take a nap in your armchair? It had better be roomy! Check out the selections below:
Armchairs in Solid Colors
An armchair in a solid hue can blend nicely with other patterned furniture. Not to mention, you can use it strategically, as shown in the image below. The silvery green shade of this Tulip Upholstered Chair from West Elm acts as a neutral against bright wall colors. A great way to add color without overpowering a room! Not to mention, the chair's curved, elegant form is compatible with the most glamorous of interiors: The bold color of the parlour atomic orange chair from CB2 is perfect for a room that celebrates vibrant design. Or it can serve as that one  bright spot in an otherwise-neutral space. Inspired by Danish design, this piece is a true standout: You don't have to be fiery to be bold! A sleek blue hue can be just as powerful, as shown below with this modern chair in an equally modern space. [from Utopia Lifestyle] The deconstructed look is in! Is the Deconstructed Shelter Arm Chair from Restoration Hardware a chair or an art piece! We think it's both. Inspired by 19th-century wing chairs, this piece definitely has a modern twist. The distressed walnut frame makes us wonder… Is this the new shabby chic?! Don't forget that many vintage pieces can bring armchair style to your interior! Like this Peacock Blue Mid-Century Modern Armchair from Etsy shop Restyled by Valerie. This reupholstered piece features angled wooden legs that pop against the deep blue of the chair.