Move over, fabrics–a new wave of patterns is in town! Trends seem to come in cycles. Crisp geometric prints with Hollywood Regency-style flair are still out there, but consumers are clearly ready for a change of pace. The result: a fresh batch of designs, many of which channel tribal style. Also of note are patterns with roots in the 1970s and 1980s.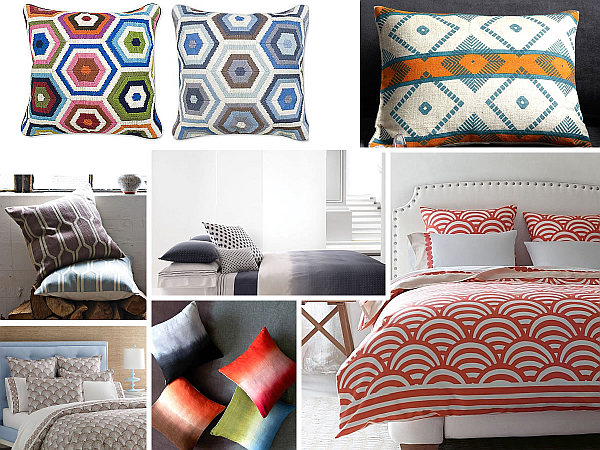 If you're sad to see prints like the lattice, trellis and chevron start to lose traction, never fear. Many of these designs are still around, but with a twist. And other clean, bold styles are emerging. Below we spotlight 5 fabric patterns that are back in style. They are "new" in the sense that they are causing a stir this season, but you've definitely seen them (or some version of them) before. Check them out!
Ikat Chevron
The ikat chevron pattern takes the zig zag of the traditional chevron and gives it a little blur, ikat style. Many ikat chevron pieces have a Southwestern feel that channels 1970s and 1980s fabrics. Wavy bands of color are common with this print, as shown below by the Chevron Ikat Decorative Pillow Cover from Etsy shop Pillow Plush.
To show how ikat chevron fabric can make a surprisingly modern splash, we present the apartment of designer Evan Lobel, owner of Lobel Modern. Note how the patterned sofa pillows create a chic statement on the Christian Liaigre sofa, along with unexpected design elements like the coffee table mineral specimen:
Scales
Sometimes mod, sometimes purely modern, the fish scale pattern can be traced back through a variety of decades, sporting an equal variety of looks. In this decade, the print has re-emerged on pillows, rugs and bedding, such as the Coral Lamu Duvet from Serena & Lily: