Easy breezy. This one phrase sums up summer style for 2016. From lush tropical vignettes to modern geo products with beachy flair, there are plenty of variations on the easy-breezy theme. And of course, we can't forget about "Palm Springs chic" and the laid-back Boho look. Check out our favorite product and blog photos below, which illuminate the top summer trends for 2016…
Tropical Flair
There's no way around it: Tropical style is here and show no signs of leaving. And why would we want it to? There are so many different versions of this theme, so let's get started with some lush, green Picnic Time style from H&M Home. Shop the look here: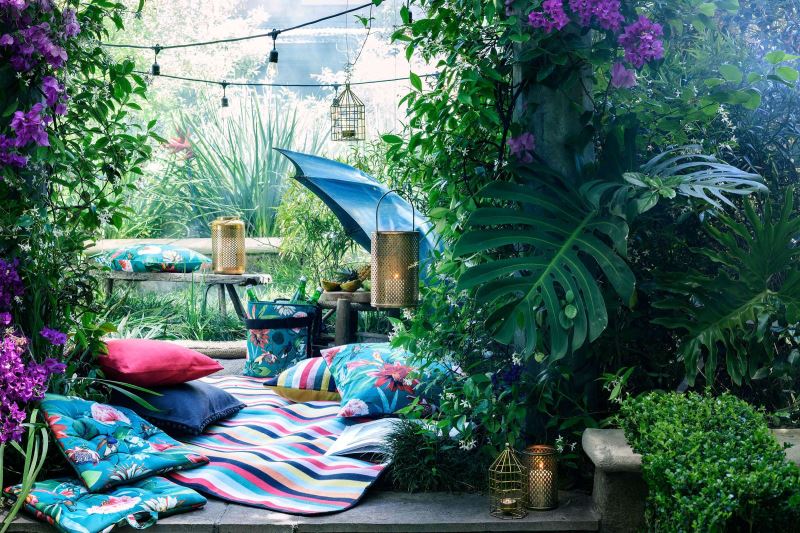 We may as well call this next H&M Home setup "Boho tropical," thanks to details such as earthy furniture and Patterned Seat Cushions in teal: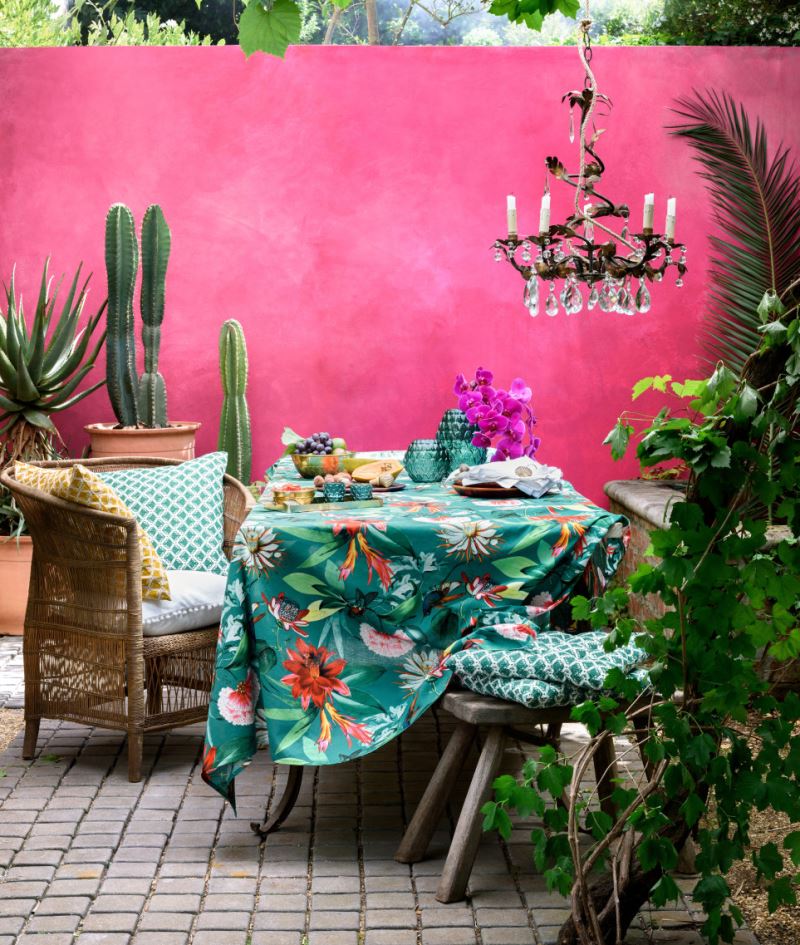 Just as you can layer on the tropical decadence, you can create a fresh geo tropical look with the help of vibrant accents such as the Gradient Colored Glass Lamp from Zara Home: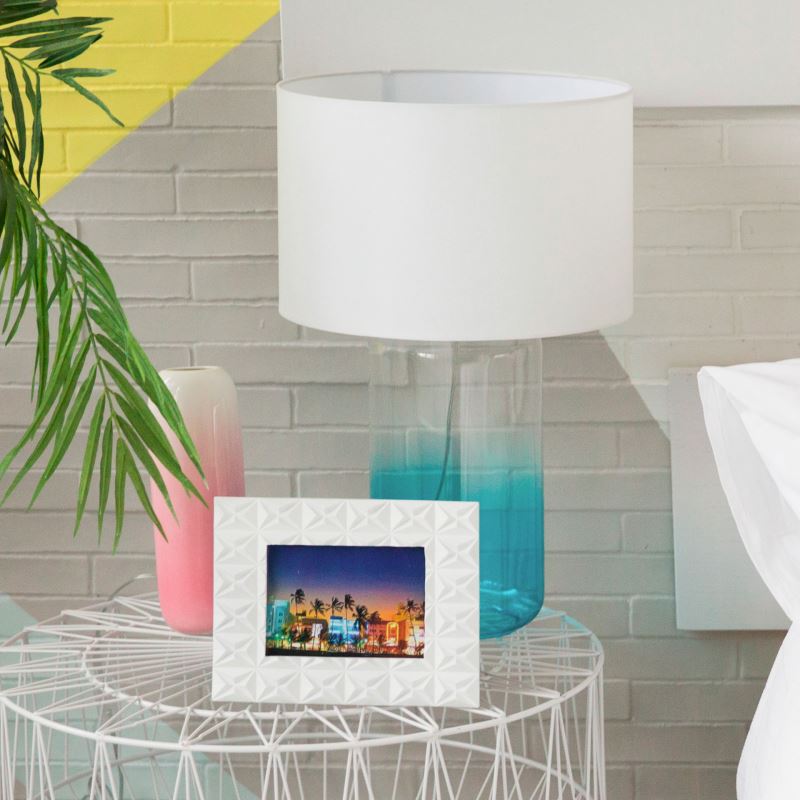 Geometric patterns and bold pops of color bring the geo tropical look home, especially when accompanied by dashes of greenery. Next we see a relaxing room by Urban Outfitters: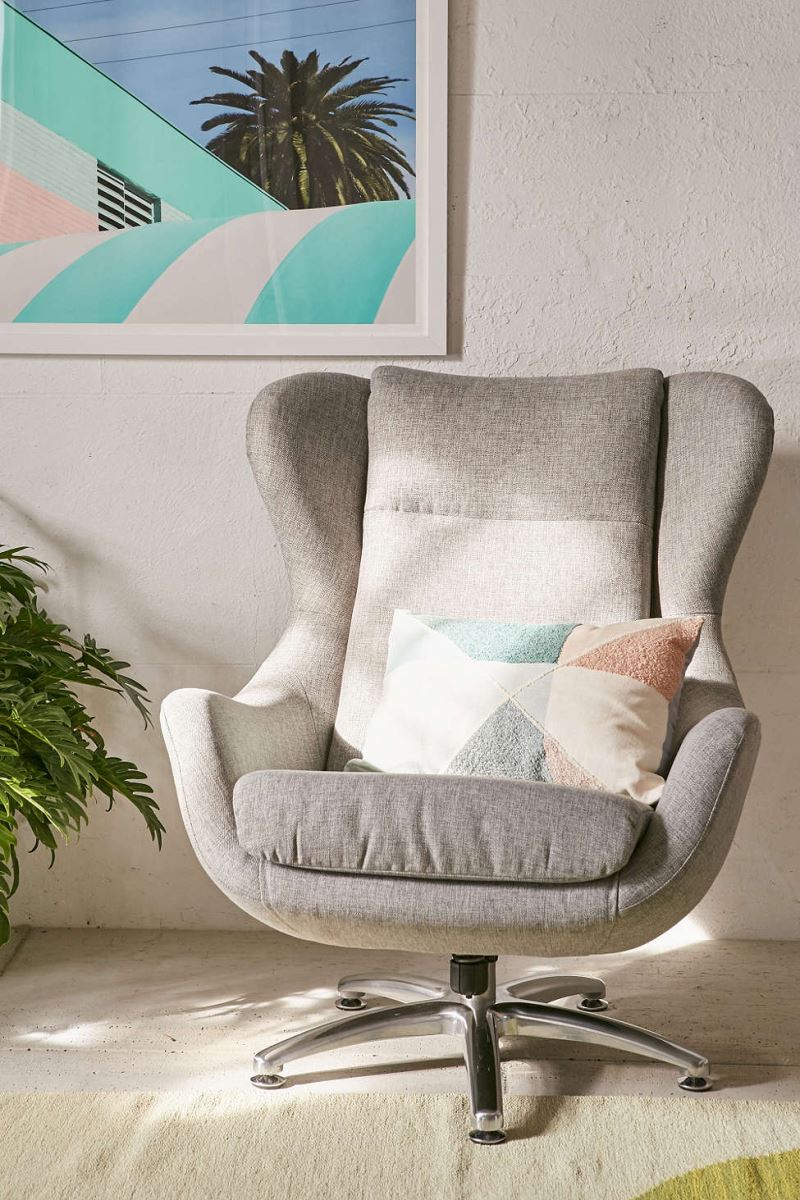 An easy way to add a bit of geo style to your tropical summer space is through a patterned cushion cover. Below we see a coral selection from H&M Home. Also note that this cushion cover is available in turquoise.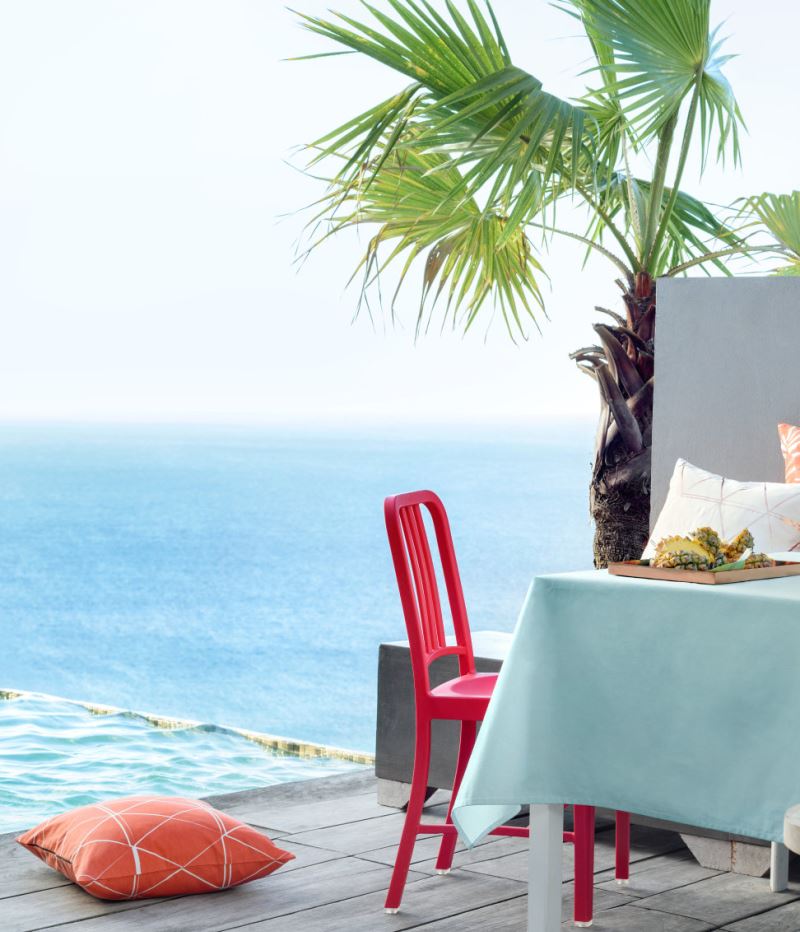 Don't hesitate to throw in a Printed Cushion Cover with a relaxing message (also from H&M Home). In fact, the care for this 100% cotton piece featuring copper-toned lettering is as simple as its positive phrase. Yes, it's machine washable!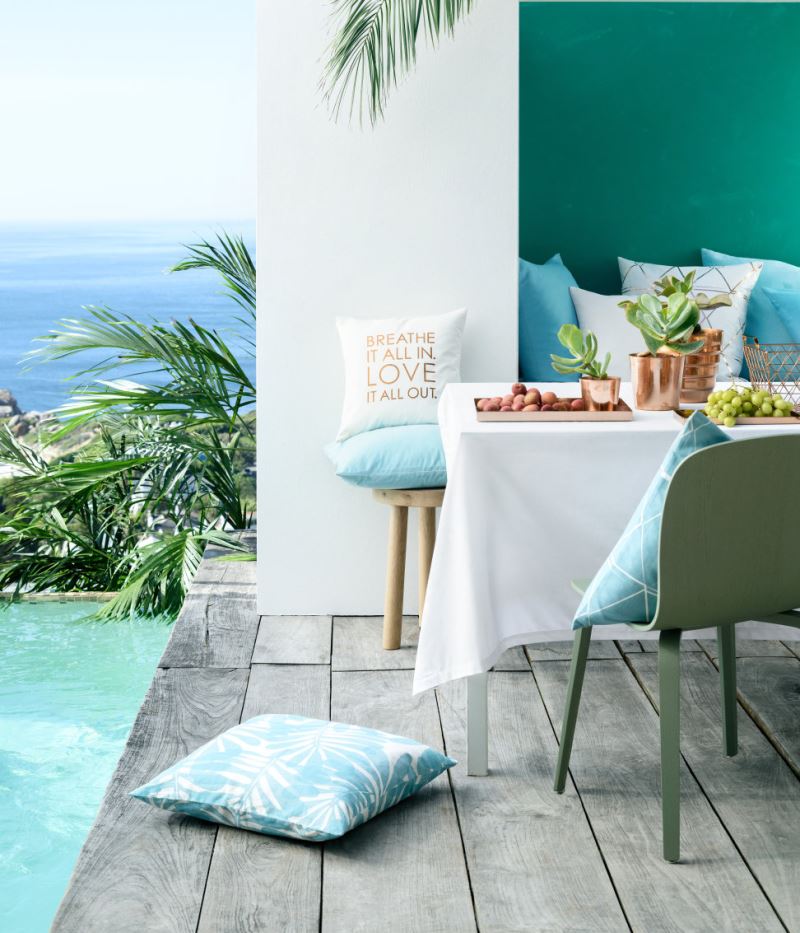 Another variation of beachy style: earthy tropical. West Elm's catalog is filled with this look for summer 2016. Note the woven accents and wood embellishments in the photo below. Yet clean-lined furniture is still the main focus.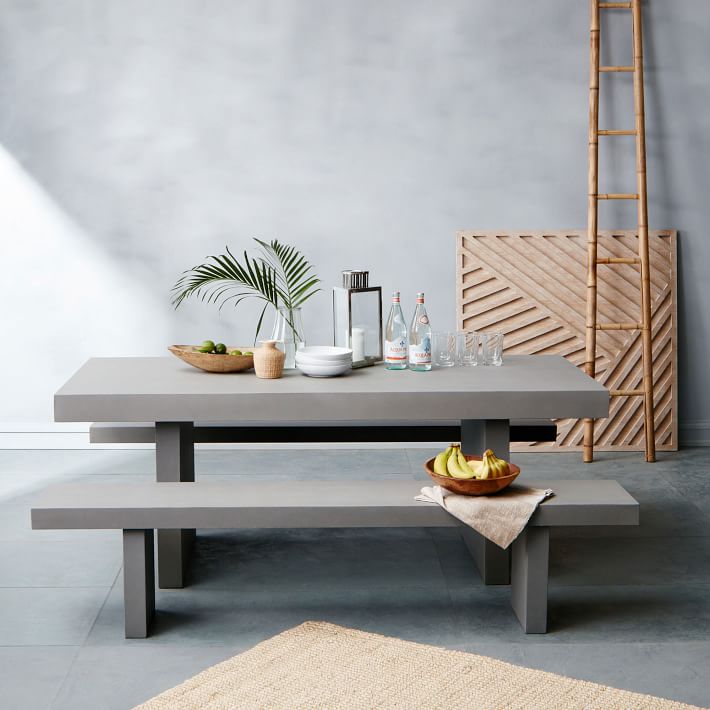 The result is a modern look that keeps the earthy tropical pieces from feeling heavy. Next up: West Elm's Lurex Braided Pouf, which has a slight shine, thanks to its light platinum tone and metallic threads: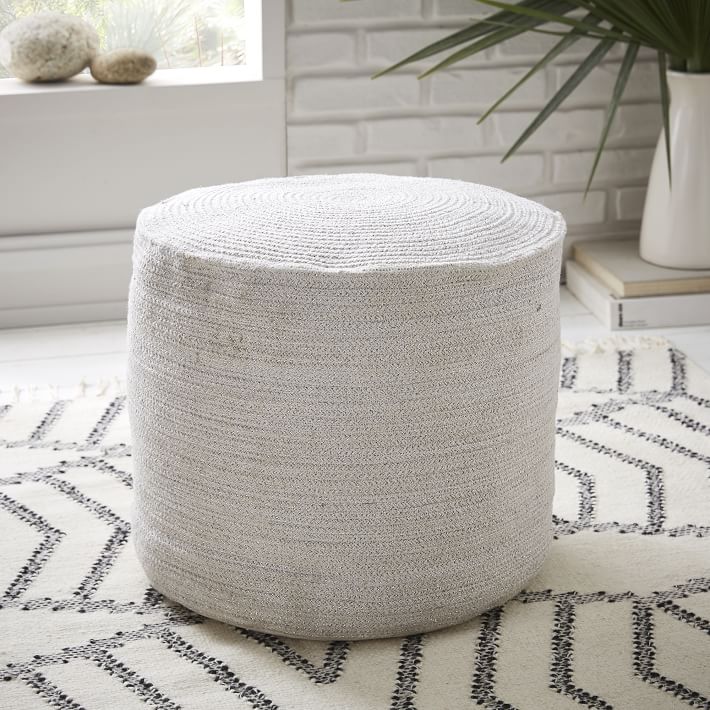 And when you bring linen cushion covers from Zara Home into the mix, there's no denying the earthy-breezy feel: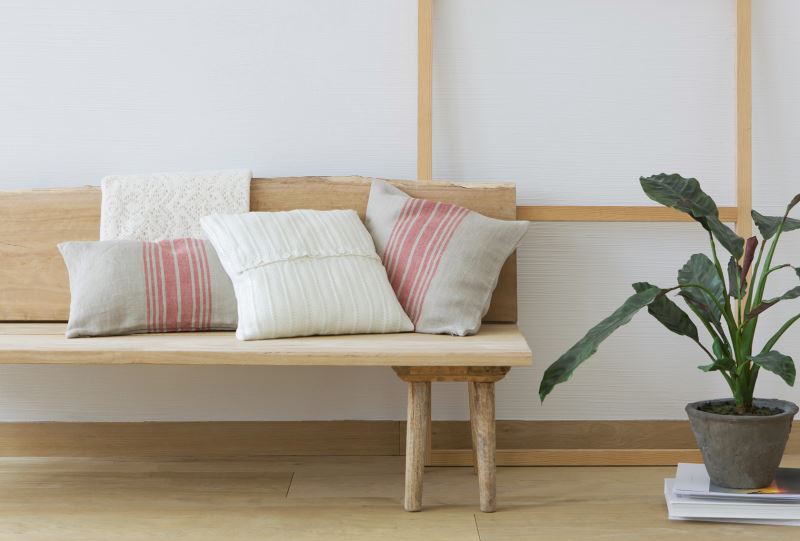 Palm Springs Chic
Midcentury style, colorful accents and a hint of glamour are all elements of Palm Springs style, inspired by the California desert resort city of the same name. The black and white stripes and tapered legs of the Filaki Lounger from CB2 brings a touch of this look to your outdoor space: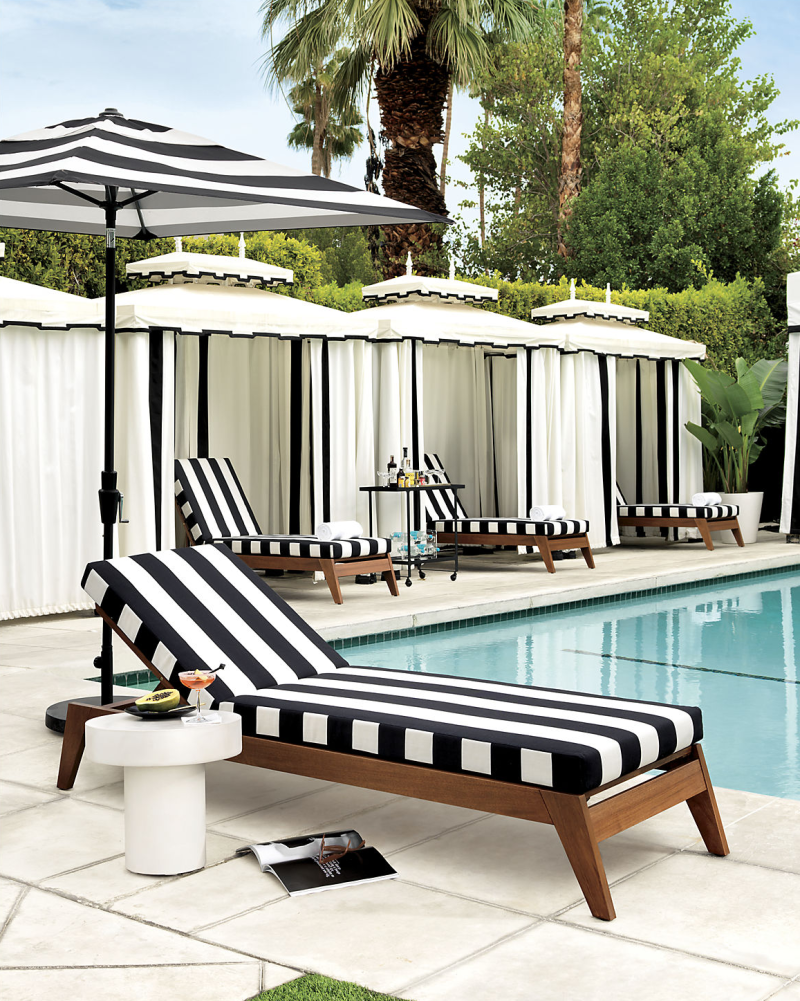 Don't forget a few bold pops of color! CB2's Cube Table-Planter can also double as a side table or a seat. But we're loving the way it can be filled with sculptural plants to create a vibrant statement for the patio.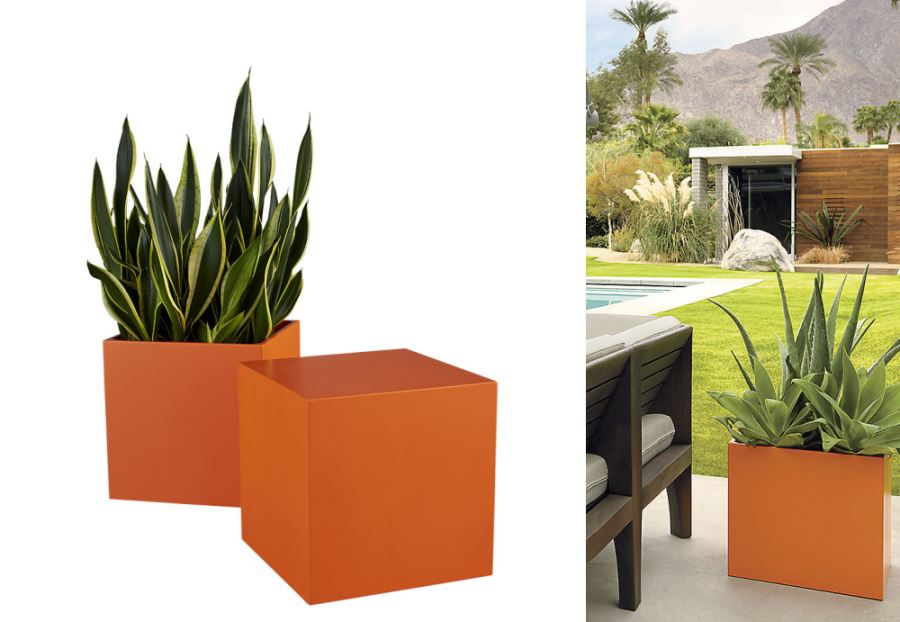 One of our favorite design blogs, A Beautiful Mess, has been filled with Palm Springs design ideas over the last few months, thanks to several of the bloggers moving into new homes and sharing their design processes with readers. Below we see the bedroom of ABM blogger Laura Gummerman, who notes that adding a cactus (or a cactus print) to your space can create a Palm Springs feel. Check out all the details here.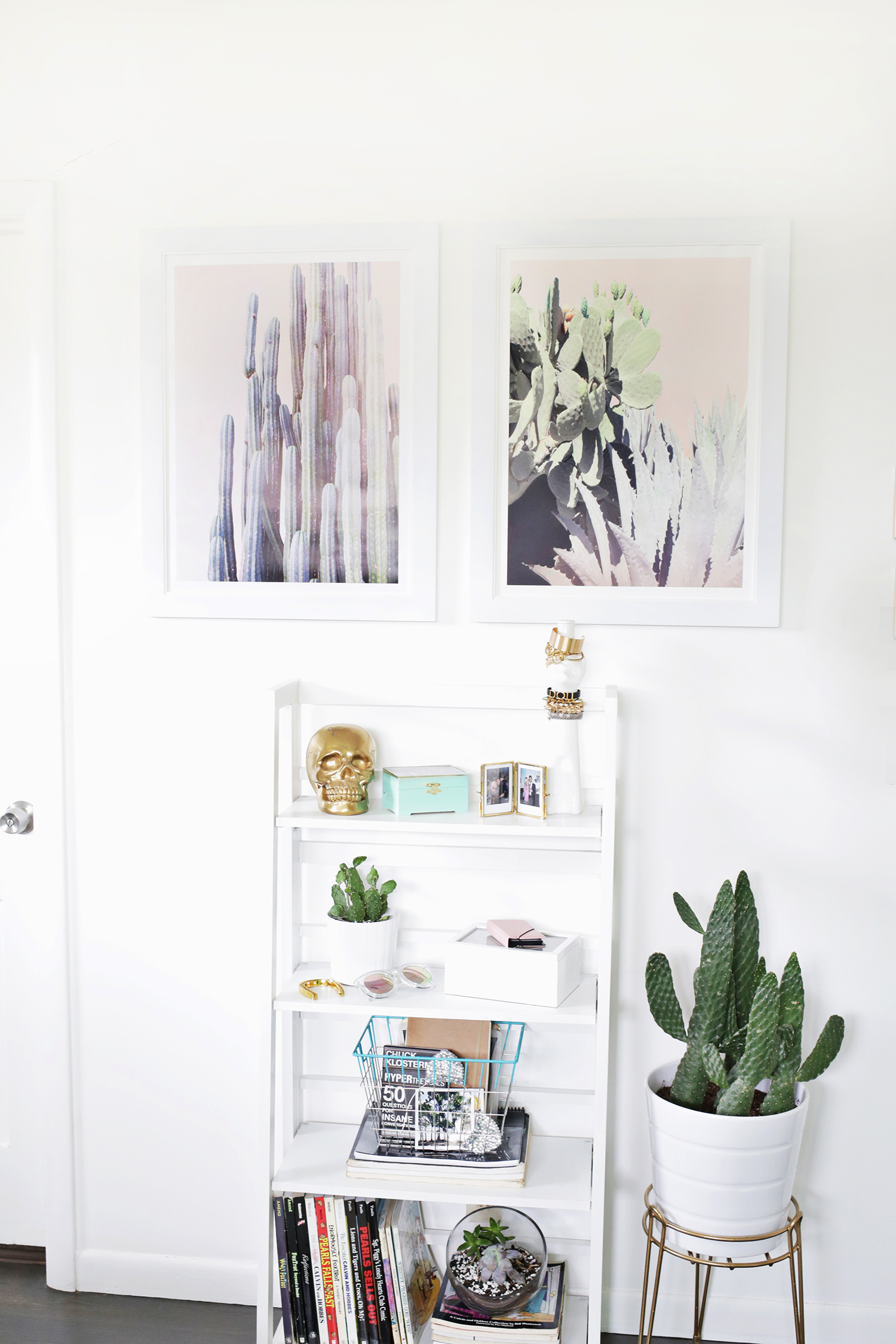 In the same bedroom, we see the Palm Springs power of brass accents. Read more about Laura's nightstand makeover, and don't hesitate to bring a touch of brass to your interior this summer!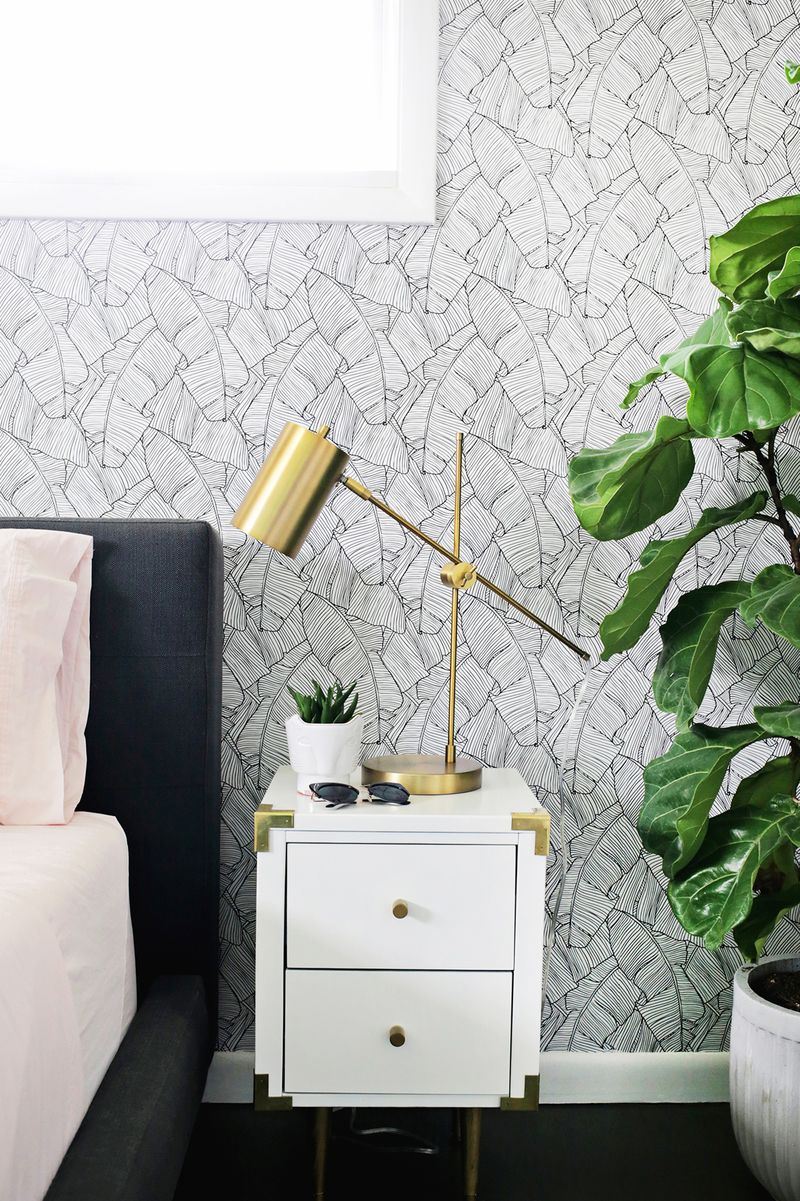 Next we see a collection of Palm Springs Throw Pillows from Jonathan Adler, which feature fun colorful trims, as well as Midcentury-style patterns in black and white. Create a bold statement with one, or layer your sofa with a large collection of these pillows featuring hand-stitched cotton embroidery: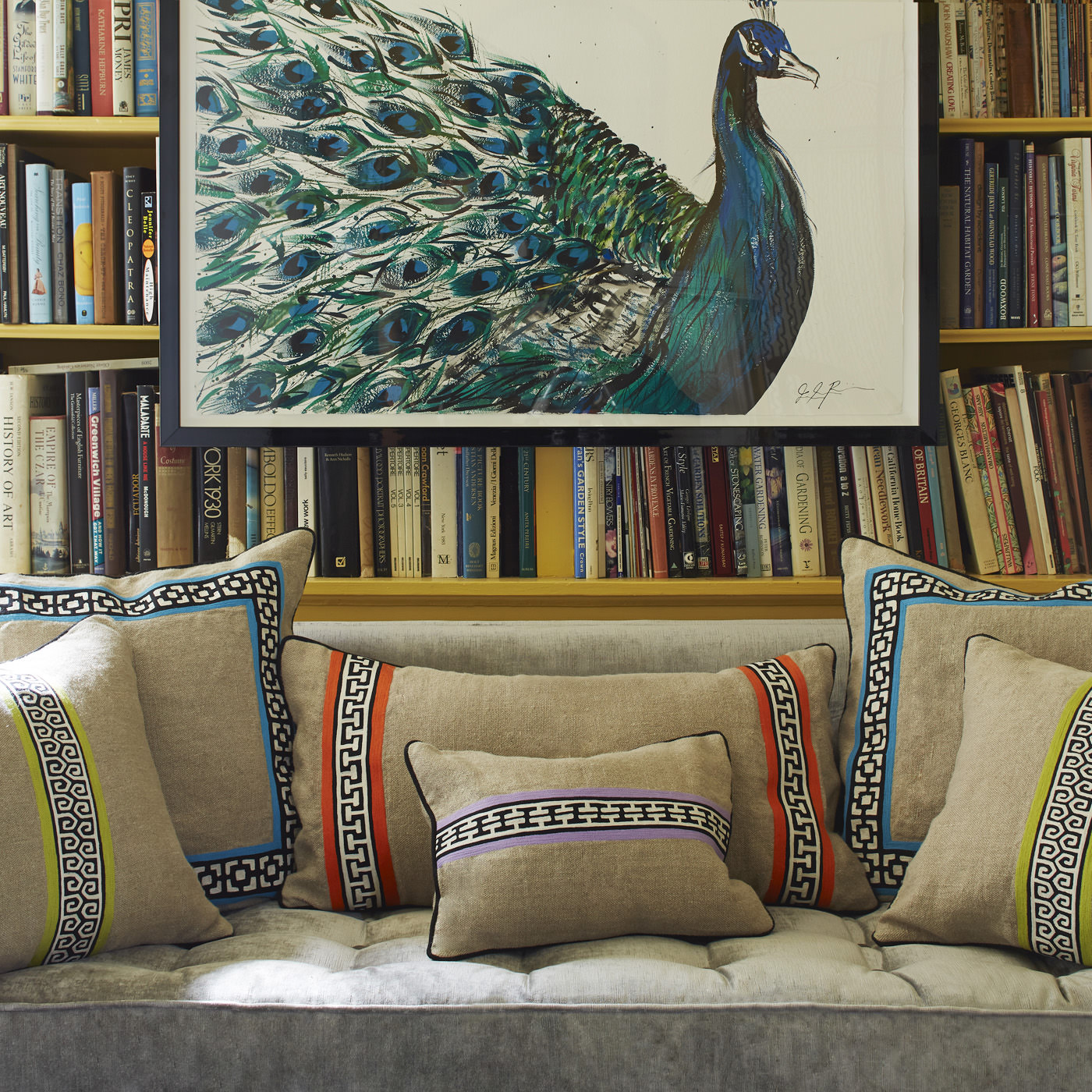 Finally, we get a glimpse of Elsie's breakfast nook from A Beautiful Mess. Note the brass lighting, white walls and colorful glassware collection, which are all elements of the Palm Springs look. Refreshing and perfect for summer!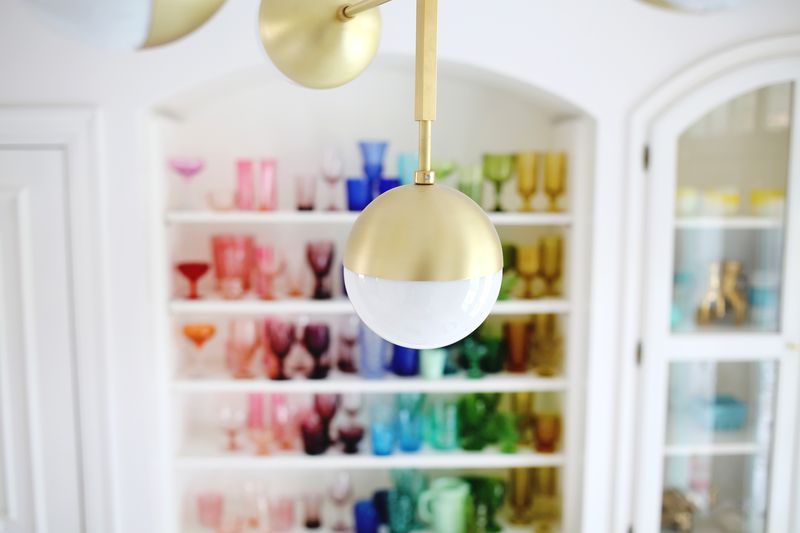 Breezy Boho Style
We end today's post by shining the spotlight on breezy Boho style. The look is anything but heavy. Instead, colorful accents and festive patterns create a welcoming environment for summer. Here's a glimpse of this relaxed look from Zara Home's Spring/Summer 2016 campaign: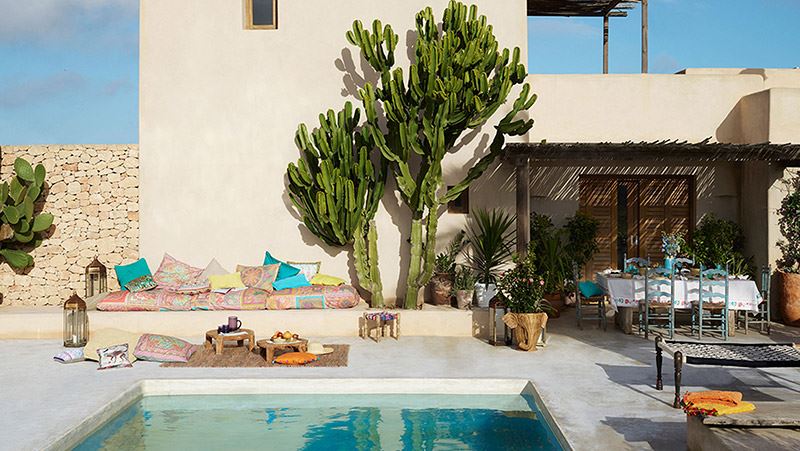 Special touches such as Zara Home's Colorful Braided Stool add just the right amount of color and eclectic style to your interior: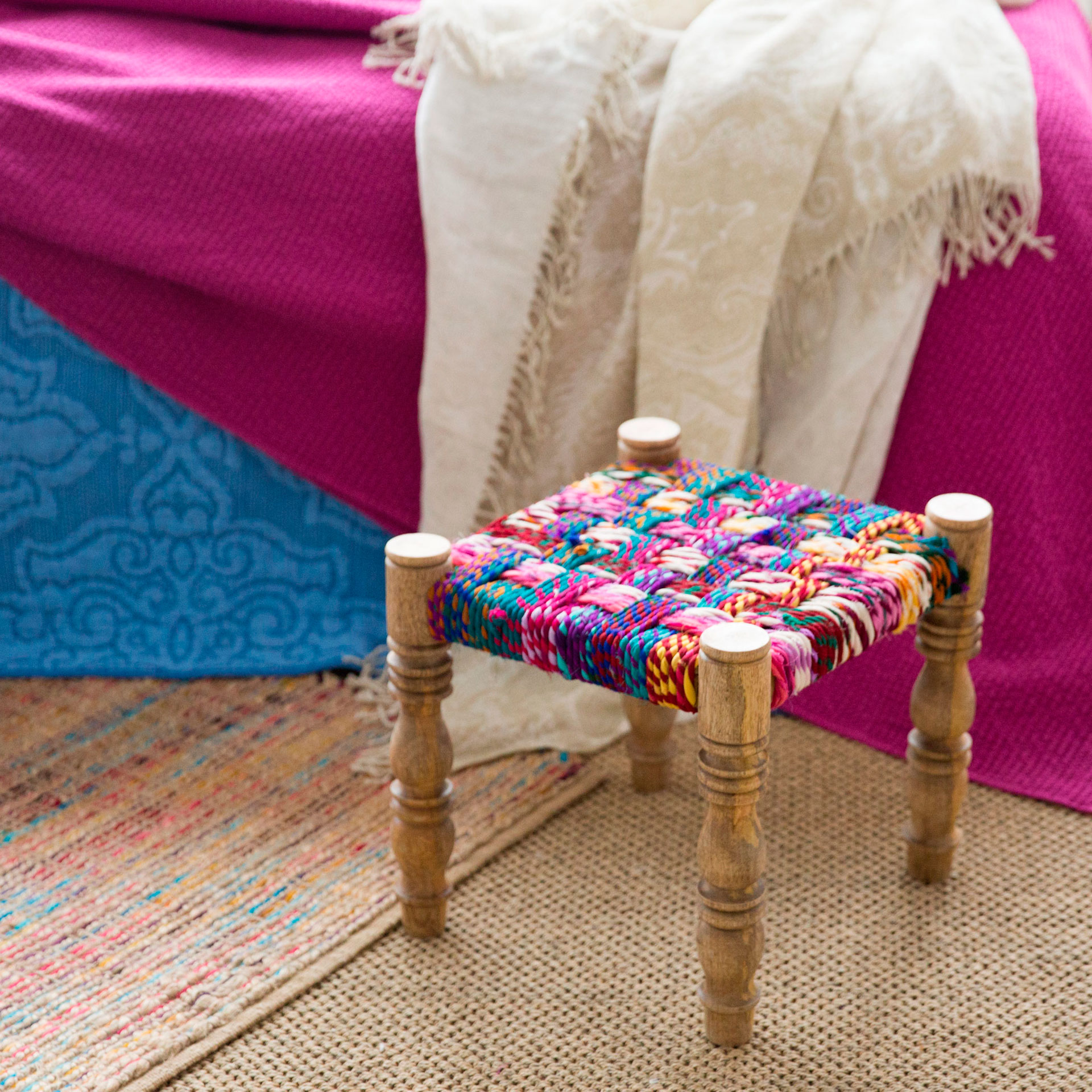 And Zara Home doesn't stop with the outdoor patio or the living room. It's easy to create a colorful Boho feel in the powder room with the help of radiant towels and other fun accents. Learn how to get the look here.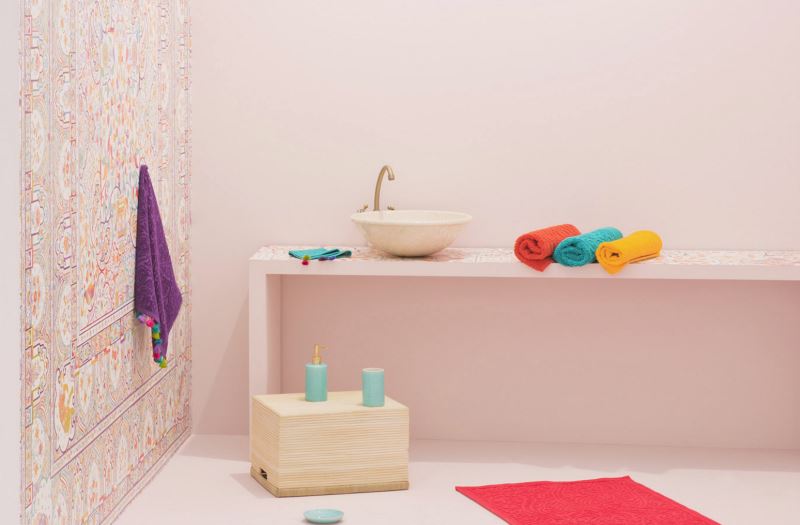 Next we see the Amis Coffee Table from Urban Outfitters, crafted from mango wood. This brand has pioneered the Boho chic look, and earthy pieces like the one below are ideal for creating a summer feel at home. Add some tasseled pillows and you're set!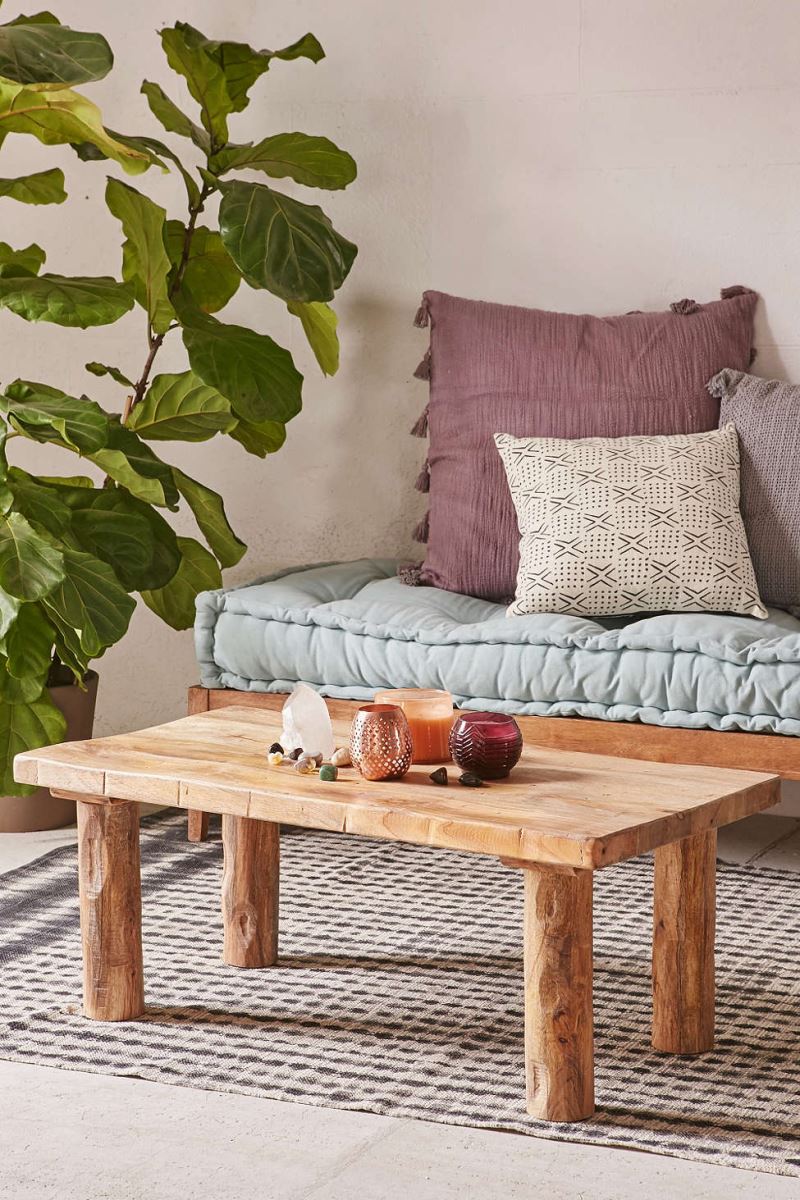 Urban Outfitters' Yelena Macrame Wall Hanging is a vision in fresh white. Putting a new spin on a retro craft, the piece is powerful without being overwhelming: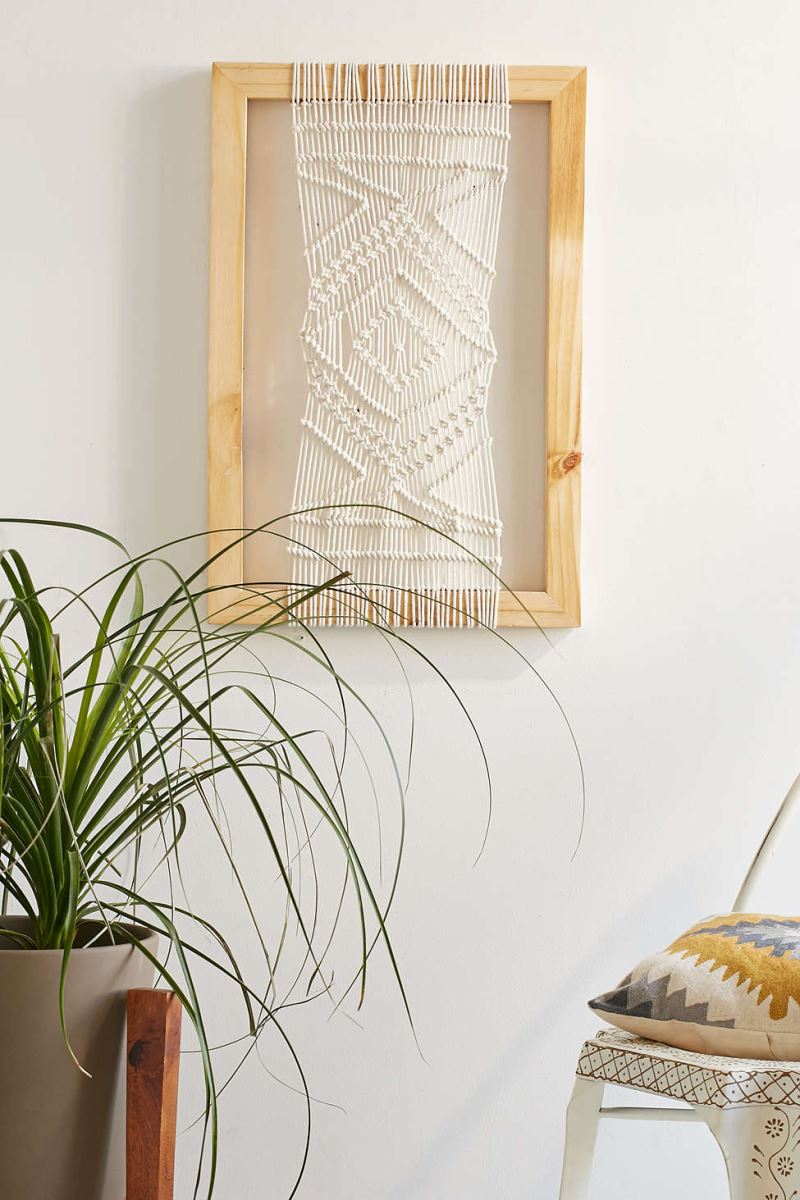 Nothing beats these Boho, breezy Metal Candle Holders from H&M Home, available in dark gray, turquoise and white. Plus, they're a true bargain at $4.99 apiece!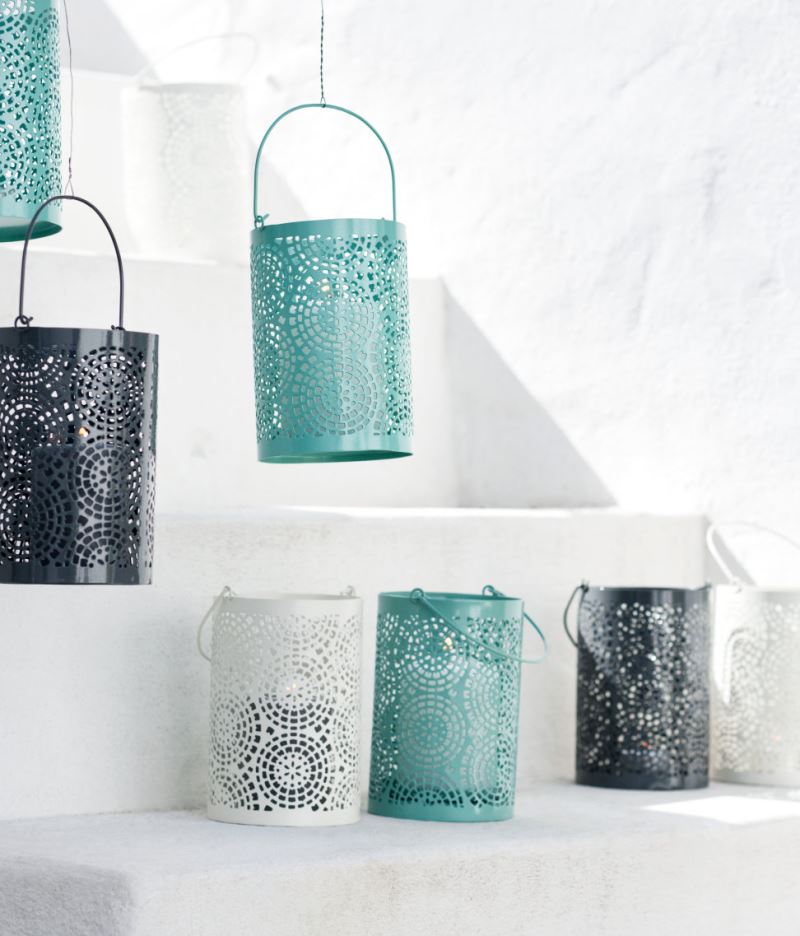 From lush and geo tropical styles to Palm Springs chic and breezy Boho, which summer style is your favorite for 2016?…