It seems I've been to a lot of homes with small backyards lately. Some are really small. What strikes me with many a small space is that the people who inhabit them often assume they are too tiny to landscape. So they're left in their simple state–a mere patch of dying grass or a slab of concrete with a couple of lawn chairs added to the mix for good measure. But did you know that a small yard can be just as special as a larger outdoor space?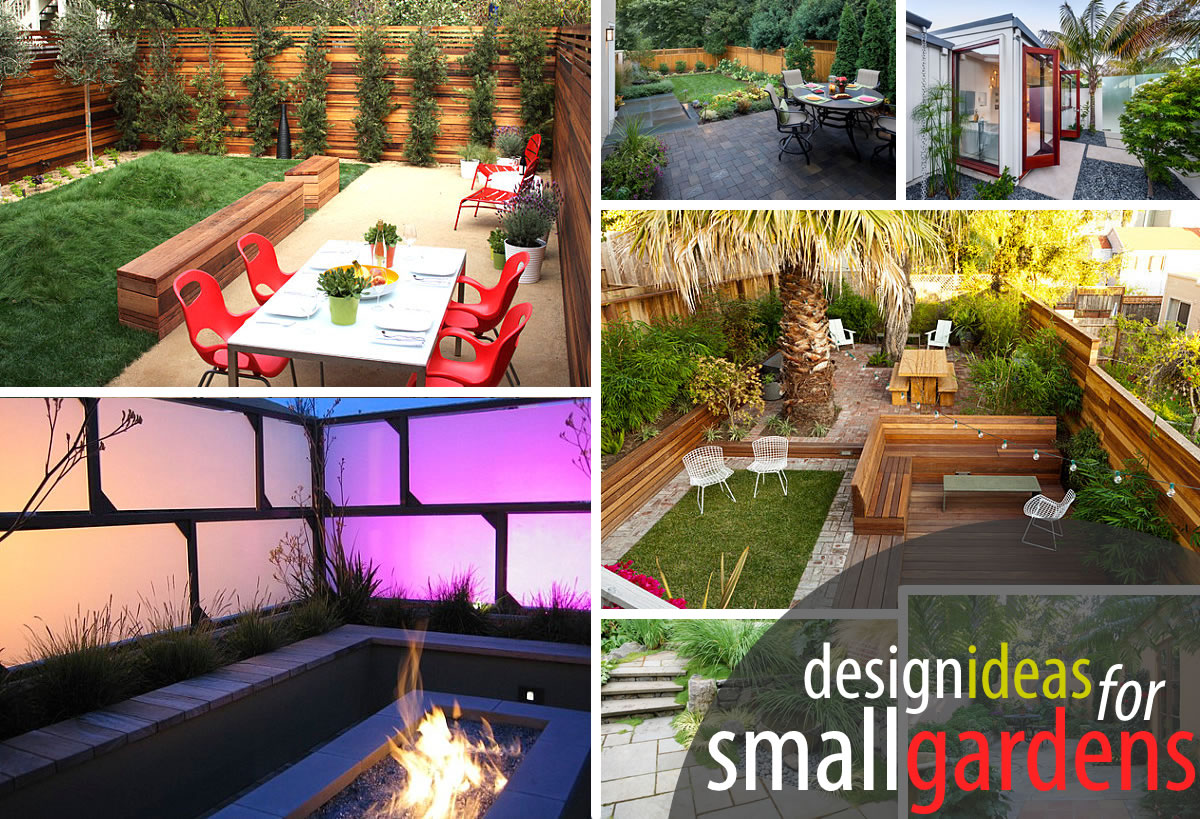 It's true! In fact, when you visit a home with a thoughtfully designed backyard, it's amazing how each detail stands out. The smaller the space, the more these details can shine, as they are often in close proximity to one another and therefore have the power to make a big statement. Today we feature an assortment of small yards that showcase the results of strategic landscaping decisions. Let them inspire you in your own spring gardening and yard design endeavors…
Make Room for a Patio
We begin with a series of backyards that prioritize patio space. Why? We're guessing the desire to entertain outdoors has something to do with it! In fact, this first yard is practically all patio. However, a border of landscaped plant life frames the vignette, adding interest and lush details. [from vi360 Photography]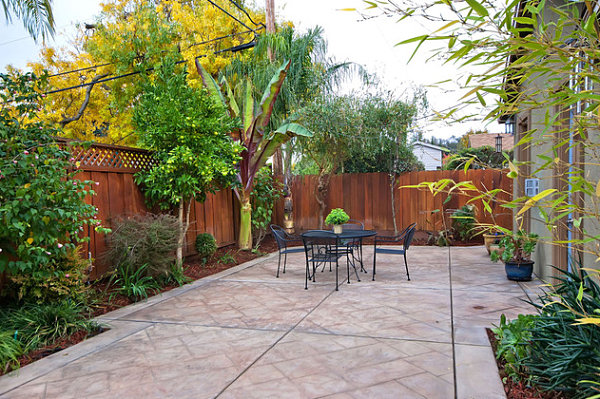 Our next featured outdoor space is also mostly patio, but stone retaining walls ensure that plenty of plant life is present. Not to mention, a stone-on-stone construction creates unity without distracting from the greenery. [from Anthony Brancato Landscape Contractor]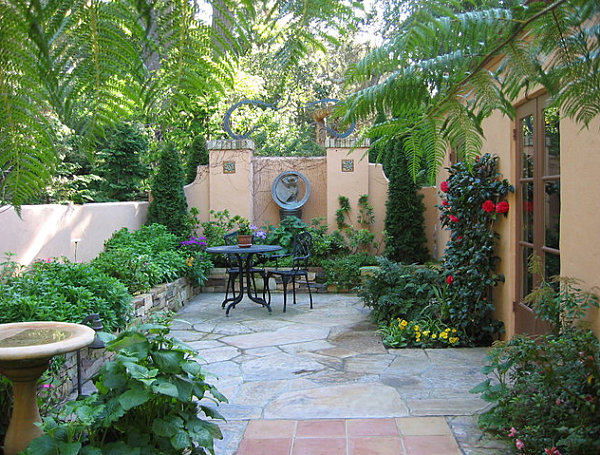 The backyard below includes a simple patio, but vibrant red seating adds contemporary flair. A green space and landscaped border are other highlights. However, it's the wooden details that really stand out. A modern fence and bench pair add a sense of gorgeous craftsmanship to the space. [from Creo Landscape Architecture + Urban Design]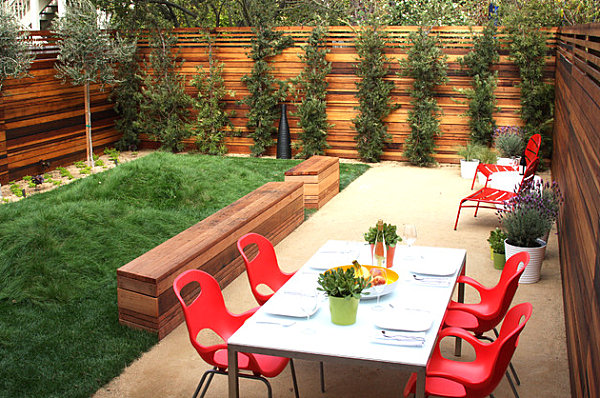 This next backyard showcases a 2011 Coty Award-winning project by Tim Johnson. The clients wanted a patio for entertaining. They got it, along with a pondless water feature and gorgeously landscaped flowerbeds. [from Southview Design via Houzz]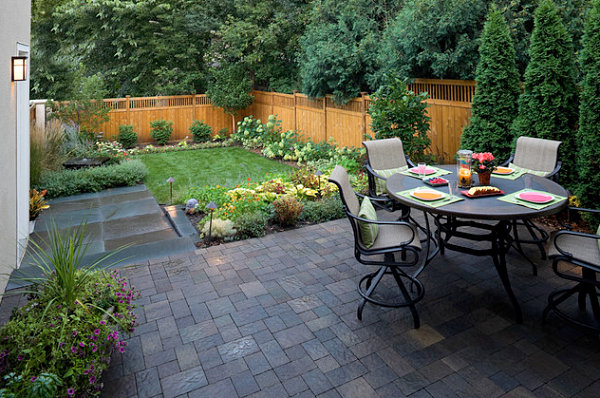 The yard below makes the most of its patio space by showcasing a table and chair set, complete with an umbrella for those extra sunny days. An abundance of greenery borders both the stone patio and the manicured lawn. [from Cathy Carr of Garden Gate Landscaping]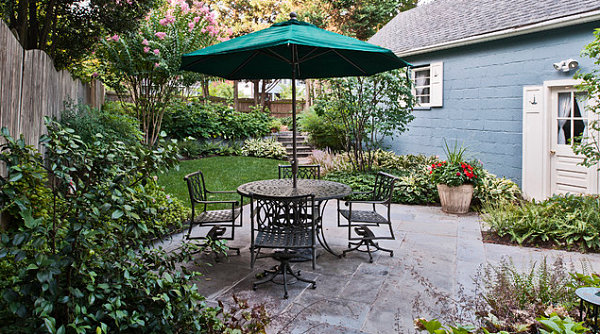 Make Every Section Count
Another popular strategy for landscaping a small yard involves dividing it into sections and designing each of them with care. For example, the yard below from Growsgreen Landscape Design features patio space, deck space and a brick-framed green: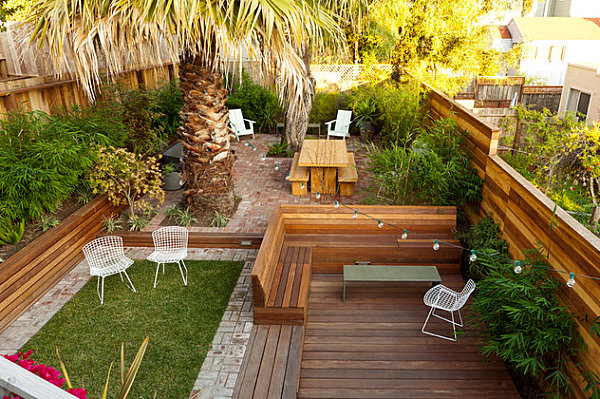 The next backyard is an intersection of pathways that includes special touches such as stepping stones surrounded by gravel. A seating area, benches and a sea of plant life are other key focal points. [from Debora Carl Landscape Design]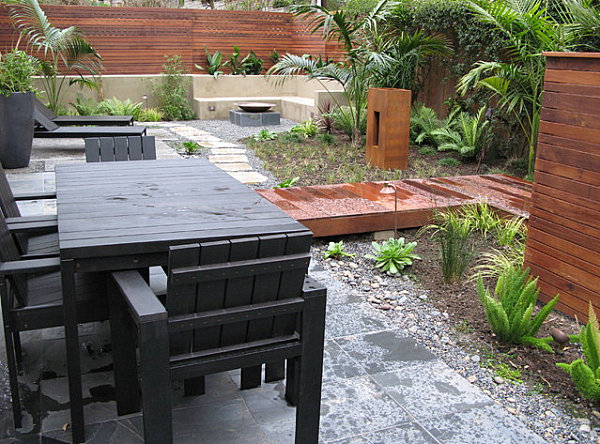 The yard below includes a green lawn, a seating area and a series of stone tiles near the front door. Note how gravel frames each tile, creating a modern statement along with plant selections that celebrate contemporary design. from Shades of Green Landscape Architecture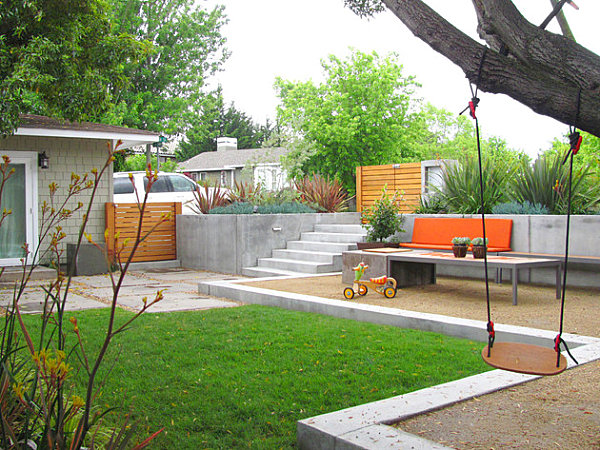 In fact, many small yards that feature stepping stones also feature small plants in between them. An unexpected choice, this landscaping strategy adds a sense of fun and flair, especially when the plants are small sprigs of grass, as shown below. [from Growsgreen Landscape Design]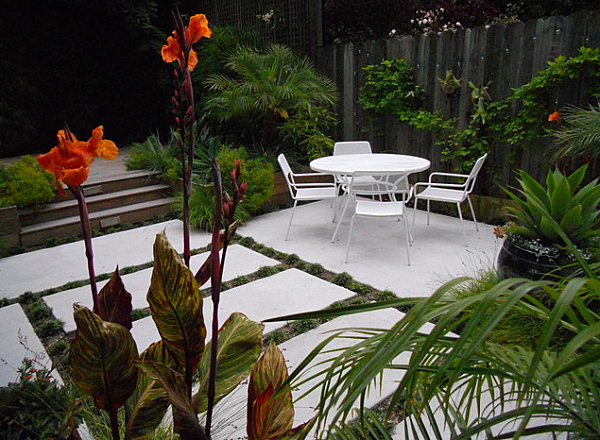 Who says a compact backyard is too small for a pool?! This next space proves that with a little design savvy, there's plenty of space for pool, green, patio and flowerbeds… [image by Whit Preston via Loop Design]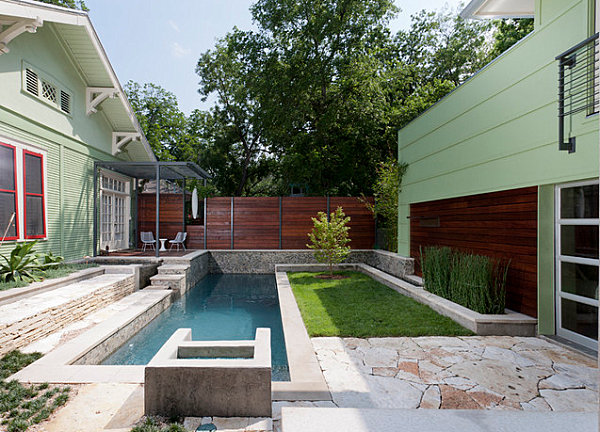 Part of making each section of the yard count involves making each flowerbed count! The stucco retaining walls below hold a series of carefully-placed treasures, such as a trio of basalt towers on a bed of black Mexican beach pebbles. [from Land & Water Design]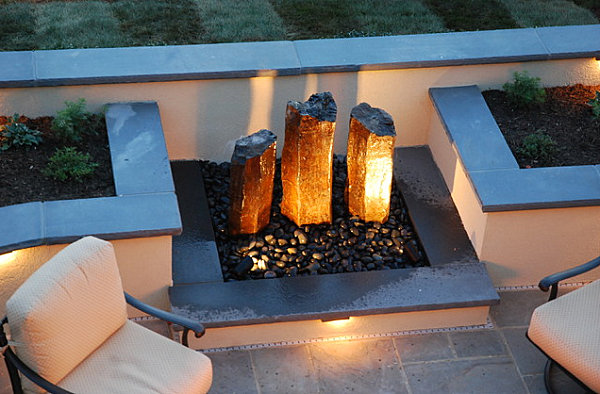 Even if your backyard has only one main section, you can truly make it count by framing it with a stone border. Rather than showcasing a lawn, give your yard a "green," as shown below. Line it with a series of modern plants for added variety. [from Despina Design]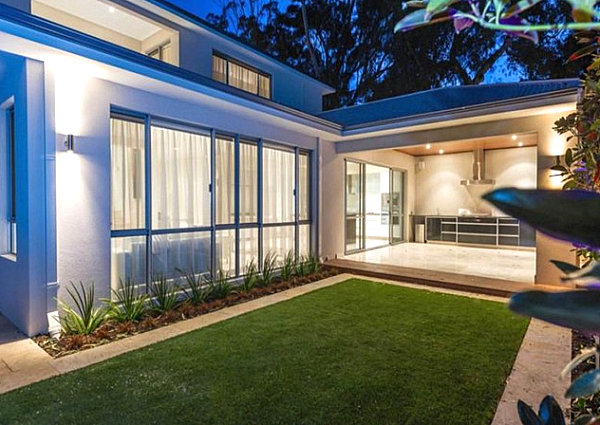 You can even add variety within a flowerbed. In the next image we see pebbles, tropical plants, grass, large rocks and a water feature, all in one small space. The result: a layered look that makes the most of each square inch. [from Avalon Northwest Landscape]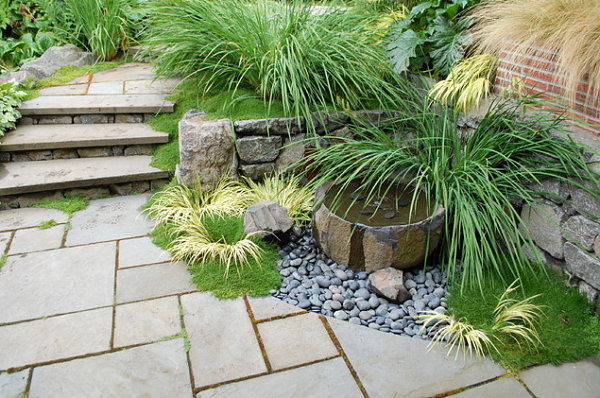 We bet you didn't imagine that the principle of making each section count could even apply to each section of a brick embedded in gravel! Hey–there's no space that doesn't deserve your attention. Below we see a succulent take center stage. It's small details like these that add personality and depth to even the smallest of yards. [from Susanna Pagan Landscape Design]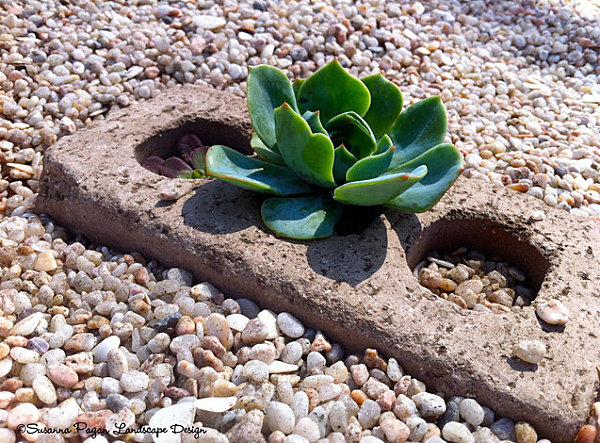 Get Creative
Our last group of featured yards is truly extraordinary, showcasing design that goes the extra mile and transforms a space into pure landscaped bliss! This next compact yard is outsides of a Platinum LEED Certified home in San Francisco. Note how angular flourishes and a  unique layout give this space as much pizzazz as the most beautifully embellished of interiors. [from Barker O'Donoghue Master Builders]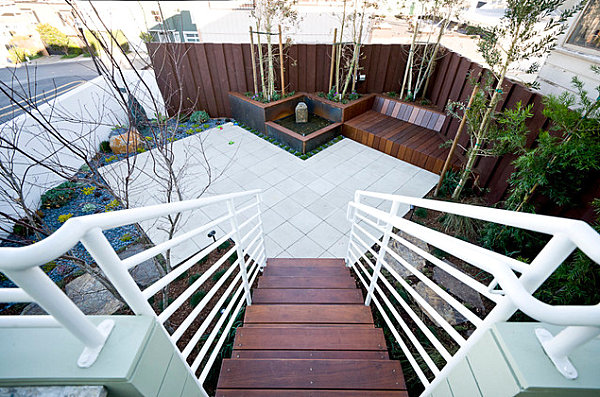 The owners of this next backyard desired an intimate space for entertaining. So Thomas Kyle created a European-style courtyard with a checkered ground of grass and stone squares! An abundance of plants in shades of chartreuse and purple creates a magical garden environment. [from Thomas Kyle: Landscape Designer via Houzz]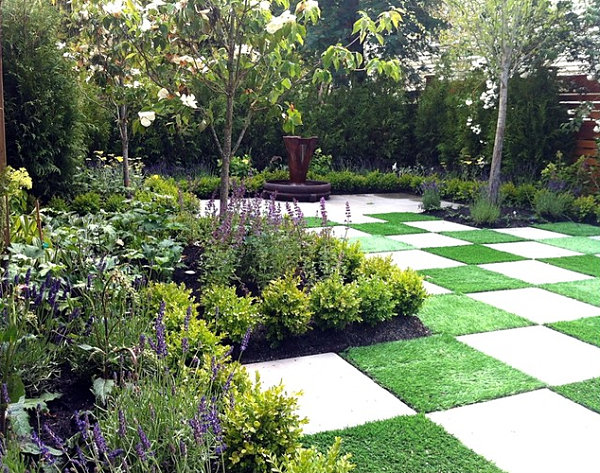 There's nothing like an outdoor space that comes alive at night with a modern glow. This San Luis Obispo patio features strategic lighting, as well as a warm fire pit. The result: a vibrant setting where residents and guests can gather in style! [from Jeffrey Gordon Smith Landscape Architecture]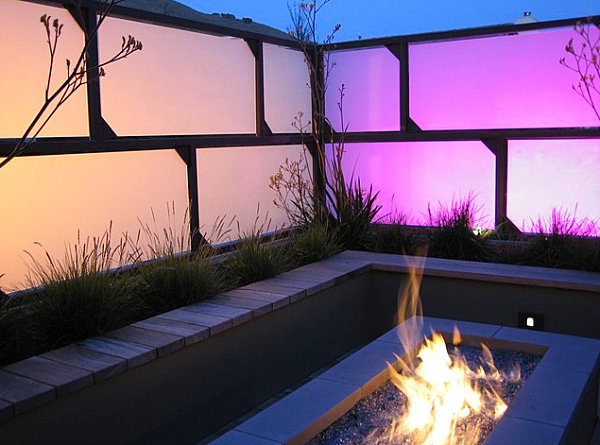 …Or you could take the tropical paradise approach! Even though a dense grouping of green plants can seem random, there is much thought involved in the design of spaces like the one below. Note how stone tiles create a pathway through the middle of the yard while allowing greenery to surround them. [from Paxton Gate Landscape Architects & Designers]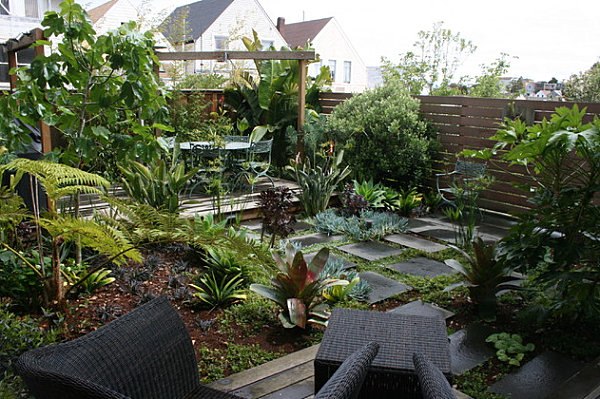 We end with an outdoor space that gets creative with its plant selections. Since stone and gravel cover the ground, the plants can truly pop, without competition from a green lawn. Good thing each plant is truly special, showcasing features such as an interesting leaf shape or overall structure. [from Allen Associates Construction]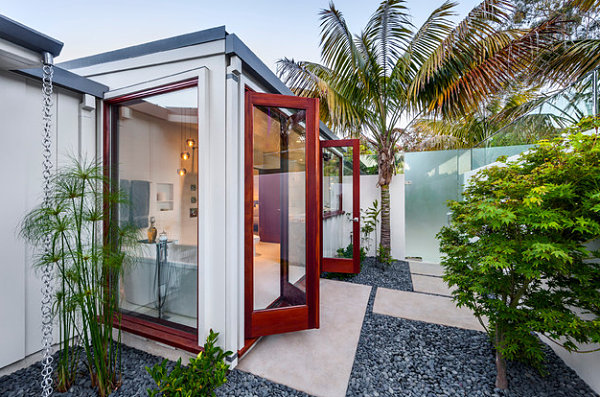 Do you live in a home with a small balcony, patio or yard space? How have you used creative design to liven it up? Share your thoughts by leaving a comment below…
Liked the story? Share it with friends.