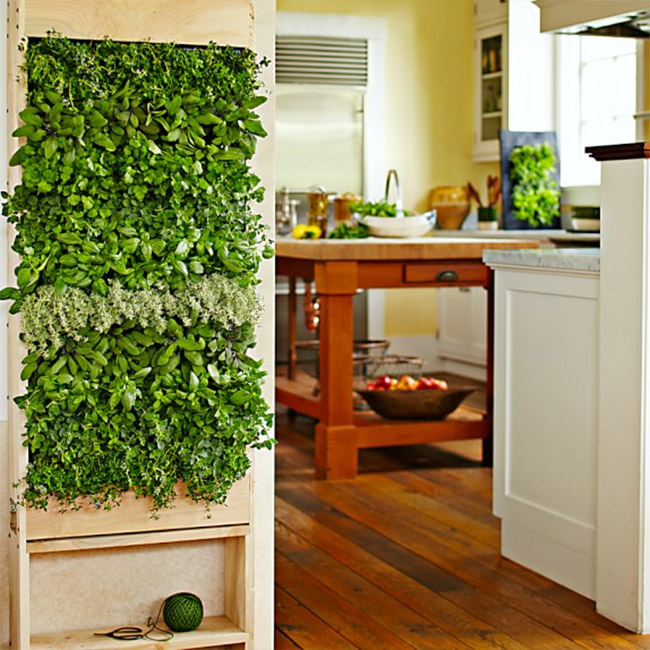 Whether you live in a region or the world that sees summer temperatures year-round, or you have to deal with autumn and winter, you can still transform one of your walls into an indoor vertical garden.
Nowadays, it's easier than ever to create your own indoor vertical garden with modular planting systems and hanging planters that require minimal assembly. Whether you're hoping to add a splash of color to your living room with a wall of blooms, or harvest your own favorite herbs off of a garden right in your kitchen window, read on for some of our favorite living wall units.
What is a Vertical Garden?
A vertical garden or green wall is a garden in which plants can be grown vertically using vertical gardening. The plant's root is in a structural framework attached to the wall or a vertical framework. They get their nutrients and water from vertical support instead of the earth.
This type of gardening uses a creative and highly effective growth technique using bottom-up and top-down supports for many plants in both tiny and large garden spaces.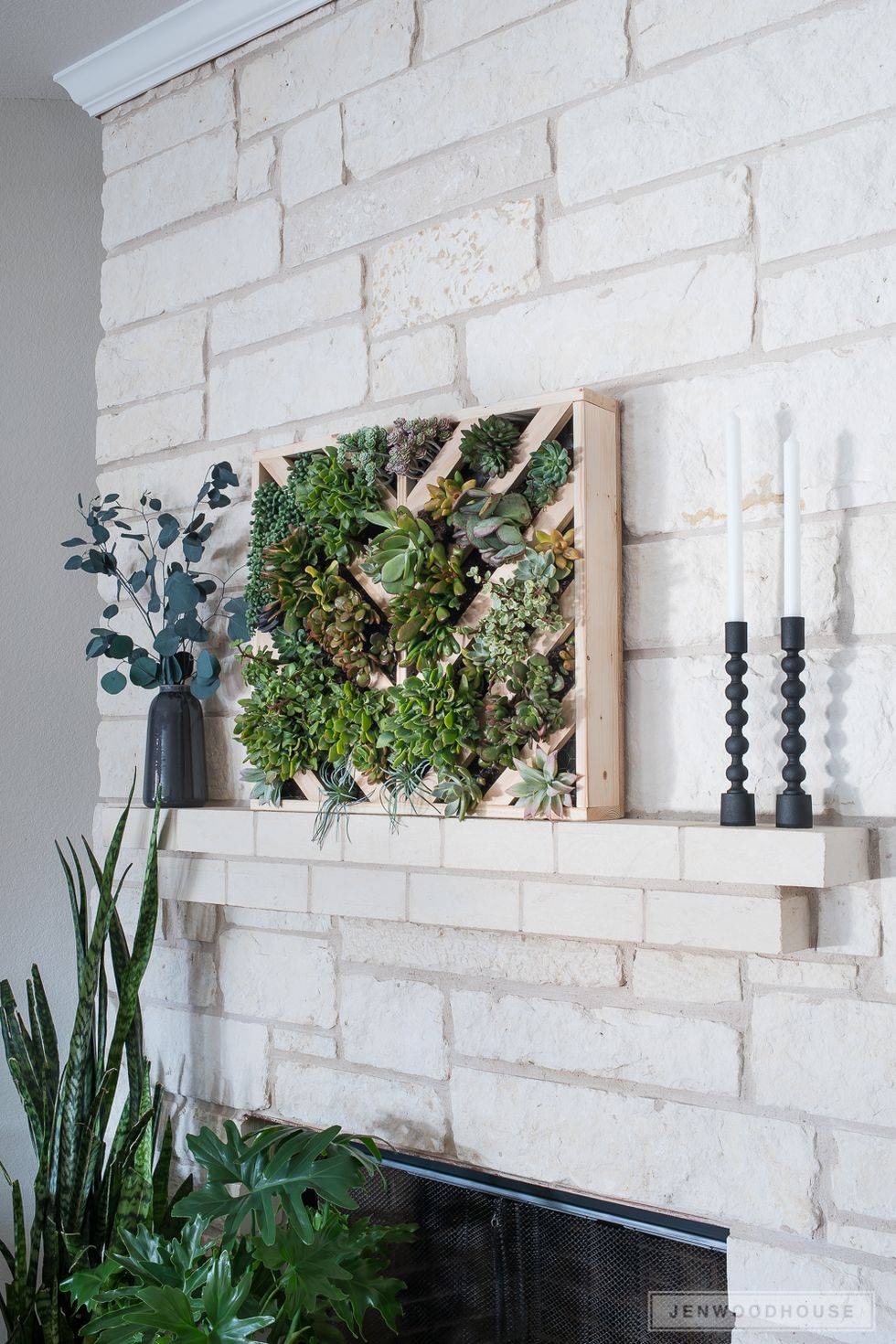 Vertical gardening is an excellent technique to highlight any region or even conceal one that is not appealing. The interior or exterior of any building can have a vertical garden or green wall installed.
You can build a vertical garden to maximize your use of space by creating a garden that grows up using raised beds, containers, or trellises. These gardens use vertical, upward-directed plant growth to best use the available area in any cramped environment.
How Possible Is It to Have an Indoor Vertical Garden?
We know vertical gardening is popular since it is ideal for urban environments and individuals seeking a high yield. Building an indoor vertical garden is highly viable. Utilizing vertical gardens will increase your harvest.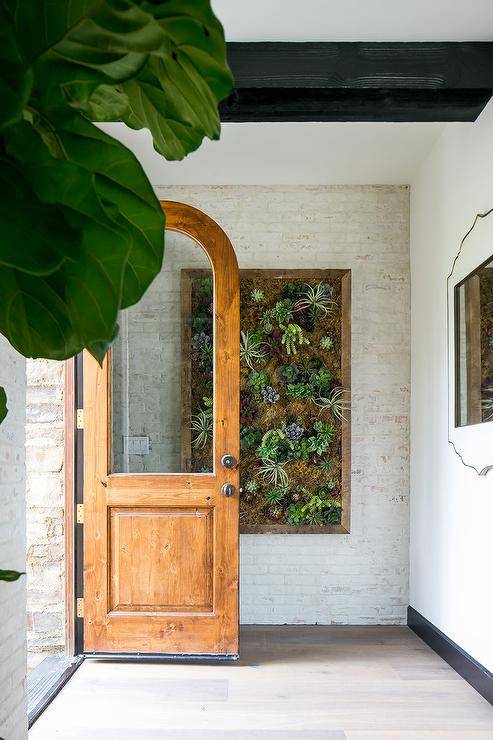 The risk of germs damaging your crops and the threat from pests are much diminished with an indoor vertical garden. An indoor vertical garden adds variety, beauty, and outstanding beauty to your outdoor space.
Indoor Vertical Gardens That Are Both Stylish And Simple
If you're looking to start out with a simple spot of greenery on your wall, this manageable planter from Bambeco features a modular system made out of recycled plastic that will make planting easy-to-care-for plants like succulents a breeze. The rustic frame is also made out of reclaimed wood, and once you have the hang of one frame, you can add on others for an even more dramatic look.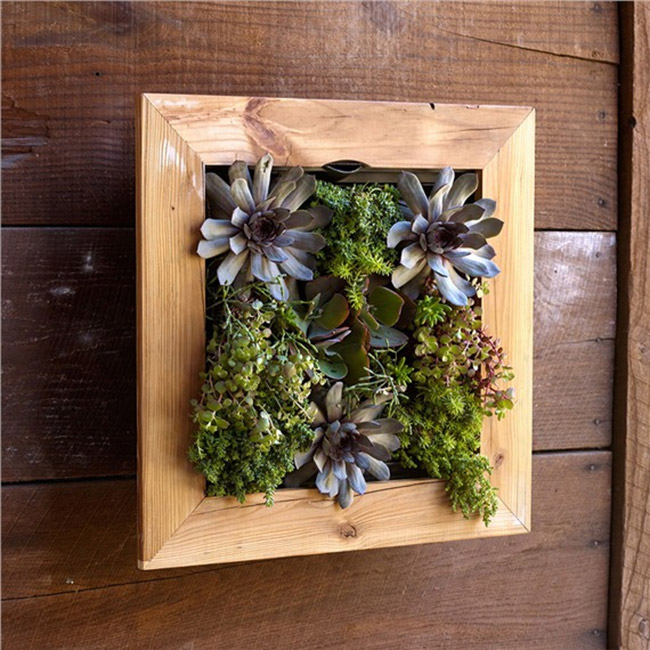 The GroVert wall planter combines two things we love–chalkboards and greenery–into one package! A removable reservoir and water collection tray makes watering a snap, and the blackboard finish makes it so easy to keep track of which plants are where. This vertical herb garden lets you have your favorite flavors on hand at all times.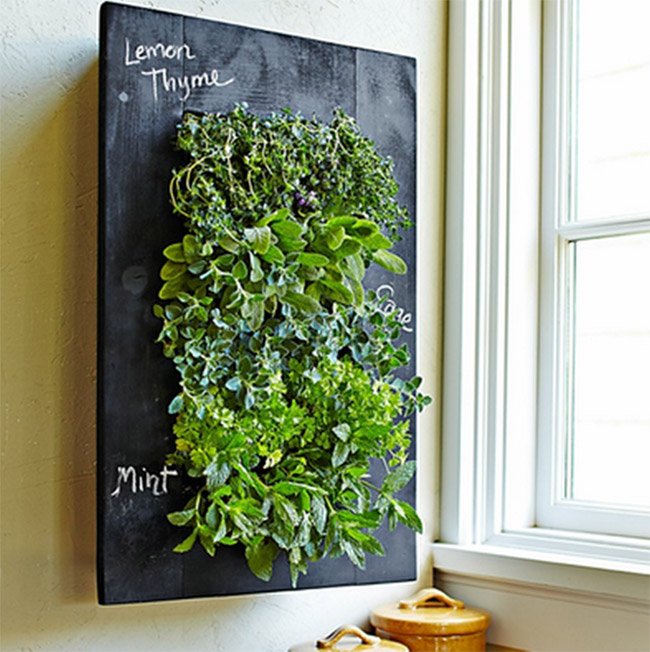 Turn your kitchen into a miniature farm with this gorgeous free-standing vertical garden from Williams-Sonoma. Made of FSC-certified Michigan maple and HDPE recycled with 26% jute and coconut fiber, the easy-to-use framework features space for 40 different plants so that you can pick your fresh herbs right off of the wall before dinner.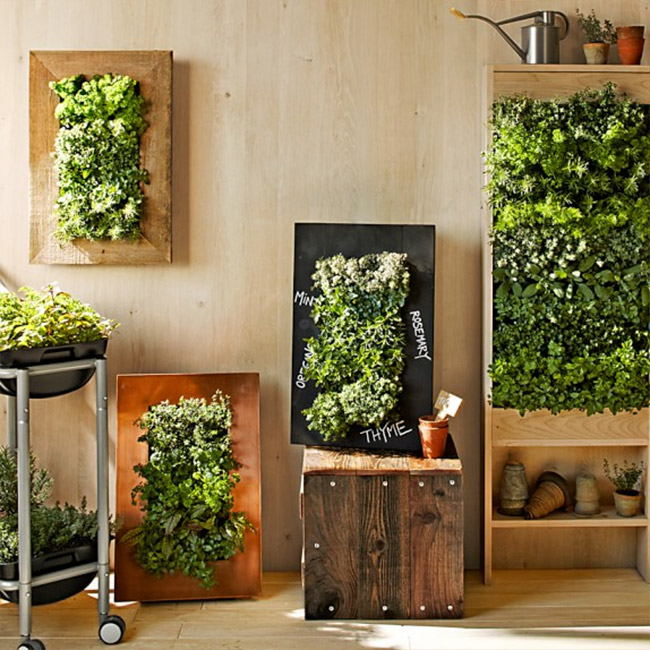 Delightful Modern Alternatives
If you're adding a touch of flora to your wall, why not mix in a bit of fauna too? These Sahel wall planters from Anthropologie are a delightful way to turn your favorite plants into a vertical display. Choose from a hippo, a rhino or an elephant, or pick a few of each!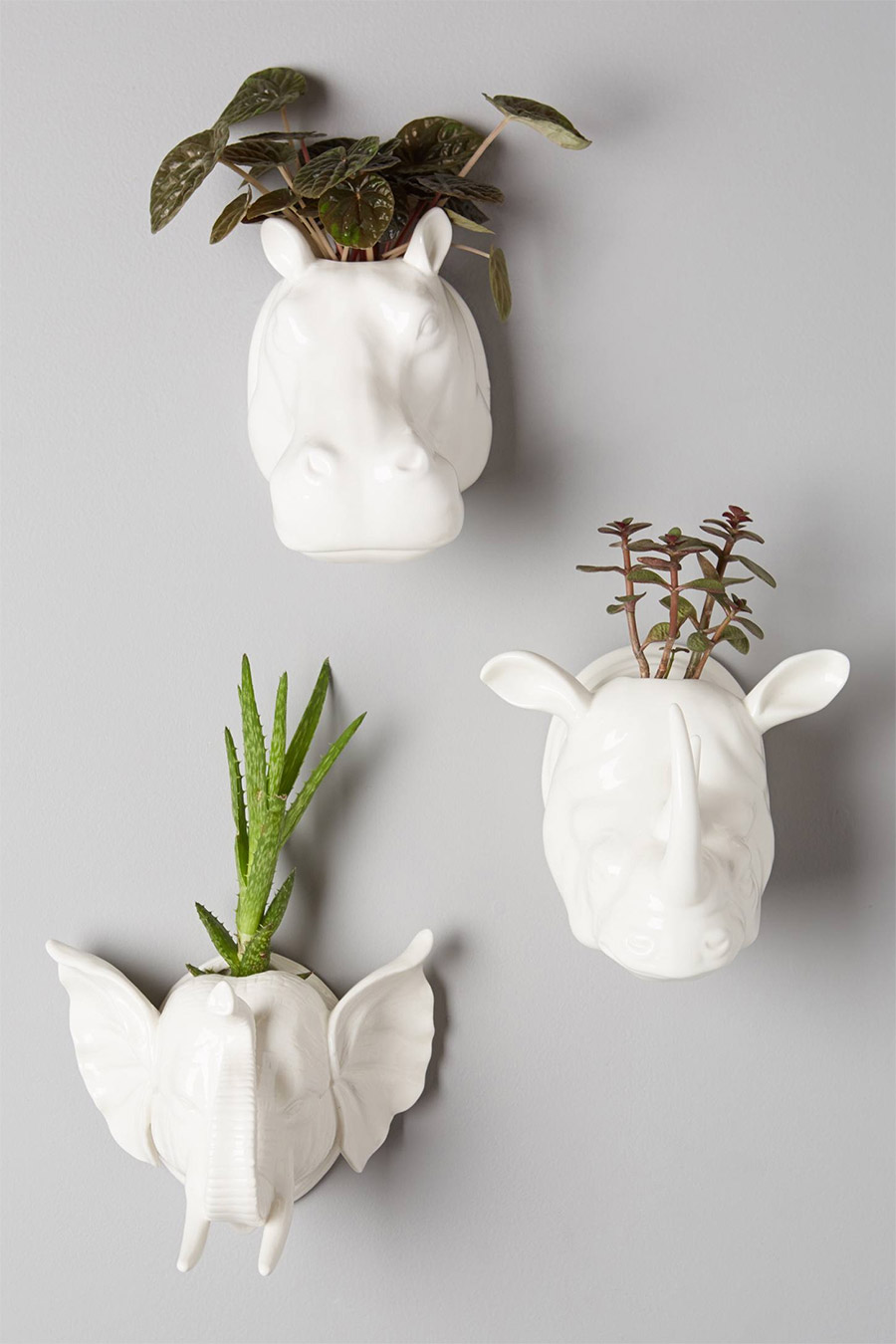 For the ultimate in indoor/outdoor living, Woolly Pocket's Living Wall Planter 2 allows you to grow plants or herbs inside and then easily transport them outside for meals, or vice versa. The handy planters are made in California from 100% post-consumer recycled milk jugs and can stand on their own, making them perfect for placing on your dinner table as decor or for guests to pick their own seasonings!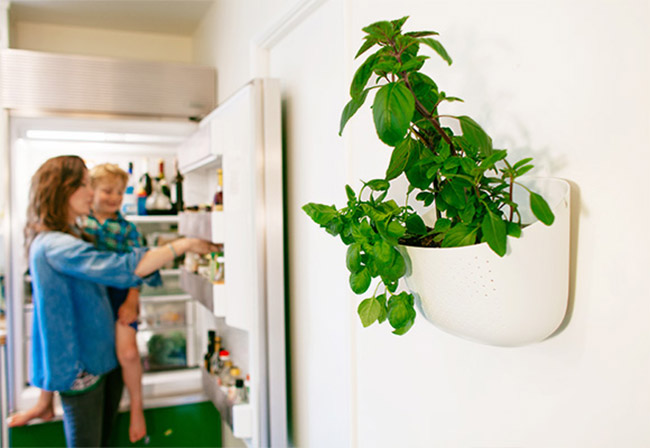 Tiered Hanging Pots
To create a DIY tiered hanging pot, you need wood, rope, and a few flower pots. Create a square with a plank of wood. Trace the lip of the pot on top of the wood and drill a hole along the traced area. Repeat the process with all four squares. Hang the squares with flower pots one over the other. Watering the plants will become a cakewalk as the runoff water from the previous pot drips into the pot below.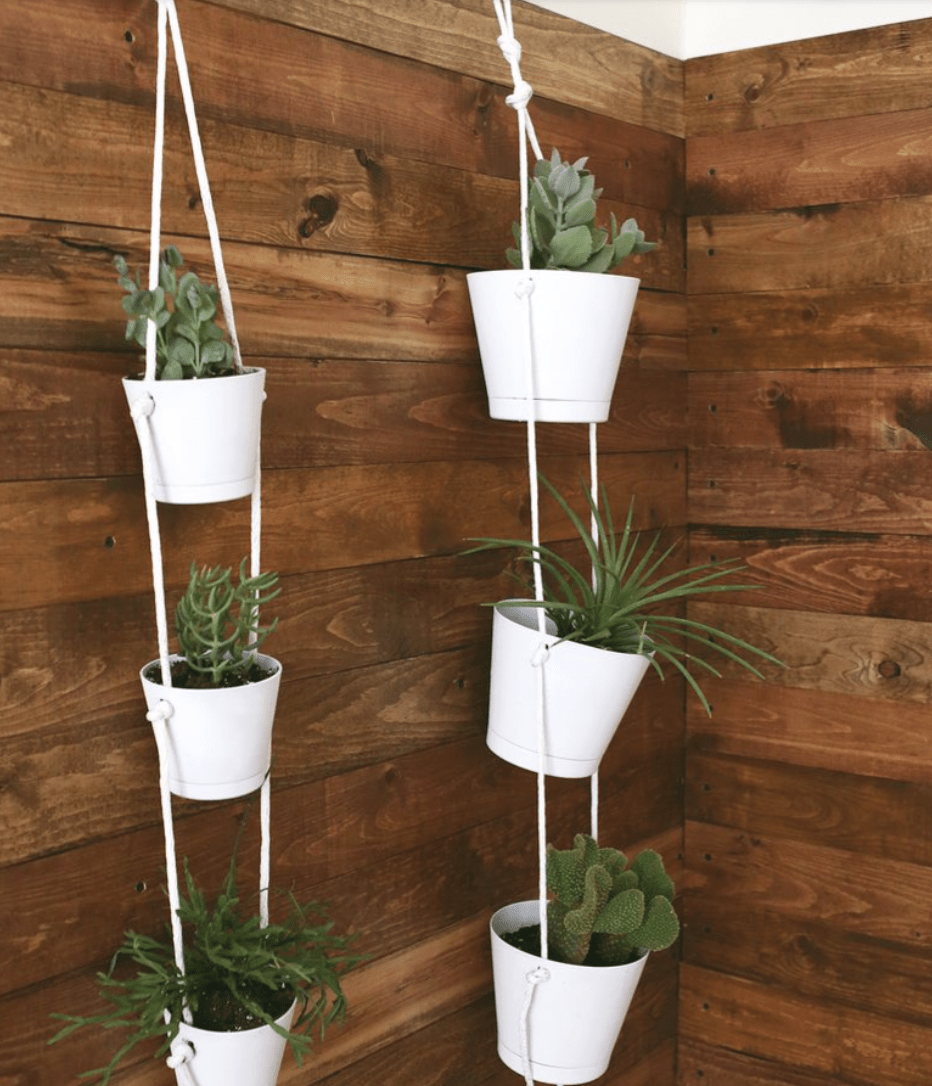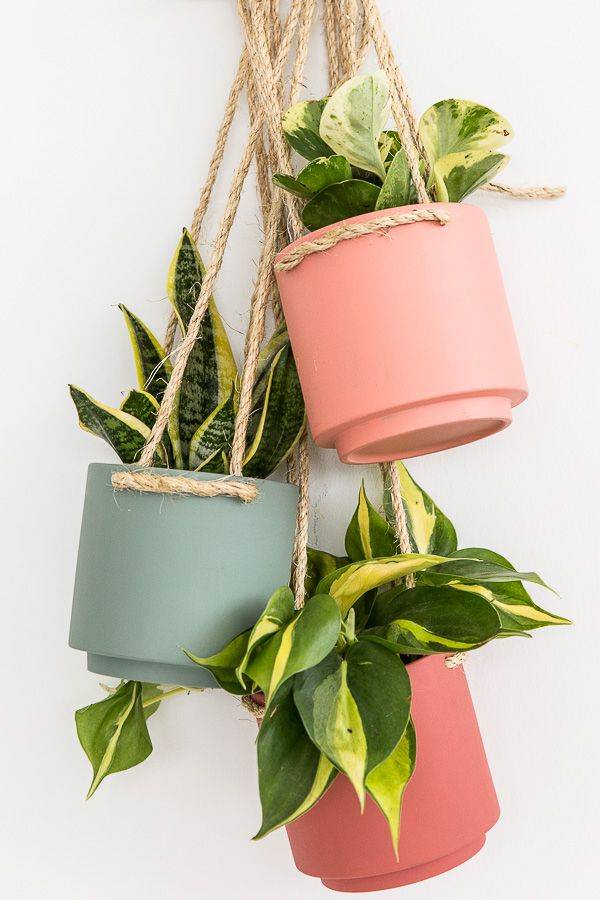 A Grand Living Wall
For a truly impactful living wall that is much easier to maintain than it looks, give FloraFelt's vertical gardens a try. Using a modular system made from 100% recycled PET plastic felt, these versatile planters can be daisy-chained to create flourishing vegetative displays that can be as large or as small as you desire.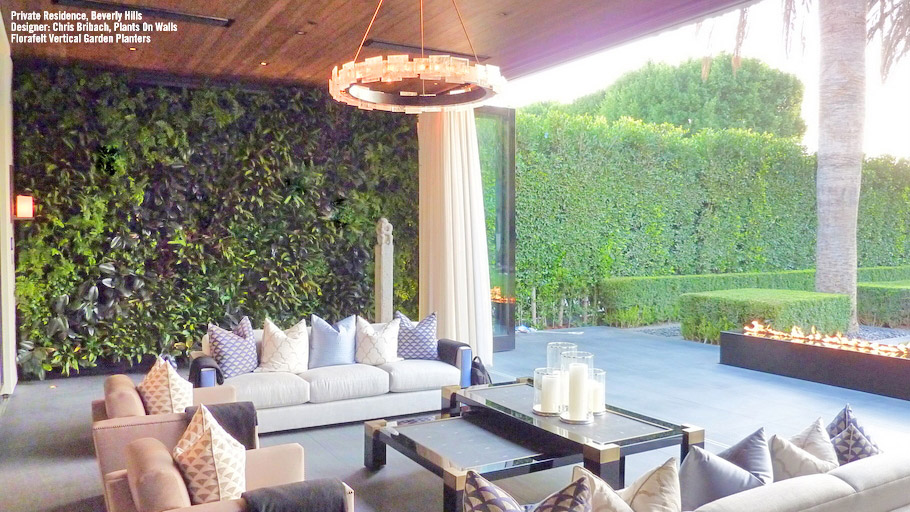 If you're ready to take your vertical gardening to the next level, the Grow-Wall vertical gardening system allows for maximum creativity in the design of your green wall. As an added bonus, your flourishing wall will serve as a thermal insulator that will keep your room cooler in the summer and warmer in the winter.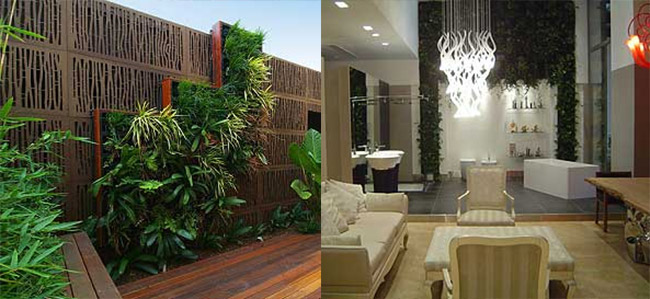 Finding our picks above a bit too elementary for your bright green thumb? Check out this list of DIY green wall projects, rounded up by our very own Sherry Nothingam, for some more challenging ideas.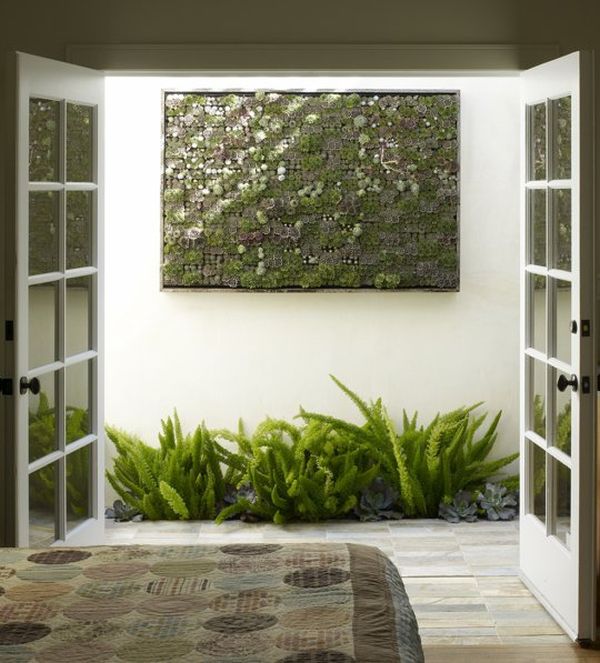 Which of these vertical gardens is on the horizon for you?
Benefits of An Indoor Garden
There are countless benefits of indoor vertical gardens. These gardens offer numerous aesthetic, monetary, physiological, and ecological benefits over ordinary gardens. Using a vertical garden, you can maximize and use every square foot of space, particularly in crowded and cramped metropolitan areas.
Also, vertical gardening is a terrific way to cultivate food in regions with restricted space. The indoor vertical garden technologies offer efficient, precise, and environmentally friendly ways to raise fruits, vegetables, and herbs, improving food security for urban people and communities that lack agricultural acreage.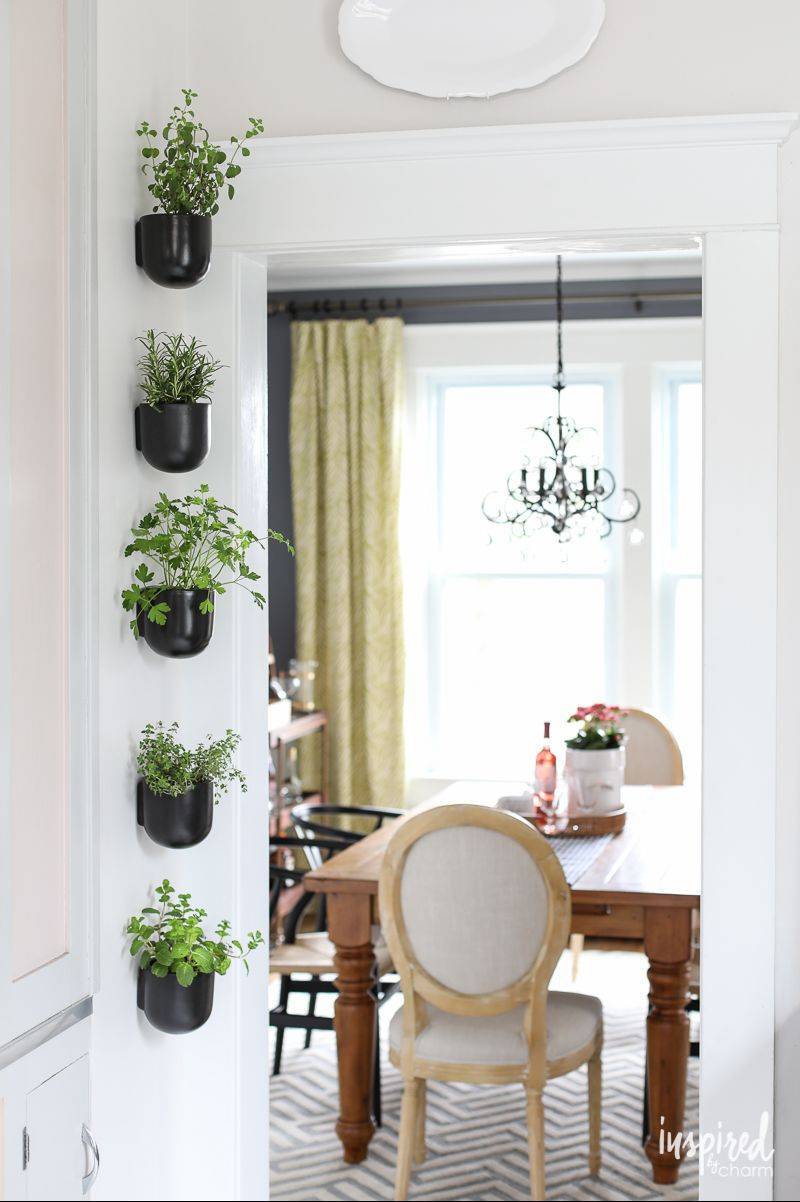 An Indoor vertical garden reduces dangerous VOCs (Volatile Organic Compounds) and absorbs pollutants to improve the air quality inside. Even in small places like window sills, balconies, front doorways, and so forth, growing plants vertically impacts the air quality.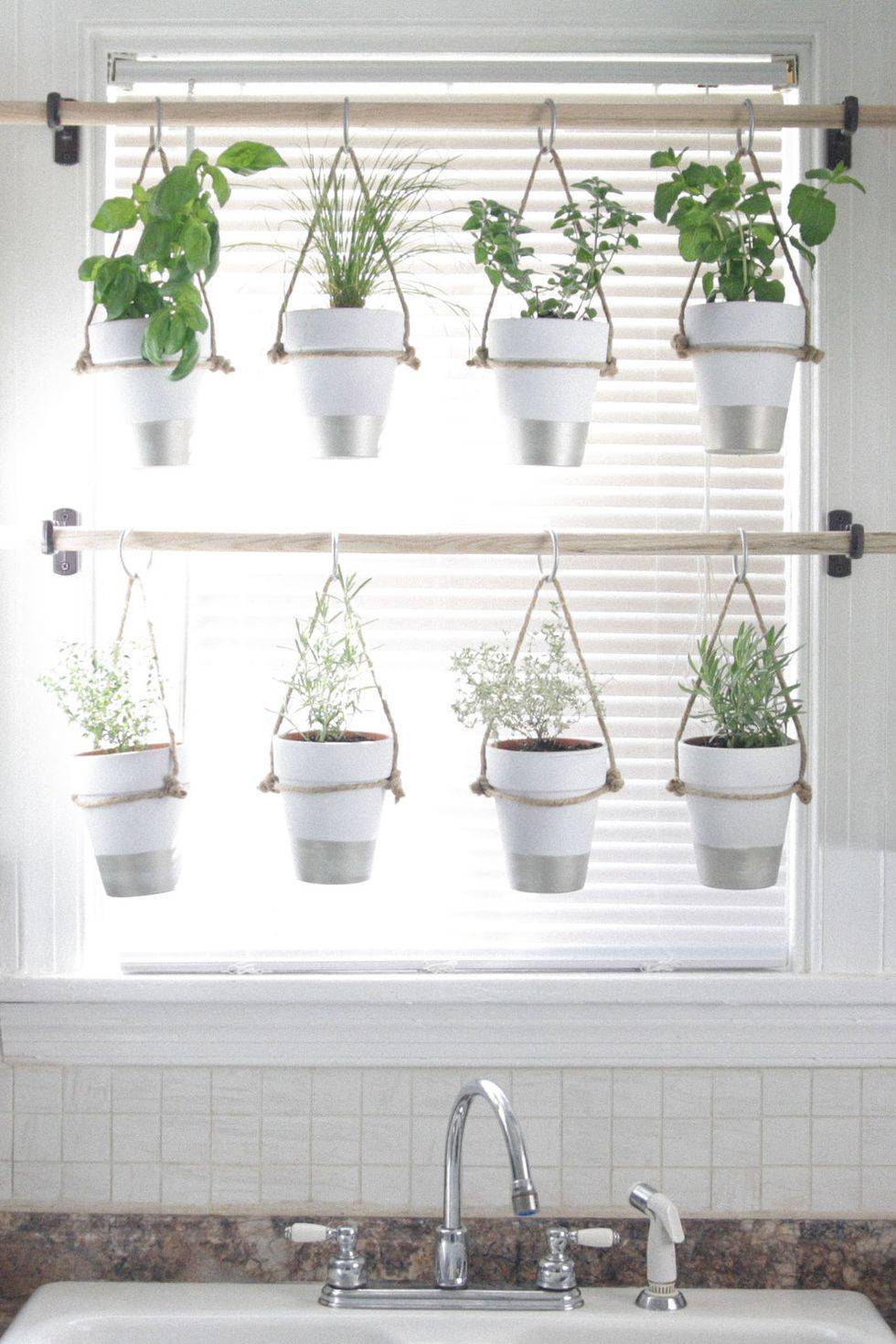 Buildings with green walls have more adequate insulation, reducing the need for energy to heat or cool them. An energy-saving indoor vertical garden maintains a building warm in the winter and cool in the summer.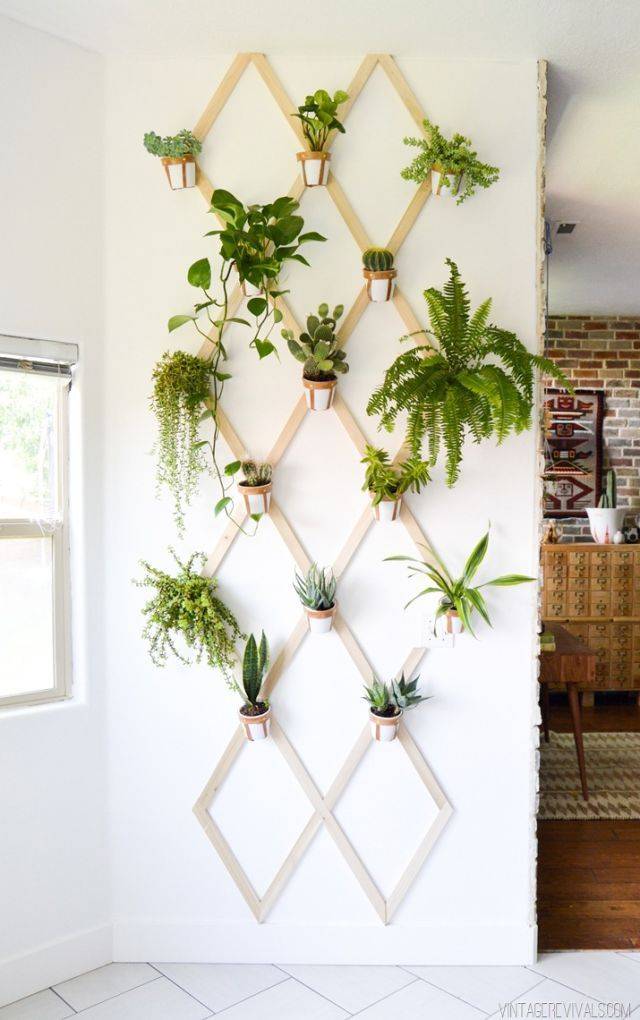 You may make the most of limited space and reclaim unused areas using vertical plants. Space can be transformed into aesthetically beautiful and creatively engaging by adding a green wall.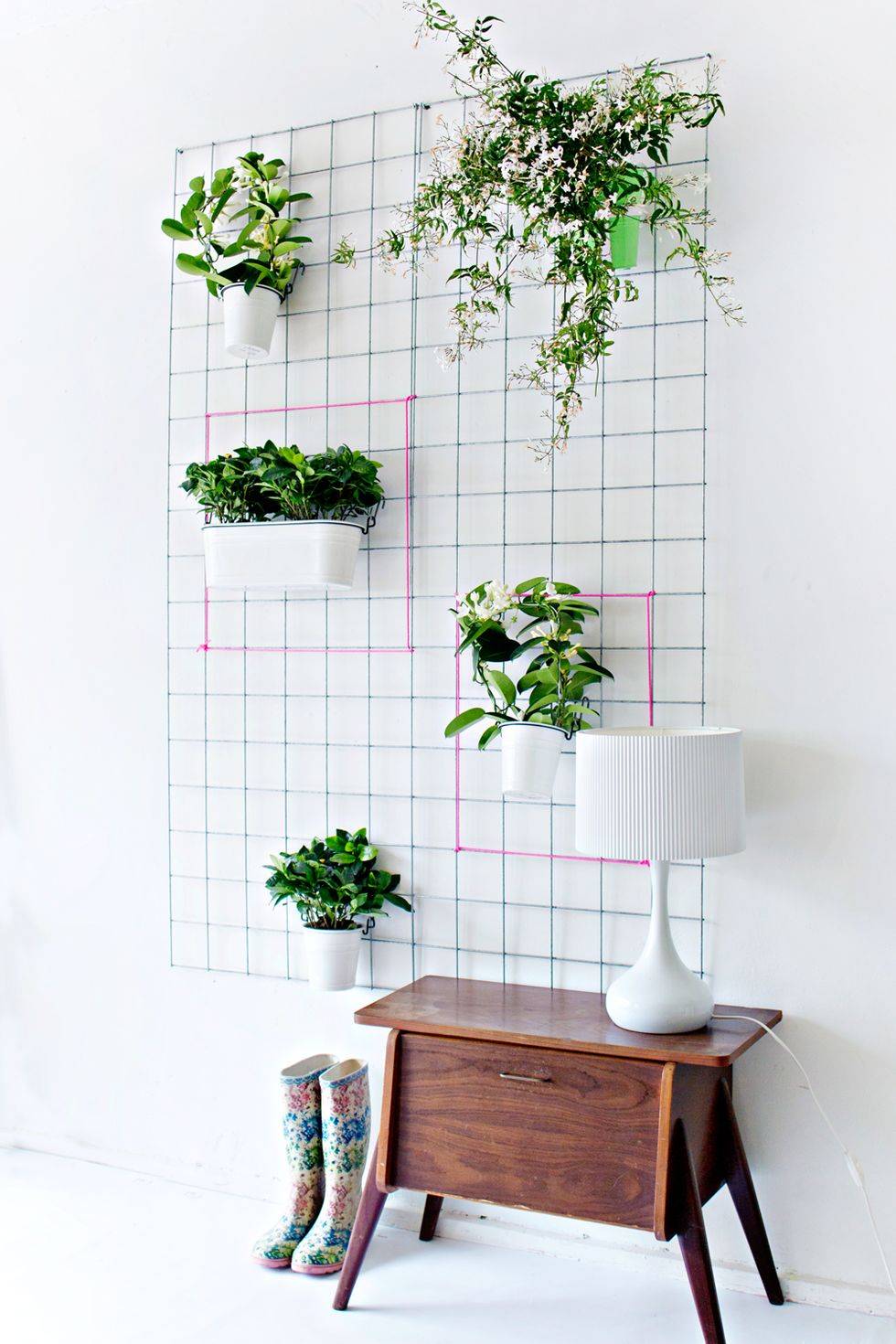 If you're feeling extra creative, here is a great DIY tutorial from ManMadeDIY on how to make a vertical garden out of crates: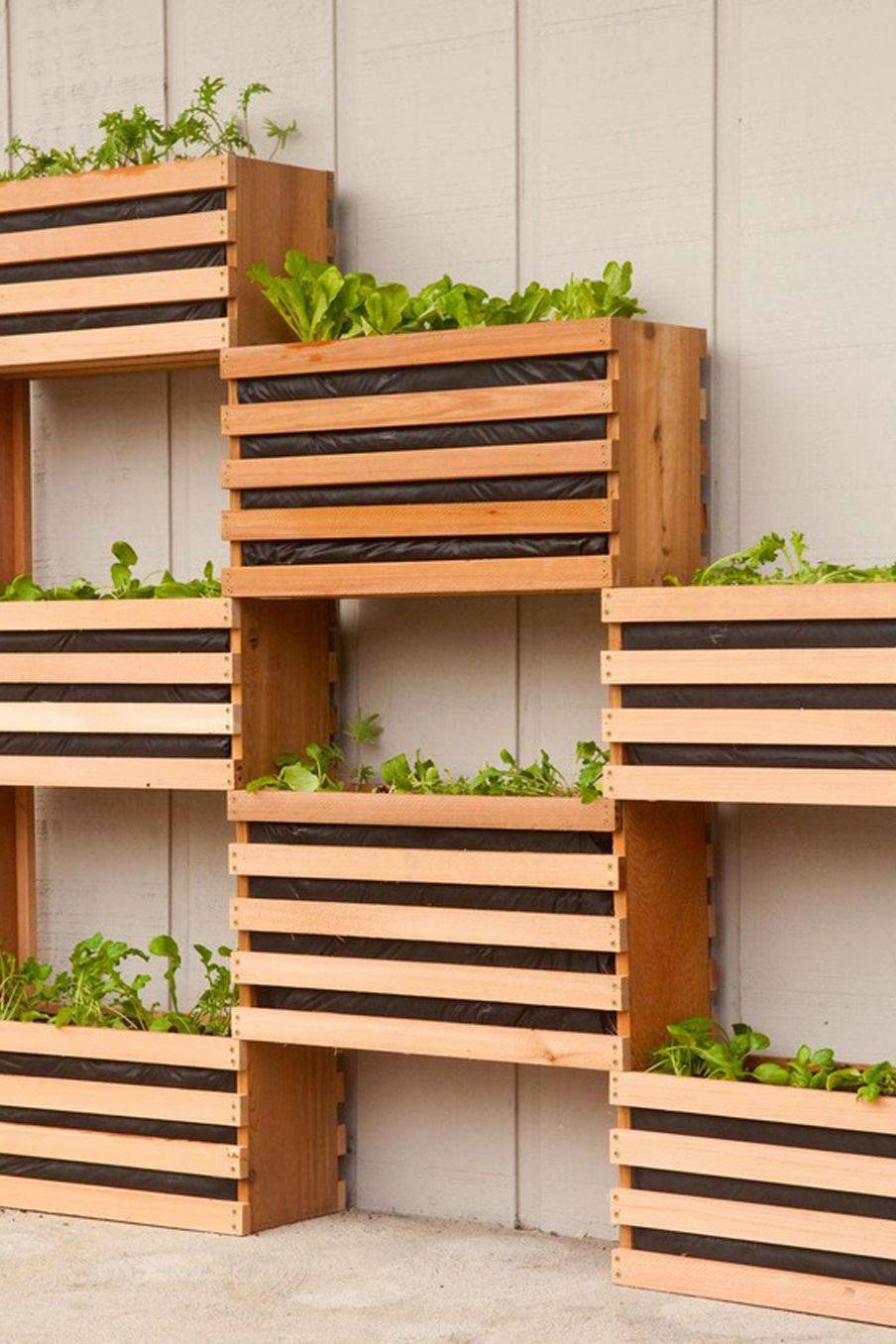 Frequently Asked Questions (FAQs)
Edibles that adapt well to vertical planting include fruiting vines such as kiwi (Actinidia deliciosa), Siberian gooseberries (Actinidia arguta), edible flowers such as vining nasturtiums, and vertical garden vegetables such as peas, squash, tomatoes, and pole beans.
When maintaining a vertical garden wall, you tend to need more watering than a regular garden because they have less soil. By hand can be difficult because of the height. Alternatively, choose a maintenance-free greenery option. Drip irrigation systems vary in sophistication depending on your need and your budget.
Crops like rice and corn, despite constant demand and the possibility of being grown in an indoor environment, are not compatible with vertical farming. At first, they require a lot of space. Moreover, a vast part of the plant is not edible, so a lot of light energy needed to grow this part would be wasted.
Fill the box with potting mix, add Milorganite and cover the opening with landscape fabric secured to the frame. The taut fabric cover helps to hold the soil and plants in place—cut openings in the fabric for adding plants.
Everyone's conditions vary, but it's recommended that you water your garden once every 2-3 weeks.
If you want more help in the garden, here are some great articles you may enjoy: