If you're shopping for stainless steel pots, today's post is for you. We've rounded up some of our favorite cookware options, and we've included plenty of design-fabulous photos for styling and storage inspiration. Whether you choose to display your cookware from a hanging pot rack or you stash it behind closed cabinet doors, it's a kitchen essential that you will enjoy using as you prepare nourishing meals. Stainless steel pots are classic and timeless, yet they're the perfect addition to the modern kitchen. Discover why as you browse the images below… [photo of Karcher Jasmin stainless steel cookware via White River Kitchens]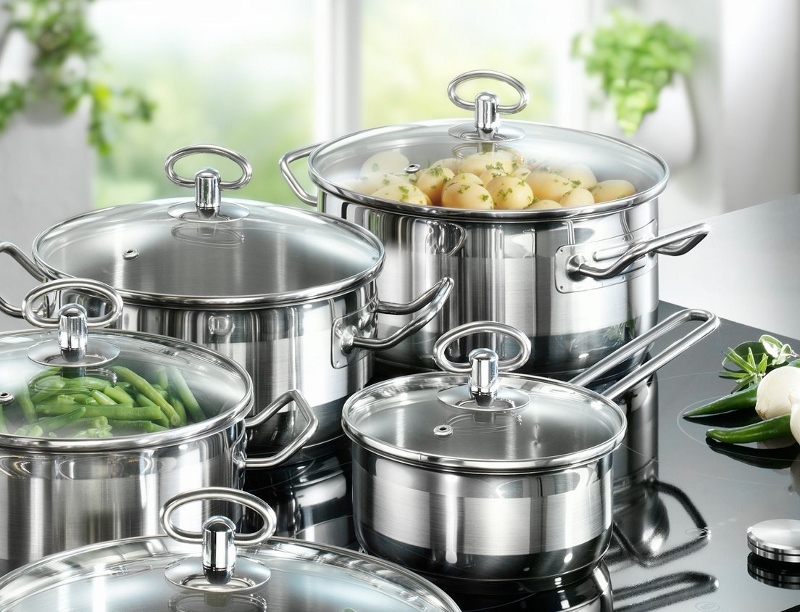 Purchasing Stainless Steel Pots
When it comes to purchasing stainless steel pots, many people prefer to buy their cookware in a set. This Williams-Sonoma Open Kitchen Stainless Steel 10-Piece Cookware Set features a variety of handy items, from a stockpot to a fry pan. When buying cookware sets, note that lids are often considered individual pieces: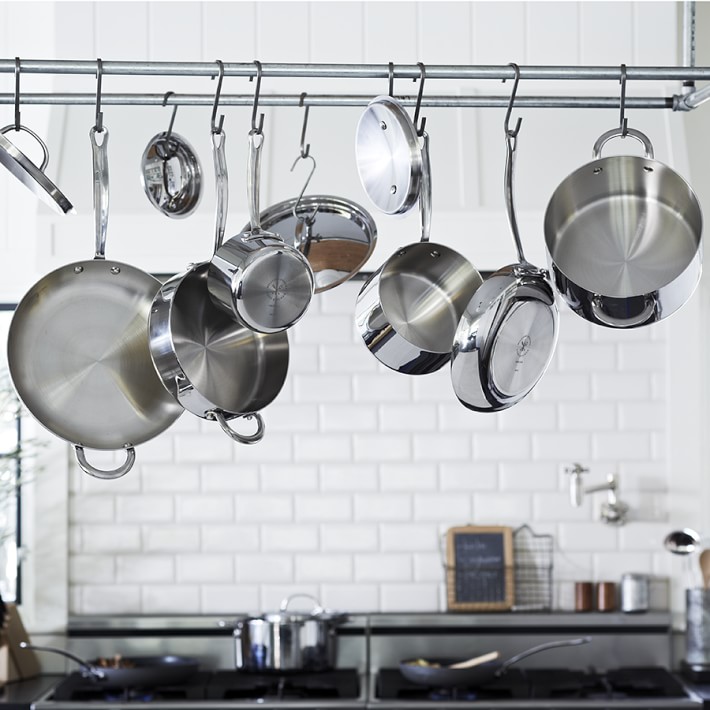 Next we see Calphalon cookware in contemporary stainless steel. The modern curves of the lid handles and the brushed finish make this cookware a true standout. [available via Amazon]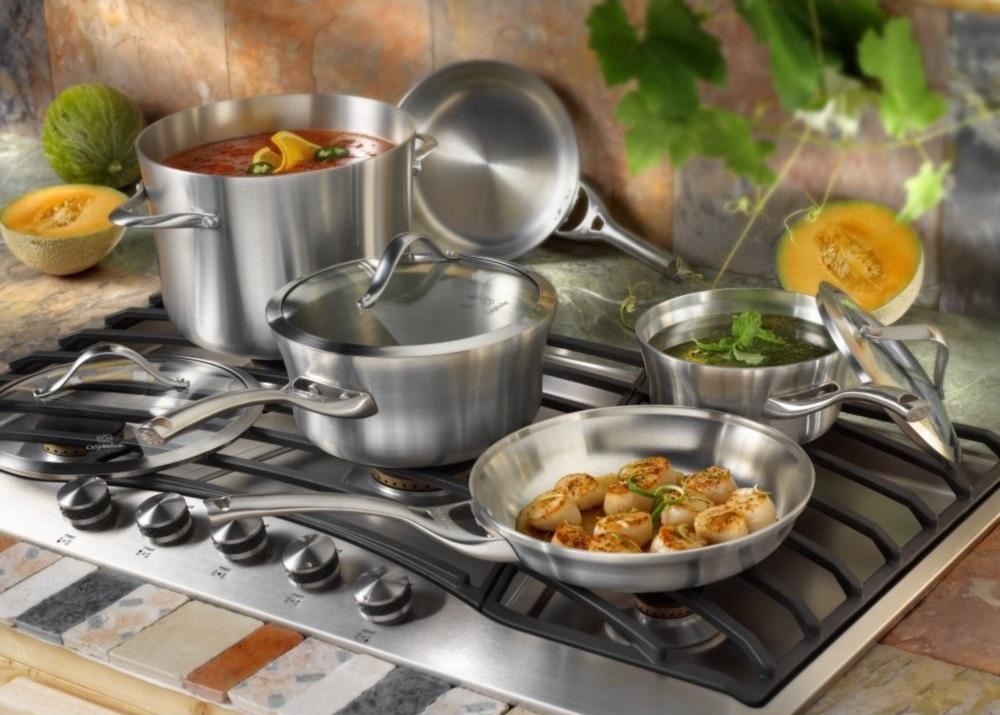 Below we see another Calphalon design, this time featuring a polished exterior rather than brushed stainless steel. Check out this video to learn more about the full 13-piece cookware set.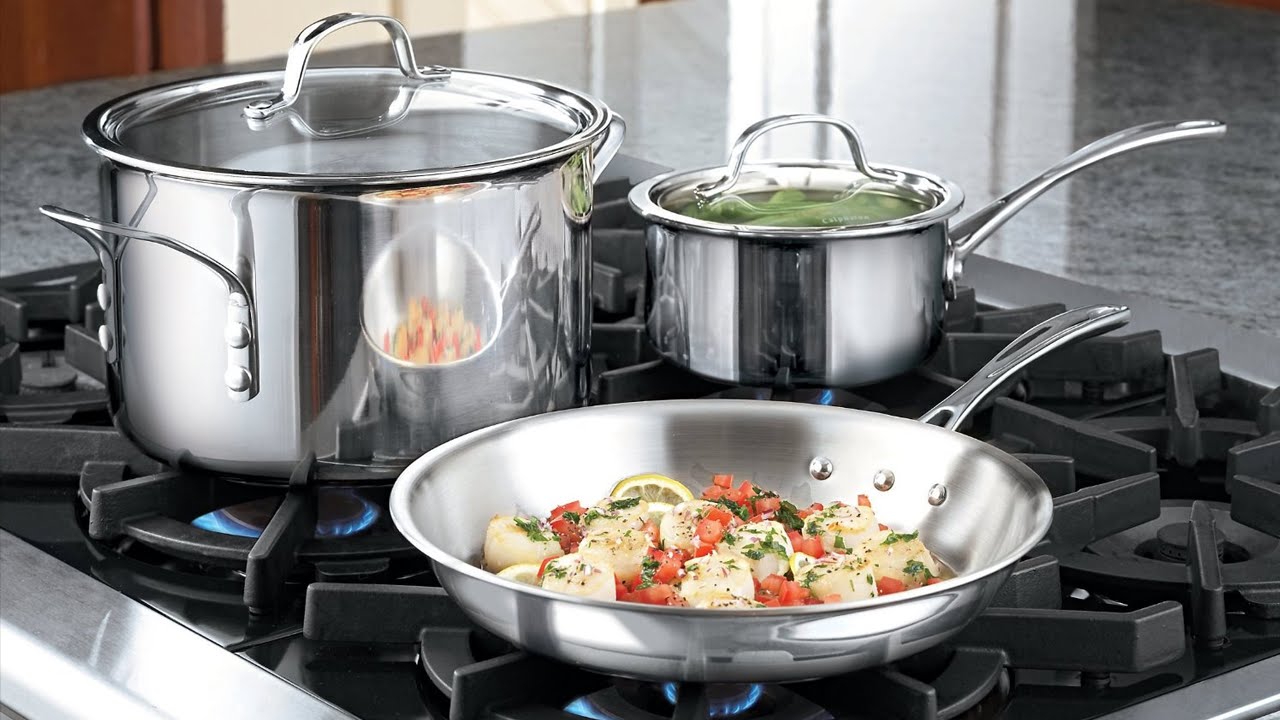 There are many places to purchase stainless steel cookware, from the websites of the manufacturers themselves (such as All-Clad and Calphalon) to online retailers such as Amazon and Wayfair.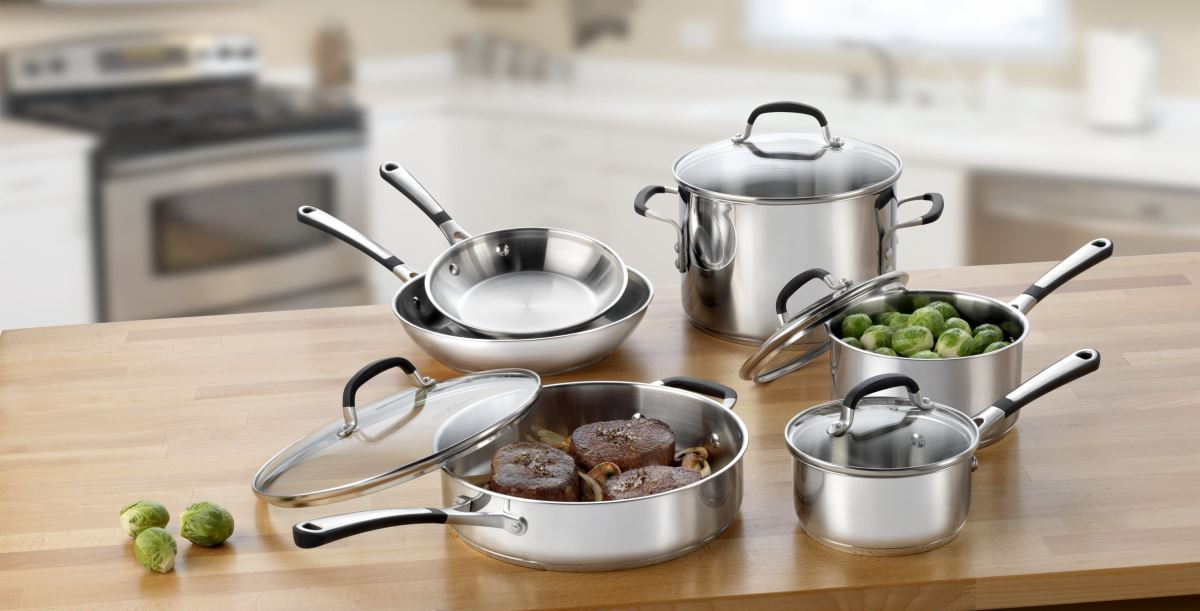 Another source for stainless steel pots and pans: beloved retailers and department stores. After all, if you're a store that offers wedding registries, you're sure to provide plenty of cookware options. The 10-piece All-Clad cookware set below can be purchased through Bloomingdale's: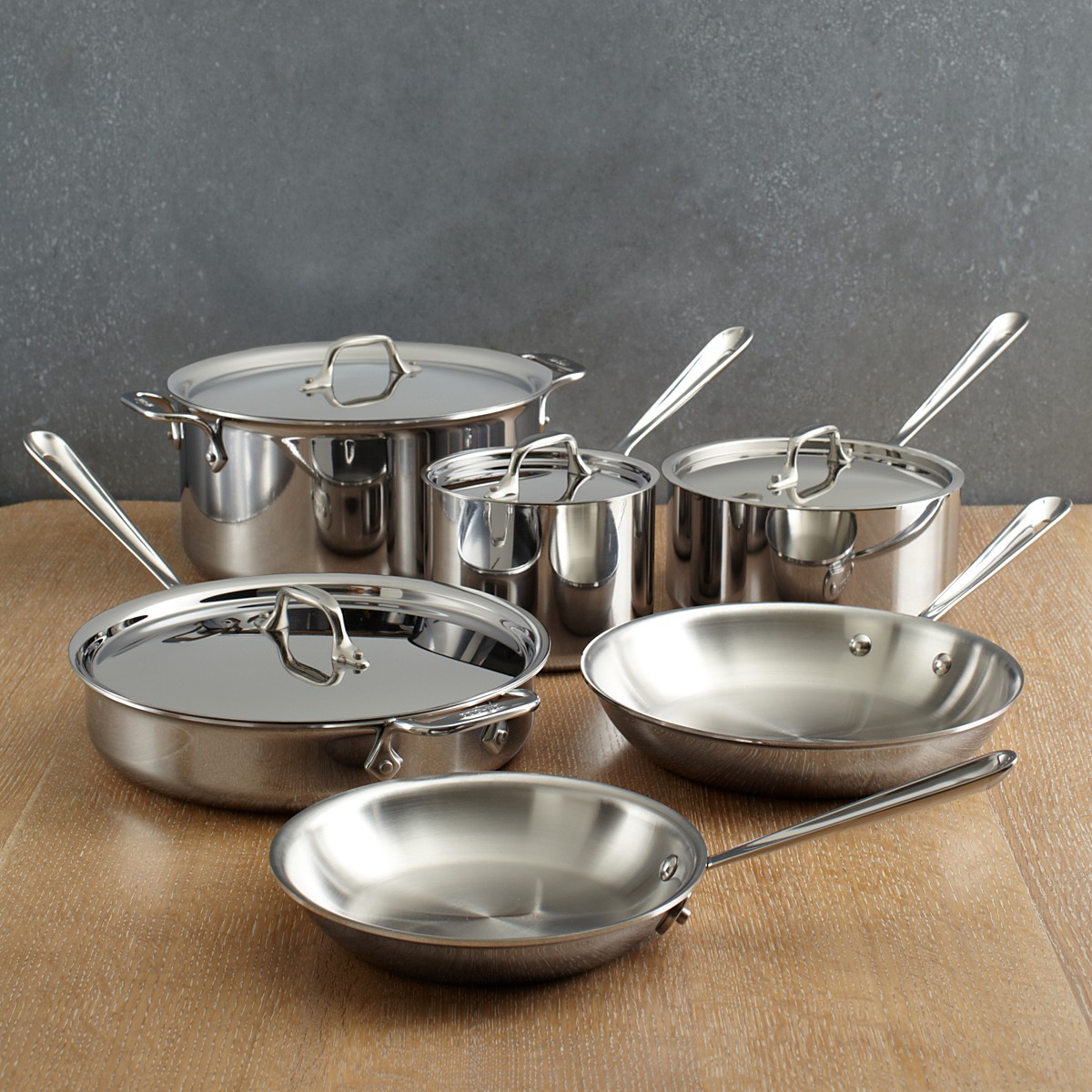 While buying cookware in a set has its benefits, there are times you simply need to replace one piece. Or perhaps you're gradually collecting a full set as you save up for quality pieces. This Williams-Sonoma Professional Stainless Steel Multipot includes a steamer insert and pasta strainer. You can use the different elements separately or double-task as you simultaneously boil pasta and steam vegetables!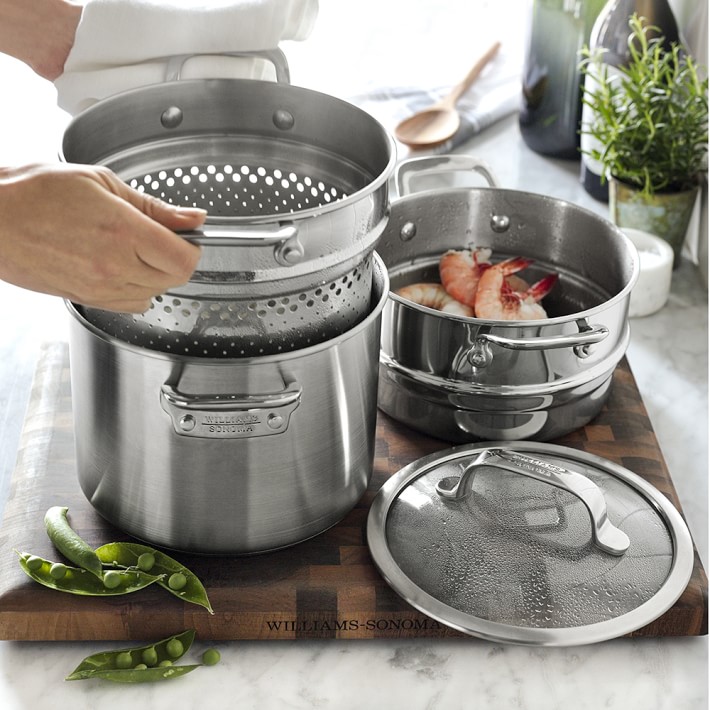 Calphalon offers a similar selection, with their 8-Quart Multi-Pot that includes a vegetable insert, as well as a pasta insert. When shopping for cookware, be on the lookout for helpful, necessary features such as stay-cool handles: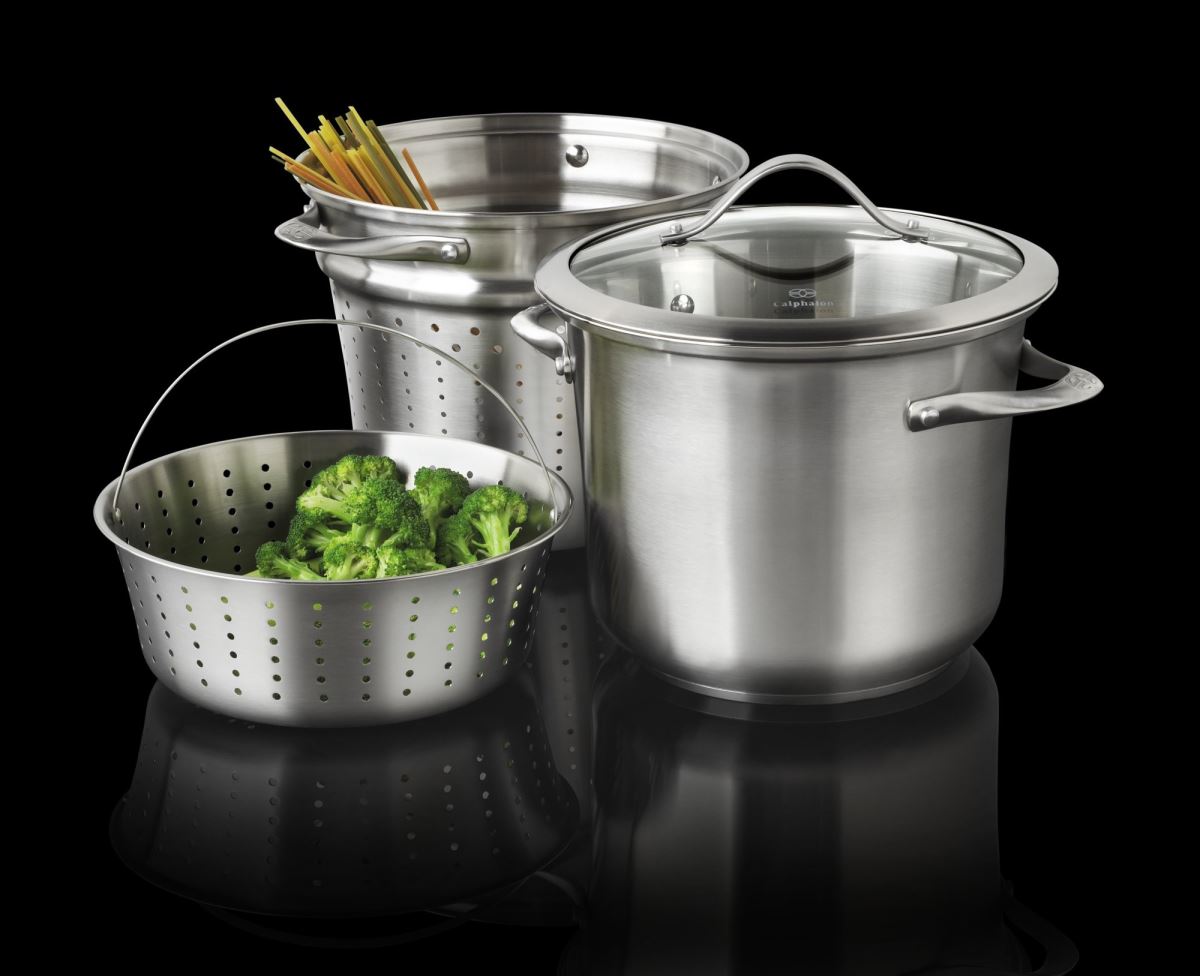 The All-Clad d5 Stainless Steel Stock Pot (available through Williams-Sonoma) features high sides that help slow the process of evaporation, making this pot ideal for slow-cooking items such as chili, soup and stews: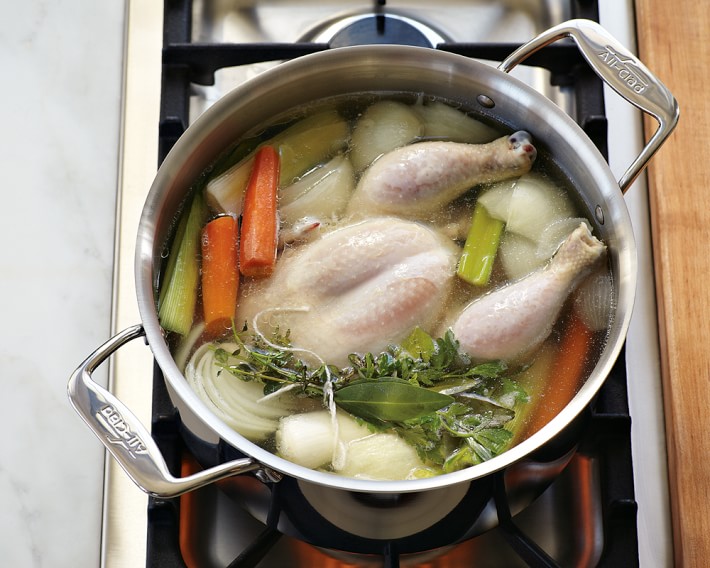 Also available through Williams-Sonoma, the Wolf Gourmet Stainless Steel Stock Pot features seven layers of aluminum and stainless steel, which ensure that the pot's contents heat evenly and maintain the proper temperature: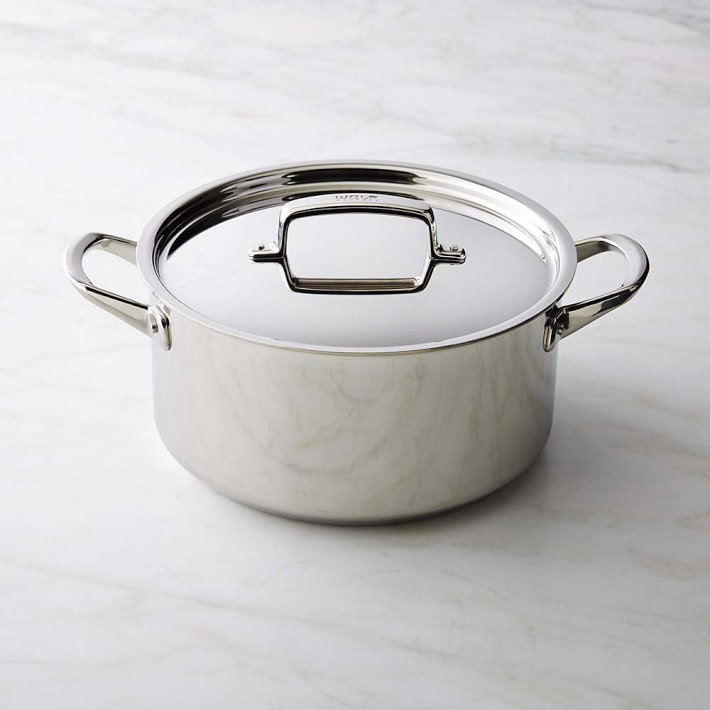 Don't forget the importance of a saute pan! Williams-Sonoma is one of many sources that offers a full selection of options, including the All-Clad d5 Brushed Stainless Steel 4-Quart Saute/Simmer Pan. Use this pan to saute, simmer and braise. Note the shape of the rim, which facilitates drip-less pouring:
The Williams-Sonoma Professional Stainless Steel Fry Pan is essential for cooking endeavors such as preparing omelets! An aluminum-core base allows for temperature control and aids in transmitting heat. Gentle sloping on the sides of the pan help with turning and maneuvering foods: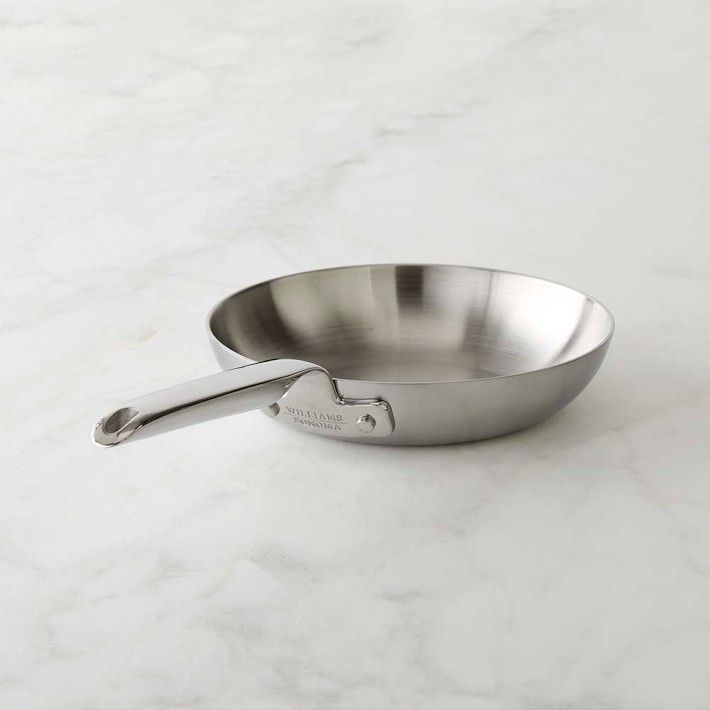 Storing and Displaying Your Stainless Steel Pots
We now shift gears from ordering pots to displaying them! Stainless steel pots are an essential for any kitchen, but they really shine in modern culinary spaces. One of the most popular ways to display stainless steel pots: hanging pot racks that store cookware overhead! [photo from Dana Austin Griggs]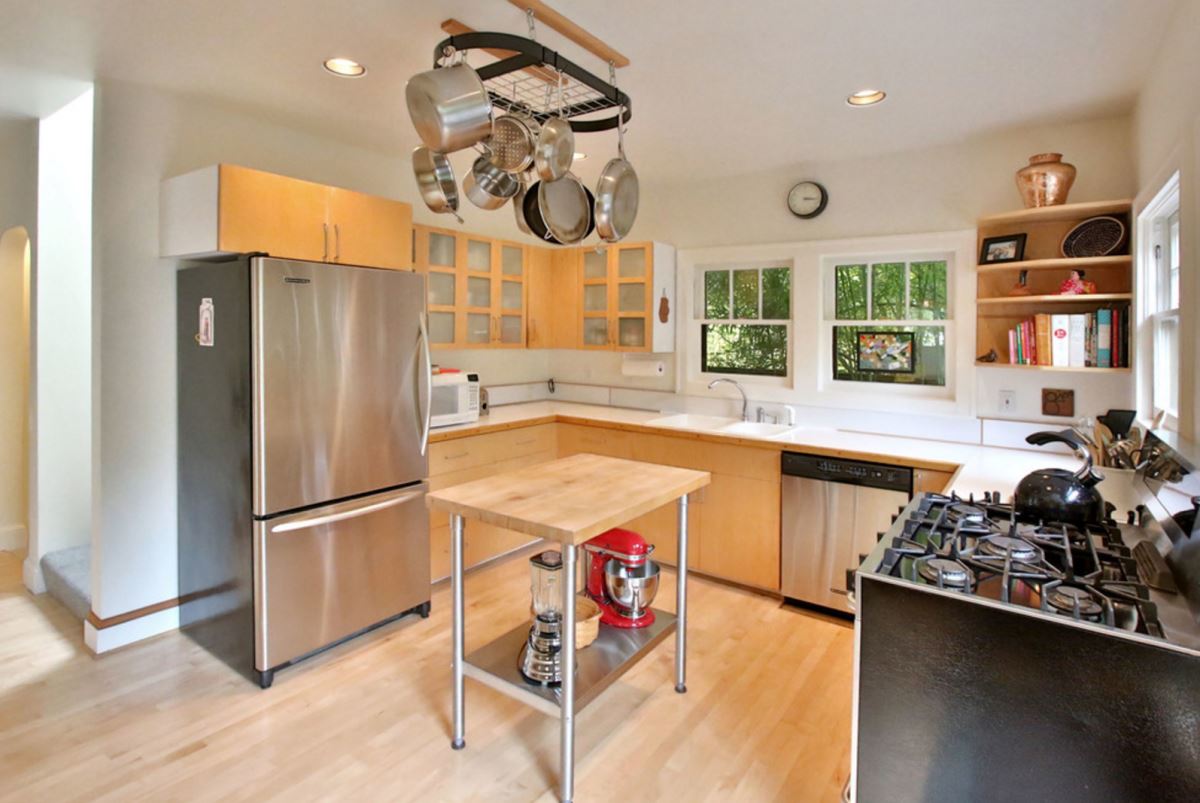 In fact, a pot rack provides an interesting opportunity to add personality and style to your kitchen. This space by Kaegebein Fine Homebuilding features a sculptural pot rack custom-made with pipe fittings: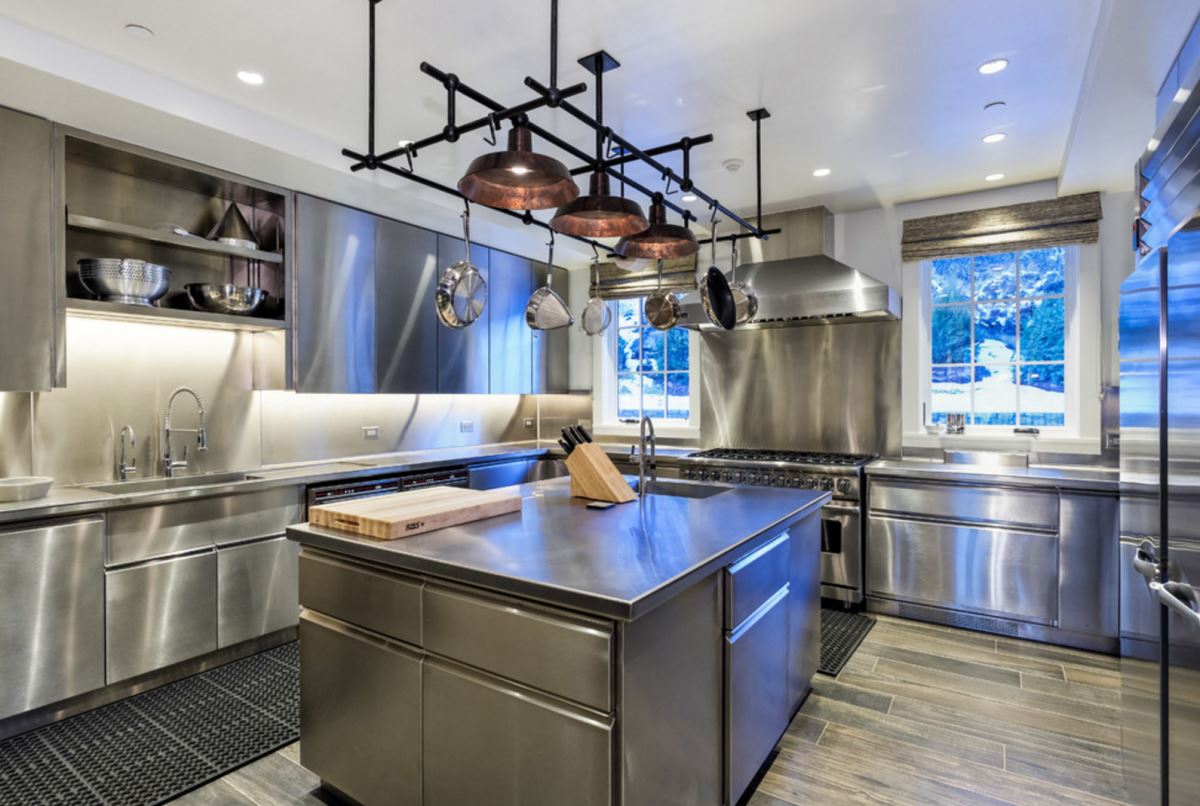 The stainless steel countertop on the kitchen island below is the perfect counterpart to red cabinetry. It goes without saying that the stainless steel pots hanging overhead tie the look together and make it clear that this is a foodie kitchen where cookware is always at the ready! [photo from Mell Lawrence Architects]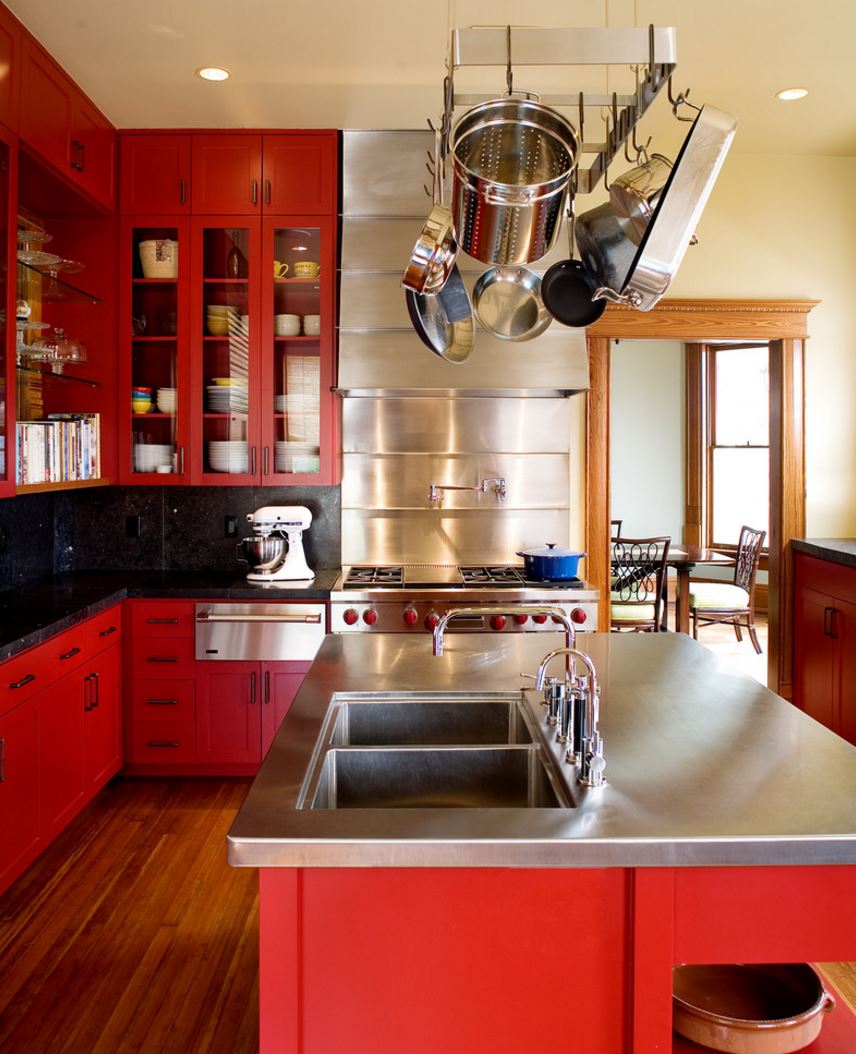 A hanging pot rack doesn't always have to reside over the middle of the kitchen. Here we see a delightful design suspended from the ceiling and located between the stove and the countertop. Pots are prominent yet out of the way, giving the room's chandelier its own space to shine. [from Pursley Dixon Architecture]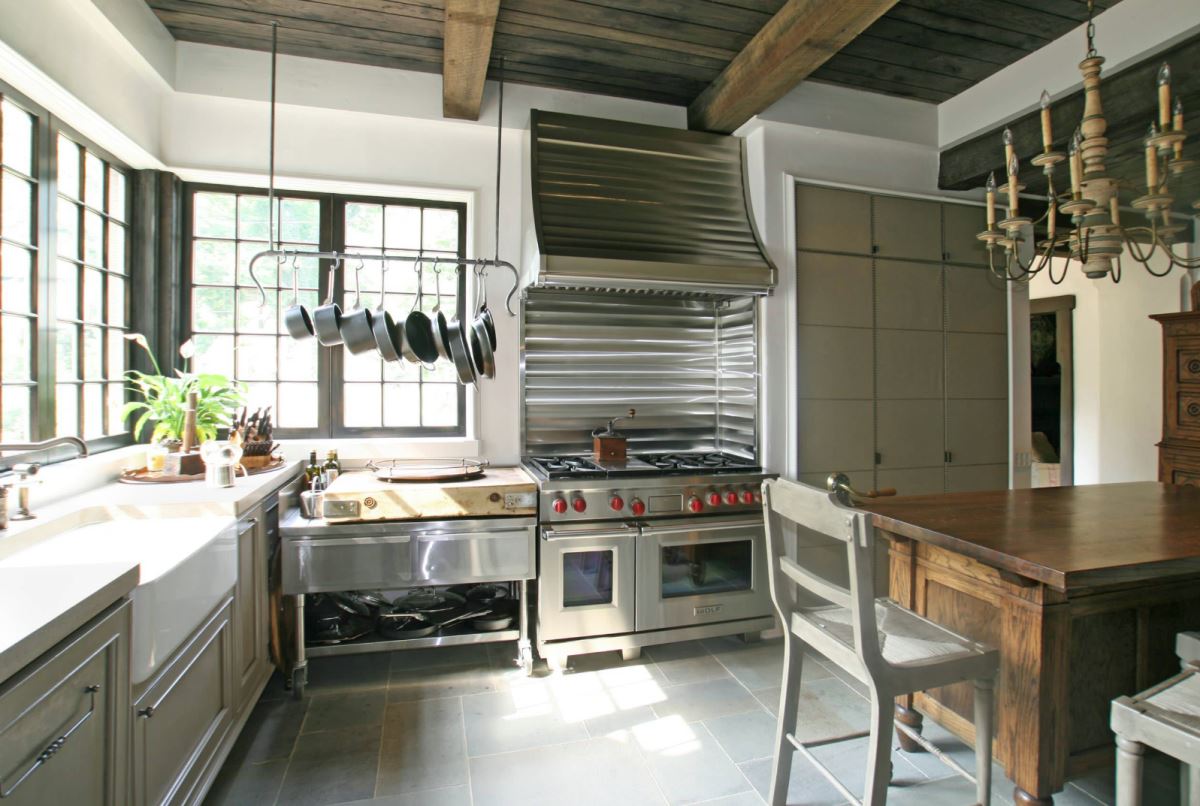 Wall-mounted pot racks are another fabulous option, as they allow you to take advantage of the kitchen's vertical space. Plus, they free up room in the cabinets for dishware and serving pieces. The stainless steel pots below create a tidy display that almost doubles as wall art in this beautifully appointed kitchen! [photo from Andre Rothblatt Architecture]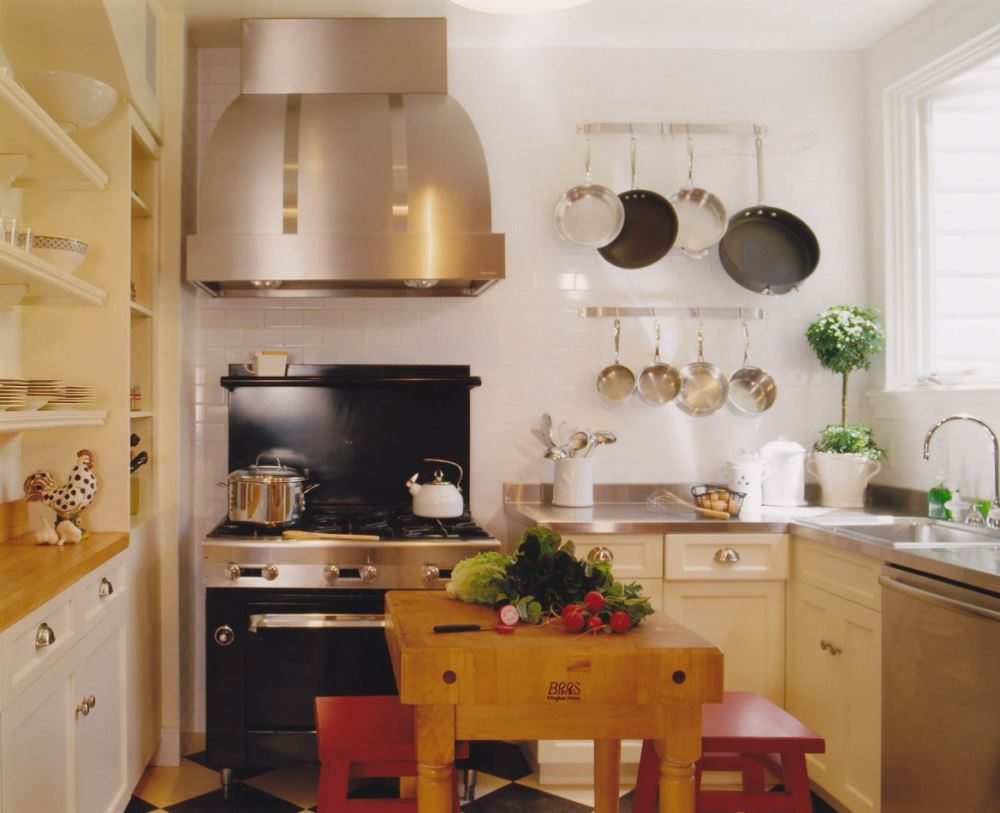 In a kitchen with a stainless steel backsplash, hanging stainless steel pots look right at home, and they help create an industrial feel and a practical storage solution. [photo from Cody Anderson Wasney Architects]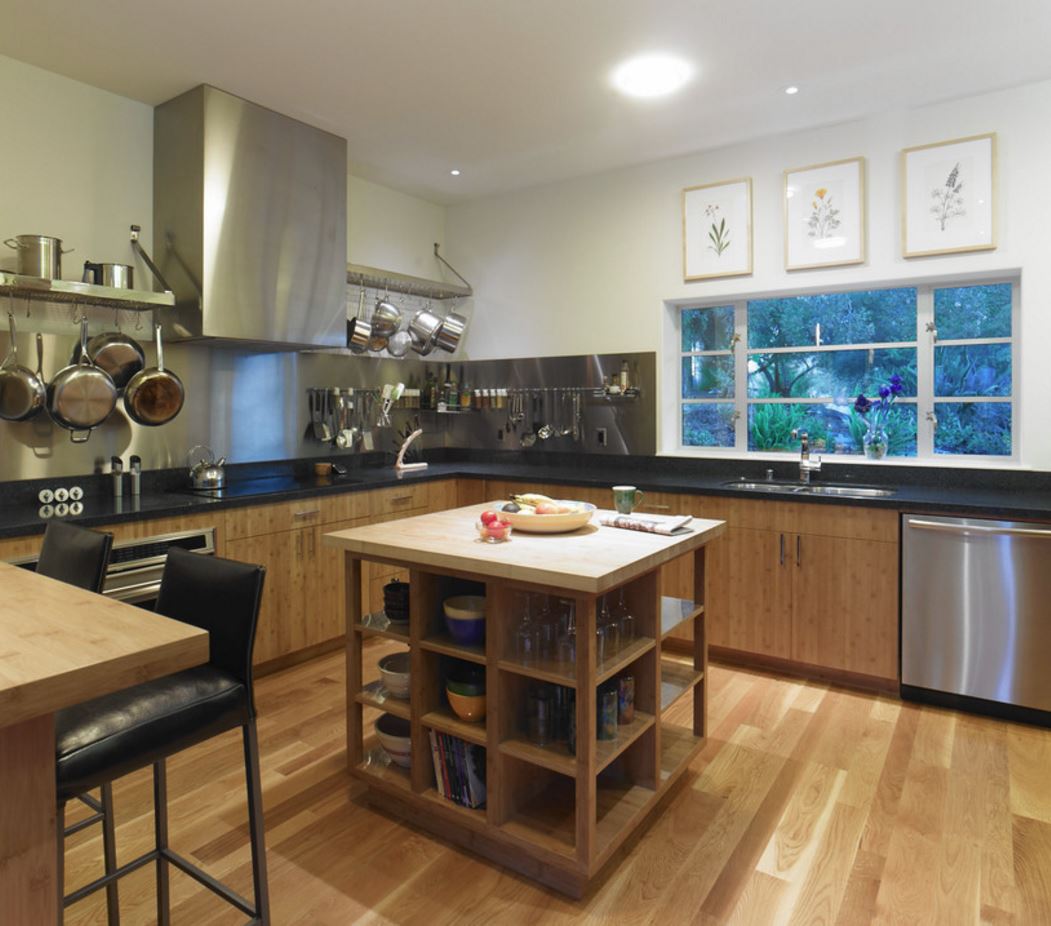 No vertical space is too small for the display of cookware when you can build or custom-design a pot rack that perfectly fits the area at hand. The cookware in this next modern-eclectic kitchen is conveniently (and stylishly) stashed above the wooden countertops. [photo by Frank Oudeman for de-spec]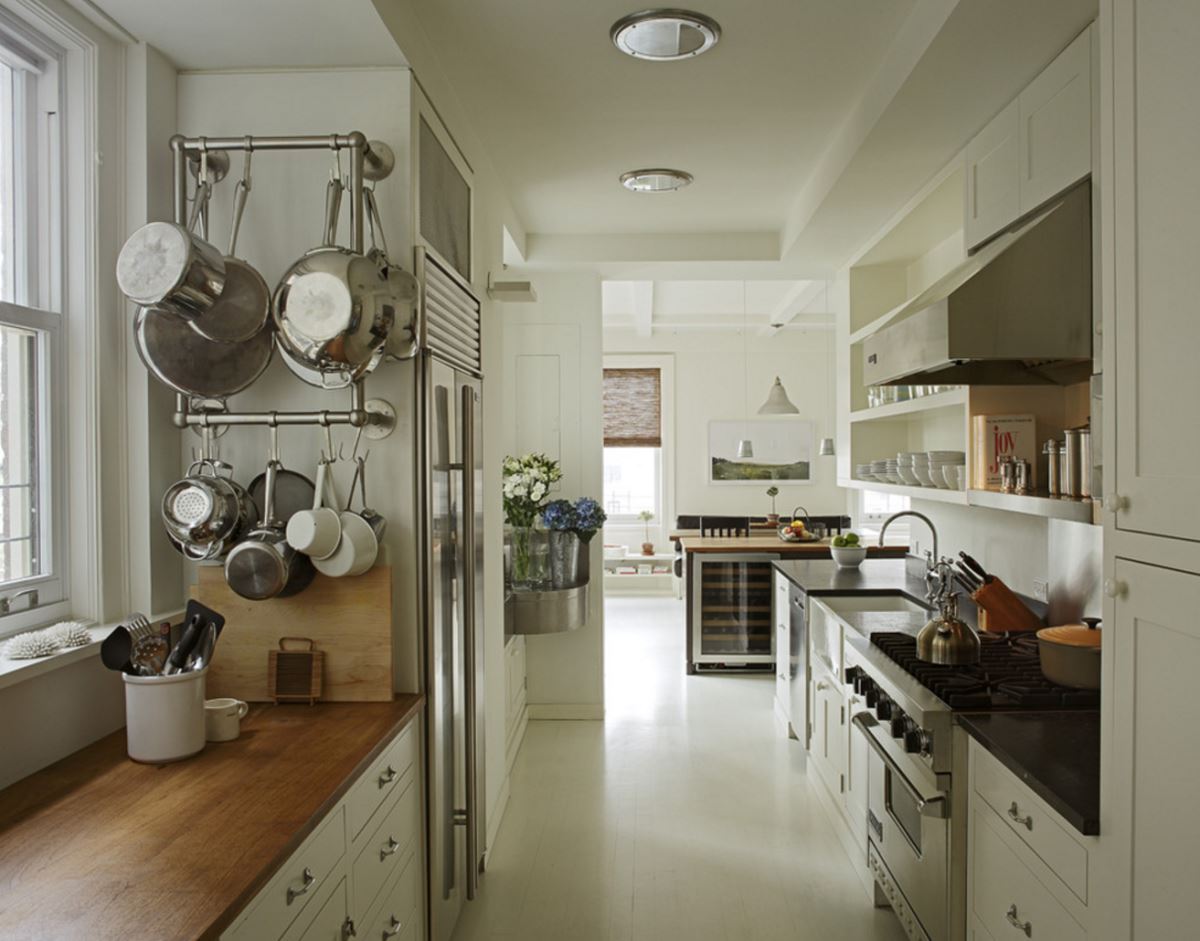 Now it's your turn to weigh in on the topic of stainless steel cookware! [photo via Amazon]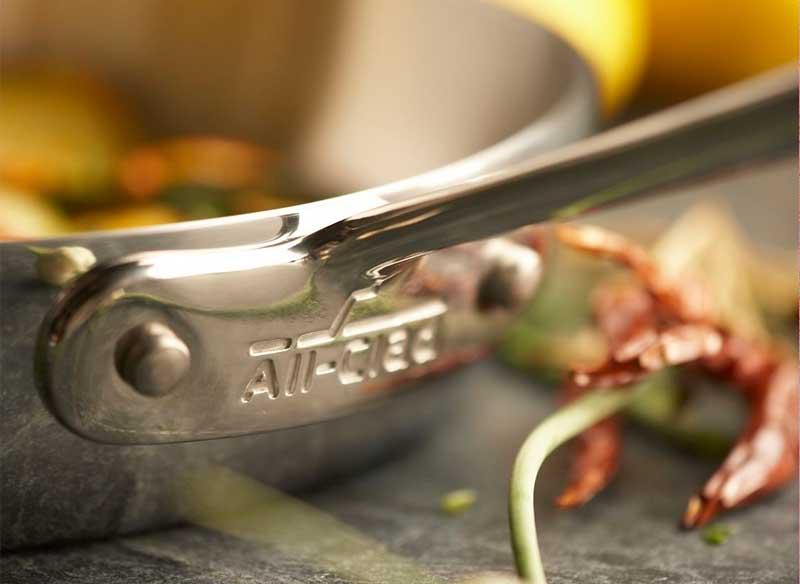 Do you have a favorite cookware brand? Tell us about your top picks by leaving a comment below…