We're getting closer to spring, folks! Are you ready to freshen up your interior? Start with some new tableware purchases that showcase the latest design trends, from pastels and metallics to hand-drawn style. Today we round up some of our favorite kitchen and dining finds, many of them new arrivals from the spring collections. Enjoy browsing as you dream of warmer days and vibrant tabletop style! [photo from CB2]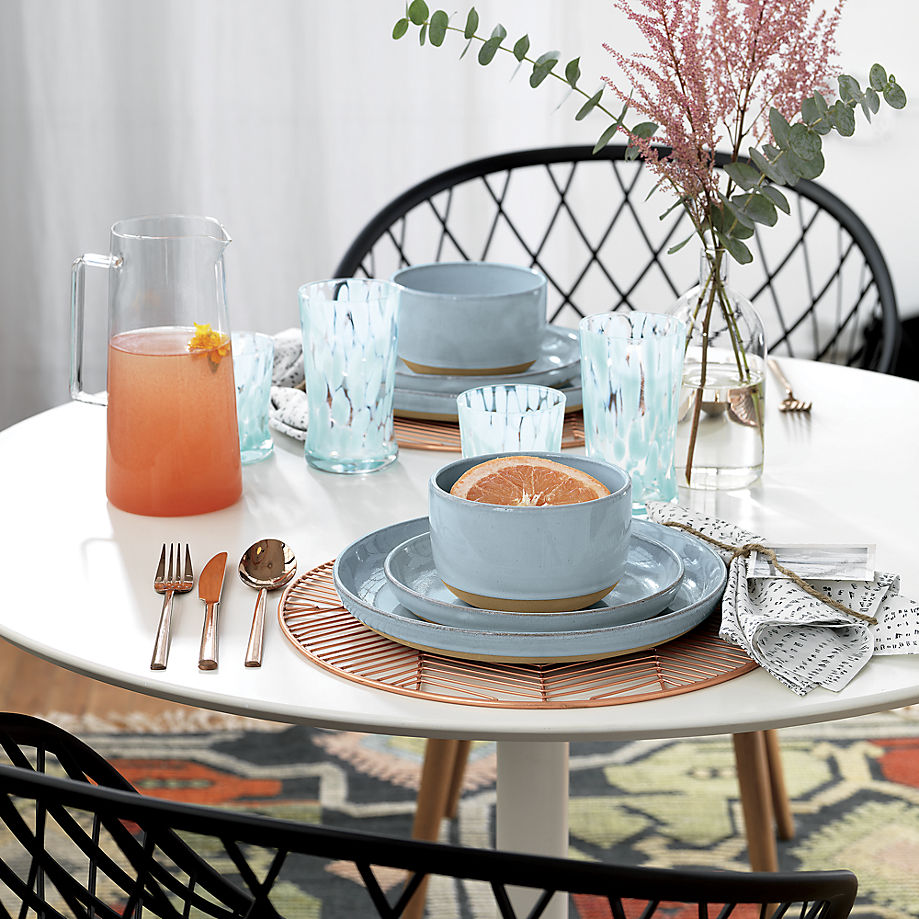 Powerful Pastels
Pastels are still going strong, and minty blue shows no signs of losing momentum! This Helena Sky Linen Tablecloth from Crate & Barrel is crafted from lightweight 100% linen. You can also purchase the piece in Graphite and Lilac.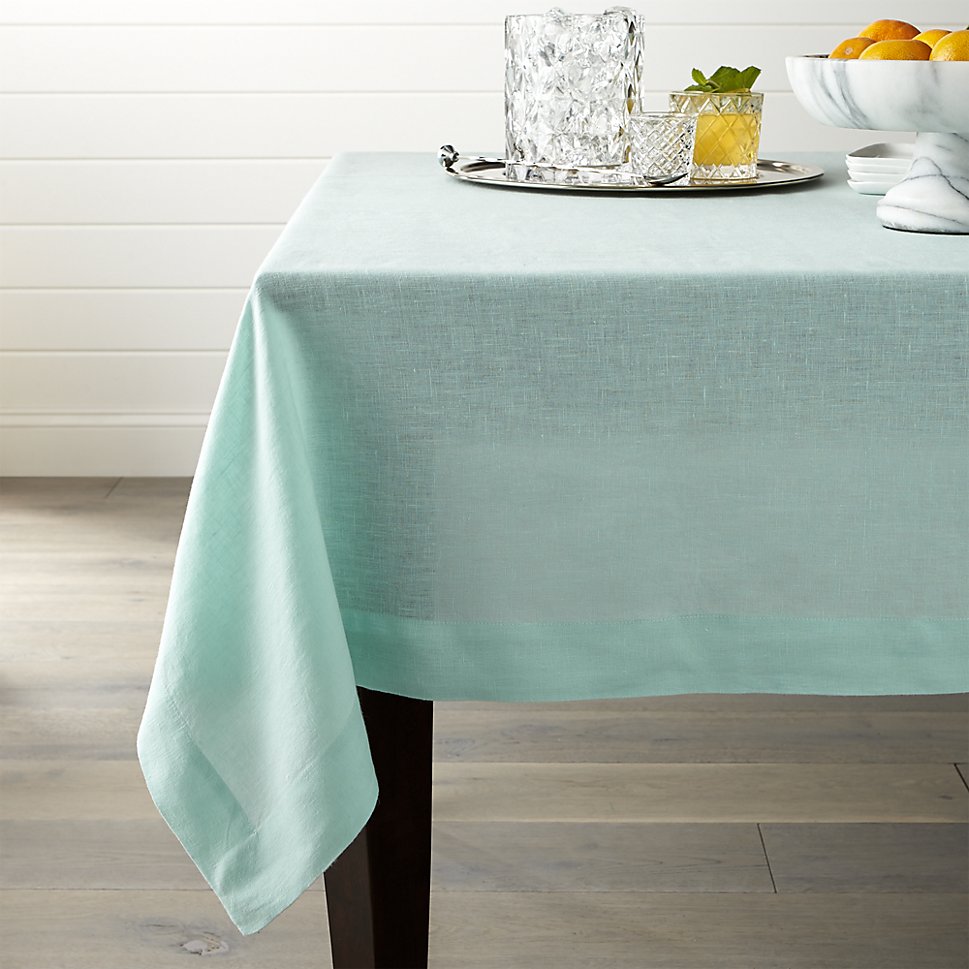 Speaking of lilac, can you spot the lilac napkin in this grouping of Helena Linen Napkins from Crate & Barrel? Note how the photo showcases a current trend: combining pastels with rich hues such as grey and navy!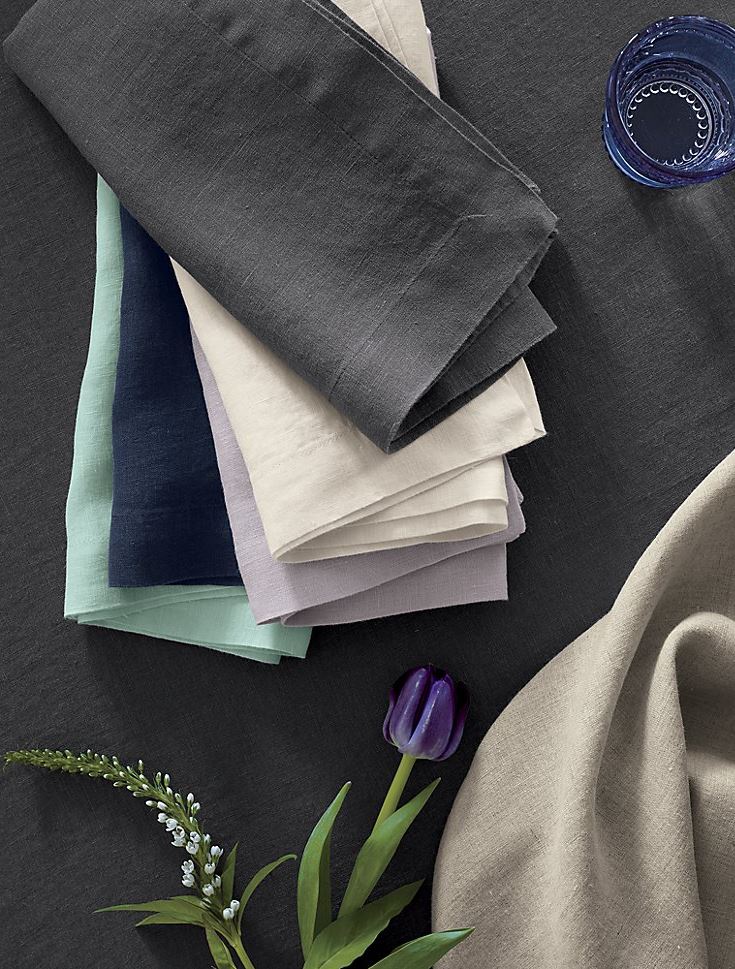 In fact, we can see this exact strategy below, thanks to these aqua, grey and navy Embossed Ceramic Bowls from Urban Outfitters. You're free to purchase just one, but don't they look fabulous in a set?!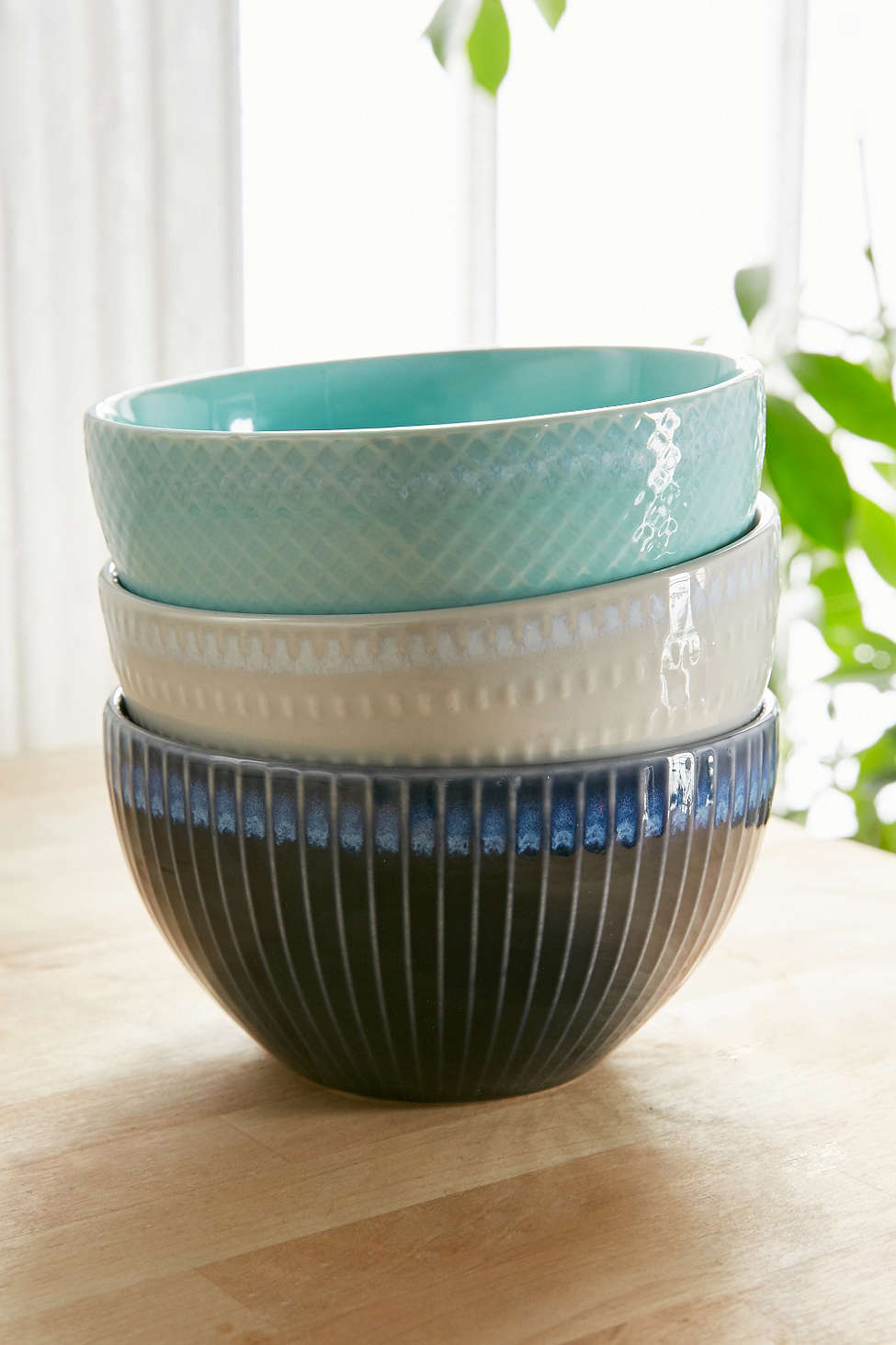 It's a mint marathon! The Eureka Green Glass Salt and Pepper Shaker Set from CB2 is the darkest addition to this table filled with candy-colored bowls, plates, votives and more. Even the wasabi peas match the vignette: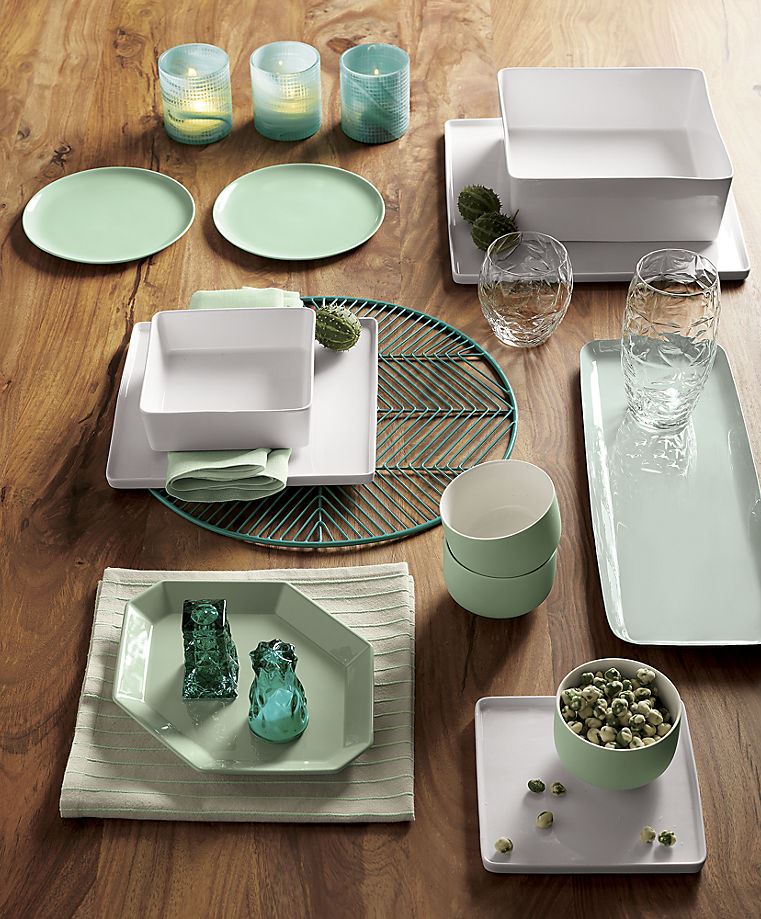 Add some blue-green goodness to your floral-motif table with this Jars Tourron Aqua dinnerware from Crate & Barrel. Stoneware is presented to perfection with the help of reactive aqua glaze: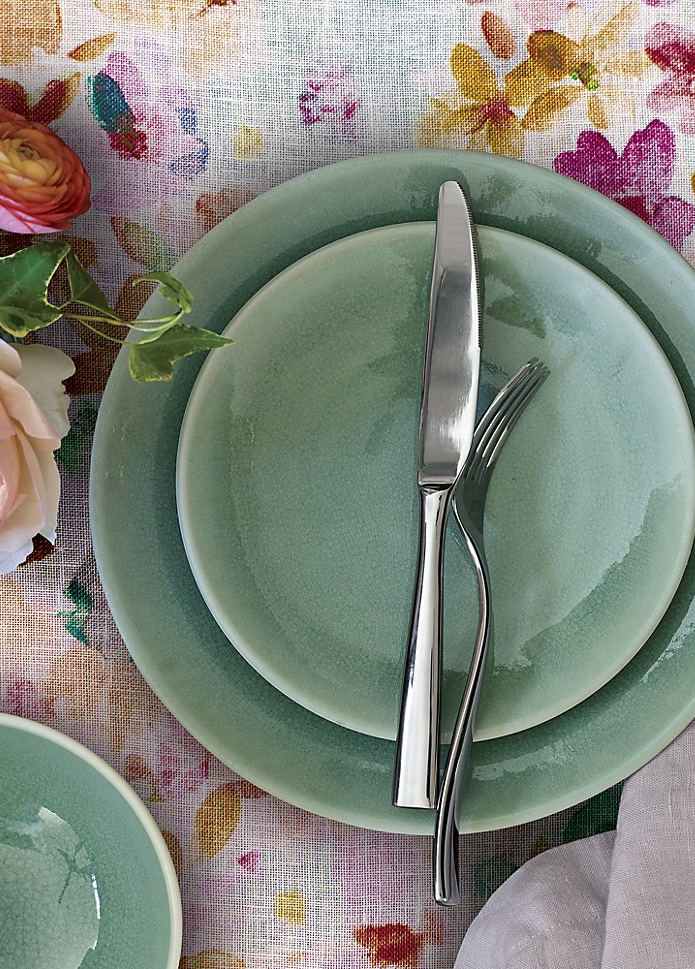 For a softer take on pastels, try purchasing white dinnerware with hints of color. This Mini Marbled Treat Bowl from Urban Outfitters is perfect for serving nibbles: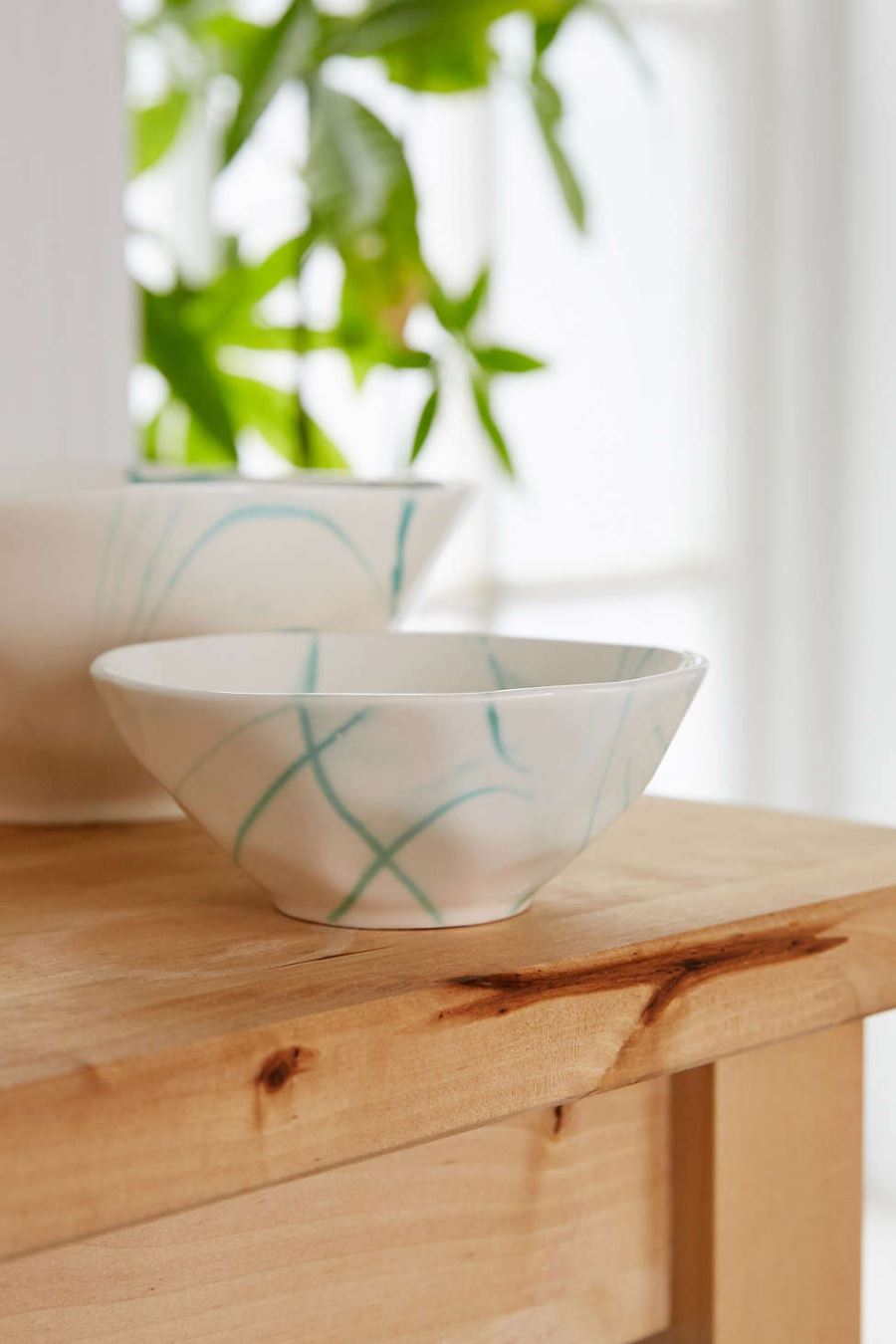 Many of today's top product photos feature pastel items set against a rich-toned backdrop, and this Set of 4 Bloom Plates from Crate & Barrel couldn't be more striking on the dark wooden tabletop below. Watercolor style is alive and well, and the four different color palettes presented in the design of the plates are the perfect way to add variety to your tabletop.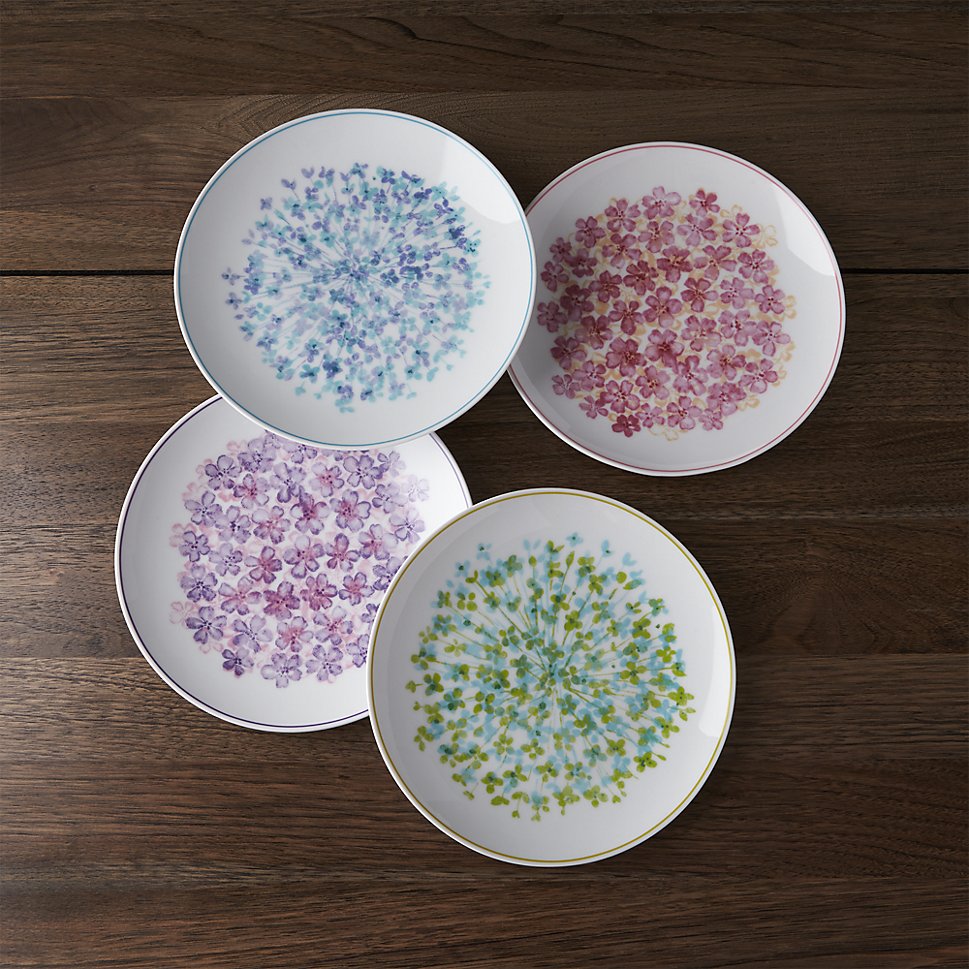 Don't you love it when a set of pastel items features an array of different colors?! This Beer Can Glass Set from Urban Outfitters is no exception: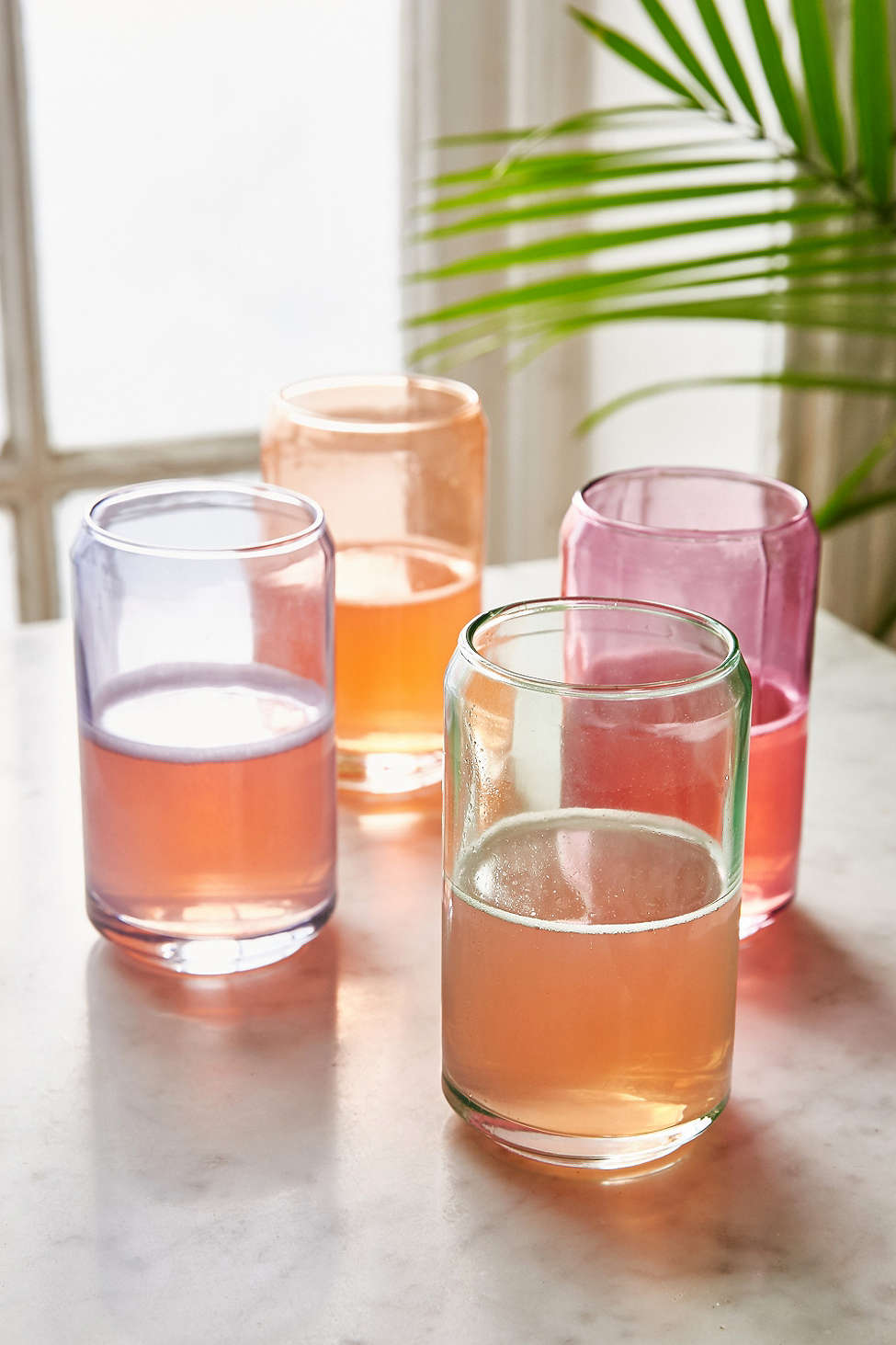 Eye-Catching Metallics
Since spring is all about experimenting with color possibilities, why not jump on the metallic train and revel in the latest flatware designs? Because these days, it's about much more than silver! This Copper Flatware from West Elm is gorgeous, yet its stainless steel core also makes it hardy. Copper tones mix well with soft hues, such as pastel pink. Plus, they're a breath of fresh air at the dinner table.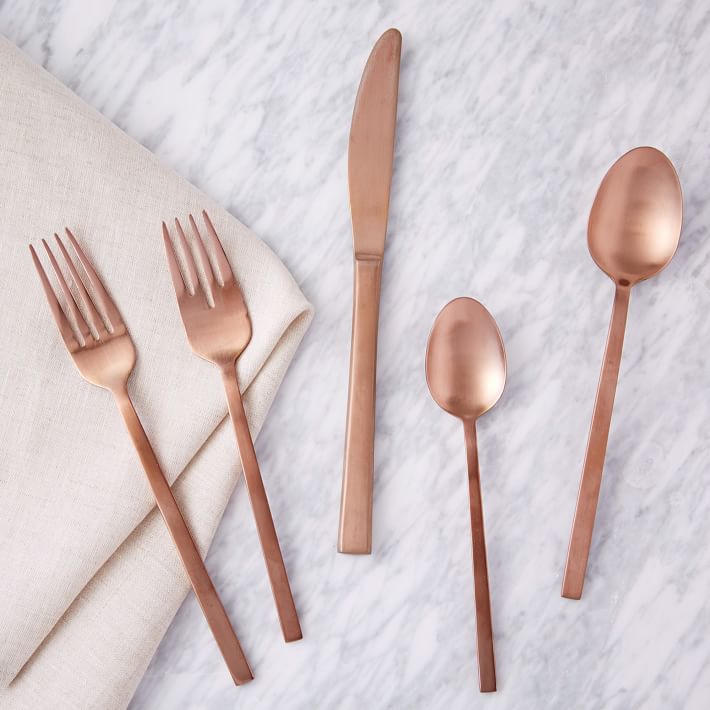 Add interest with this Copper Top Flatware from Anthropologie, which combines copper and white for a two-toned effect. Plus, the flatware's curved ends create a unique silhouette that differs from many of the more modern selections on the market today.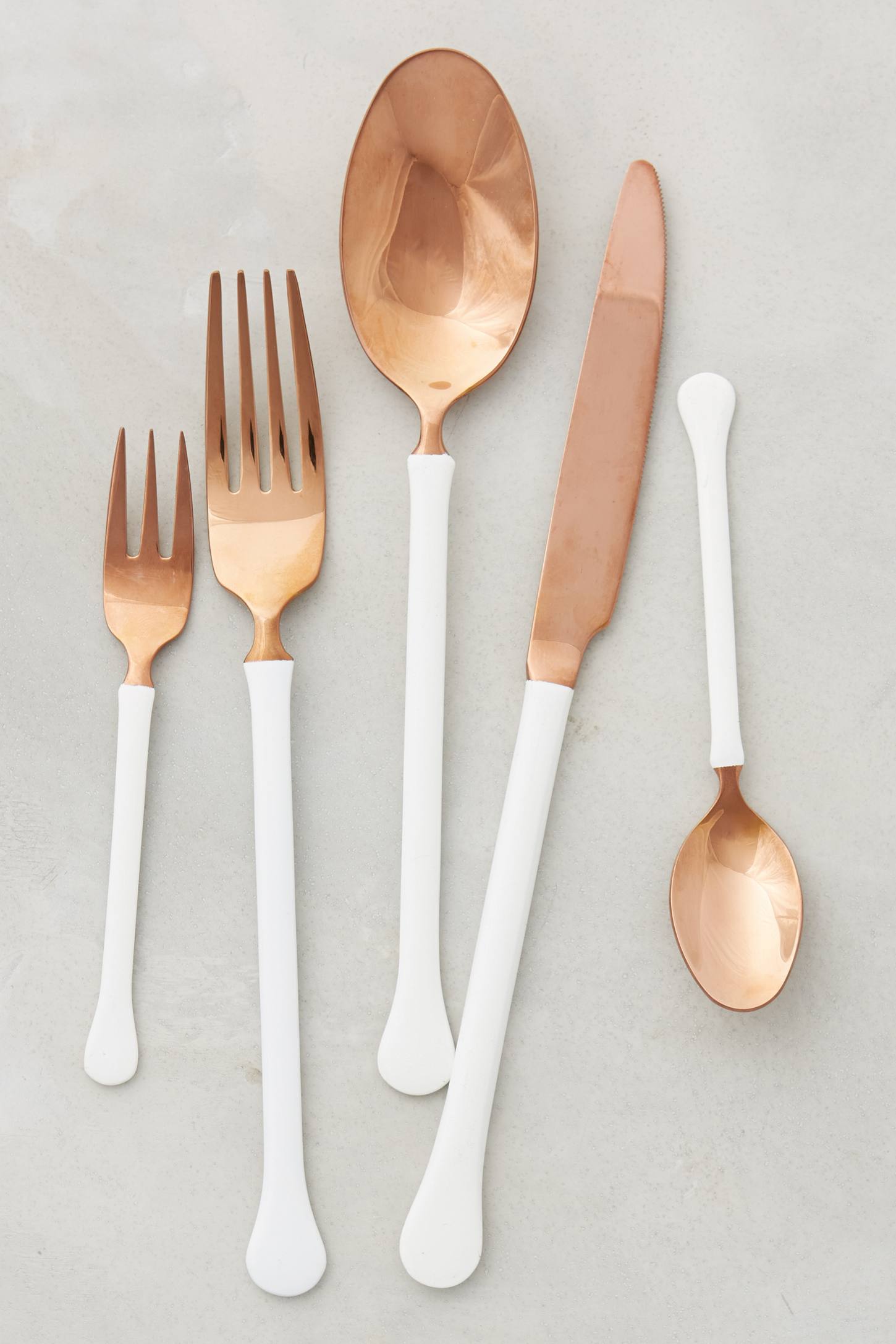 Even if you're not looking to replace your entire flatware set, have some fun with serveware. Introduce new tones gradually for a budget-friendly approach to diversifying your tabletop decor. These Gold Cheese Spreaders from West Elm are a great place to start: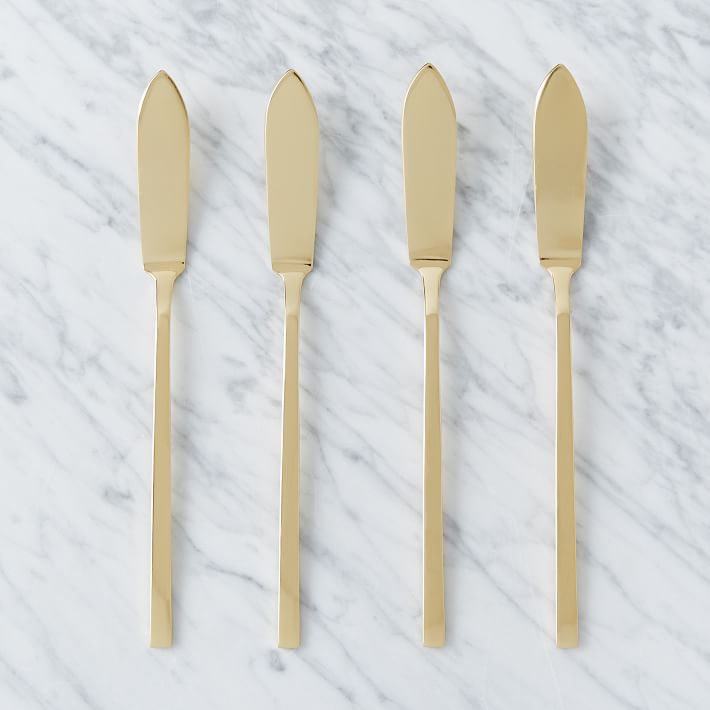 The most exciting development in metallic style is the current obsession with iridescence. And why wouldn't we want a rainbow of color at the dinner table?! Below we see the Electro Barware Kit from Urban Outfitters, which includes a shaker, strainer, cocktail spoon and jigger, all with a vivid electro finish.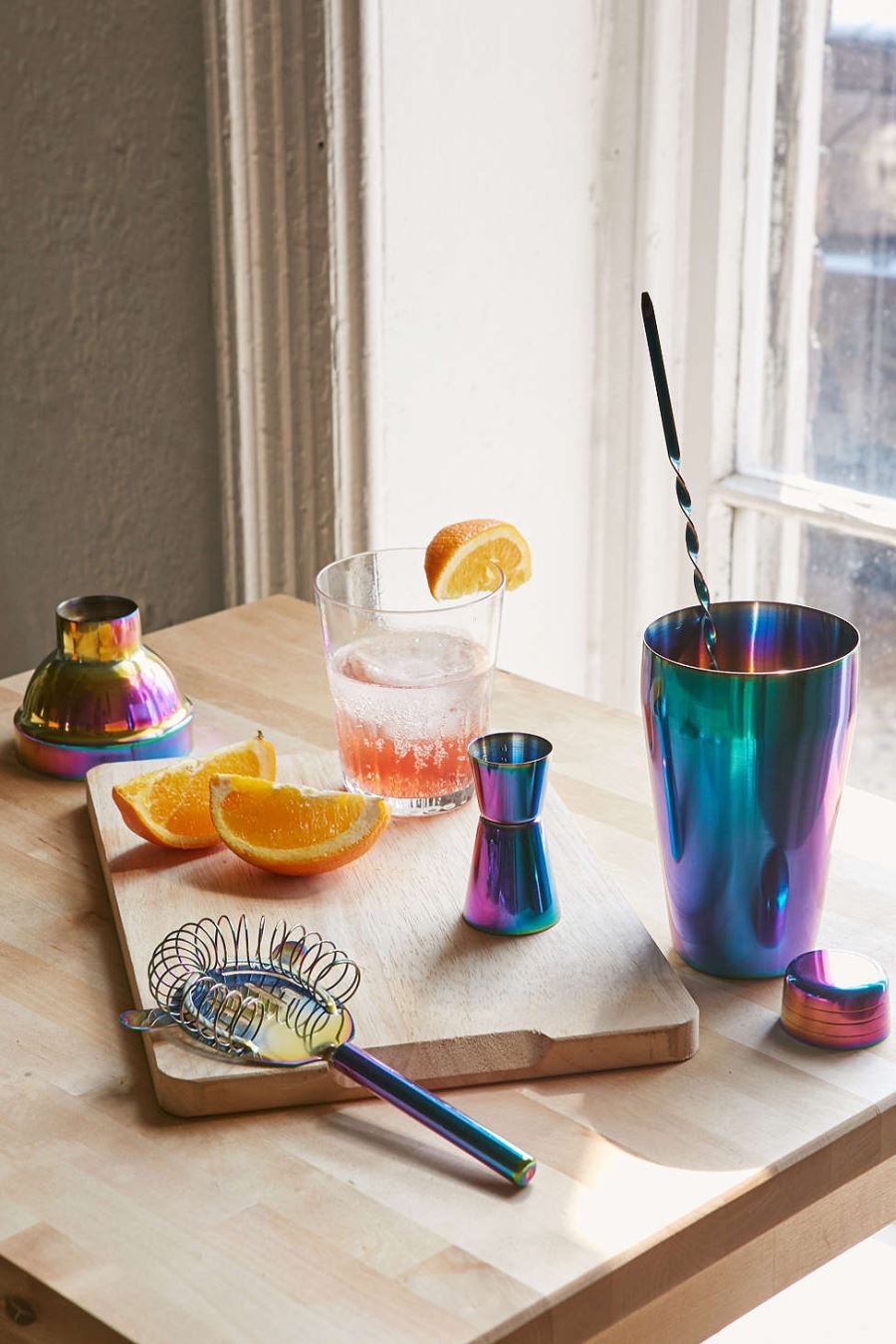 Since iridescent serveware is catching on as a trend, there are now affordable options, like the barware above and this next featured find. Say hello to the Beta Pastry Server from CB2, crafted from stainless steel with an iridescent coating: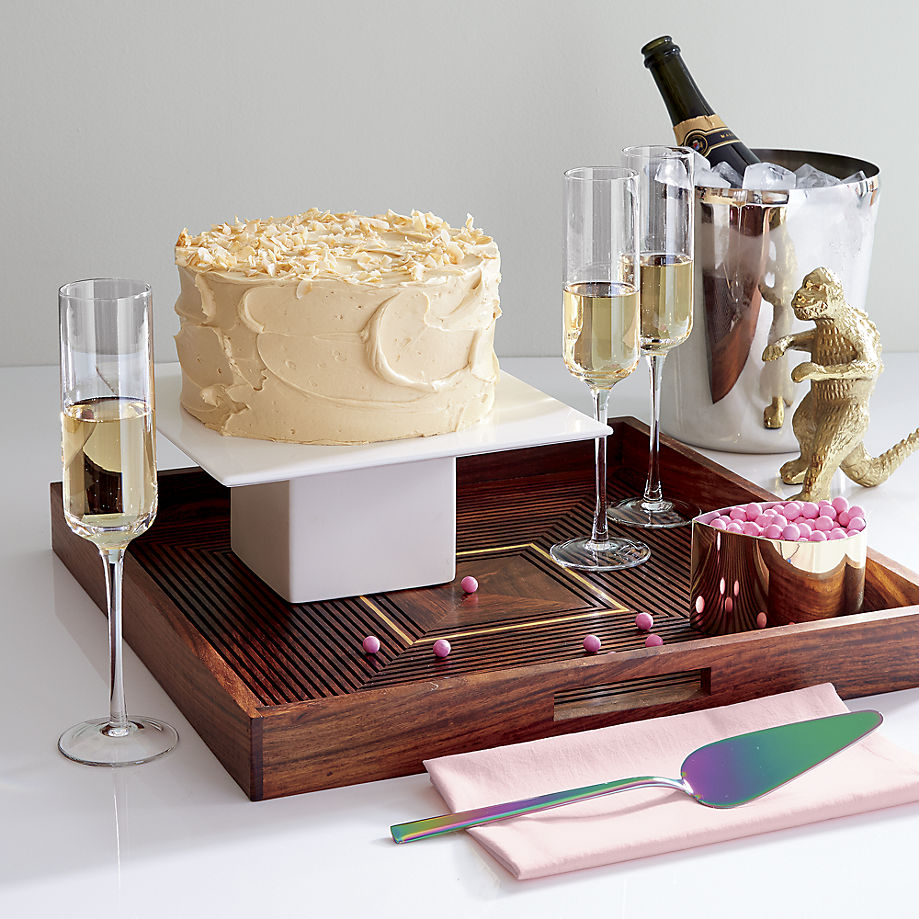 Hand-Painted Style
Abstract art and hand-drawn style are all the rage in the realm of graphic design, so it's no surprise that the look has made its way to the dining room table. It's as if someone took a paintbrush to these Roar & Rabbit Tea Towels from West Elm. And that's why we love them!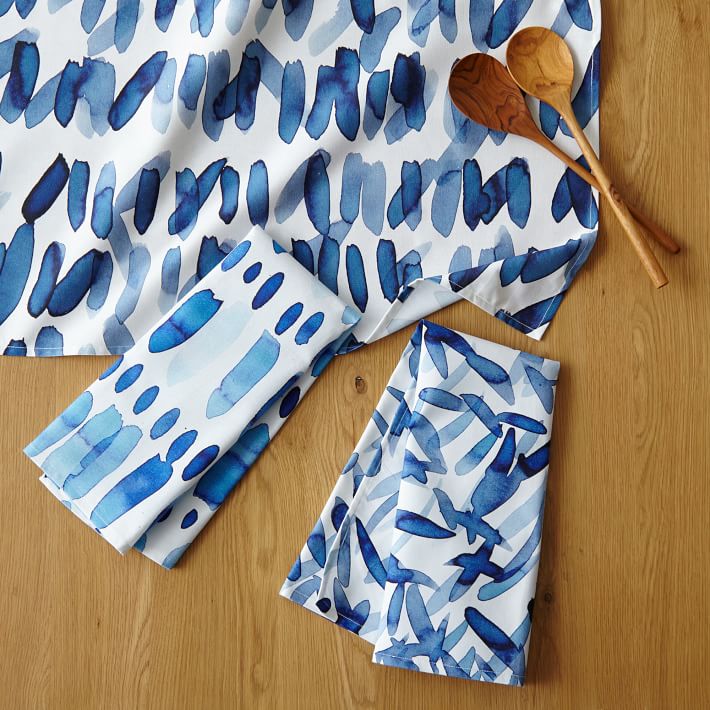 How refreshing are these Easter Egg Tea Towels from West Elm, which replace traditional chick and bunny motifs with abstract eggs featuring a variety of colors and patterns?! Fabulous!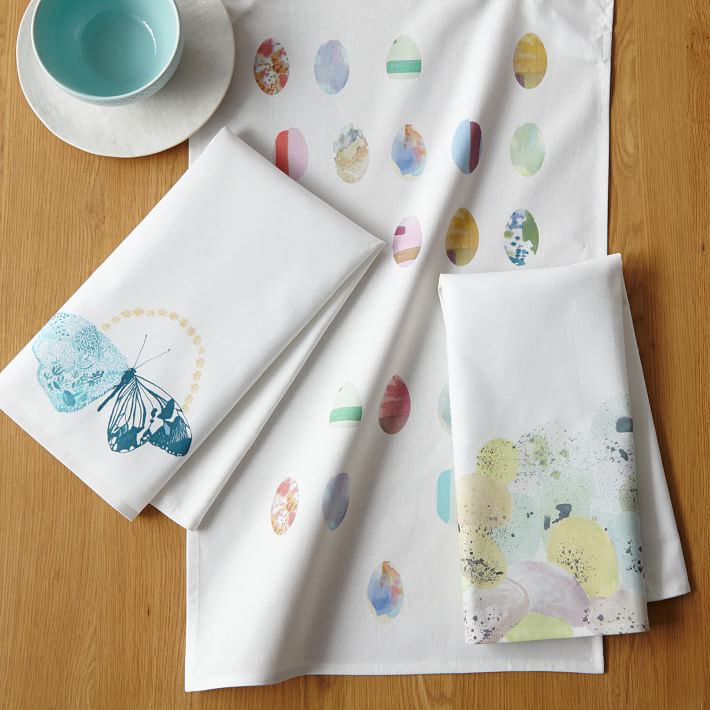 Last but not least, we feature the Mooreland Dishtowel from Anthropologie, designed by Starla Michelle Halfmann. It's the next best thing to hanging a vibrant canvas in your kitchen: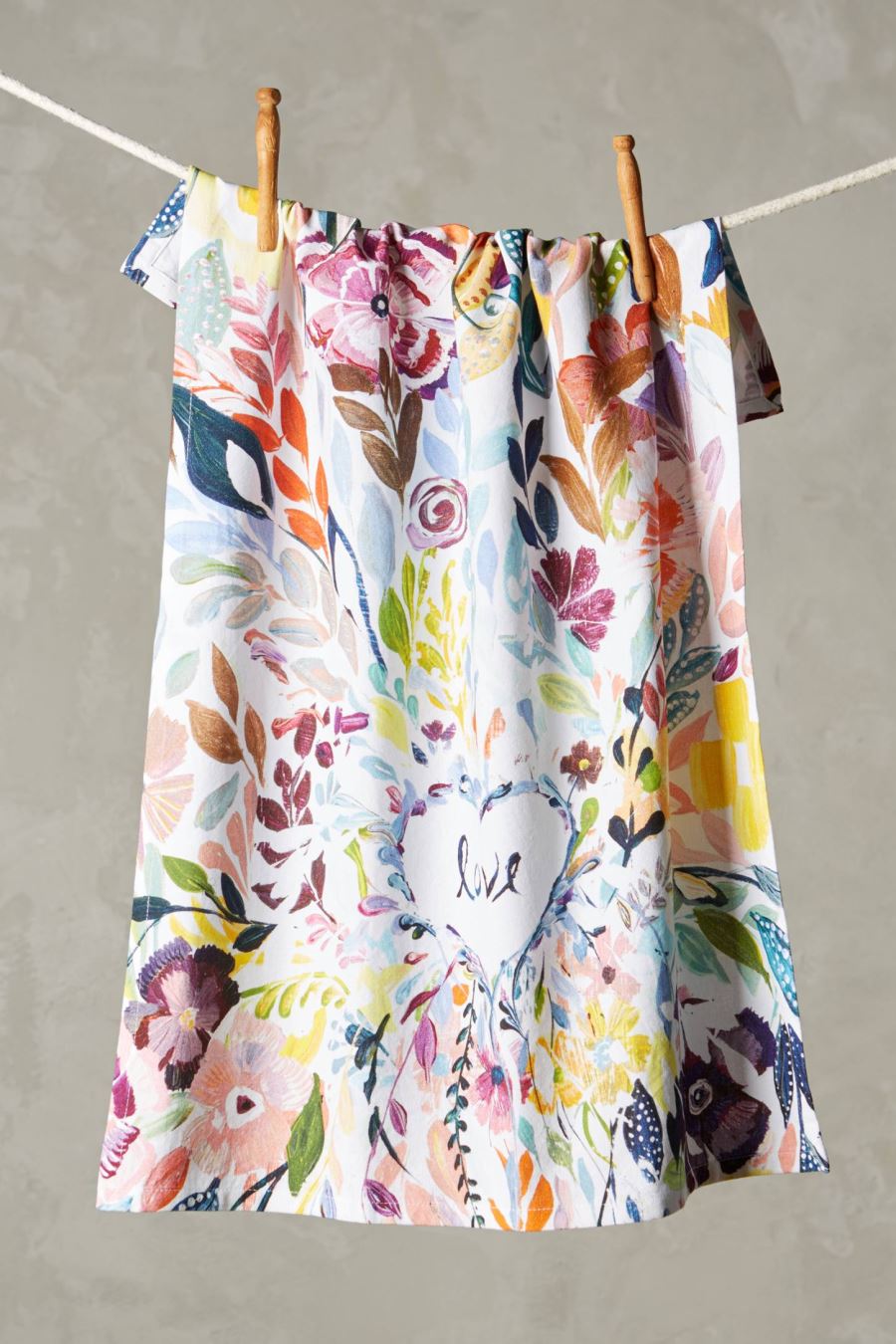 How will you bring spring style to your tabletop this year? Share your thoughts and favorite finds by leaving a comment below…