The Shaker style home design is an iconic design style that has been around for centuries. Its simplicity and functionality have made it a timeless favorite for both residential and commercial spaces. Its use of clean lines and natural materials has a calming effect, making it perfect for any modern interior.
Its timelessness, versatility, and elegance make it an excellent option for those looking to add a touch of classic style to their home or workspace.
History of Shaker Style Homes
Shaker style homes originated in the late 18th century as a type of architecture developed by the United Society of Believers in Christ's Second Appearing, commonly known as Shakers. These homes, which are characterized by their simple, practical style, were designed to reflect the group's religious beliefs and values.
The homes feature natural materials, such as wood and stone, and feature clean lines, simple shapes, and a lack of ornamentation. The interior of a Shaker home is typically divided into four rooms; a family room, a bedroom, a kitchen, and a dining room.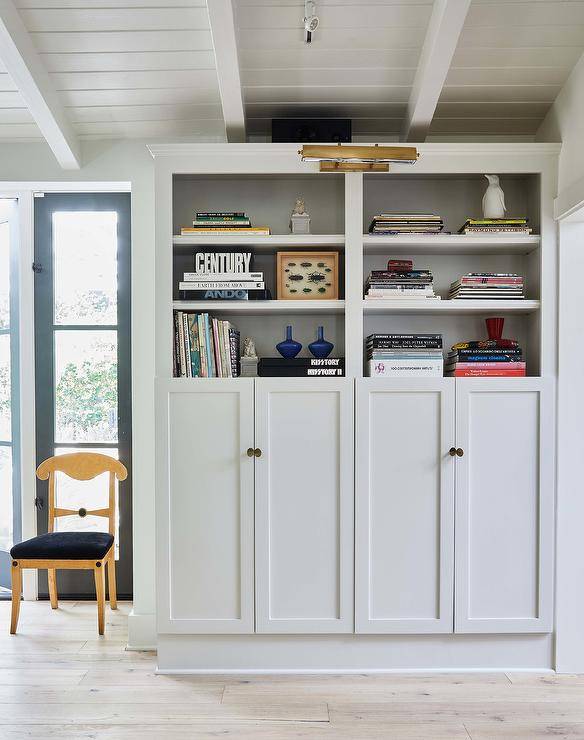 The furniture is often made of wood and features a distinct rectangular style that has become a hallmark of the Shaker style. While Shaker homes were initially built in the United States, they have become increasingly popular in other parts of the world as people appreciate their timeless beauty and elegance.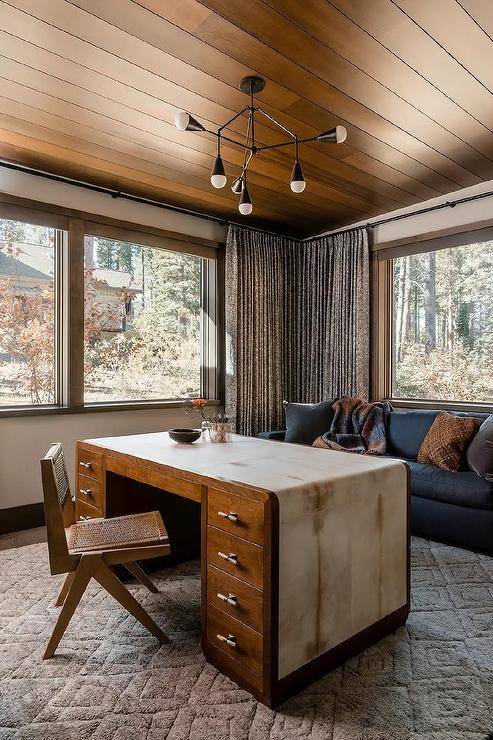 Shaker style homes have a timeless and classic look that has remained relatively unchanged over the years. However, modern iterations of the timeless style have seen some changes to the original design, such as larger windows, open floor plans, and higher ceilings. Additionally, the use of natural materials, like wood and stone, has become more popular, as well as the incorporation of modern technology for efficient heating and cooling.
Ultimately, Shaker style homes have remained elegant and timeless while still being able to incorporate modern touches.
Key Elements of Design
A shaker house is characterized by its straightforward and functional design. The traditional shaker style is based on the values of simplicity, utility, and quality. The most notable features of a shaker house are its simple, clean lines, functional floor plans, and use of natural materials. The windows are often arranged in rows, while the doors are typically paneled and raised slightly above the floor.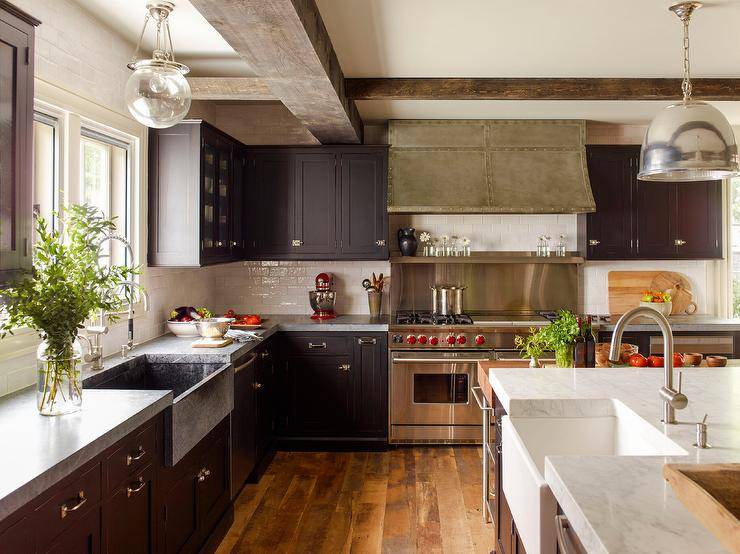 Related: Classy Sapphire Kitchen: Navy Blue and Brass Revitalizes Traditional Shaker Kitchen
Inside, the shaker style prioritizes functionality and practicality, with many rooms featuring built-in furniture and cabinetry. The walls and floors are typically made of wood, and the colors and décor are kept simple and minimalistic. A shaker house is a timeless design that brings classic charm and practicality to any home.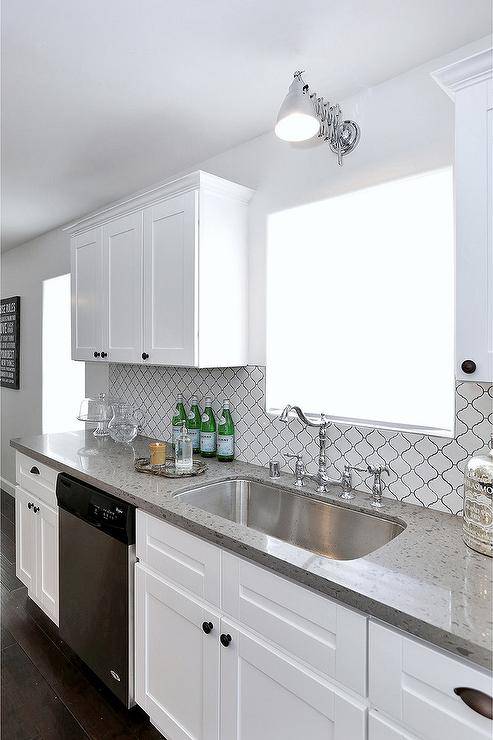 Furniture
Furniture that is used in Shaker style homes typically tends to be very simple in design. It often has straight lines, no ornamentation, and is made from natural materials like wood. Standard pieces of furniture for a Shaker style home would include dining chairs and tables, sideboards, couches, and bookcases.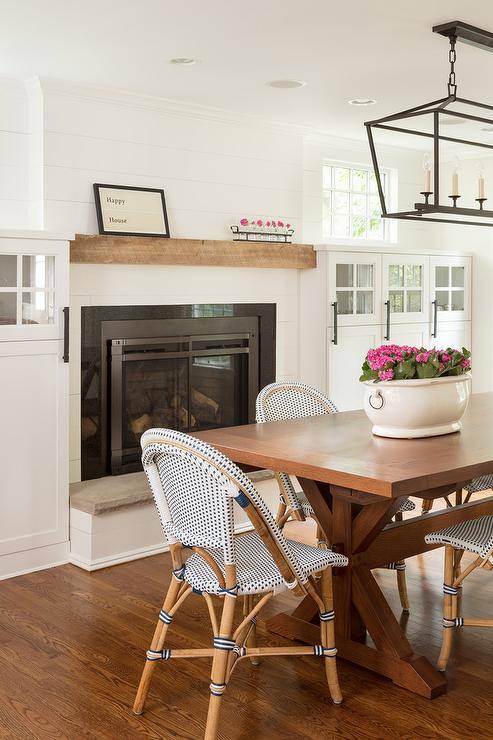 Additionally, it is common to see Windsor chairs, ladderback chairs, and blanket chests in Shaker style homes. Here is a list of common Shaker-style pieces:
Dining Table – A classic dining table designed for large groups with a rectangular shape and tapered legs.
Rocker – A comfortable rocking chair with a curved seat and back, and simple lines.
Wardrobe – A tall, wooden wardrobe with a two- or four-door design and open shelving.
Sideboard – A low, wide piece of furniture with drawers and cabinets for storing linens and other items.
Coffee Table – A small, rectangular table with four straight legs and a single shelf.
Bookcase – A tall, narrow cabinet with multiple shelves for books and other items.
Settee – A low, upholstered couch with wooden legs and a plain back.
Desk – A small, rectangular desk with four straight legs and a single drawer.
Armchair – An armchair with a curved back and a comfortable seat.
Benches – Long, low benches with a plain, rectangular design and tapered legs.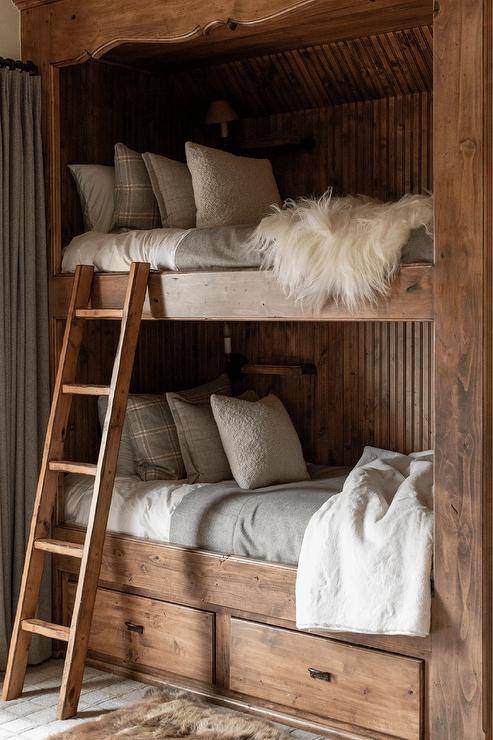 Windows and Doors
Shaker-style homes' windows are typically tall and narrow with a simple, unadorned frame and no decoration. They typically have a single top sash that is divided into two or more panes, with a bottom sash that has a single pane. The frames are usually painted white or beige and can be either square or arched. The window glass is often frosted or textured to give the windows a distinct look.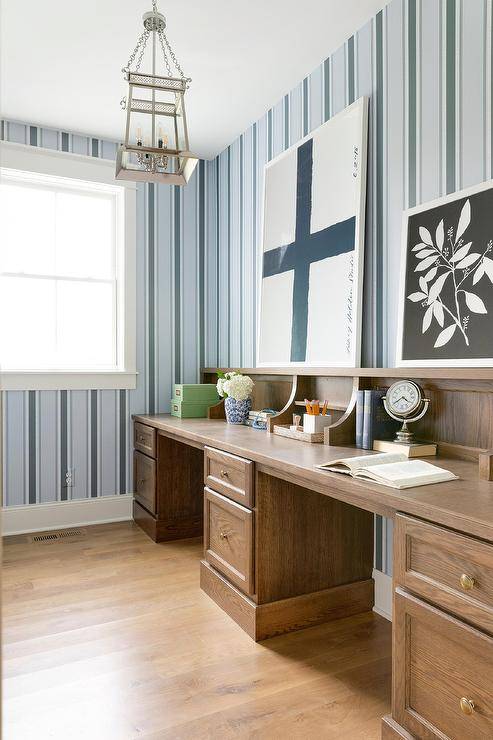 Doors in a shaker-style home typically feature a classic, minimalistic design emphasizing clean lines and a lack of ornamental details. The most common door styles for shaker homes feature a flat panel with a recessed border or a flat panel with a raised border. The doors are usually made from wood or a wood composite material and are often painted white or a neutral color to match the other elements of the home.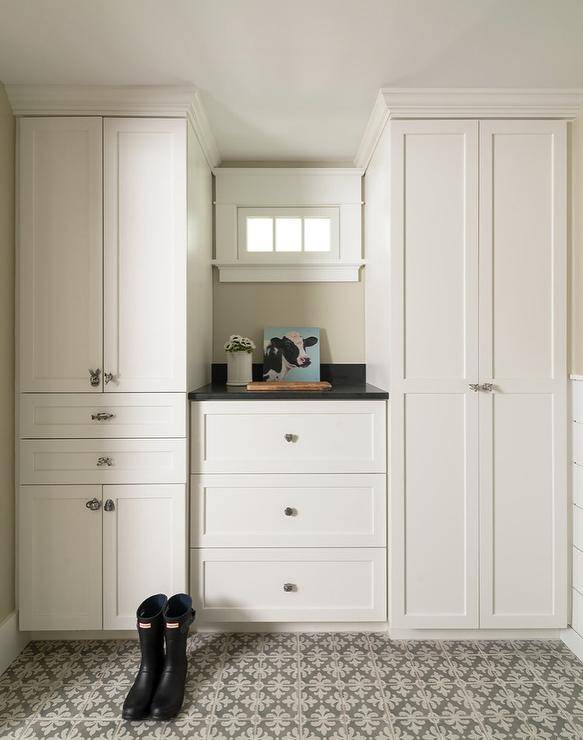 Tips for Incorporating Shaker Style Designs
Choose furniture and fixtures with clean lines and minimal ornamentation. Shaker style is all about simplicity, so the more streamlined your pieces, the better.
Incorporate a mix of light and dark wood tones. Shaker style is known for using light and dark woods, so find furniture and fixtures that highlight both.
Get creative with storage. Shaker style is all about functionality, so make sure to include plenty of storage options in your design. Think about using built-in cabinetry or furniture with hidden compartments.
Incorporate natural elements. Add some warmth to your space by incorporating natural elements like jute rugs, woven baskets, or handcrafted pottery.
Balance modern and traditional elements. Don't be afraid to mix modern and traditional elements in your design. You can pair a sleek sofa with a vintage-inspired coffee table or hang an industrial-style light fixture in a traditional room.
Embrace subtle accents. Simple touches like brass hardware, glass knobs, and elegant fabric accents can all help to bring a touch of shaker style to your home.
Incorporate meaningful artwork. Hang meaningful artwork or family photos to add a personal touch to your space. This is a great way to add color and personality to a shaker style room.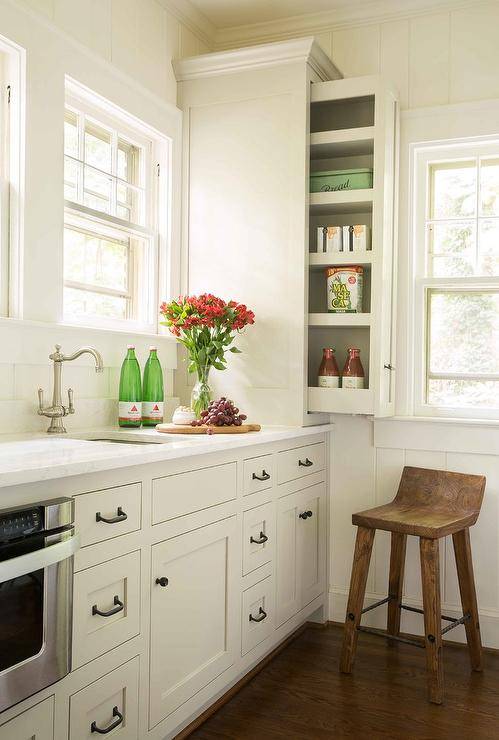 The Difference Between Shaker Style and Craftsmen Style
Shaker style is a classic and timeless style of furniture and cabinetry that is known for its simplicity and minimalism. It is characterized by straight lines, flat-panel doors, and simple hardware. Its design principles also center around functionality and practicality.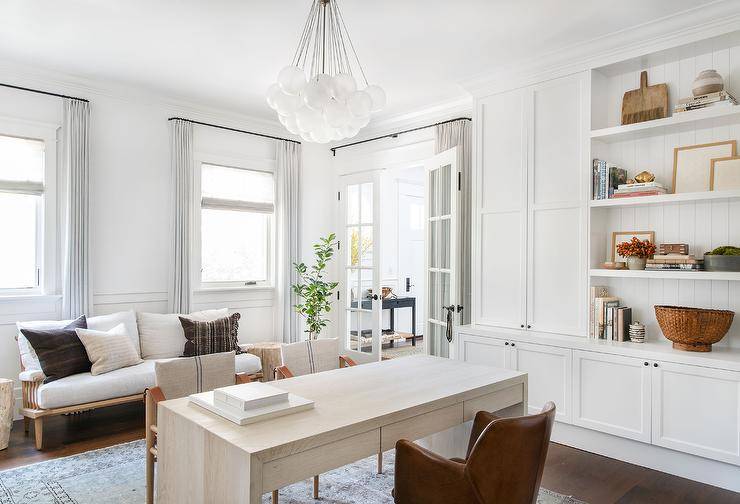 Craftsman style is a type of home design that is known for its attention to detail, as well as its use of natural materials. It is characterized by an emphasis on strong and sturdy construction, as well as natural materials such as wood and stone. Its design principles focus on craftsmanship, artistry, and quality.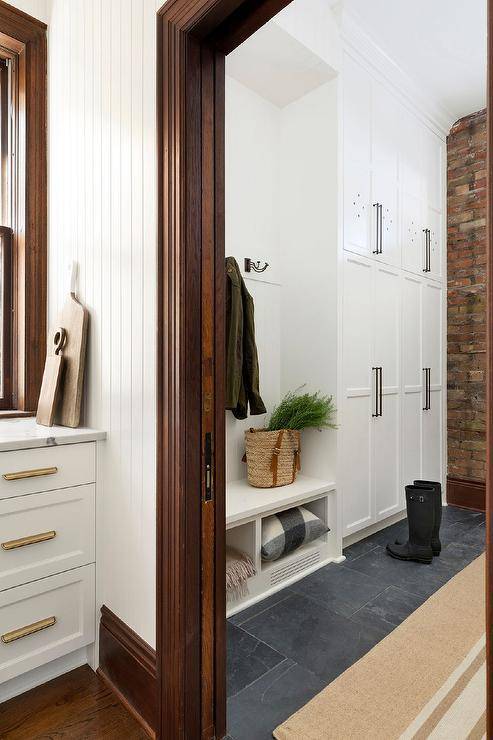 Frequently Asked Questions (FAQs)
The Shaker style of architecture, furniture, and home design can be characterized by simplicity, utility, and classic craftsmanship. Shakers valued order and tidiness, which is why homes of this era embraced clean lines and lack of ornamentation.
Shaker style furniture is characterized by clean lines, tapered legs, and minimalist designs. It's known for being practical and simple down to the very last detail.
Shaker is traditionally made of maple, and generally a maple door is identified as a Shaker style. Craftsman or Mission doors are traditionally of of quartersawn oak. But there are also pine, elm, fir, hickory and painted doors in both Shaker and Craftsman kitchens.
What materials are used to create shaker style furniture?
Shaker style furniture is typically made with natural materials such as wood, with an emphasis on craftsmanship and quality. The wood is often stained or painted with natural finishes to bring out the wood's natural grains and characteristics.
How can I incorporate shaker style design into my home?
Shaker style furniture is perfect for any home, as it is timeless and understated. You can mix and match different pieces to create a unique look, or you can use a single piece to add a touch of elegance to a room. Shaker style furniture is also great for creating a cozy atmosphere, since its simple lines and materials create a warm and inviting atmosphere.