The shadow box. The trinket box. Call it what you will, but I think we can all remember the days that these metal and glass containers seemed a wee bit outdated. Some of us put them on display in the '70s and '80s, then packed them up in the '90s when they entered "relics of the past" territory. And then something happened… [boxes below from Etsy shop Davey's Vintage]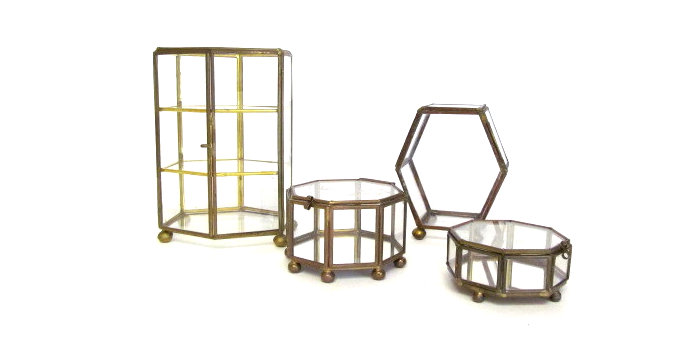 They came back! But in a fresh, updated way. Gone were the little round feet that identified them as vintage. Instead, the lines and angles were played up with a fresh, minimal geometry. Perhaps the return of brass made them popular again, or our interest in rocks, minerals and plants brought them back into the spotlight. Suddenly, these shadow boxes were the perfect way to display curiosities! Some vendors and retailers even sell them as terrariums and fill them with items such as air plants. [shadow boxes below from West Elm]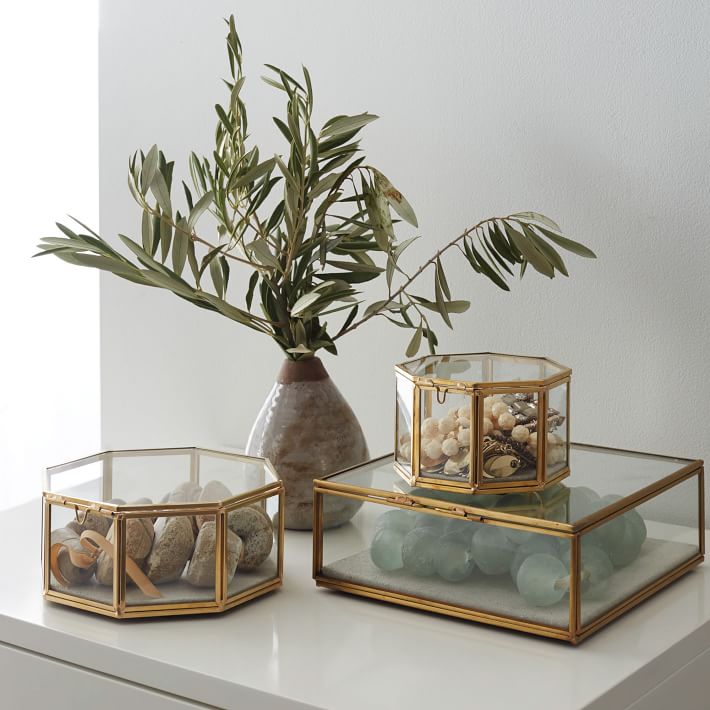 Today we take a look at the most popular designs of these metal and glass wonders. Good news: they're offered at many price points, making it possible to purchase one or more on a budget! And Etsy shop owners are hunting down the best of the vintage versions and presenting some amazing finds. In other words, you can buy them old or new. Add the fact that they make perfect gifts, and it's no wonder shadow boxes are experiencing a revival. Below you will find a few of our favorites…
Shadow Boxes from West Elm
When it comes to large retailers who've brought shadow boxes back into the public eye, West Elm has really led the pack! The brand offers a large collection of metal and glass display boxes in a range of shapes and sizes. The Glass Shadow Boxes below feature linen-lined interiors, which create a beautiful, fresh platform for jewelry, minerals and more: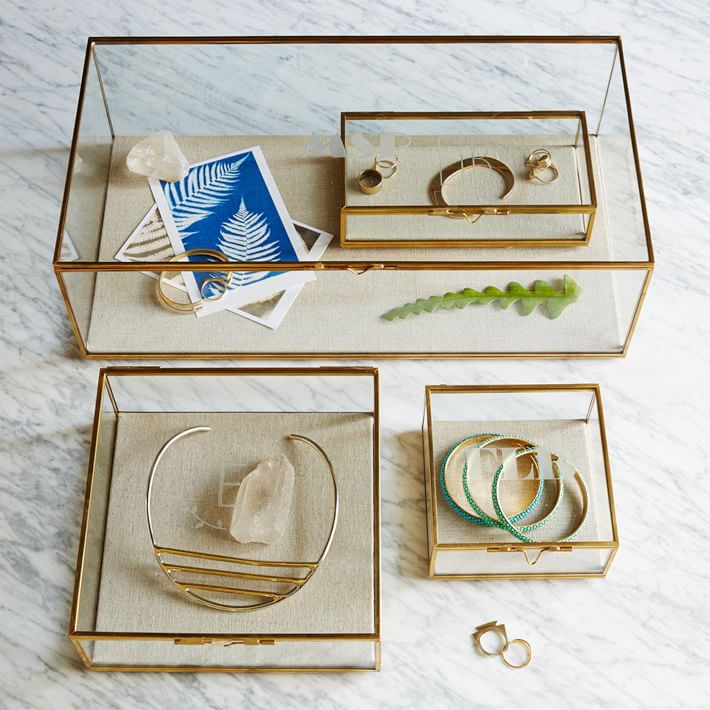 In fact, jewelry items are some of the most popular treasures to display in metal and glass boxes. Instead of filling the boxes with a large number of accessories, try using them to display a few. This way, your jewelry becomes art to be admired! In the next image, we see a Set of 3 Nesting Trinket Boxes, which boast a hexagonal shape: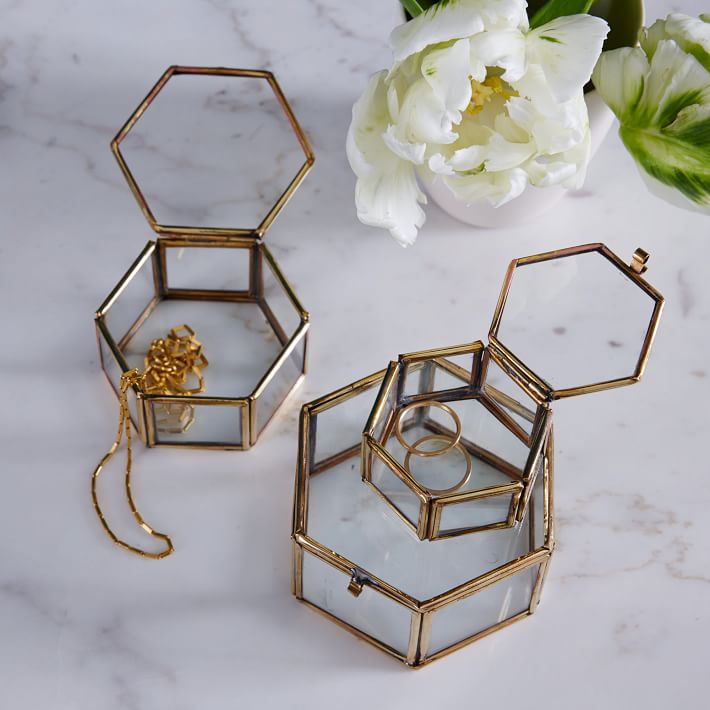 You can also a purchase a rectangular version of the set. As with all of West Elm's trinket box offerings, soldered glass panels create clean-lined containers that can hold items ranging from seashells to rings: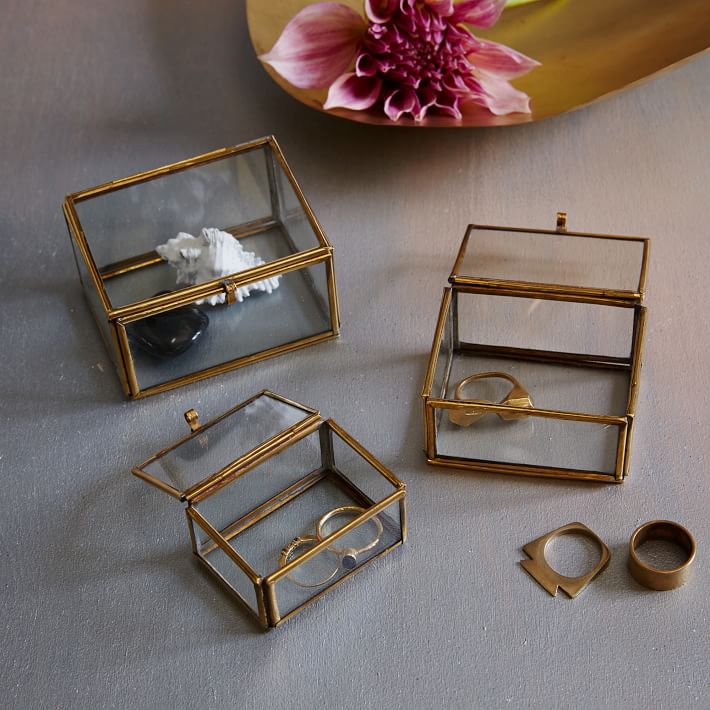 Some of West Elm's offerings feature a dark metal trim rather than the gold finish pictured above. Below we see how a wooden base and a liftable glass top convert these boxes into actual Display Cases that are perfect for holding natural wonders.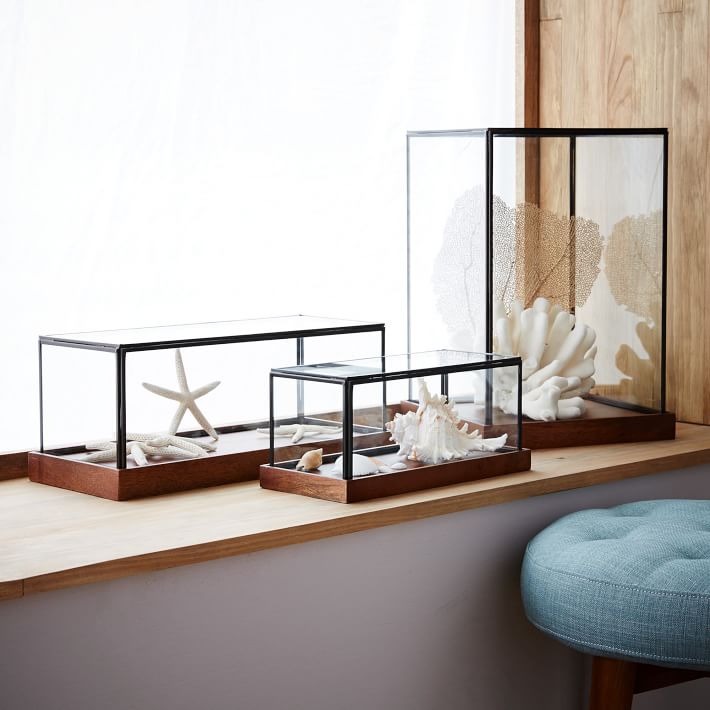 Modern Display Boxes from Urban Outfitters
Another retailer that has embraced the shadow box revival is Urban Outfitters. And it's no wonder! With the brand's Boho Chic style, these geometric accents are ideal accessories. Bring on the crystals! Below we see a trio of Triangle Glass Boxes, available with silver-, gold- or copper-toned finishes: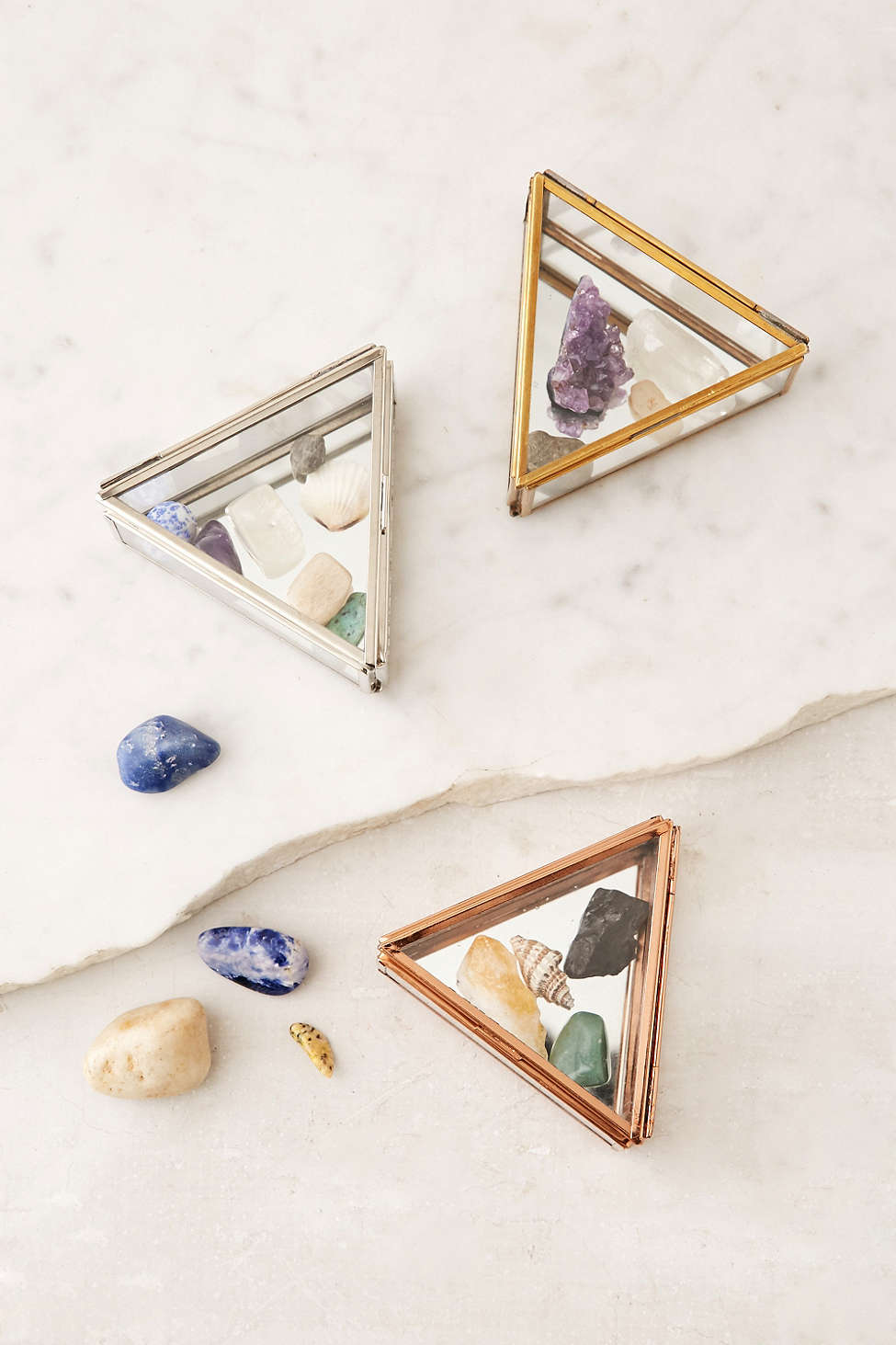 The Magical Thinking Pyramid Mirror Box features a hinged panel that lowers so you can place your favorite treasures on its mirrored base. In fact, mirrored surfaces are one popular modern update of these vintage-style boxes!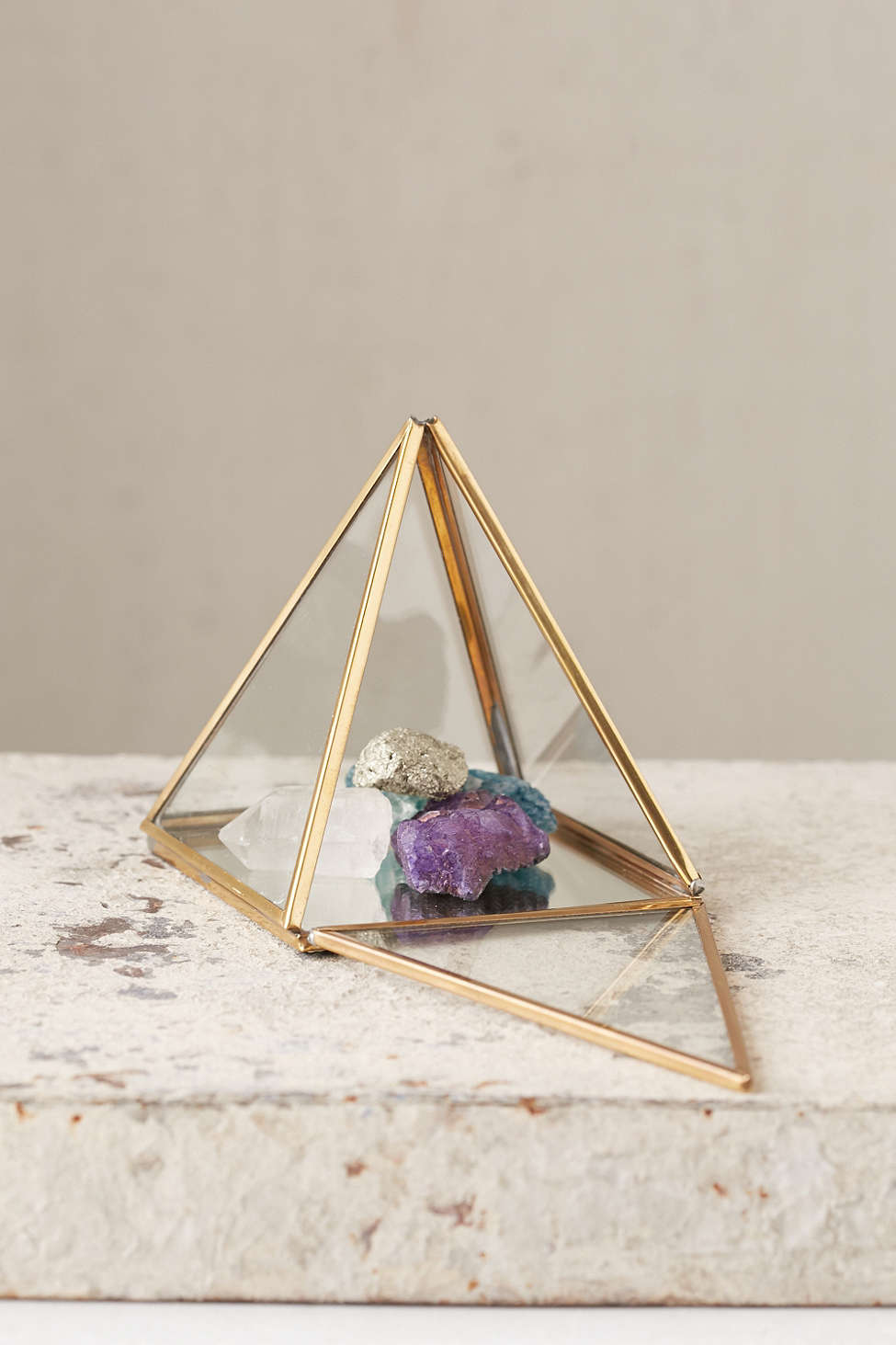 That's the beauty of a fresh take on a vintage item! Designers are getting creative with interesting updates. For example, the Arya Glass Box features a soapstone base. Lovely!…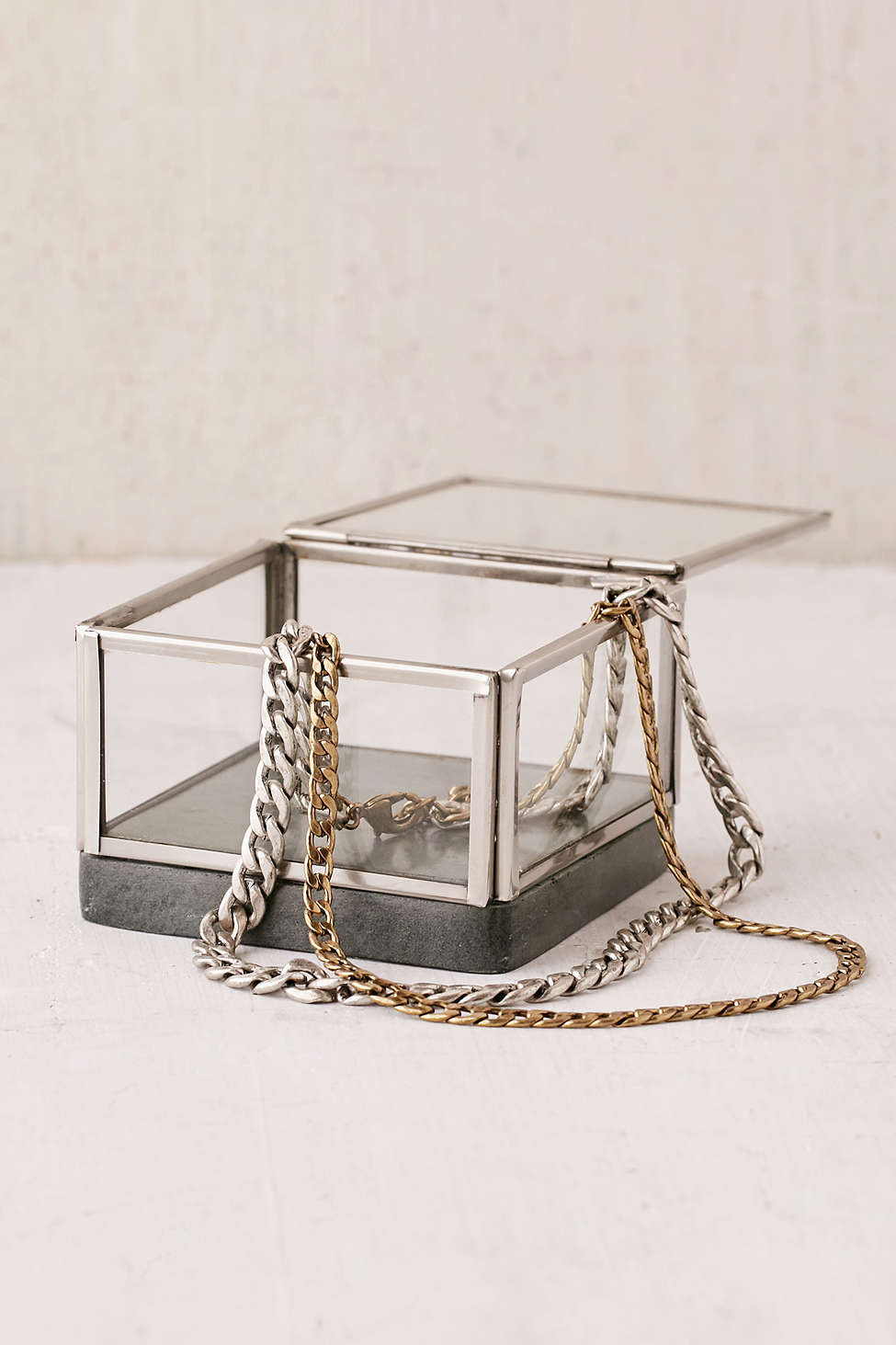 A slanted "roof" gives this Mirror Bottom Display Box a striking silhouette. Just lift the glass top and fill it with your favorite trinkets. Don't hesitate to add some sparkle with minerals such as iron pyrite: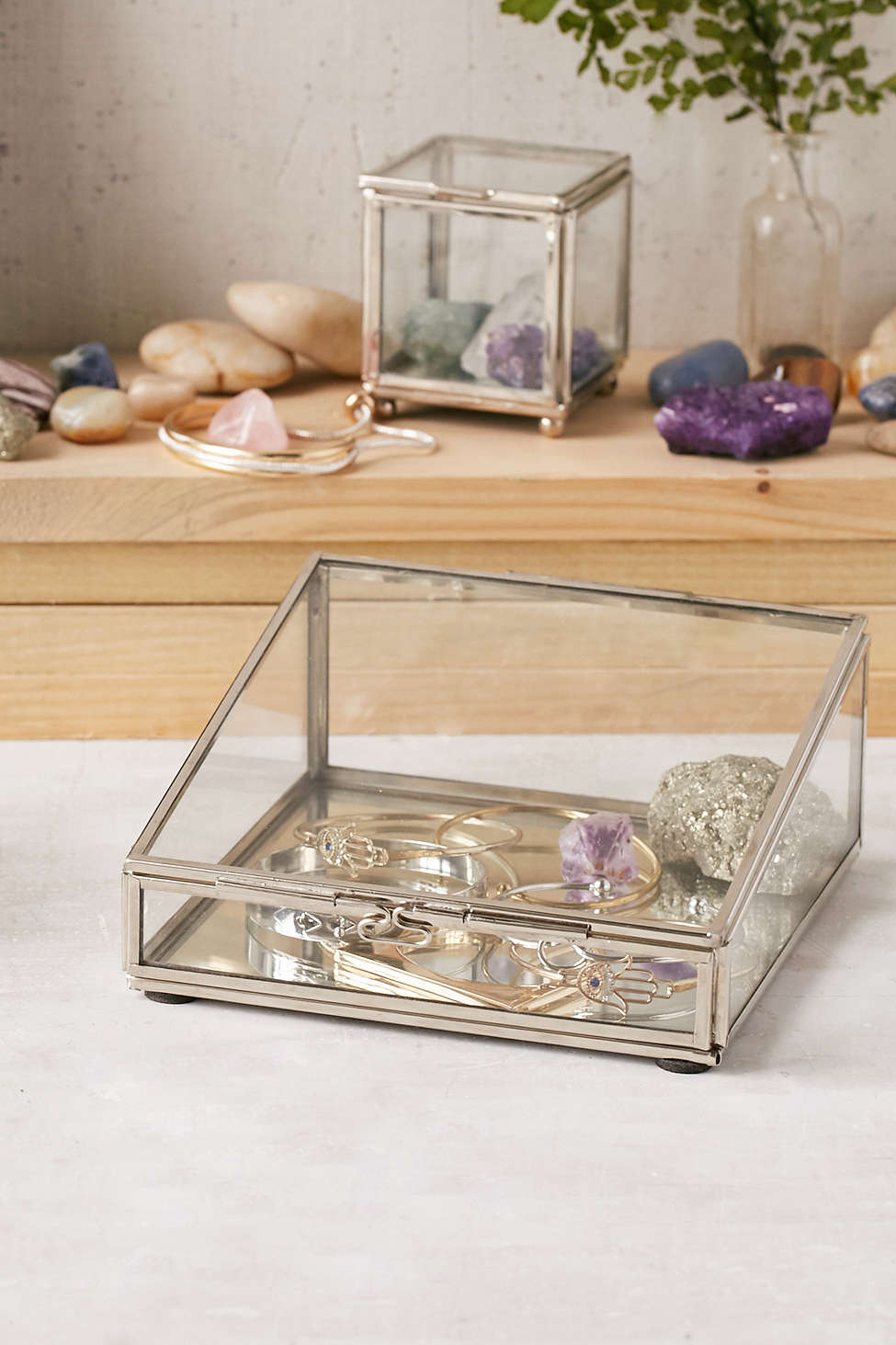 One-level boxes have given way to tiers of possibility! The Magical Thinking Tower Glass Box features brass trim and three shelves that make the perfect perch for jewelry, crystals, minerals and more: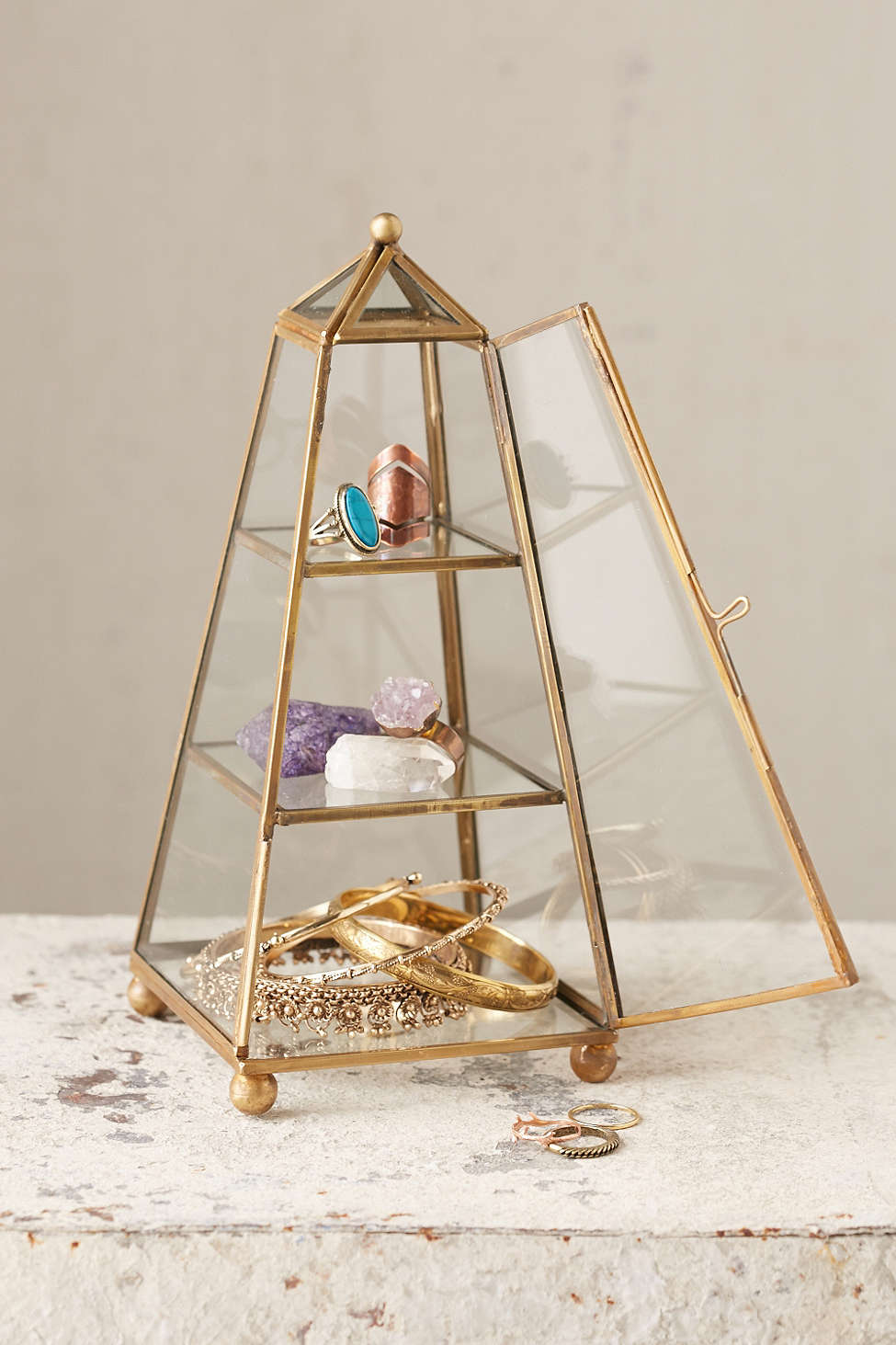 Vintage and Handmade Treasures from Etsy
We now take a look at the shadow box revival through the eyes of online marketplace Etsy. In fact, Etsy shop owners are seeking out interesting, edgy versions of the trinket box, and it's amazing what they've been able to uncover. This Vintage Hanging Teardrop Terrarium from Etsy shop Fern Hill Road is from the 1960s. Yet it looks as if it were crafted yesterday to reflect the current design climate's obsession with all things geo!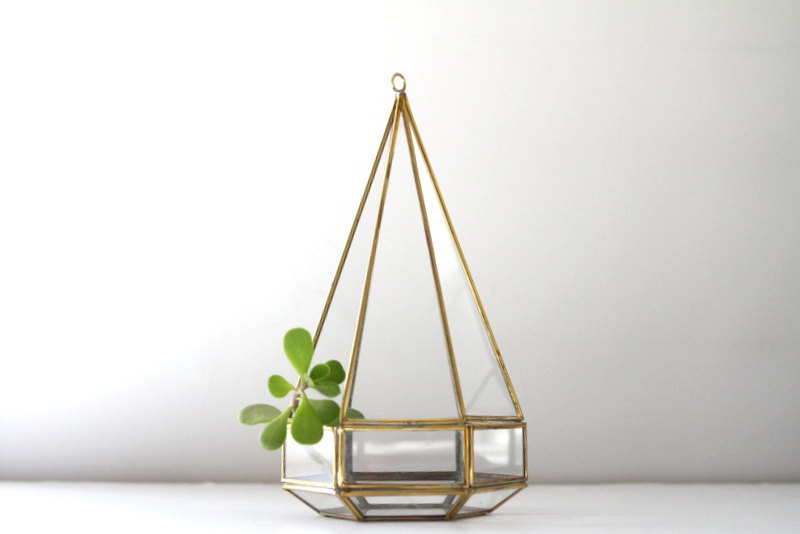 The same goes for this Vintage Glass and Brass Terrarium from Etsy shop The Vintage Porch. Although it's from the 1970s, the geo-dome look is very on-trend. Yes, this piece features 20 sides. That's a lot of glass paneling! The only clue that the box is old: the little round feet.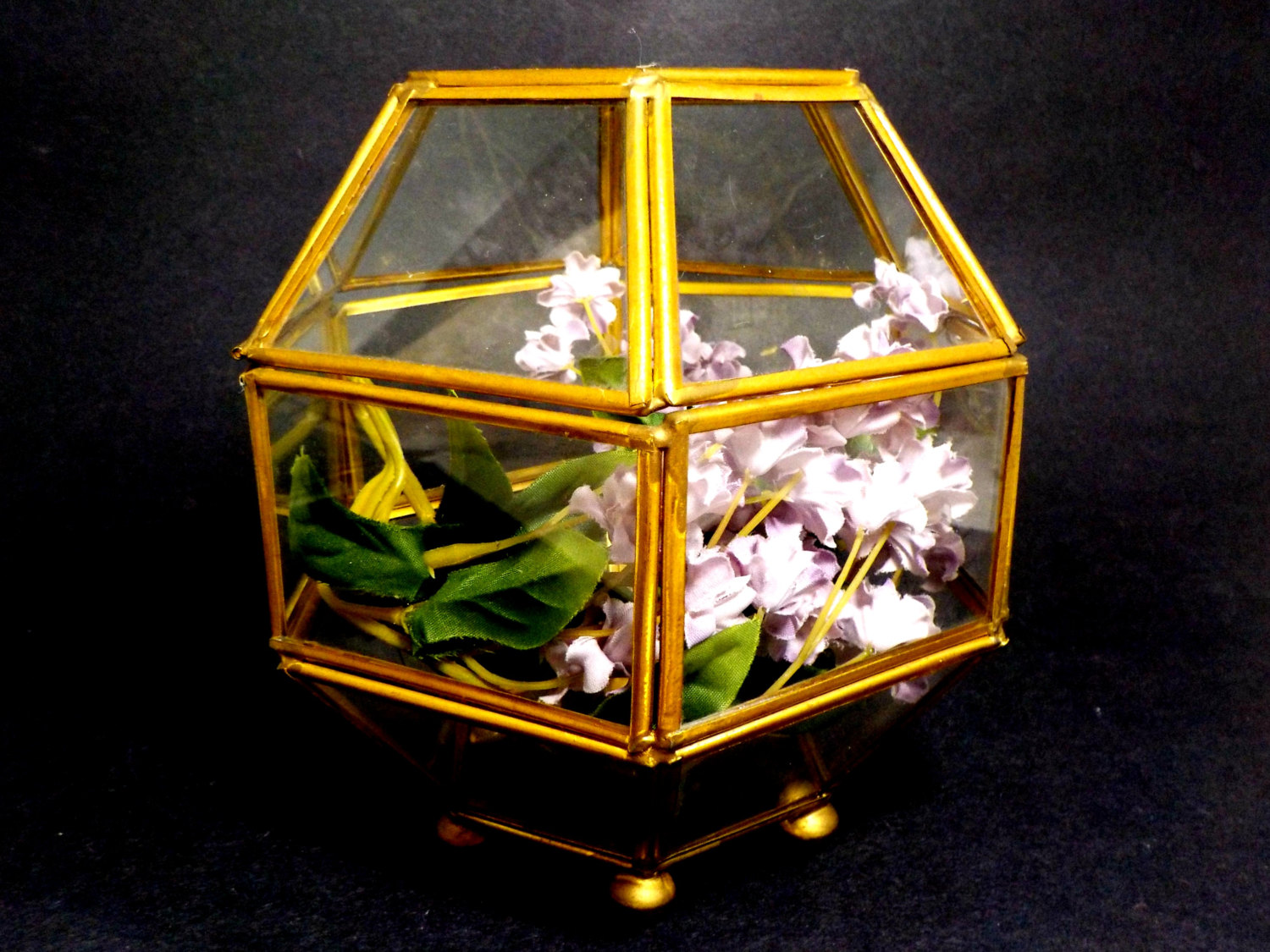 How charming is this Vintage Terrarium from Etsy shop Moineau?! There's a conservatory/greenhouse look going on here, yet the angles and panels give the piece a distinctly modern feel. Hang it, display it on a tabletop…you can't go wrong when the design is this good!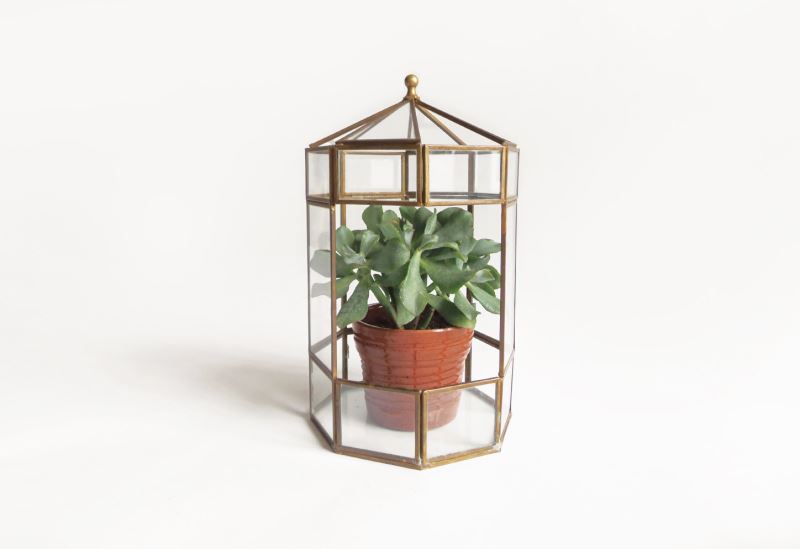 This 1980s Vintage Brass and Glass Terrarium from Etsy shop Hot Cool Vintage (pictured below, left) is as unusual as it is stylish. Plus, there is ample space inside for succulents, air plants and more. There's also a hook inside, so you can even suspend a plant from the ceiling of the piece, then suspend the entire terrarium from a high point of choice. Then again, this faceted find looks great perched on your favorite table top: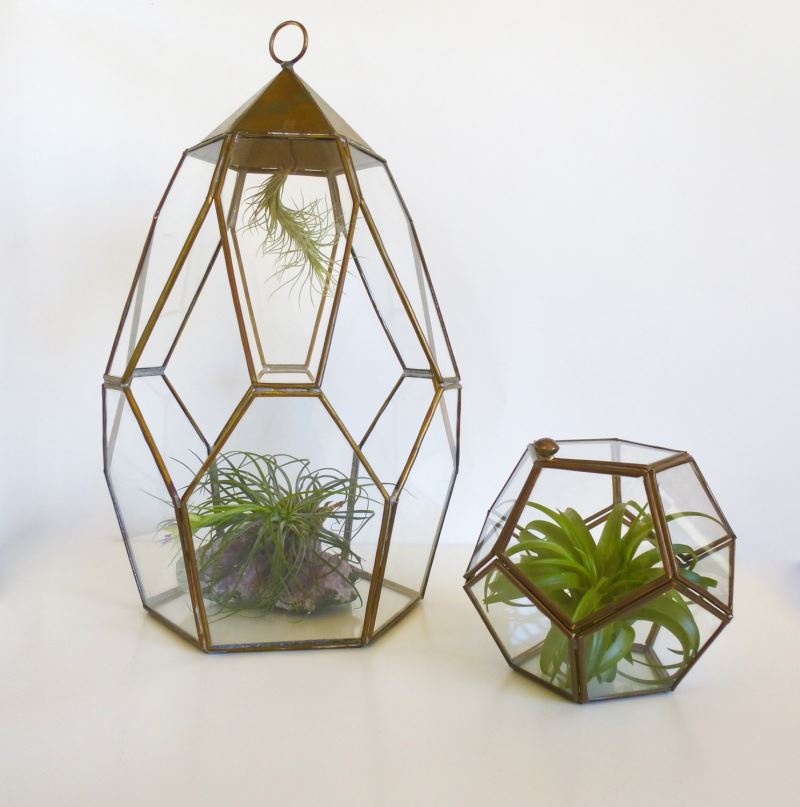 Terrarium kits are big on Etsy. You get everything you need to style and create your own container of plants and natural wonders. And what's the perfect container for this terrarium project? A metal and glass box, of course! That way you can see everything inside! Below is a DIY Terrarium Kit from Urban Green Makers: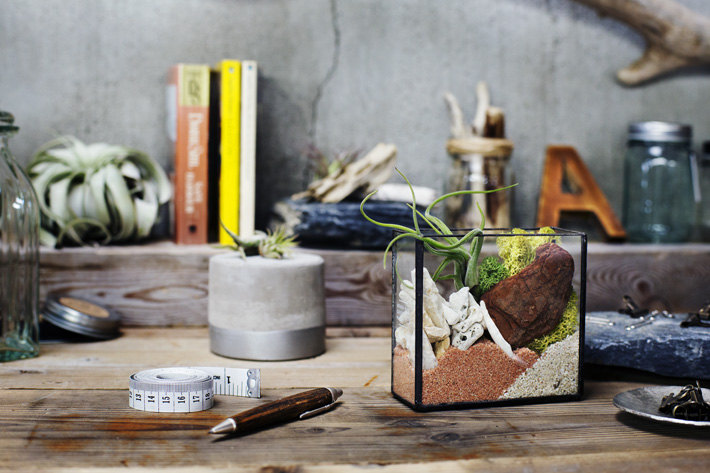 Also keep in mind that Etsy offers new/handmade glass and metal boxes, like this cube creation from Janisilveris Design! Such a geo look, and we're loving the fact that it perches at an angle: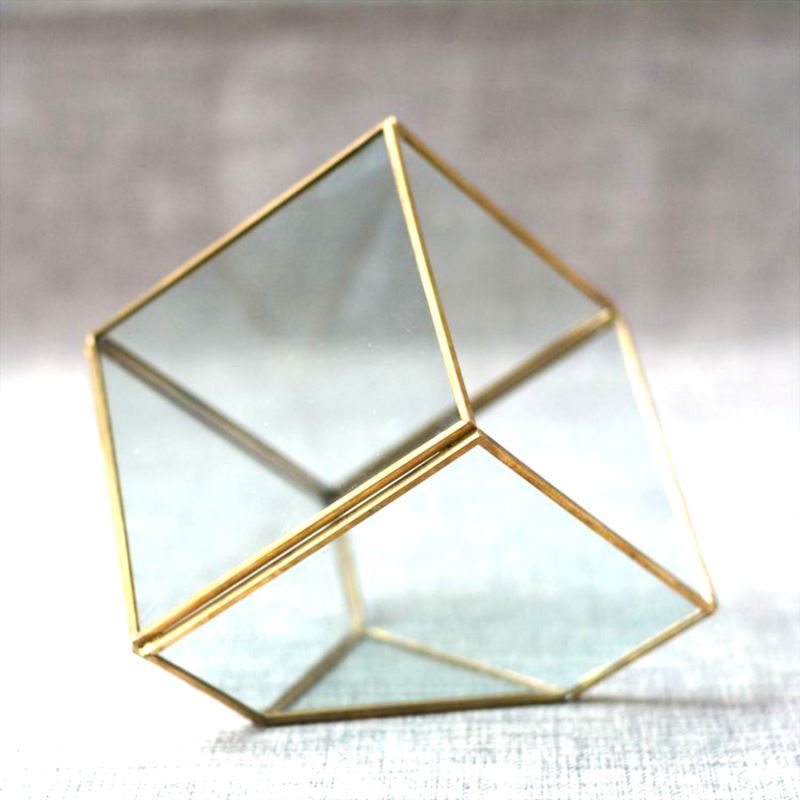 Interesting Developments…
The metal and glass geometric form of the shadow box has inspired some interesting design developments. Now that trinket/display boxes are back on our design radar, fun offshoots are starting to emerge. For example, colorful glass is now a part of the picture. Below we see the Prismatic Glass Jewelry Box from Anthropologie: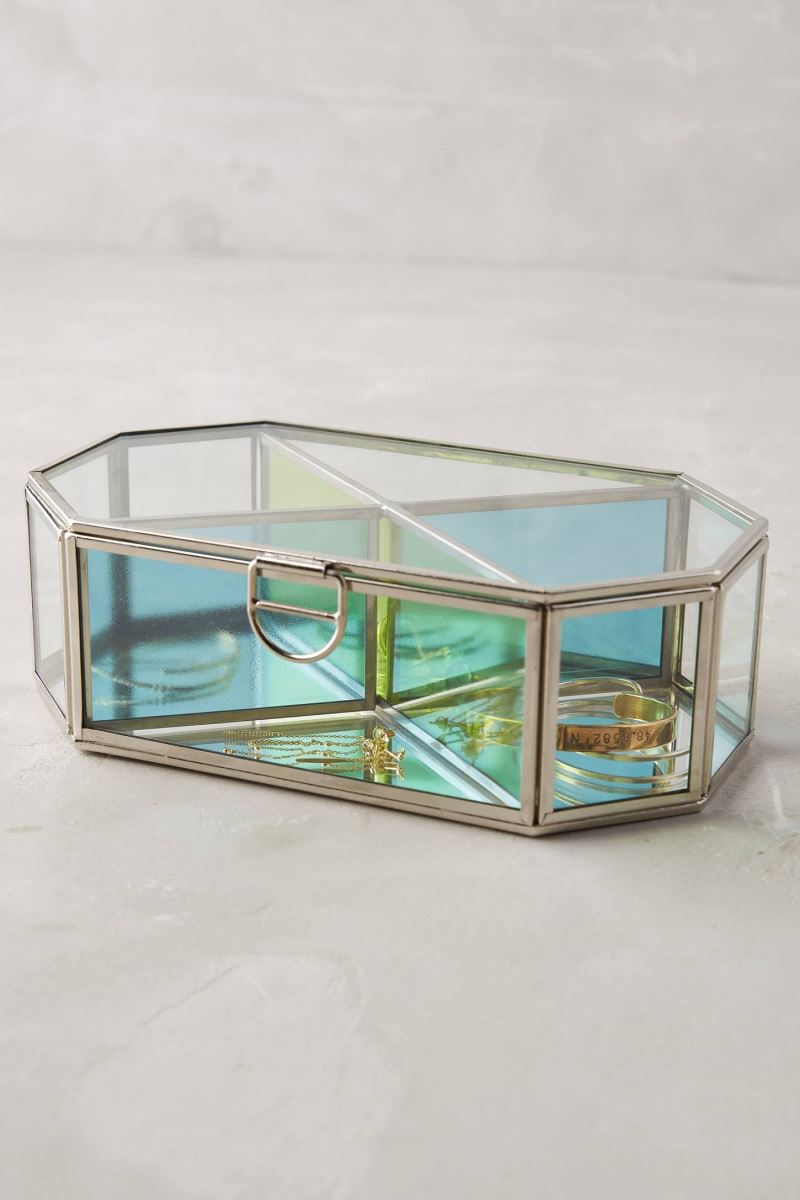 Why limit faceted style to boxes? These Paneled Glass Lanterns from West Elm bring a colorful geometric look to your patio. Or your living room! Yes, you can hang these indoors as well as out: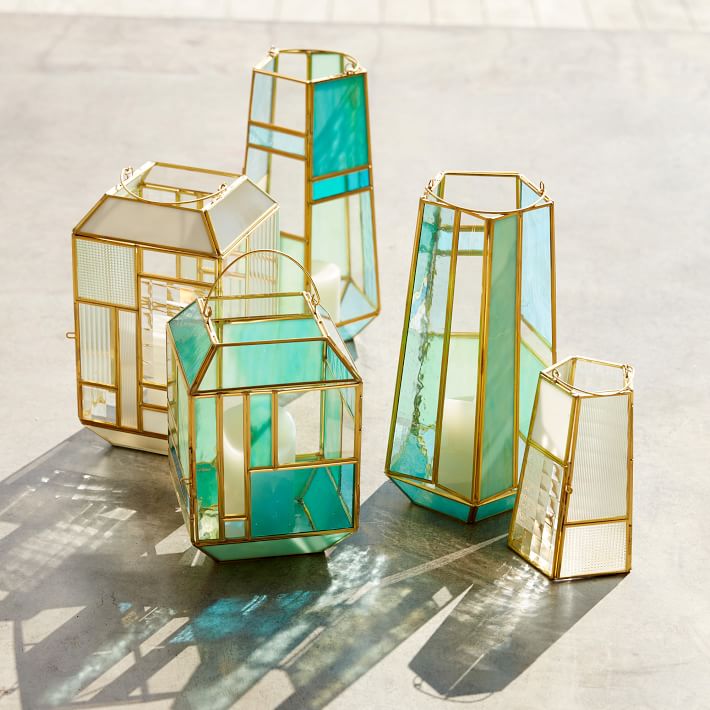 And then there's the magic that happens when your coffee table looks like a giant display box! Say hello to the Industrial Display Coffee Table from West Elm, which features a hot rolled steel frame and a modern oak veneer shelf: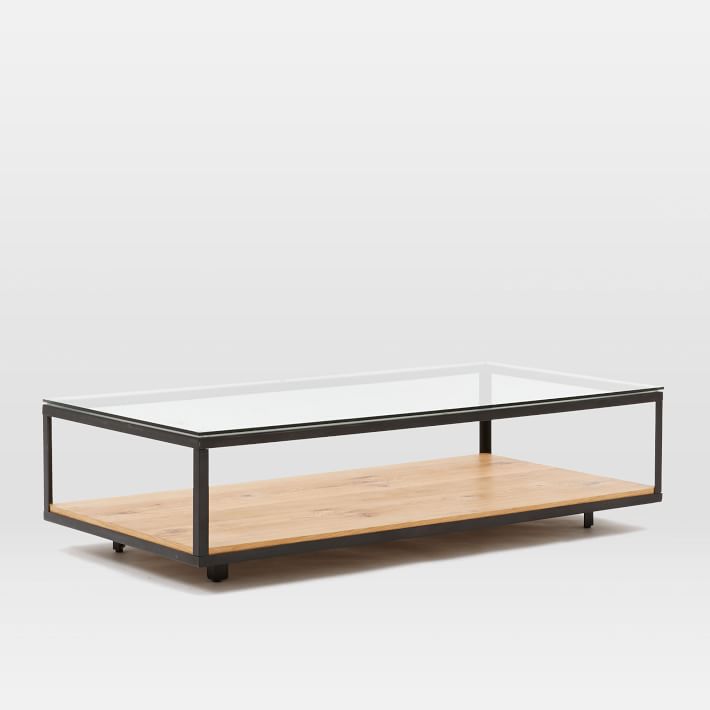 Will you be bringing shadow box style to your interior this spring? Clearly this design trend is back on our radar. And with options both vintage and new, there's a piece for every preference.