It's clear that air plants are here to stay. They're exotic, they're low-maintenance, and they're stylish–what's not to love?! One thing that IS changing: the way that air plants are displayed in the home. Sure, we will always love tried-and-true strategies such as arranging them in spherical terrariums for a modern statement and placing them in sea urchins for a whimsical effect. But today's post takes a look at some new air plant display techniques that are as original as they are attention-grabbing. [Hanging Faceted Porcelain Air Plant Holder from the Etsy shop of Janelle Gramling]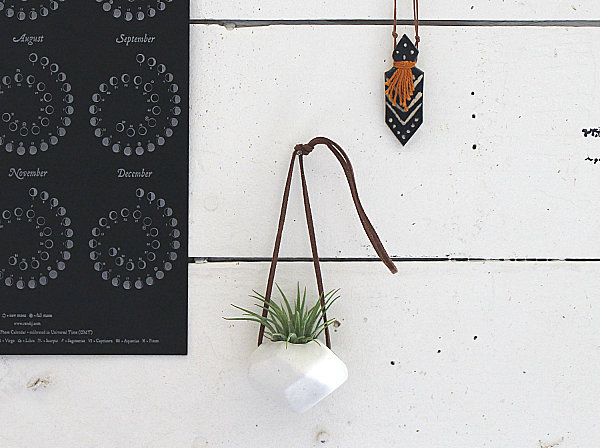 Etsy is an amazing source for air plant terrariums, pods, pots and planters. In fact, all of today's featured finds come from Etsy. Check out these unique, affordable selections to discover your next conversation piece. Many of the items below are on the small side, making them the perfect accent for a tabletop, shelf or counter…
Air Plant Pods
We start with an up-and-coming air plant container option that's cute, compact, and often embellished with radiant designs. It's the modern air plant pod! Check out the candy-hued pastel shades of the Mini Air Plant Pods below, available at Bird and Feather. These hand-painted creations are available in a variety of color options: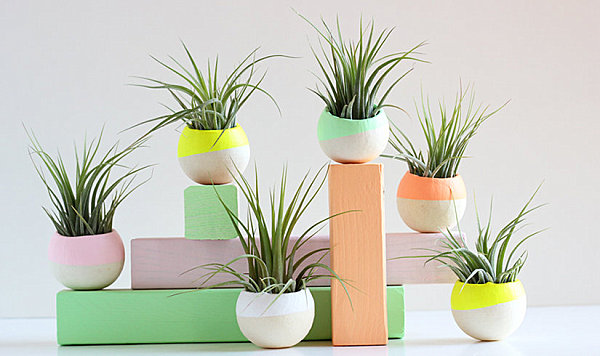 Sweet shades are lovely, but sometimes sticking with neutrals is just what the doctor ordered, especially when a touch of metallic flair is involved. This Inverse Air Plant Pod Set from Sea & Asters consists of two natural pods that are hand painted and cleverly re-purposed into planters.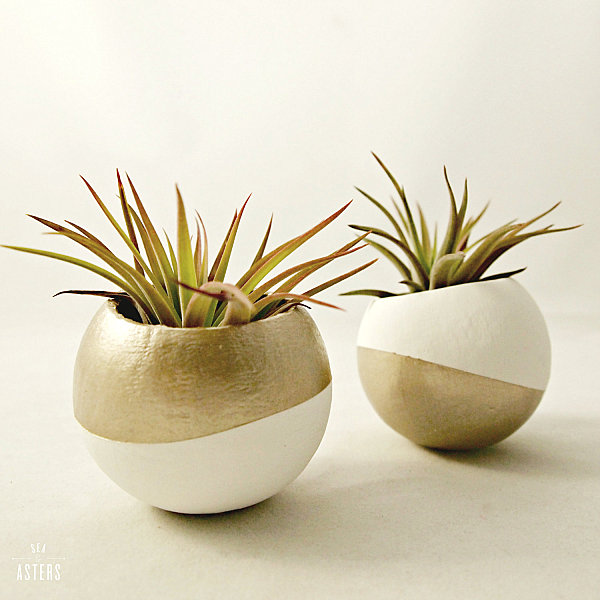 Check out the Aqua and Gold Air Plant Planter from Thrifted & Made, shown below. A vivid aqua blue coat of paint is enhanced by a gold triangle embellishment. The result is a modern creation that packs a powerful punch!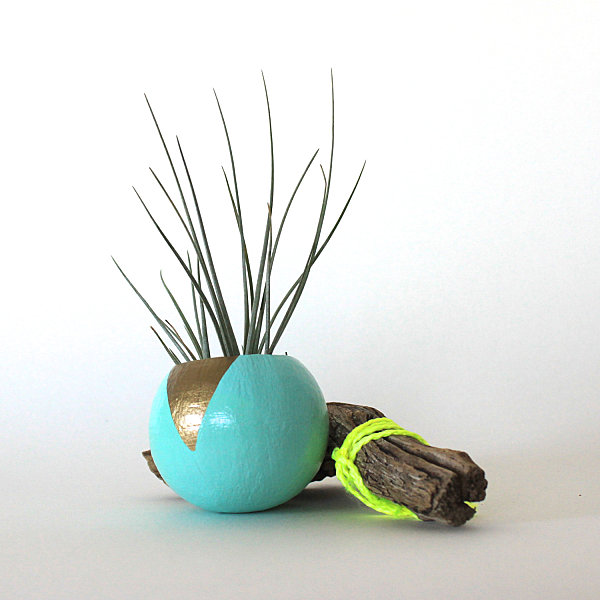 Air plant pods can also be converted into hanging planters with the help of the right yarn, string or rope. This Neon Pink Macrame Hanging Planter with Tillandsia from Thrifted & Made features a hand-painted aqua, gold and pink planter. Not sure you want to deal with a live plant, even a low-maintenance one? You can choose between a Tillandsia air plant or a faux air plant as the filler for this creation!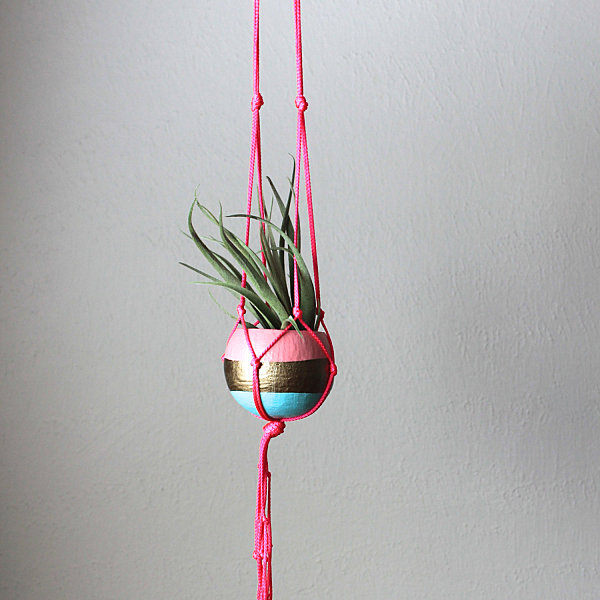 Hanging Planters
Speaking of hanging planters, we now shine the spotlight on air plant containers that suspend your favorite greenery. Because sometimes it's not enough to set your air plant on a surface top. This Neon Yellow Hanging Xerographica from Thrifted & Made is crafted of nylon. Forget the pod–just put the air plant directly into this hanging "container". Not to mention, the item comes with a Xerographica air plant (also known as the king of air plants). Love those silvery green leaves!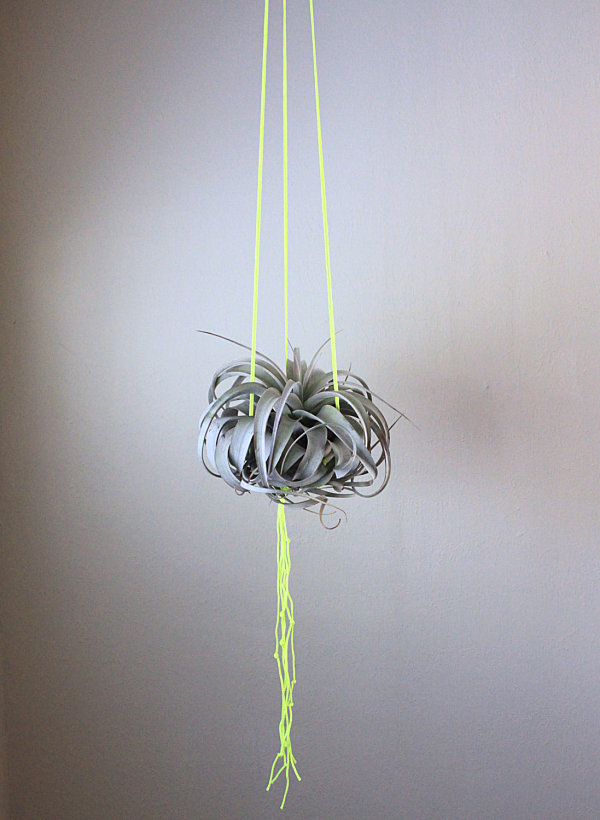 These Air Nest Hanging Planter from biggerthanlittle are lovingly constructed of yarn that has been treated with a nontoxic hardener. That's right–these nest-like creations are waterproof and ready to hang. Plus, we think they're guaranteed to be true conversation starters!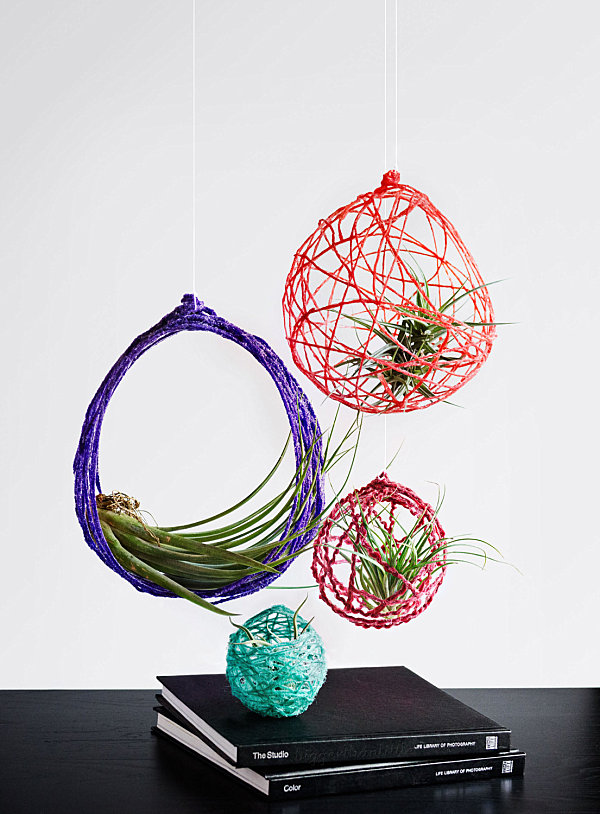 You didn't think the world of geo forms would remained untouched by air plants, did you?! And yes, the brass revival has managed to put its stamp on air plant display pieces as well. This Himmeli Brass Air Plant Holder from Handmade Sam*Made is crafted of brass, wire and leather to create a faceted, gem-like effect.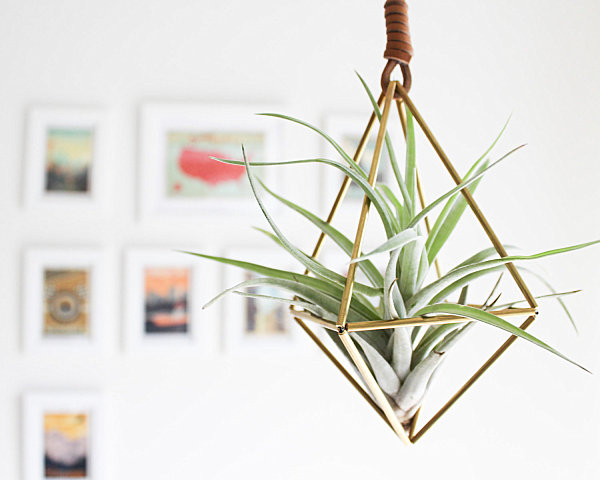 Faceted Pots
Since we're on the topic of facets, it's time to take a look at a couple more pieces that celebrate lines, angles and bold forms. This Modern Faceted Polygon Planter from Raw Originals is handmade from high-quality driftwood and brass. While the piece is shown below with a succulent, it's perfect for air plants. Not to mention, if an air plant is your greenery of choice, you don't even have to add soil!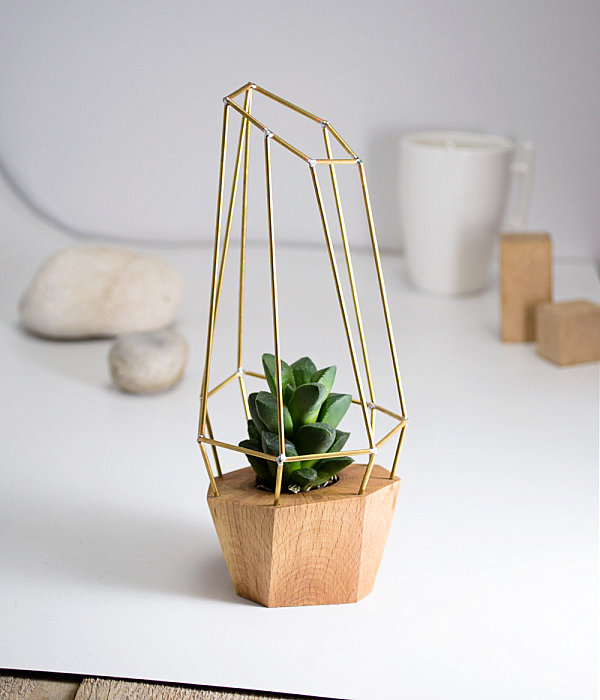 The same is true for this Mini Faceted Air Plant Pot in Light Marbled Gray from Berwick, a waterproof item that is made of polymer clay mixed by hand to create the on-trend marbled effect: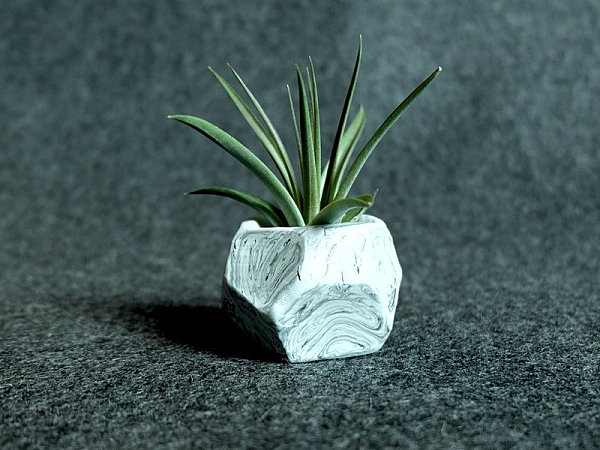 Glass Containers
We at Decoist truly love orb-like glass containers for the display of air plants. But if you're looking for a transparent option in a different shape, why not go pyramid? In fact, this Peach Pyrite Pyramid Terrarium from Sea & Asters includes a layer of sand, a small pyrite, desert rose, peach reindeer moss, a painted gold sea fan piece and a Tillandsia ionantha. You assemble the terrarium with the help of care instructions–the piece arrives as a kit.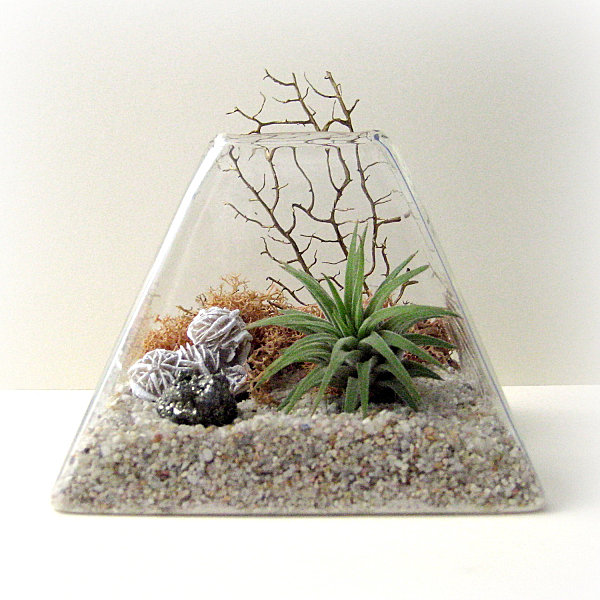 Preserved red reindeer moss and a Tillandsia Fuschii fill this Heavy Crystal Air Plant Terrarium from BoloOm. We're loving the way the air plant makes a big difference in this heavy crystal-cut glass holder. And we're inspired by the possibilities this item inspires–got any old crystal pieces that need an update?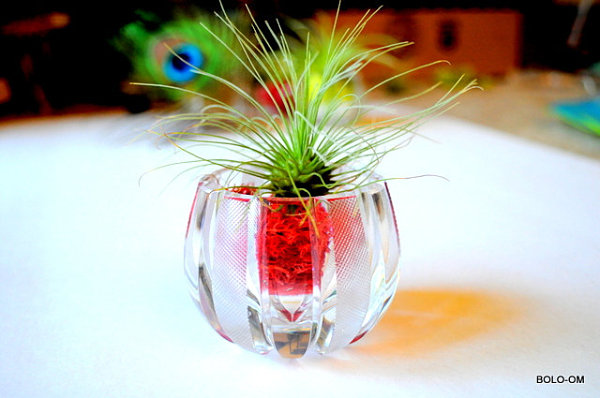 Science is the word! This Color Air Plant Beaker Garden from EarthSeaWarrior features air plants beautified with the help of a hand-dyed technique that turns every plant into a work of art. The available hues: coral, lavender, blue and aqua. As the air plants grow, they will reveal more and more of their natural green coloration.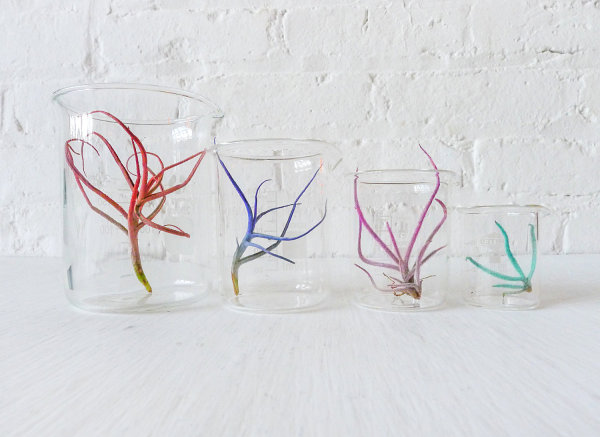 Mineral Gardens
We end with a truly striking way to combine the natural beauty of air plants with the glimmer of crystals. Mineral gardens are gaining popularity, and it's easy to see why. This Apophyllite Crystal Garden from ThEeRabbitHole features a Tillandsia that's permanently placed on a stunning specimen.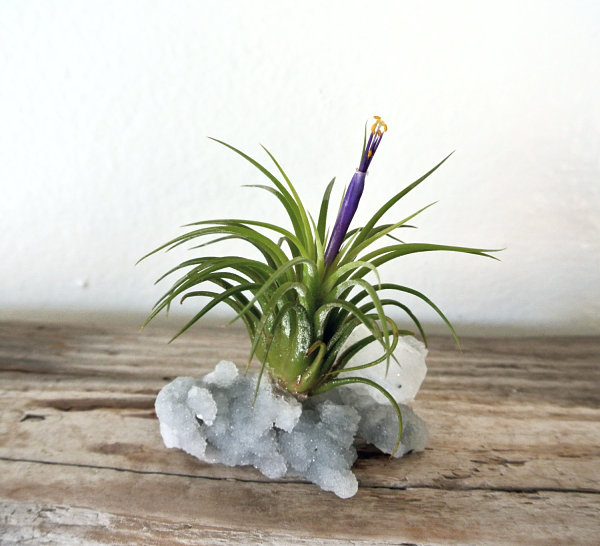 The peachy shade of this Air Plant Crystal Garden from EarthSeaWarrior is irresistible. And we love the fact that it's "inspired by what nature would look like on other planets"! Featuring a stillbite crystal cluster with an air plant living right beside it, this crystal garden evokes the bubblegum hue of cotton candy.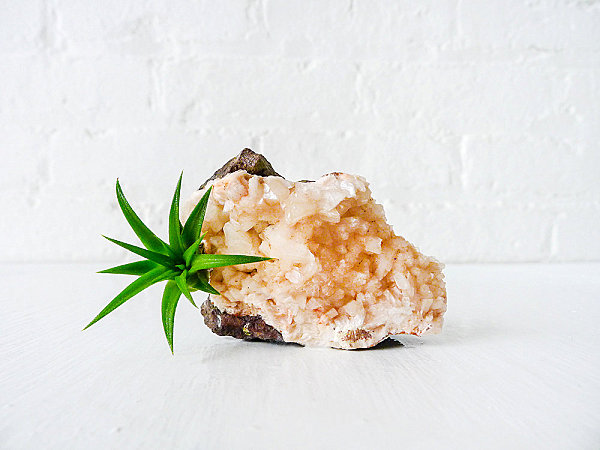 Pods, hanging planters, faceted pots, interesting glass containers and mineral gardens–today's air plant display possibilities are endless! Which is your favorite? I think I'll take one of each!