There's the holiday hanging decor, and then there's the all-seasons outdoor hanging decor. These pieces of art add a punch of attraction in lightening up a dreary yard and entryways. Those vintage cans and repurposed treasures, modern lights or hanging planters, are little embellishments that are hard to skimp. Some homeowners consider it a tradition to include something that bends along with the wind. But others love integrating them on their outdoor façade just for the aesthetic value of having them around.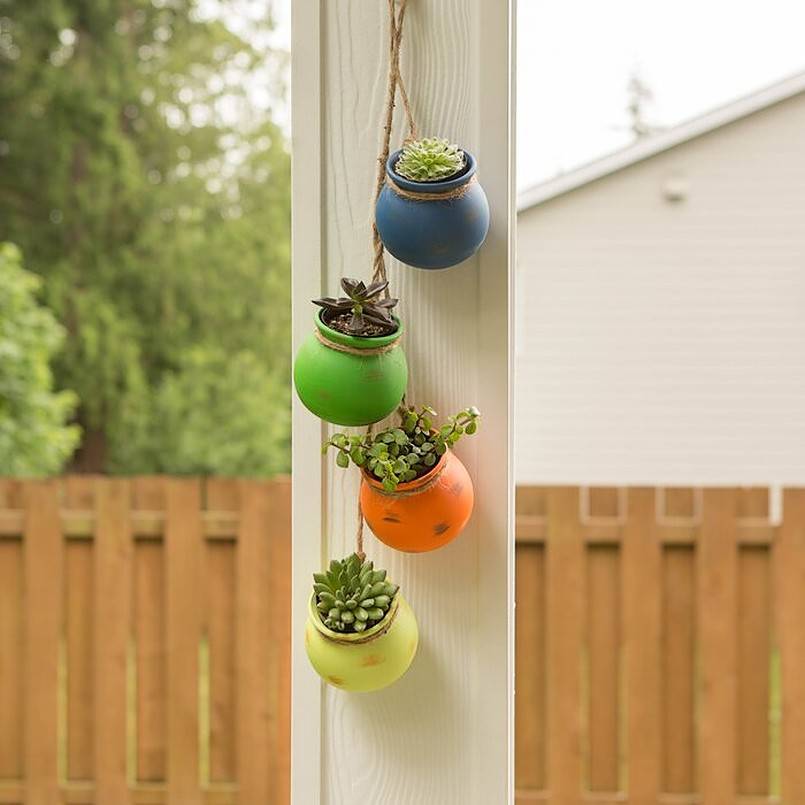 Most porch decor ideas involve the use of hanging decors. We can't help that they are so sweet and cheery for lending the home with a welcoming feel. People who want something different and attention-catching in their front yard go by some of the outdoor hanging decors in this list.
15 Outdoor Hanging Décor to Impress Passersby
Sleek Galvanized Hanging Planter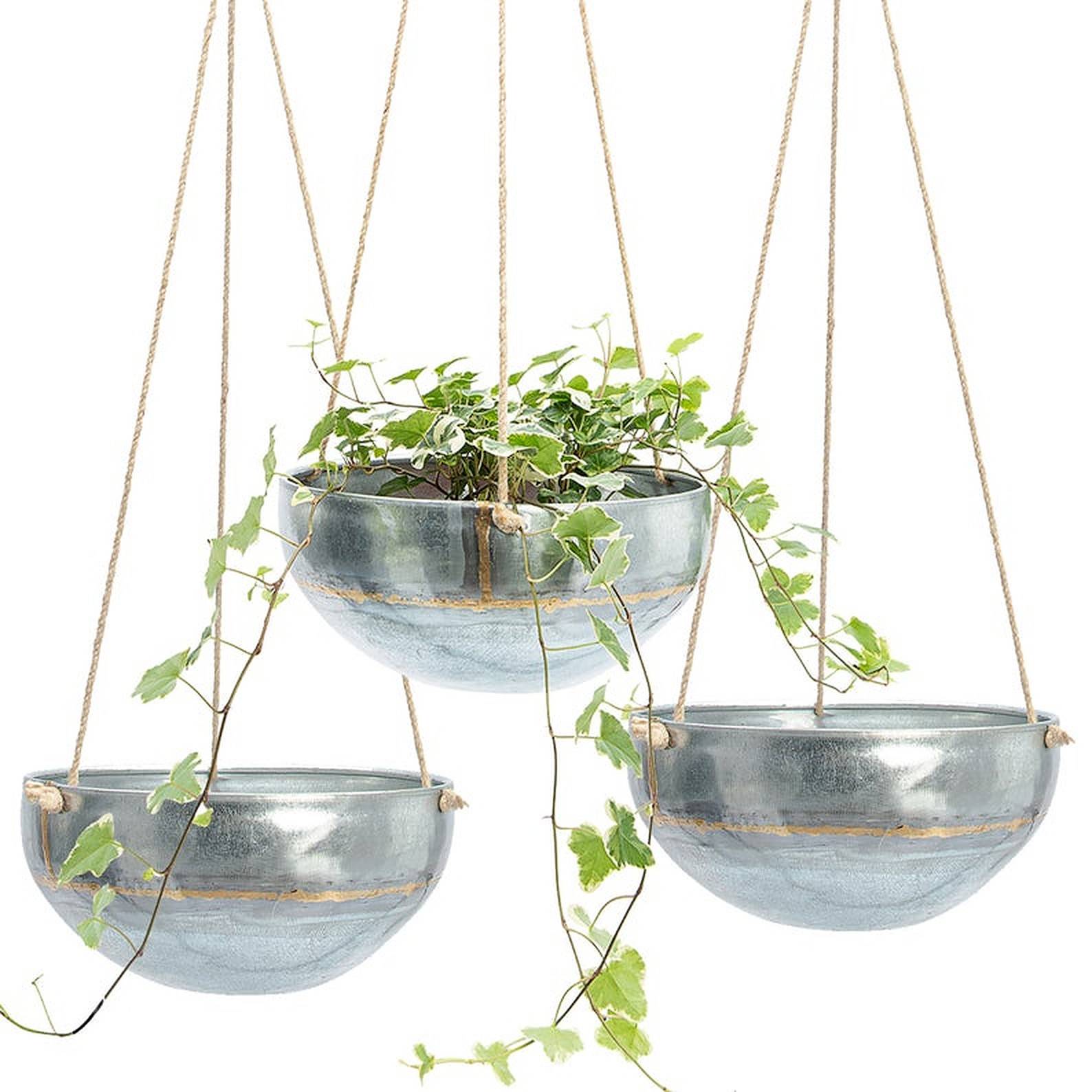 This galvanized iron outdoor hanging decor has that attractive finesse that will make it a stand-out feature on the porch. You can fill it with lovely cascading plants or succulents of your choice for your vertical hanging garden. Pair it with a rope hanger to achieve a timeless rustic appeal.
Bird Feeders Up in the Air
Adding a bird feeder as an outdoor hanging decor will literally make your yard teem with life. And by that, we mean the flock of birds that it will surely attract. Bird feeders come in many forms, but this wine bottle bird feeder is an eye-catcher. It will not only serve its purpose but will also highlight your patio and make it more inspiring.
Creating the Perfect Romantic Ambiance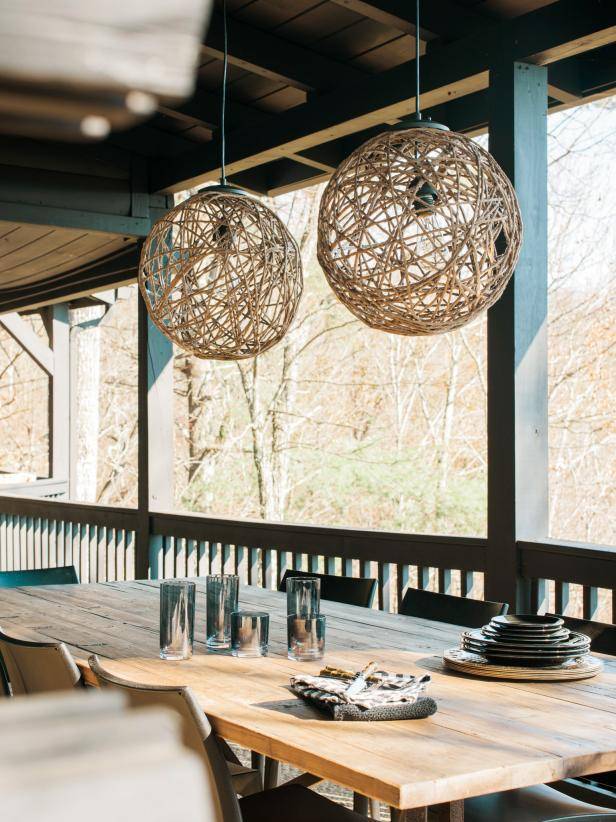 Rather than hanging a typical string light, get your hands on decorative round lanterns made of a natural element such as jute or yarn. It is effortlessly elegant and suitable for any garden or porch. DIY these lanterns yourself with our Decoist Original DIY fairy lanterns project!
Banner Flags to Define the Season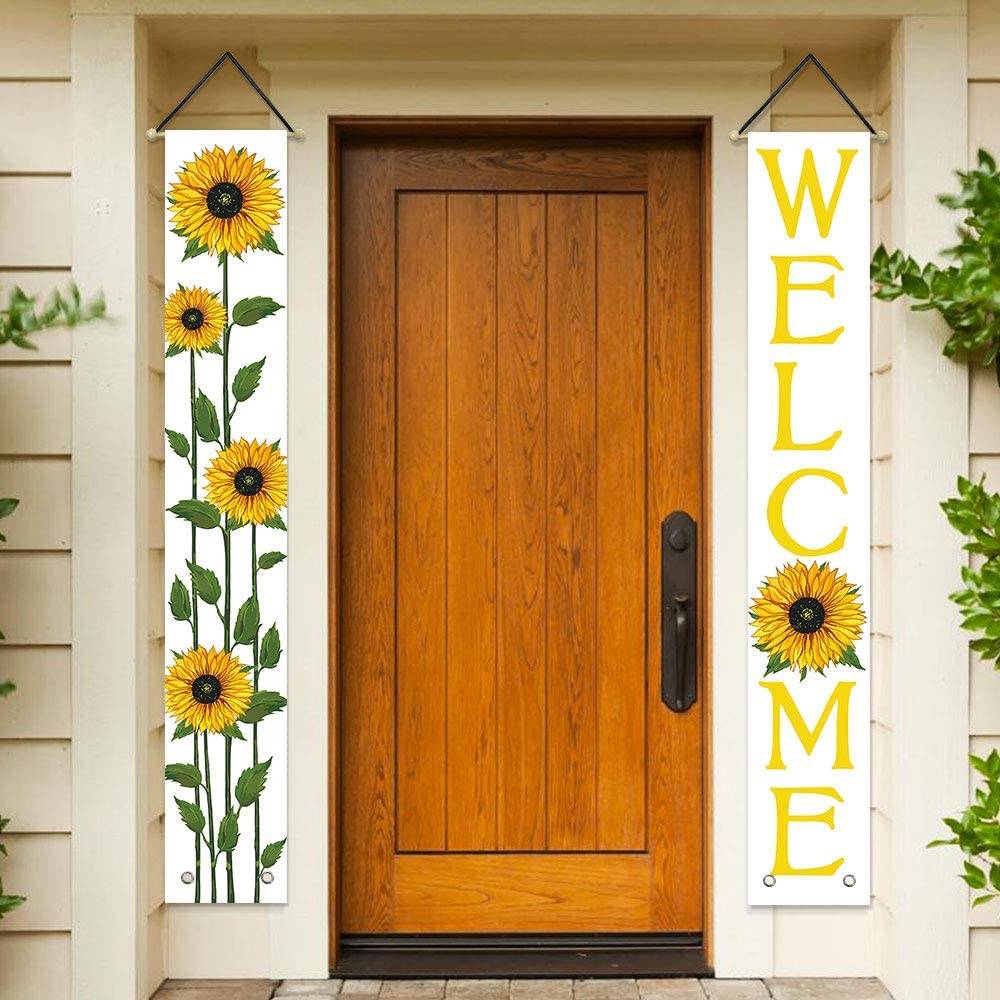 Hanging up a banner flag is a clever way of dressing up your home for any occasion. So whether you are brandishing your patriotism on the Fourth of July, or just happy about the changing seasons, a banner flag will spell it out for you. It is easy to set up and also easy to stow away for another year's festivities.
Whimsical Wind Spinner and Sun Catcher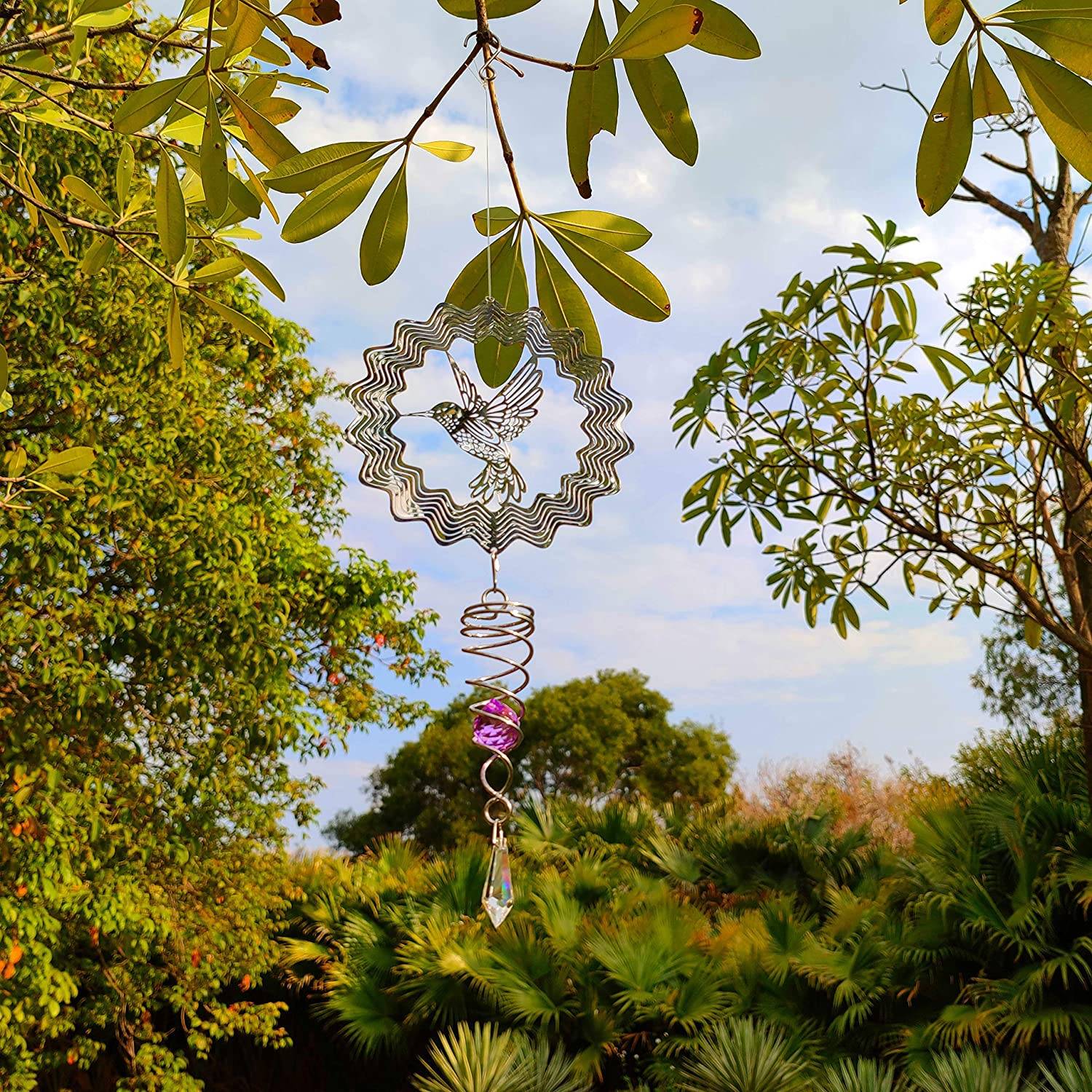 To make your outdoor area bathe in a youthful and dreamy fantasy, fasten up some charming wind spinner. Secure it on the nearby tree's twigs, or maybe by your patio's overhang. It will create a mesmerizing effect as it spins around in the breeze and sparkles under the sun.
Don't Let the Pots Touch the Ground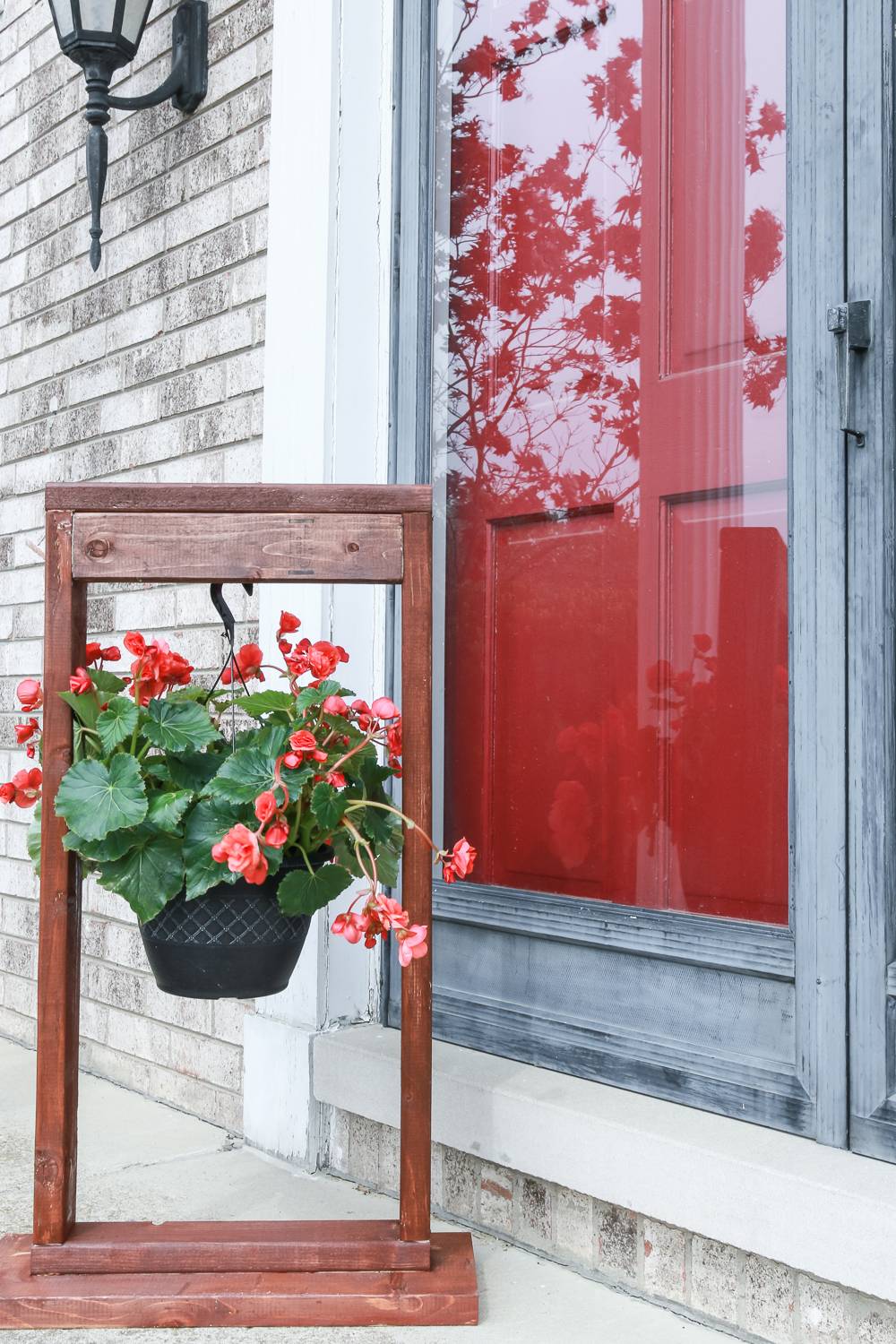 Your outdoor hanging decor does not need to be up and about in the air. Sometimes you can go simple and minimal with a plant stand. Take a look at this rustic polyurethane-coated stand. It makes the porch more playful by highlighting the planter in a unique way of presentation.
Not Your Usual Rustic Pendant Light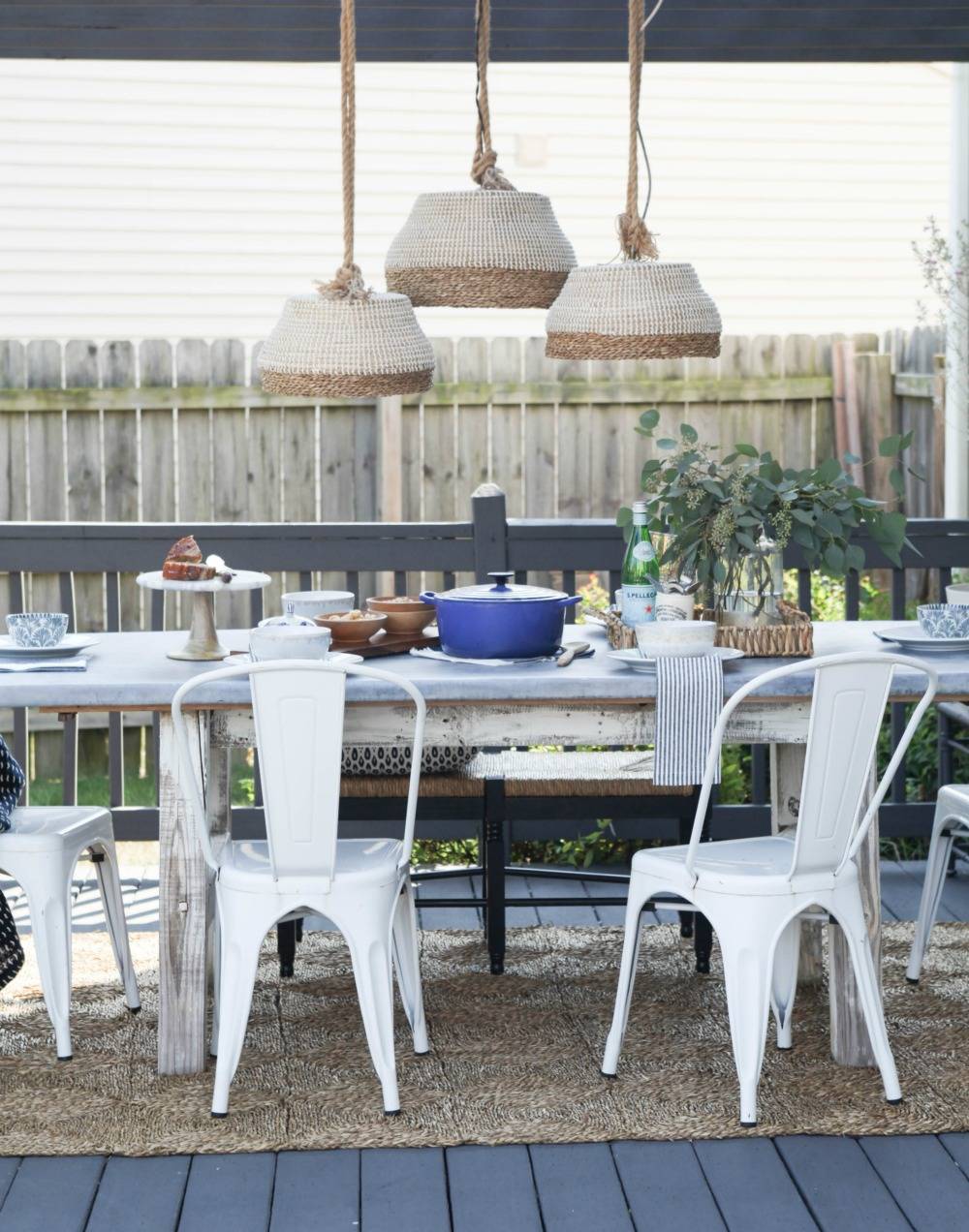 Decorative lighting is our go-to outdoor hanging decor for all occasions. They are functional, they have characters, and they come in a wide array of motifs to fit your home. Case in point? These rustic woven basket pendant lights adorning this outdoor dining area. It makes a great focal point of interest the whole day around, even with the lights turned off.
That Wall of Faux Plant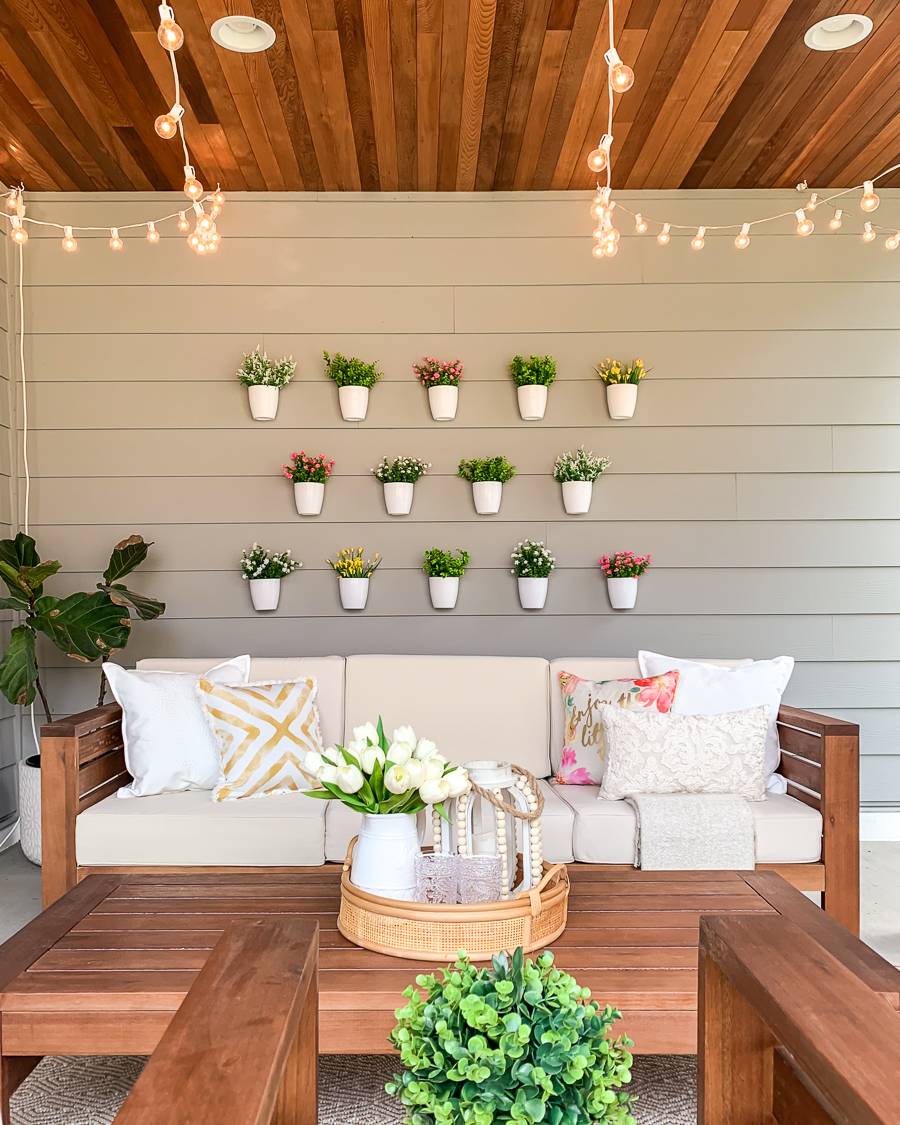 Maintaining plants can be a bit tedious, especially the outdoor ones. If you do not have the time for tending it, you can still give your home a floral flair with faux flowers. But instead of pooling it in a vase somewhere, why not drill pots on the wall? This clever outdoor hanging decor is another eye-catching ornament to consider. It is low-maintenance, by the way.
Mandala Pattern by the Fence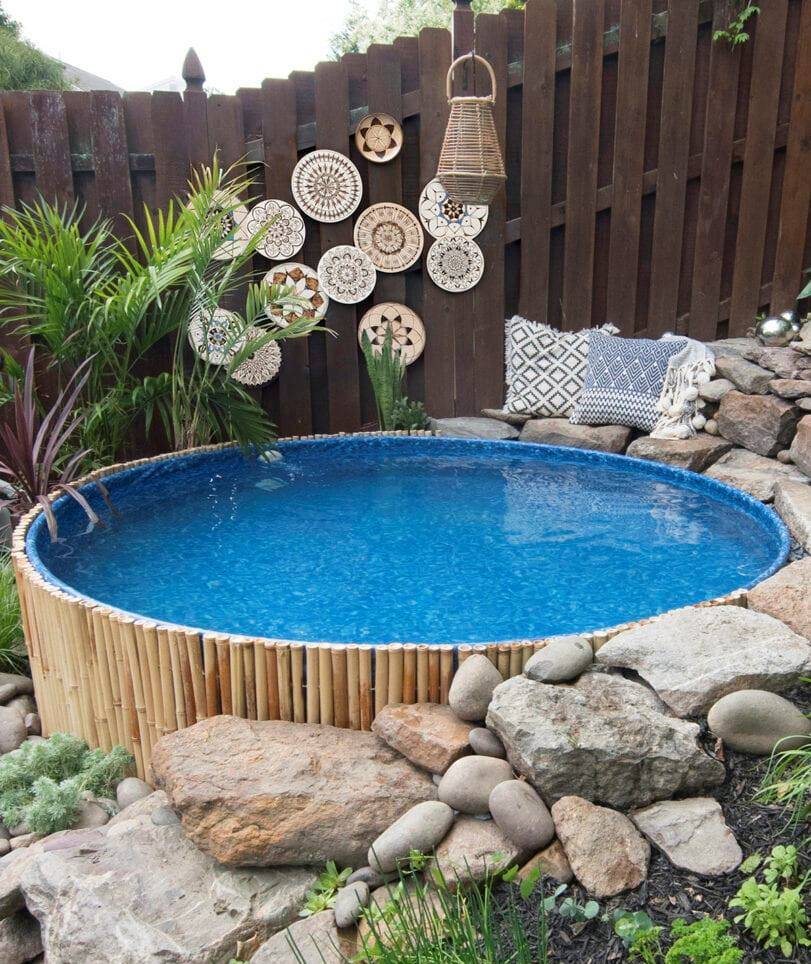 We do pretty much anything we can to turn any drab area in our home into a stunning corner. But it seems that we always neglect something that has a decorative potential – the fence. The outdoor hanging decor is another design idea that you can do to your fence aside from just painting it. Here are some hand-painted wooden discs in Mandala design to get you started.
DIY Your Own Chandelier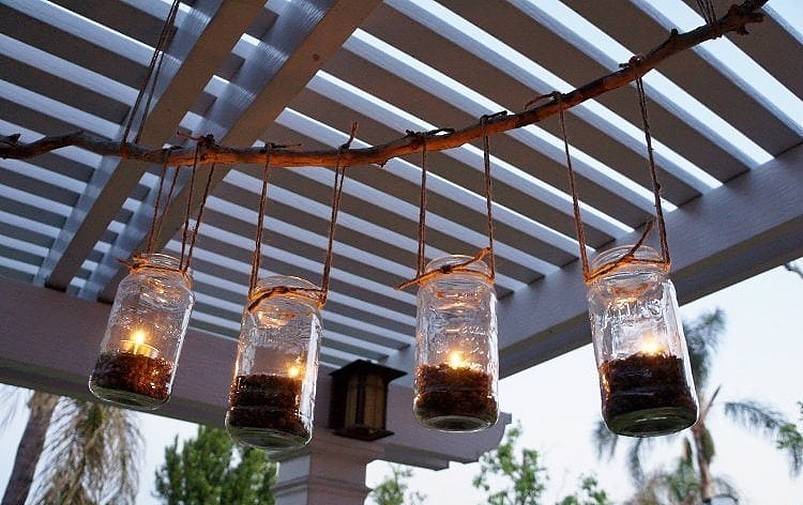 Do you want to get crafty with your outdoor hanging decor? Then clean out those mason jars, string them with twines, stash some tea lights and recreate this romantic chandelier. The contrast between this modern patio and rustic mason jar chandelier is just impeccably stunning.
Breakthrough Plant Chandelier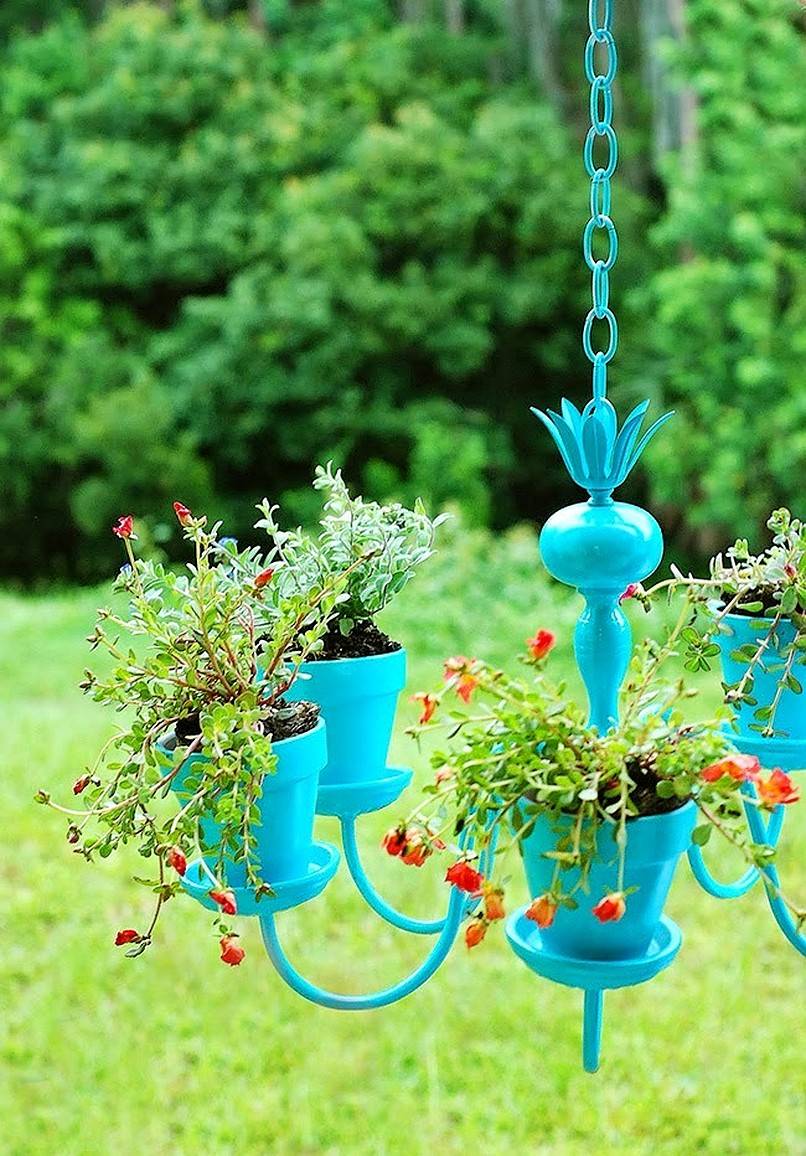 Loosen up your outdoor atmosphere with innovative outdoor hanging decor. And where else will you find such an amazing idea than the stash of your throwables? So here is a chandelier that may never look good as a decorative piece in the ceiling anymore. A little spray of paint and some creativity gave birth to this spectacular outdoor hanging decor. It is designed especially for boasting your plants on the overhead level display.
Loving the Shining Shimmering Light Balls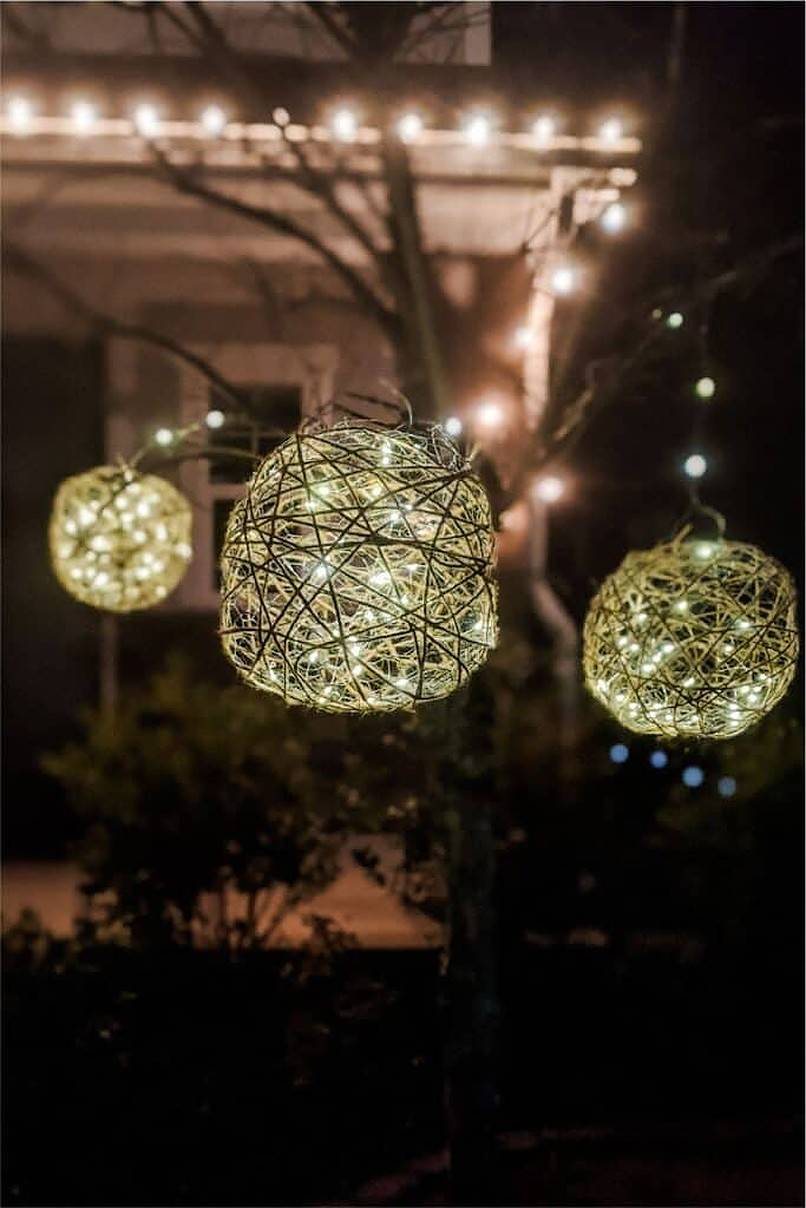 Lights are literally the star of the night, so bank on it for a sheer touch of romance in your lawn. Light balls create a magical ambiance which most of the time steals the show. The interlacing trail of chicken wire, Christmas light, and twine, for example, breed this upbeat outdoor hanging decor.
A Slice of Wood in a String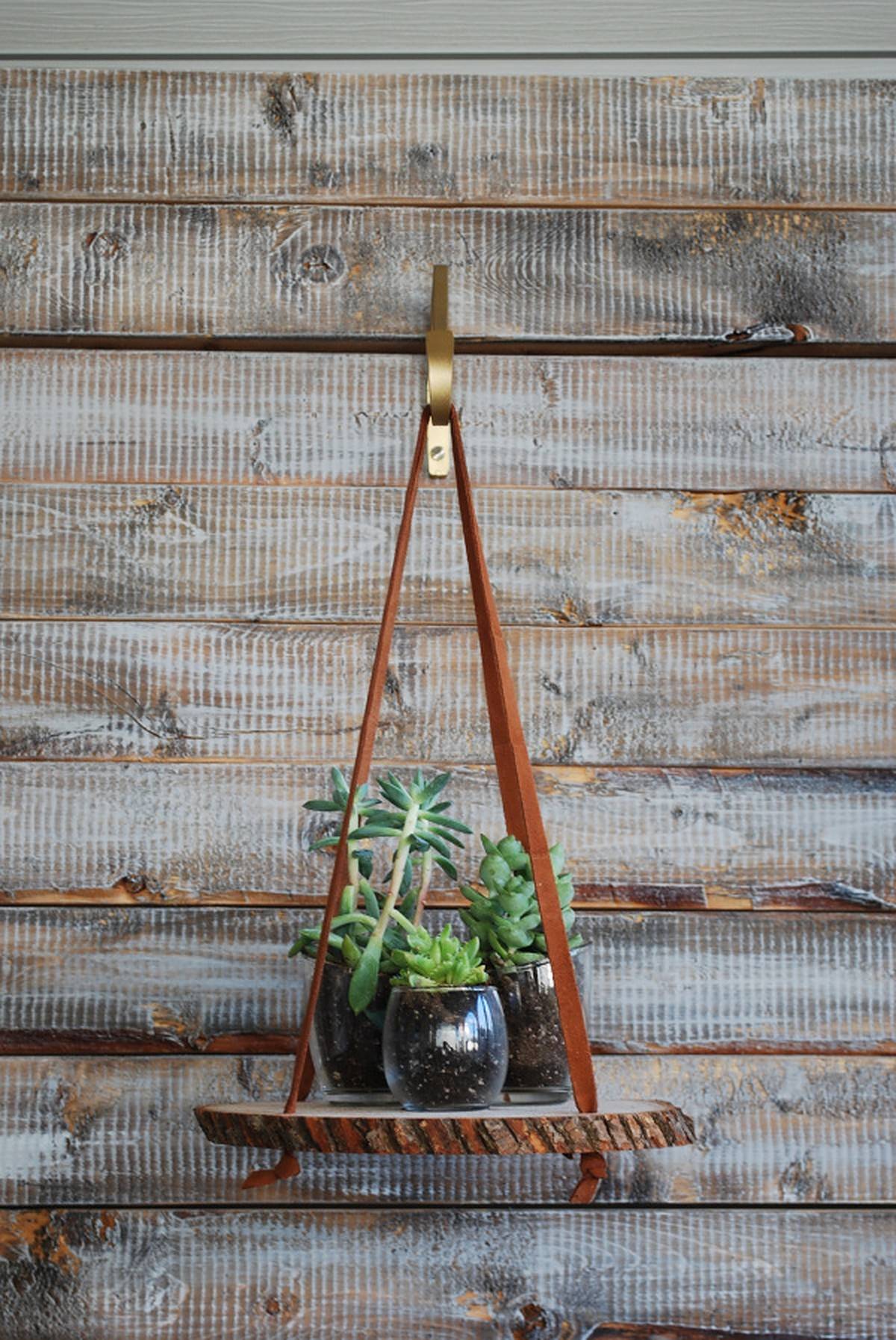 Wood slices pack a lot of vintage personalities that would still fit in whatever theme you have. That's why they are famous in most rustic or modern weddings or vintage garden themes. Take this wooden slab, which will make the outdoor lounge a fancy place for displaying small plants and succulents.
Unorthodox Wind Chimes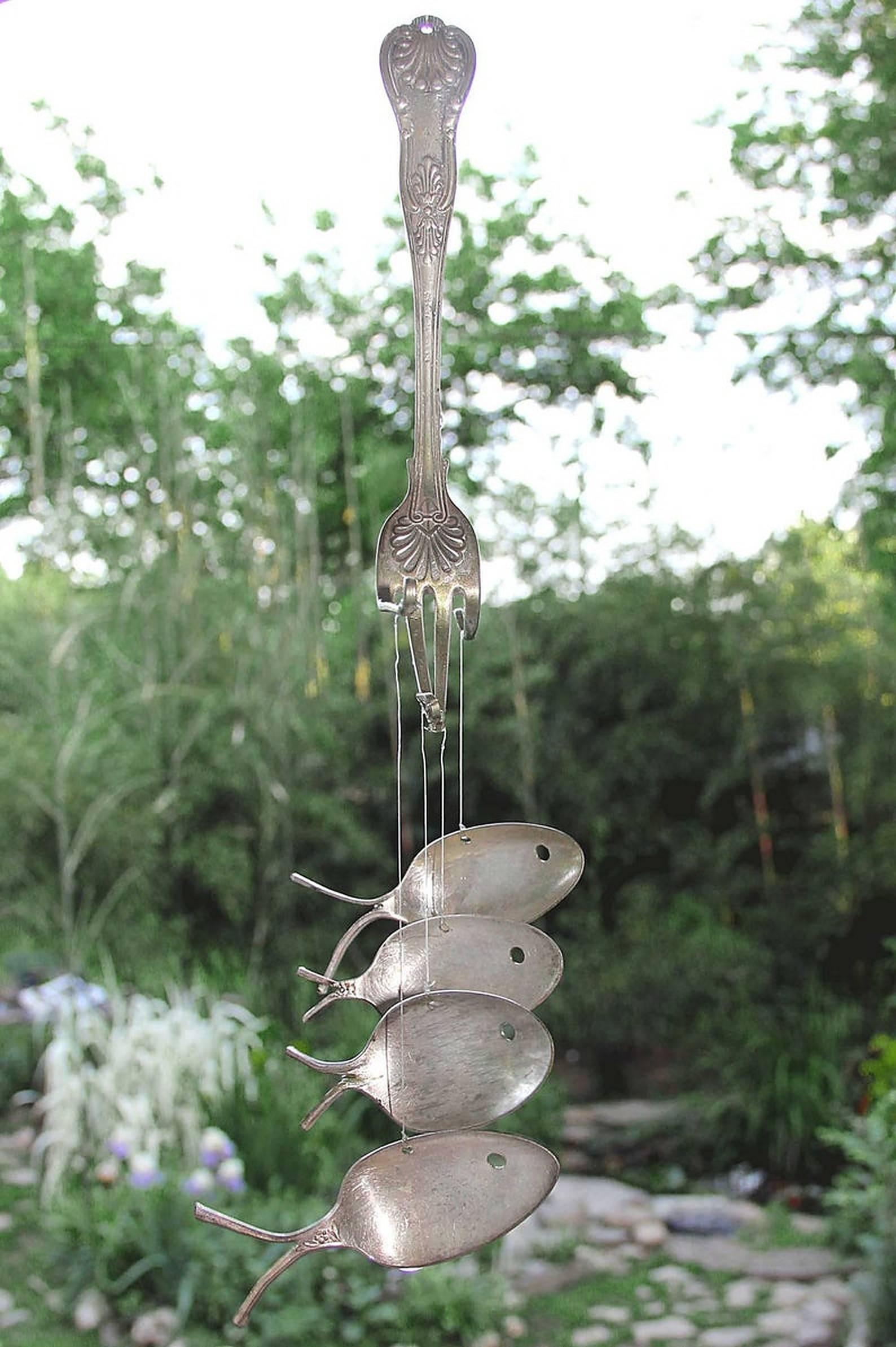 Wind chimes are popular outdoor hanging decor that purportedly dissuades bad luck. Thus, they graced most homes for almost how many centuries. Whether you are here for that or its visual and musical appeal, wind chimes indeed make an appealing hanging decor. But instead of the common aluminum bars dangling on strings, consider these unusual spoon fish wind chimes. It will surely add a playful note to your outdoor lounging area.
Take the Birdbath to a High Level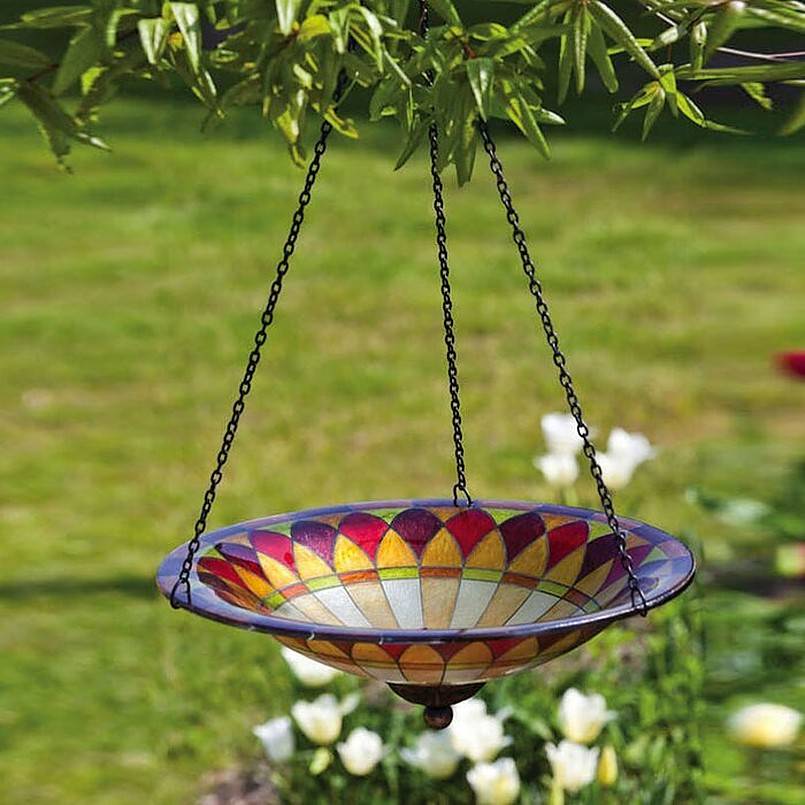 Create an artificial puddle for the birds to drink and bathe. But instead of building a fountain on the ground, you can suspend it up on high. You can DIY your own from bowls and fancy colorful china. It is inexpensive and will allow you to get more creative. Hanging birdbaths are ideal outdoor hanging decor that gives the birds a safe spot away from predators.
Takeaway
The outdoor hanging decor is a decorating upgrade that can make a difference in the yard. It makes statements and visual appeal without crowding up the floor or ground. Thus, you will have more space for other whatnots. If you have trees by your yard, it is the perfect place to start with hanging decors. The awning, wall, or even banisters are also potential places for displaying these trinkets. So, keep things sweet, airy, and fancy with artistic inspirations from overhead.