Wall hangings continue to be a top design trend! With their ability to add texture and modern style to any room they grace, it's easy to understand their appeal. Plus, there are serious DIY possibilities! Today we explore the many ways that you can craft your own wall hanging, from pieces bursting with pom poms to latch hook creations. There's even a collection of no-hassle projects that can be completed in an afternoon (or less)! Check out our roundup of DIY wall hangings, where you're likely to find a project idea to match almost anything you've spotted for sale. We're pretty smitten with the DIY Rope Rainbow Wall Hanging below (from Pure Sweet Joy). Keep reading for more of our favorites…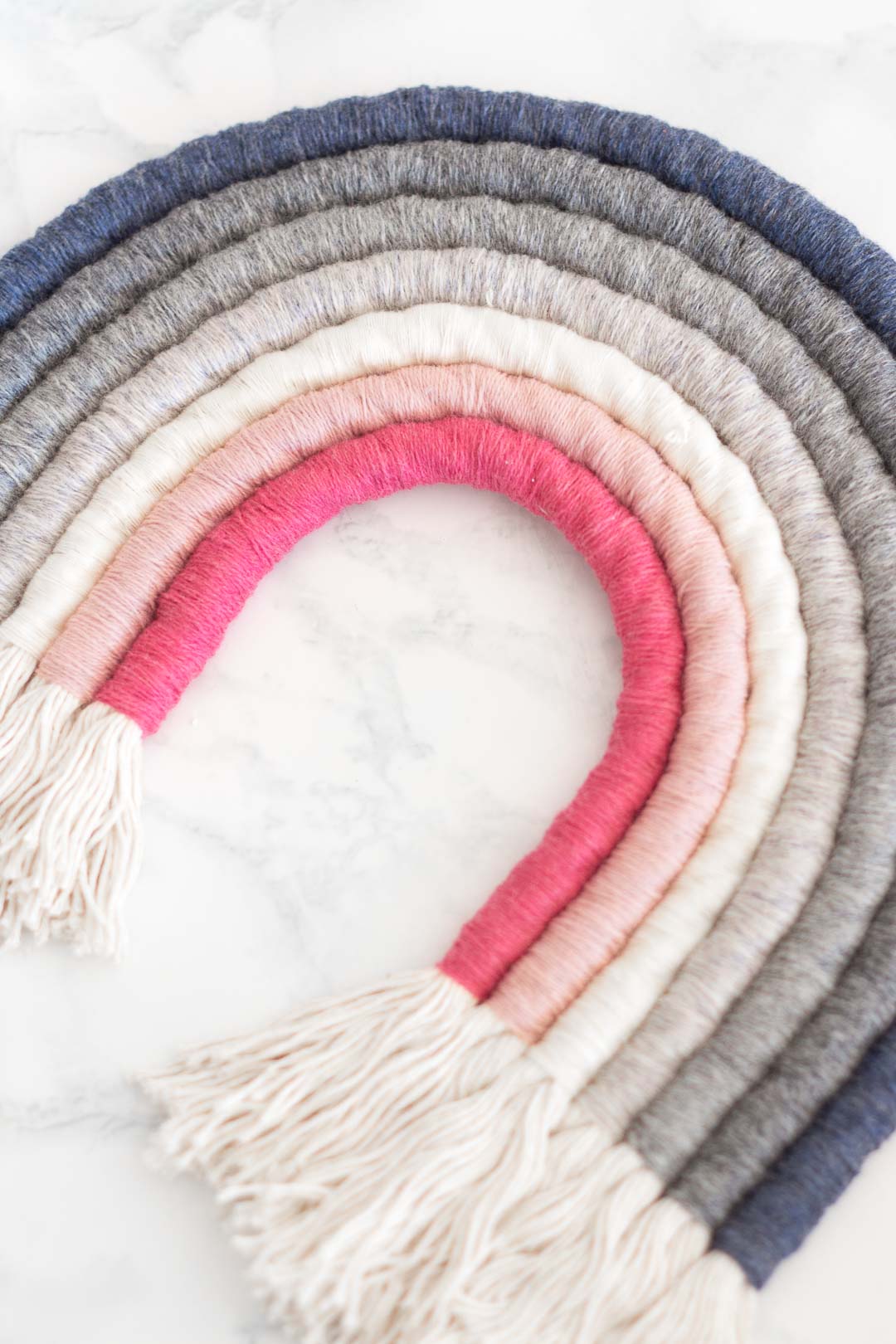 Easy Does It
When you're short on time, don't fret. You don't have to skimp on style! It can't get much easier than this modern wall hanging by Molly Madfis, featured on West Elm's blog, Front & Main. A wooden dowel, some yarn and scissors are all it takes. Strategic cutting creates a contemporary look: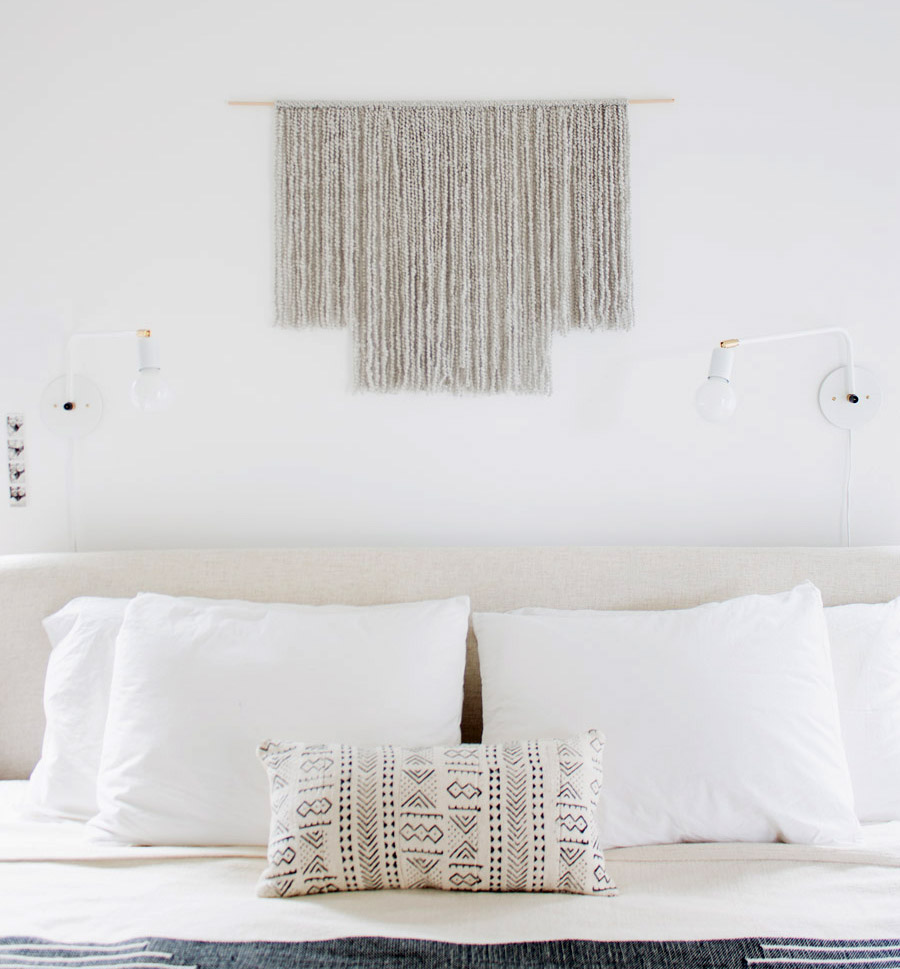 Another easy project that packs a powerful punch: this DIY Gold Ring Wall Hanging from Lauren Conrad. The more interesting the color and texture of the yarn, the better!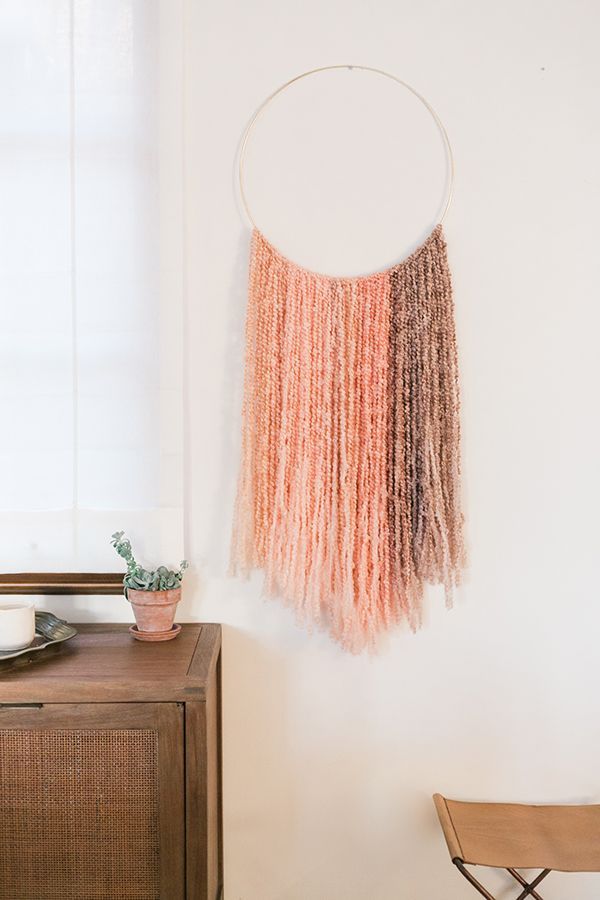 Studio DIY's No-Weave Rainbow Wall Hanging has a beautiful textured look…and you can't help but revel in all of the vibrant color! More is more here, but one thing this wall hanging ISN'T is difficult to create. Which is why we love it: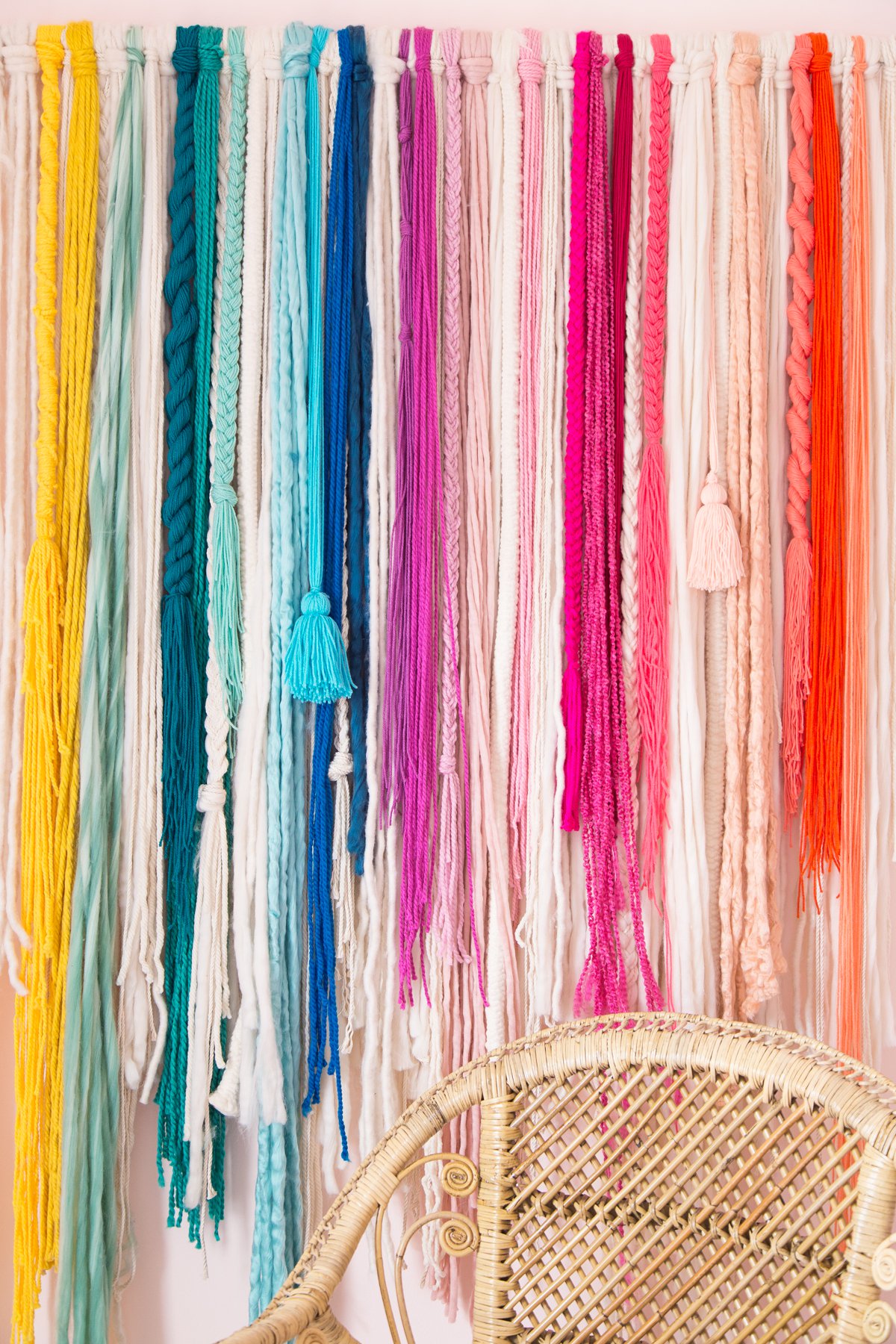 Another gem from Studio DIY: this Easy Fringe Wall Hanging! While it may look like a major endeavor, using a flatweave rug as a base/background and covering it with cotton brush fringe gets the job done in stress-free style: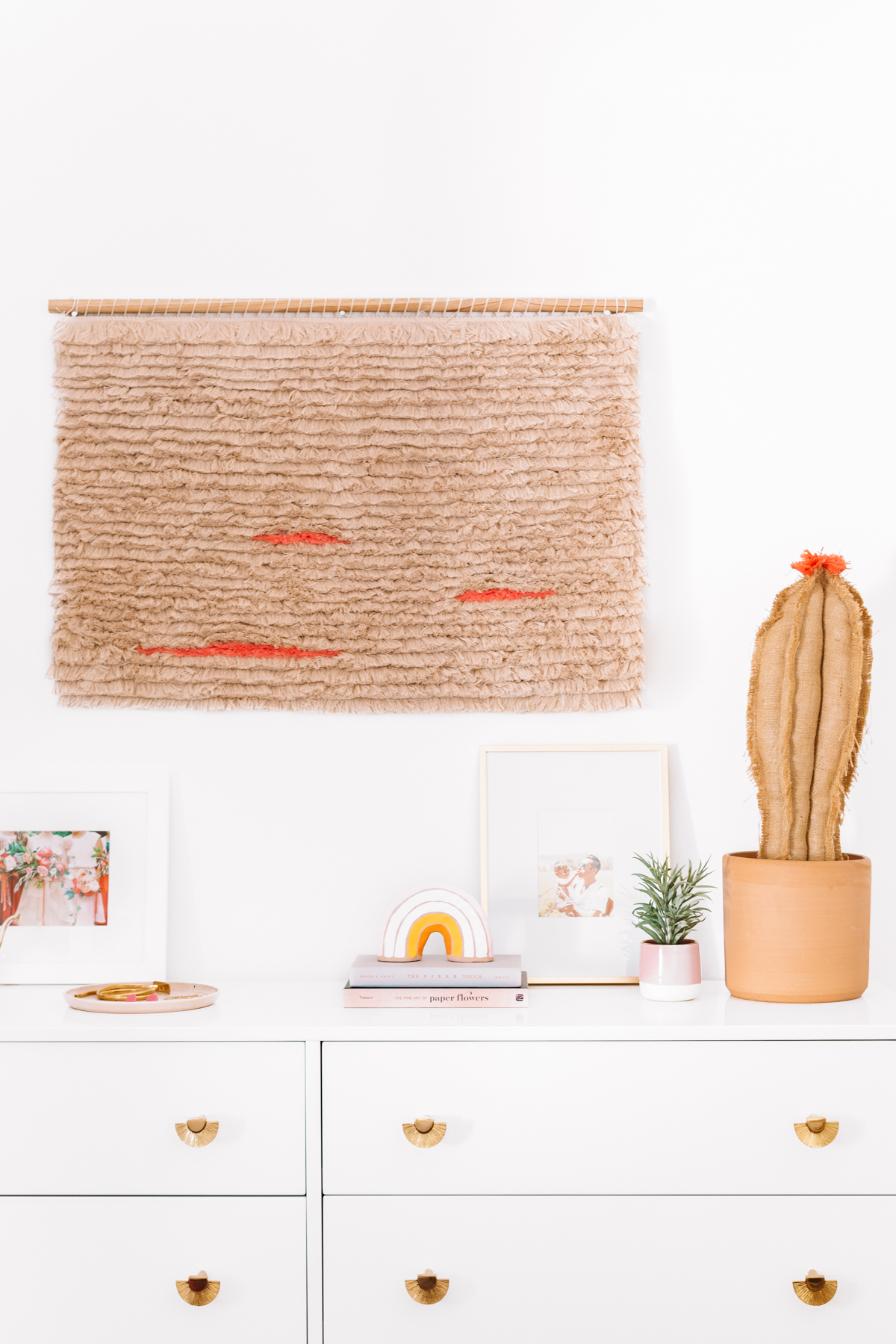 This Large Tapestry Wall Hanging from A Beautiful Mess is the perfect wall hanging hack! Instead of investing loads of time to weave your own from scratch, start with a woven leather rug, and you're set!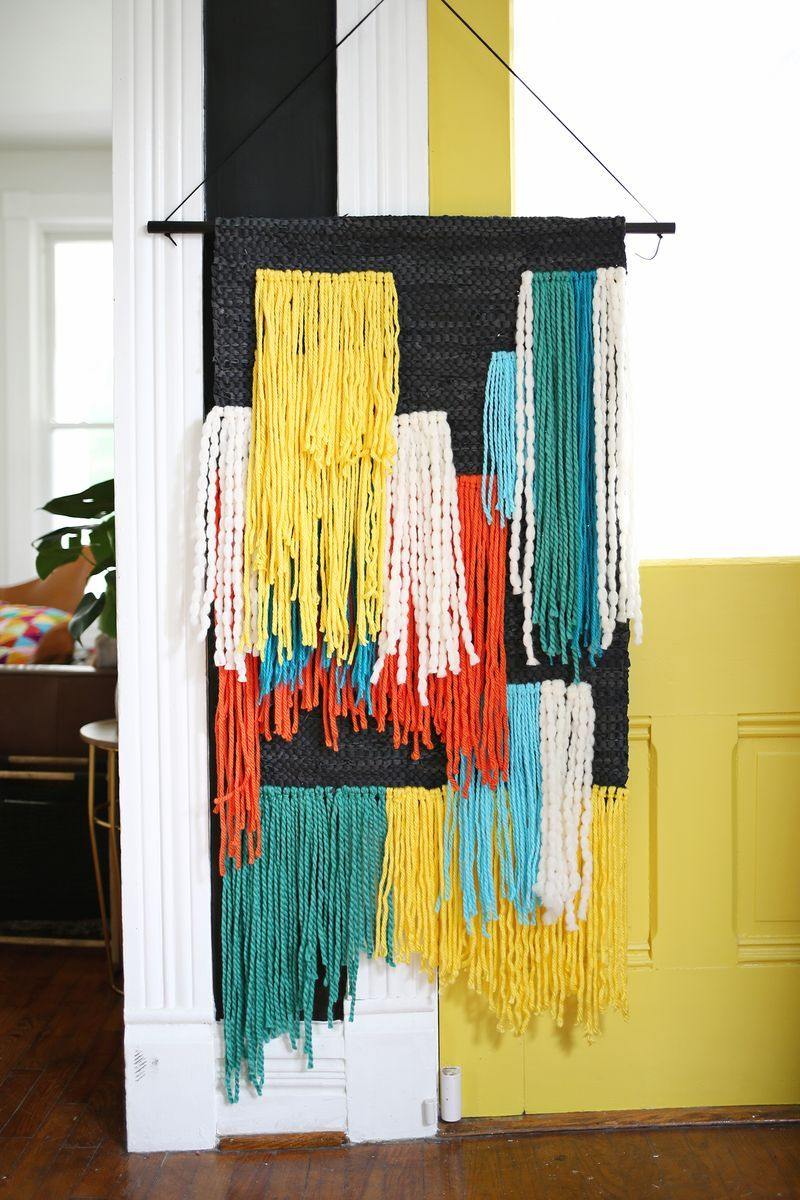 Embroidery hoops make this next project a sculptural statement, yet completing the wall hanging is much easier than you'd think. We're also loving the use of color! Once again, you can find the details at A Beautiful Mess: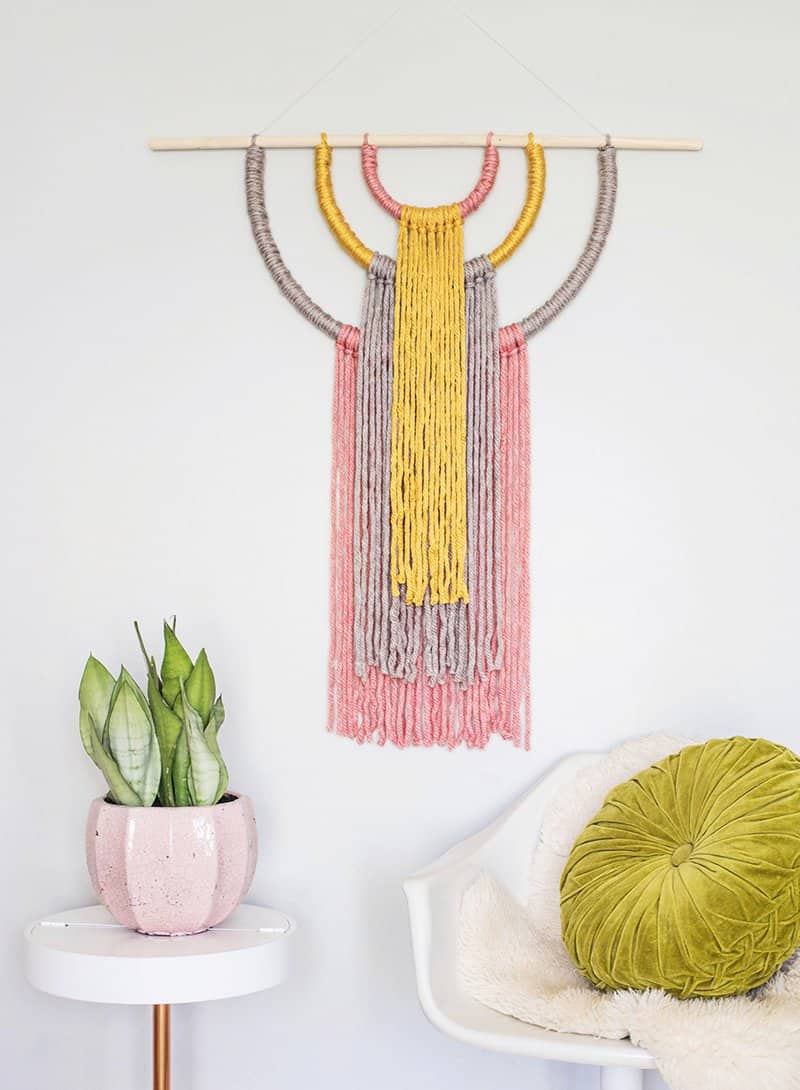 Last but not least, Homey Oh My's Modern Yarn Hanging incorporates a gold ring for a special touch. Using yarn in neutral tones such as linen and charcoal creates an earthy, contemporary feel: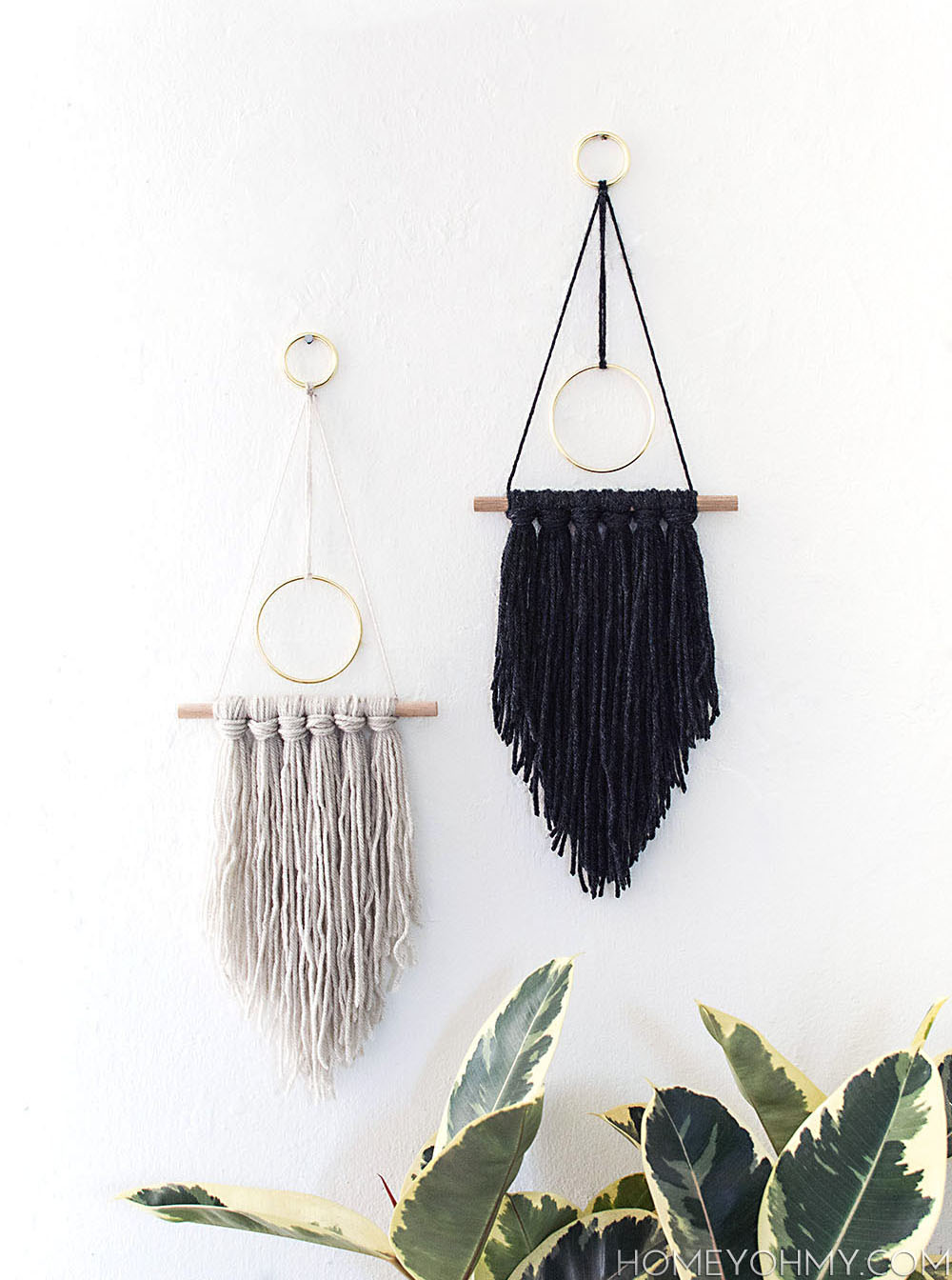 Pom Pom Power
If you're like us, you can't get enough pom poms! So why not make them a part of your next wall hanging? Pure Sweet Joy's DIY Pom-Pom Wall Hanging shows just how much texture and color can be added to your wall! A non-slip mat (or other gridded material) makes the perfect surface for attaching the pom poms. Details in the post.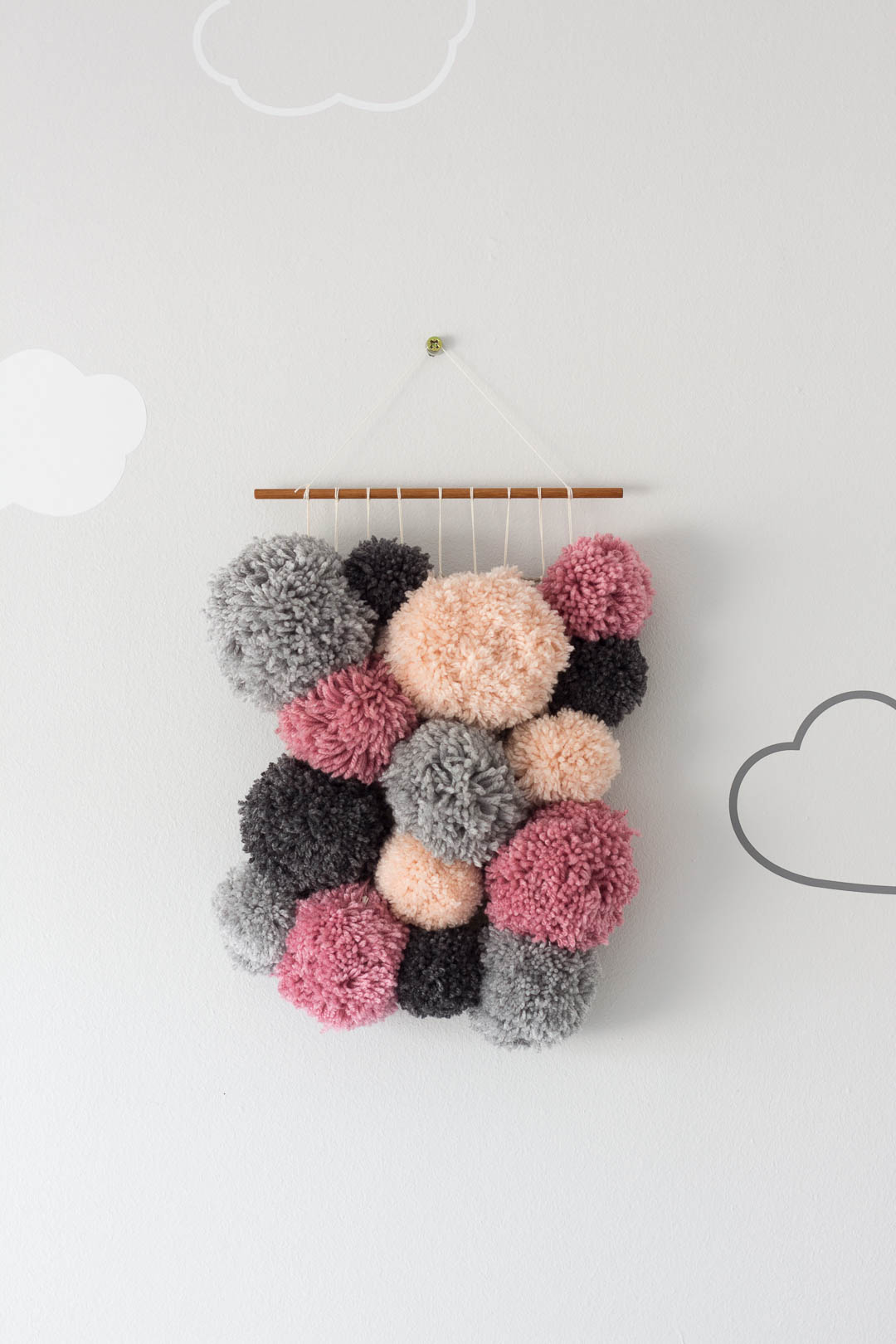 This DIY Pom Pom Wall Hang from Sugar & Cloth is the epitome of radiant style! The best part: you can make it as involved of a project as you want it to be. Make each pom pom if you're feeling extra crafty, or purchase them pre-made (from sources such as Etsy) to save some time!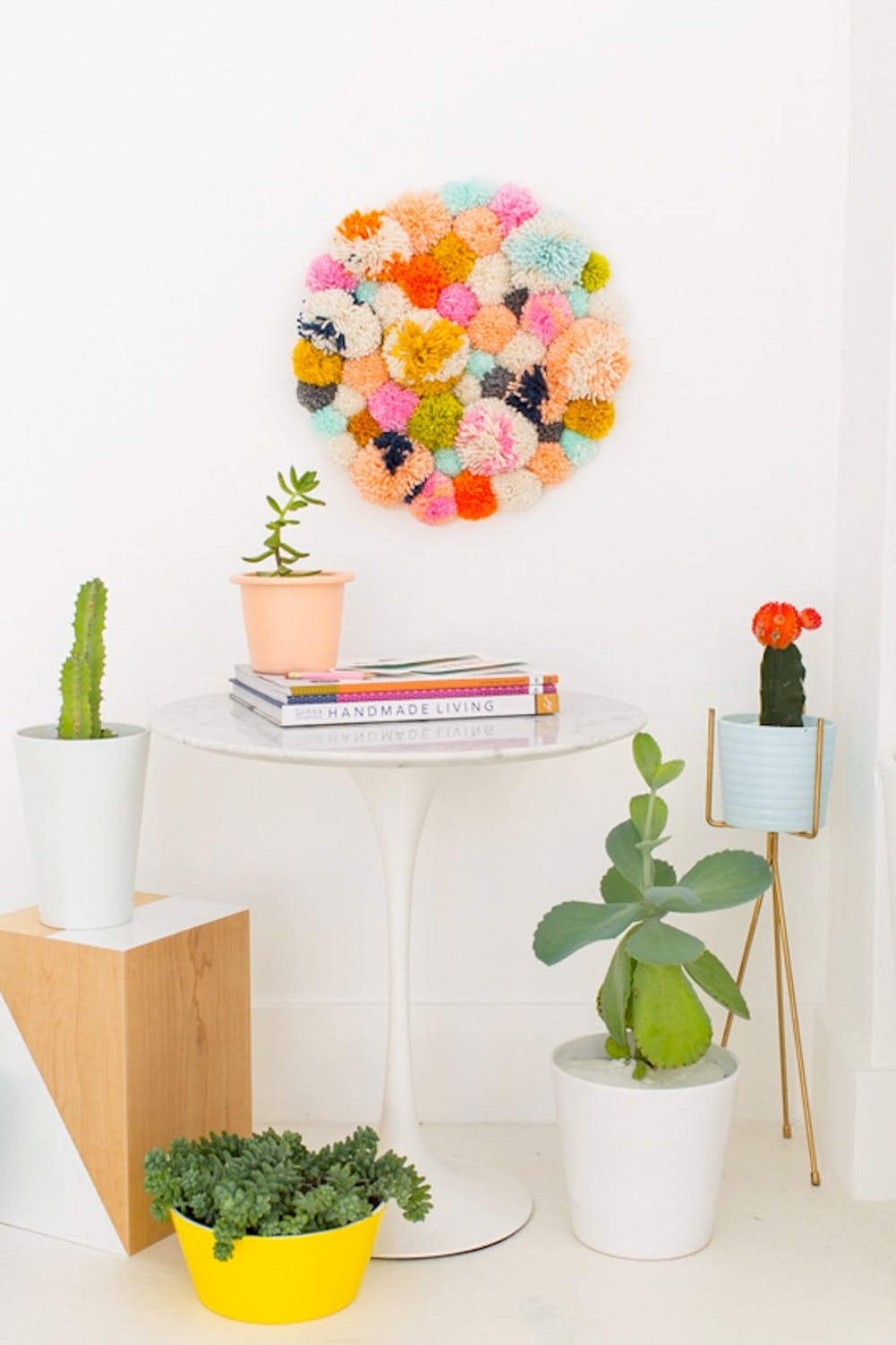 We Are Scout's Pom Pom Wall Hanging utilizes a range of neutral tones, plus some of our favorite welcoming hues (bring on the blush and lavender)! The beauty of each pom pom really stand out, as does the hint of asymmetrical style: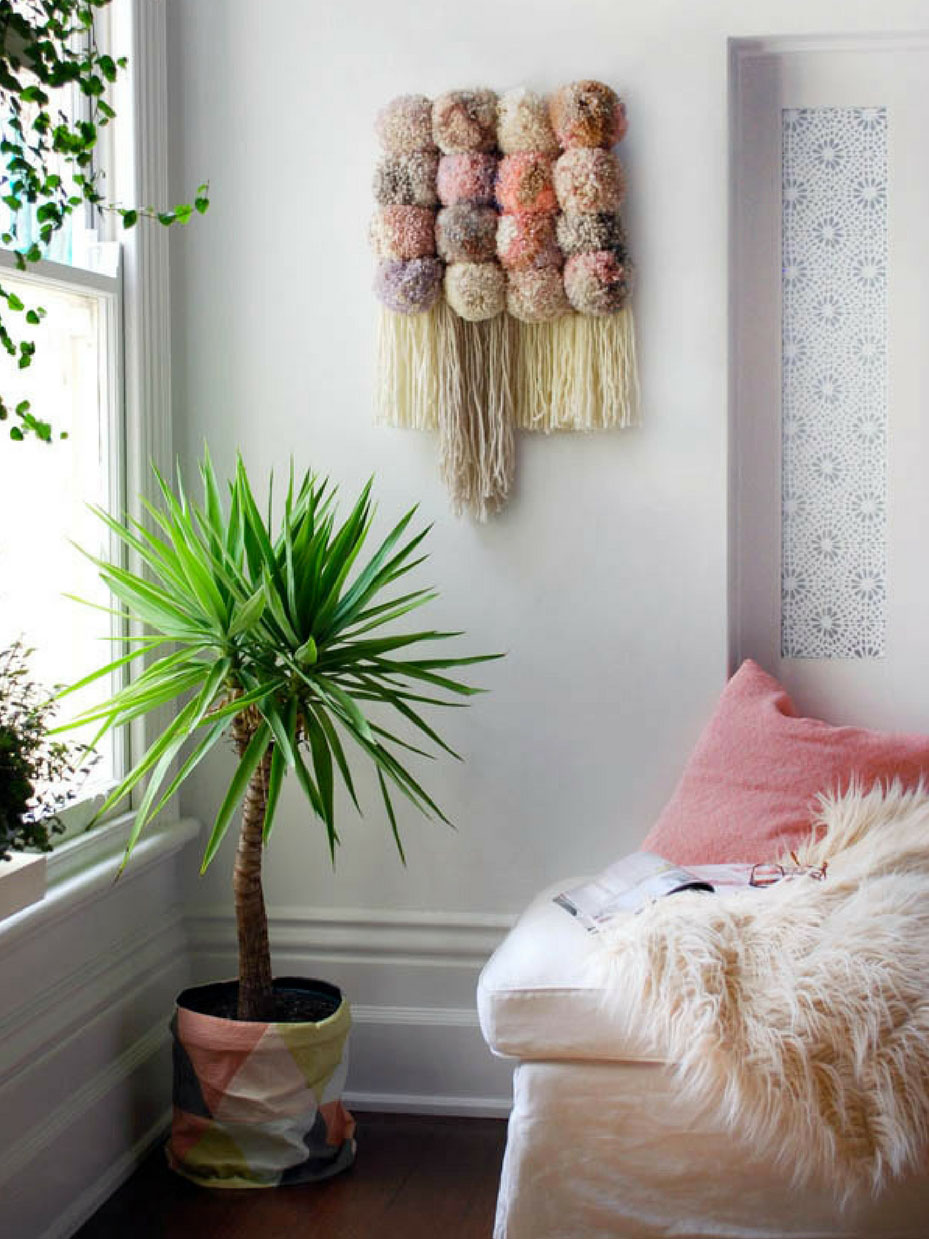 Tassel Time
Like pom poms, tassels are the ultimate crafty embellishment. No wonder they've made their way into wall hanging territory! Erin from Francois et Moi created this DIY Geometric Metal Wall Hanging using geometric shapes she found on Etsy. Tassels at the bottom create the perfect finish. Check out the full tutorial at Sugar & Cloth: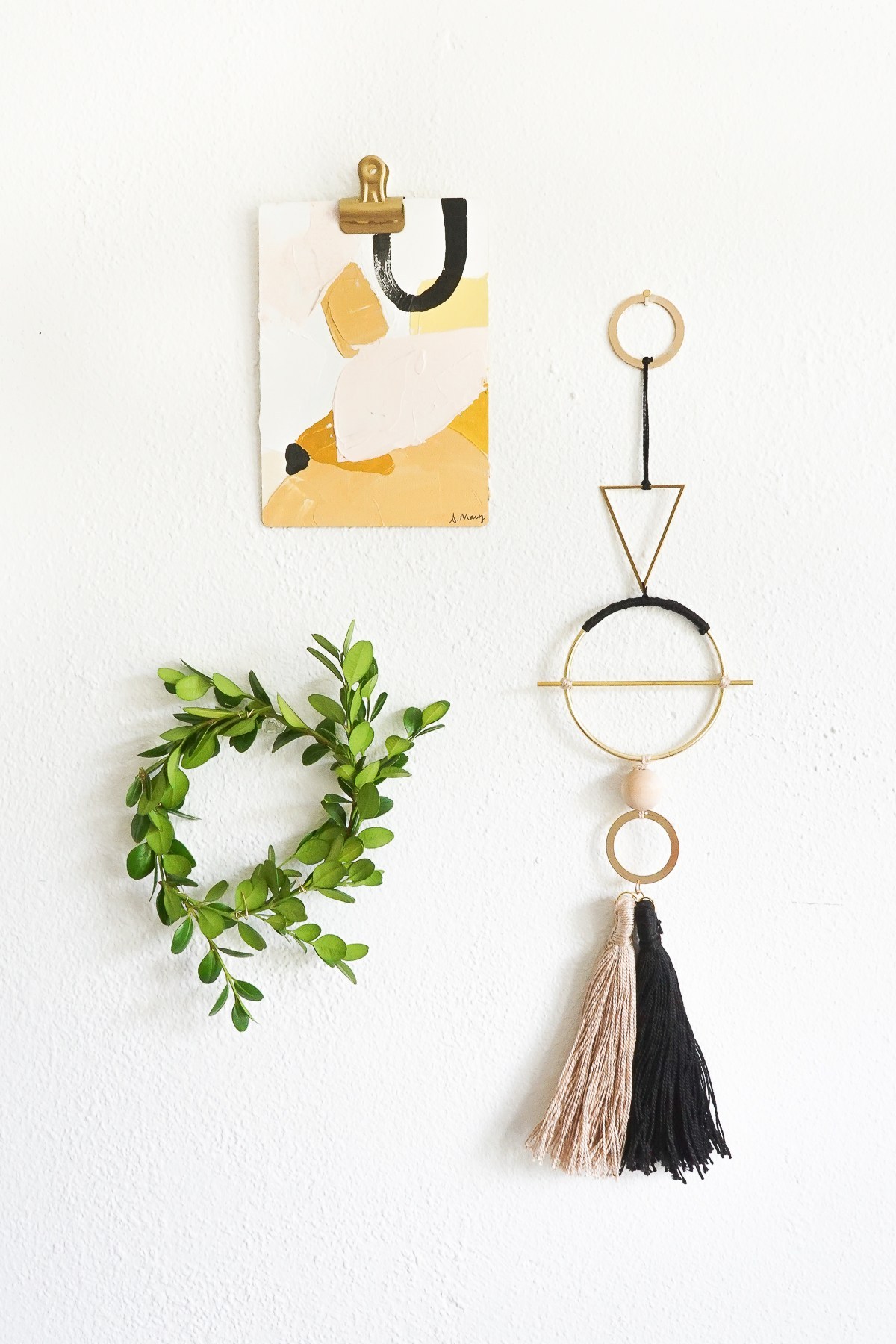 Homey oh My's DIY Modern Tassel Wall Hanging makes clever use of yarn, beads and a wooden dowel. Black paint helps achieve a monochromatic look: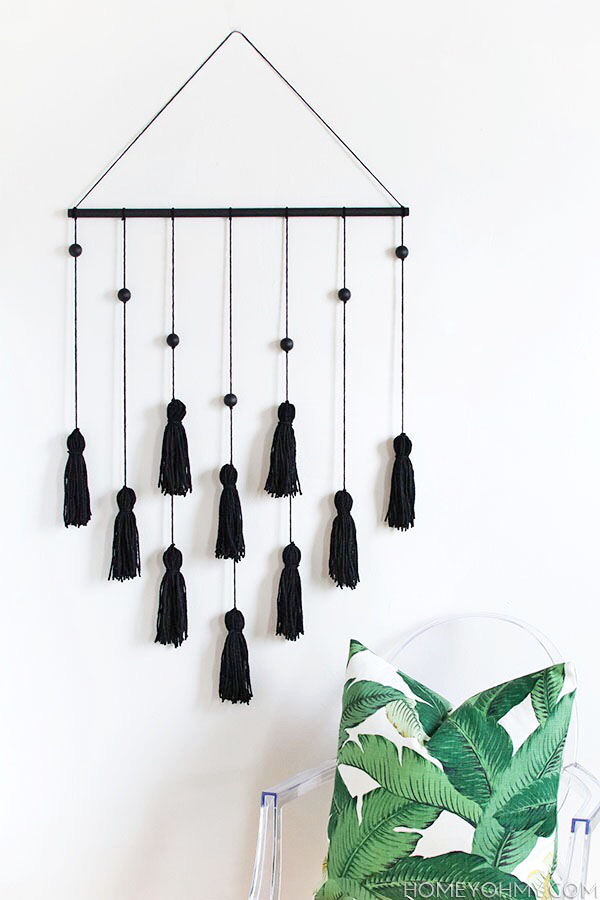 For an abundant look that piles on the texture, check out this DIY Tassel Wall Hanging from Honestly WTF. Hues such as cream, grey and blush take center stage, along with natural jute twine: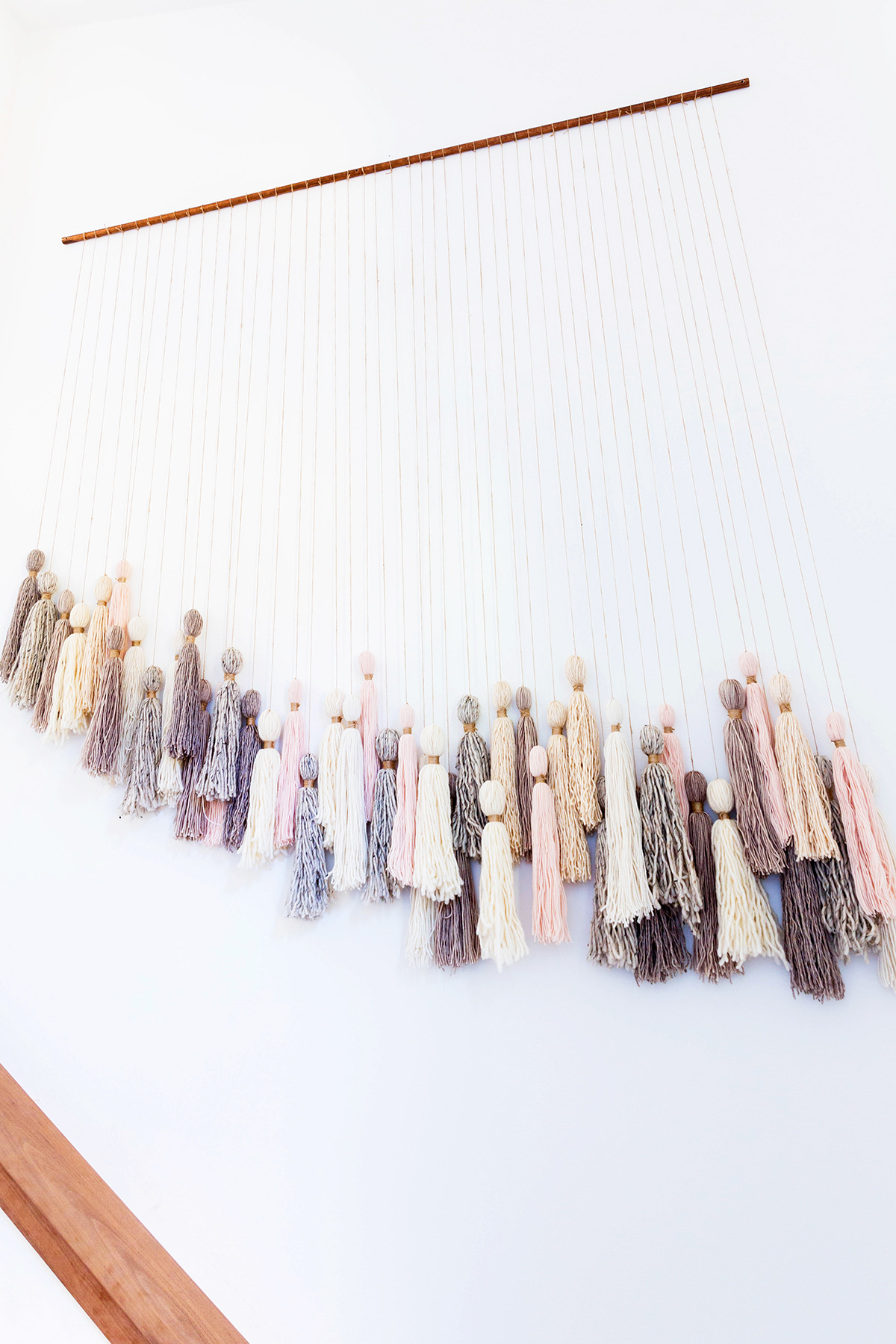 Latch Hook Love
If you like the "latch hook look" and you have a bit of time to invest, you'll love the wall hanging ideas that follow. A Beautiful Mess's Latch Hook Wall Hanging DIY features an amazing amount of texture and movement, making it a beautiful statement piece that you can customize with the colors of your choice: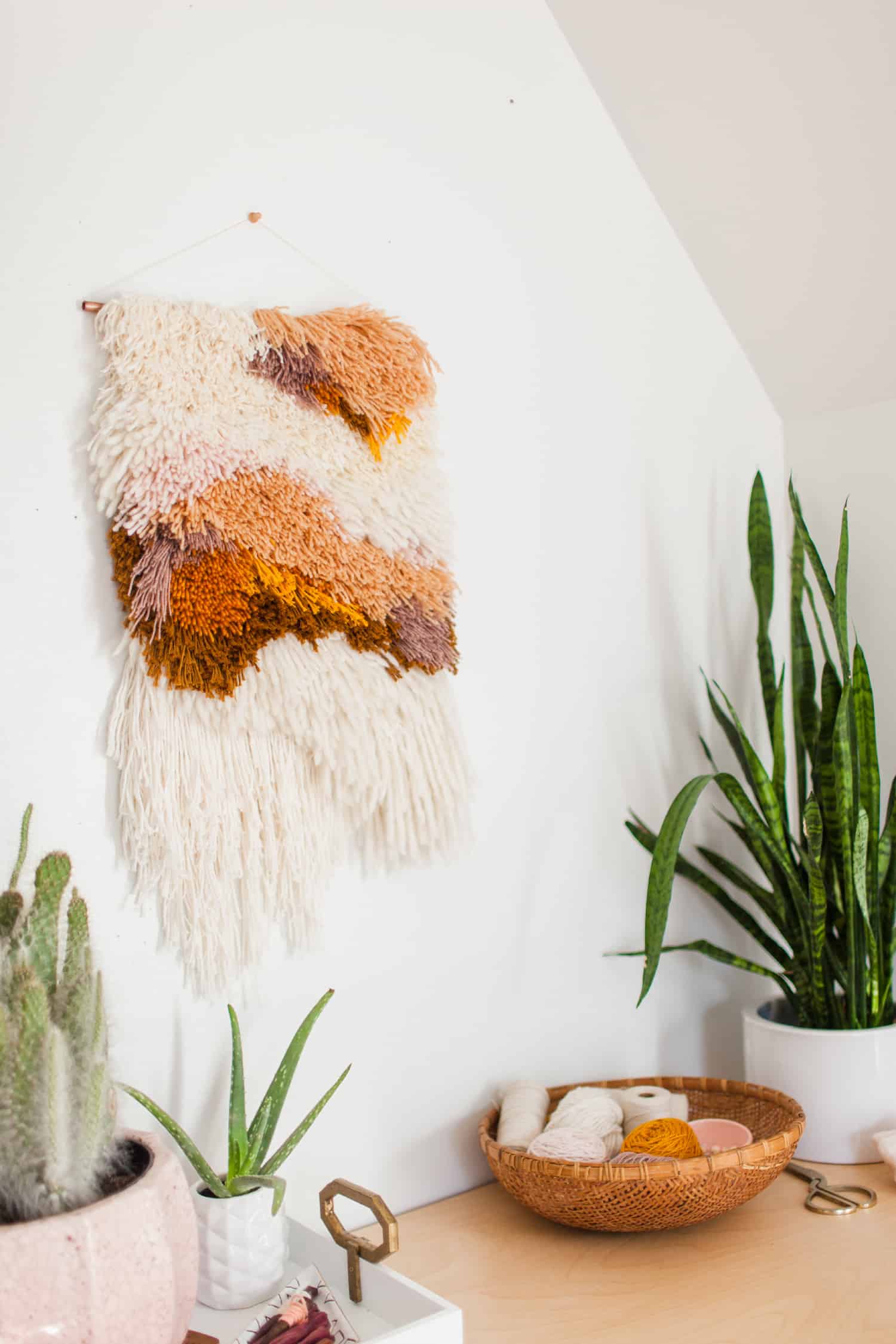 This Latch Hook Wall Hanging from Honestly WTF shows how trimming the yarn to different lengths adds interest and intrigue. A beautiful finished product, don't you think?!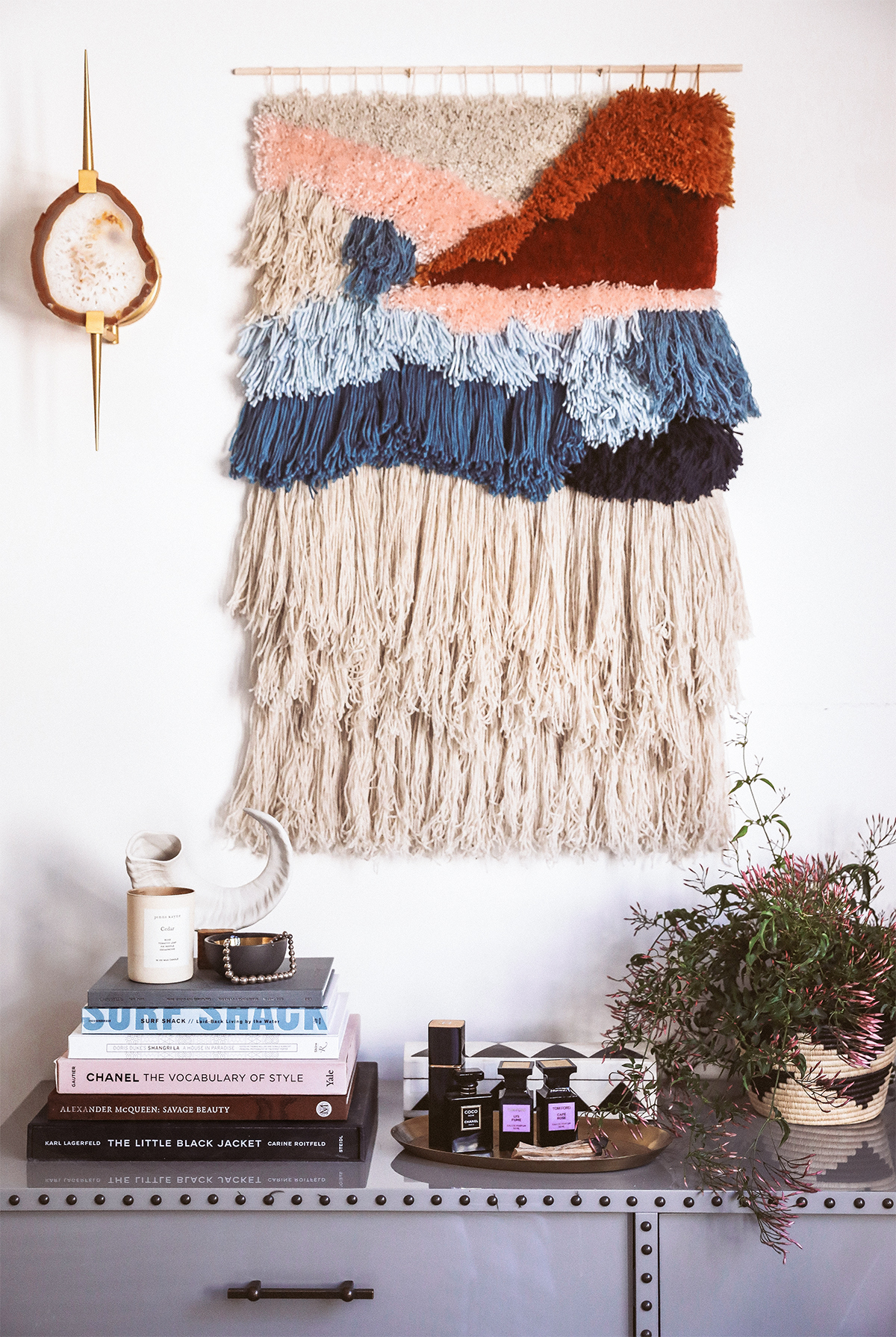 There's no denying that latch hook projects require a big dose of patience. But vibrant end results like Studio DIY's DIY Rainbow Latch Hook Wall Hanging prove that some things are worth the effort! Isn't this wall hanging the perfect addition to a colorful nursery?!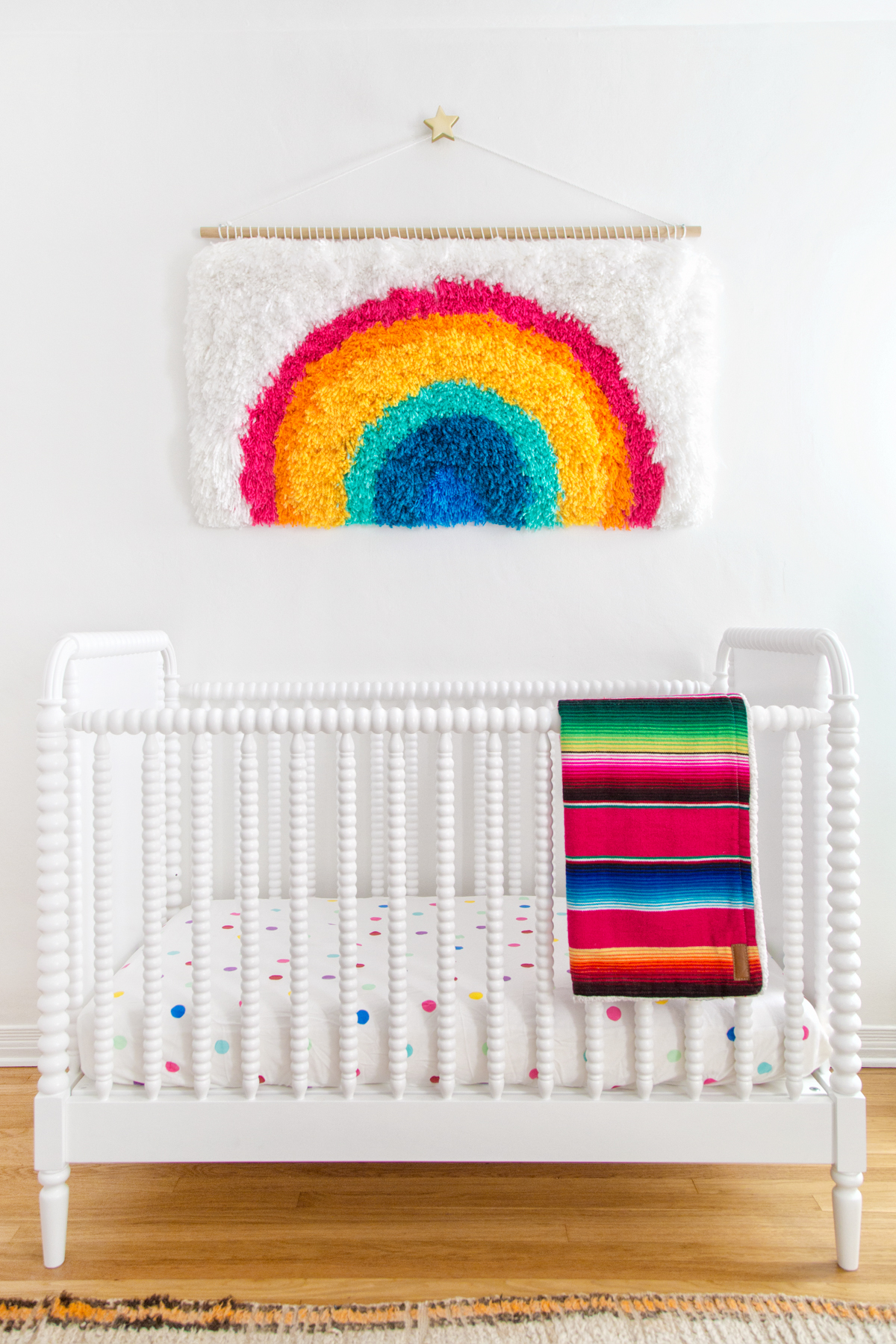 Getting Creative
This last batch of wall hangings takes a super creative turn, from the materials used to the whimsical presentation. For starters, The Learner Observer's DIY Flower Wall Hanging is a lovely way to combine faux flowers and driftwood: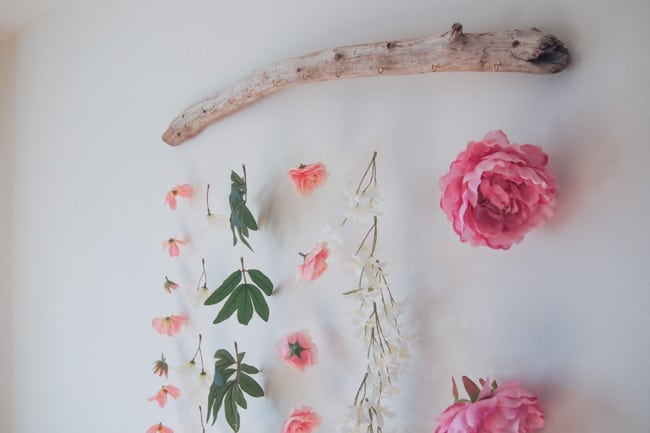 Also from The Learner Observer: this DIY woven wall hanging, created with the help of a frame and then surrounded by a frame! The ultimate statement piece: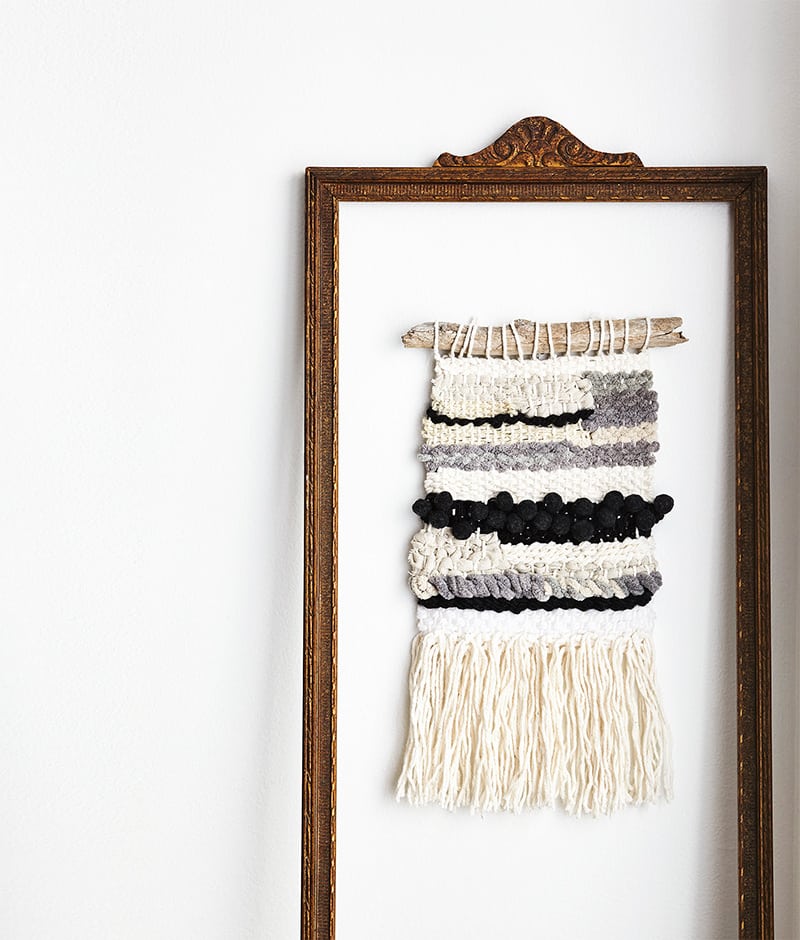 And since Valentine's Day is around the corner, it's hard to resist the magic of hearts, especially when paired with tassels. Throw in a branch from your favorite tree, and you have a true work of art! Details at Alexandra Mavis.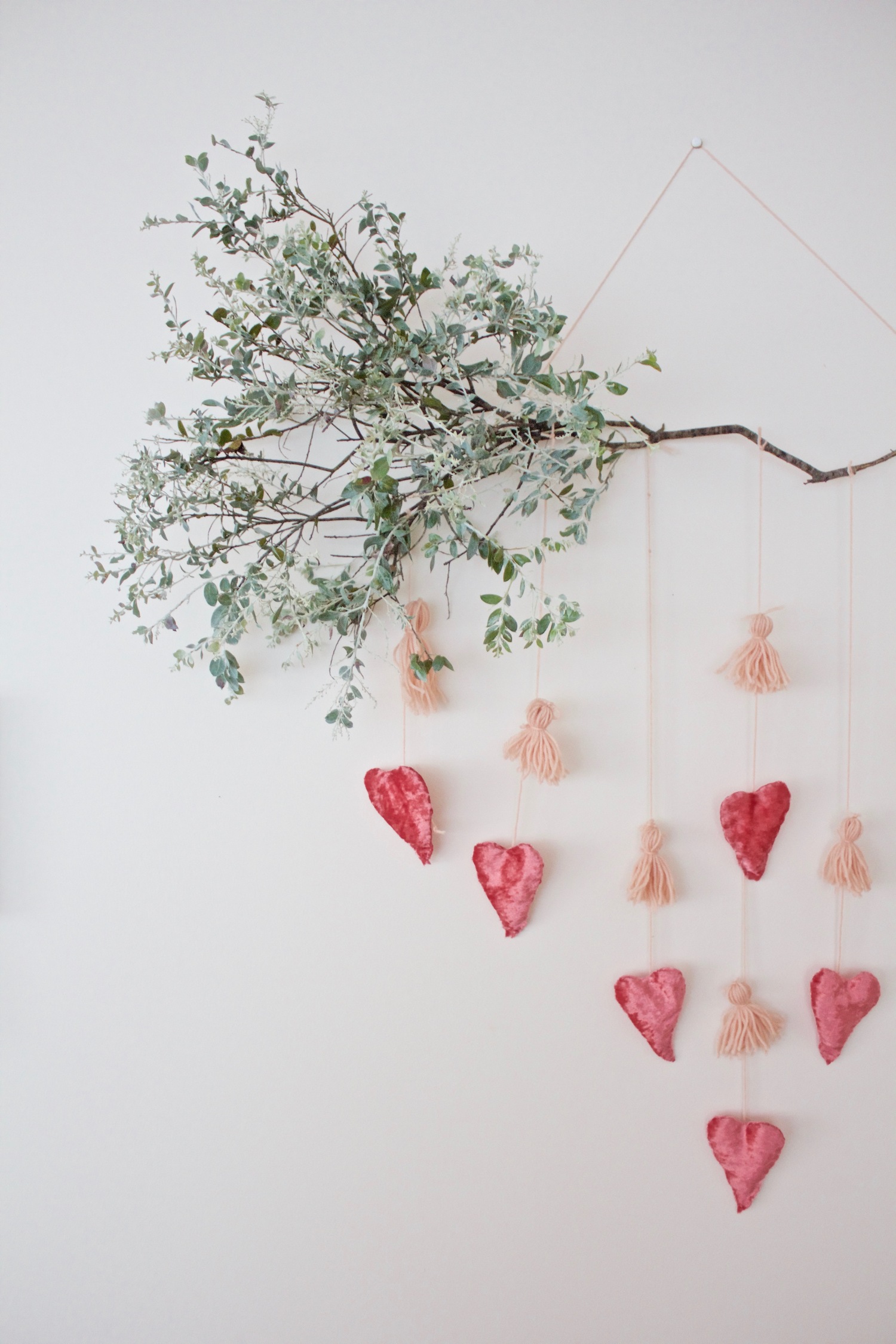 Now who's ready to stock up on yarn and get creative? Thanks for reading!
Liked the story? Share it with friends.