We're in the final countdown to Christmas! Anyone else knee deep in last-minute preparations?! This year I'm hosting a Christmas Eve party for my family, and I thought I'd share some of the festive fun today right here at Decoist. It's not about planning the perfect party, complete with the latest in tableware and swag. It's about using your holiday decor to your advantage. Let your tree and decorations set the palette for the night, and make a few strategic purchases to get the party started. Read on for photos, helpful tips, and lots of merry details!…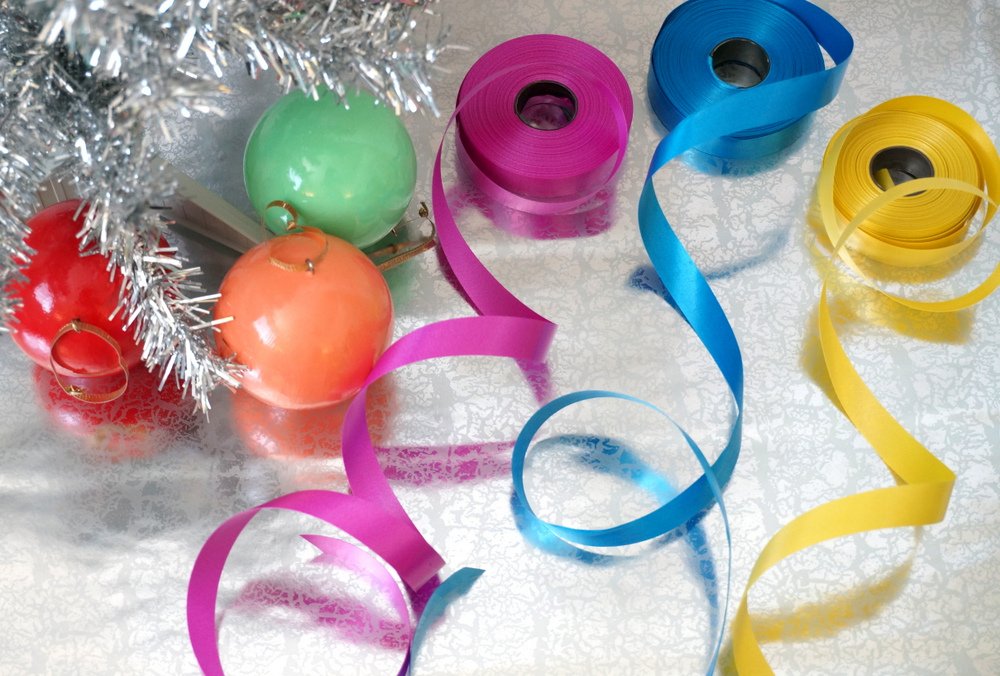 Holiday Party Decor
With the busiest season of the year in full swing, it's important to take any shortcuts you can! After all, the most important part of the holidays is spending time with the people you care about. Who's with me here?! Not to mention, Christmas Eve also may involve preparing for Christmas Day, so anything you can do to remove stress and truly enjoy friends and family is a worthy endeavor, don't you think?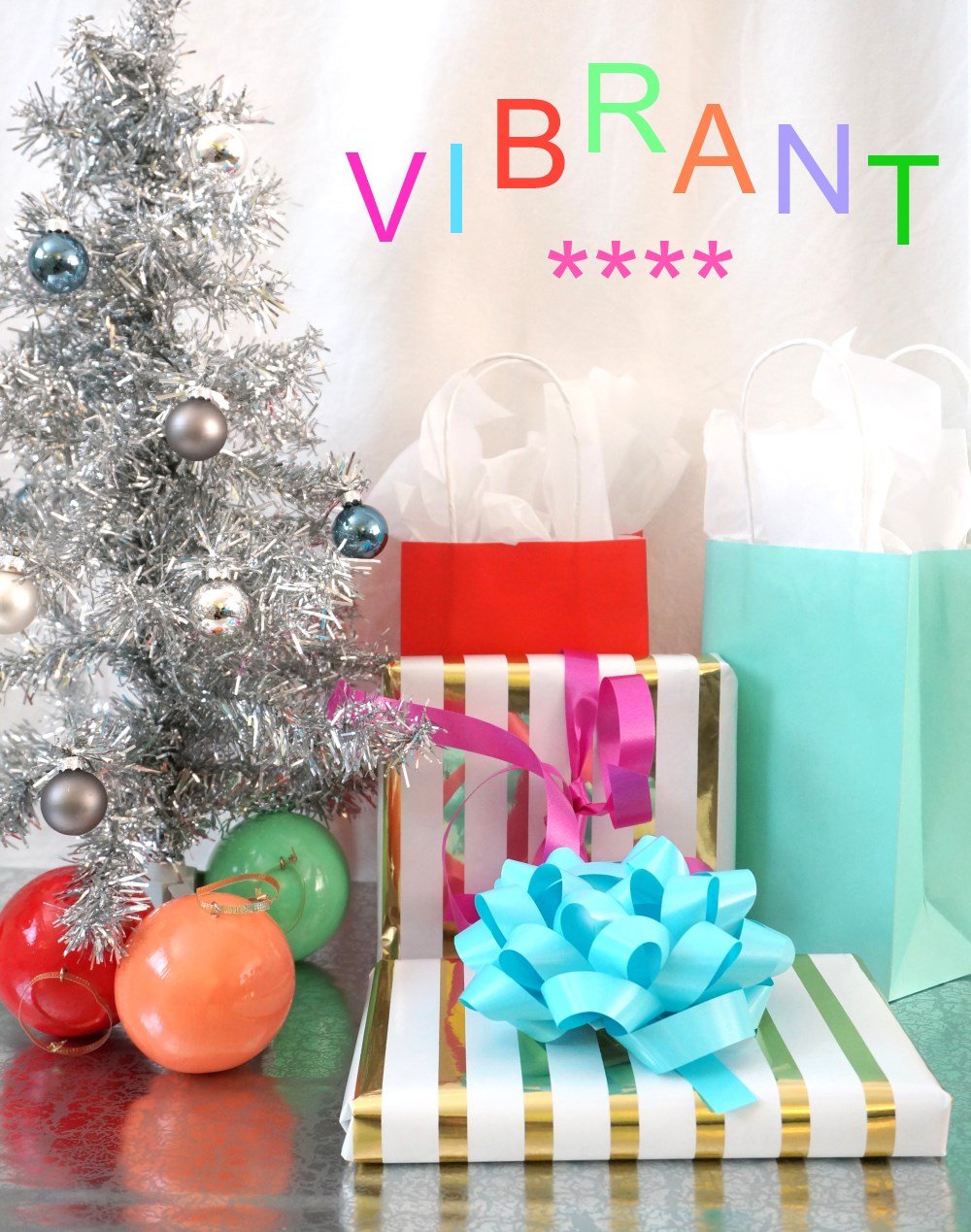 The answer: let your holiday decor double as party decor.
My holiday decor happens to be merry and bright! Cheerful ornaments in colors such as yellow, red-orange, teal and pink decorate my silver tinsel tree. It's tall and slender–the perfect no-fuss holiday focal point. The ball ornaments are super kid-friendly (aka: not glass) and come from The Land of Nod. I was going to snag more at the end of the season, but they're already sold out!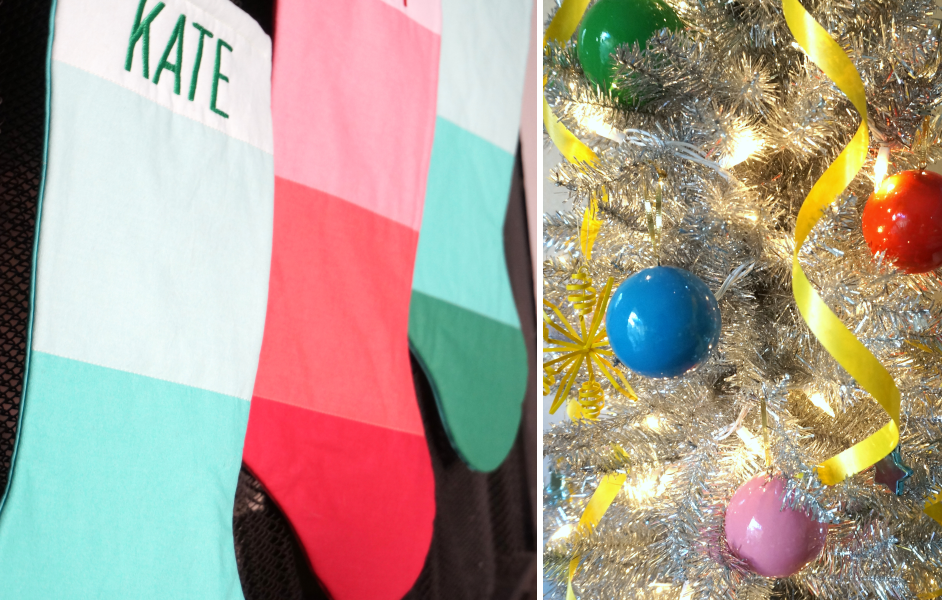 Striped modern stockings from Etsy shop Good Wishes Quilts line the fireplace, reinforcing the color scheme. Above you can see a photo montage that shares the color palette inspiration for my Christmas Eve fete.
I took my cue from the bright palette when it came to wrapping gifts. Metallic bags and wrapping paper are accented with ribbons and bows in eye-catching hues. I threw in some small gift bags in bright colors to complete the look!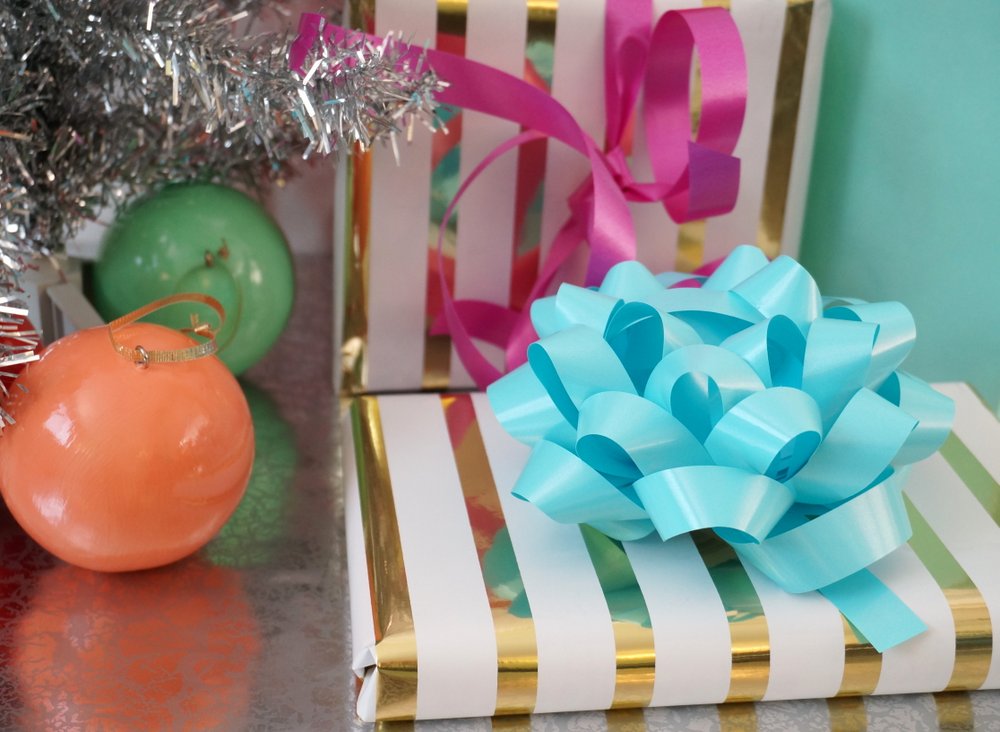 So how does all of this translate into easy party tips? Here goes:
Let your own holiday color palette be your party palette.
Try using wrapped gifts as a table centerpiece.
Combine ornaments, tinsel and other decorative items on hand to create impromptu flourishes.
It's easier than you think to pull together a festive, no-fuss party! Now on to the snacks…
Food and Beverages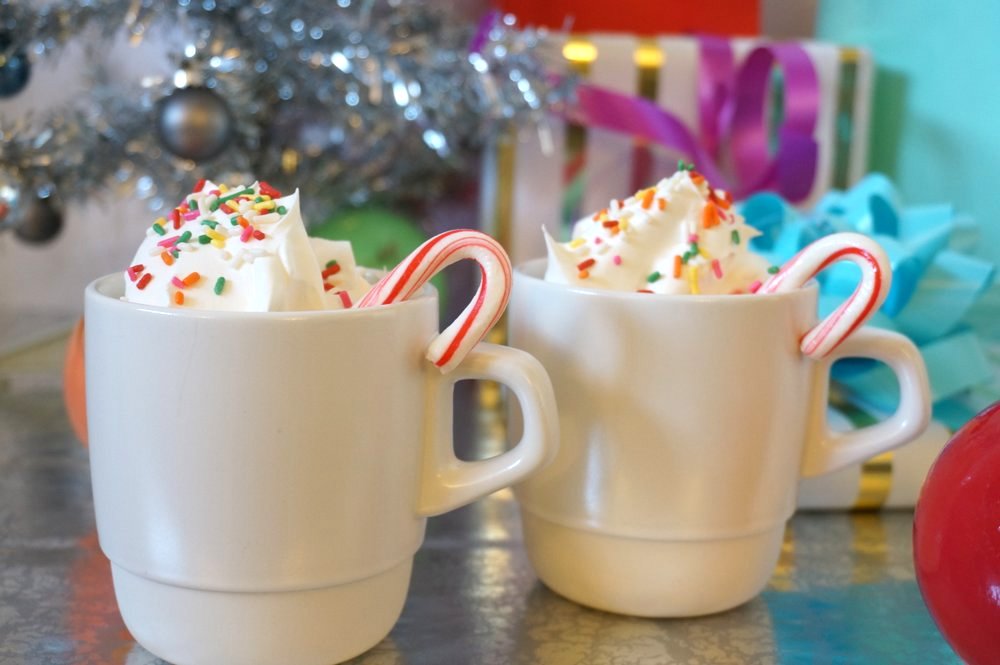 Since Christmas Eve is a time when you may be visiting with family members who aren't always in town, the last thing you want to do is be trapped in your kitchen slaving away while the party goes on without you. So don't! Here are a few tips for setting up a food and beverage situation that runs itself:
If you can get away with it, have your guests arrive after dinner for desserts and a gift exchange (rather than a full meal).
Create a beverage bar with two main festive drinks: hot chocolate and a pre-made cocktail.
Display food buffet-style so guests are in charge of serving themselves and going back for seconds.
If you can't swing the whole "dessert only" arrangement, have each guest bring one item. Potluck is the way to go, and this strategy also lends itself to a no-hassle buffet setup! If you don't want to ask people to contribute an item or they're coming from out of town, here's one word for you: catering. If your budget allows for it, it's certainly a life-saver. As an alternative, pick up pre-made items from your favorite restaurant so you can focus on the decor and hospitality.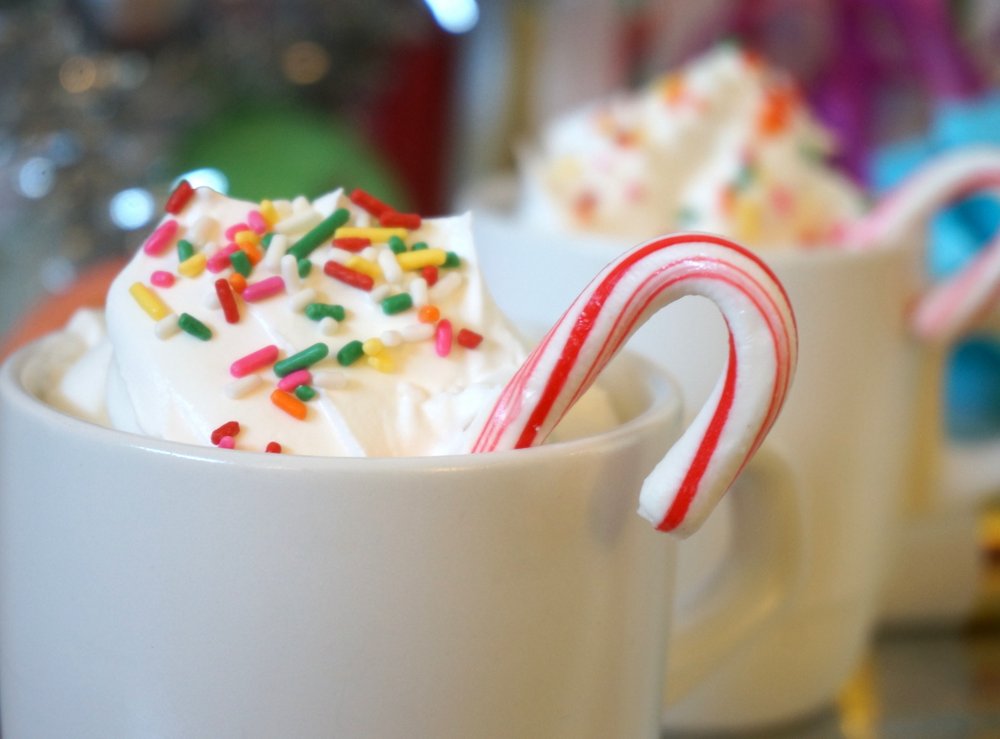 First up: a hot chocolate bar. I offer hot chocolate on a stick. All I have to do is provide warm milk, and guests do the rest. Don't forget the whipped cream and sprinkles! I also like to have candy canes on hand, as they are the perfect embellishment.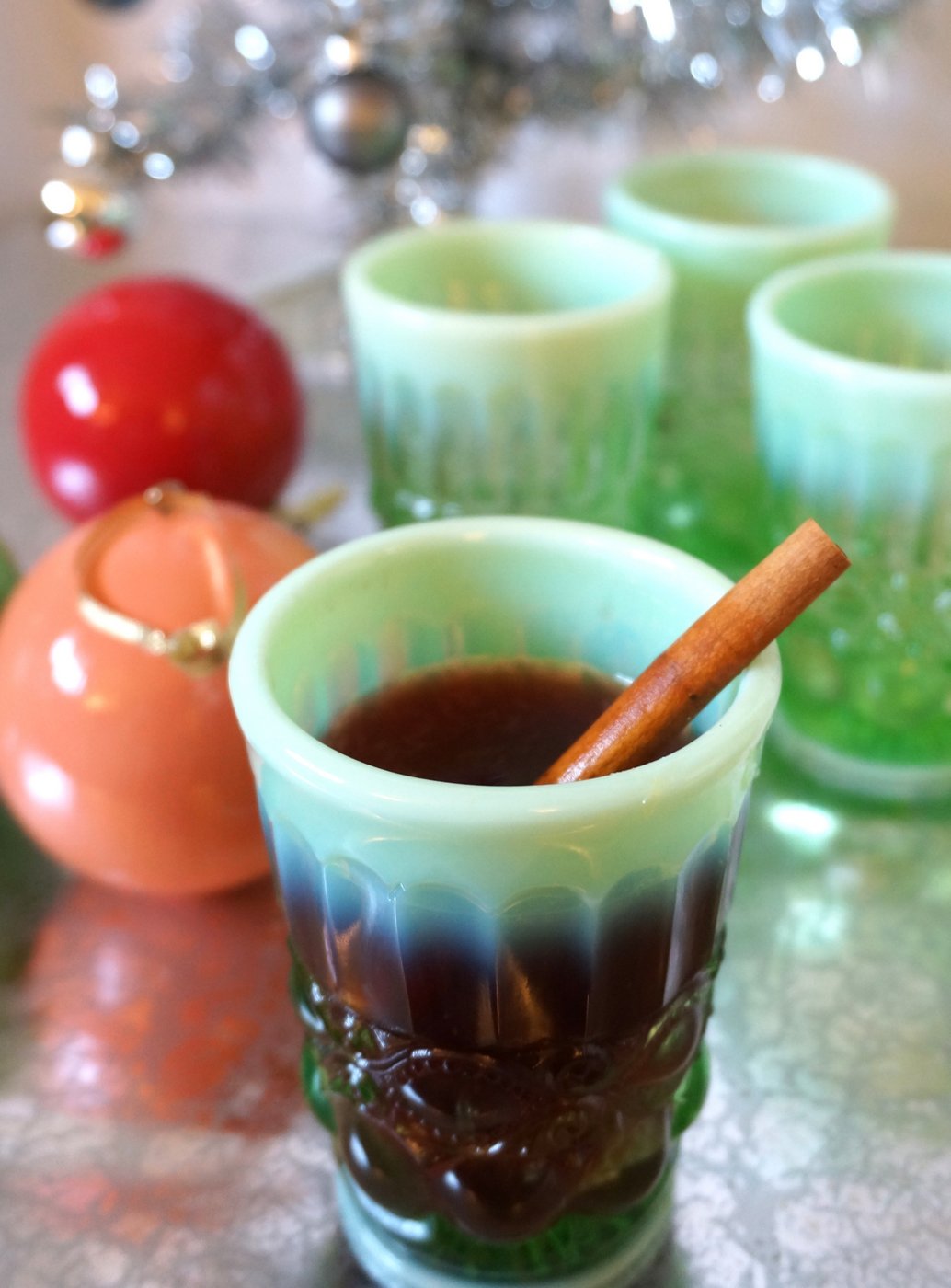 This year I will also enjoy serving a holiday sangria, based on this recipe. I'm improvising with a few of the ingredients and serving it at room temperature (as more of a sangria than a mulled wine). I love serving holiday drinks in my mint green glasses (purchased at Anthropologie a few years ago; here's a similar style). Vintage drinking glasses also work well.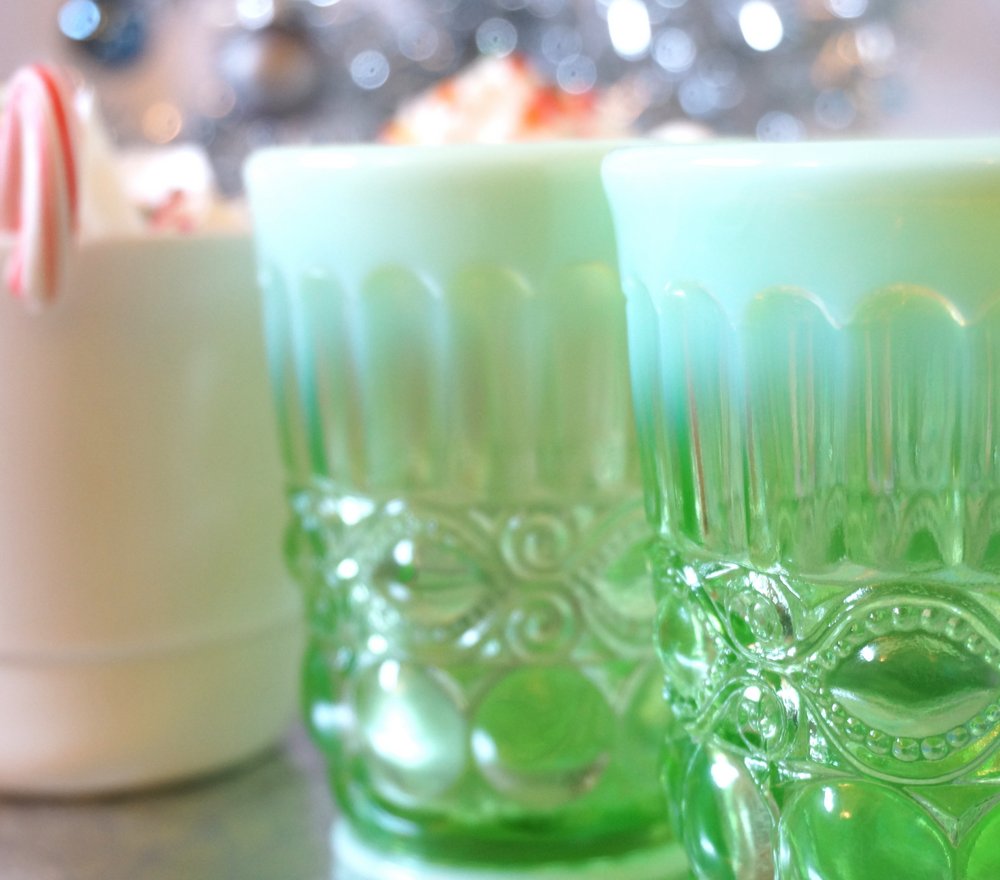 For the food, I like to have a selection of sweet treats on hand, as well as something savory, such as cheese or nuts. I probably won't have time to bake, so I'll be heading to a bakery or buying my absolute favorite holiday snacks (yes, even pre-baked ones)! Here's a sneak preview: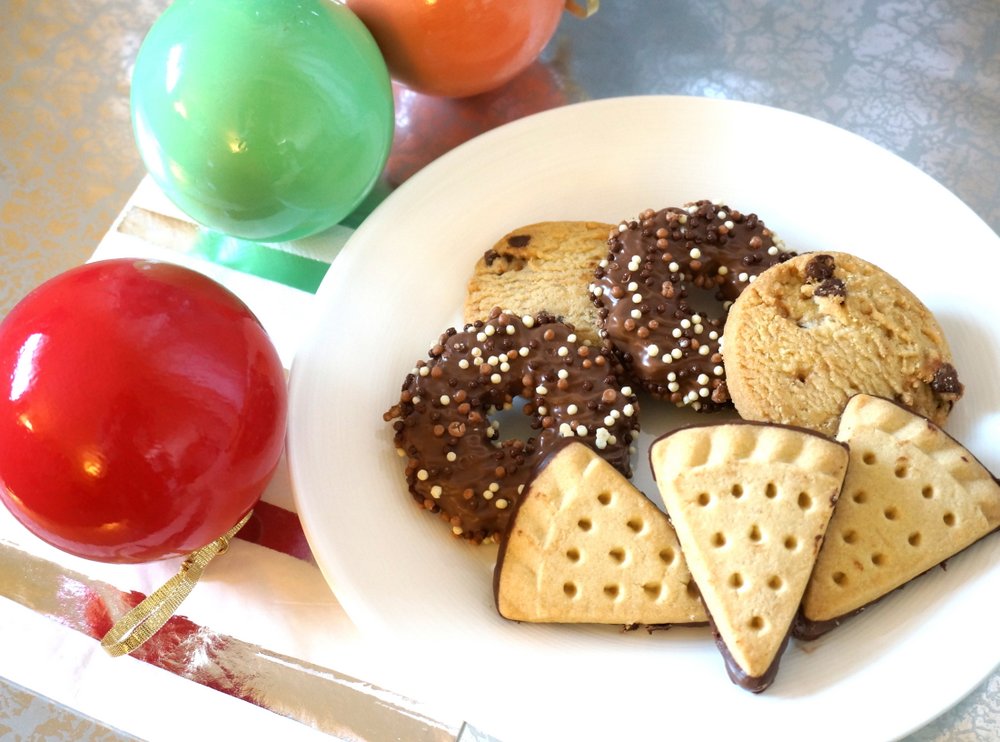 Now that I have a game plan, I feel great about hosting the gathering. I can't wait for some quality time with my nearest and dearest! I wish you nothing less this season. Enjoy, cheers, and Happy Holidays!