Everyone loves a good escape, especially at a time when daily life has been defined by quarantining. A cozy home away from the city has never been more appealing. Today's post is dedicated to cottage design. If you've heard the term "cottagecore", you know that romanticizing life in the country has never been more popular. Just head on over to Tumblr and see how #cottagecore is trending during this time of social distancing and lockdown.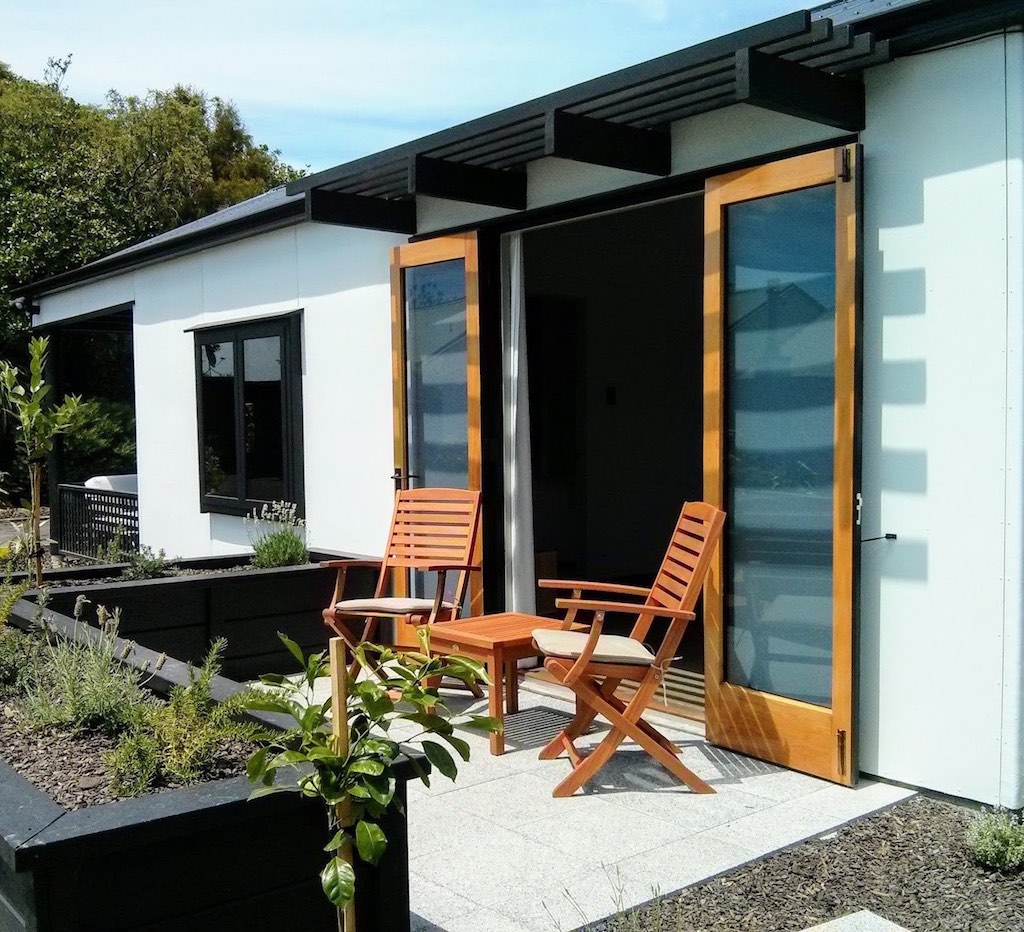 Rather than focusing on kitchens overflowing with baked goods, gardens decked out in roses, and floral clothing hanging to dry outside, we're zoning in on a different kind of cottage aesthetic: cozy minimalism. Modern design lovers, this one's for you! Keep reading as we share some gorgeous images of clean-lined, uncluttered cottage living. It's all about letting your home speak for itself and infusing it with comfy touches. Remember that less is more. Especially when the natural world outside is your playground! [photo of Chambourcin Cottage, featured at Small House Swoon]
Cozy Minimalism
Since the essence of cottage design is creating a cozy haven, let's talk about one of the top design styles for modern cottages: cozy minimalism. This look involves elements that will be discussed in more detail later in the post, such as neutral tones and textured items. In fact, cozy minimalism is just as it sounds: creating an uncluttered space where every piece counts, and choosing pieces that reinforce a warm, cozy vibe. There's an overlap between cozy minimalism and Scandinavian style, especially since Scandinavian design often involves clean lines and cozy accents, such as candles. Below we see a tranquil room featuring a modern poster from Nordic art and home decor brand Project Nord: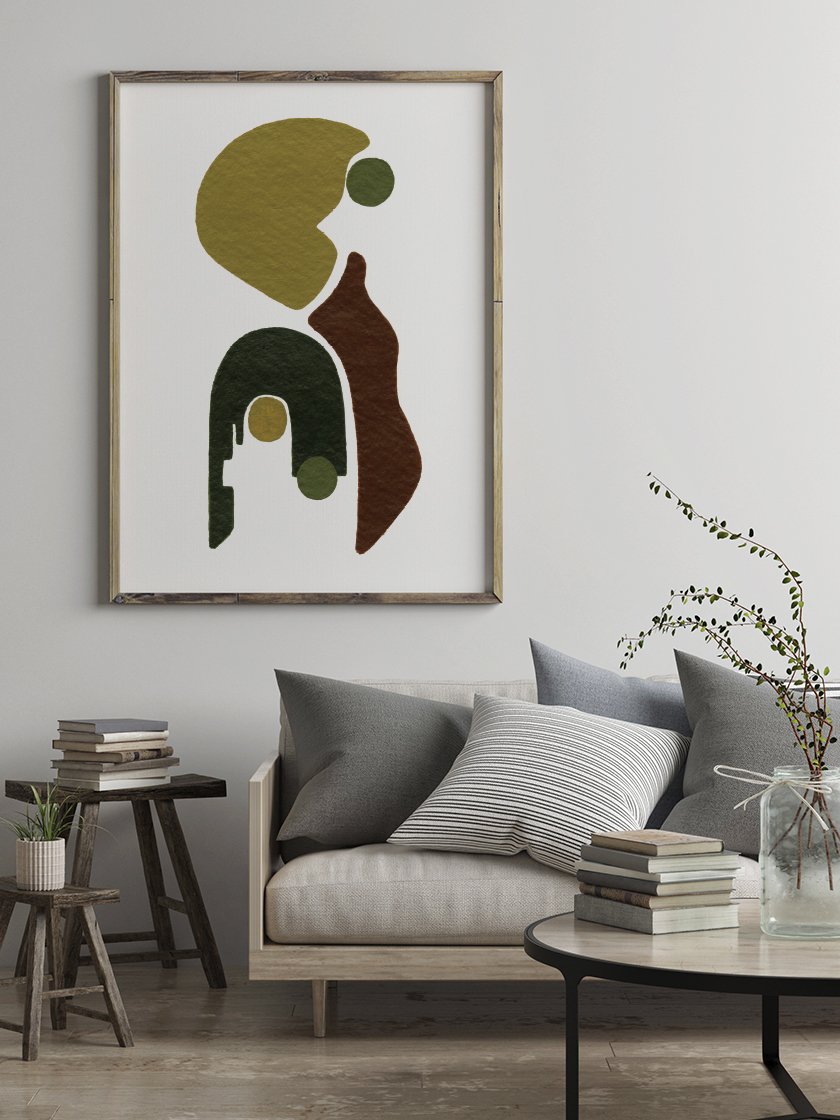 Inviting pieces are automatically cozy. Even in the minimally decorated cottage below (renovated by Minna Jones), a furnishing that encourages lounging creates a sense of warmth. It doesn't hurt that a couple of pillows and a textured throw are beckoning us to indulge in relaxation. [featured at Meg Cassidy Creative]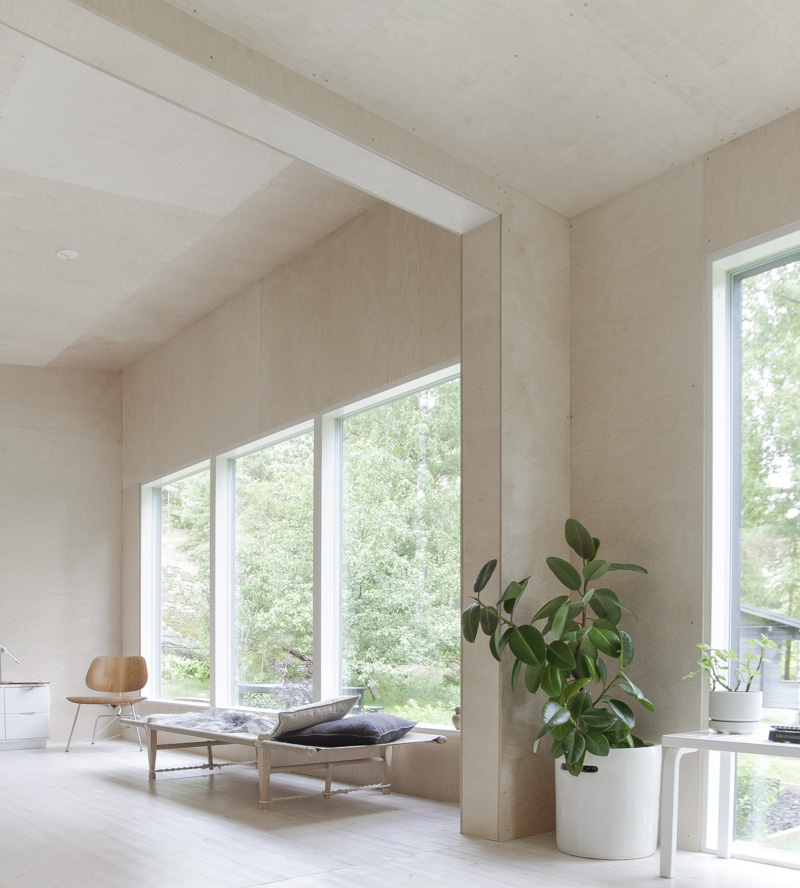 As you cultivate a sense of cozy minimalism in your home, there are a few basic tips that can help you get the look. Opt for clean lines. Be intentional about each piece. After all, less is more. Then sprinkle in cozy details, such as throw pillows, textured blankets, and woven baskets. Plants can also breathe life into the minimalist cottage.
Neutrals, Darks and Lights
Now that we've covered the basics of modern cottage design, let's delve deeper into the world of minimalist cottage style. When it comes to small spaces, one way to create serenity is to revel in neutral tones. Neutrals are peaceful and easy on the eyes, and they naturally evoke a sense of uncluttered calm. We can't get enough of Luke and Kate Zimmerman Turpin's Sunday House, shown below. By opting for a "less is more" approach and featuring soft, neutral tones, the lines and angles of the cottage really come to life. See the entire home tour at Camille Styles.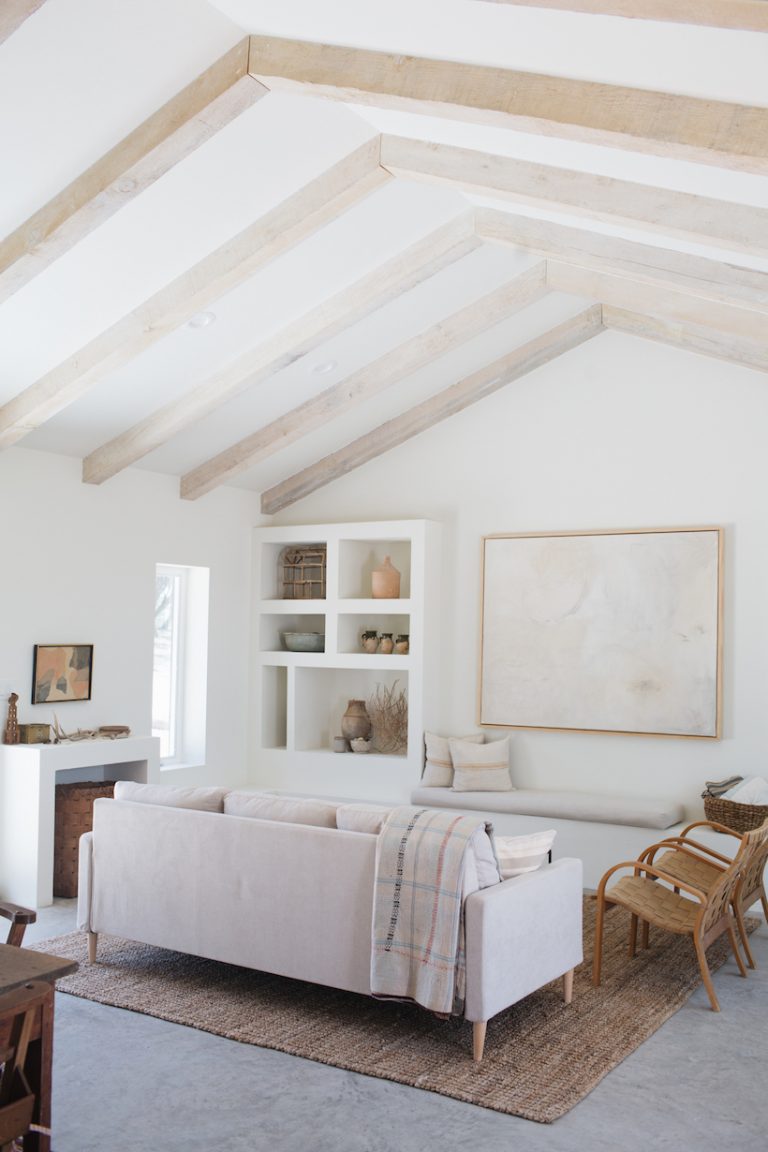 One interesting way to add drama while staying in neutral territory is juxtaposing dark and light tones. Next we see the bathroom of the Turpins' Sunday house, featuring a beautifully curated collection of hardware, decor and towels. Note how a dark frame for artwork, black details on the lighting, and a deep, rich finish on the faucet perfectly contrast the light, bright elements of the room: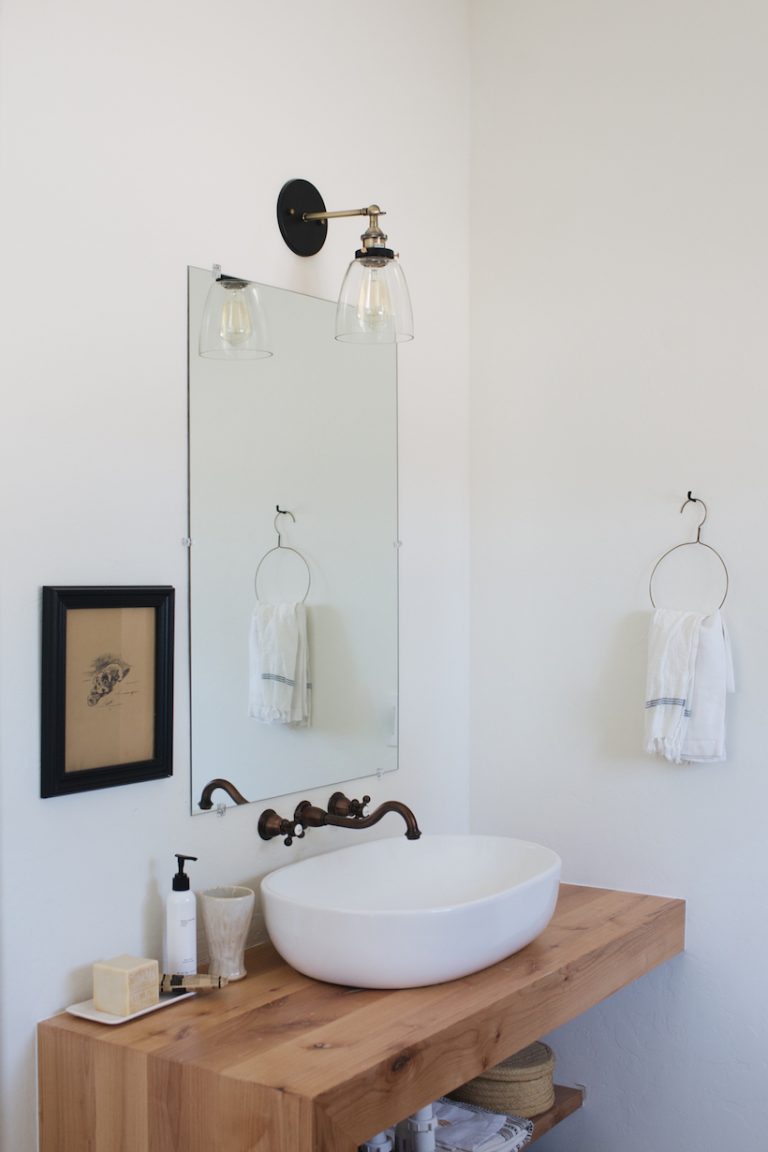 Wooden tones can also add to the contrast, as shown below in the modern kitchen of Chambourcin Cottage, renovated and decorated by Bibby+Brady and featured at Small House Swoon. Wooden trim, wooden furnishings, wood shelving and wood countertops are standout features. Dark accents in the form of dishware, light switches/outlets and a contemporary clock further deepen the neutral palette.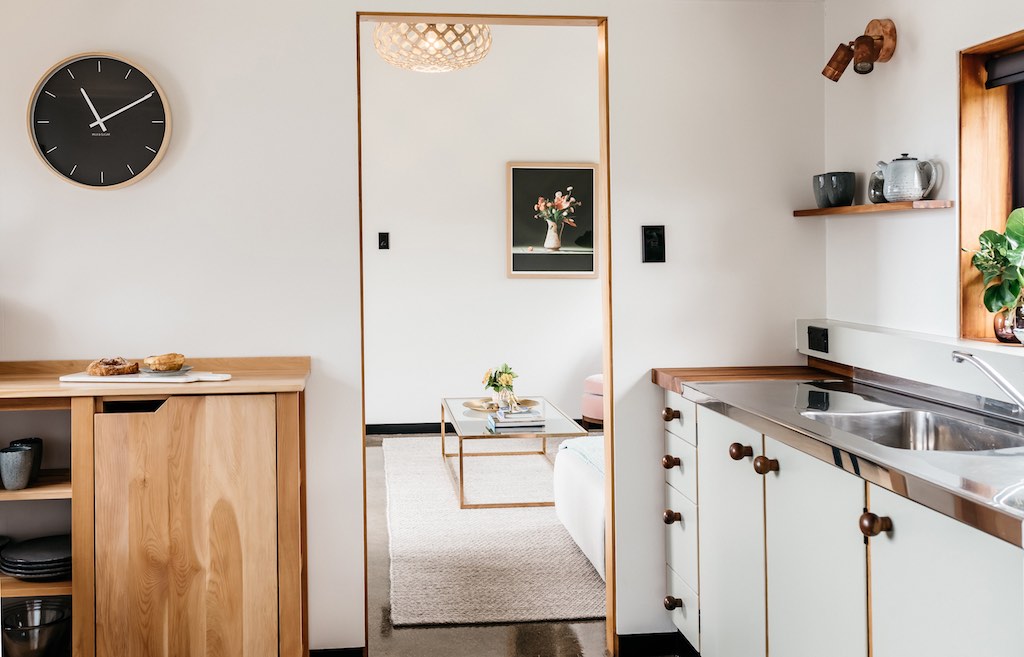 Plenty of Texture
As mentioned, texture is key in warming up the modern minimalist cottage. Texture doesn't have to involve fringe and frills. Even small details such as throw pillows and interesting wall art can bring texture home. In the next image, we see Seascape House, a New Zealand beachside cottage that incorporates modern elements with inviting touches. One special addition is the ample use of macrocarpa wood in the home's interior. [photo by Simon Devitt, featured at HomeWorldDesign]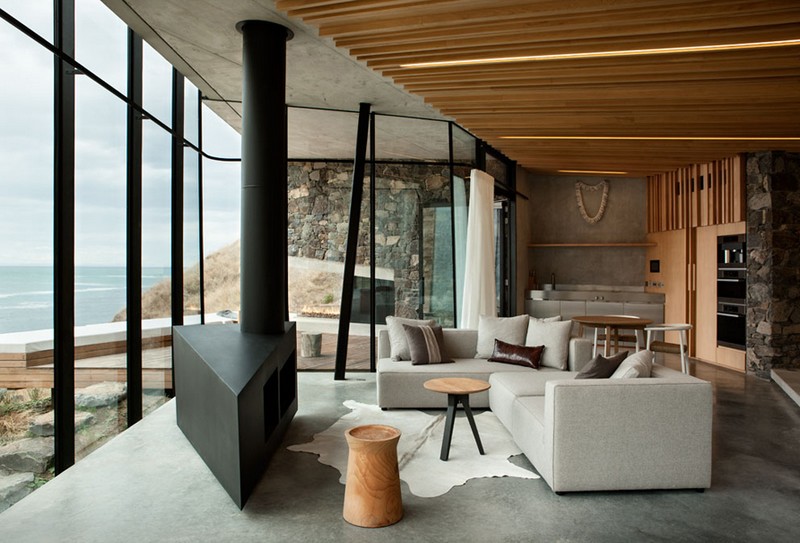 The bedroom of Seascape House includes a soft rug, comfy bedding, and a visually delightful stone wall that reminds us of the ample texture provided by natural elements. Always look for ways to bring nature indoors. A rock and mineral collection on display is another excellent strategy for showcasing nature's colors and textures.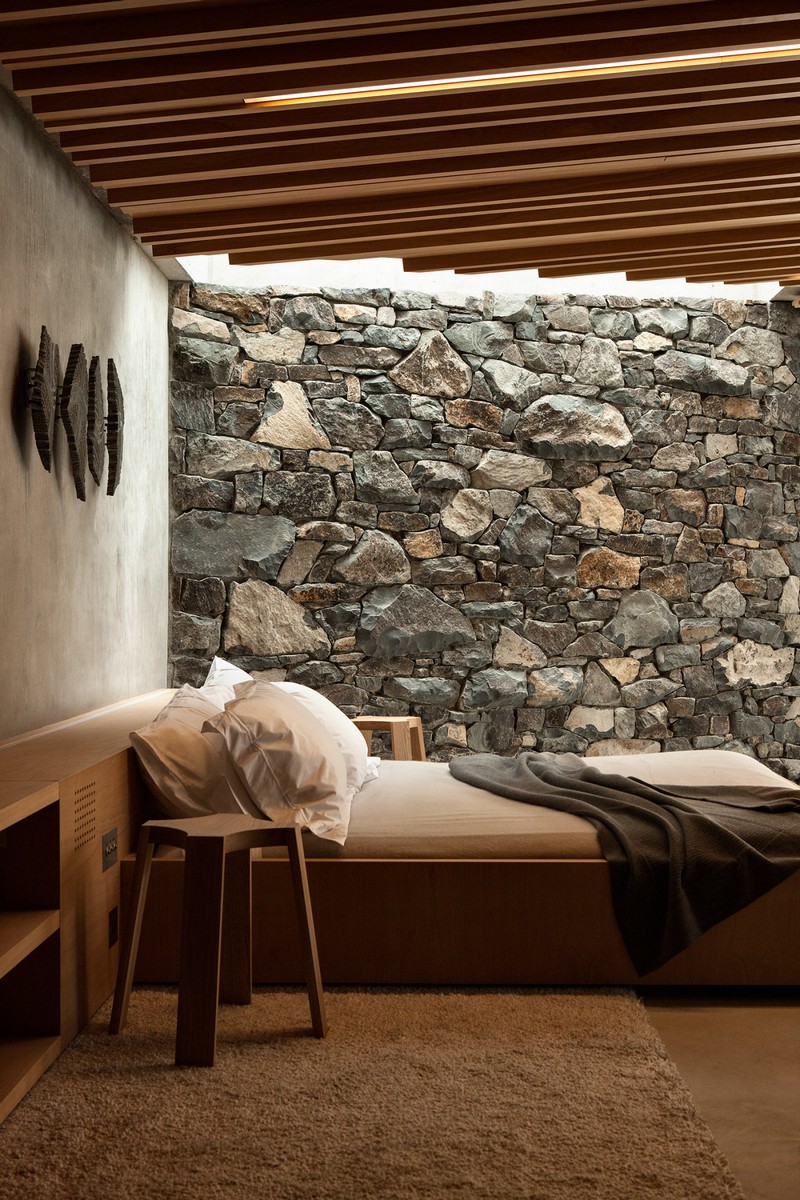 Beyond the living room and the bedroom, there are plenty of other areas where texture can be added to the modern home. For example, the powder room is a naturally perfect space for the celebration of textural surfaces. From shower curtains and towels to rugs and washcloths, there are ample ways to introduce texture. In this midcentury modern cottage house featured at One Kindesign, a fabric shower curtain with plenty of movement, towels with lots of fringe, and an abundance of green houseplants create visual interest: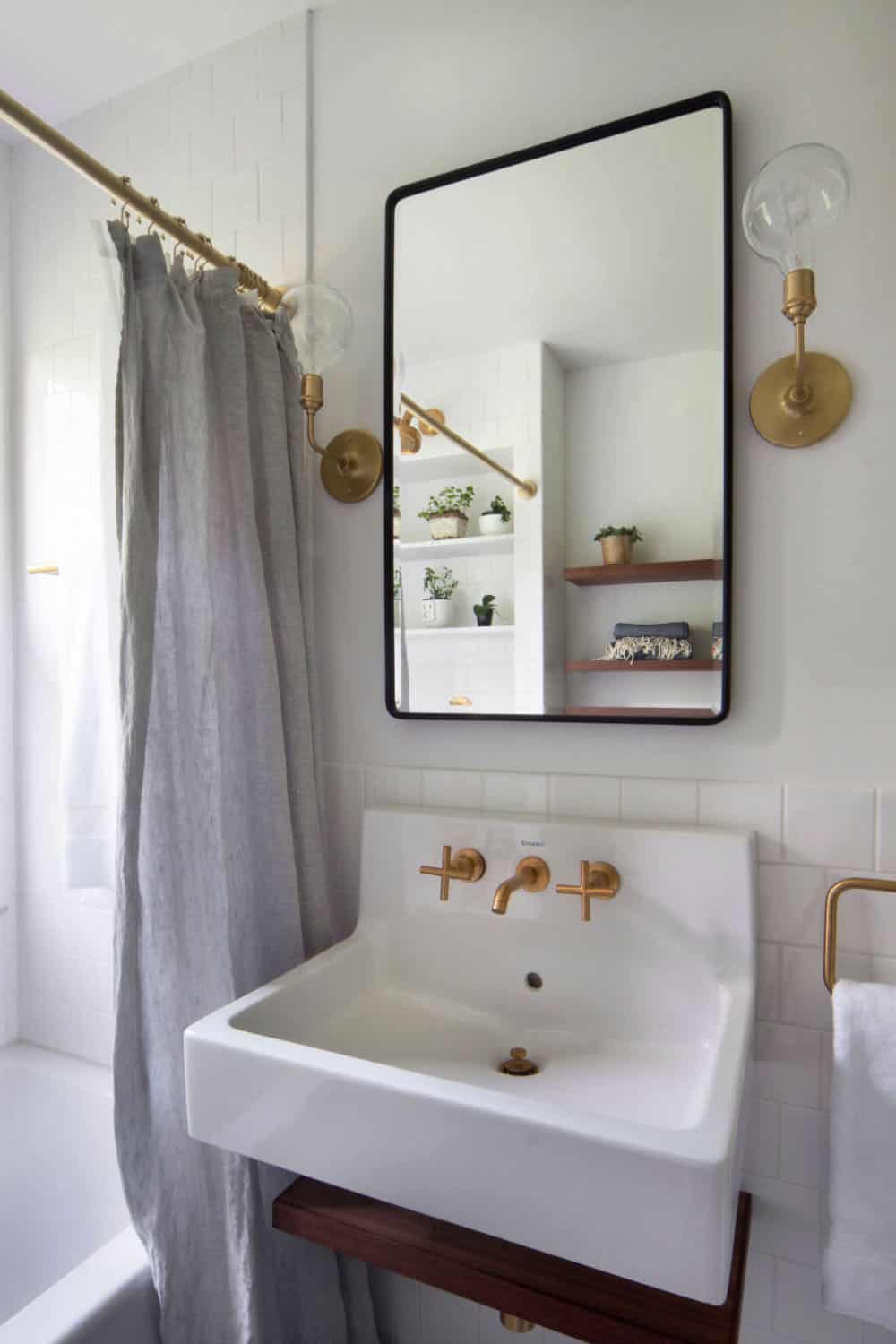 Get the Look
Whether you have your own minimalist cottage or you're simply longing for a similar vibe at home, there are countless ways to get the look. As mentioned, you can focus on making each piece count. Choosing artful objects, such as beautiful Scandinavian pieces, can go a long way in creating special vignettes and celebrating modern cottage design. Below we see a stoneware Shell Pot from Danish brand ferm LIVING: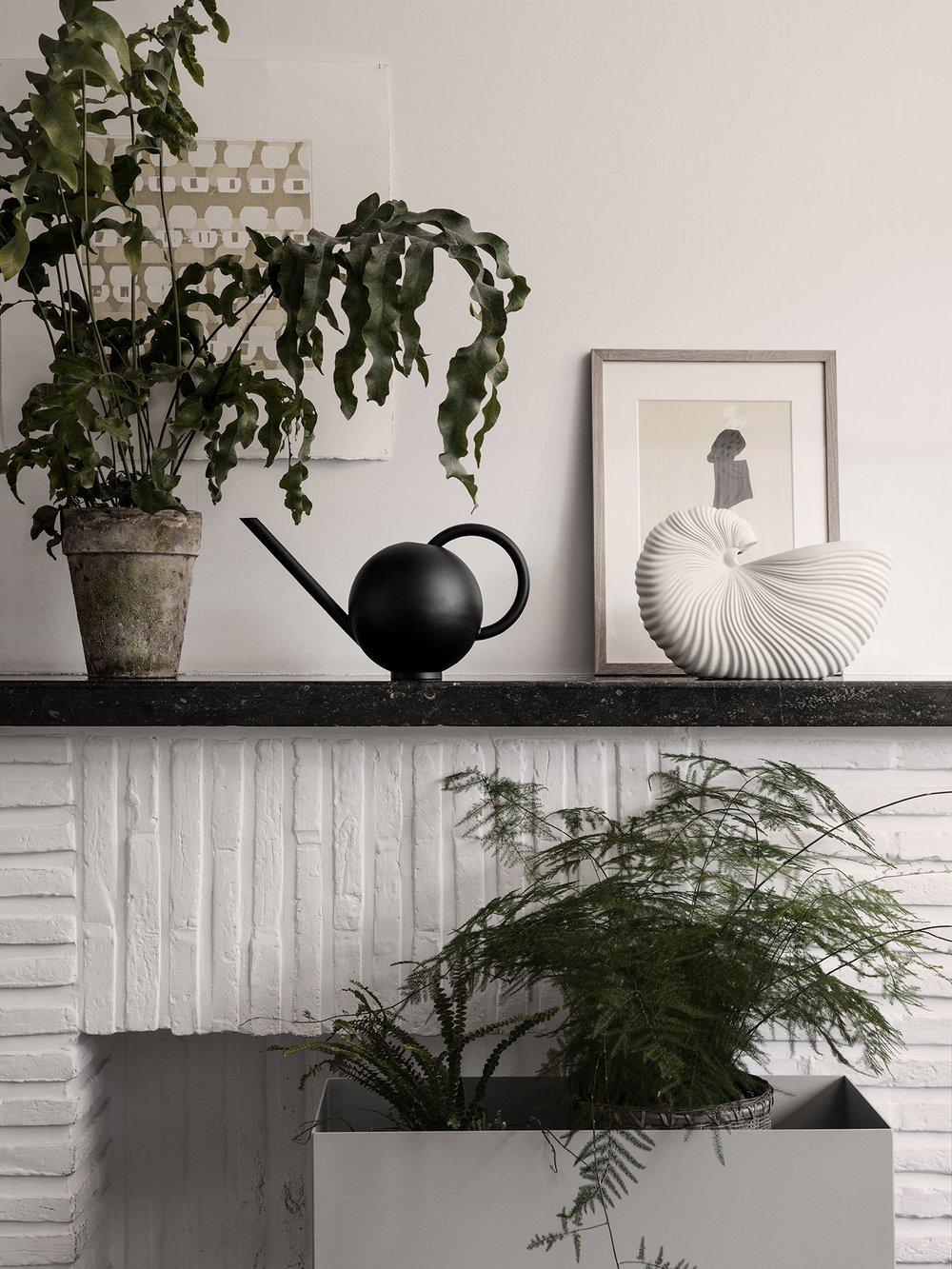 Next, focus on warming up the space with earthy, textural additions. Woven rugs, baskets and furnishings are a great place to start. The space below features a jute rug and folding chair from Zara Home. Warm tones and textured surfaces take center stage in the uncluttered, light-filled home: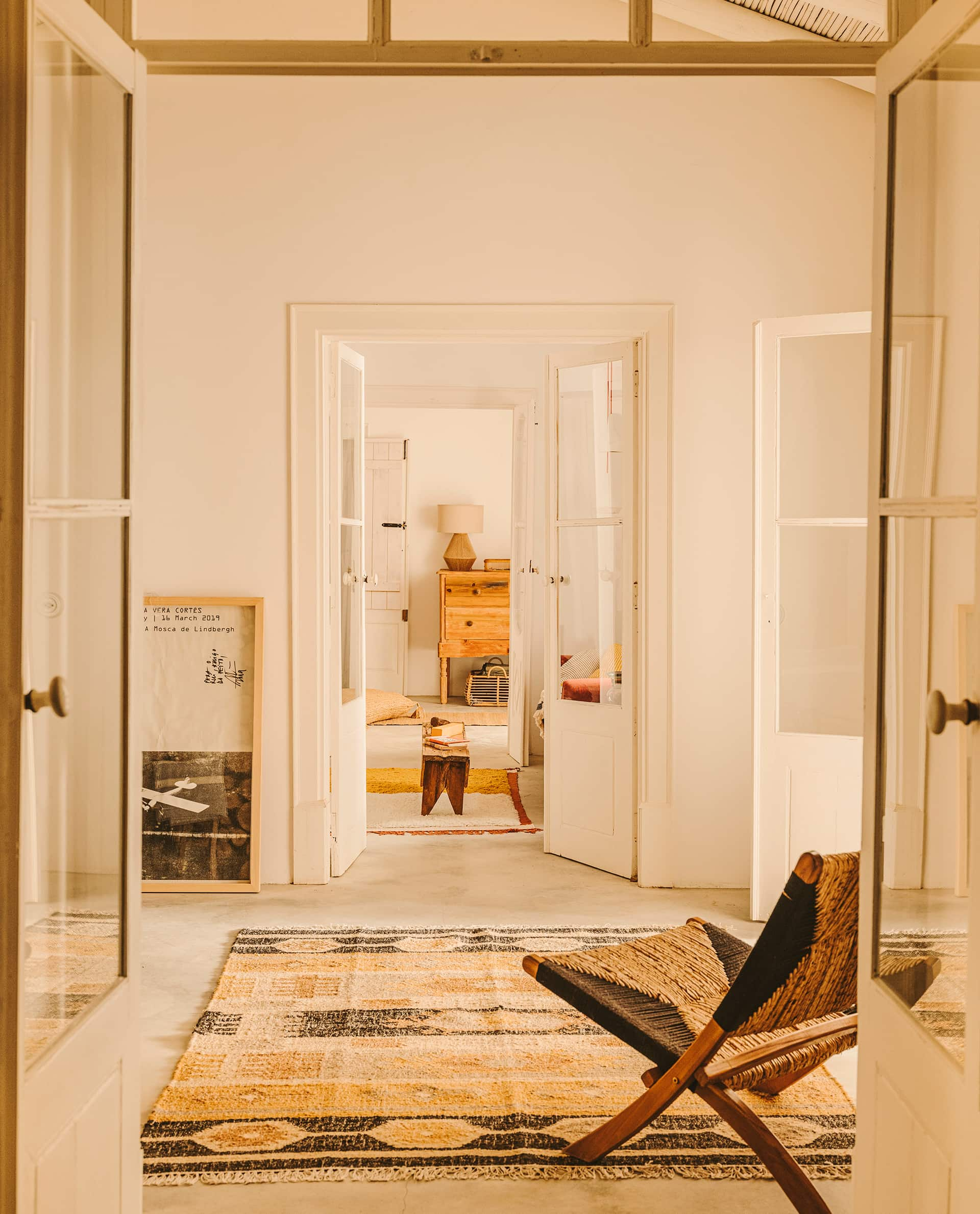 Don't forget that items such as pillows with short- to high-pile style are an easy way to create a sense of warmth. One small touch can go a long way in achieving a sense of cozy minimalism. This pillow from H&M Home is filled with textured surfaces, from the raised diamond pattern to the tassels at the corners: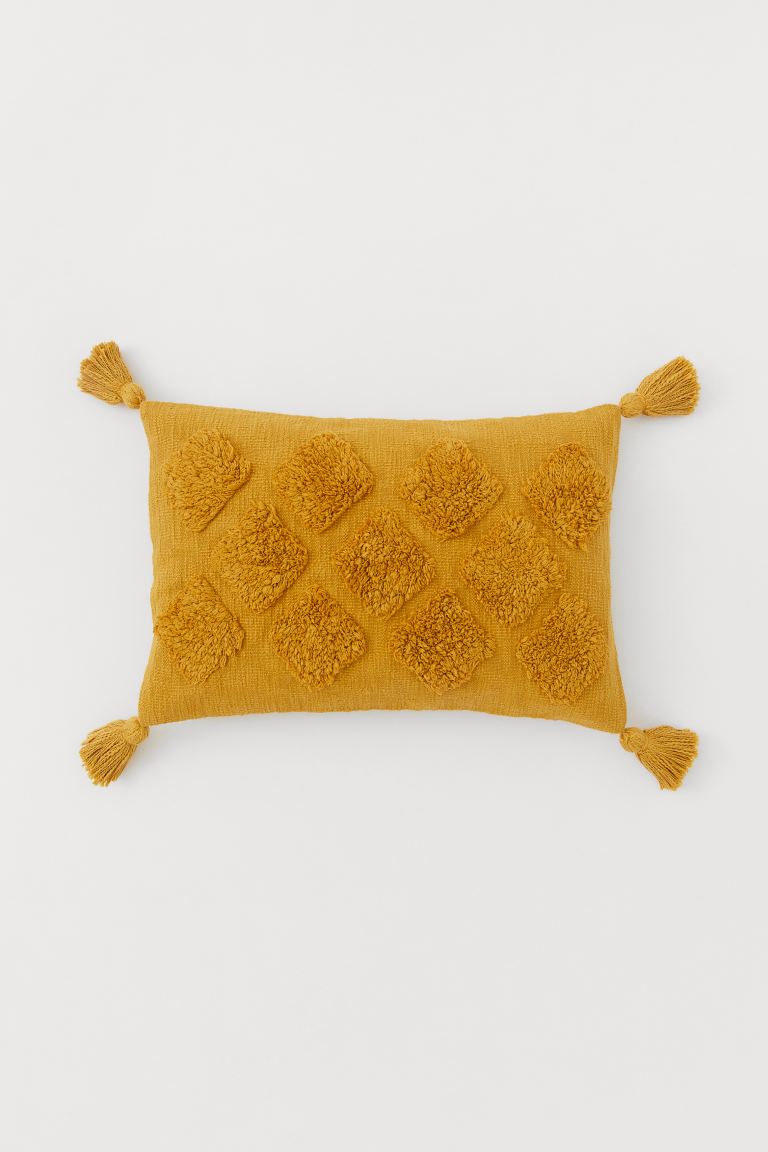 Other cozy touches such as candles can take cottage style to new heights, especially when modern design is involved. We're smitten with ferm LIVING's set of 16 Uno Candles, made from palm wax. As a bonus, these sleek candles have a textured look!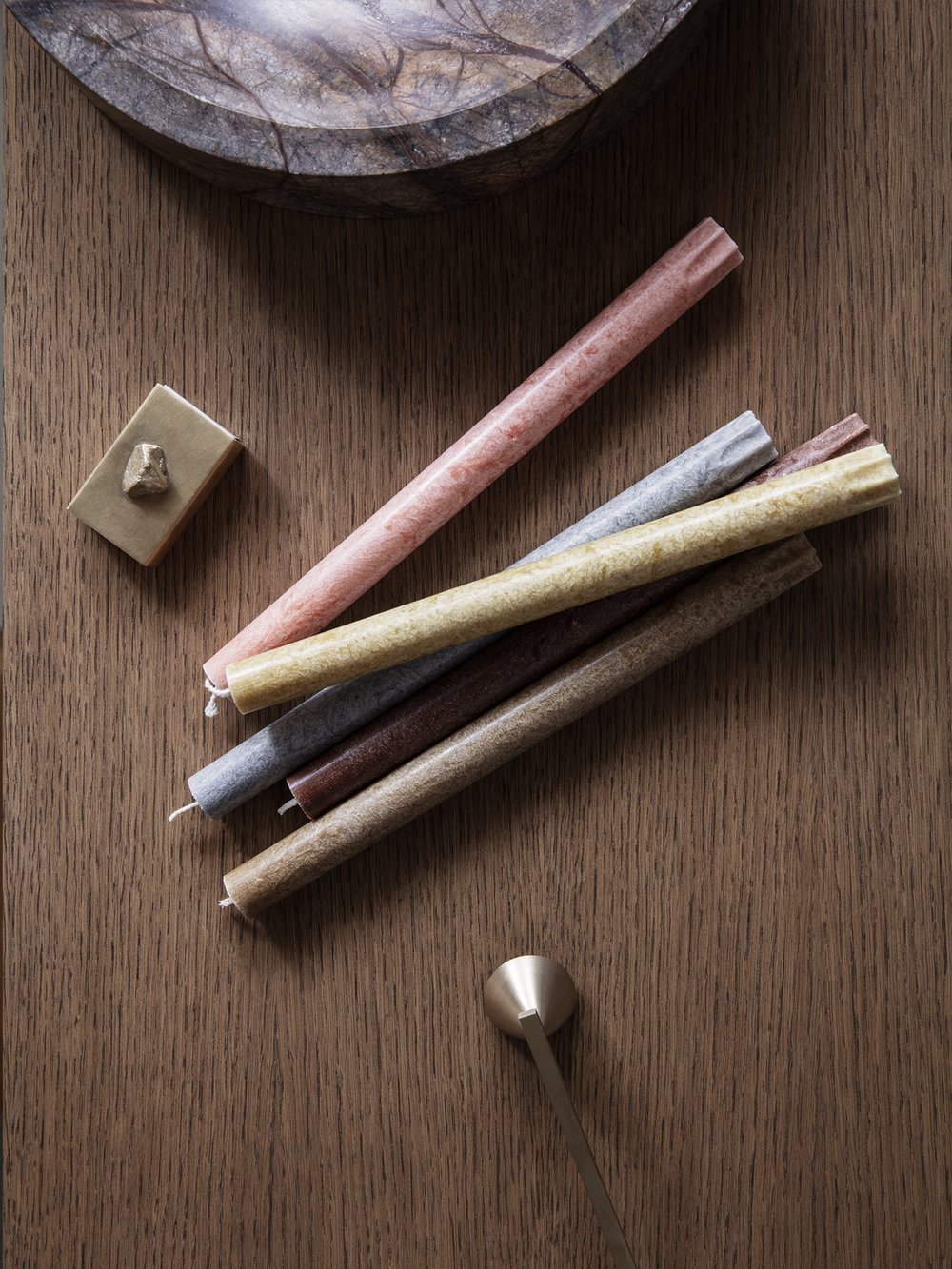 Remember that you don't have to own a cottage to bring cozy minimalism home. At a time like this, there's nothing more comforting than uncluttered serenity. Thanks for reading, and happy decorating!