A lot of people put laundry rooms at the very bottom of their home design list. If you are one of them, consider these luxurious laundry room ideas; perhaps they'll change your mind.
Laundry rooms don't need much decor work, but you have to be intentional about how you want the space to look. The laundry room must be a blend of functionality and aesthetics, just like the kitchen. Some laundry rooms are multi-purpose and can double as a pet-grooming area, mudroom, secondary entryway, etc.
Your laundry room doesn't have to look dull. In fact, a well-designed laundry room can become your happy place as you do your laundry. Here are some tips to get it from bland to wow!
Storage Space Is Important
Whether you have a small laundry room or a very spacious area, one crucial element your laundry room should have is storage.
You need storage for dirty clothes, laundry room supplies, and other cleaning essentials. If your laundry room is really small, you can use baskets or bins for storage purposes. Stack them up neatly and within easy reach when they are not in use.
If you have a medium to large laundry room, use cabinets, shelves, hangers, drawers, or even mini closets to stow clean clothes.
Use The Right Flooring
Like the kitchen, the laundry room is where much household work is done, and you want your flooring to be durable. Therefore, the ground must be strong, reliable, and water-resistant.
Conventionally, tile is the best choice for laundry room floors, as is vinyl because of its versatility and durability. You could also use concrete, whether stained or painted, because it is sturdy and waterproof.
Let There Be Light
No one enjoys working in a poorly lit area, so brighten up your laundry room. Often, laundry rooms don't have direct access to natural lights from windows or glass doors like the living room or kitchen might. However, with some combination of lighting, you can make your laundry room look bright and luxurious.
Make The Room Efficient
You need a big enough work surface area for moving clothes into and out of the dryer and preparing, treating, and folding them. Create a functional space that simplifies your workflow. Get rods or drying racks for air drying clothes. Use a deep sink or large basin for soaking and getting rid of stains before putting clothes into the washer. Or make a counter above the machines to stow freshly folded clothes. Add a chair and, if possible, an island where you can fold clothes, sew, or just chill while waiting for the dryer.
All these tips and design additions make for an efficient laundry room experience.
Bring The Room Alive With Color
Naturally, laundry rooms tend to be smaller than the rest of the rooms in a house, so you don't have to go crazy with the paintbrush.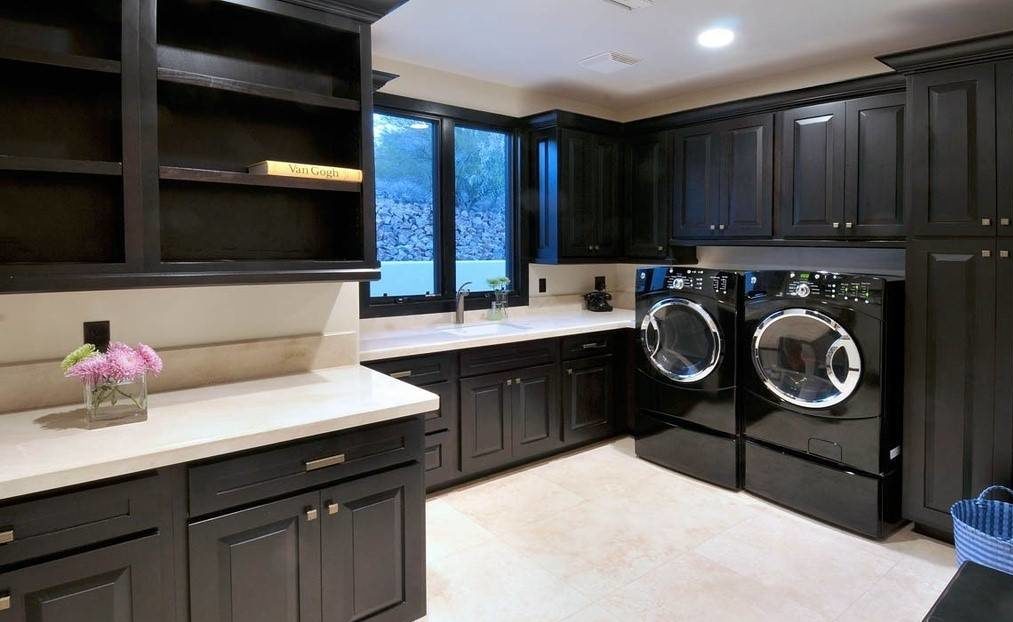 Neutral colors are best for spaces like these because they can make a room seem larger and fresh. So consider going for a minimalist wall color. If you don't dig wall paint, you could opt for wallpaper instead.
Hang Some Wall Art
To add a luxurious feel to your laundry room, hang some wall art. You could make a statement wall with photos or artwork, or you could display them around the room in a pleasant way.