Welcome to another post from our With Kids in Mind series! Last time we took a look at the latest in useful, child-friendly decor, and today it's all about DIY projects. When hunting for DIY projects that kids can benefit from (kids' furniture, wall art, toys and more), it's often tricky to find items that children will love in terms of fun and parents will love in terms of design! Today we celebrate 20 amazing DIY ideas that are not only perfect for kids' spaces, but are also beautifully designed and photographed. Read on for all the details…
For the Walls
Let's start with some easy DIY crafting – because the "crafting" simply involves sticking decals to the wall! These Mini Hearts Wallstickers from ferm LIVING are a great way to get the look of wallpaper in your child's bedroom without making any permanent changes: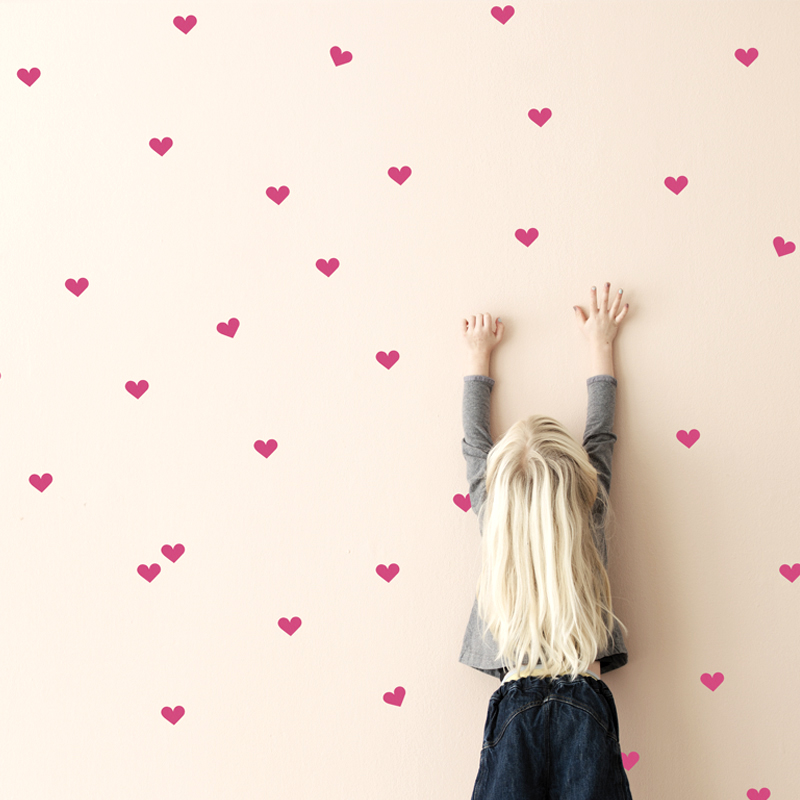 Or you can make a small statement with a grouping of geo shapes over a favorite piece of furniture. Below we see a collection of Basic Trig Decals in Pink from The Land of Nod. They come in a range of colors, so if pink isn't your thing, you'll have plenty of other options.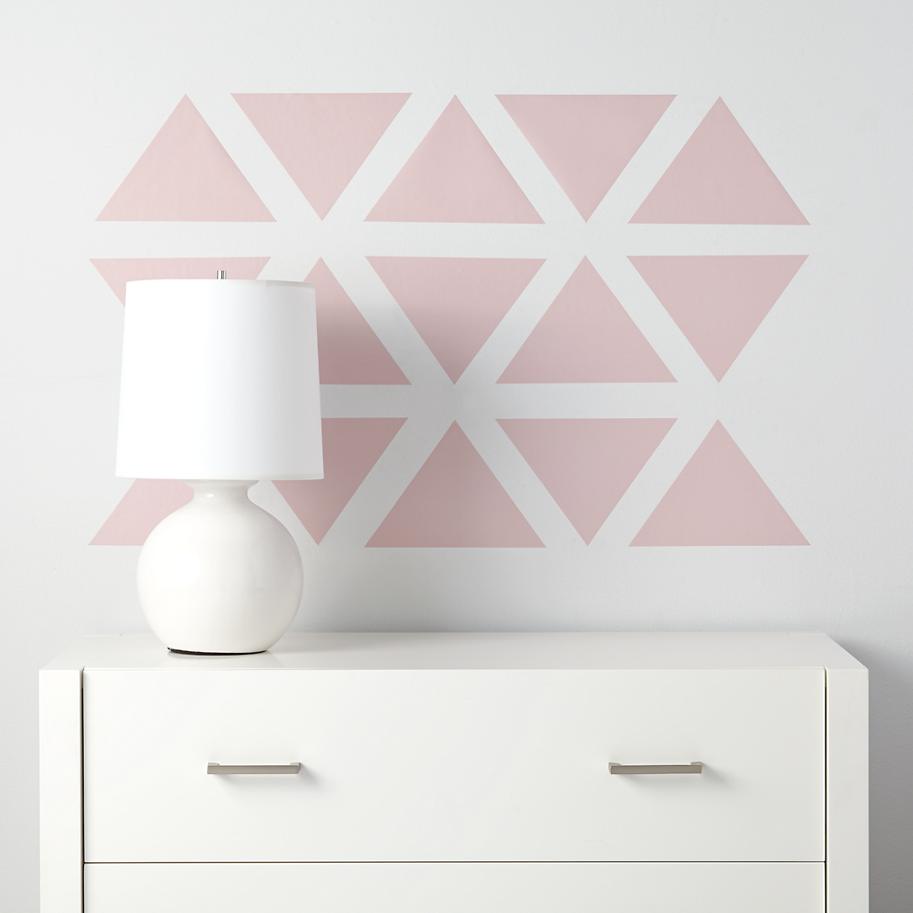 Or you can paint a pattern onto an accent wall. Next we see a child's room featuring a hand-painted pattern wall. While this room was featured at Skunkboy, a DIY tutorial can be found at A Beautiful Mess: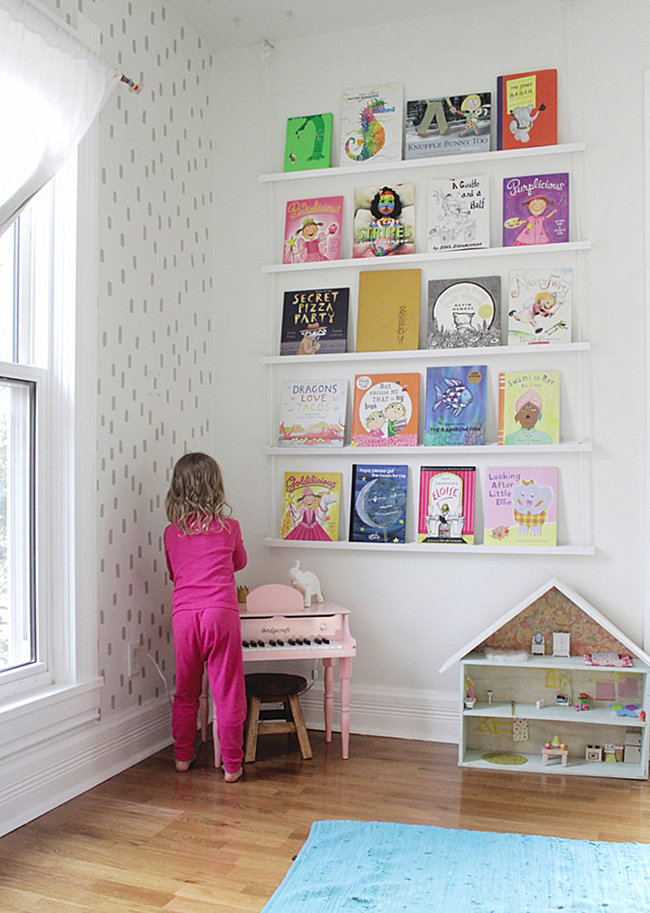 You can always get creative with the wall art! Color is your friend (and so is sparkle) when it comes to these Glittered Animal Canvases from Cakerie & Papery. Yes, those are toy animals: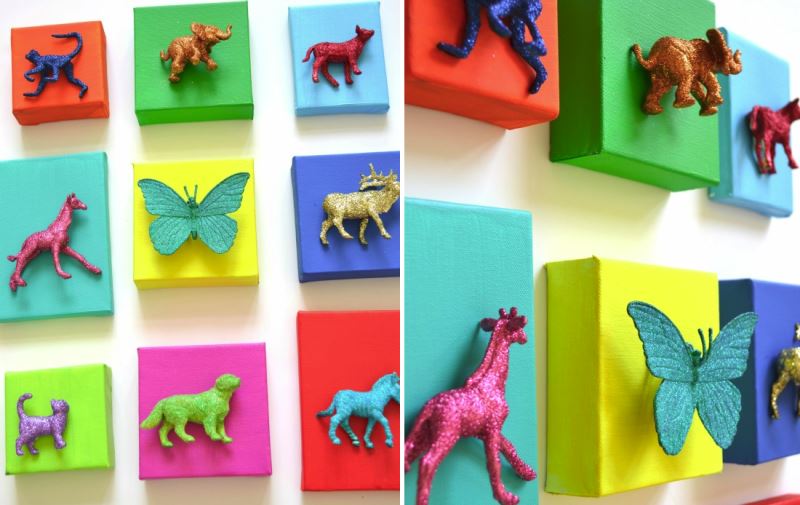 Kids' Furniture Projects
We now move from the walls to the furnishings, focusing on projects with a modern yet child-friendly look. This Easy DIY Kids' Desk is as colorful as it is functional. Get all the details at Project Kid!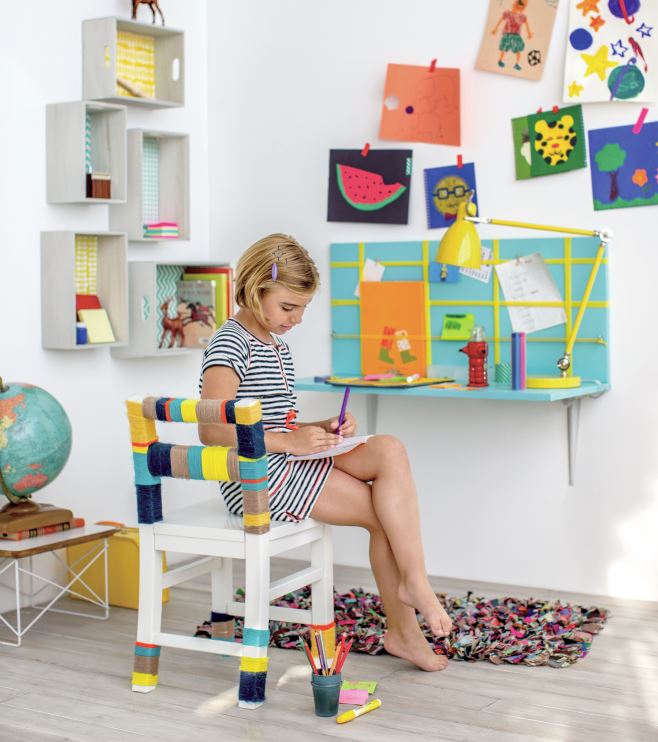 On a budget? You can always build a piece of furniture without breaking the bank, and this Pottery Barn Kids Table DIY from Strawberry Chic proves that with wood supplies and paint, you can get a brand-name look at an affordable price: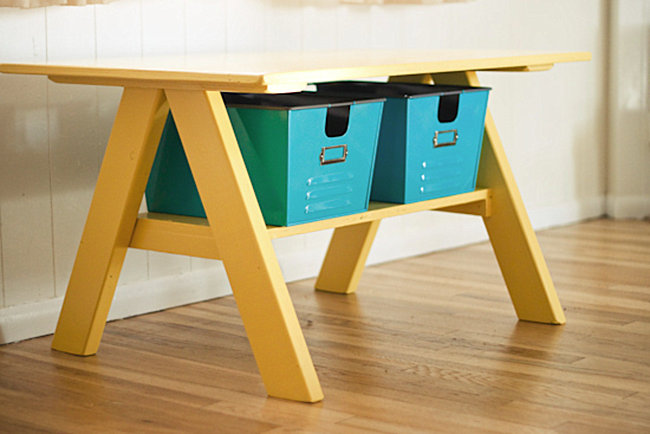 A kids' table and chair set from IKEA was given a makeover with paint chips that were cut to look like mosaic tile. Epoxy is your friend for this project. Check out all the details at A Copper Coil: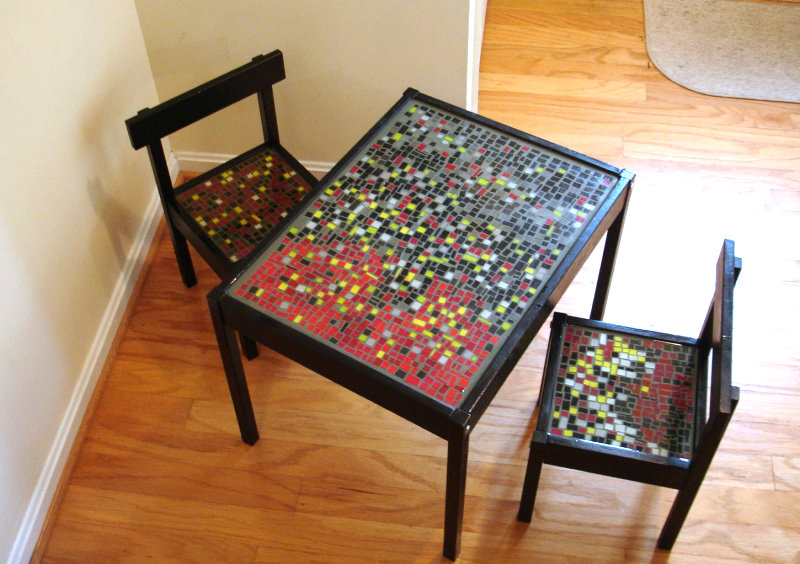 If you're not up for crafting or embellishing an entire piece of furniture, why not focus on the legs? You can paint legs that are already attached to a favorite furnishing, or add new feet to the furnishing at hand. After giving them a fabulous original paint design, of course! [from Morning by Foley via Bob Vila]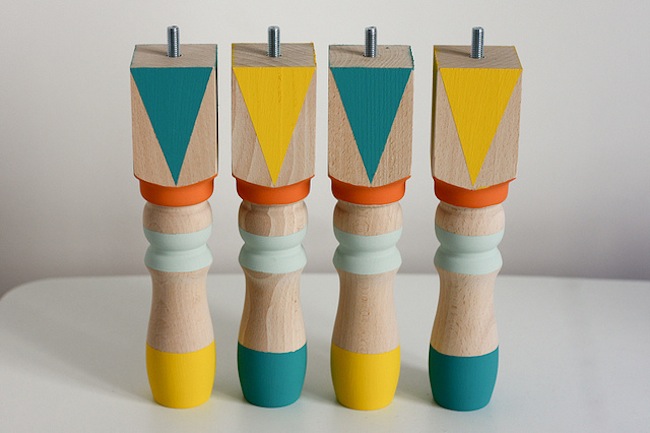 To Inspire Play…
Ready to have a little fun? Let's take a look at a few items that will enhance playtime! This Hula Hoop Tent is a great place to start. Not only is it budget-friendly, especially when compared to the play tents on the market, it's neutral enough to hang in the living room! Check out the full tutorial at A Beautiful Mess: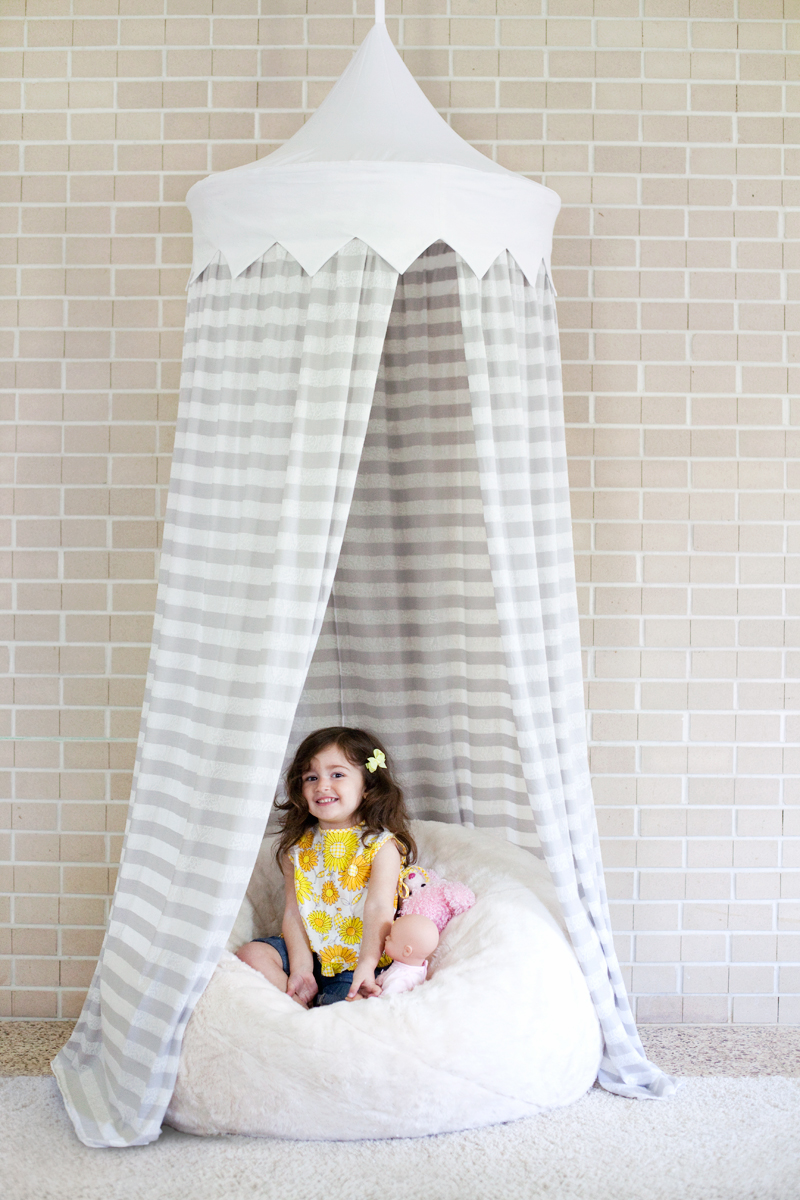 …Or you can build a living room fort! Say Yes will show you how. Hint: it involves clothespins, string, safety pins and scissors: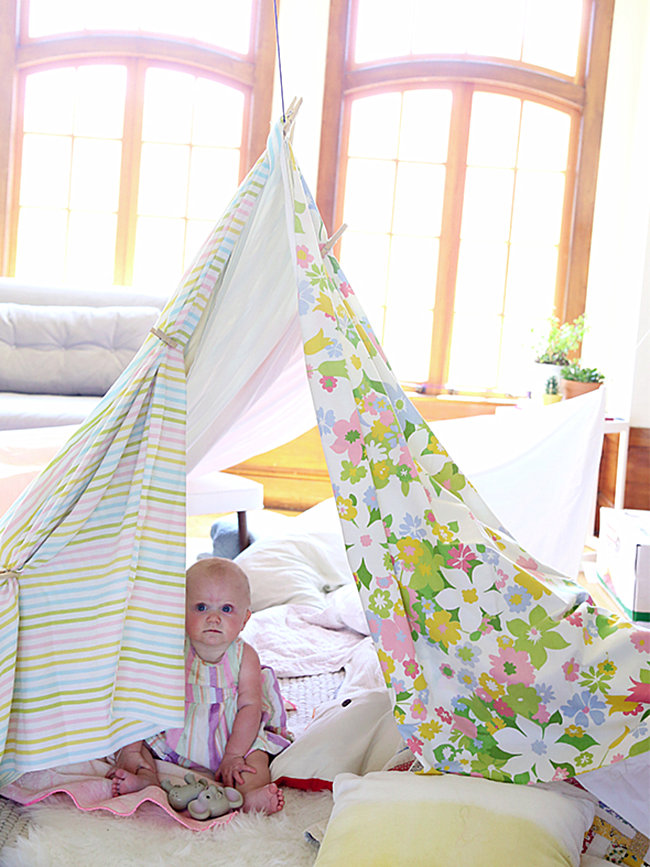 Who doesn't love a playhouse? And even better if you can easily disassemble it as needed. This Collapsible Playhouse is crafted from foam board and cut so you can easily slide the pieces together. Not to mention, there are many ways to jazz it up. Details at A Beautiful Mess…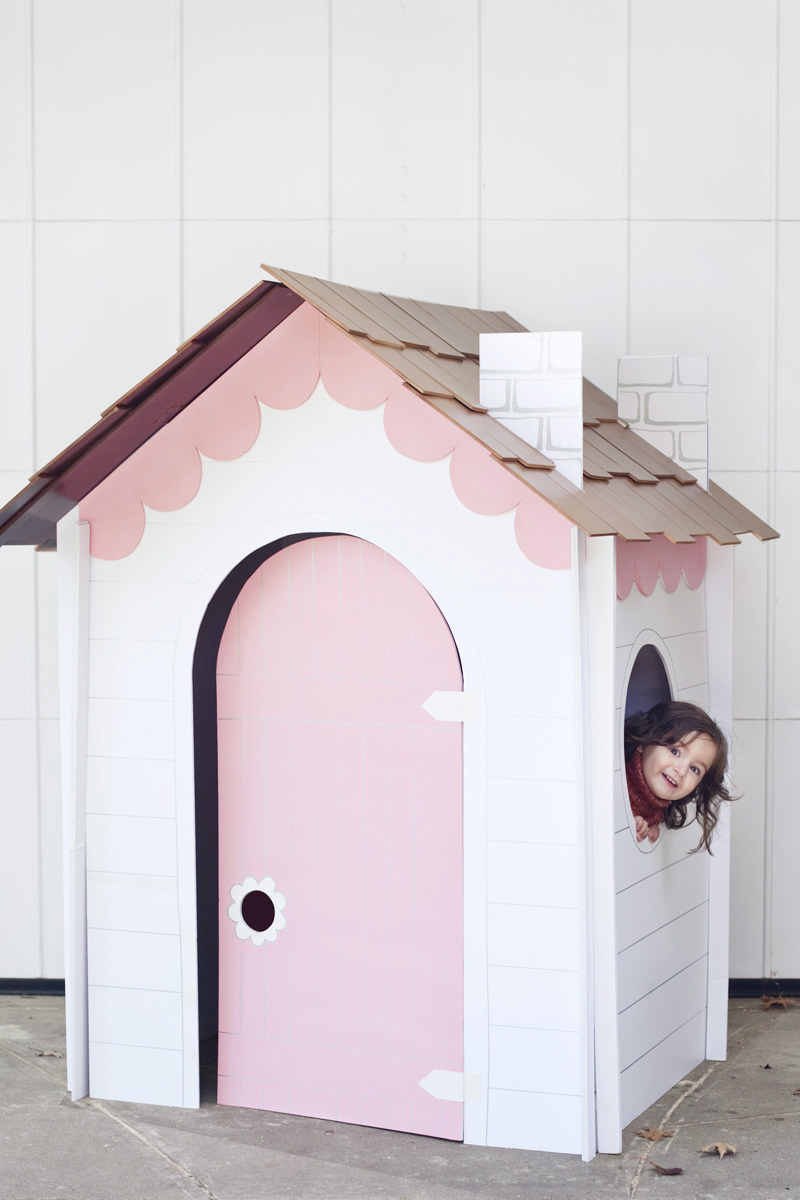 Laurel from A Bubbly Life created the DIY Dollhouse Bookcase below and donated it to a local hospital. The look is whimsical and free-flowing in terms of embellishments, but this dollhouse is sturdy and ready for hours of imaginative play: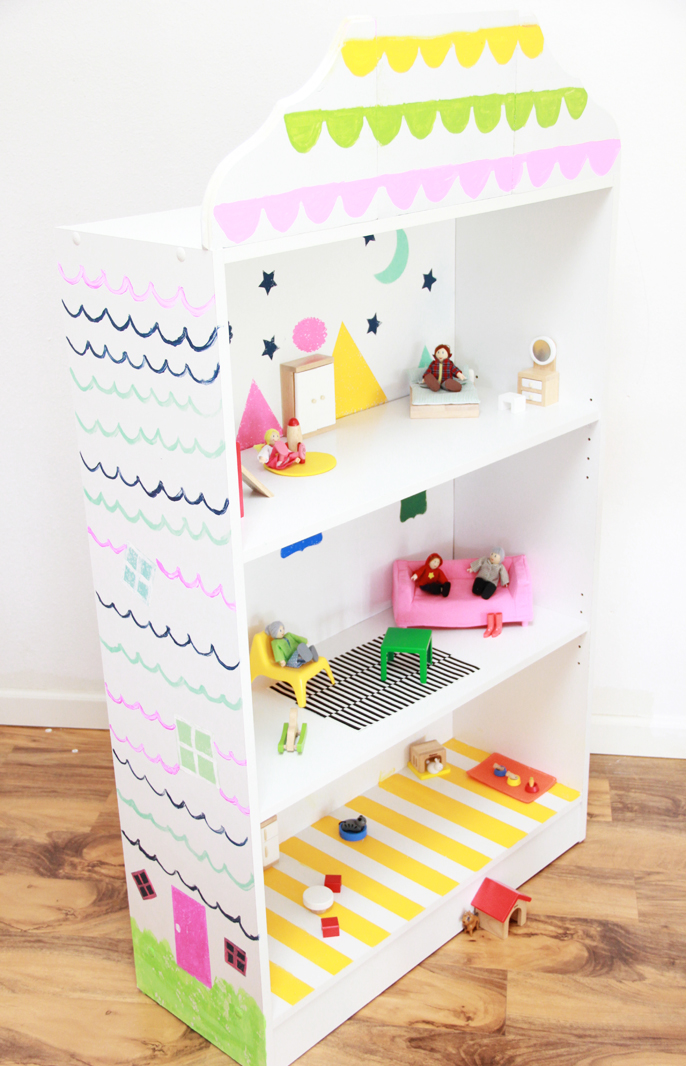 Gather dress-up clothes in one location and display them on an adorable DIY Wooden Clothing Rack! Also from A Bubbly Life, this easy project can be made in 10 minutes, especially since the wooden dowels and pine board can be purchased in the exact sizes you need: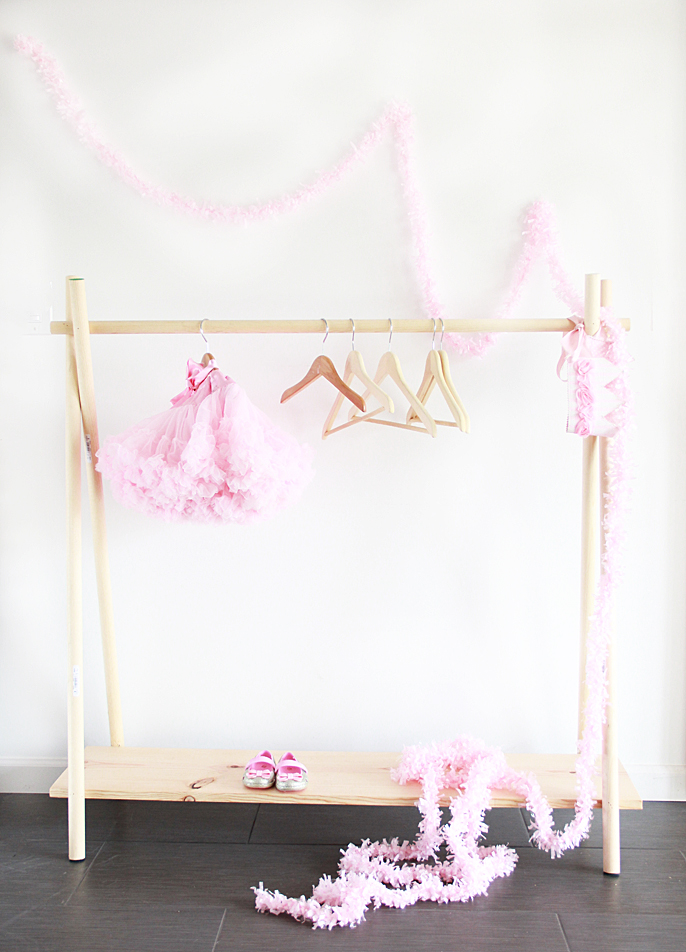 For Keeping Track of Stuff!
This next batch of DIY projects is all about staying organized. Keep toys in line with these Reversible Fabric Storage Bins from A Beautiful Mess. Simple sewing will get the job done, and the end result is well worth the time it takes to measure, cut and stitch: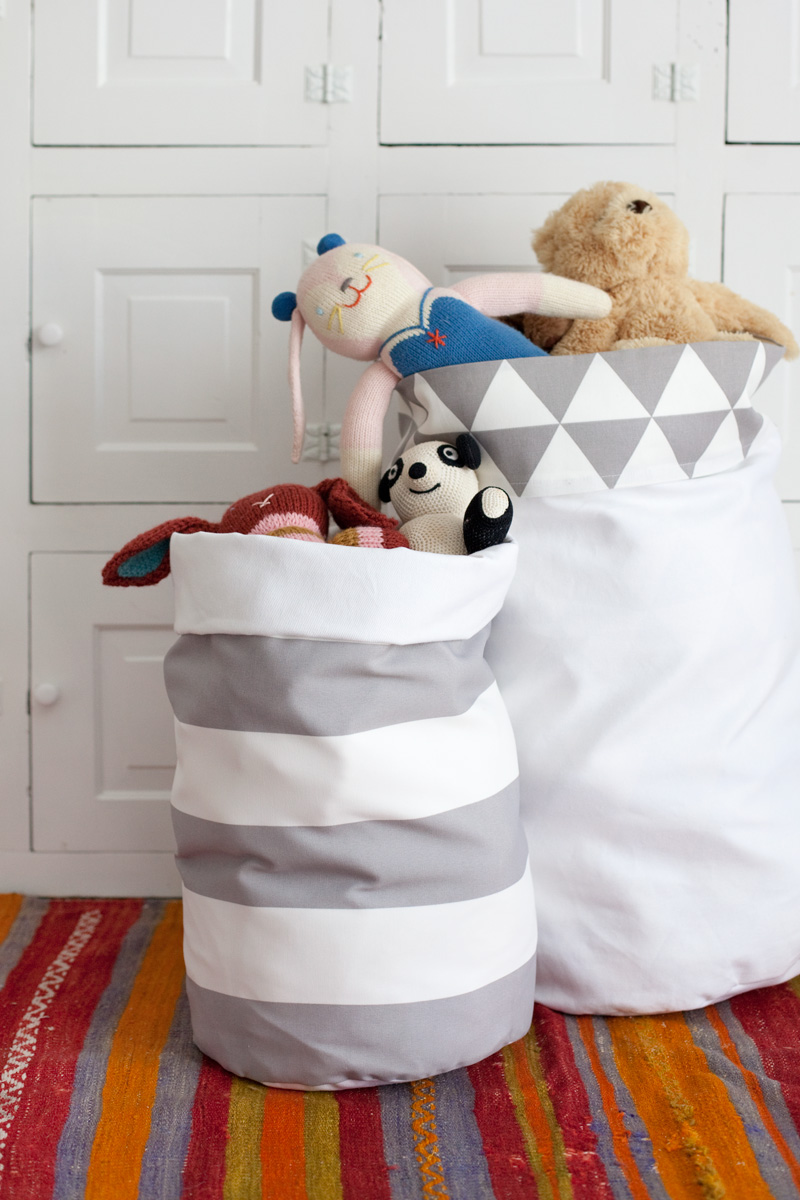 Or you can embellish a store-bough basket with a fun pattern! This DIY Painted Laundry Basket from A Bubbly Life takes a plain basket from H&M Home and jazzes it up with neon pink fabric paint: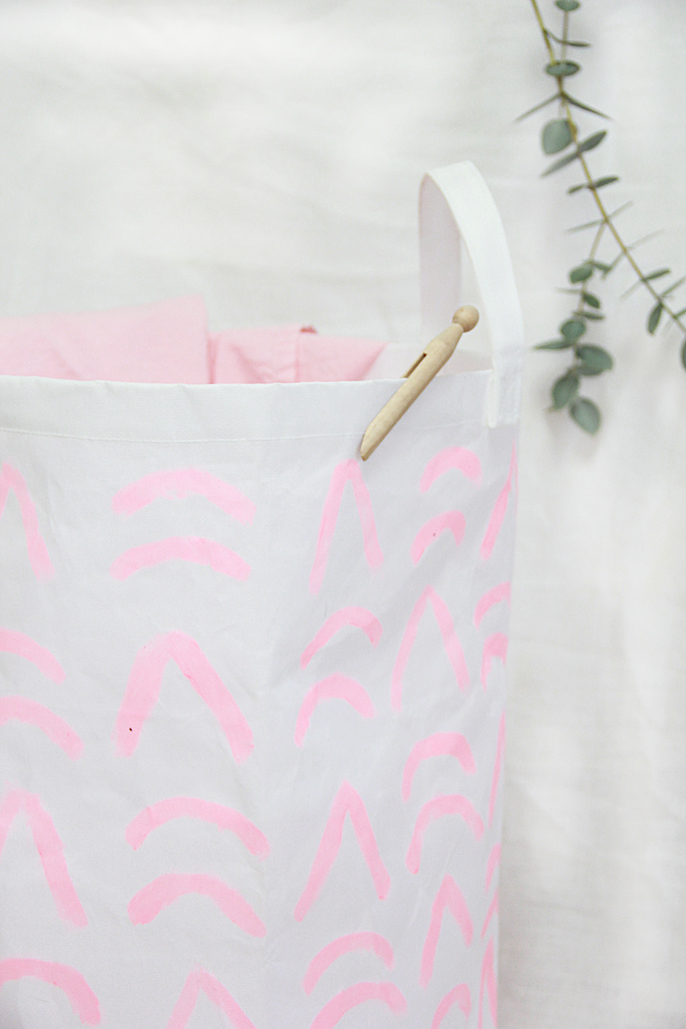 Keep track of every inch your little one grows with this DIY Ruler Growth Chart from Say Yes! A wooden board is the perfect starting point, and markers, number stickers and a few other simple supplies take it to the next level.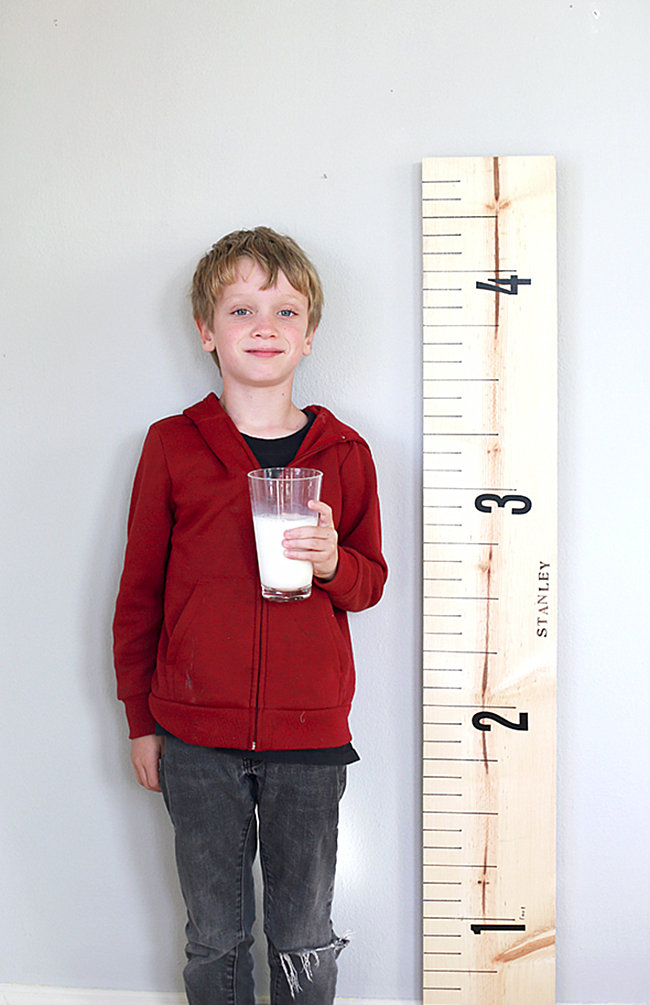 Never miss an appointment or scheduled event when you display a calendar in a prominent spot at home. This DIY Back-to-School Paint Chip Calendar (also from Say Yes) is easy to make, and you'll love the process of decorating each colorful rectangle as your schedule fills up and you write in (or draw in!) the fun events ahead: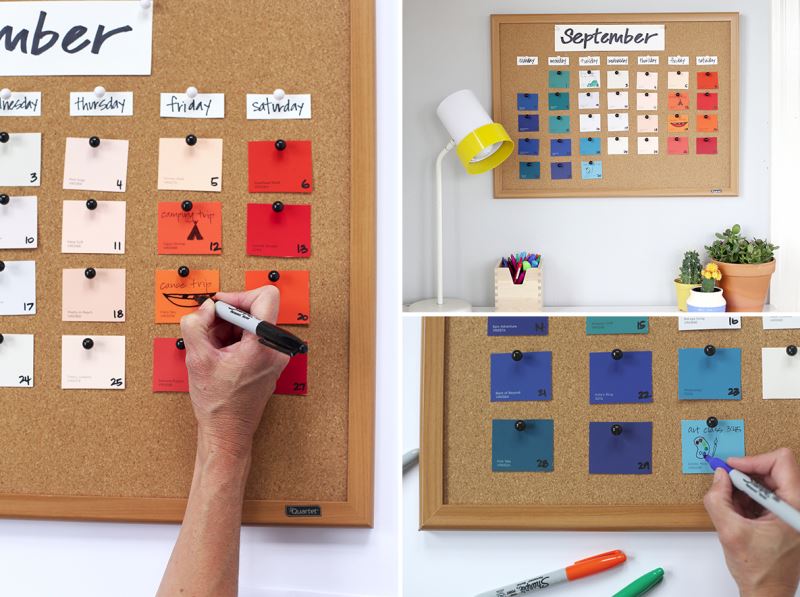 Little Things
Let's end today's post by taking a look at a few DIY toy and decor items that are as cute as they are clever. This DIY Cloud Mobile from Petit Poulou is the perfect accent for a nursery, but kids of all ages will enjoy its whimsical design: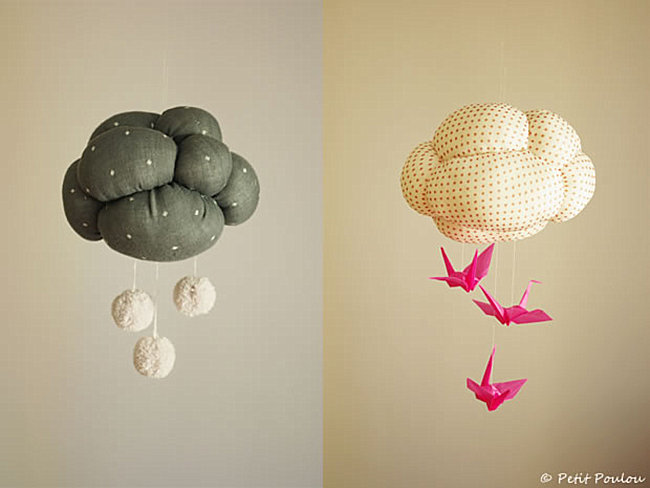 These DIY Drums from Skunkboy are crafted from tin cans, leather and decorative fabric, to name a few supplies. Make them and give them as gifts, or keep them at home so you can start your own family drum circle!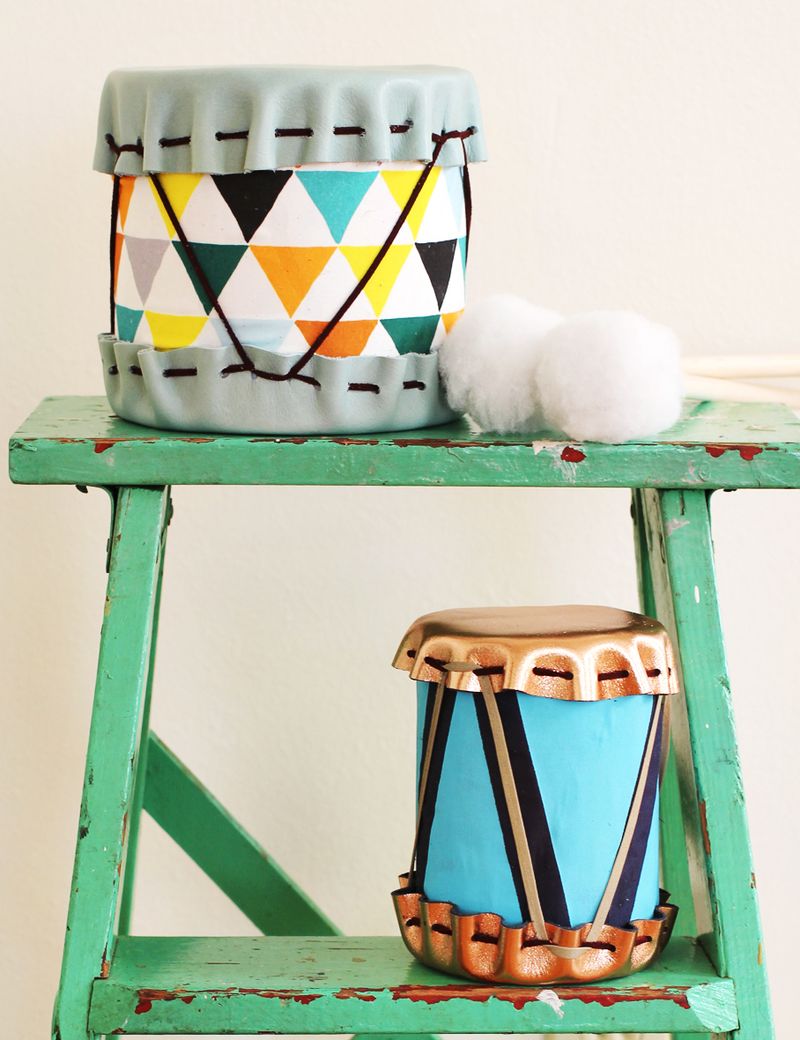 Spring style is alive and well, especially when you make these DIY Embroidered Felt Easter Eggs featured at Camille Styles. Wool roving is shaped into egg formations, then embellished with cotton embroidery thread. Now who's up for an egg hunt?!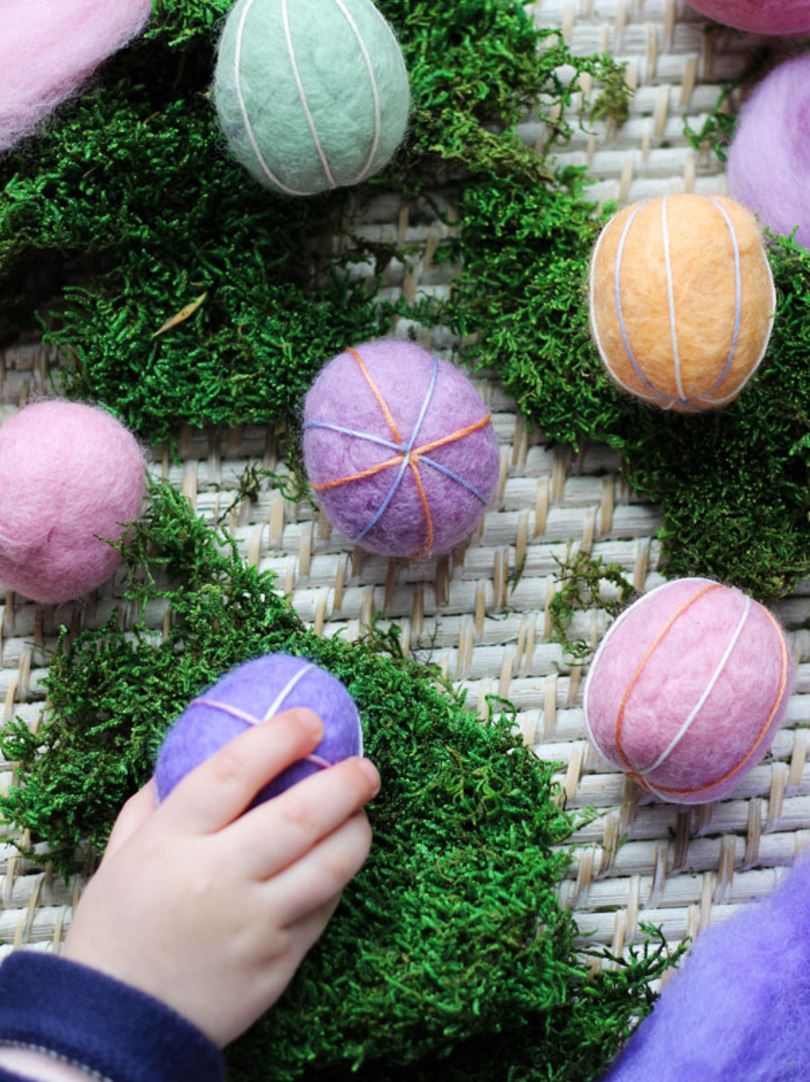 Will you be trying any of today's featured DIY projects? Happy crafting…