What's better than a comfy sofa? An inflatable comfy sofa! Many of these air-filled furnishings are super durable, resisting stains and other markings. Add a weather-proof design, and it's no wonder that people are starting to embrace the inflatable sofa as an outdoor seating solution. From affordable finds to grand statements that are sure to be the center of attention at your next party, check out the 15 inflatable outdoor sofas below for a hefty dose of design inspiration!
Budget-Friendly Finds
We begin with budget-friendly solutions that are as stylish as they are practical. We haven't personally tried each sofa, so be sure to do your research (and read product reviews) before you make your final choice. A bargain at only $63.99, this pullout sofa from Shopko is perfect for overnight guests. And yes, you can use it outdoors. We're fans of the deep teal color. It seats two and sleeps two, and you've gotta love those built-in cup holders!
The Intex Inflatable Pull-Out Sofa is under $47 via Kmart, and its portability makes it perfect for pulling out when company visits, or for taking with you when you travel to visit others. It's waterproof, making it great for outdoor use as well. Plus, the piece folds out to a queen-sized mattress! Not bad for a bargain: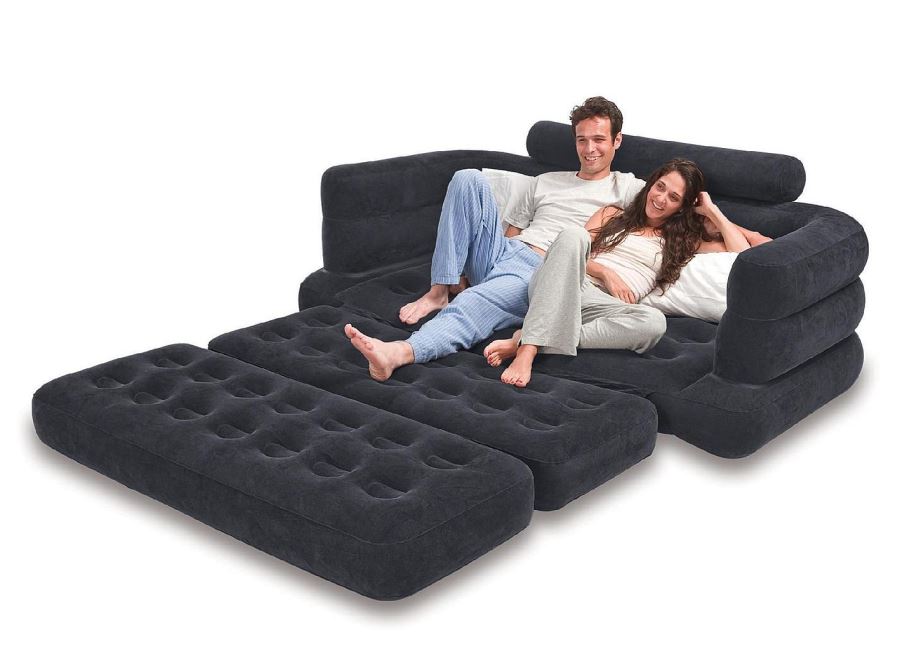 This Intex Inflatable Corner Sofa is available through eBay (as well as Walmart) , and it can be used indoors and out. Affordably priced at under $100, the sofa has the style of a sleek sectional…but you can take it with you camping! Deep seats, wide armrests and a waterproof-flocked top provide comfort: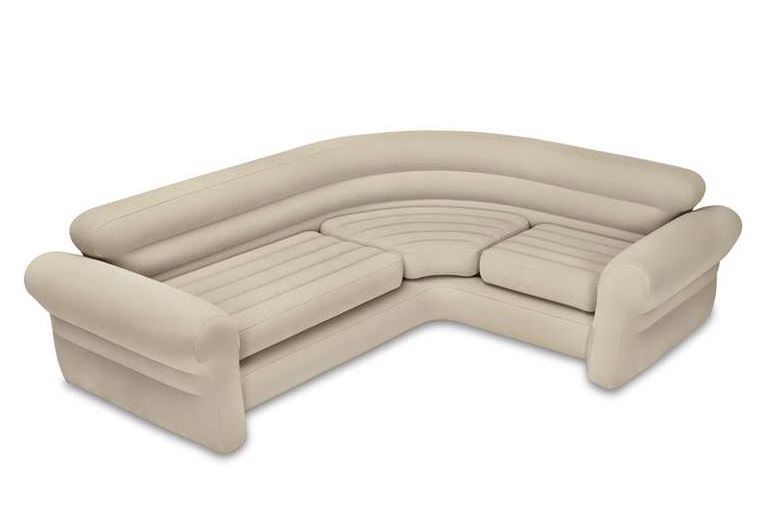 Imtinanz offers budget-friendly inflatable bubble couches that have a vibrant, playful look. Available in a range of colors, the sofa is shown below in Ocean Blue: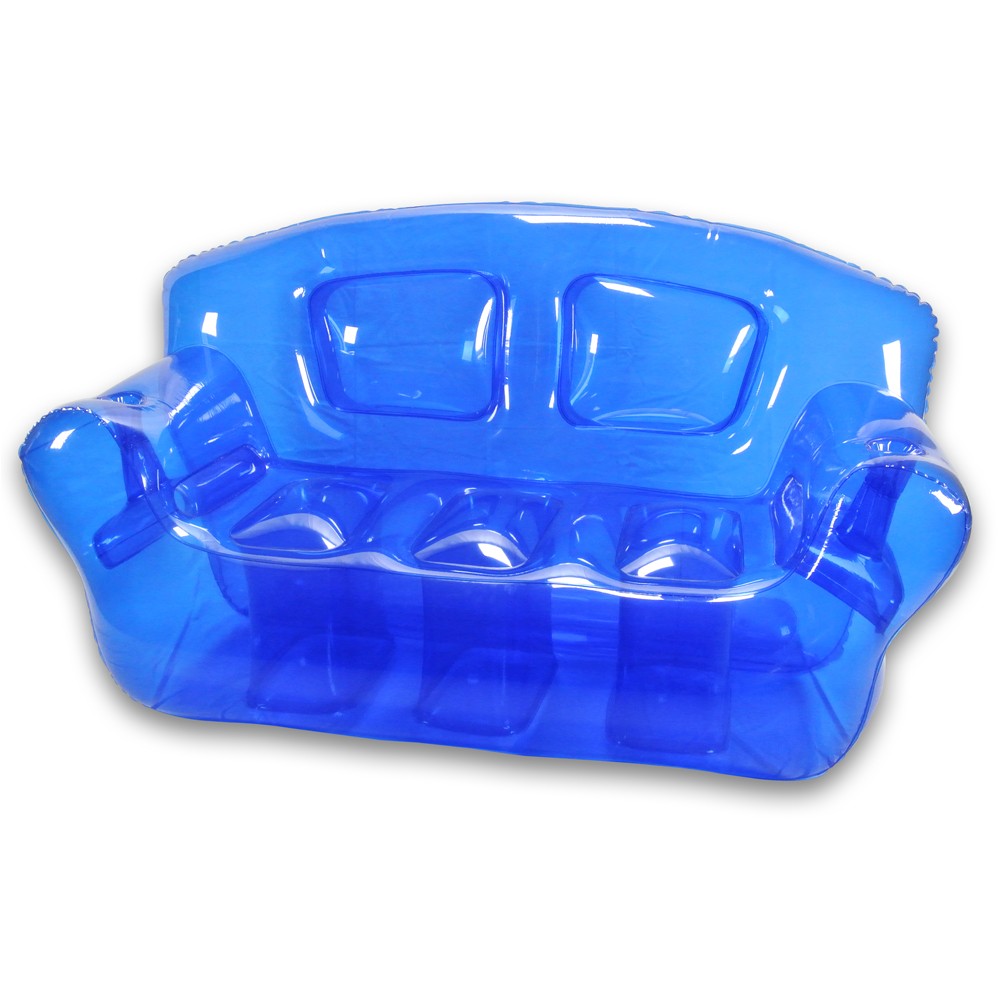 Cushy Stunners
Ready to get fancy?! This tear-resistant inflatable sofa can seat 30 people. Its large circular form is perfect for entertaining, and there's even a central table for setting food and drinks (or doubling as an ottoman). Made from 100-denier PVC, the stain-resistant sofa also includes 8 rings that will keep it in place in the event of windy weather. At $7,000 it's not a bargain, but it will definitely be the conversation piece at your next party! [available at Hammacher Schlemmer]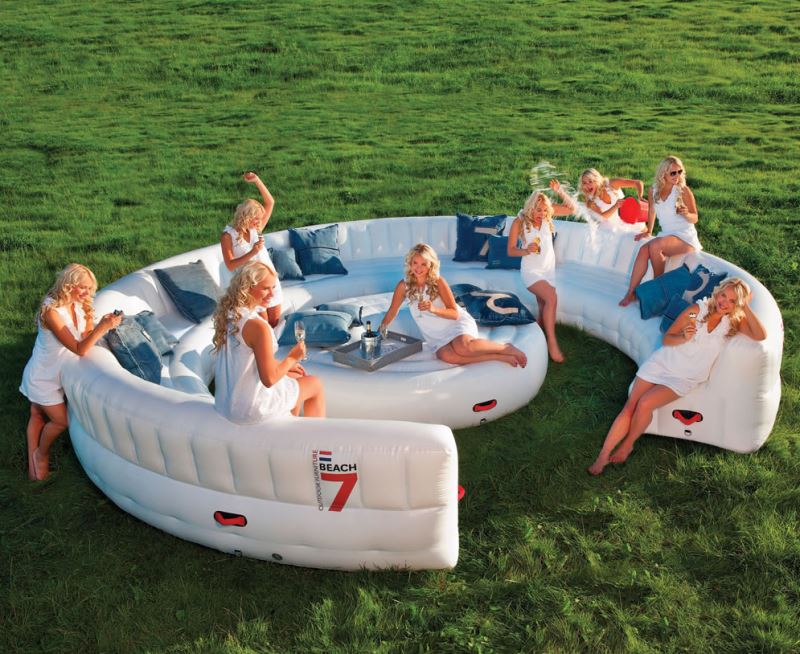 Inflatable sofas are becoming increasingly popular for outdoor entertaining. Blofield Air Design makes a line of inflatable chesterfield sofas that exude breezy elegance. Below we see a grouping of Big Blo 2 sofas in white. Constructed from PVC, each furnishing comes with its own pump. [photo via Stop Spot]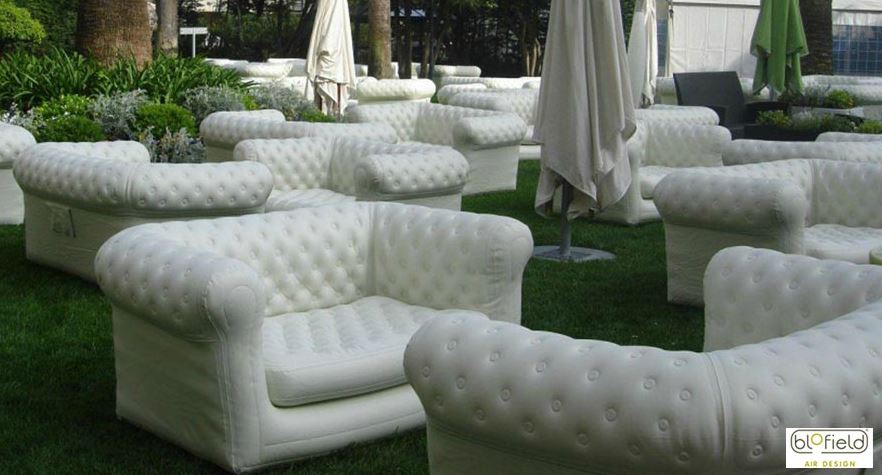 The sofa is also available in red and black. Perfect for parties and outdoor entertaining, Blofield's line of sofas offers durability and style. [photo from Stop Spot]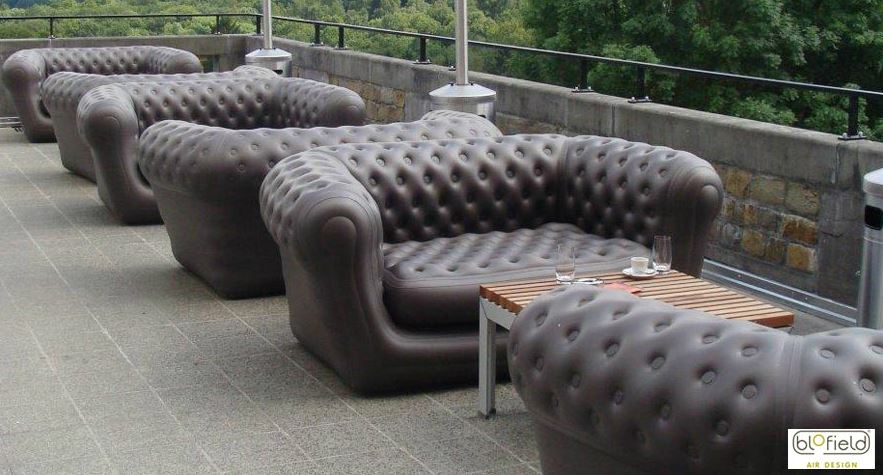 Sofair also designs a series of chesterfield sofas, showcasing inflatable pieces in colors such as white, black, red and green. Durable, fire-resistant and weather-proof PVC is the material of choice, and the best part is the 5-minute set up and fold-down time! Below we see selections from the Winston Range. [via Foohoo]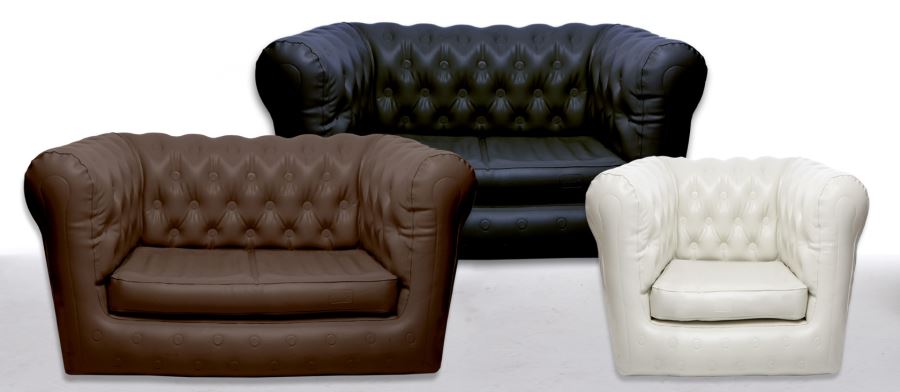 Or you can go all out with this Pink Inflatable Chesterfield Two-Seater from M2B. The company offers custom options, so don't hesitate to personalize your sofa by requesting a specific color, shape or set of dimensions.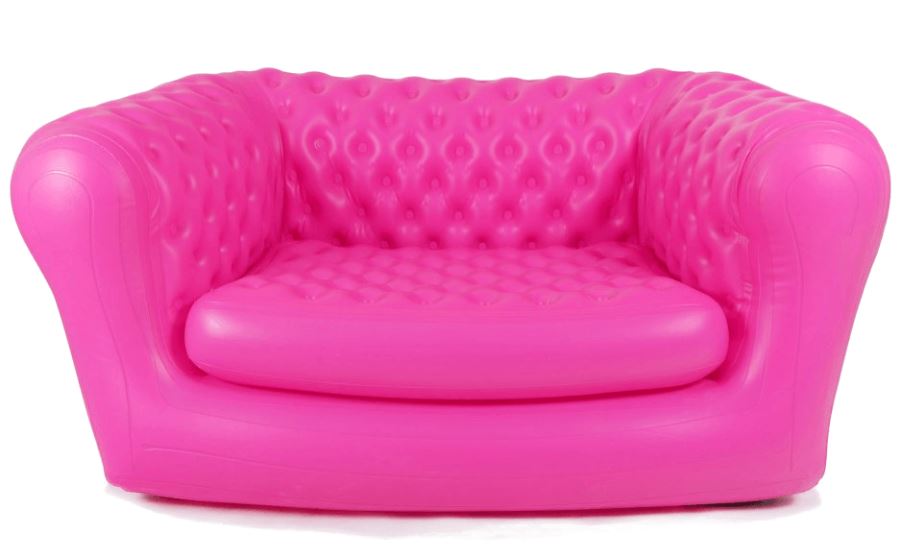 And here it is in silver! Had enough chesterfield sofa style? Keep reading…we're about to shift gears!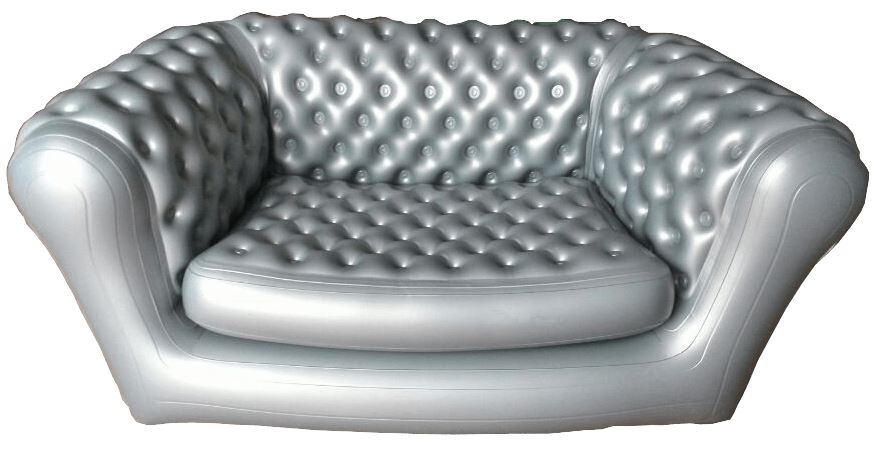 We couldn't end this section of the post without featuring Quilt, an eye-catching sofa with a geometric skin that resembles a honeycomb. Stretch fabric with individual foam inserts gives the sofa its signature look. While it would probably fare better indoors, perhaps it could work on a covered porch or in a sunroom! A 2009 project from Ronan and Erwan Bouroullec, Quilt was previously featured in this Decoist post. We think you'll agree that it deserves a second look! [photo by Paul Tahon and R & E Bouroullec]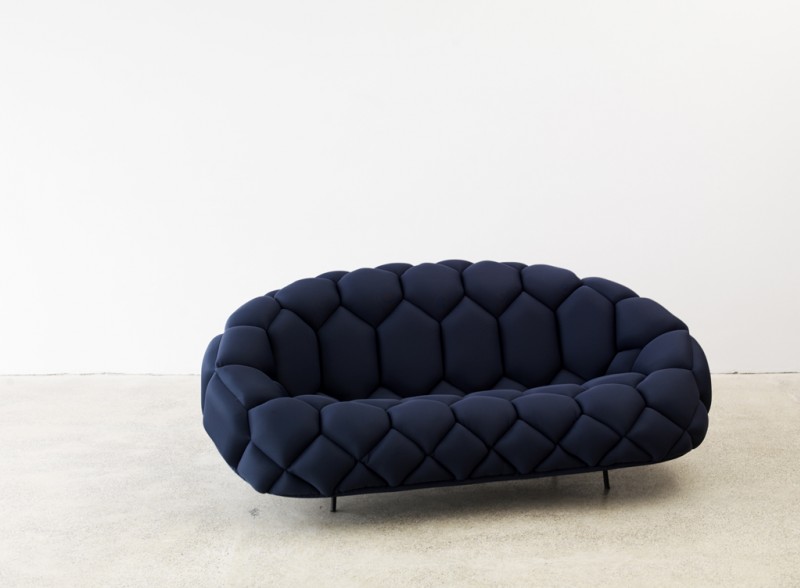 For the Pool
Don't forget about the most relaxing form of outdoor lounging: floating in the pool! Yes, there are inflatable sofas that are made for water use, and this Solstice Aqua Sofa with Instaflate System includes a comfy fabric top, plus pillows. For additional details and purchasing info, visit Amazon.com: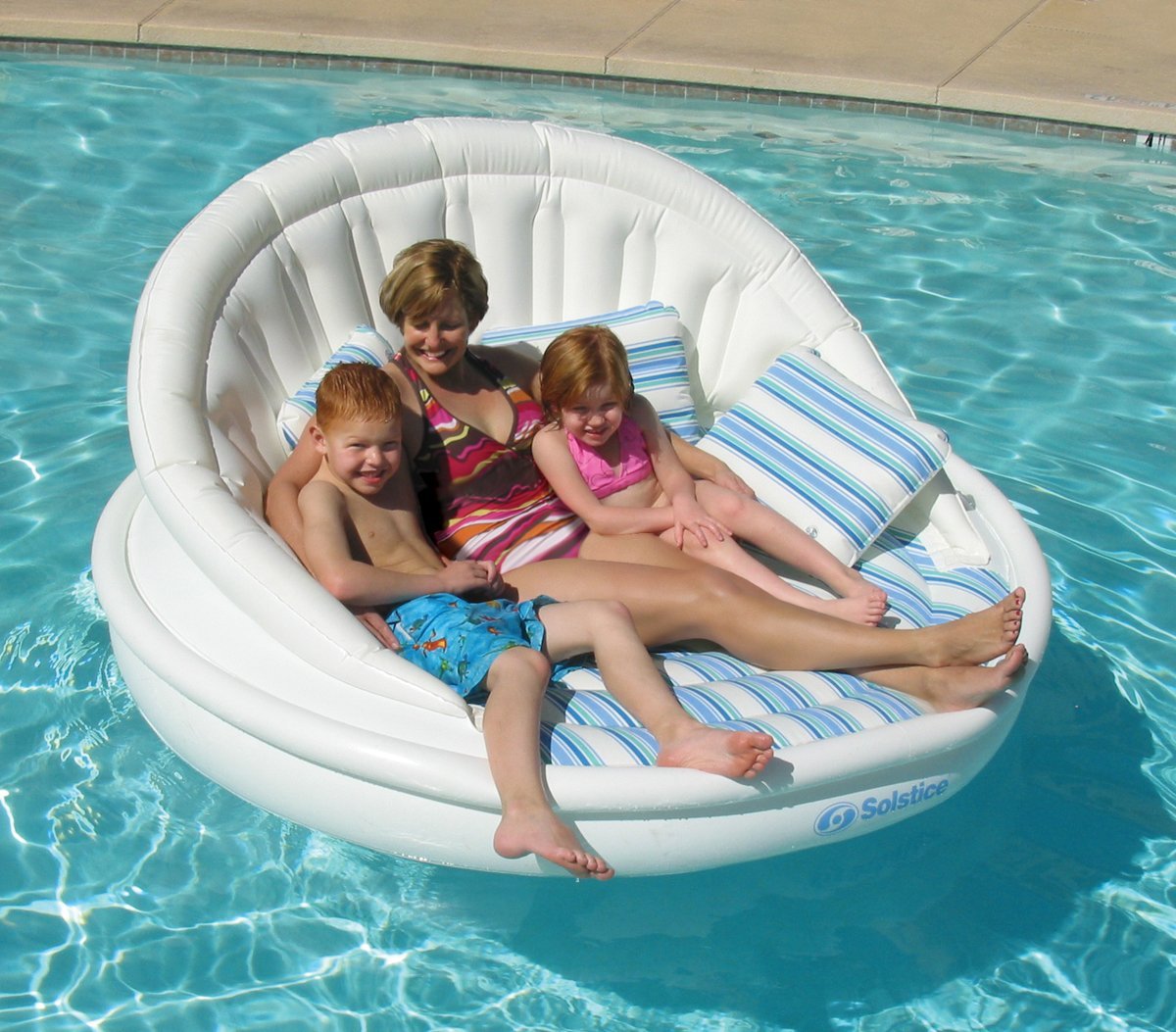 This Sportsstuff six-seater pool sofa is perfect for group conversations, and everyone gets a cup holder! Plus, with an open pool in the middle, you can dip your toes in and enjoy the cool water while you float. Cushioned head and back rests and contoured arm rests make this inflatable sofa as comfy as it is fun. [via Nautic Expo]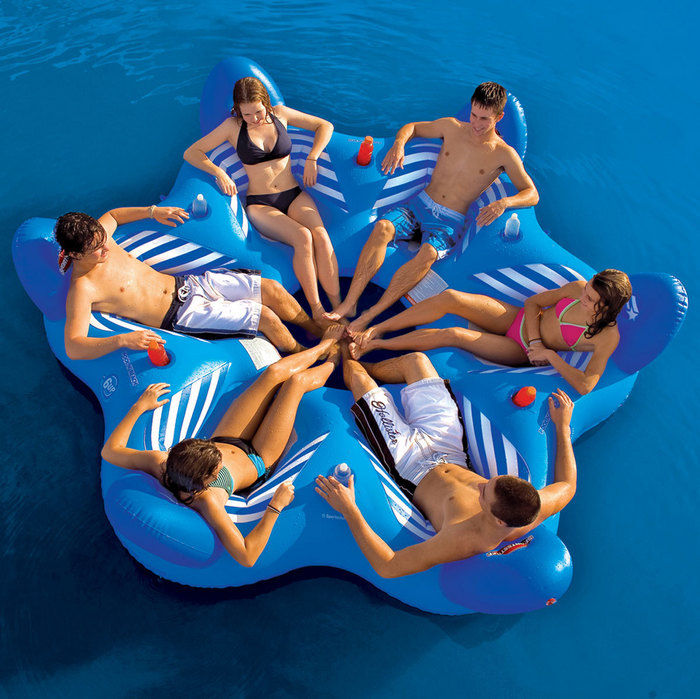 This Designer Series Floating Couch from AIRHEAD can comfortably hold two adults or up to four children. Heavy-duty PVC provides durability, while a cushy backrest is just what the doctor ordered for a day on the water! Available in tangerine, lime and aqua (shown below):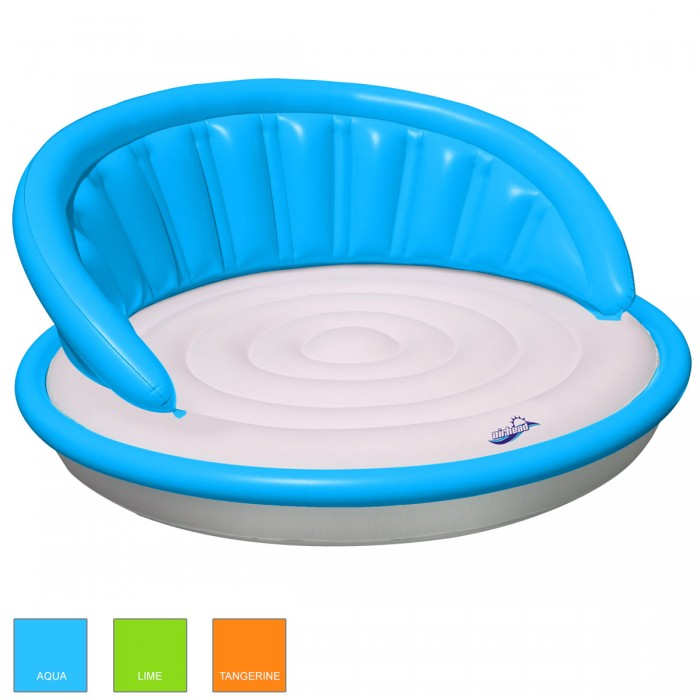 The POOL N' BEACH 2 UP from Sportsstuff can be linked up with others to create the ultimate floating party. Mesh seats and air-filled headrests add comfort. Don't you love the "creamsicle" design? [via Nautic Expo]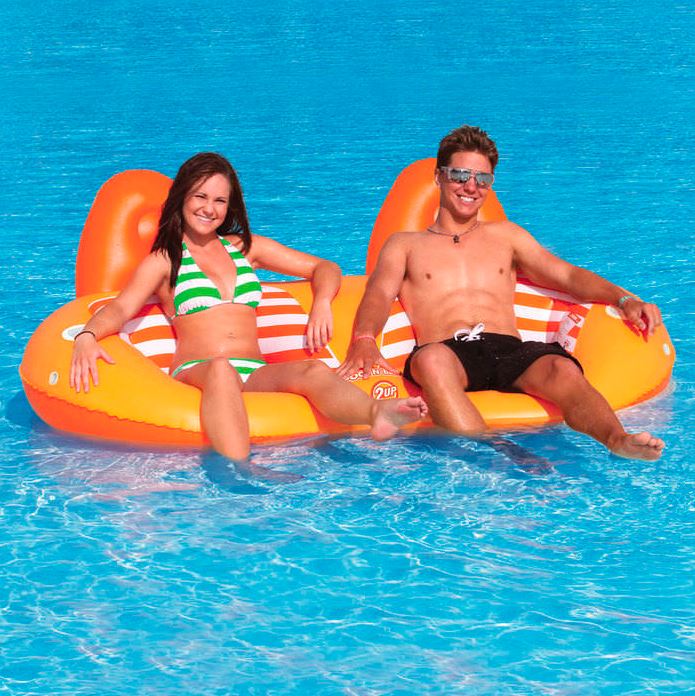 We hope you've soaked up some fun design ideas today. Will you be adding an inflatable sofa to your furniture collection?