In Finland, "pelkistetty" refers to that which is reduced or simplified. Finnish design has its roots in folk tradition and craft, and balances this heritage today with a clean and modern aesthetic.
Iittala and Kaj Franck
Finnish brand Iittala (founded in 1881) has had a hugely positive impact on the world design stage, with objects that are notably avant-garde and utilitarian. Making essential everyday items, Iittala's design philosophy is one based firmly on notions of functionalism, essentialism and emotionalism, encapsulated in the sentiment: "lasting everyday design against throwawayism". The company maintains an incredible portfolio of design that is significant, modern and pertinent.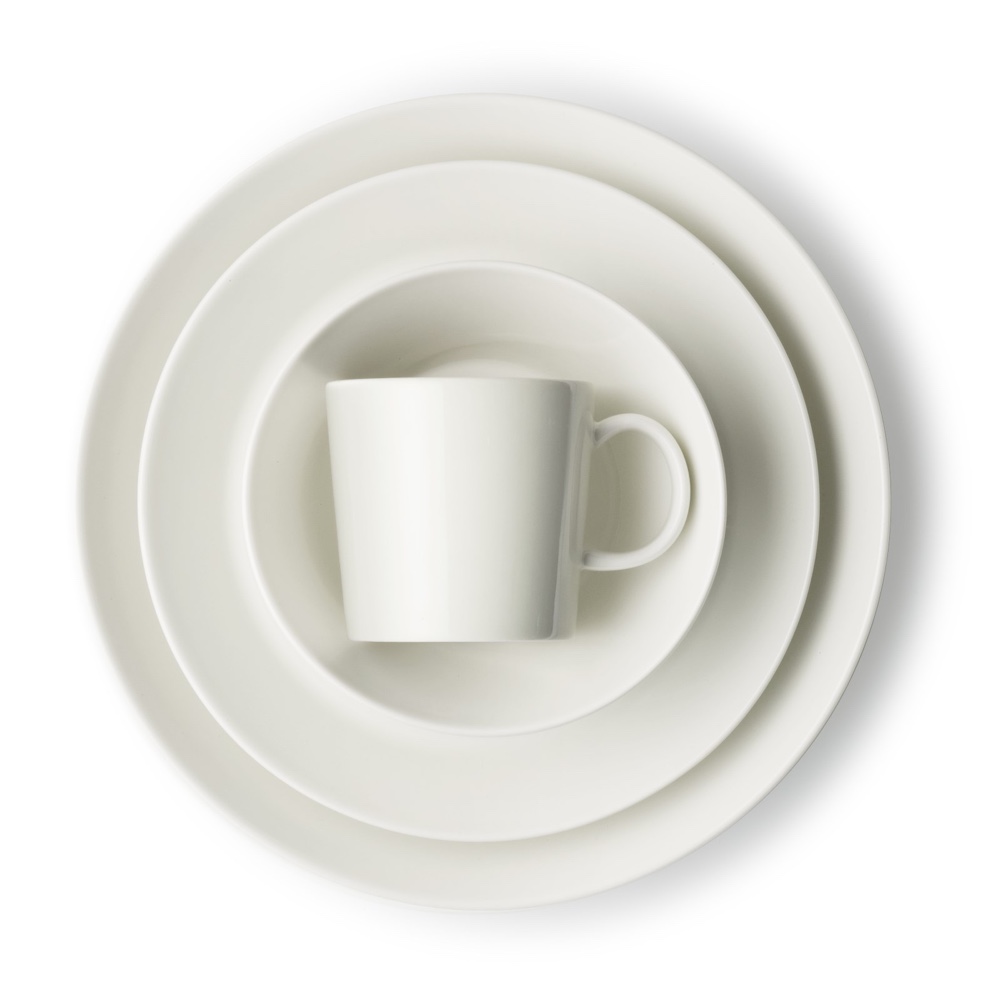 Teema in white. Simple. Elegant.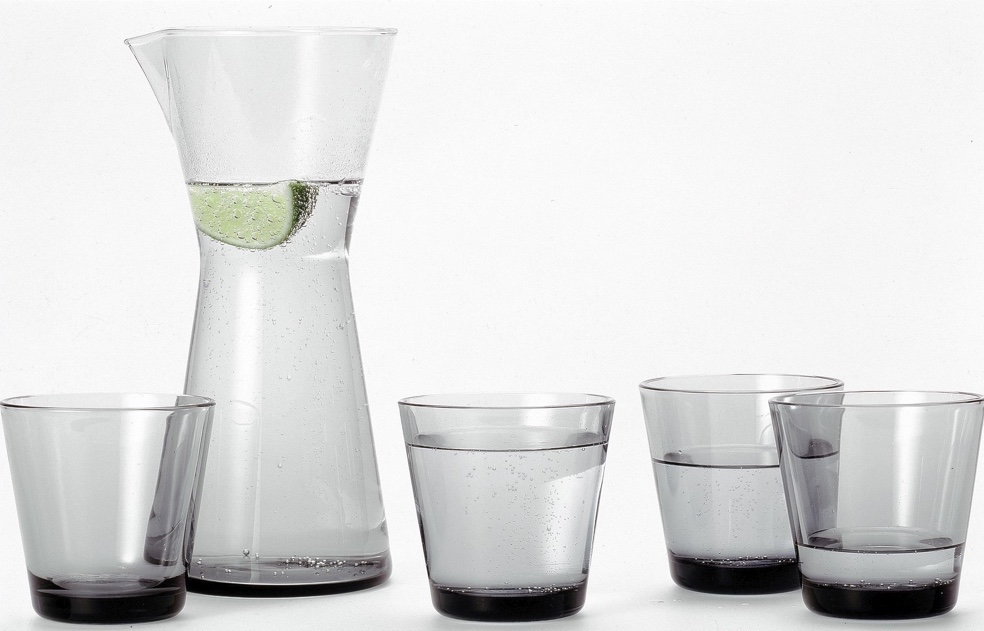 Kartio pitcher and glasses in grey.
Iittala worked with Kaj Franck, an exceptional and  influential designer. Franck designed two of the brand's most successful series: Teema tableware between 1948-1952 and Kartio glassware between 1946-1958. Each series is the perfect example of its kind, remarkable on the one hand yet typical on the other. With Teema and Kartio, pieces add meaning and value, knowingly or unwittingly, to everyday moments. Epitomising Finnish design prowess, both Teema and Kartio offer users a wide range of combinations, colours and shapes, and remain as relevant today as when they were first introduced. Teema was initially known as "Kilta". Based on circle, square and rectangle shapes, its unconventional and modular approach allowed users to choose their own individual combinations. The range was relaunched as "Teema" in 1981 and remains a modern and functional dinnerware solution. (Source: The Skandium Blog)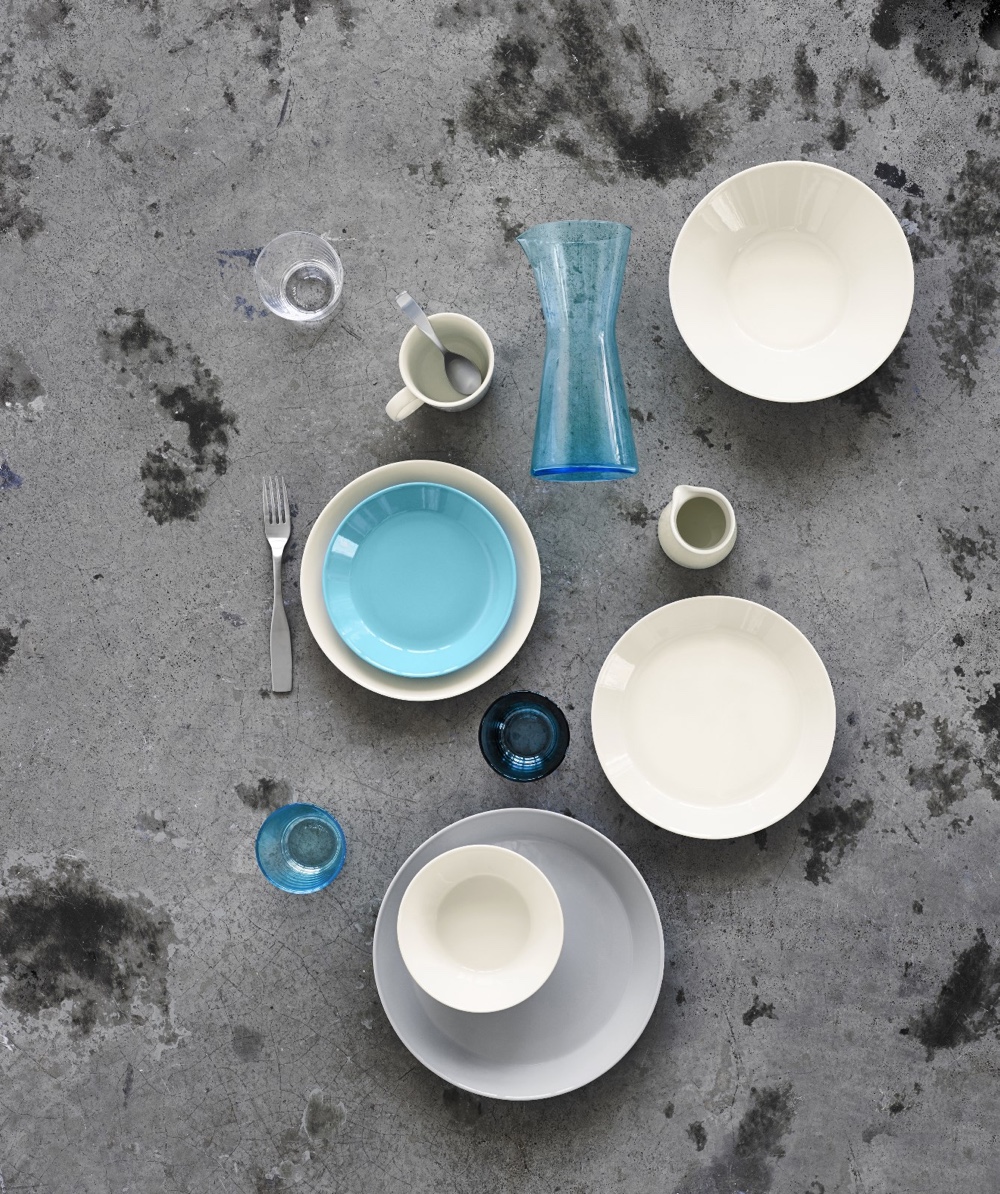 Teema and Kartio.
Utilitarian Design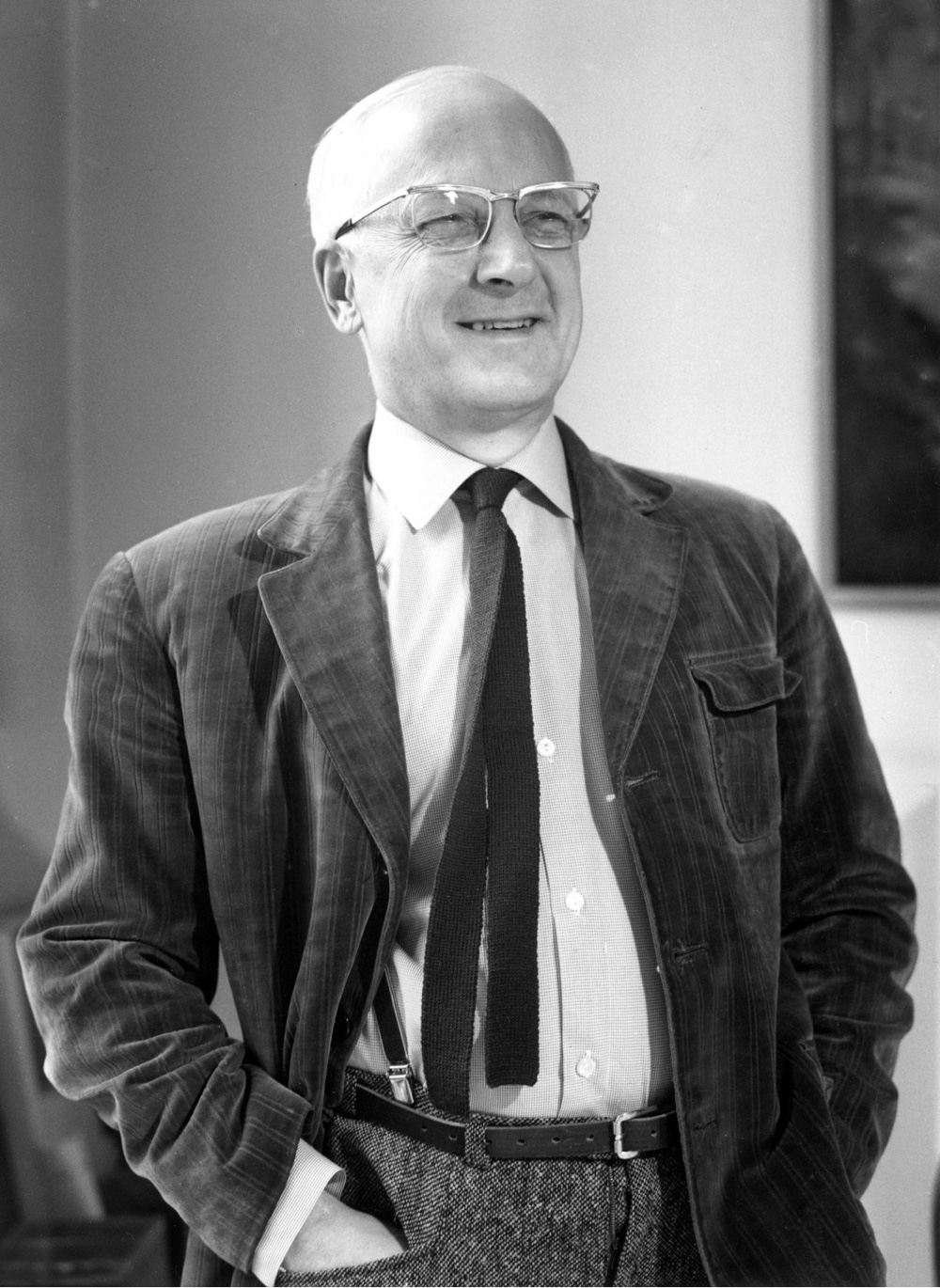 Kaj Franck.
Kaj Franck (1911-1989) was one of Finland's best-loved designers and a man who created a wide range of utilitarian objects. As a designer and craftsman, he was influenced by such genres as the Bauhaus and traditional Japanese design. Described as the "conscience of Finnish design", Franck's pared down aesthetic reduced his objects to their basic form. In Franck's worldview, the essential qualities of a design were optimal; anything more was excess. According to Franck, "objects should always be appropriate, durable and functional." (Source: Finnish Design). In spite of this, part of Franck's genius stemmed from his ability to see simple and basic design as beautiful. The world faced an ever-growing scarcity of resources and Kaj Franck understood this. His designs were democratic: with a strong social component prevalent in a 1950s design agenda, optimal objects were created primarily for use in the home. Franck observed: "the only possibility for resolving the technical aspects of utilitarian wares consists in being both radical and socially committed". (Source: The Skandium Blog) Intended for a lifetime of universal application, designs such as Teema and Kartio were (and remain) immune to fast fashion and seasonal trends (if not immune to breakage).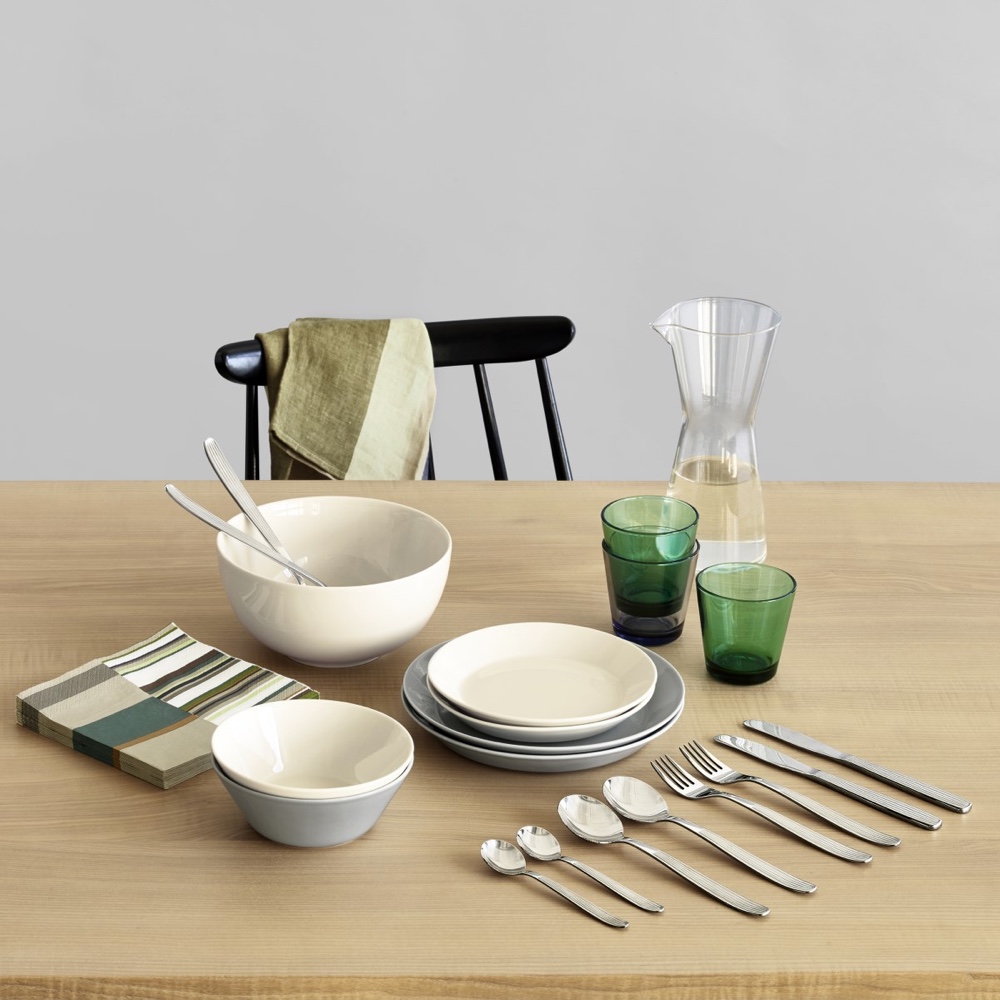 Teema and Kartio (with Franck's Scandia cutlery).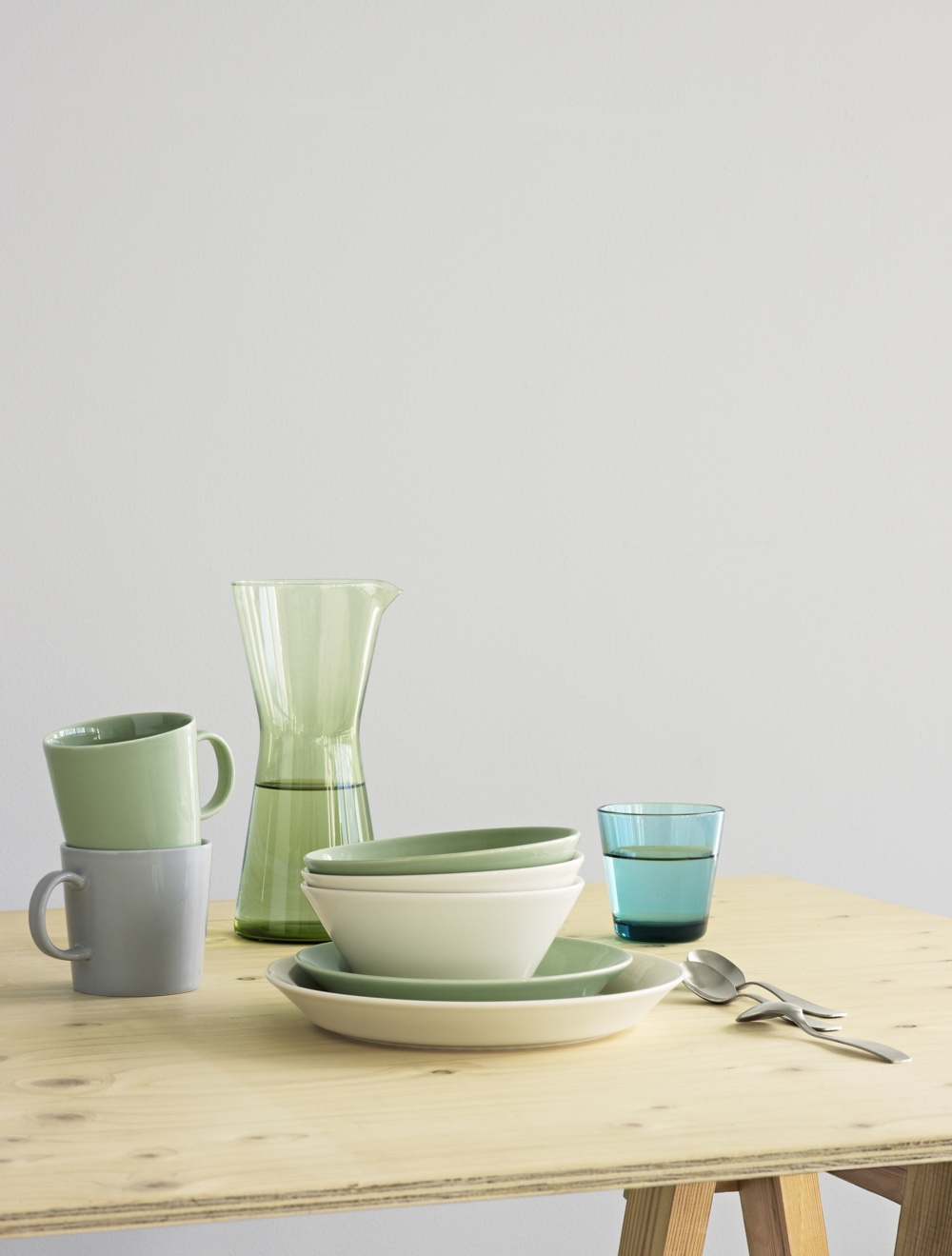 Kaj Franck believed that colour is the only decoration needed.
The Burden of Choice
Human beings (in the main) can make conscious choices as part of everyday life. Yet for consumers, making choices related to design is becoming increasingly onerous: in the often madcap world of design there is simply too much choice. In our haste and frustration, there is a tendency to choose expedience and convenience, to nullify the burden of choice. Poor design choices typically result in a lacklustre environment, devoid of character, charm and charisma. Without personality, a space quickly loses it appeal: lacking emotion, it offers little sense of cosiness or sanctuary. Stopping to think about simple things (tableware and glassware) that can enhance the relationship we have with our space is a positive step towards improving our surroundings.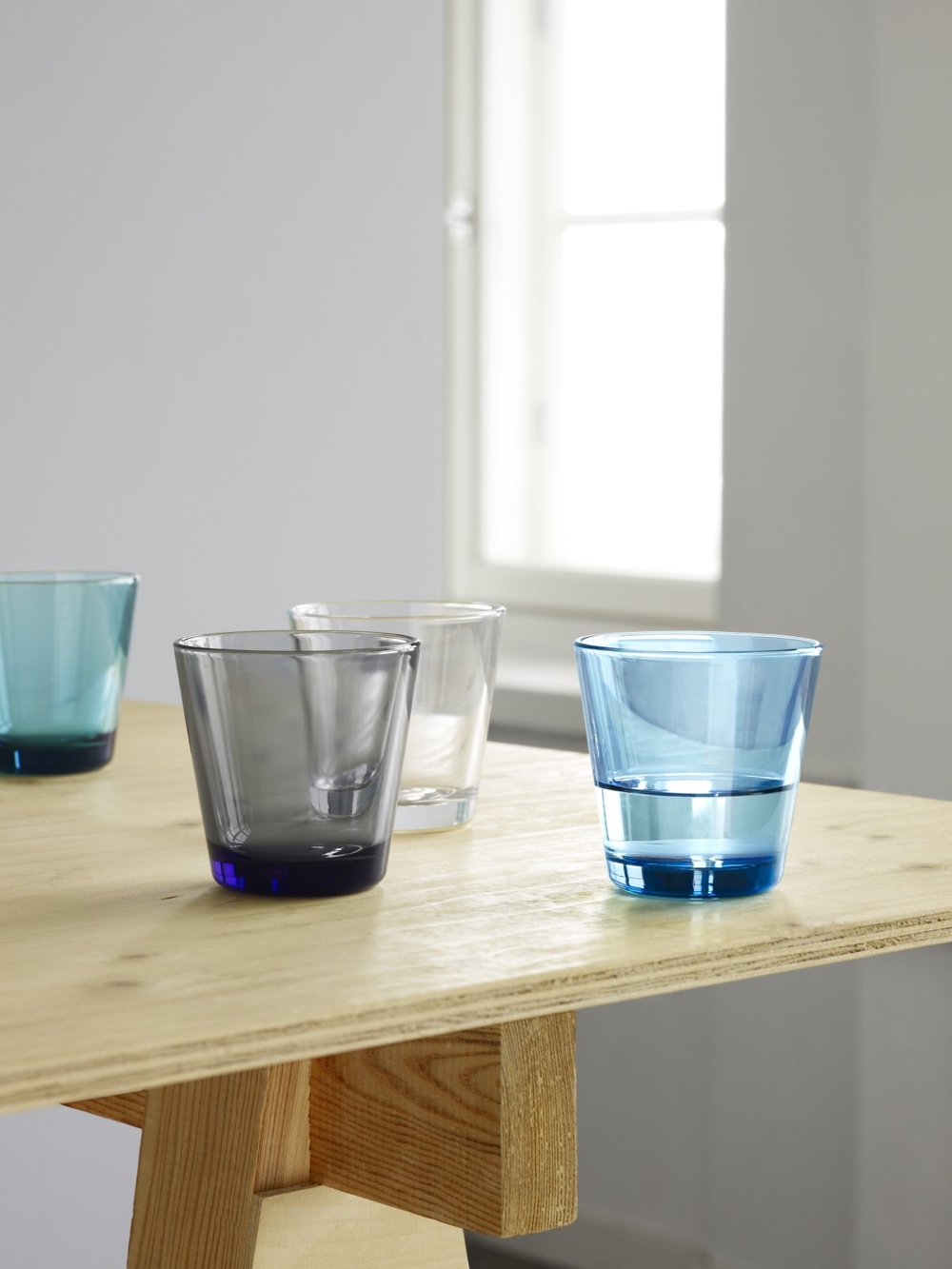 Kartio 21cl glasses.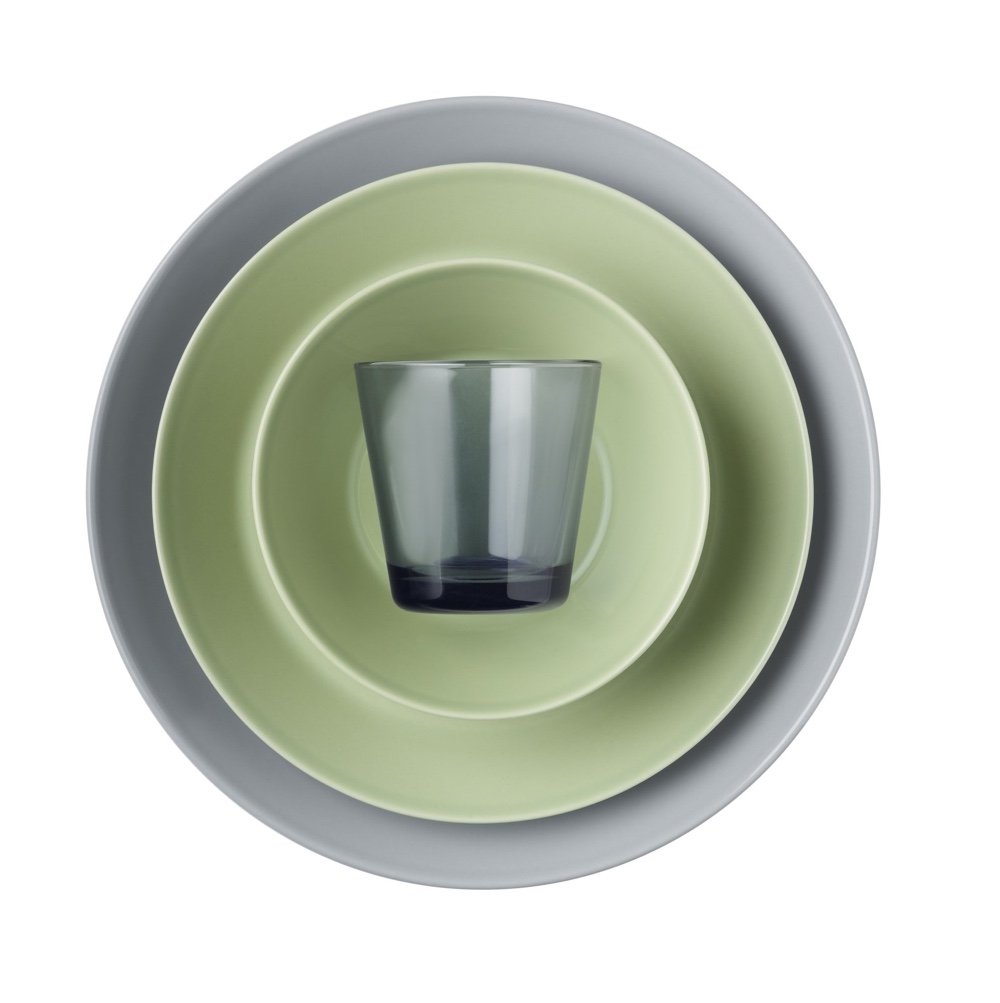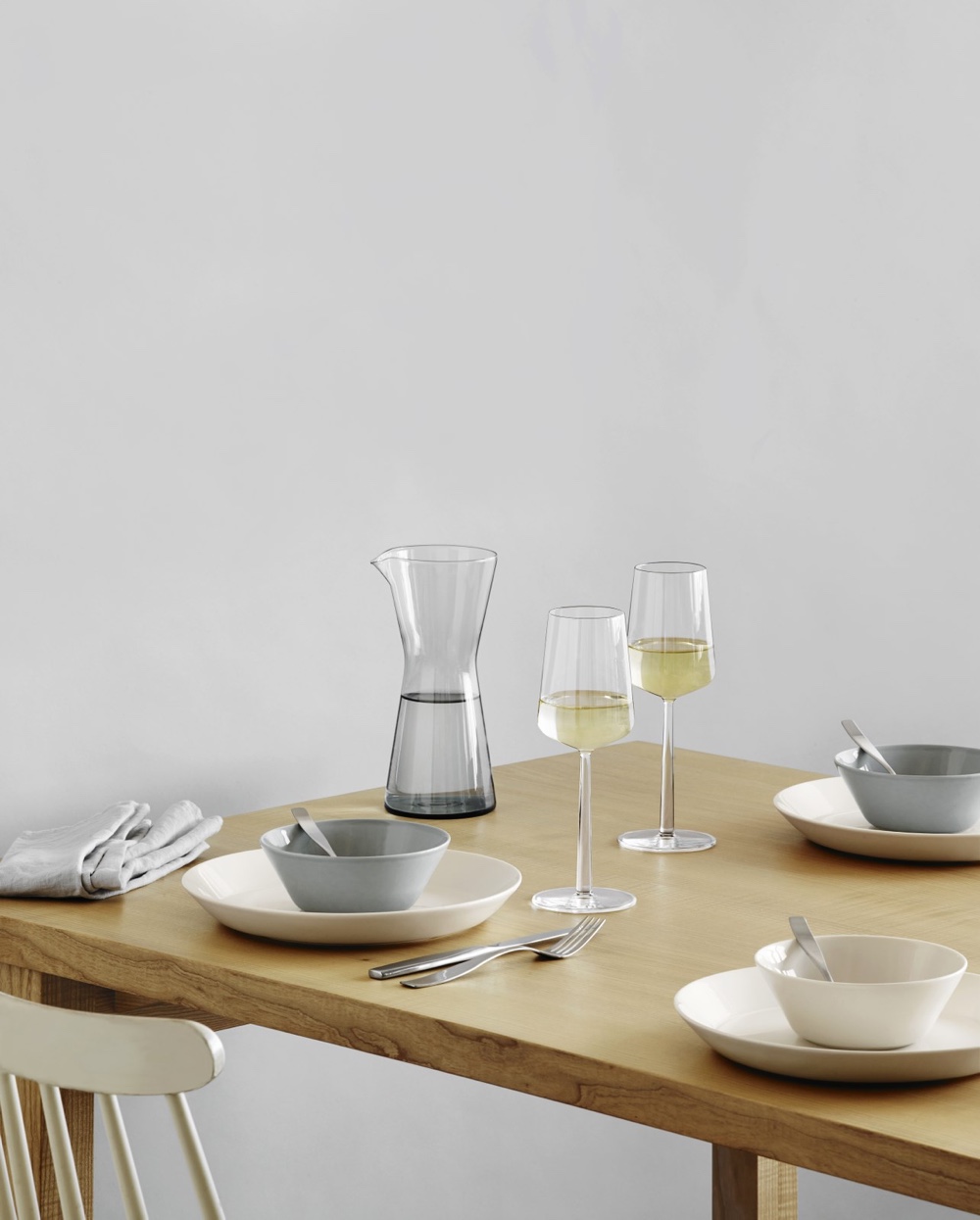 Teema and Kartio (with Essence white wine glasses by Alfredo Häberli).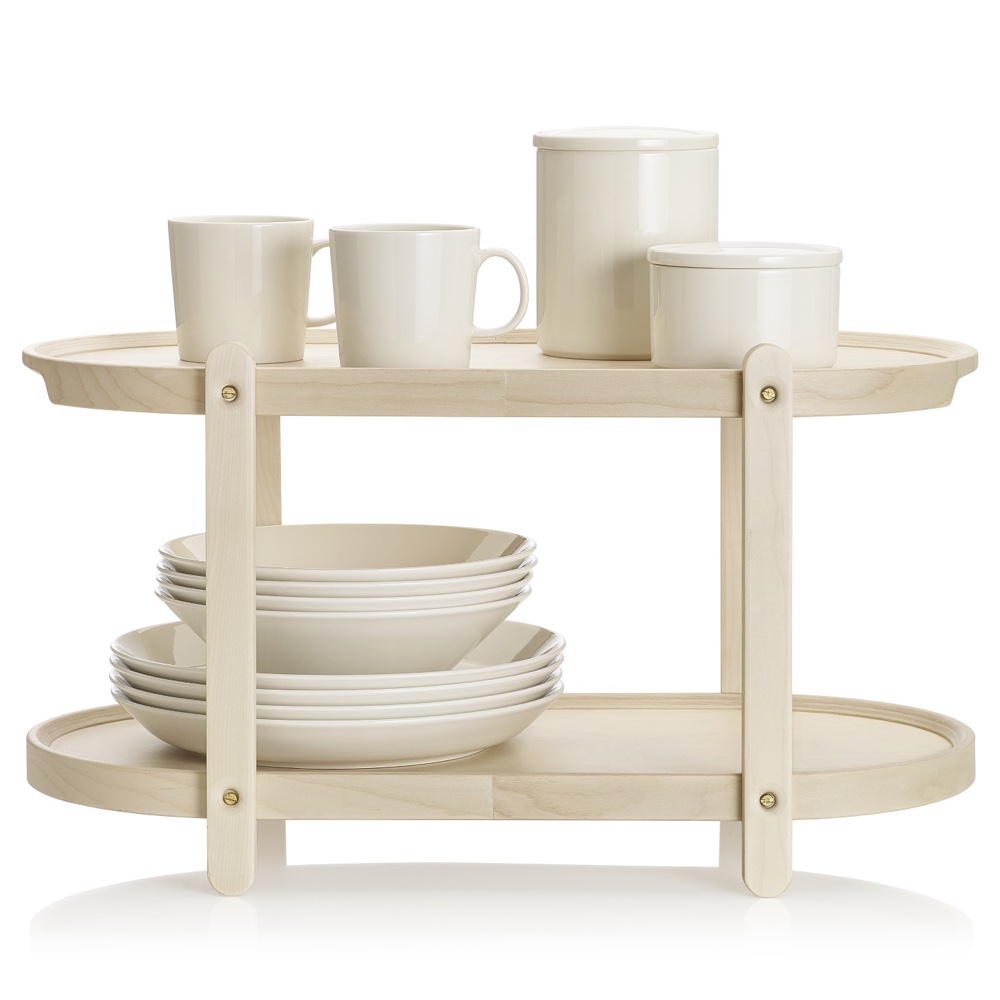 Teema in white on the Kerros shelf (by Matti Klenell).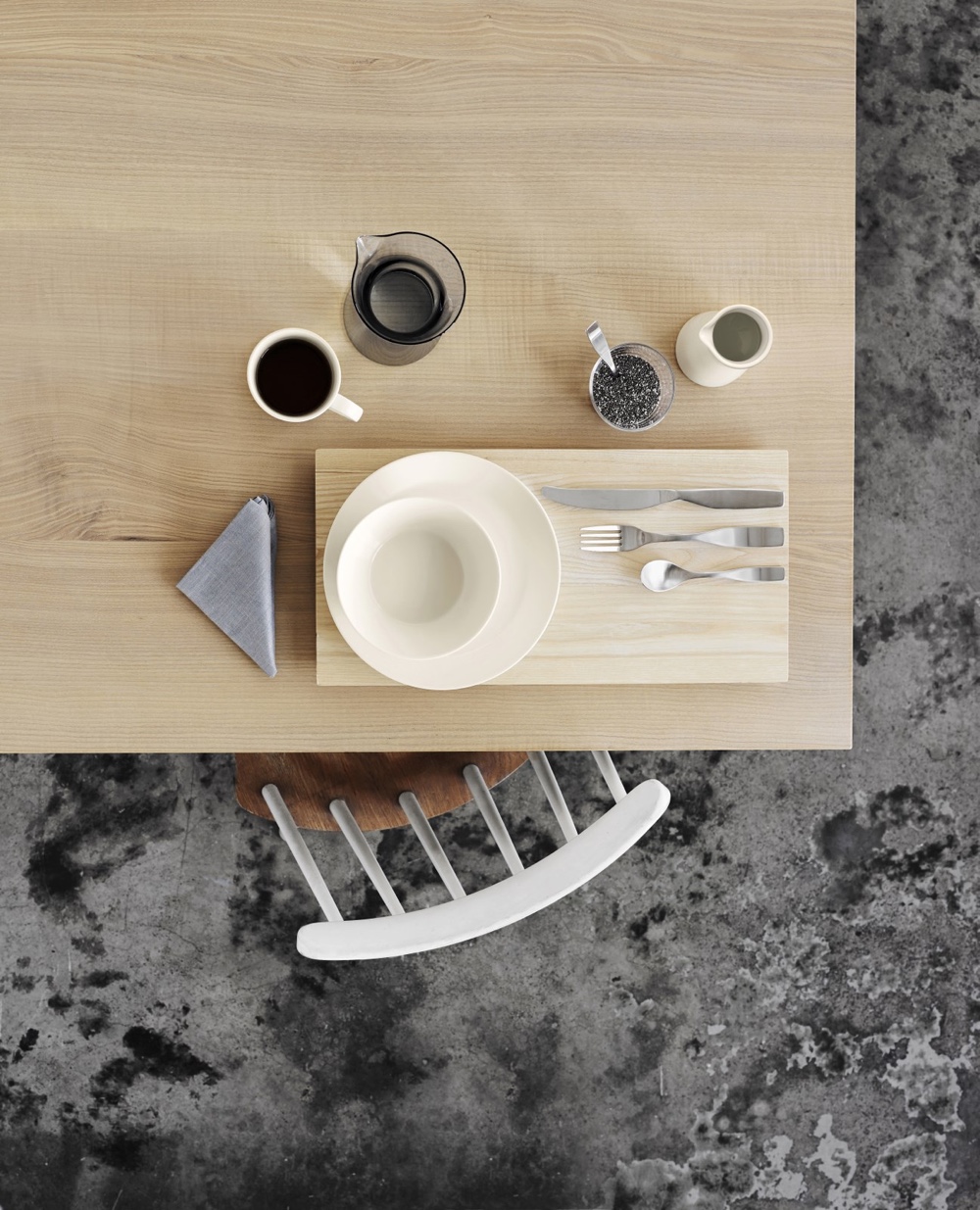 Teema and Kartio (with Citterio 98 cutlery by Antonio Citterio).
The Teema tableware series and Kartio glass series are among Kaj Franck's most celebrated objects. Handsome, modern, simple and timeless, they are for those who have a penchant for good design, for the responsible user as opposed to the rash consumer.
All images © Fiskars Finland.