Quilt is an inflatable sofa that promises to add a tinge of style to any modern environment. Designed by Ronan and Erwan Bouroullec for the British manufacturer Established & Sons, the unique sofa seems like a giant comfortable soccer ball that invites you to sit with a good book and a glass of scotch, under a fancy reading light. Or maybe hug your loved one while watching your favorite movie and enjoying a pack of popcorn.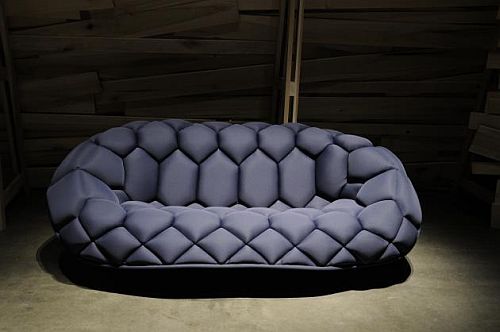 This is a welcomed, comfortable addition to just about any living area. In fact, this would also be a fine accouterment to a study or an office for a relaxed respite during the hectic workday.
Even though the soccer ball theme seems inviting for a sports play room, I would be careful when a bunch of your rabid football fans come over to watch the games. No one knows how it will hold up to several people jumping up and down during celebratory scores.
Just keep in mind that the sofa looks much better inside than it looks outside — which doesn't mean it won't look good by the pool, of course. And remember, this is an inflatable sofa, be careful where you put it; clean the room thoroughly as dirt and debris can puncture your sofa. Also make sure it's not too close to heaters, air conditioners or windows, as all these can damage your plastic. (found on Contemporist)