Do you want to add a touch of individuality to your home? A balanced combination of two very different styles will bring your personal note to the space. The fusion of industrial and rustic is very popular, as these interior styles perfectly complement each other. The result is a modern space with welcoming and homey vibes.
Add warmth
While polished concrete floors are one of the more common aesthetics, they might not fit your vision of a welcoming space. When the industrial style appears too cold and sterile for your taste, go ahead and add a few accents to spice it up. Layer a bold Moroccan rug to add warmth and coziness. The warm colors and rich details add a lovely visual touch and create a cozy seating area.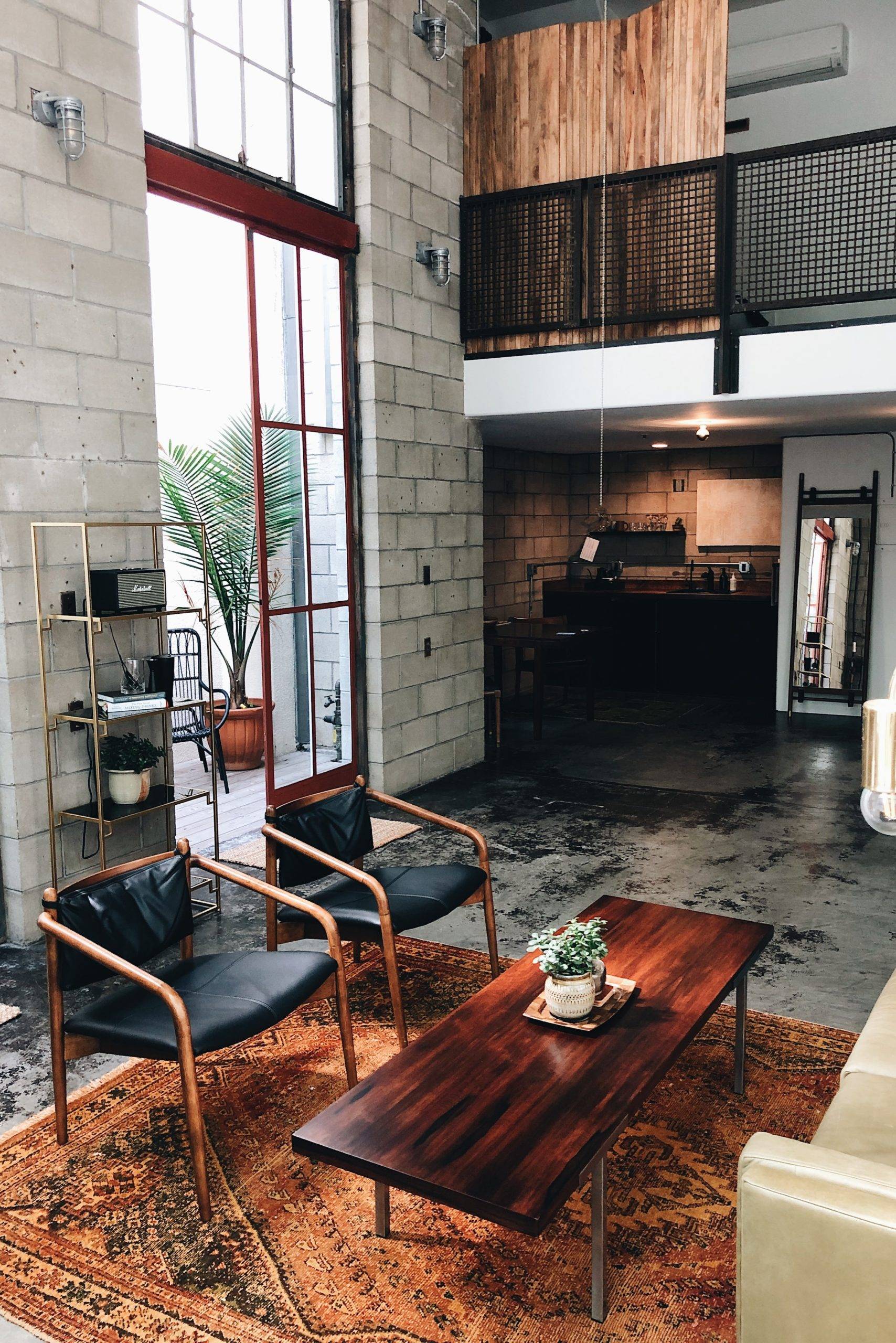 Rustic industrial kitchen
The stainless steel appliances already have an industrial feel, so complete them with rustic cabinets to achieve the perfect style fusion. An exposed brick wall with warm wood shelving is an ideal accent for an elegant kitchen that combines both styles.
Balance
Here, rustic comfort unexpectedly meets the industrial style, while the charming furnishings complement the sleek elements perfectly. Think of adding heavy-duty accent furnishings through the space for a bold impression. A Chesterfield sofa is a staple for the industrial style. Alternatively, opt for a leather couch with clean lines. Distressed wooden furniture will add a touch of coziness while complementing the aesthetic.
Wood and modern elements
Industrial style highlights the beauty of the unfinished textures. Exposed wooden beams are an attractive feature that will add rustic vibes to the space. Complement with modern light fixtures to achieve the perfect balance between warmth and sophistication.
Play with antiques
If you don't want your space to have a strictly industrial vibe, introduce some charming antiques. Their presence brings a generous amount of personality to the space while breaking down the monotonous look. A rustic chair will complement the industrial leather sofa, creating a perfect balance between the comfy and the modern.
The wall and ceiling of this bedroom have an authentic industrial look. However, it is the decorative elements that add a touch of coziness. The antique mirror frame makes a bold statement while balancing the rough aesthetics. A macrame swing and fluffy throw add a decorative touch while creating a relaxed feel.
Although they are part of the industrial style, exposed brick walls bring a relaxing feel. Use this feature to your advantage and introduce a dose of warmth to the space. The concrete ceiling and exposed brick walls create a harmonious combination of unfinished textures.