Black is classic, understated and elegant. While it may not be the first festive color that comes to mind when you think of the holidays, this deep hue has been getting a lot of camera time in recent months. Food bloggers and stylists are piling on the rich colors, and black flatware is one of many dark accents used in chic table settings.
Black backdrops are perfect for product photography involving metallic barware. Not to mention, design catalogs are filled with black-walled rooms that epitomize "winter chic" style. Intrigued? Let's take a cue from this top trend and bring the color black home for the holidays…
Tabletop Style
The holidays are all about gathering with friends and family and sharing a good meal. Feast your eyes on these foodie images that are as decadent as they are delicious!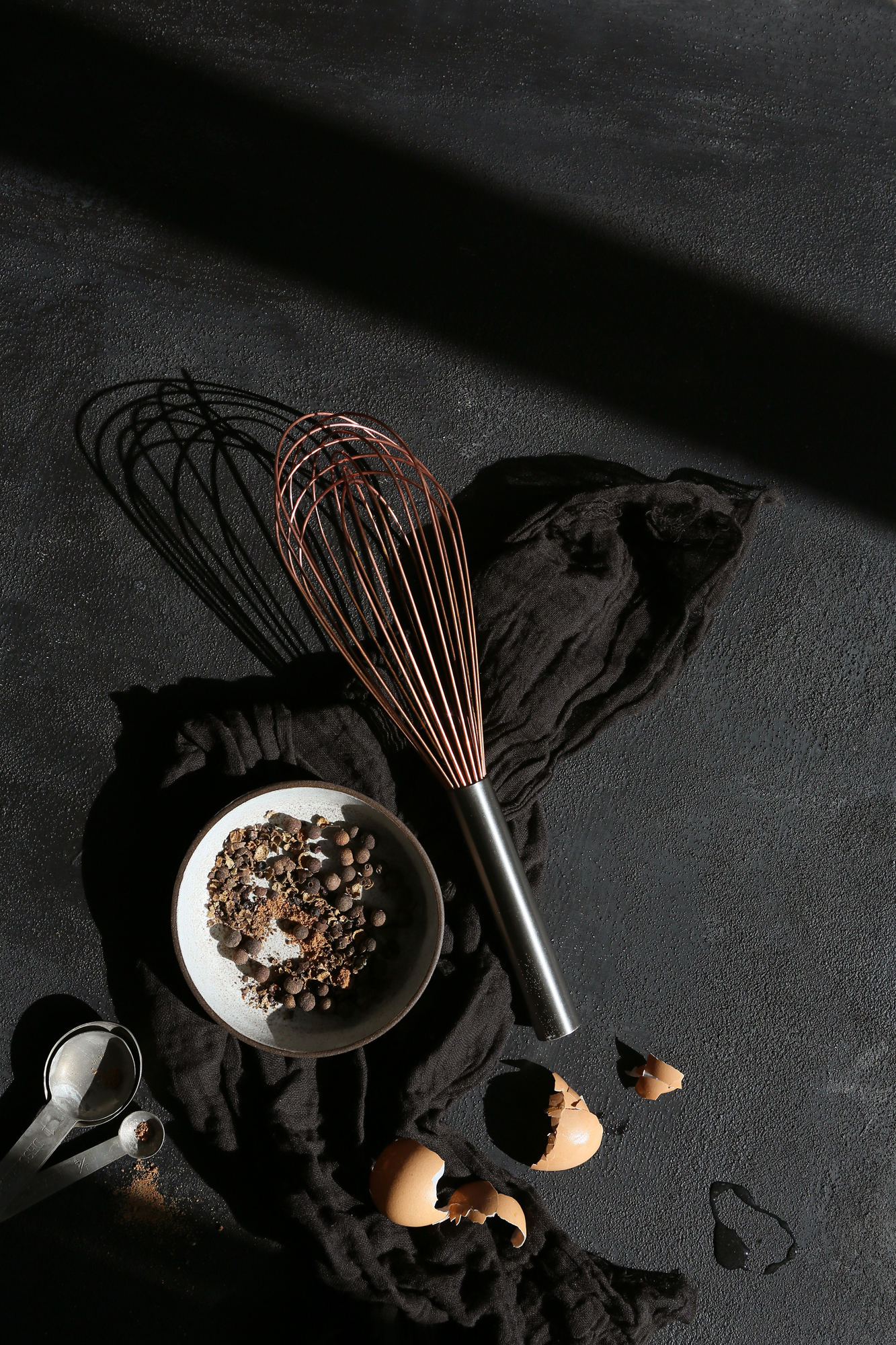 Above and below, we see food photography from EyeSwoon. While the photos celebrate the beauty of preparing a Thanksgiving Pumpkin Tart, the rich palette can be applied to the winter holidays as well. Note how the colors of the food stand out against the subdued backdrop. [photos by Sarah Elliott]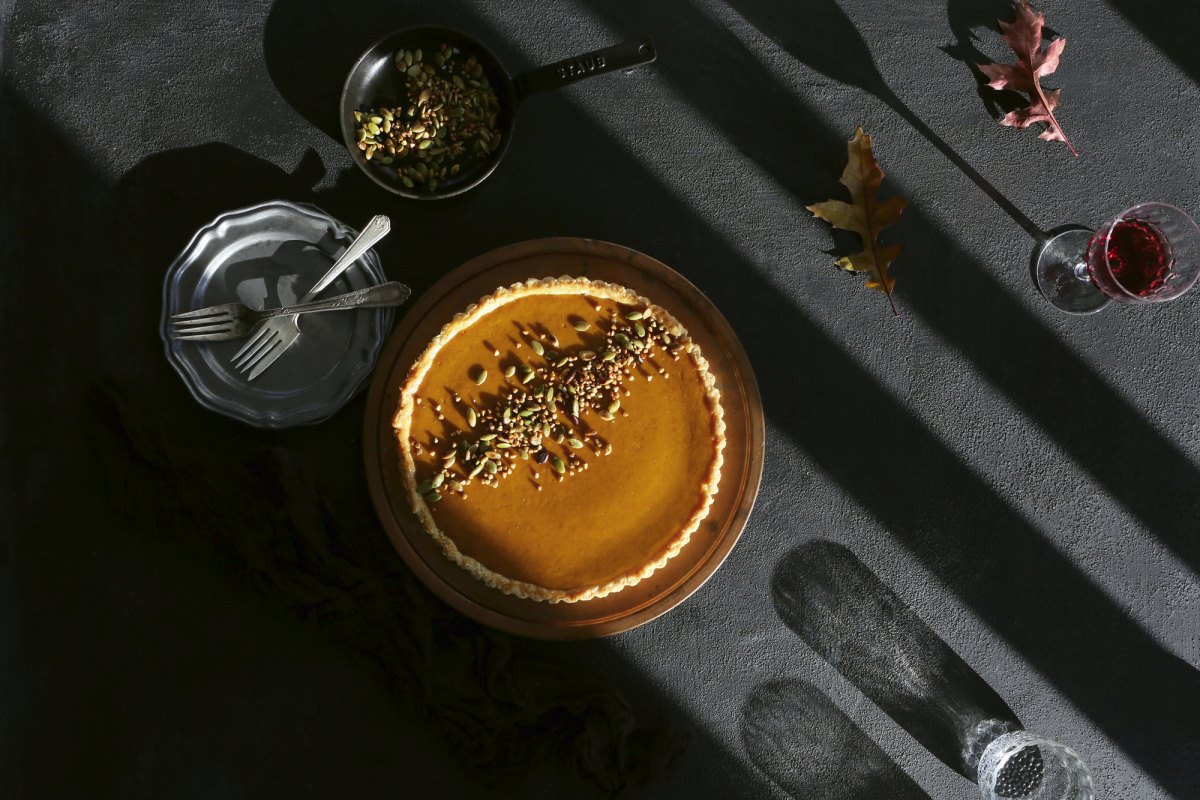 Harvest & Honey is a food blog that embraces dim lighting, resulting in richly crafted vignettes that illustrate food with mood! We can't get enough of their beautifully composed images. Once again, black is the backdrop of choice, breathing new life into the edibles that top it. The ingredients perfectly come together in this Fall Harvest Gallette: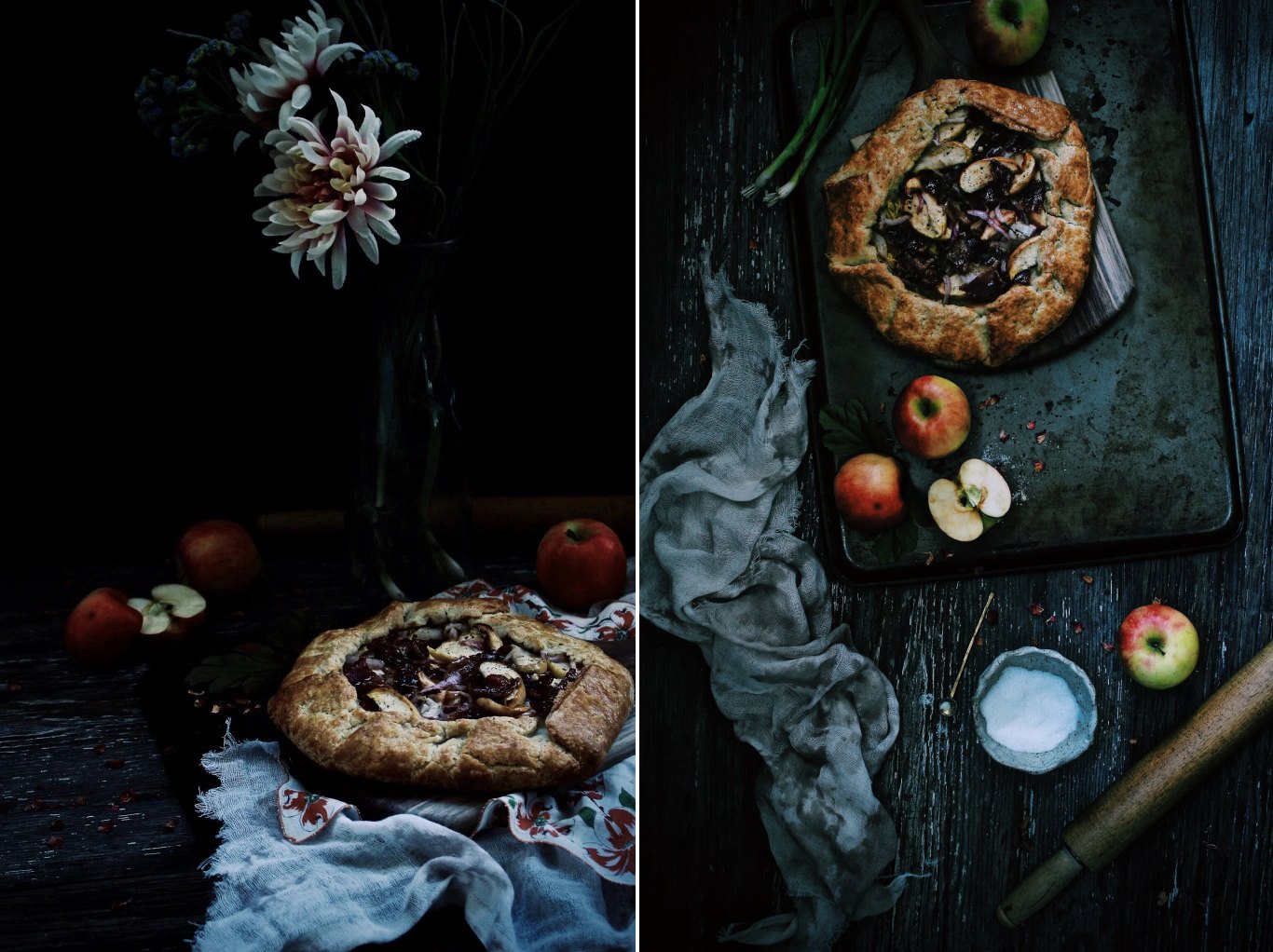 What does all of this food photography mean for your holiday table? Don't be afraid to embrace the darkness. Combine shades of grey and black, and let the oranges, reds and violets of your food make the main statement. Like this beautifully styled table, once again from EyeSwoon: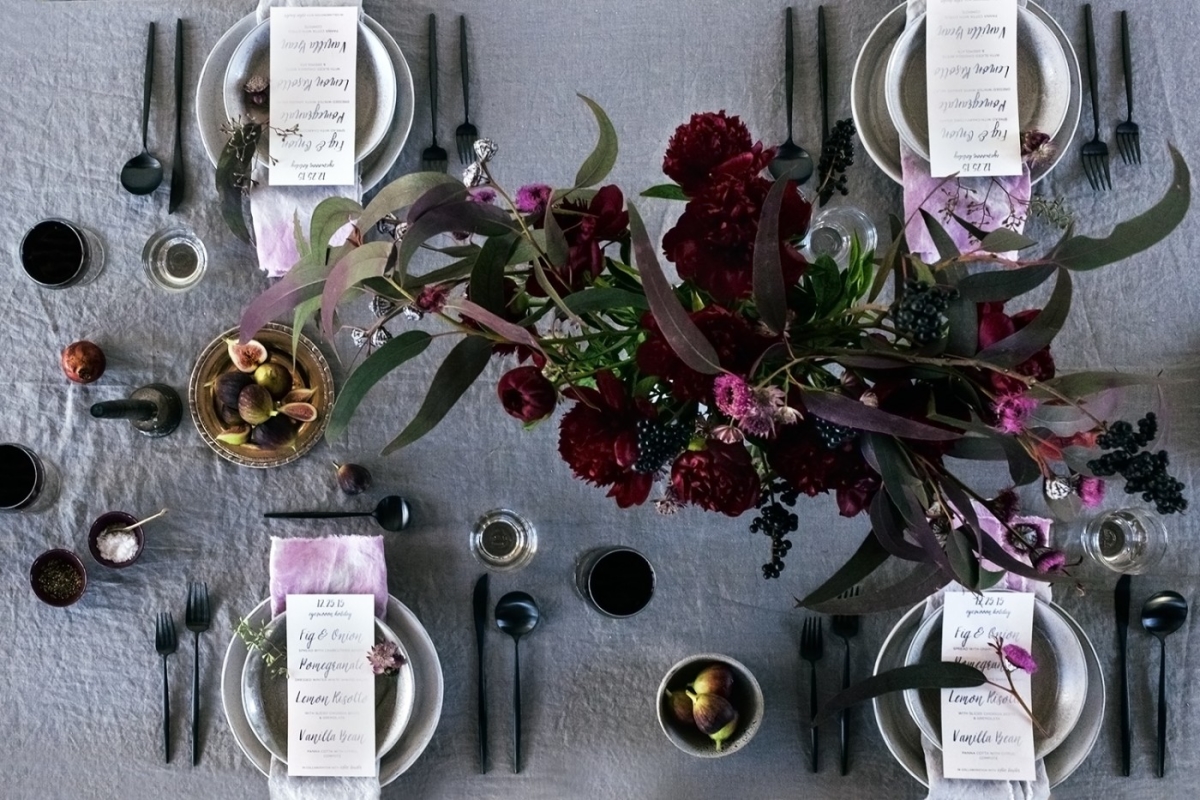 Don't forget the black flatware! This Matte Black Flatware Set from West Elm is a great place to start: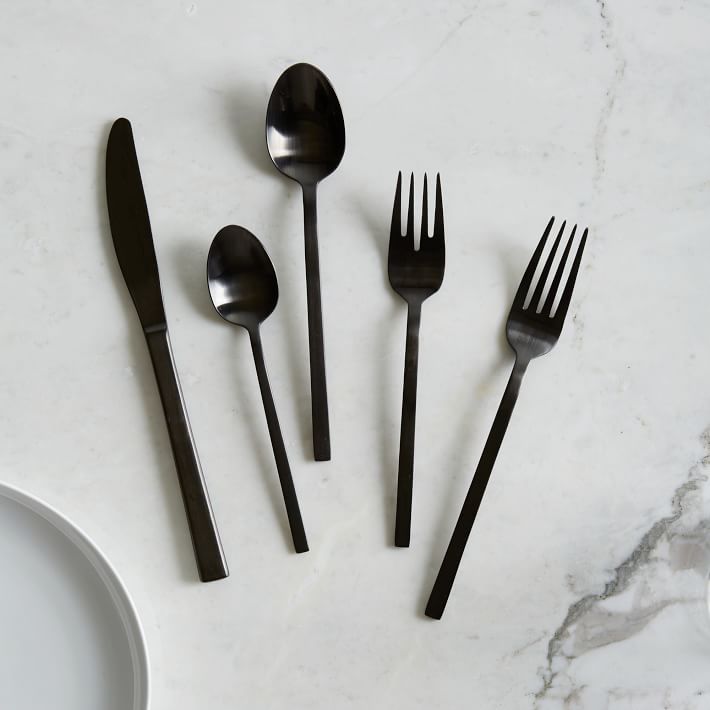 Retailers such as CB2 and Crate & Barrel also offer black flatware. It's versatile, it's sleek, and it goes with everything: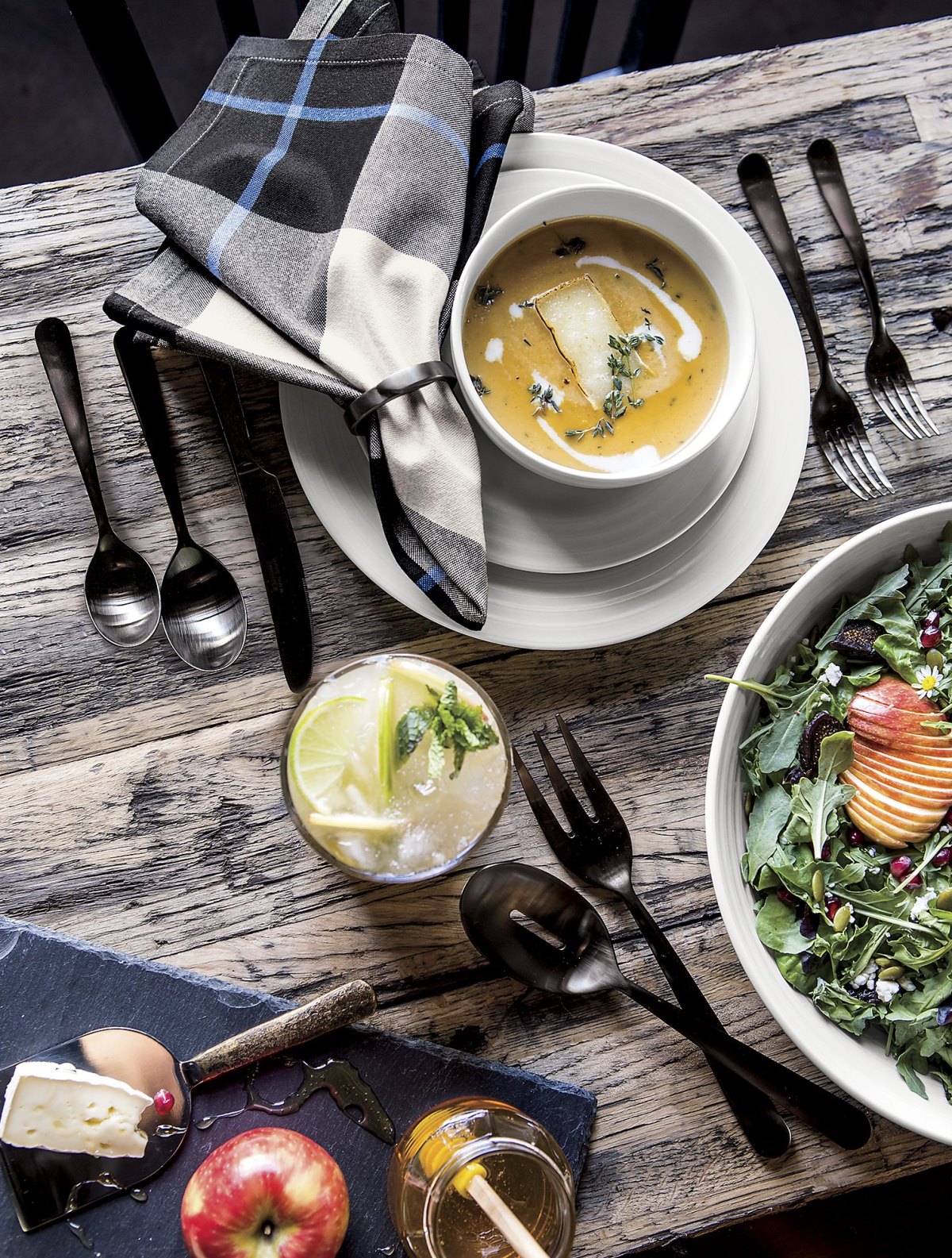 Slate serving boards are another clever way to add dashes of black to the table. Once again, we see selections from Crate & Barrel: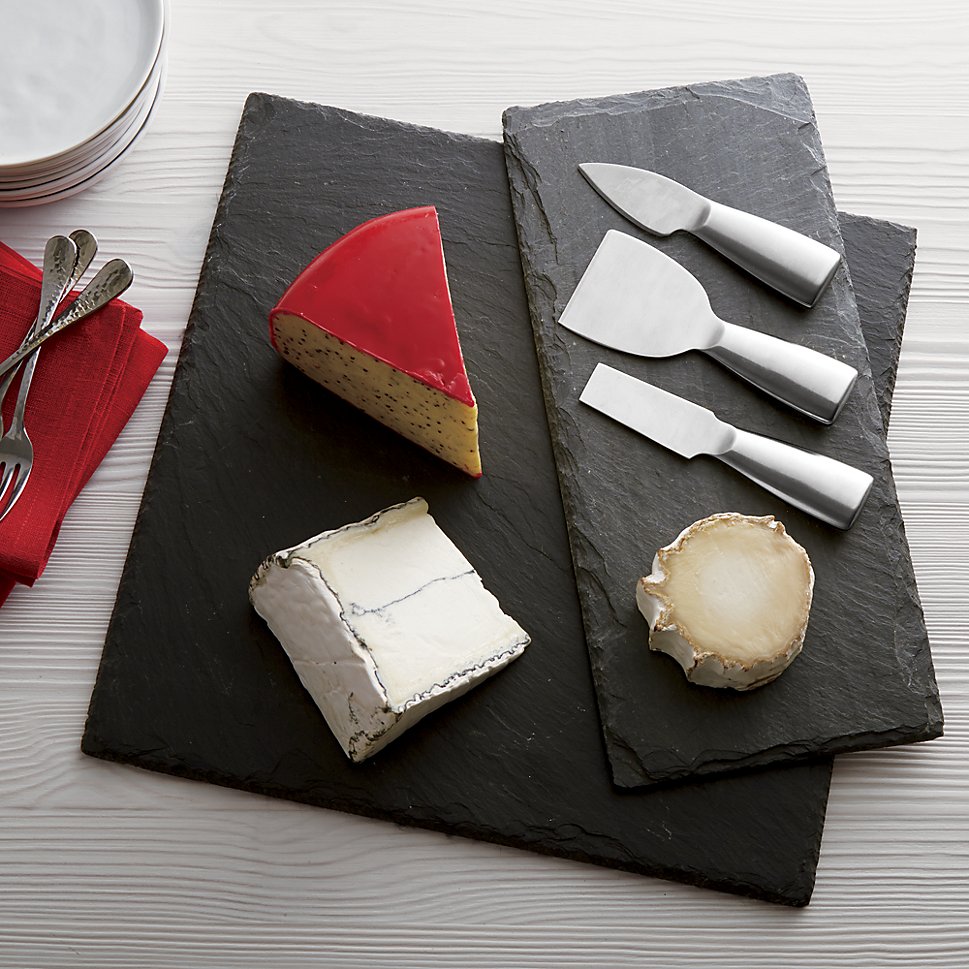 Throw in some marble, and you have the picture of foodie elegance: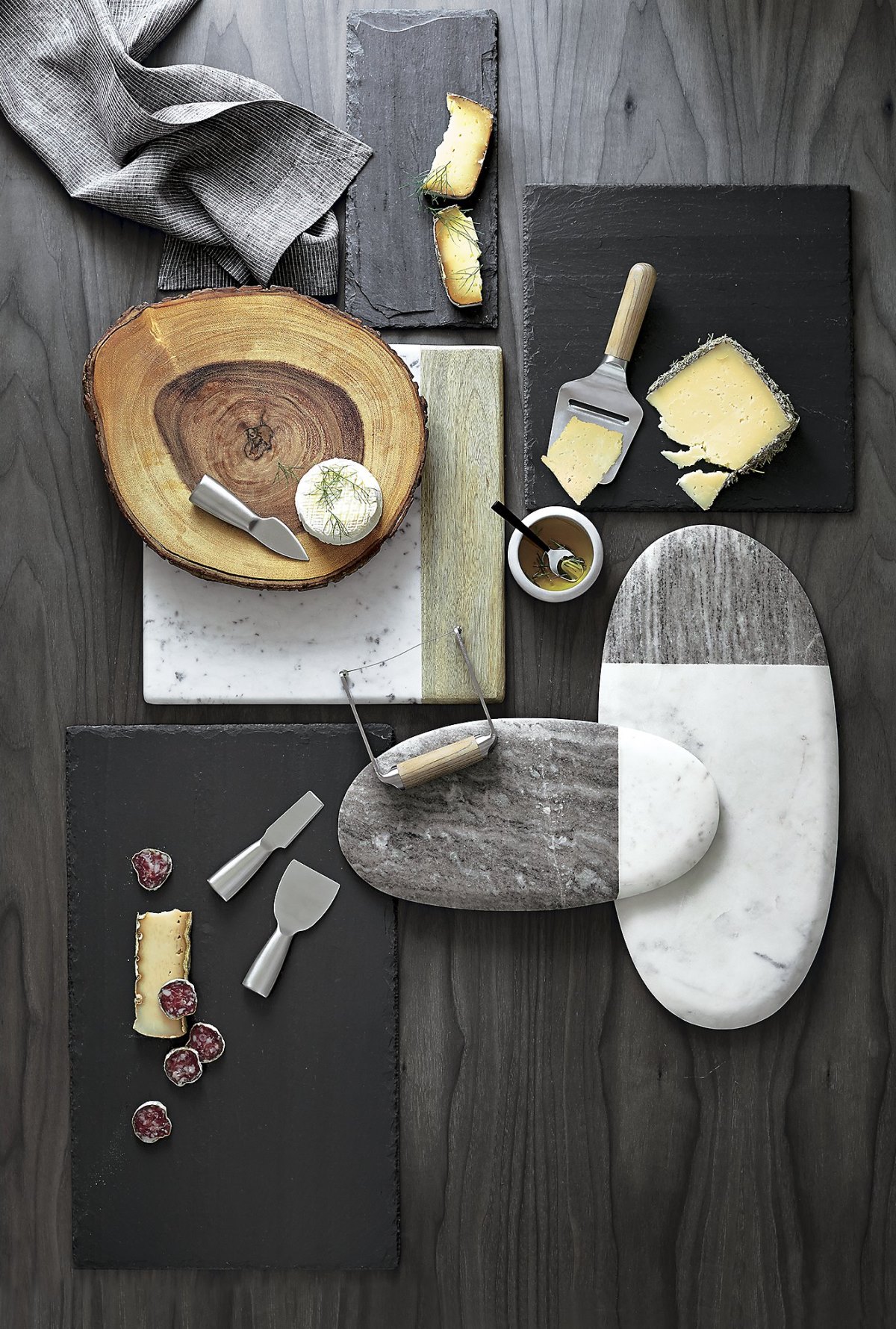 Backdrop to Barware
This season, product photography featuring barware has been quick to include a backdrop of black. These festive images remind us that metallics (and glassware) have an extra shine when contrasted with rich, deep hues. Black is classic and elegant, an ideal choice for holiday vignettes ranging from the modern to the traditional. [photo below from CB2]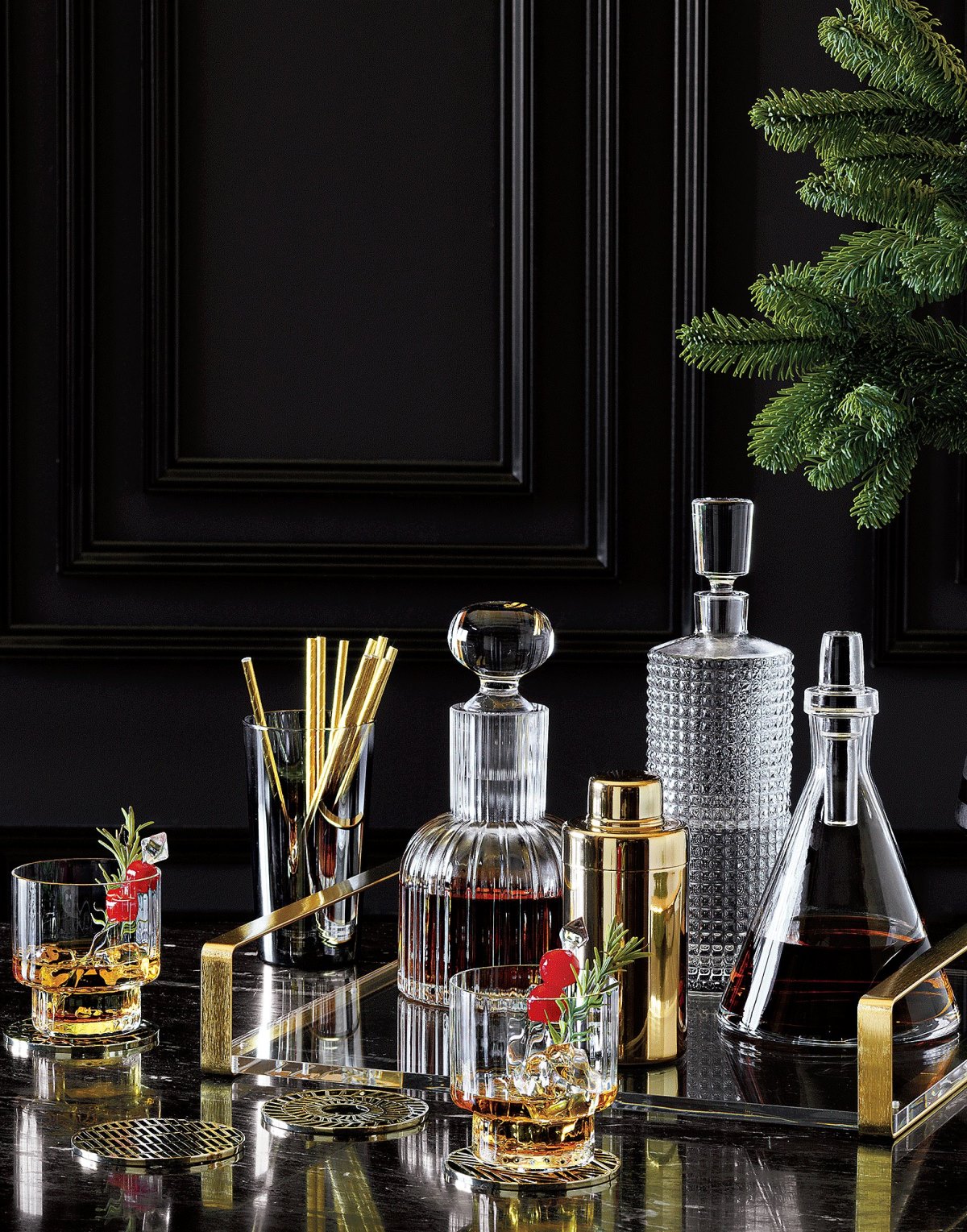 If your home doesn't feature a black wall, start with a black tray. After all, black is the perfect background color to offset glasses, shakers and other bar items this holiday. [photo from CB2]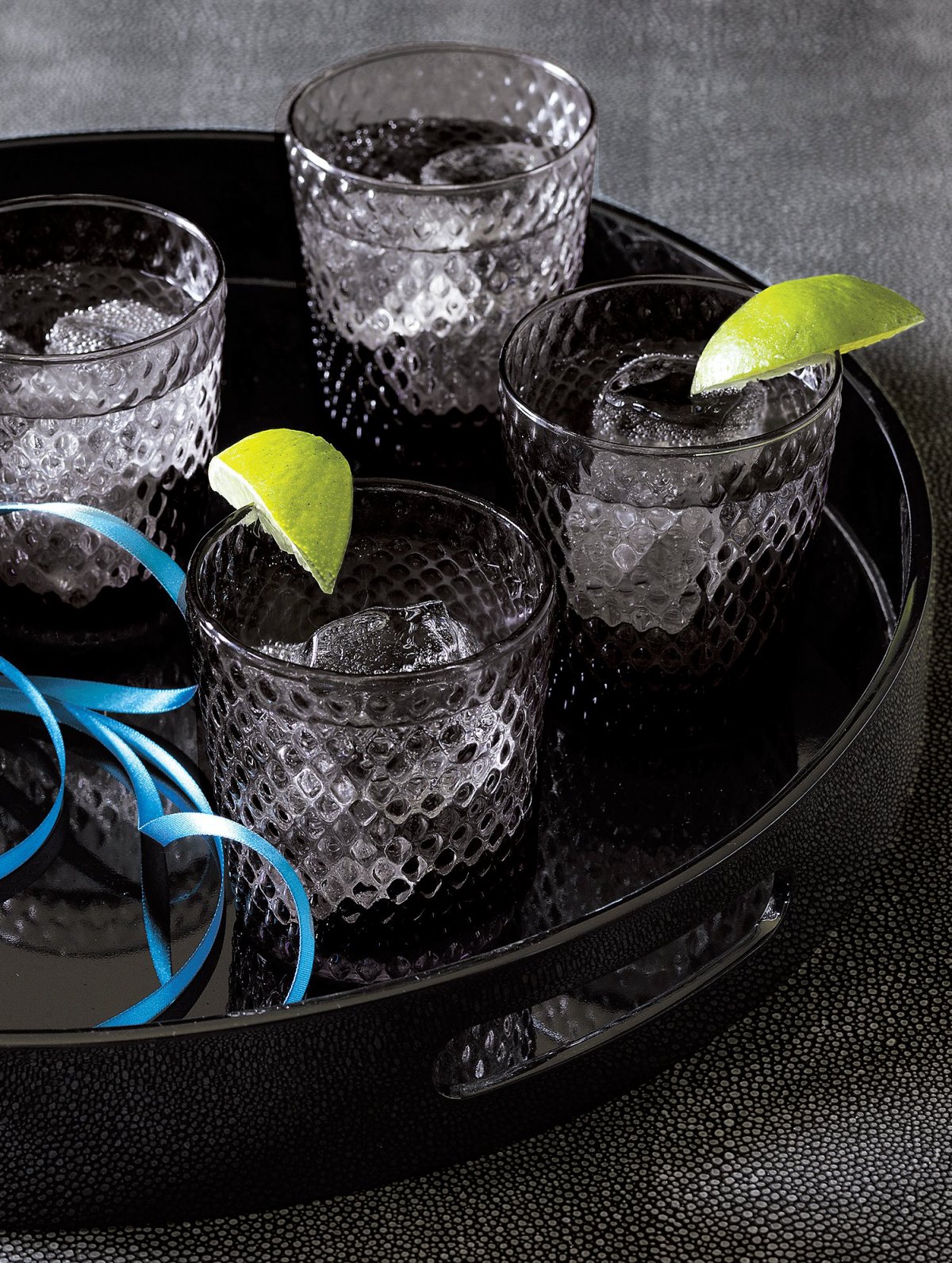 Not sure what to think about mixing festive metallics with dark tones? Let the pictures speak for themselves! This Hi-Gloss Square Black Tray from CB2 serves as a glossy foundation for a sparkling spread of cocktail items: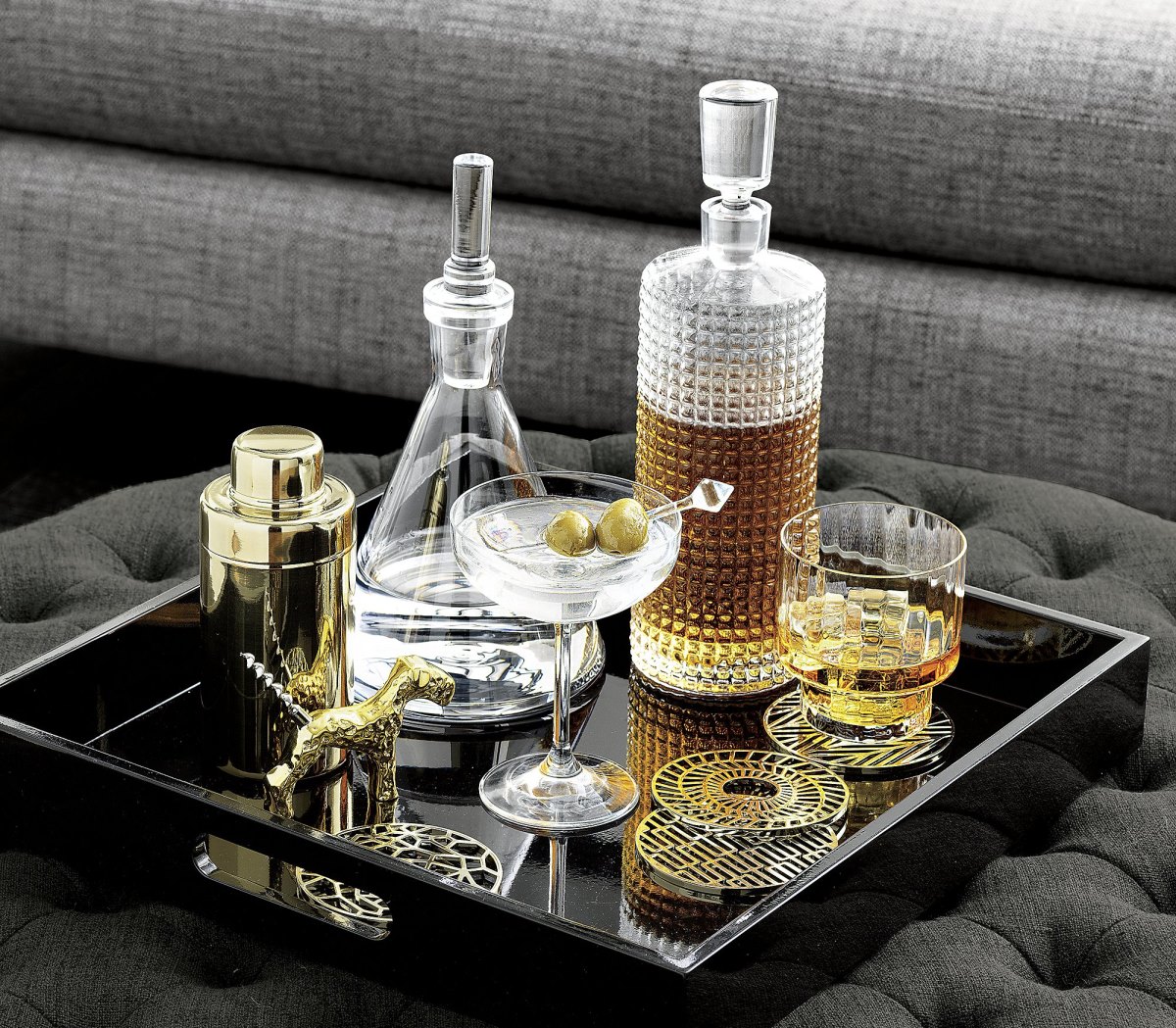 Holiday Style
Last but not least, we end today's post by featuring a series of photos that remind us of the contemplative feel that black can bring to the holidays. When it's cold and grey outdoors, we can take an opportunity to look within. Just as blocking out the noise of the outside world can result in greater self-reflection, incorporating dark surfaces into our decor can bring to light the beauty of the items in our home. [Brass Candle Bowls from CB2]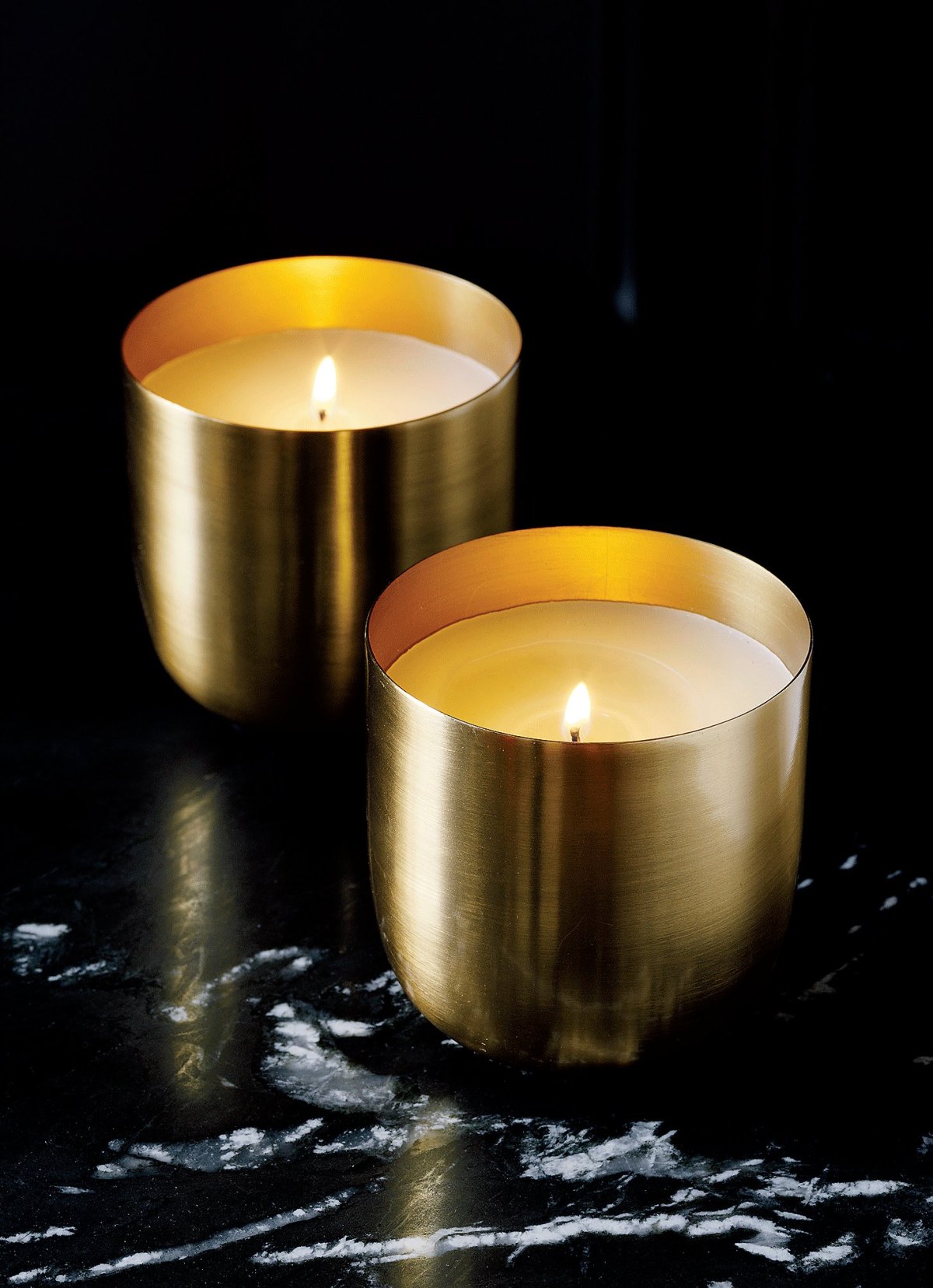 Colorful accents pop against black, or you can keep it simple by layering shiny and crystalline decor over a dark mantel, table or shelf. [photo from Crate & Barrel]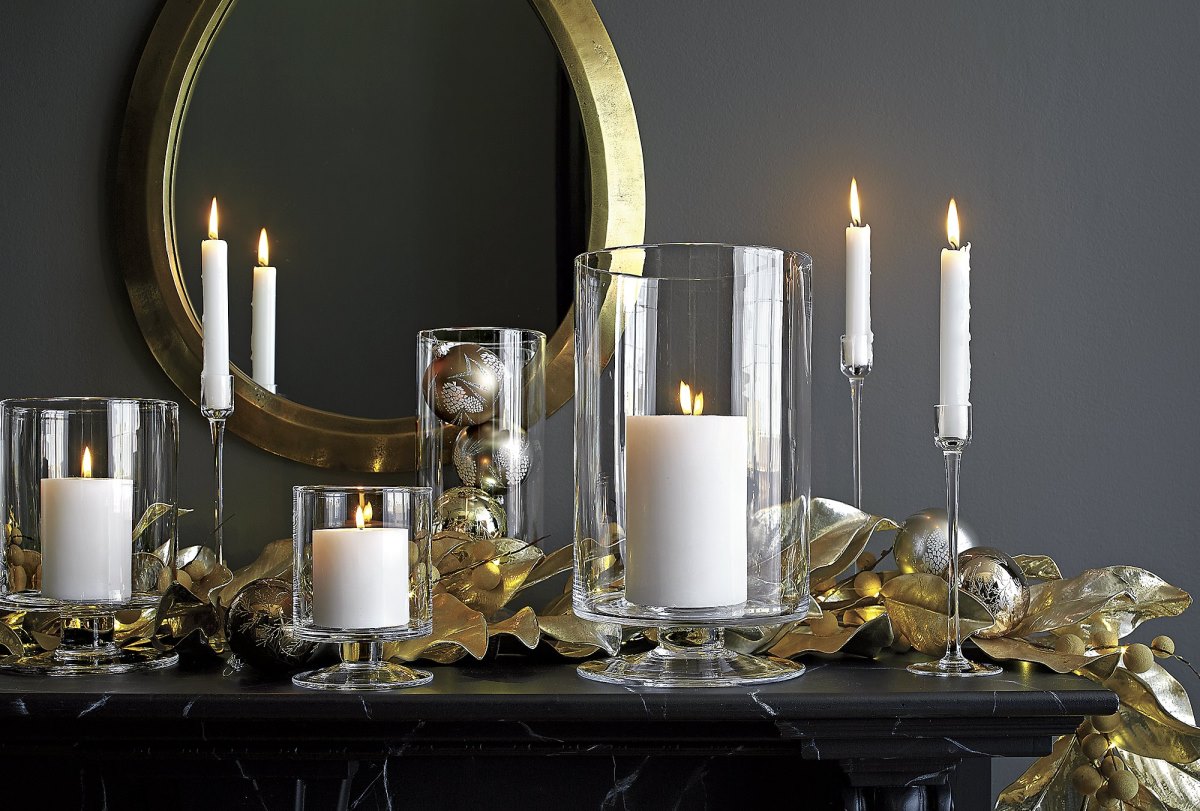 If you happen to have a dark corner of the house, don't write it off as uninviting. Let candles light the way. Don't want to mess with an open flame? You can even order flameless candles that will add a warm glow without the hassle of dripping wax. [candle holders from Crate & Barrel]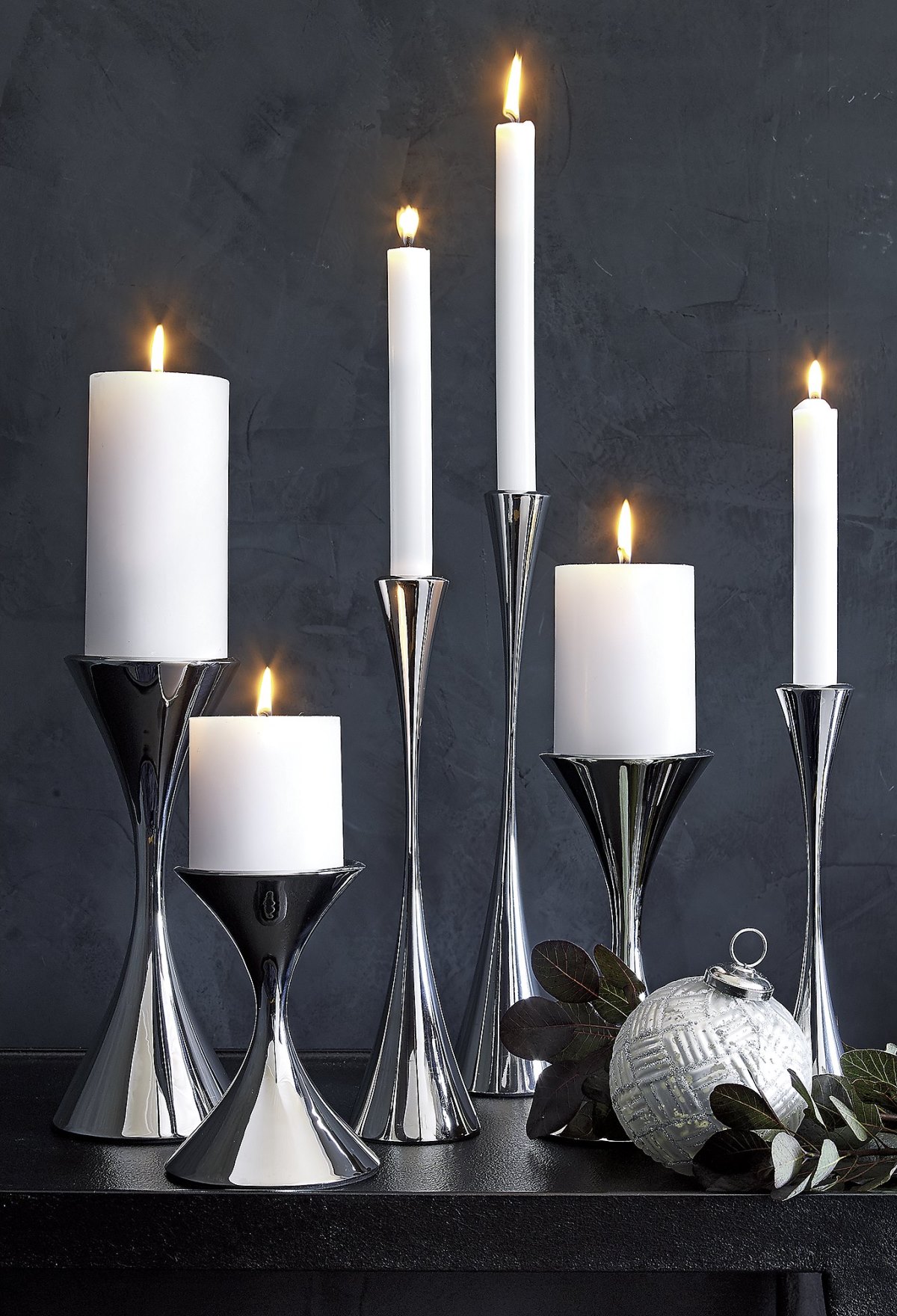 Don't forget the holiday decor! There's something delightfully minimalist about ferm LIVING's modern Winterland Brass Tree, pictured below. Brass makes a big statement against a backdrop of black or grey.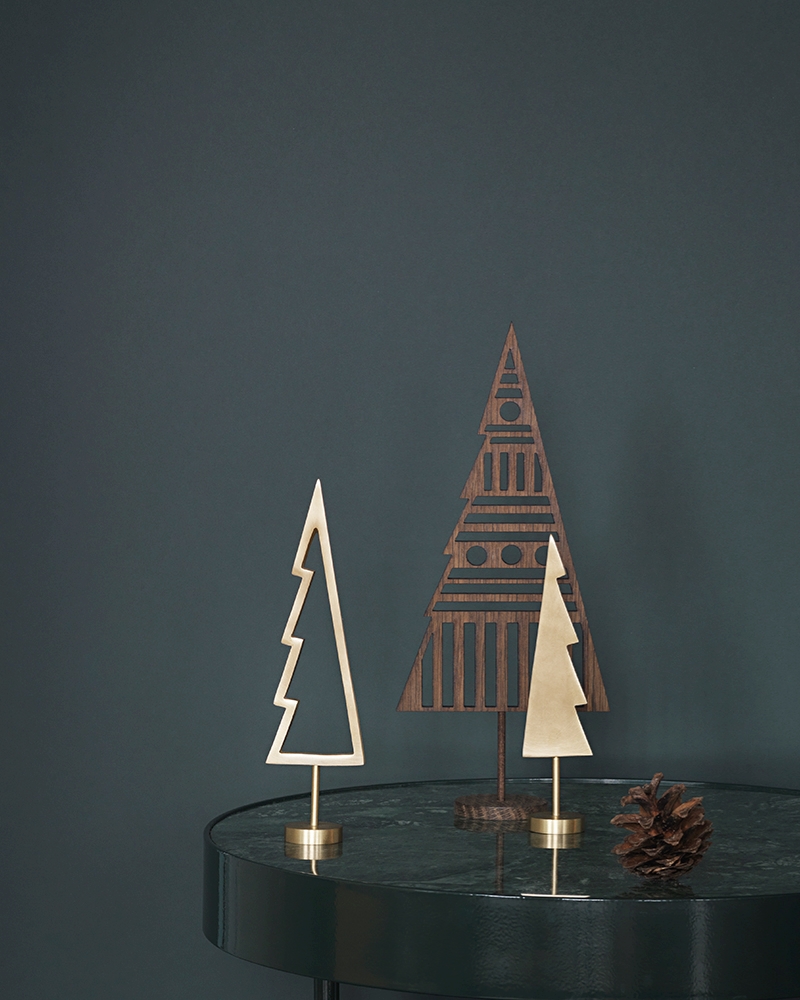 And if you have white walls but want to add a dramatic element, try ordering some dark draperies. This Velvet Grommet Curtain in Iron is from West Elm: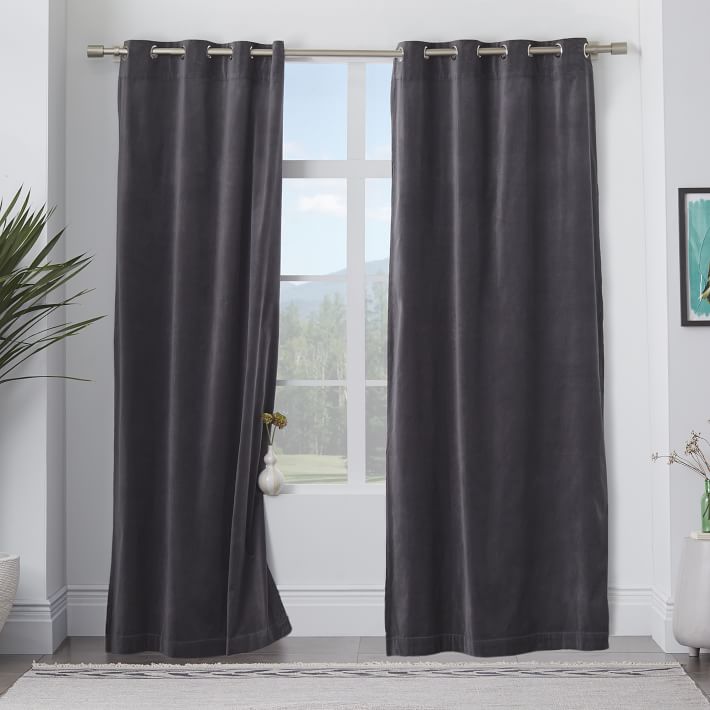 Wishing you a cozy holiday season, filled with bright spots along the way…