High-end bathroom accessories can give any powder room an upscale look. That's why we're highlighting some of our very favorites in today's post, from soap pumps and canisters to mirrors and candles. Because sometimes it's the little touches that make a big difference! Read on for a look at how you can infuse your bathroom with a dose of modern glamour… [from Lonny]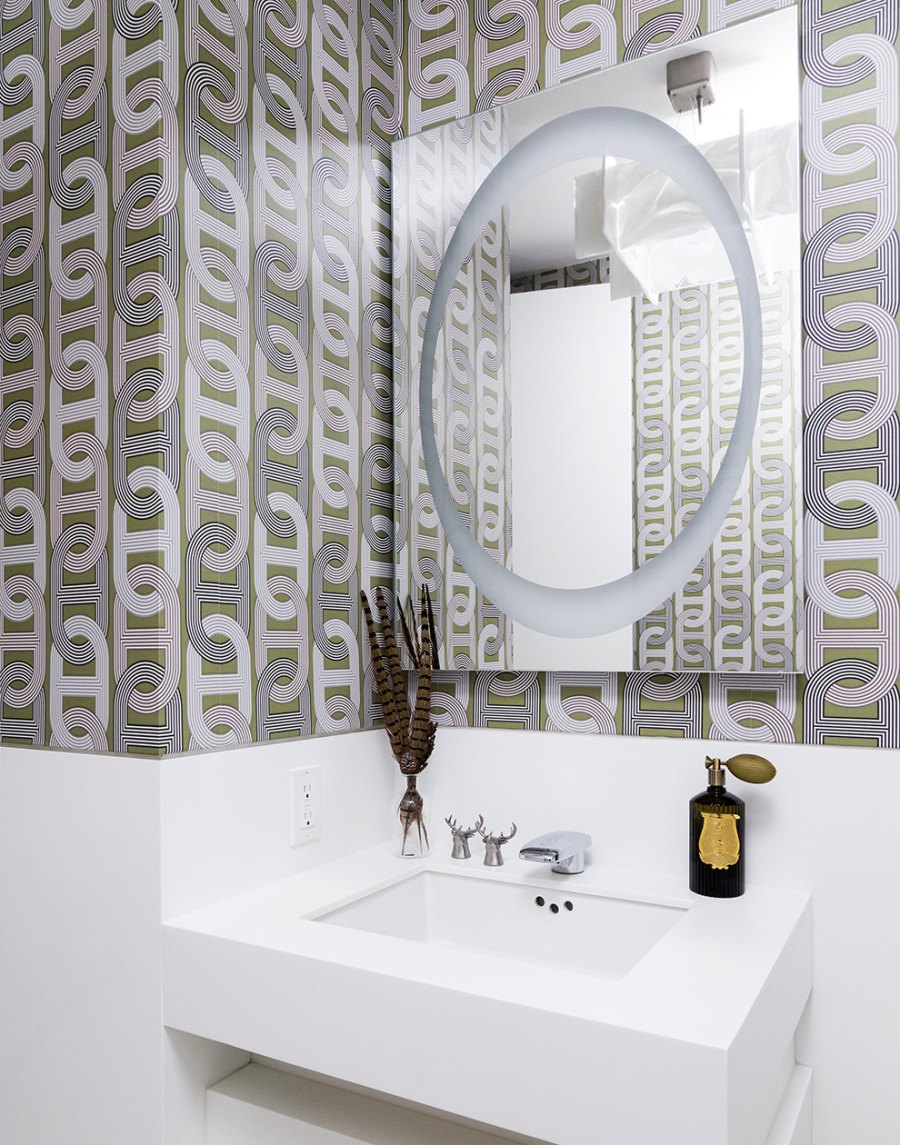 The High-End Look
The beauty of bathroom accessories is their ability to give your powder room the look and feel of your choice (but for much less than remodeling the entire space)! For example, take the modern space below, complete with a copper-lined bathtub from Dornbracht. The tub provides a warm, metallic focal point and serves as the heart of the room. [photo by Jenna McLaughlin, from Malcolm Duffin Design]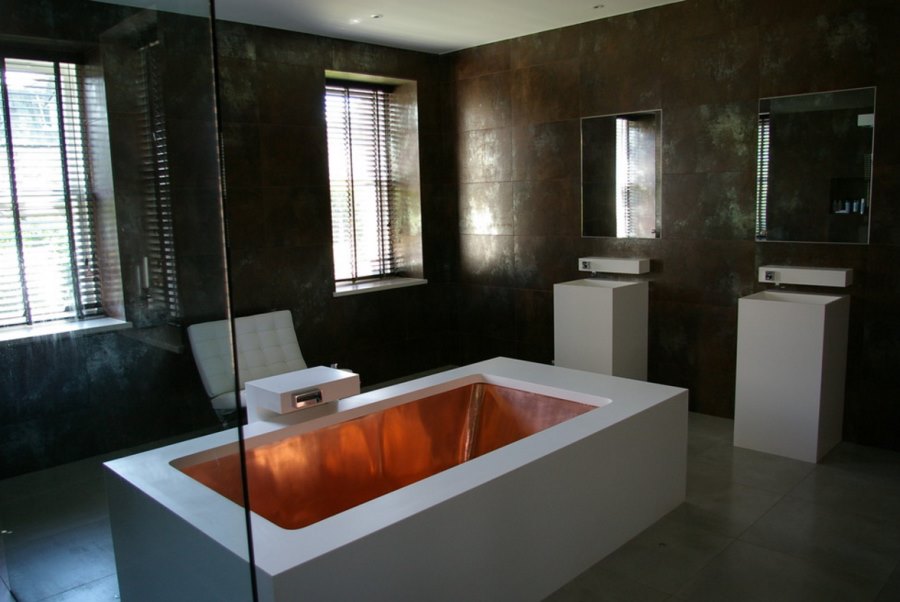 While you may not be able to purchase a new tub at this time, you can add copper to your interior through accessories such as the Copper Gleam Bath Collection from Anthropologie: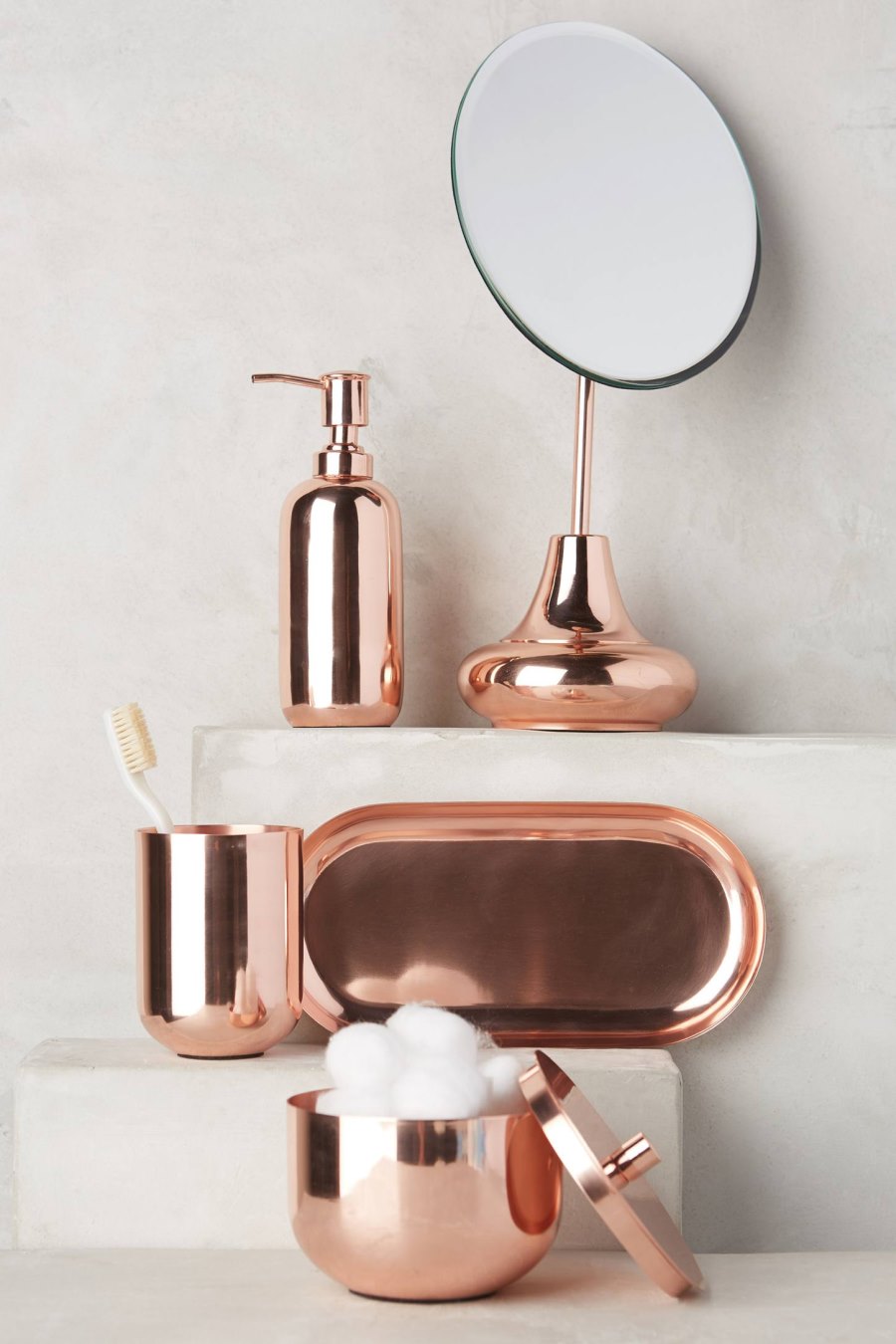 If a light and airy feel is what you're after, marble tile is an amazing choice, but a bathroom remodel may not be in the budget. [photo by Stuart Cox, from Walk Interior Architecture and Design]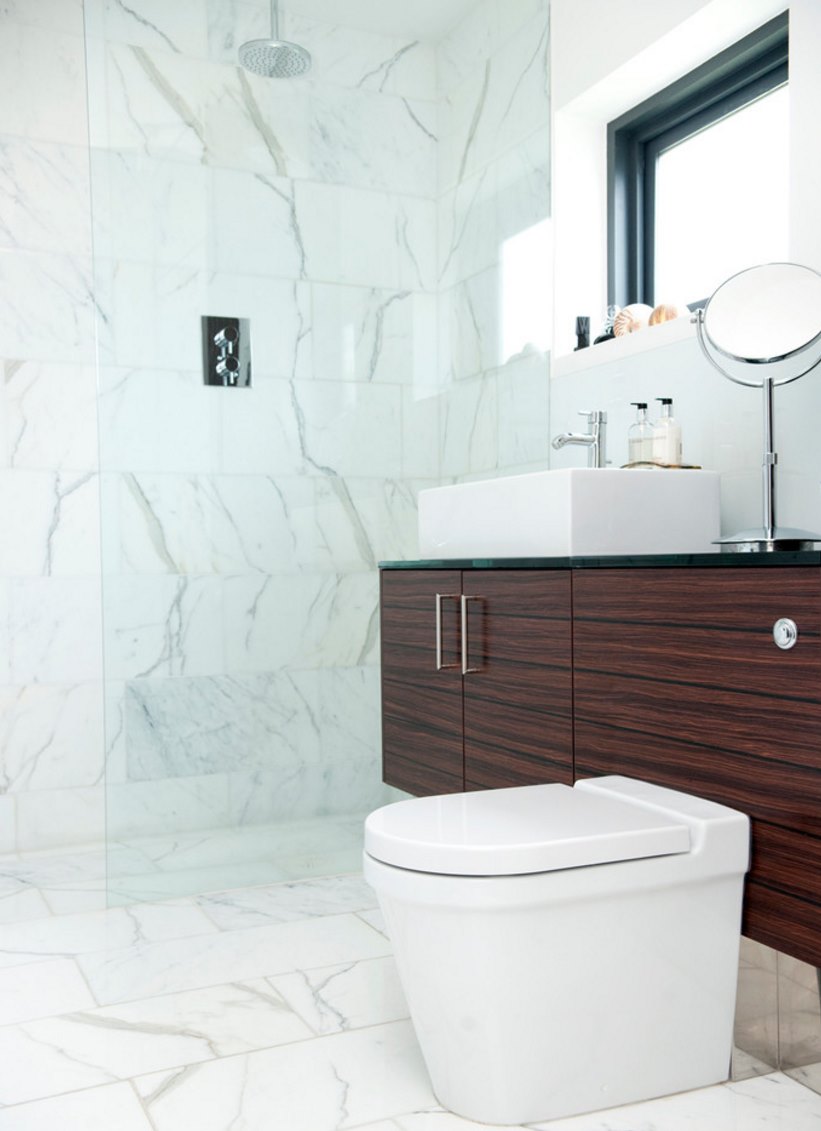 But you can add some sleek brightness to your bathroom with the Parsons Chrome Collection from Labrazel Luxury Bath Accessories, which features the natural marbling of white alabaster coupled with chrome detailing. The pieces are designed by Dransfield & Ross for Labrazel and made in Italy: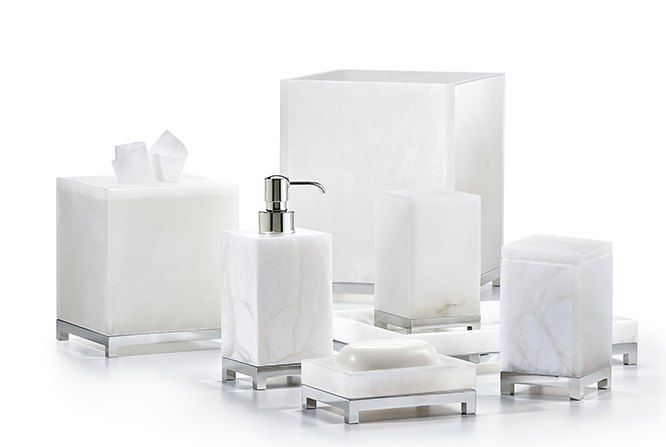 Wouldn't the cream and beige bands of the powder room walls and counter below be a heavenly option?! The look is earthy yet elegant. [photo by David O. Marlow, by Charles Cunniffe Architects]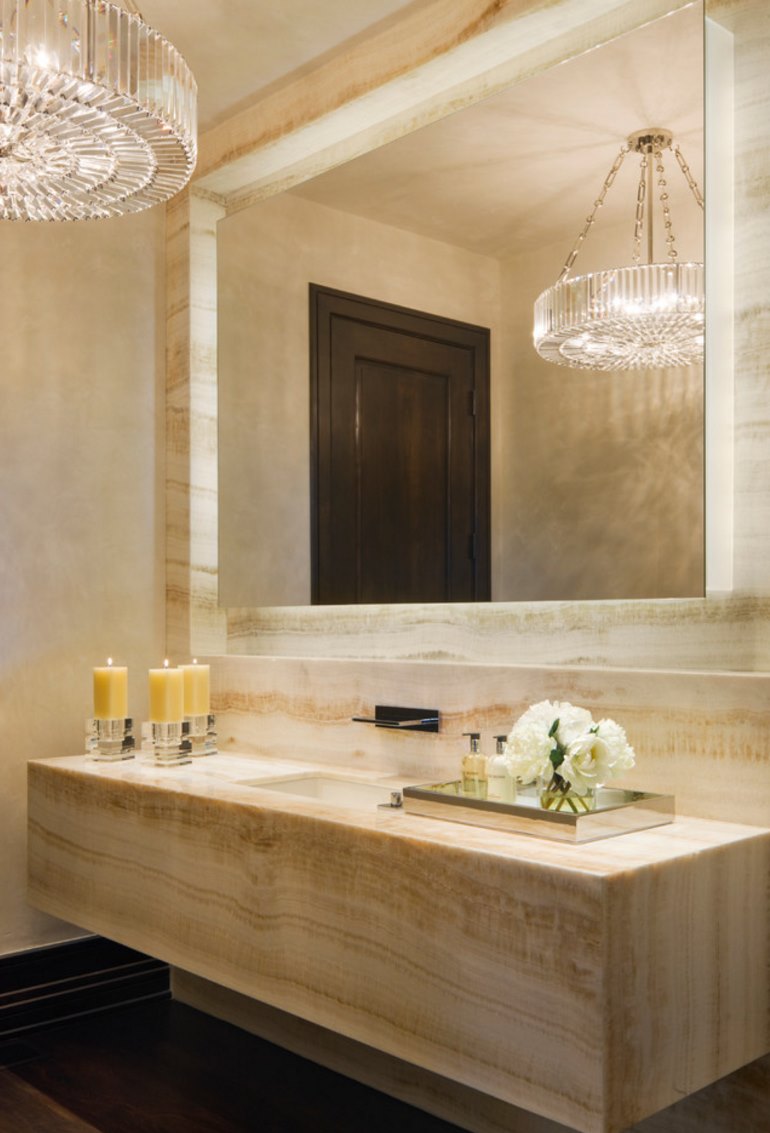 Channel the bands of minerals with the Malachite Tissue Cover from Jonathan Adler, which features high-fired white porcelain items enhanced with a swirl pattern in 24-karat gold luster.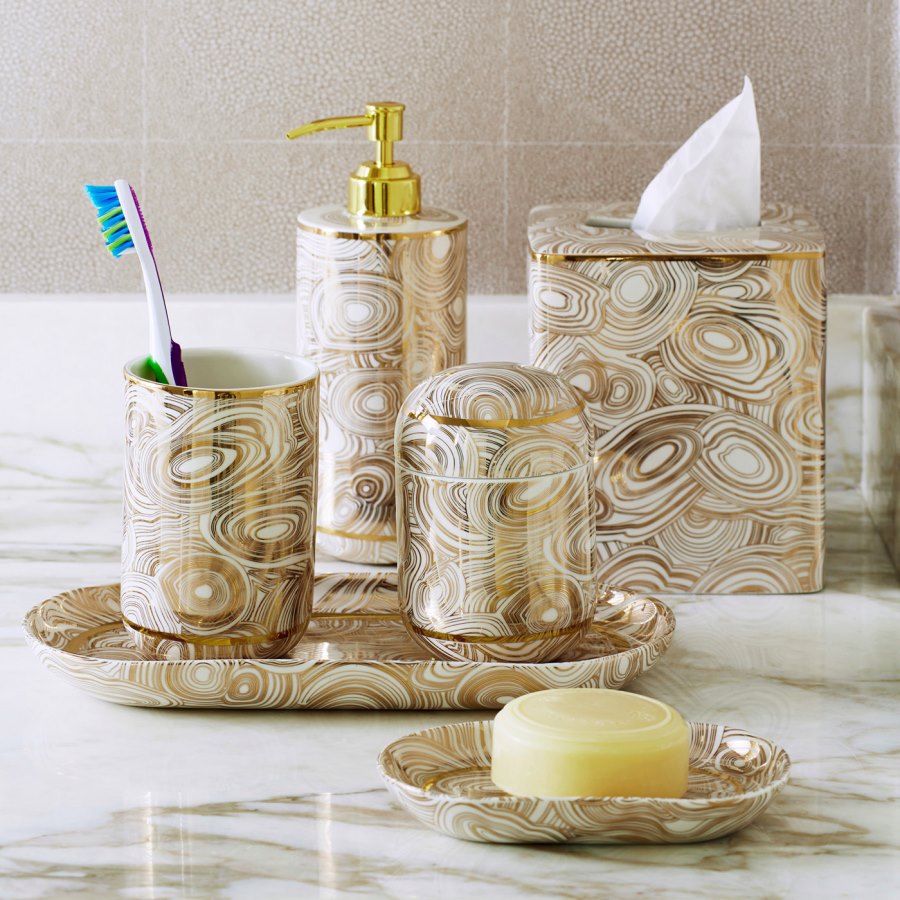 Mirror Mirror on the Wall
If you're shopping for larger bathroom accessories, consider the bold addition of an eye-catching mirror. Mirrors can channel a range of styles, from the ornate to the retro. The piece below evokes the look of coral and adds a few fun frills to the room. [photo by Rikki Snyder, from Susan Glick Interiors]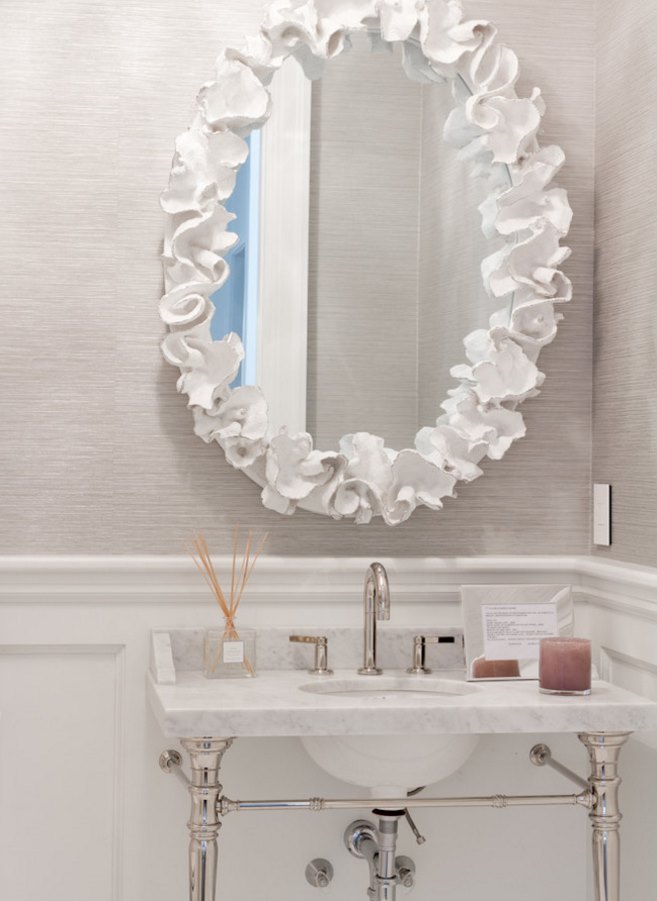 Or how about the '20s/'30s glam of Art Deco? The strong angles and lines make this piece the highlight of the room! [from L'Interior]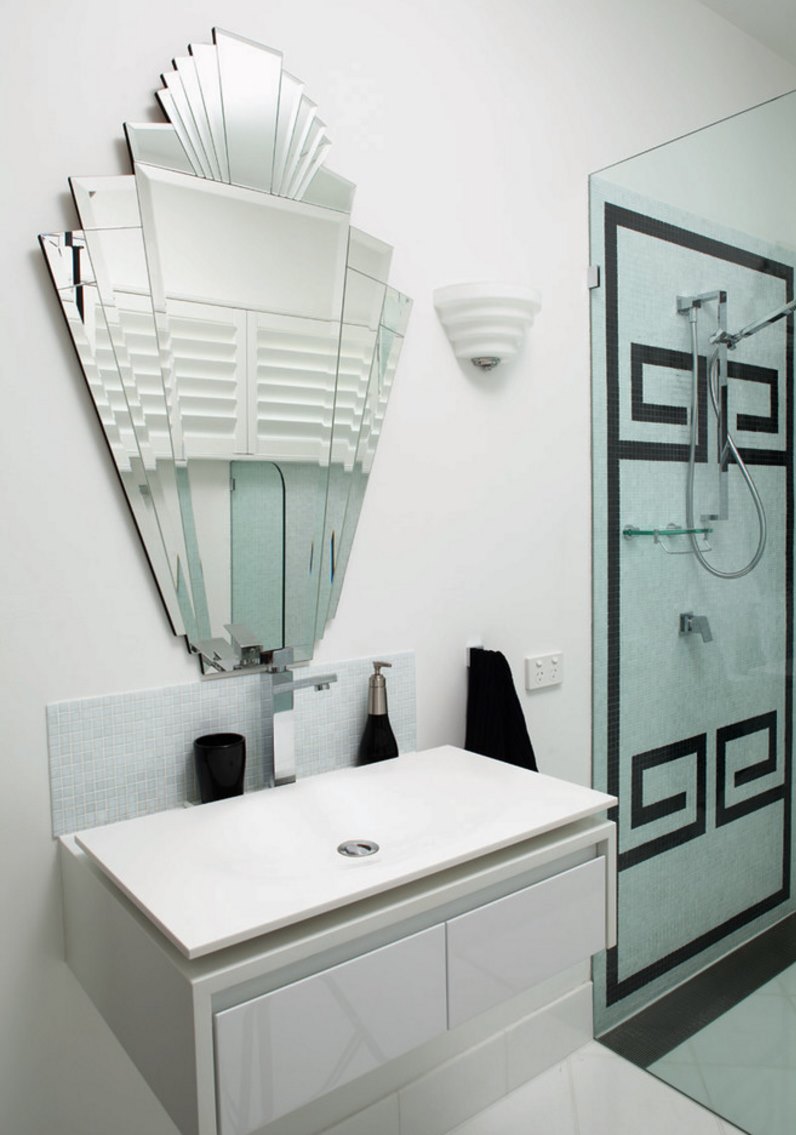 Go tropical with a bamboo motif! The Meurice Mirror from Jonathan Adler channels Palm Beach design, as well as '60s French style. Polished nickel at its finest!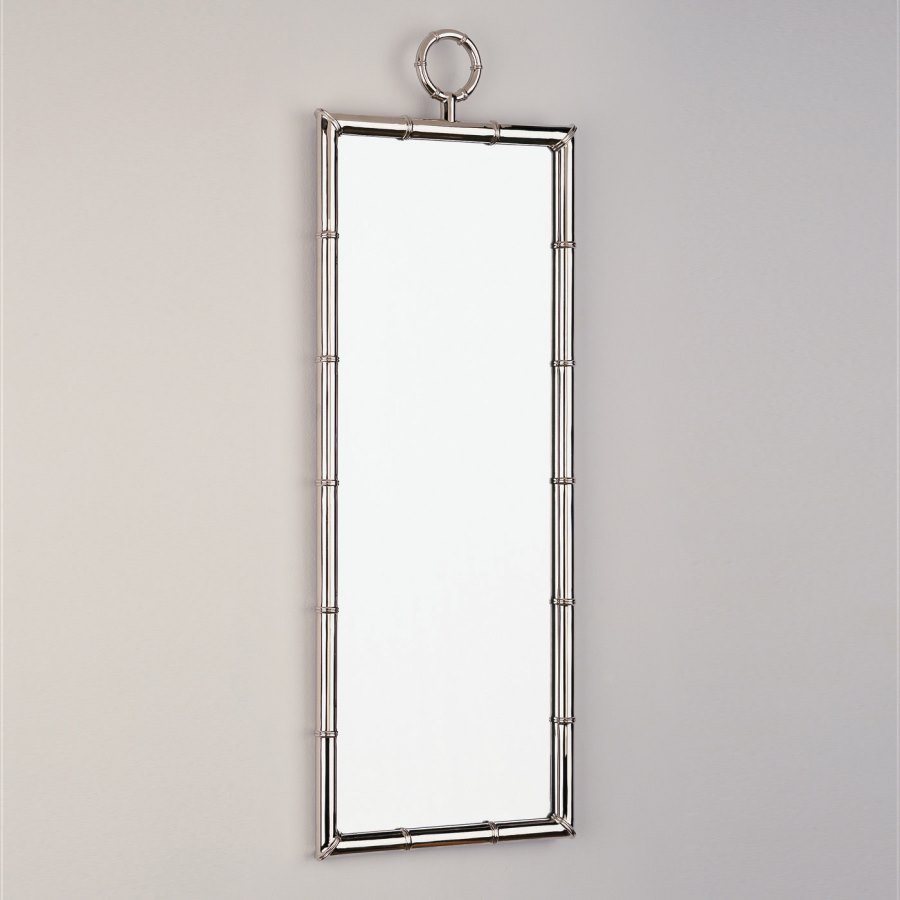 You can't go wrong with brushed brass and Lucite. Curved edges make the next featured mirror a standout, along with metallic accents that combine with the Lucite frame to celebrate the beauty of mixed materials. Say hello to the Jacques Mirror from Jonathan Adler: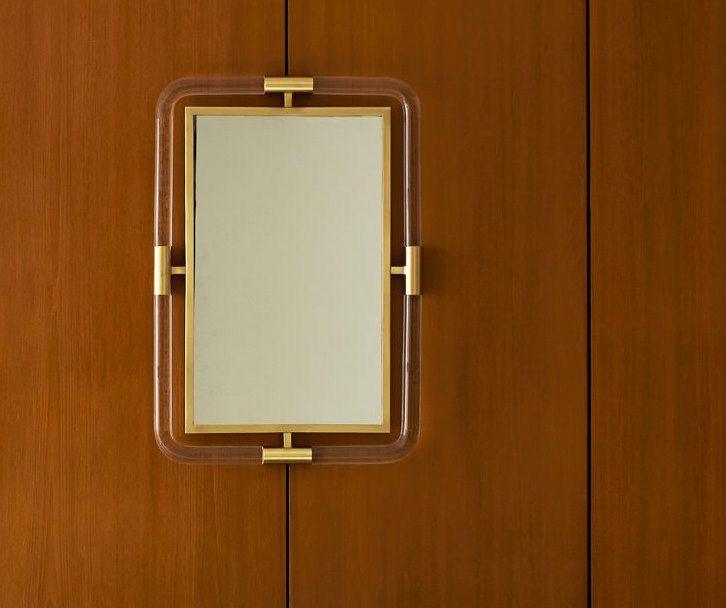 Round mirrors represent one of today's top design trends. Make it a double with a pair of these beauties and hang them on the wall above the his and hers sinks, as shown below. [photo by Caroline McCredie, from CM Studio]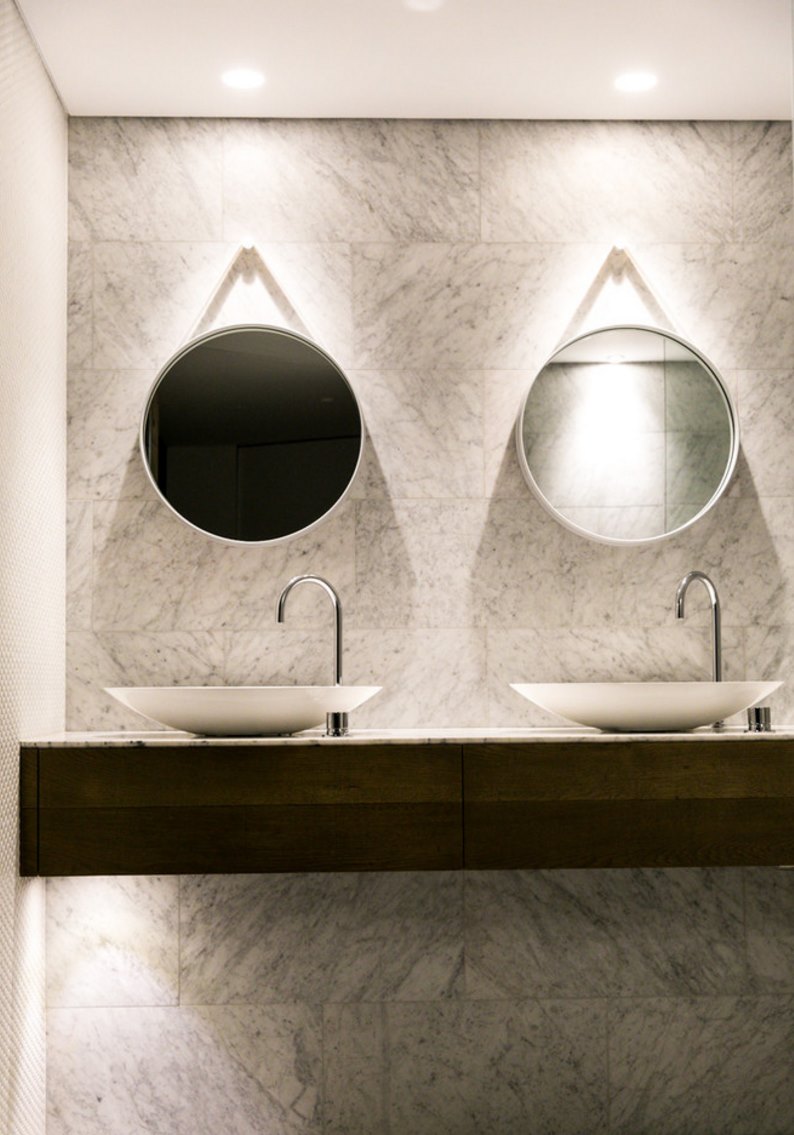 Don't forget the power of a standing mirror, which is an easy addition to the powder room. This Taiga Mirror from Anthropologie features a combination of mirrored glass, brass, iron and aluminum. Unusual and striking, don't you think?!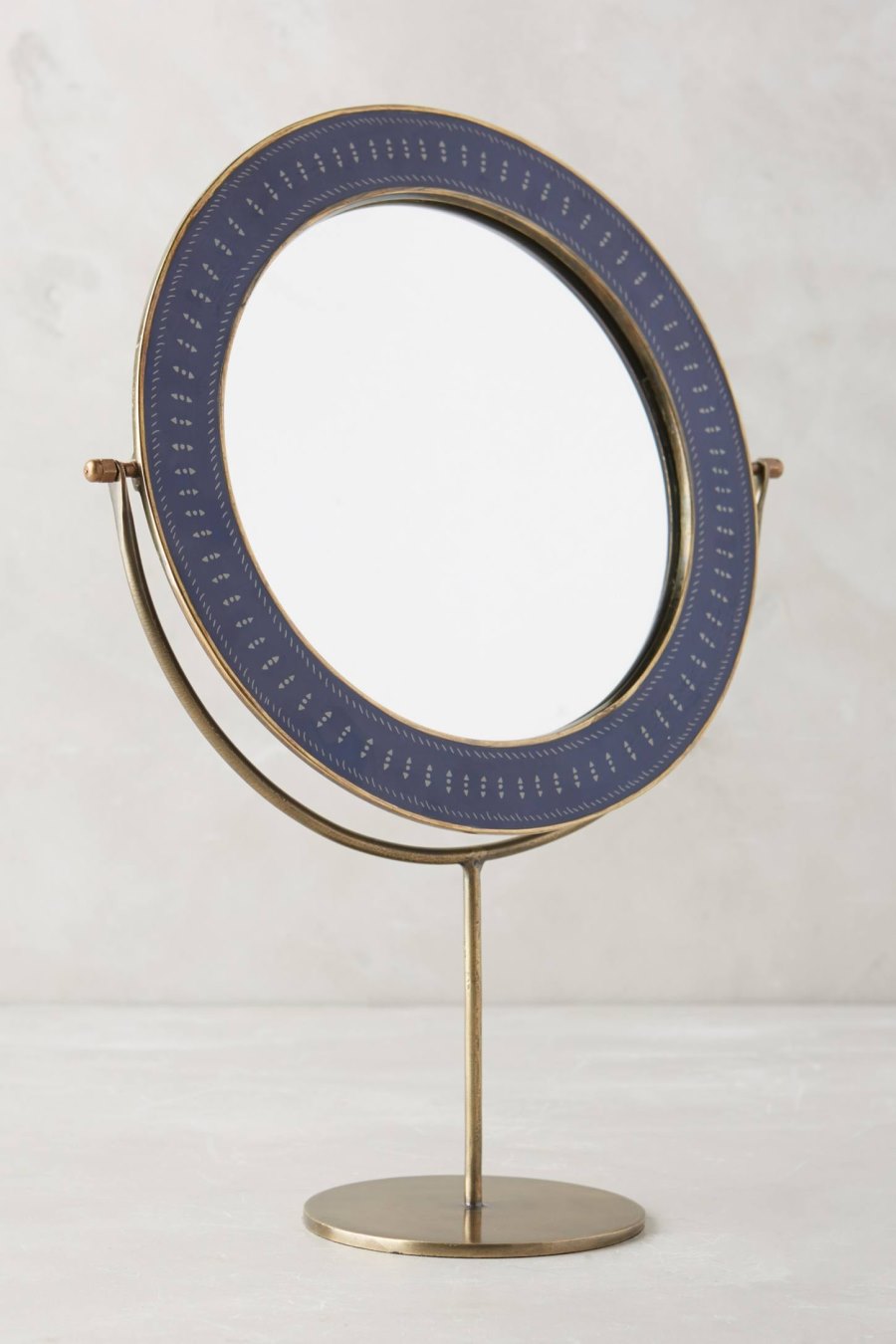 Special Touches
We end today's post with a reminder that little things mean a lot. For example, a vase of flowers or a potted orchid can give your powder room a true upscale feel. [photo by Noah Webb, from Tim Clarke Design]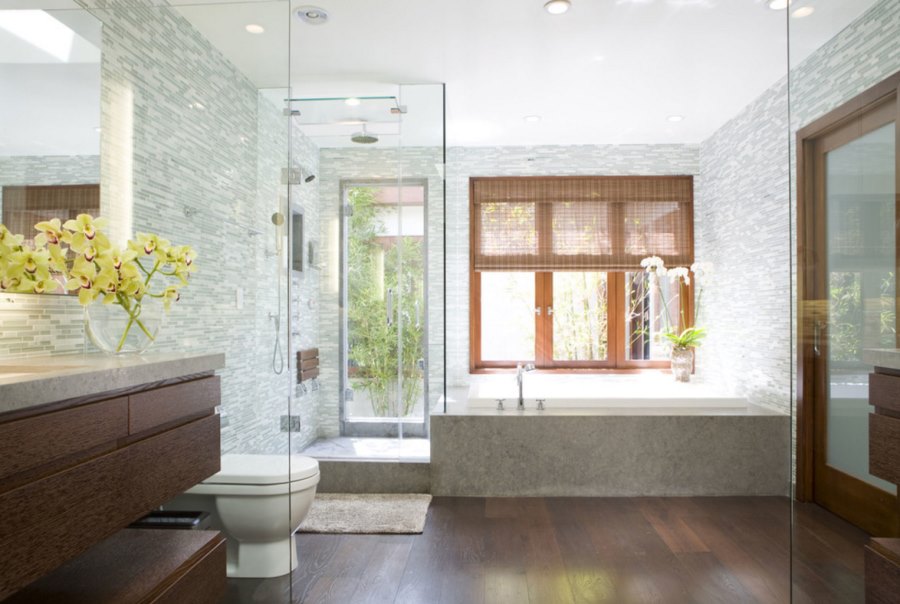 Looking for an affordable way to add a touch of glamour? Try these Pop Candles from Jonathan Adler, which feature metallic hues and alcohol-inspired fragrances such as Champagne, Absinthe, Vodka and Bourbon.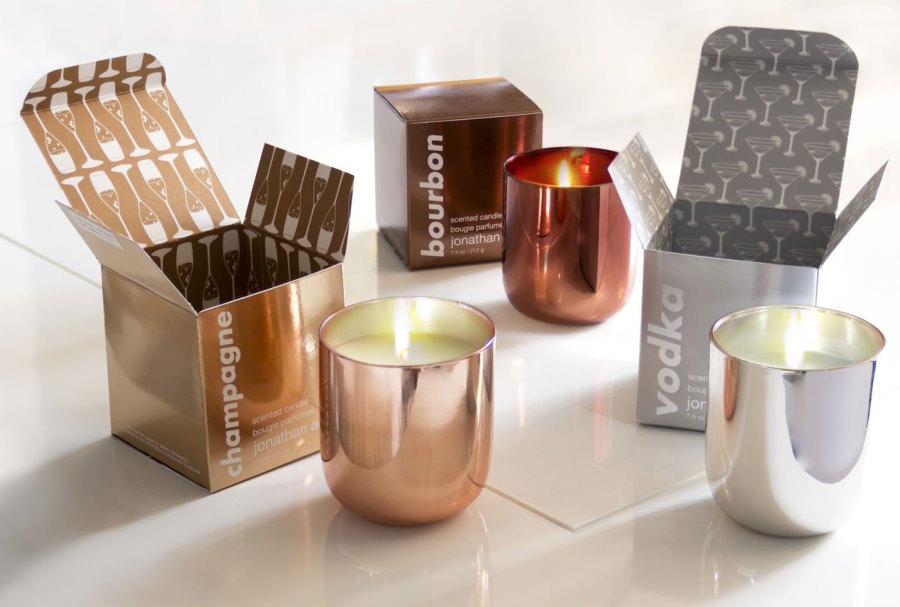 There's nothing like a high-end bath product with attractive packaging, and the Neroli Portofino collection by Tom Ford is the best of both! [photo via The Candy Perfume Boy]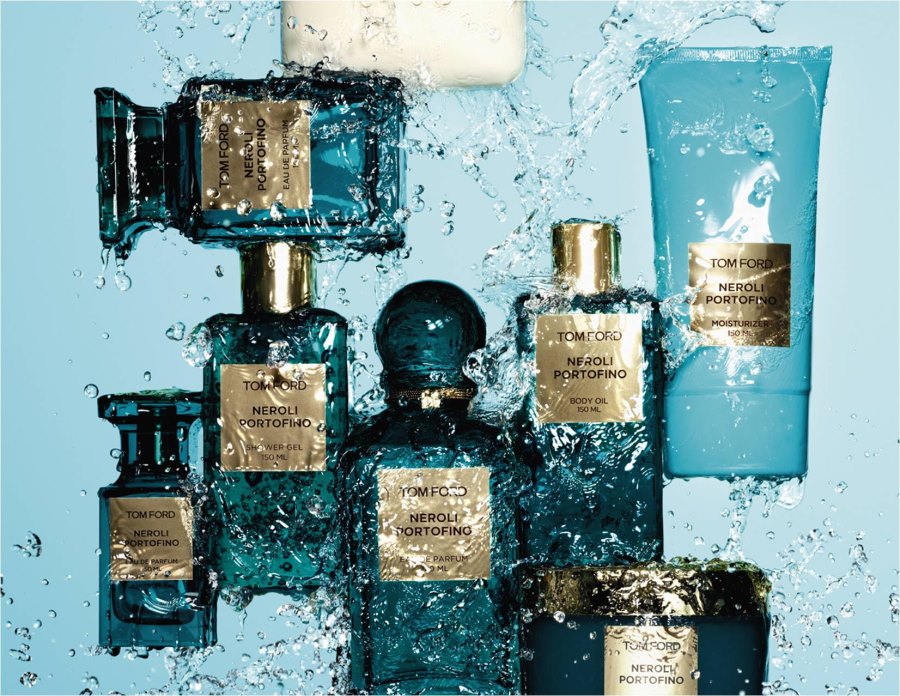 Another scrumptious option is a hand and body wash by Jo Malone. These fragrances are fresh, classy and beautifully packaged, and if they're anything like Jo Malone's perfumes, it would be fun to layer them for an interesting cocktail of body wash goodness.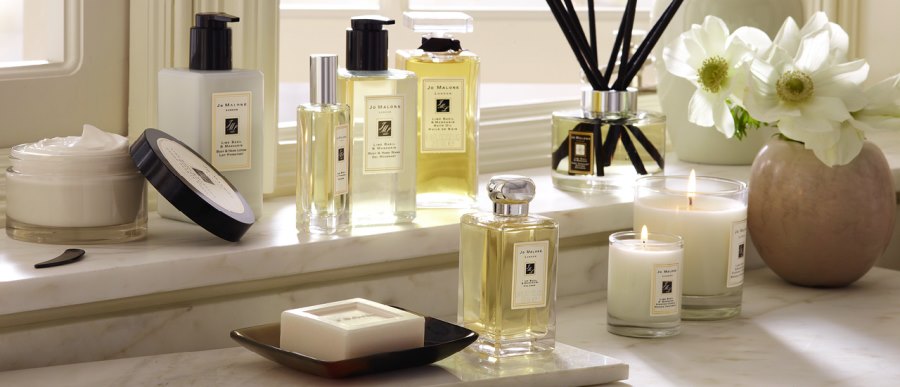 Don't underestimate the appeal of a collection on powder room shelving. Whether you collect coral or luxury Lalique figurines (as shown below), there is power in numbers, especially if you make a conscious effort to avoid a cluttered look. [from Pepe Calderin Design]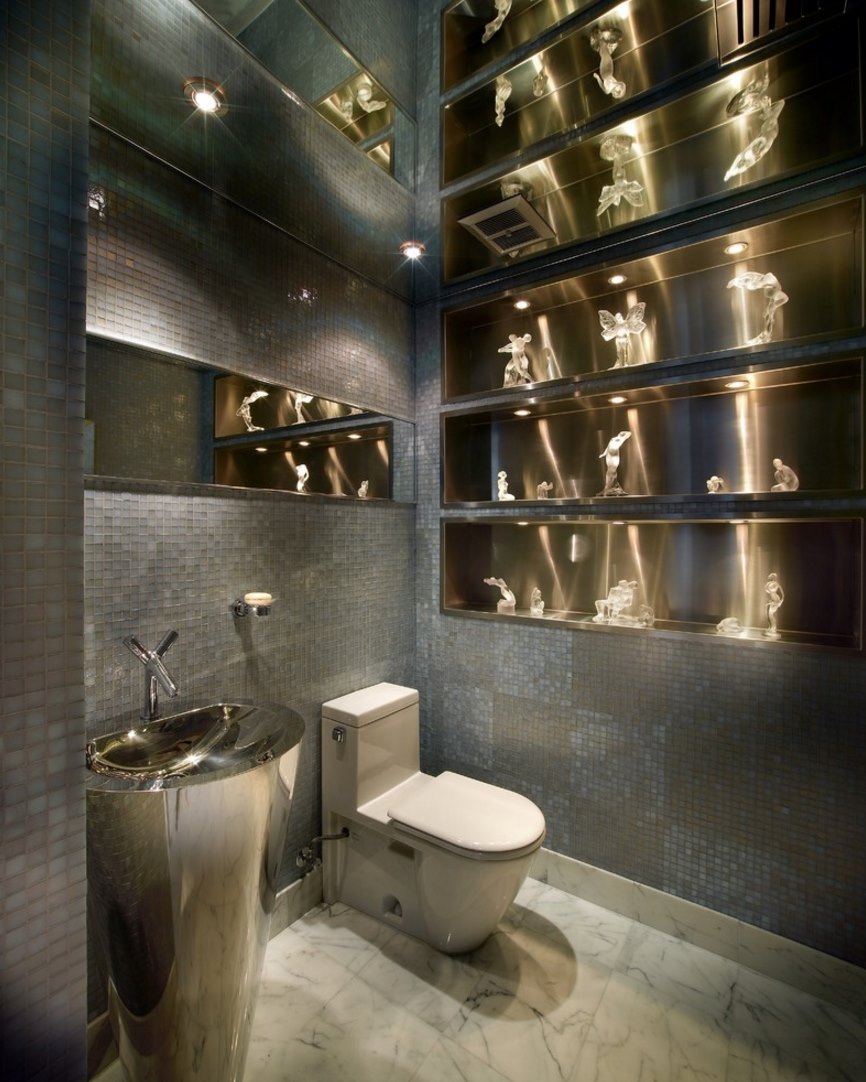 Remember, your powder room is a haven, and adding a few quality accessories can make the space a special one. Happy decorating!