Hexagon tile bathroom ideas are a fresh take on upgrades of the classic tile designs. These modern projects are popular with homeowners wanting to add a geometric flair to their homes. The honeycomb or hex patterns are also an edgy option for upgrading an awkward corner. For a small space like the bathroom, these stunning statements create an interesting detail. It also gives more depth and dimension.
The hexagonal tiles are attractive and draw attention to the floor or wall. These are the best adornments for contrasting a plain and drab-looking room. So, forget the boredom of the commonly used tile pattern. Here are some of the hexagon tile bathroom ideas coming in all sizes to try for your bathroom.
Lovelier than Penny Tiles
Seamlessly wrap your floor with the best hexagon tile bathroom ideas. They look so much like some penny floor tiles, but these modern hex tiles are more contemporary and versatile. The penny tile often evokes a vintage scene. However, this black-and-white hex design infuses it with a fresh perspective. The cool pattern is also playful and dramatic for this glamorous bathroom.
Low-Maintenance Floor Tiles
For people not inclined with room cleaning, a low-maintenance floor is a must. So going with the rugged color palette and easy-to-clean hex tiles is a purposive idea. This bachelor pad bathroom makes use of the functionality of the noir hex tiles. Its dark color and interesting placement enhance the visual appeal of this neutral bath area.
Say Something with It
Adding some statement into your bathroom floor is possible with the hexagon tile bathroom ideas. And by the statement, we mean literally. Give yourself some good vibes every time you step into your bathroom with stencil patterns. Now you can start your day right with inspiration straight from your bath.
Some Interesting Modification
Play up your bathroom floor with the non-conventional tile pattern for a fresh-looking space. This creative hex pattern spices up the floor with a unique flow and texture. It gives this vintage-modern bathroom a time-honored classic look. It also balances the contrasting color schemes of this neat bath area.
Draws the Eye Naturally
When it comes to timeless appeal, the hexagon tile bathroom ideas are the best teasers. They look good when paired with natural and wooden materials. But it does not lend it a too-trendy or too-ornate look. It perks the room up with a subtle interest without looking too overbearing like inside this tidy farmhouse bathroom.
An Interesting Op-Art
If you want a more historic finish, there is no need to dwell on the repeating pattern of colors. You can sew together a collection of hexagon tiles in various colors and give your floor and wall an interesting appeal. Experimenting with colors and textures are excellent hexagon tile bathroom ideas for breaking room boredom and monotony. If you can see the bear in this op-art bathroom wall tile, your senses are working just right. So tickle your senses and let your creativity run wild with the best hex tiles you can find.
A Classic Contrast
Black and white hexagonal tile bathroom ideas carry such sophistication and appeal. If you want a powerful and eye-catching statement, you will never go wrong with these contrasting color combinations. Check out this stylish wall that blends well with the fixture while injecting it with a luxurious flair.
Going Subtle but Expressive
If you are not keen on fully dressing your room with geometric tiles, you may also dedicate one area for focal interest. A tiny hexagonal pattern up the wall makes an attractive décor like this glass and beige mosaic. It can break the dullness of a plain tile base and give it a distinctive element and texture. Hexagon tile bathroom ideas are the best alternative to bathroom wainscoting either for decorative or wall protection purposes.
Emerald Weave for Funky Bathroom Design
The flamboyant and charming affair of the steampunk home interior design is slowly catching up in creative home decorations. These decors combine the rustic features of wood and the composed look of materials like copper or bronze. See the interesting mosaic of emerald and white glass of this bathroom wall that offers a new perspective on bathroom decors. It exudes both the steampunk aura laced with the timeless elegance of the vintage feel.
Beautifully Patterned Hexagon Tile Bathroom Ideas
Spruce up your space with the exciting twist of carefully patterned hex tiles. Instead of the usual placement, these blue floor and wall tiles line themselves into an interesting pattern. The result is a heavenly flair with an expressive touch and chic appearance.
Some Trompe L'oeil Effect
Let your bathroom floor convey a 3-D effect with the hexagon tile bathroom ideas. Hexagon tiles in contrasting color outlines combine to make a visually intriguing design like these floor tiles. It gives a sense of movement with its optical illusion. It teases the eye and justifies the thought of a spinning floor for your non-sober bathroom run.
A Touch of Simplicity
These honeycomb pattern tiles intricately introduce the geometric pattern in an interesting adornment. It provides a soft detail and breaks the dull and clinically white ambiance of this crisp bathroom. The abstract decorative mosaic is ideal for introducing a nice and fresh aura without looking too overbearing. Sticking to one accent color is the secret in this classy and clean modern bathroom.
Hex Blue and White
Aside from the tiles, the tile grout is also a factor in creating a stunning wall or floor finish. There are a lot of options to consider when it comes to color combos. But if you want to stick with the classic, opt for darker tile and white or lighter grout. Conversely, lighter-colored tiles look great with darker tile grout. Still, the option and color scheme depends on the personality you want your room to evoke. So here is the classic blue tile and white grout for that fresh and wholesome bathroom setting.
Keeping it Simple with Large Tiles
Geometric patterns are beneficial in creating an illusory sense of space for cramped rooms. Choosing a large honeycomb pattern in subdued color is a useful decorating trick. You can also avoid the crowded look by keeping it minimal. Take inspiration from this studio bathroom that looks cute but expansive.
Get a Conversation Starter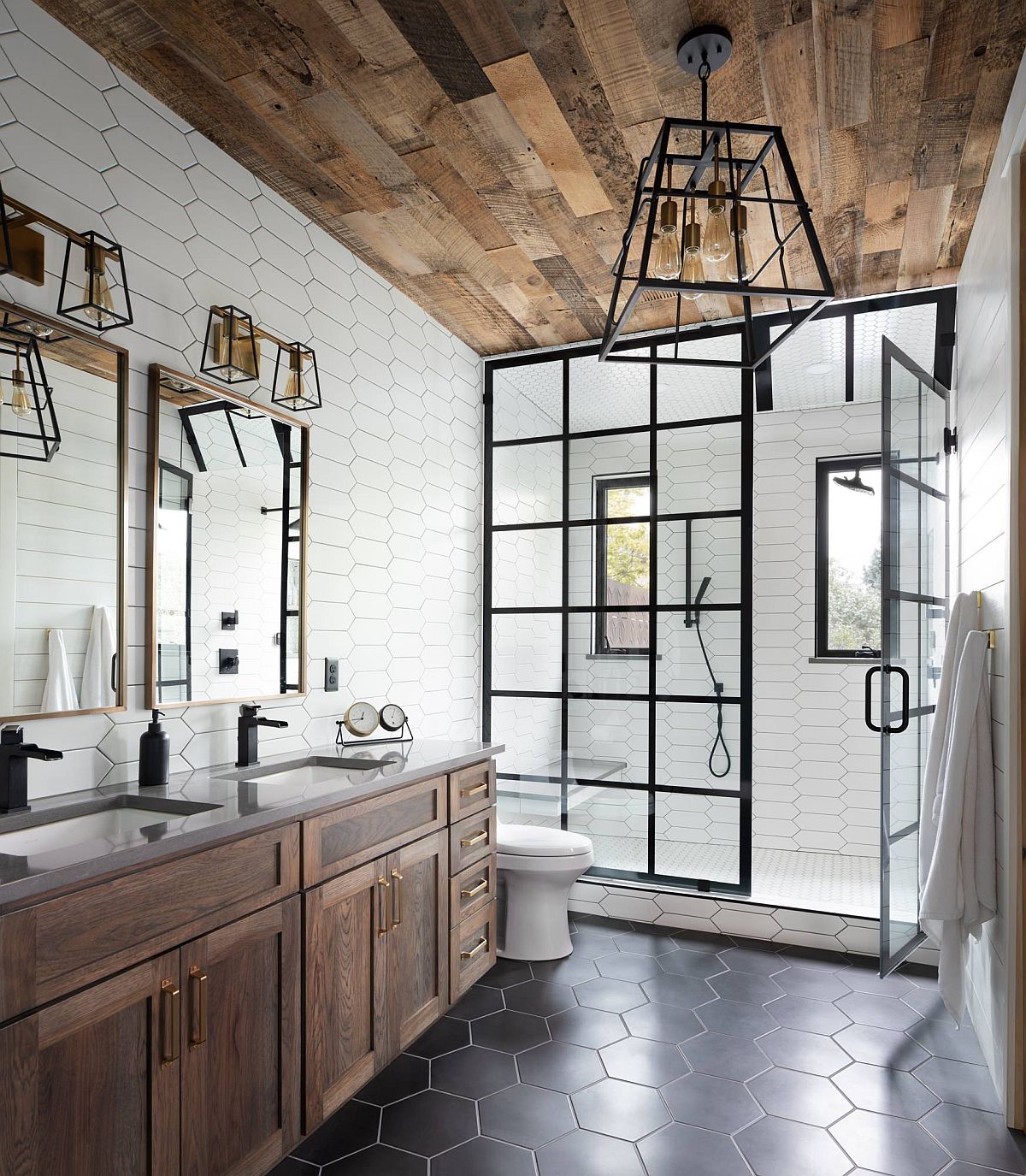 We doubt if guests leave this bathroom without noticing its stunning floor tile. It combines the solid honeycomb and art deco subway tile in a dramatic border transition. Thus, it gives this formal and stately manor with a hint of cozy ambiance.
Takeaway
The attractive and well-organized hexagon tile bathroom ideas often demand attention no matter what your room design is. They exude a stunning and bold statement and give a chic upgrade to drab rooms. There are limitless ideas to try when redecorating with geometrical hex patterns. From the inherent classic to the modish contemporary, you will never run out of choices. So take your home decorating a step further by employing some hexagon tiles that perks up the interest.