A tiny bathroom might be the inspiration behind your desire to have a farmhouse bathroom decor or it just might be your undying love for all things rustic. Whichever it is, you do deserve to get what you want. With this kind of decor; the presence of unpolished wood, neutral colors, and a couple of plants, you feel closer to nature and you can almost smell the air outdoors.
There are many accessories you can buy to change the look of your current bathroom and a lot more you can make yourself to give it that personal touch. Renovating your bathroom entirely is not such a bad idea as it will give you the chance to coordinate all the decor pieces from scratch. To know what your options are, check these 13 decor ideas we collated for you.
Bathroom Vanity with Brick Accent Wall

White paint is all the rave when it comes to a farmhouse bathroom and a brick accent wall will give it the extra ruggedness it needs. The accent wall can be on any side of the bathroom but preferably where you'll place the vanity mirror and the sink. This is to ensure that the eyes have only one major area to focus on. It'll turn out great.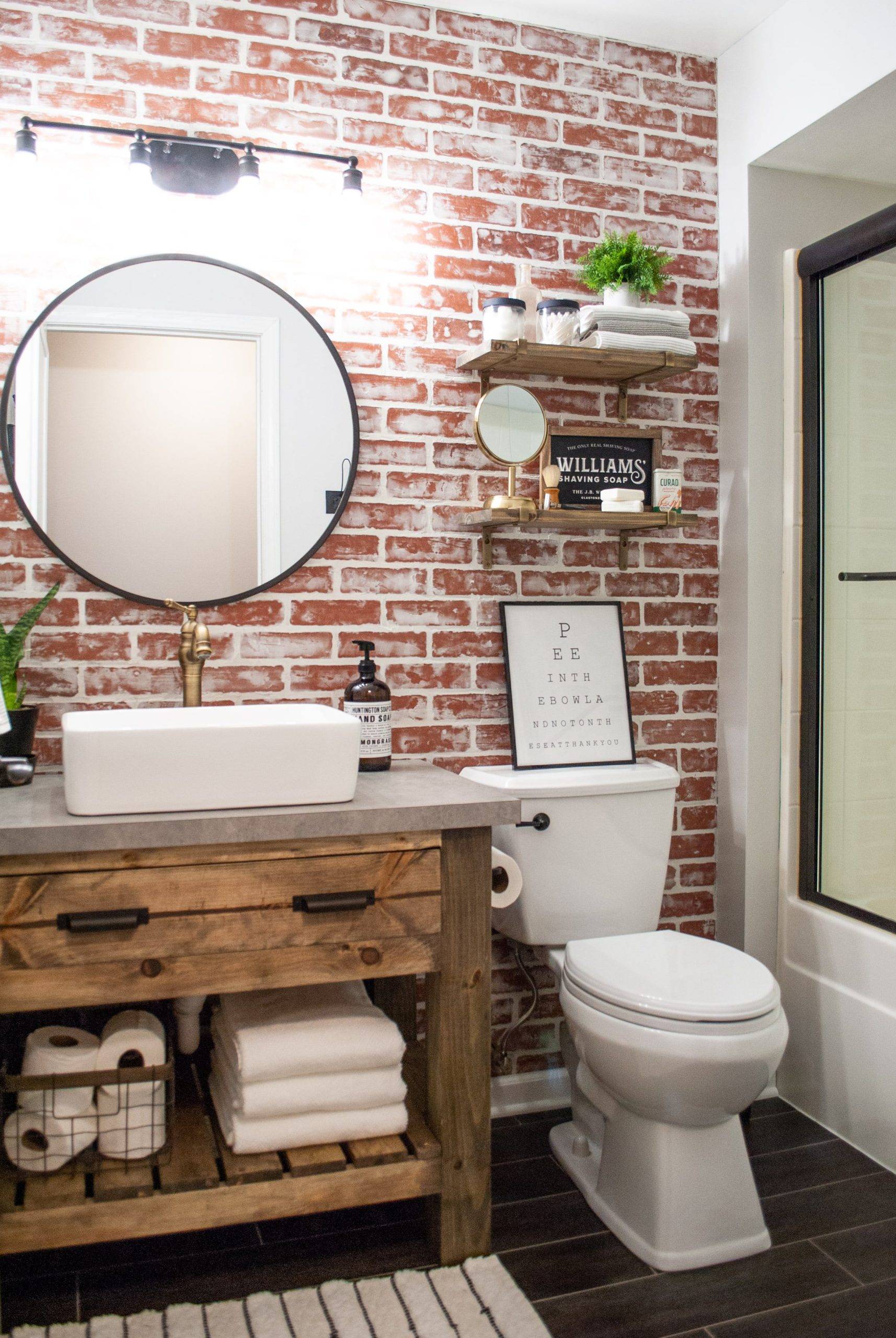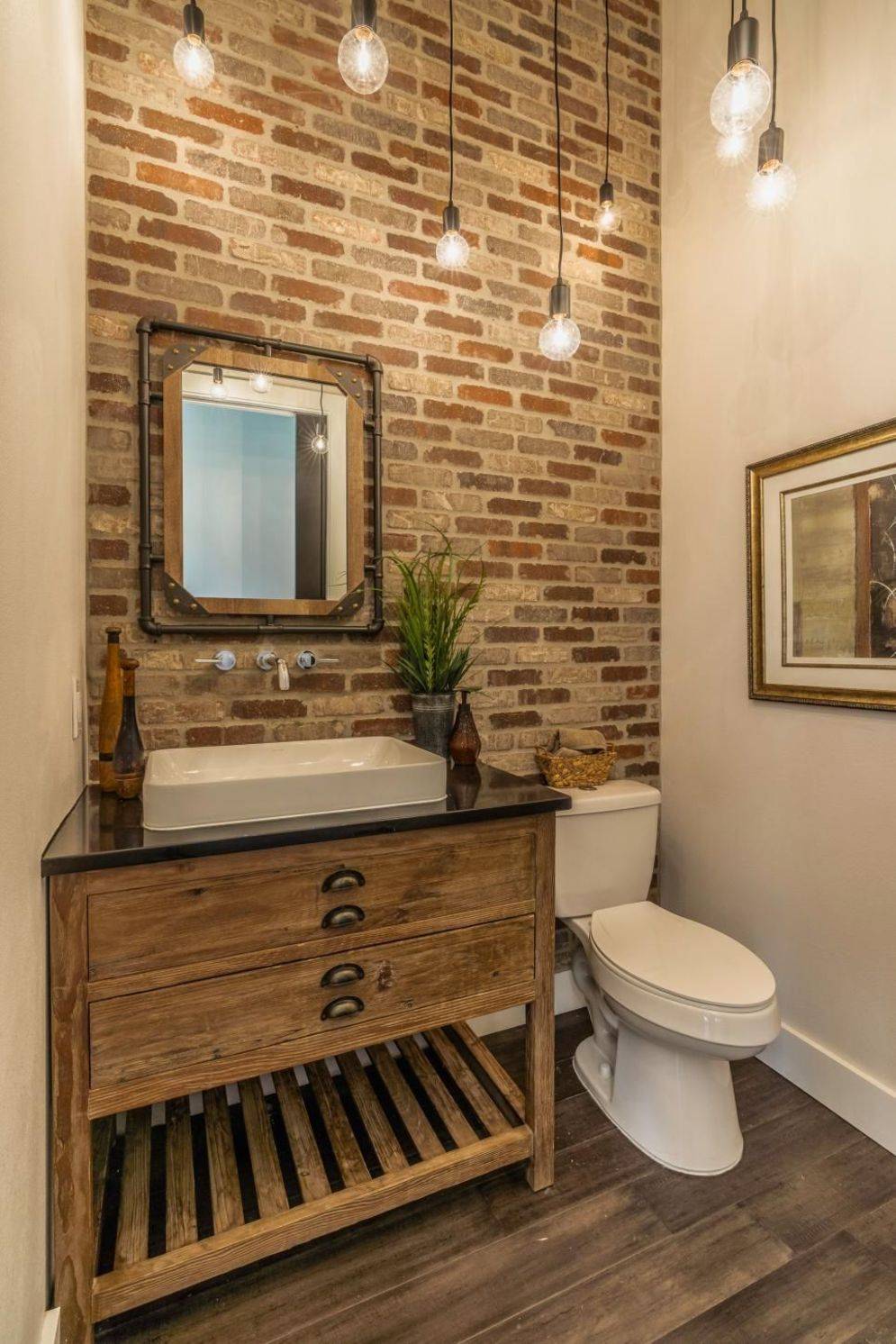 Wooden Frame Wall Art

Your bathroom can get a facelift with a couple of wall art. If you're skeptical about purchasing ready-made wall art for such a personal place, you can make one yourself. You can have goofy statements handwritten or names of the bathroom users to label cabinets or towel-hanging hooks.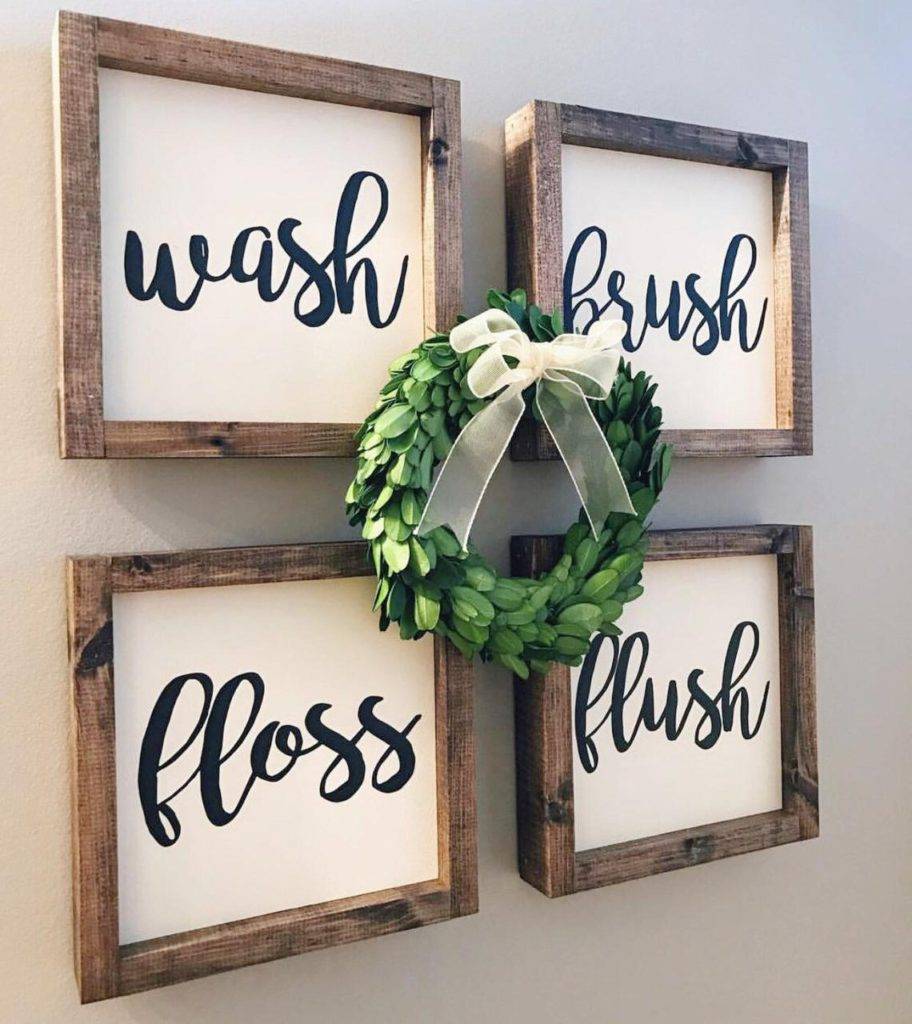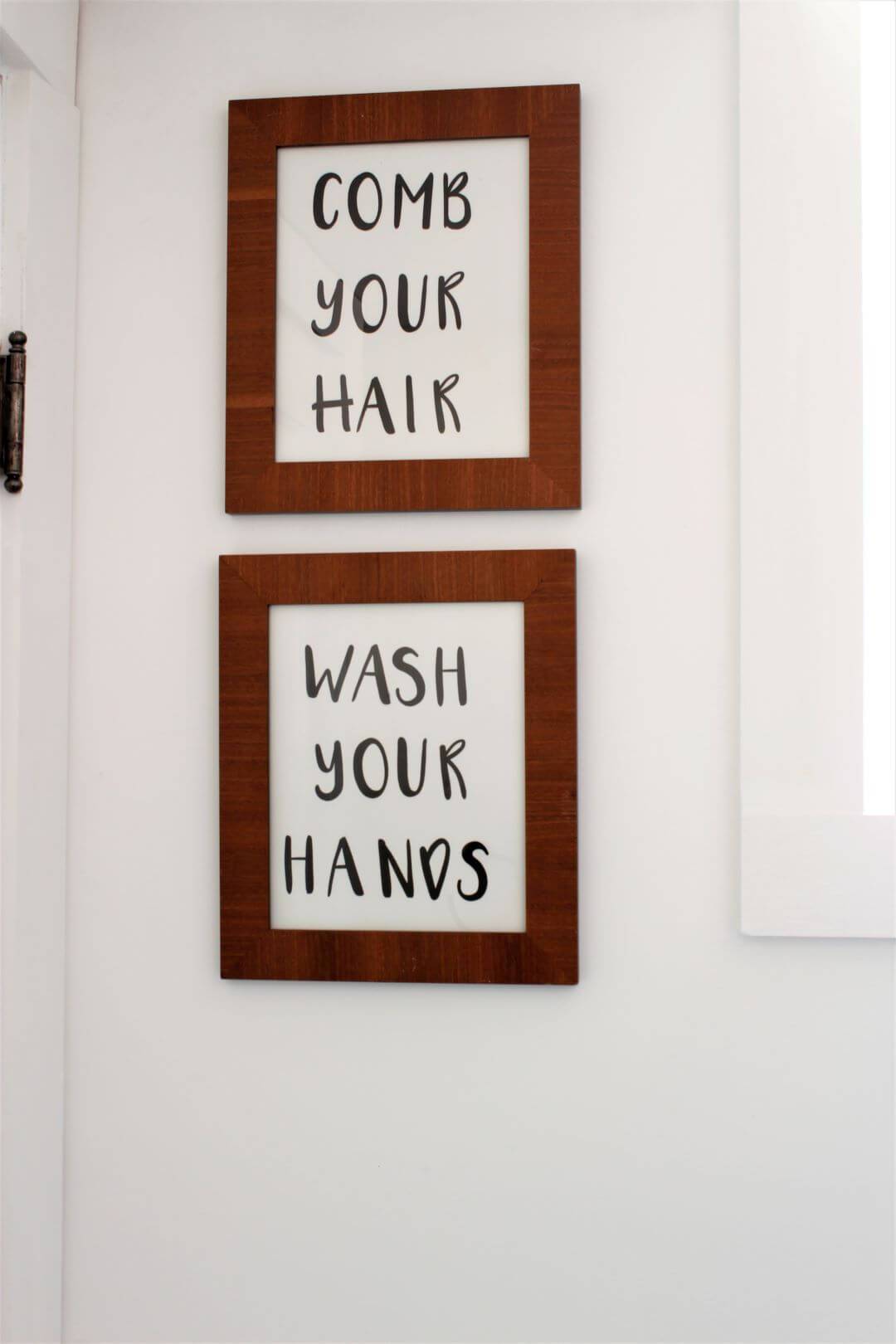 Black, White, and Gold Decor

This color scheme is great for creating a rustic feel. You simply have to make sure the accessories with these colors look rugged. The use of silk for curtains is not suitable for this style. It's advisable to stick with woven mats, wooden cabinets, and wooden vases.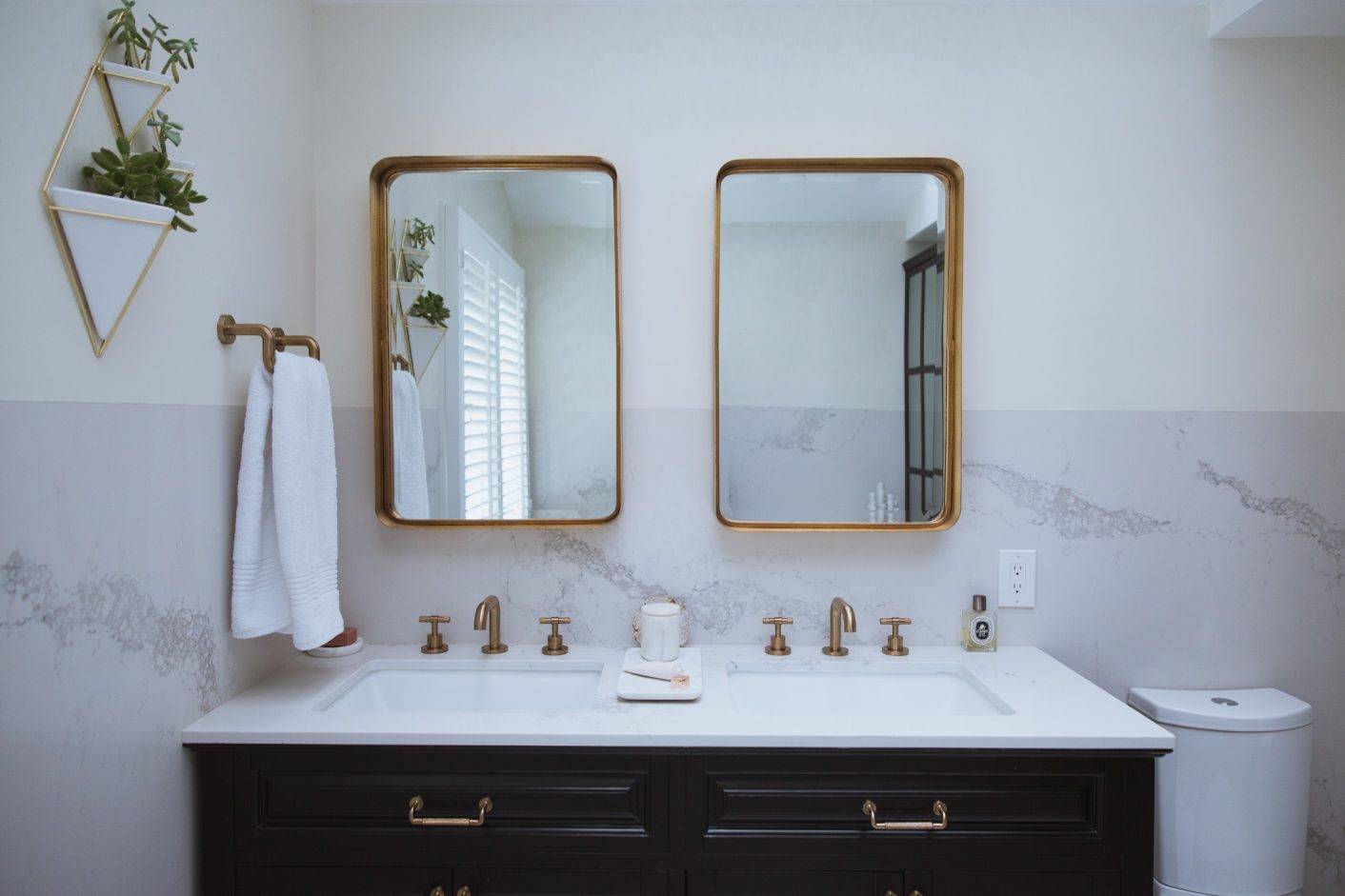 Wooden Hanging Hook Slab

Every bathroom needs some kind of storage unit and sometimes, it can be as simple as having a hanger. This wooden hook-hanging slab is a perfect fit for your farmhouse bathroom. The combination of wood and metal hooks gives you some outdoor feel. The wood doesn't even have to be polished. The size of the slab and the number of hooks are determined by how many items you need to hang.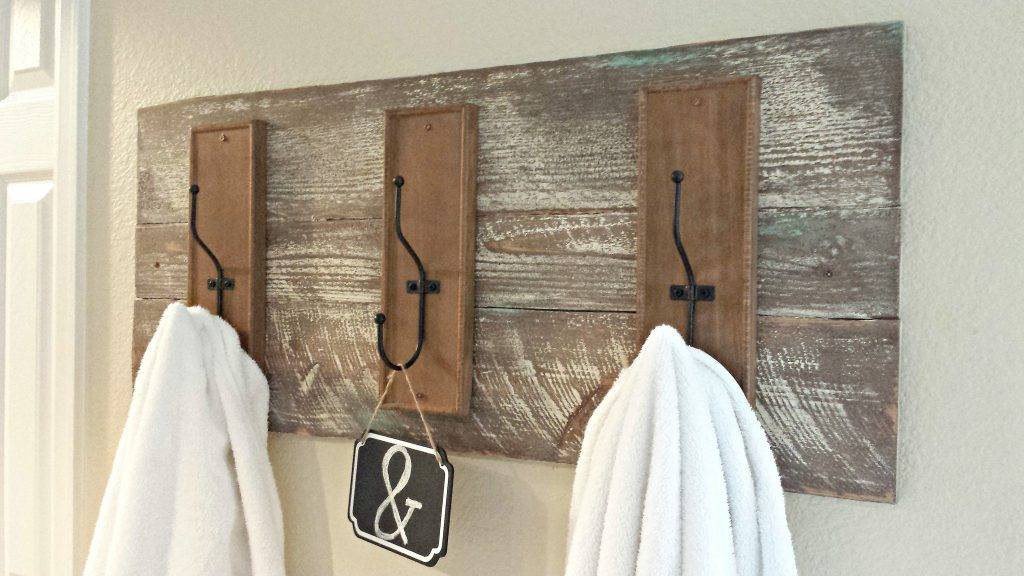 Shiplap Wall and Wood Accessories

Materials and textures are important when it comes to designing a room. It's no different for a bathroom. Shiplap is one of those materials that can easily give you that farmhouse look you want. When paired up with wood, you'll have all you need. With the right kind of tones and a whole lot of white paint, your charming farmhouse bathroom is set.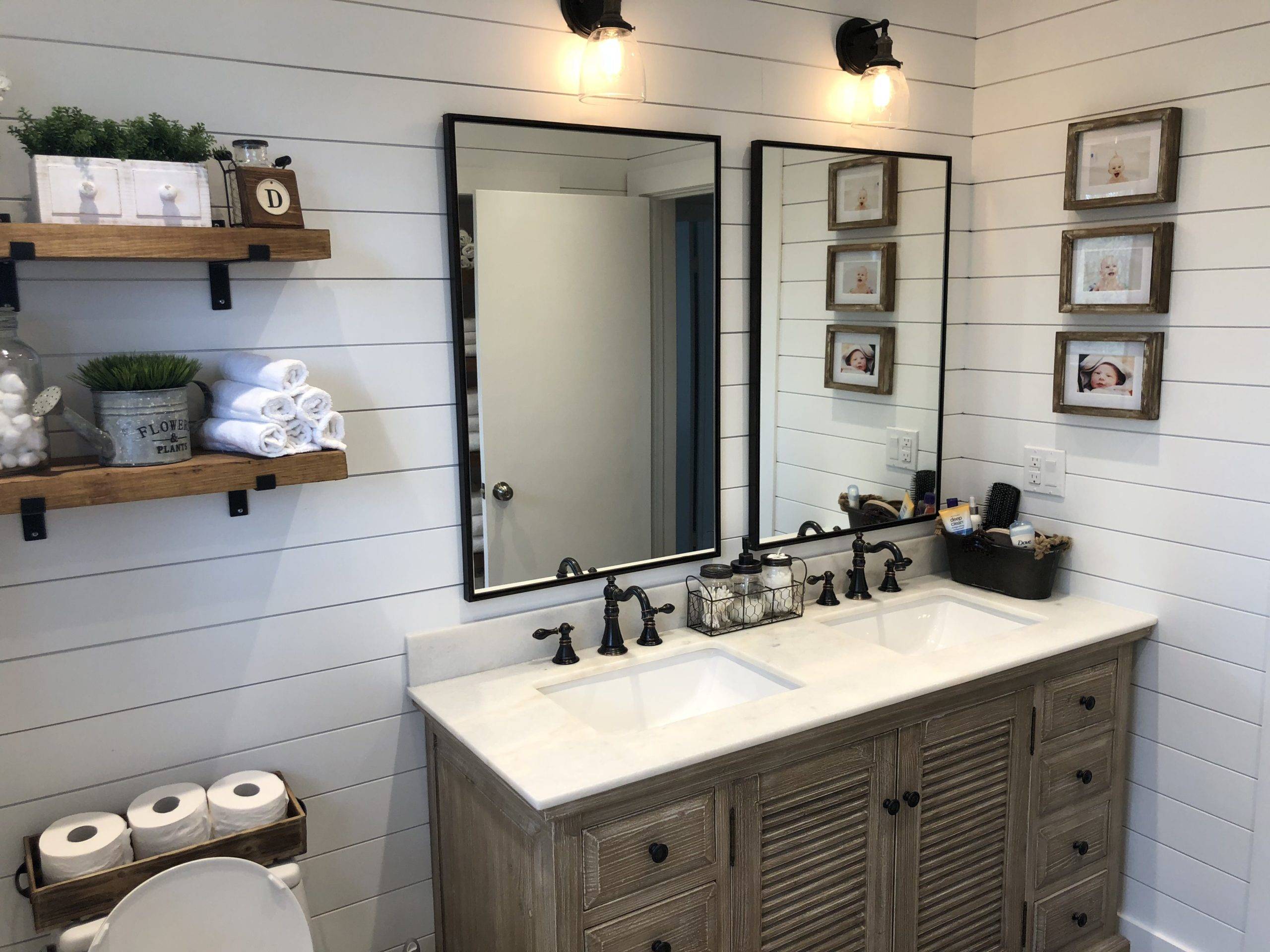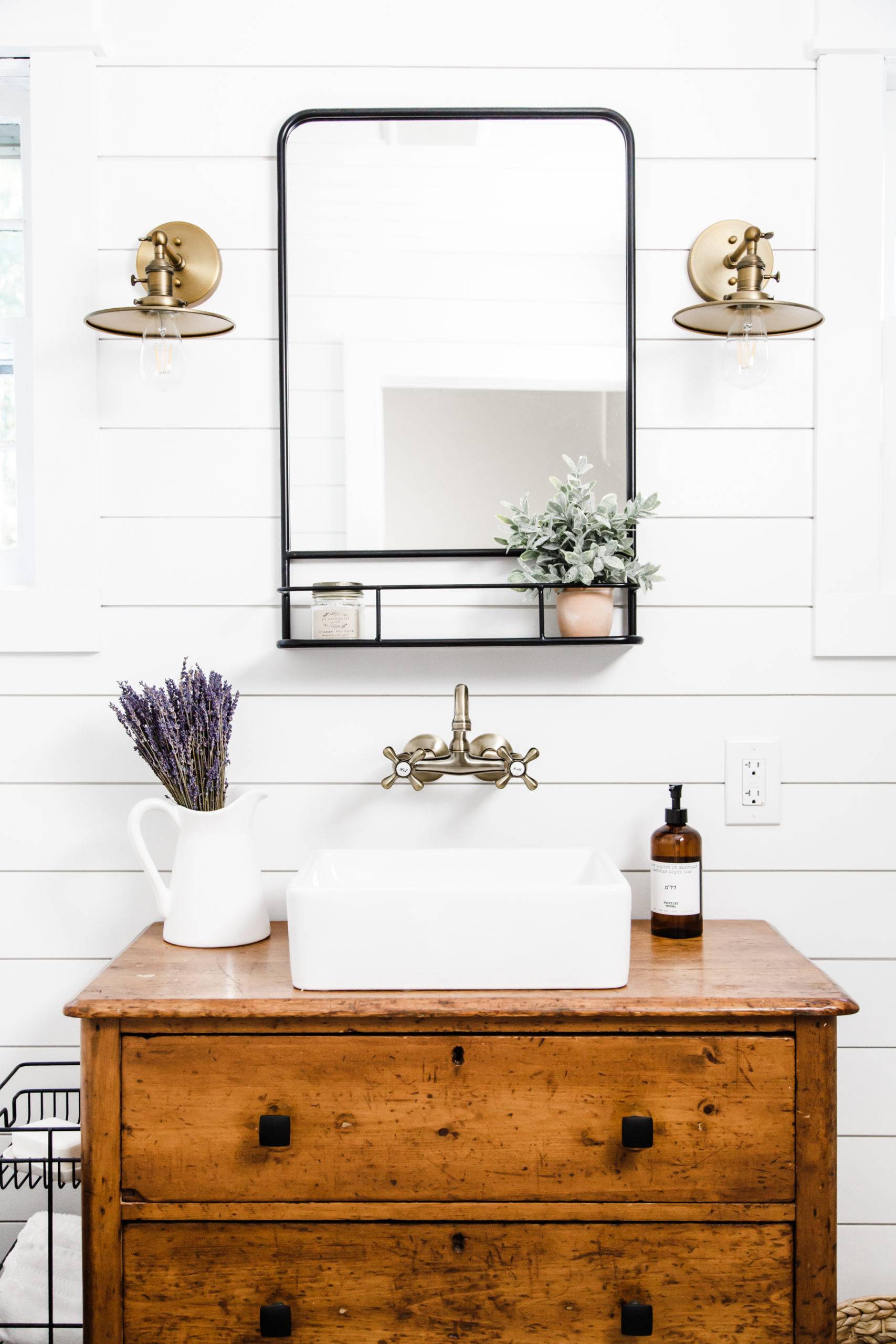 Marble Countertop

Marble countertops are a hit even for bathrooms. It would be great to add it to yours too. It would not take away from your farmhouse bathroom decor style but only add to it. They are quite expensive and may be out of your budget but you can try to DIY using plywood.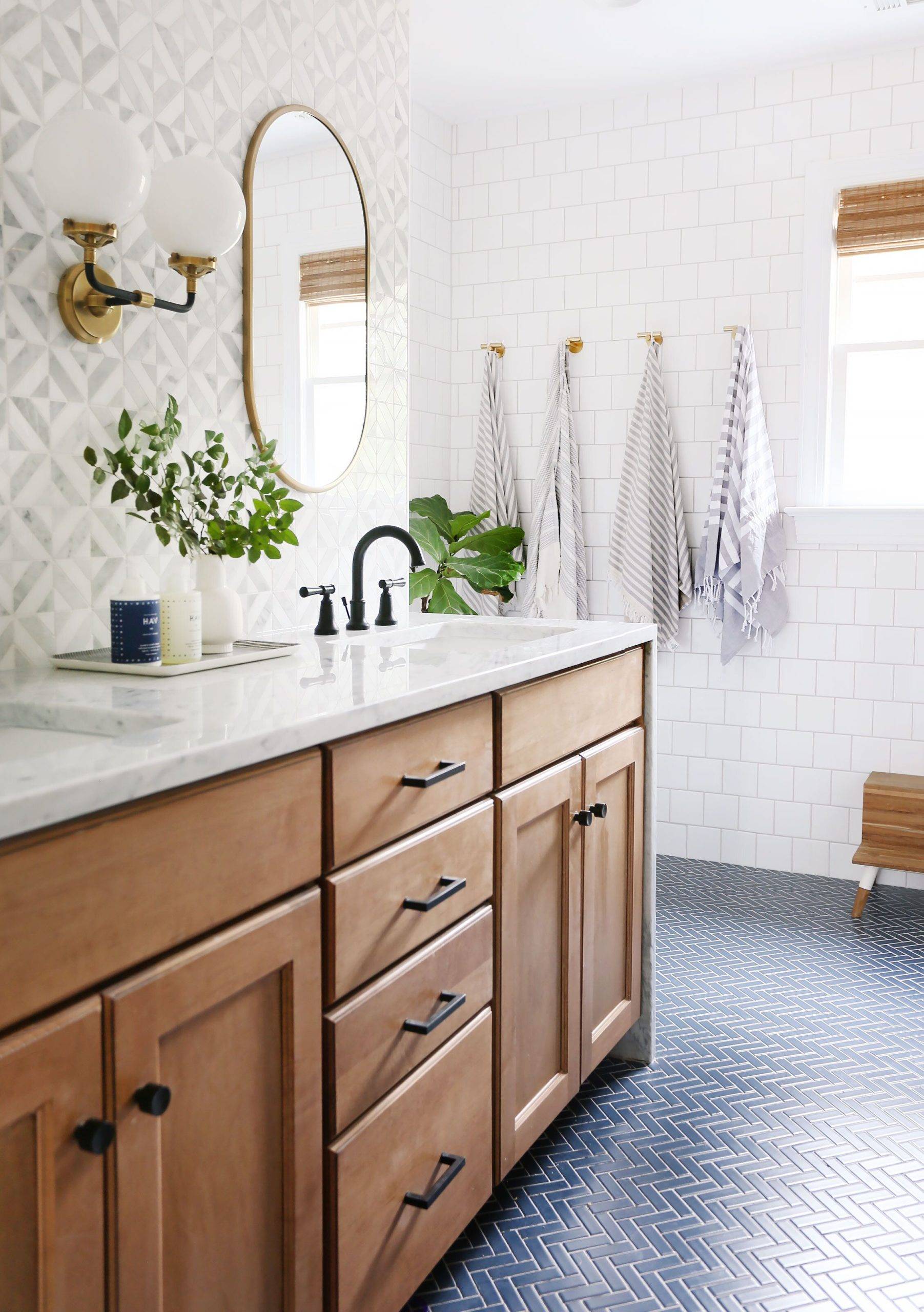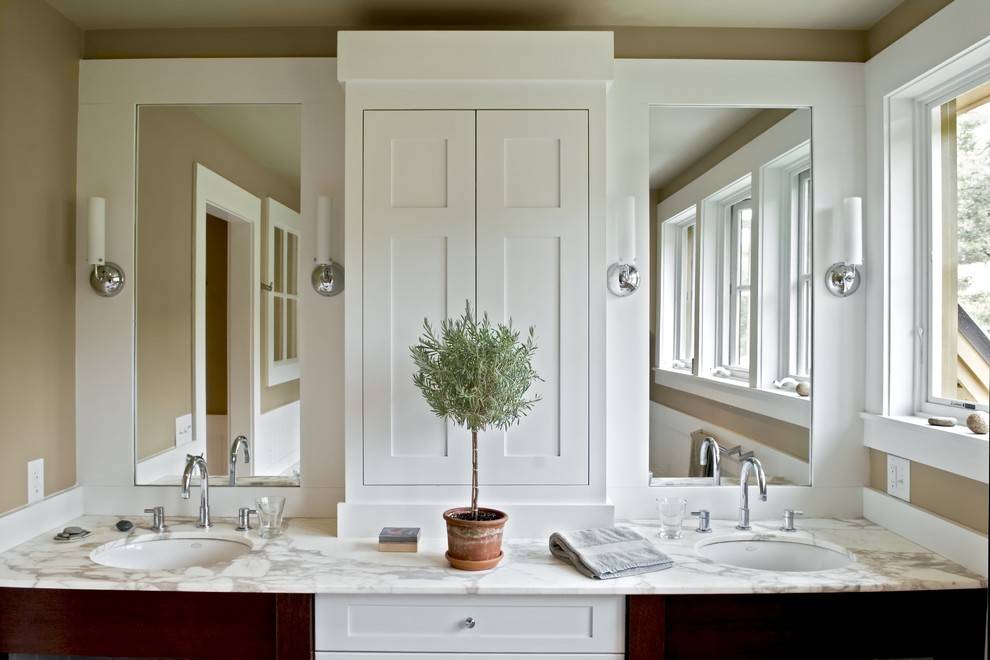 Floating Storage Shelf

Floating shelves usually look good in rooms. They can be great for giving rustic vibes depending on the condition of the wood used. You'll need wood that is stained and not painted. This is because stains preserve the natural look of your wood compared to paints. They are available in different sizes.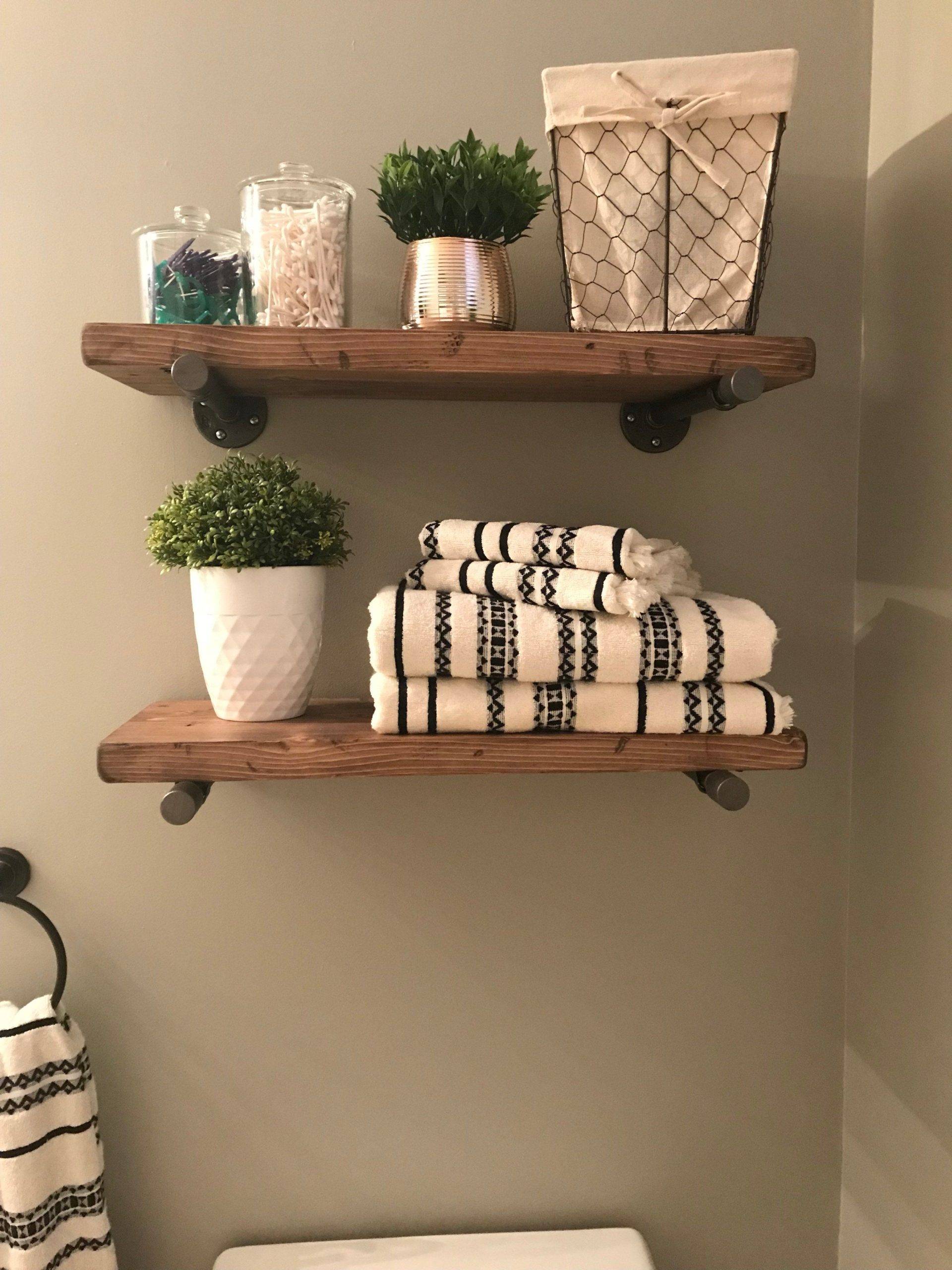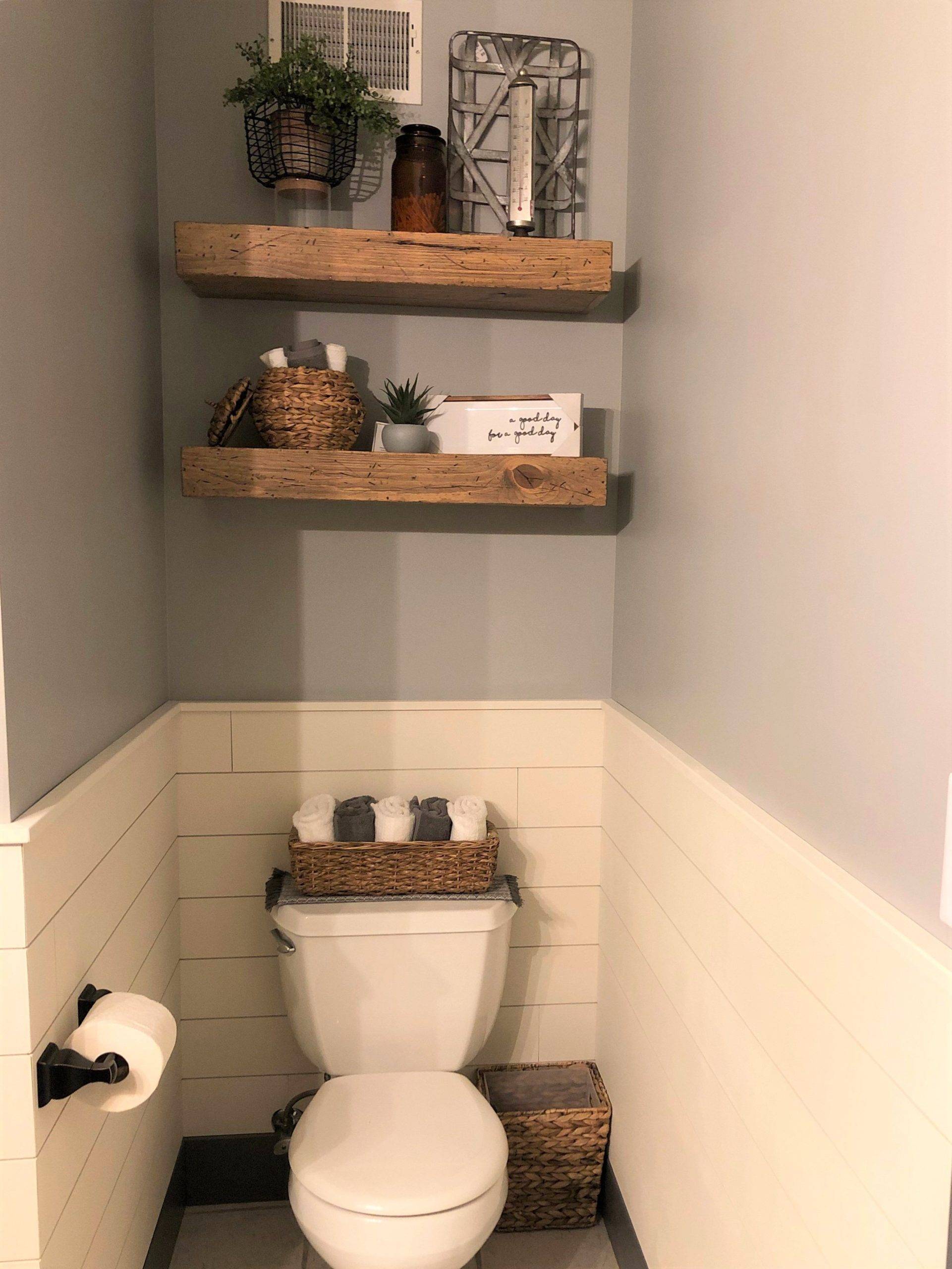 Flower Vase Decor

If you can't get hold of a flower vase, you can make use of a mason jar. Mason jars are for storage, that's all you've ever known, but they are quite versatile which means they can be used for many more things. One of them includes home decor. In this case, they can be used as flower vases. They can be used as clear glass or you can customize the jar. Whichever one you choose works perfectly for your bathroom. The flowers placed in them will give your bathroom a fresh look.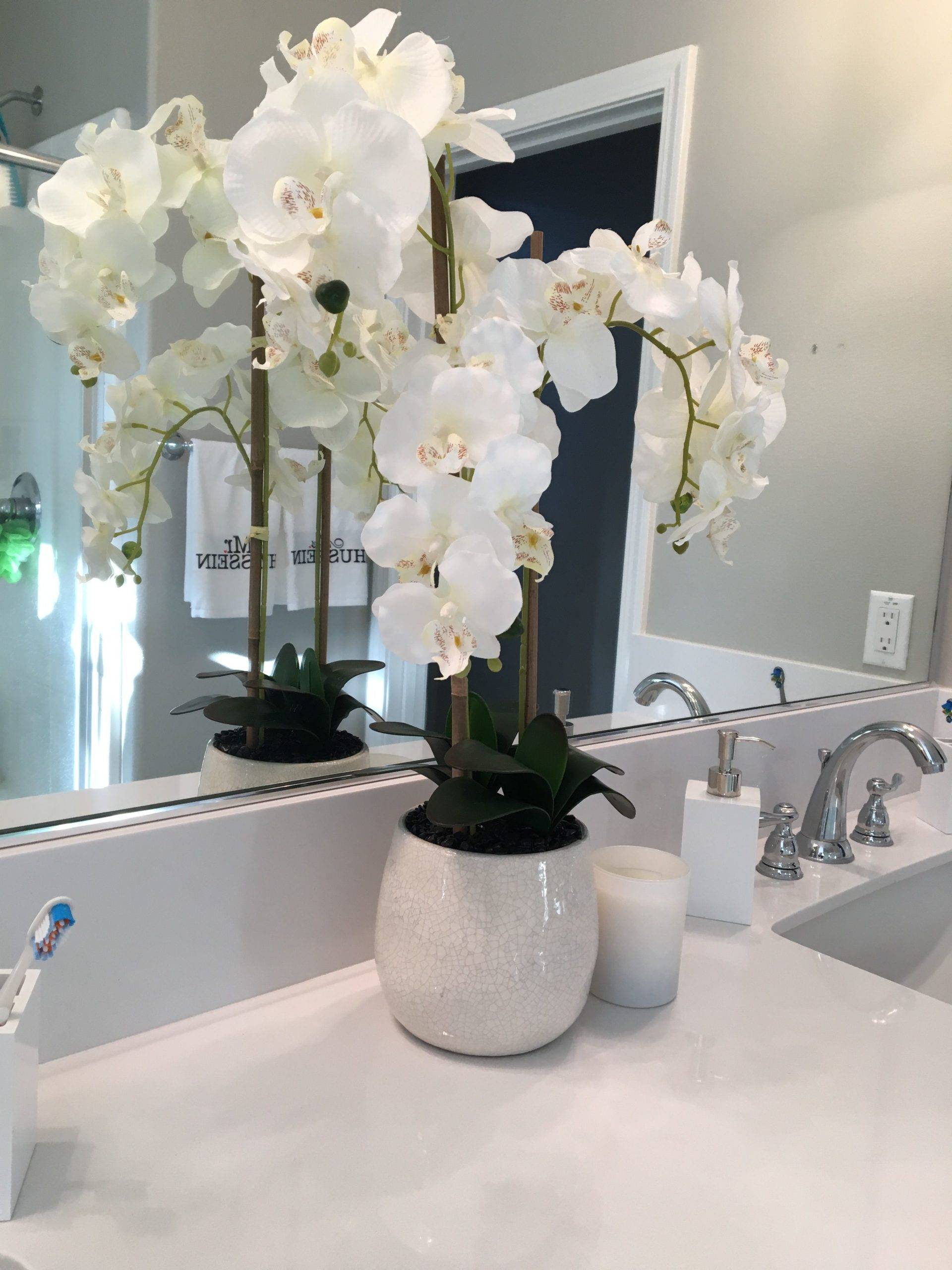 Antique Toilet Paper Holder

Everything can be decor if only you knew how and where to place it. To you, extra tissue paper should be placed in the cabinet and a rusted iron bucket should be thrown out. Well, your farmhouse-style bathroom could make use of that bucket. You can use the rusted iron bucket as a tissue holder instead. You do not need to remove the rust as it adds to the rugged look.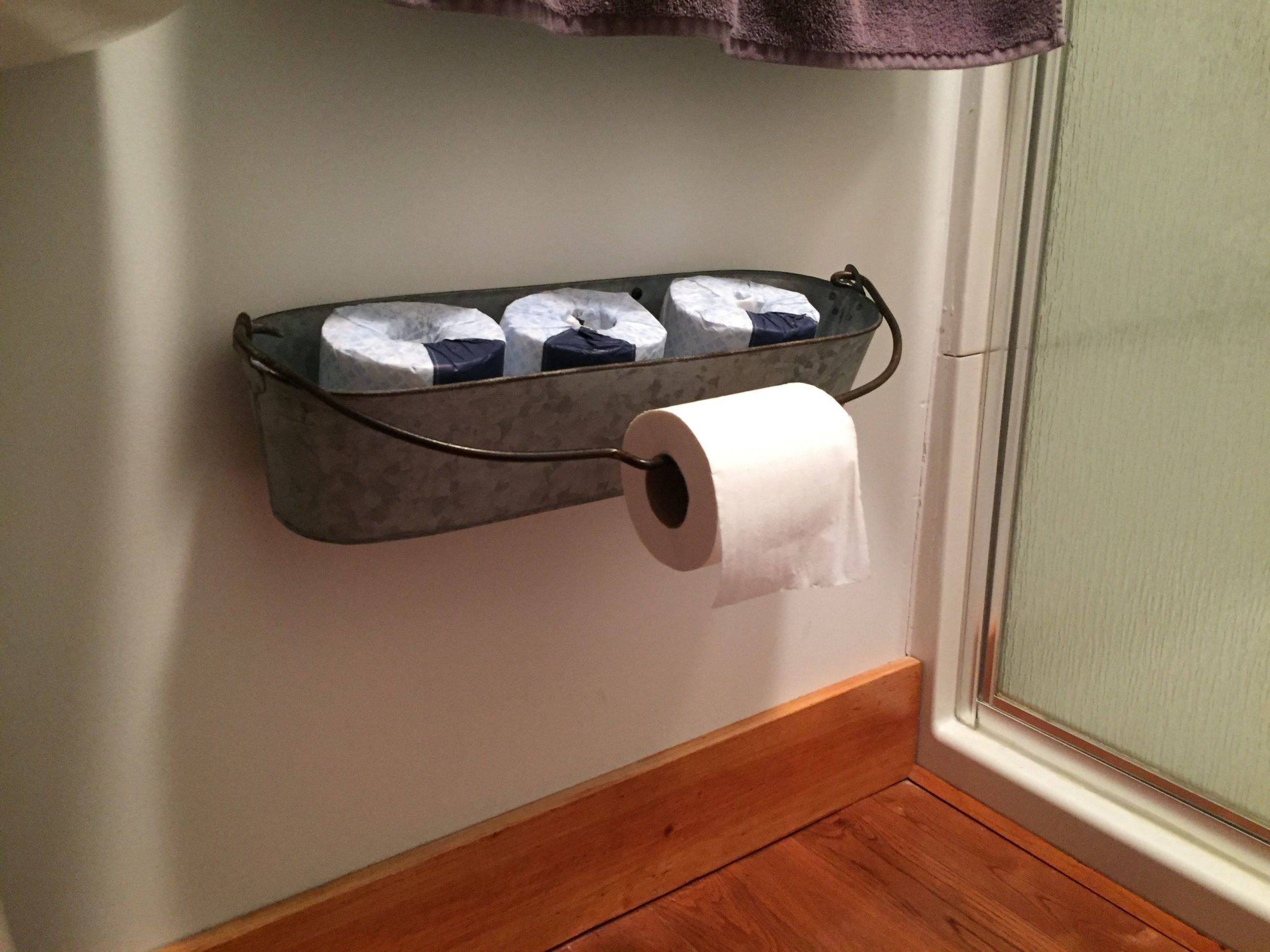 Recycled Window Frame Towel Hanger

Recycling is great for the environment but you know that already. What you do not know is that recycled wooden furniture is great for creating a farmhouse interior. The shabby look of an old wooden frame is just what you need. Add some hooks to it and turn it into a towel hanger. You can add flower wreaths to make it beautiful but that's optional.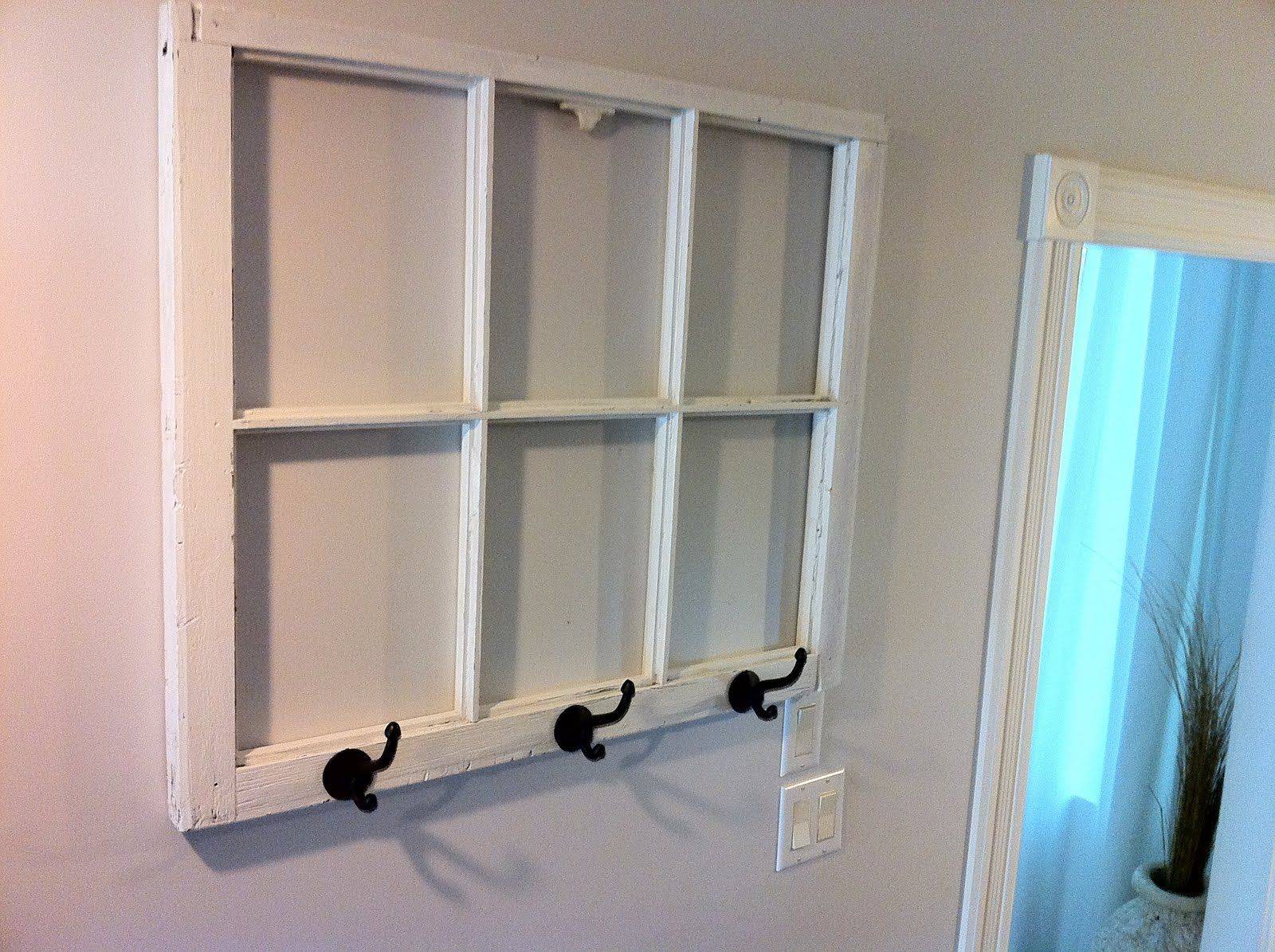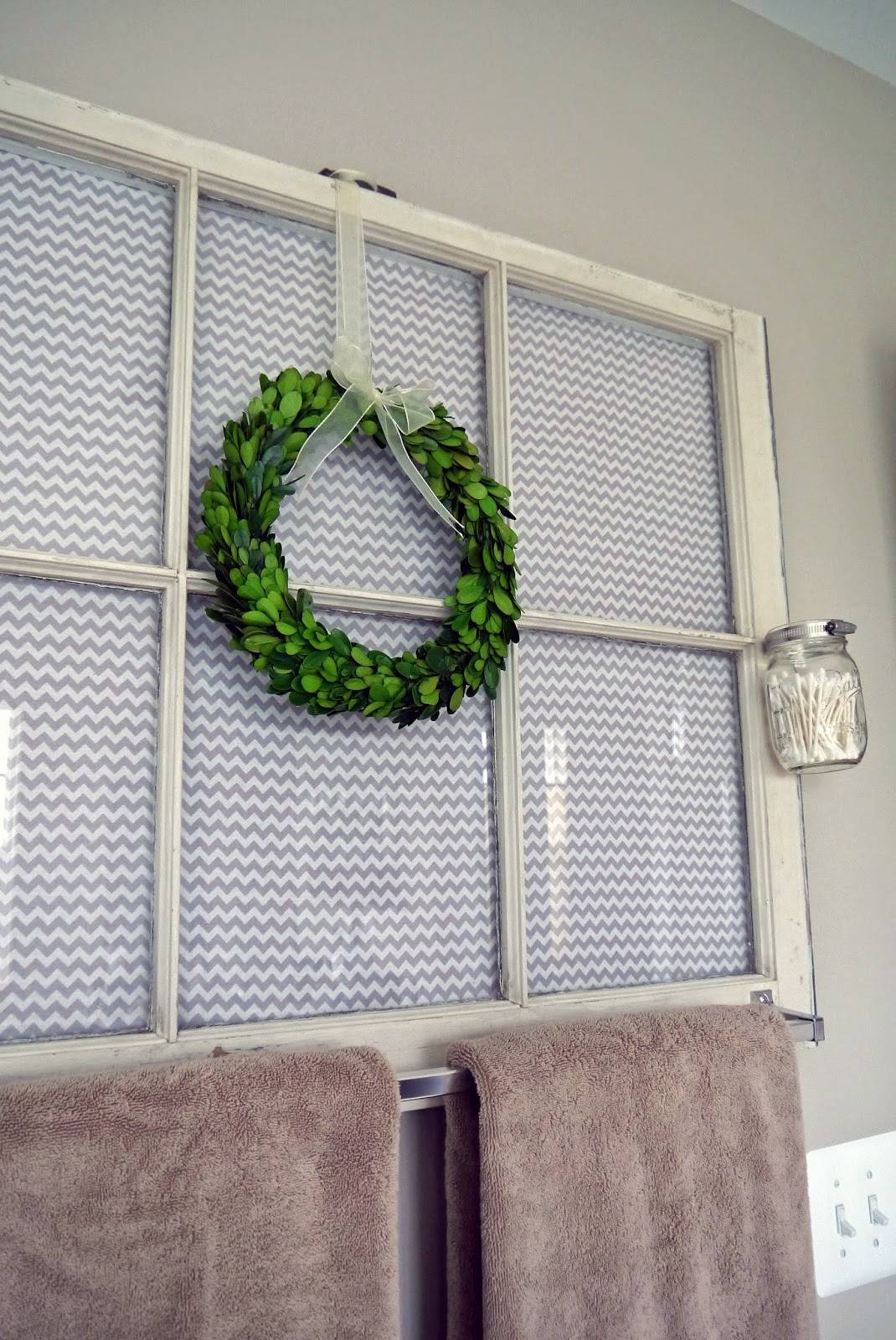 Bath Rug

Bath rugs can be made at home or purchased from a store. If you plan to make it yourself, it can be made with leftover fabric. For the rural feel, it is recommended that you choose earth tones when picking your rug.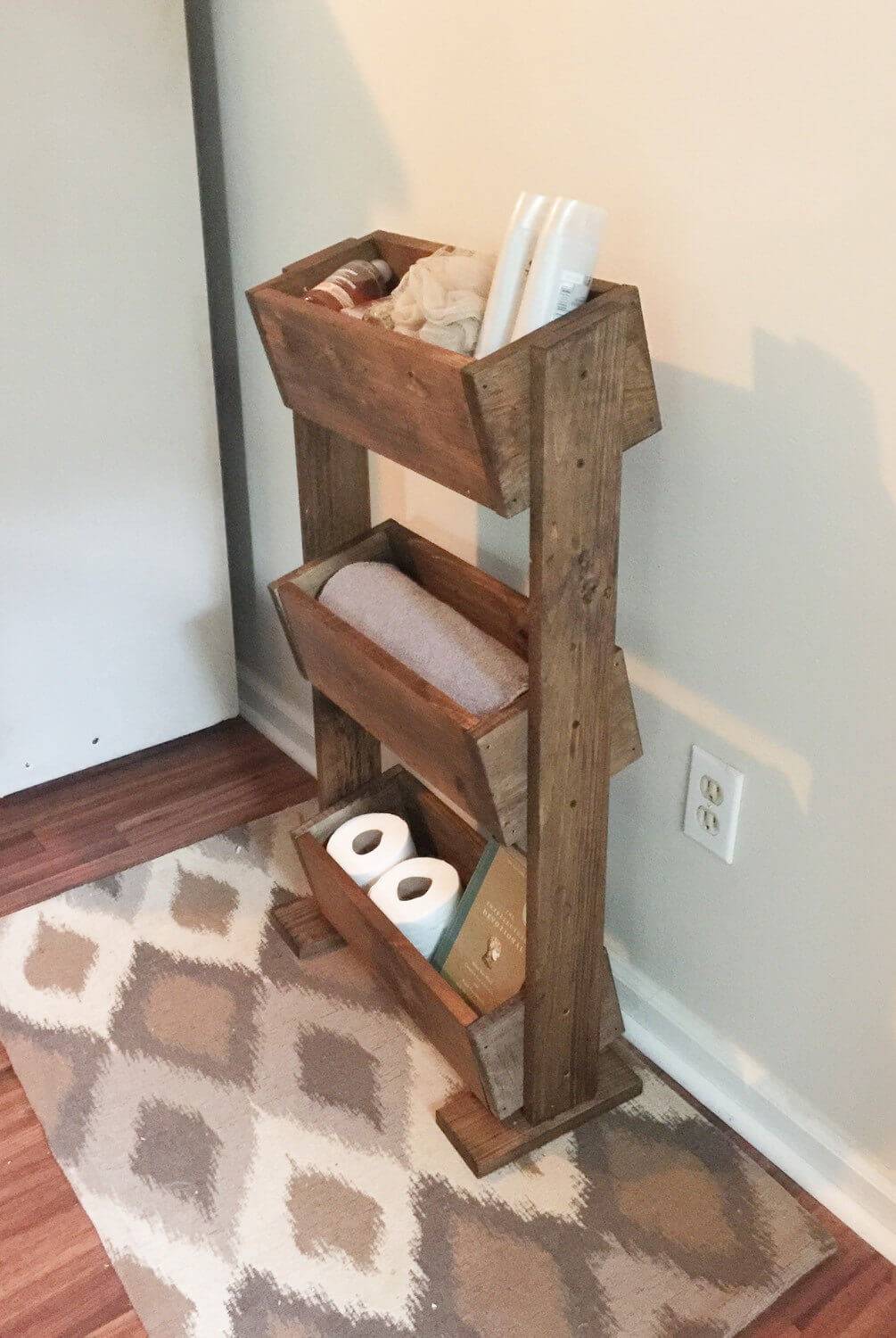 Neutral Tones and Sliding Barn Door
A sliding barn door is the ultimate farmhouse style. It can transform your classy bathroom into a rustic one in the blink of an eye. It is great when it is made with unpolished wood to give that raw wood accent. The other accessories in your bathroom should also have neutral tones to enhance the style you're going for.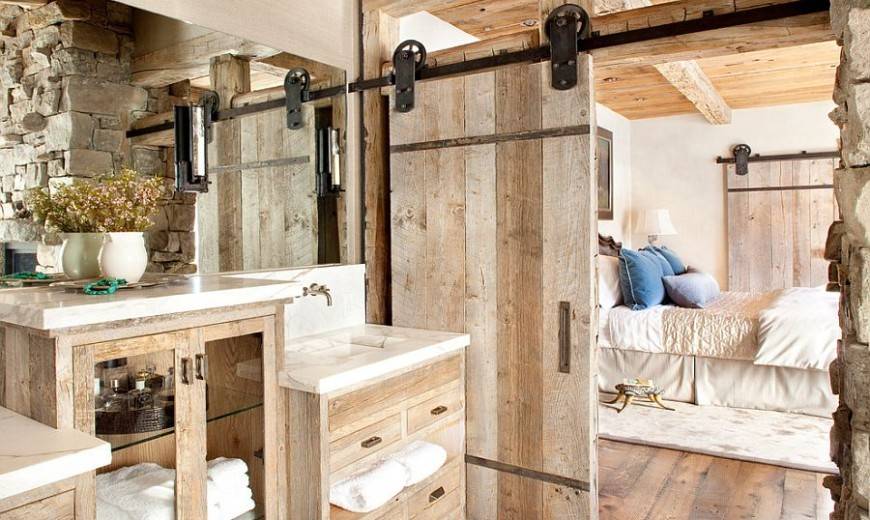 Tiled Bathroom with Bathtub

A bathtub in a farmhouse bathroom is not an unusual sight to see especially when it doesn't look brand new. Together with a tiled wall, colored black and white, you get a complete look.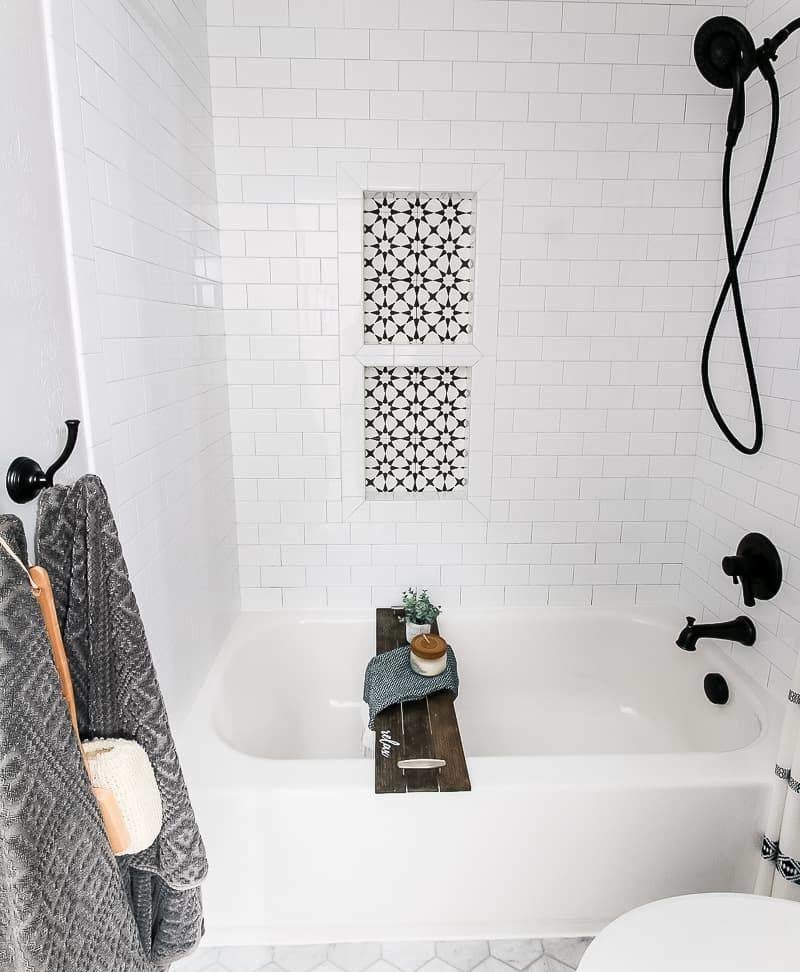 As a farmhouse-style lover, you want a cozy bathroom and that's exactly what you'll get with these ideas. The farmhouse bathroom decor ideas listed are practical and easily accessible. Adding everything on this list to your bathroom will be a bad decision but one, two, or even three can't hurt. Your love for nature without the extra unnecessary sophistication will shine through with these decor pieces.