A global icon that cuts across national boundaries, cultures and eras – Hello Kitty, created by Yuko Shimizu, is a phenomenon unlike any other. This cute and seemingly expressionless character produced by Sanrio started its journey on a vinyl coin purse way back in 1974, and while the world has changed considerably in the last four decades, Hello Kitty still remains an integral part of popular culture. From kids' accessories and bedrooms to the celeb wardrobe and fashion shows in Paris, Hello Kitty still can be found almost everywhere!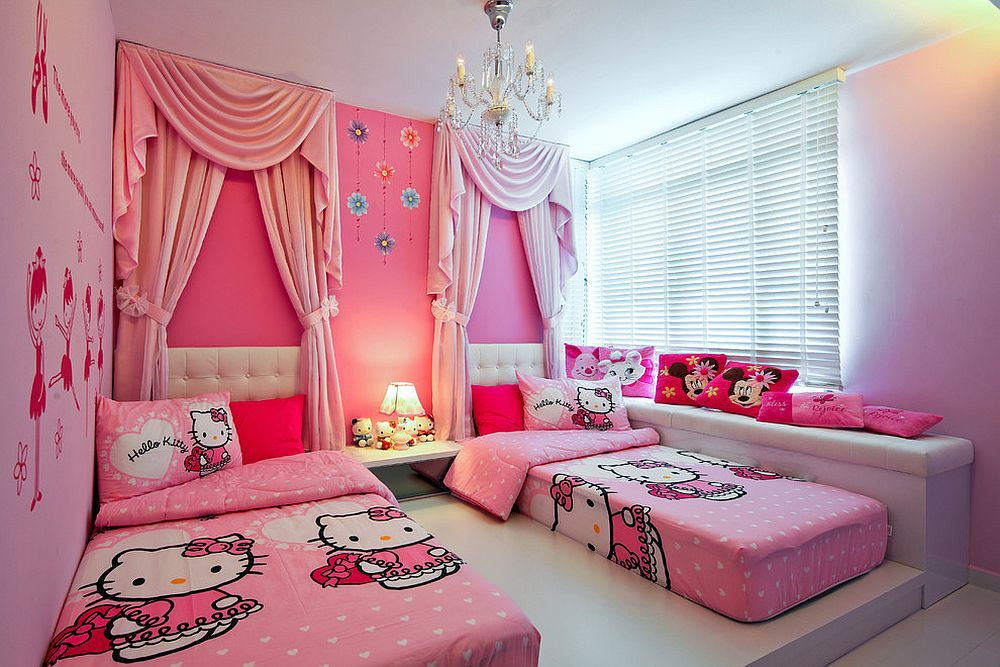 Adding Hello Kitty-themed décor and accessories to the bedroom elevates the 'cuteness quotient' of the space and also gives it a fun, whimsical vibe that is both unique and fashionable. You can even take this cheerful vibe into the teen bedroom and adult spaces without going overboard. Today, we take a look at 15 bedrooms that embrace Hello Kitty, even as we delve a little bit more into the delightful cartoon character itself.
Forever Cute!
Sure, we all have seen the image of Hello Kitty countless times (even if you are not particularly a big fan of the cartoon character), and there have been times when the music industry's hottest icons adopted it as a fashion statement, but few know the fact that Hello Kitty is NOT a cat. That's right; the makers of Hello Kitty insist that she is just a cartoon character – a little girl who is actually from London! Delve a bit deeper and you will learn that the first of November is her birthday, she is a third-grader and her favorite color is red.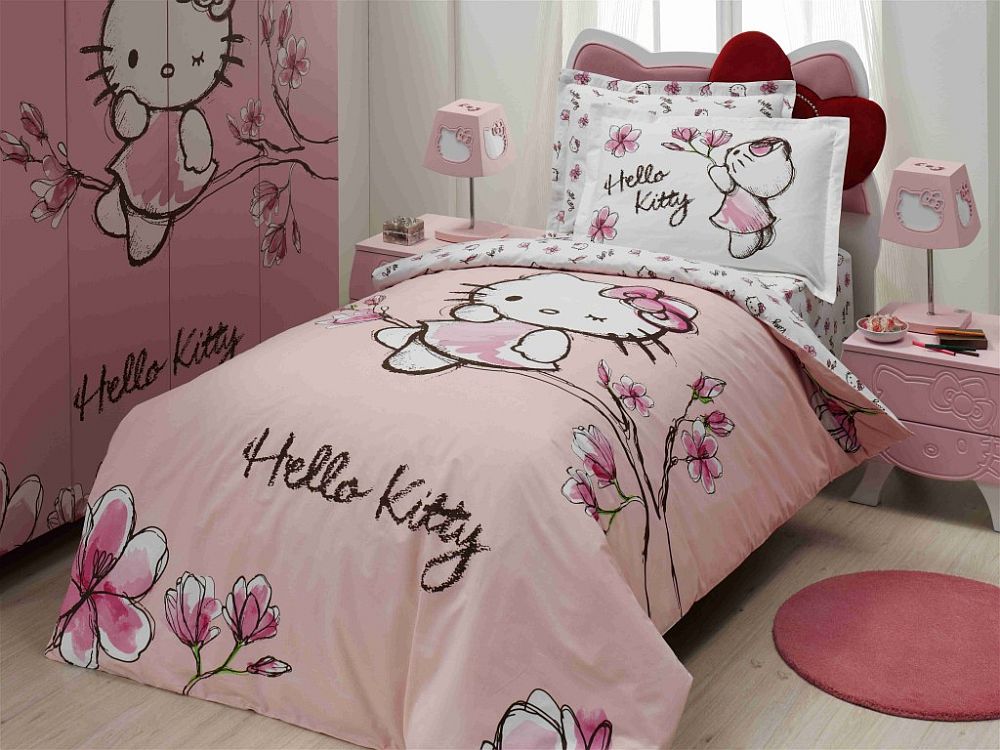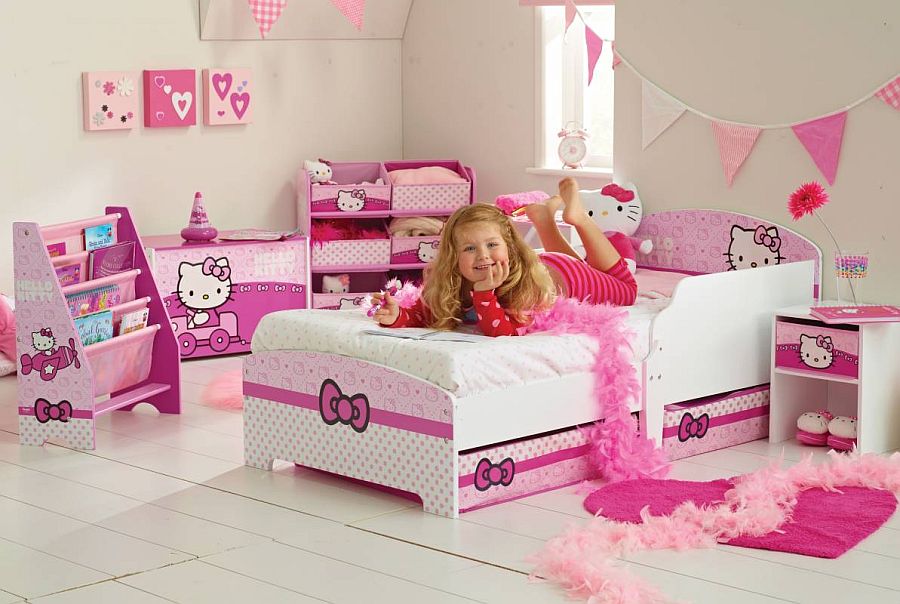 Of course, you can have a room filled with Hello Kitty accessories, plush toys and other décor without ever actually knowing the story behind the character. Fashioning a perfect Hello Kitty bedroom starts with the bedding of course, and there are many options to choose from. In the case of kids' rooms, pink is often the dominant hue, with white providing the balance and red offering bright contrast. Add to this custom wall decals, Hello Kitty-themed bedside tables and even wardrobes to create a room that celebrates this beloved character.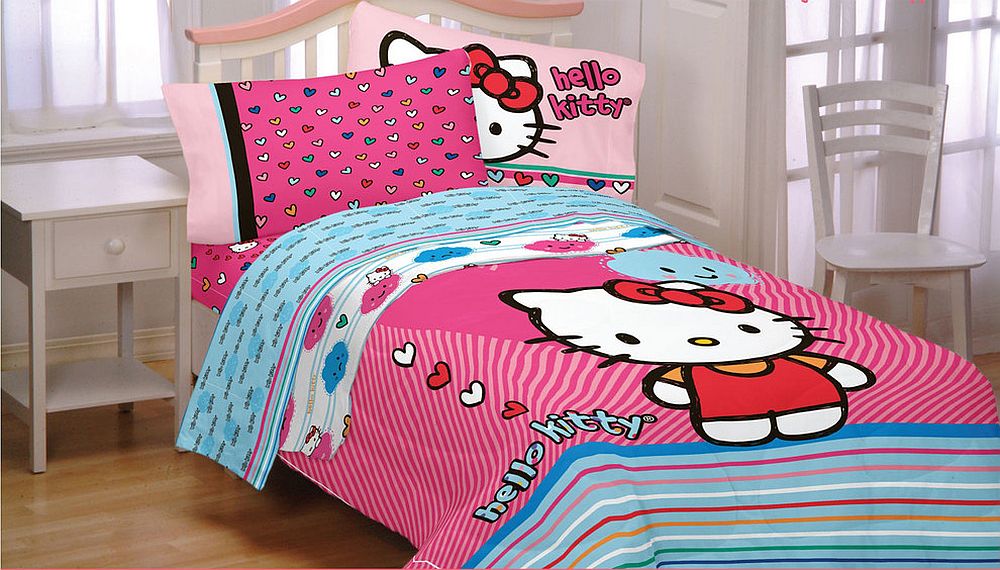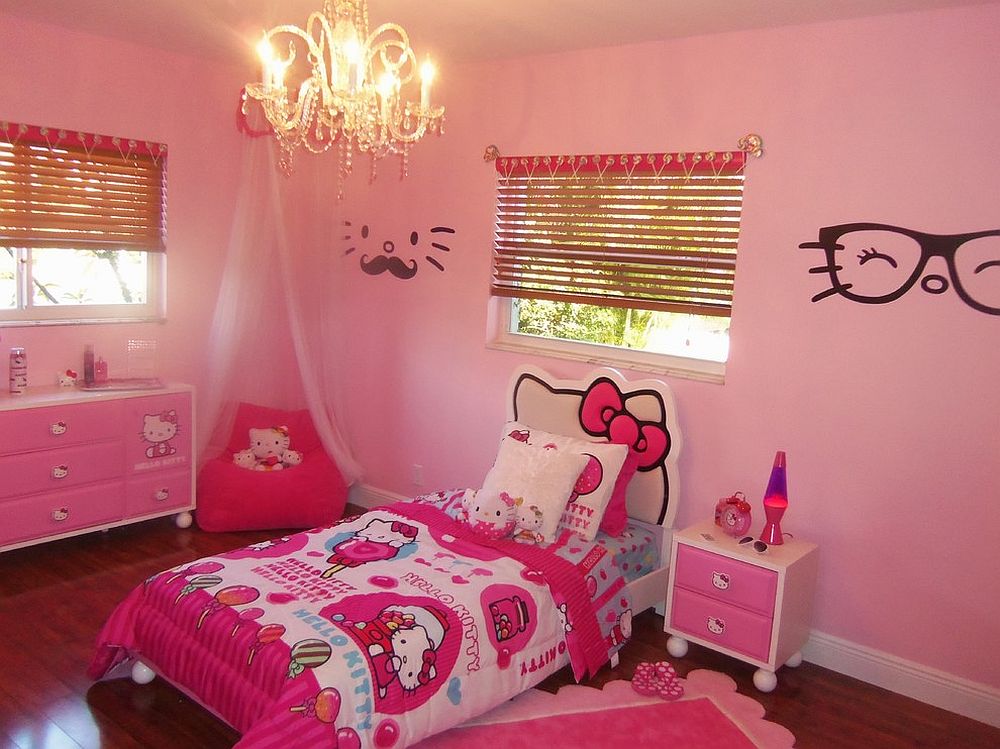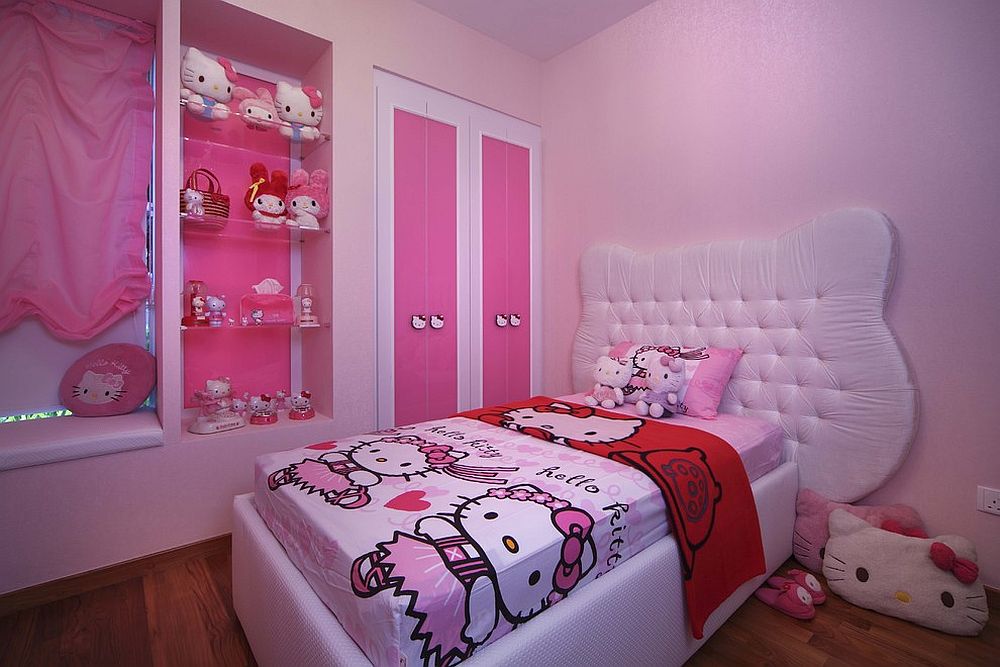 Hello Kitty Teen Bedrooms
While Hello Kitty was born as the image of ideal British life in the 70s as perceived by those in Japan, she quickly and seamlessly morphed into a global icon. One of the biggest reasons for the success and the quintessential popularity of Hello Kitty is believed to be her simple expression and ability to fit into almost any backdrop effortlessly. From rock concerts and high-end fashion shows to theme parks and kids' products, Hello Kitty is as much a symbol of chicness as she is of cuteness. This makes her perfect for the teen bedroom, where sophistication meets playfulness and color meets curated ambiance.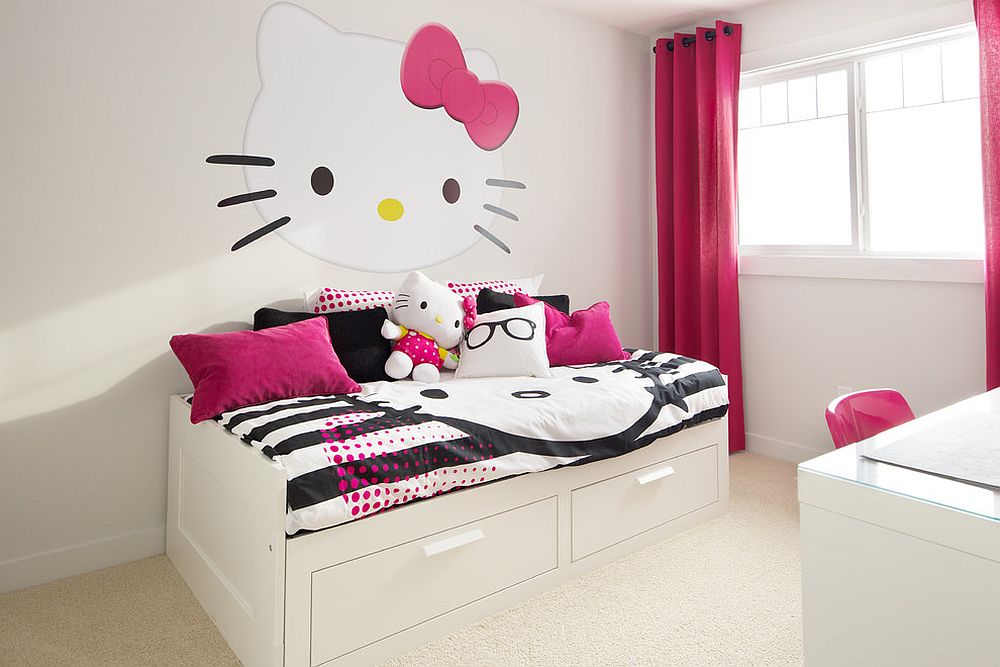 In teen bedrooms, it is time to cut back on the use of pink and adopt a more neutral backdrop, even as a smart Hello Kitty throw pillow, wall sticker or even custom bed make a big visual statement. Splashes of purple and pastel hues are also perfect for these gorgeous and exquisite rooms.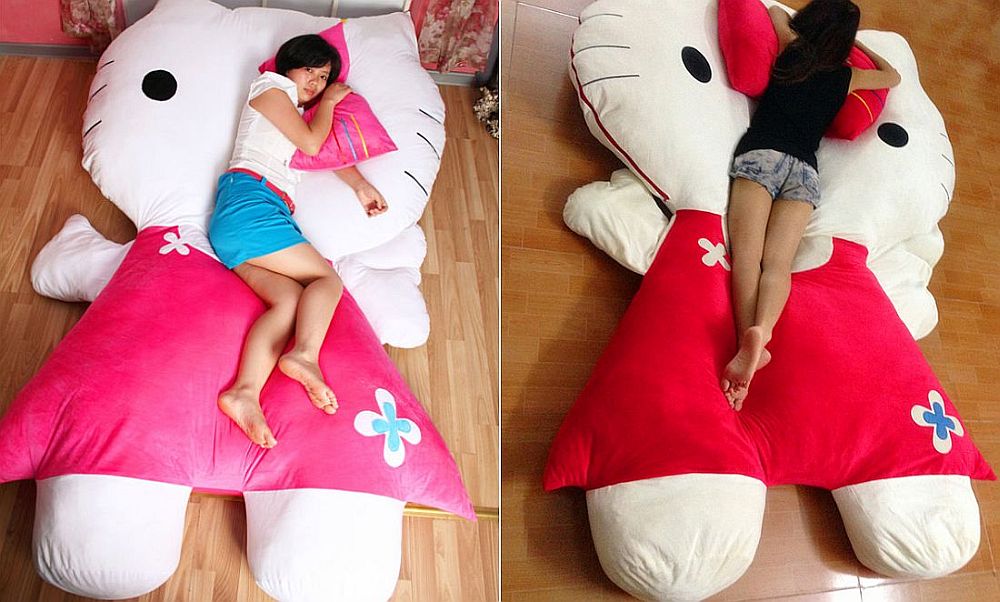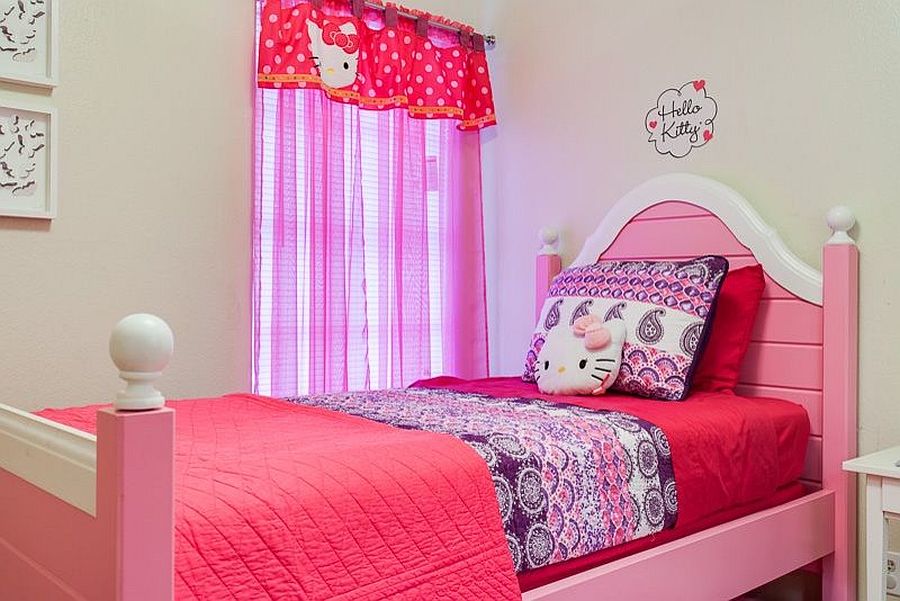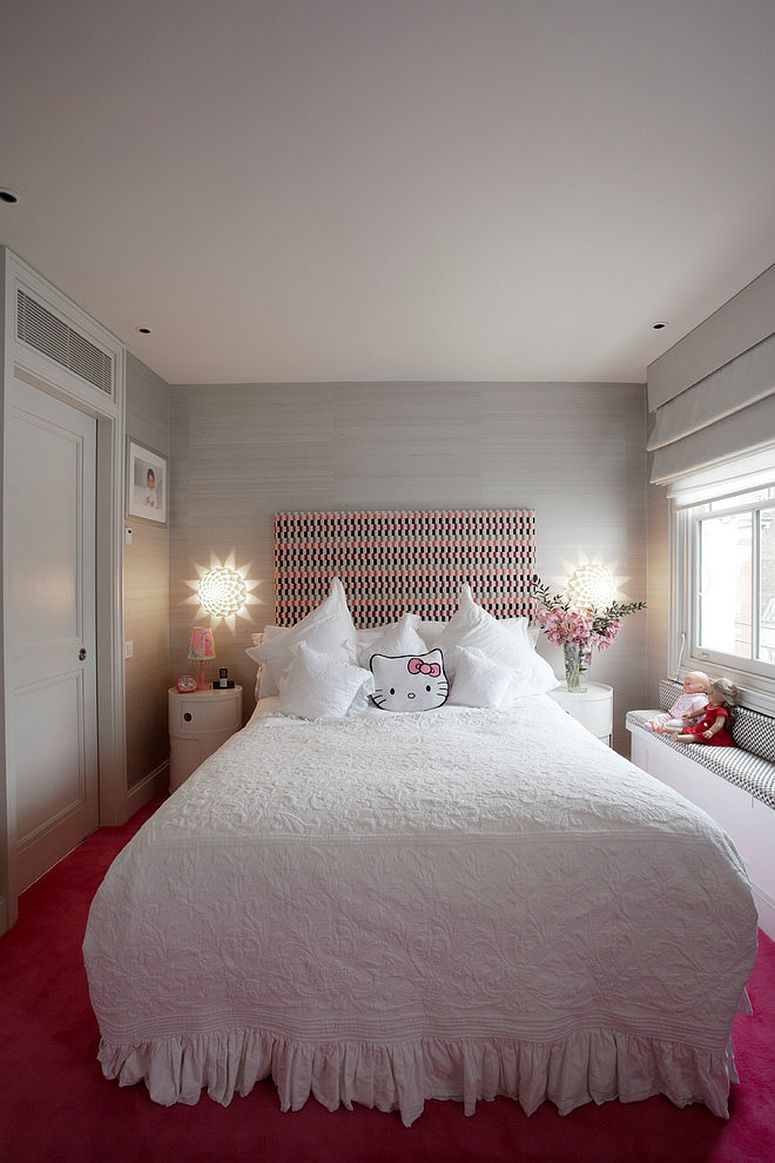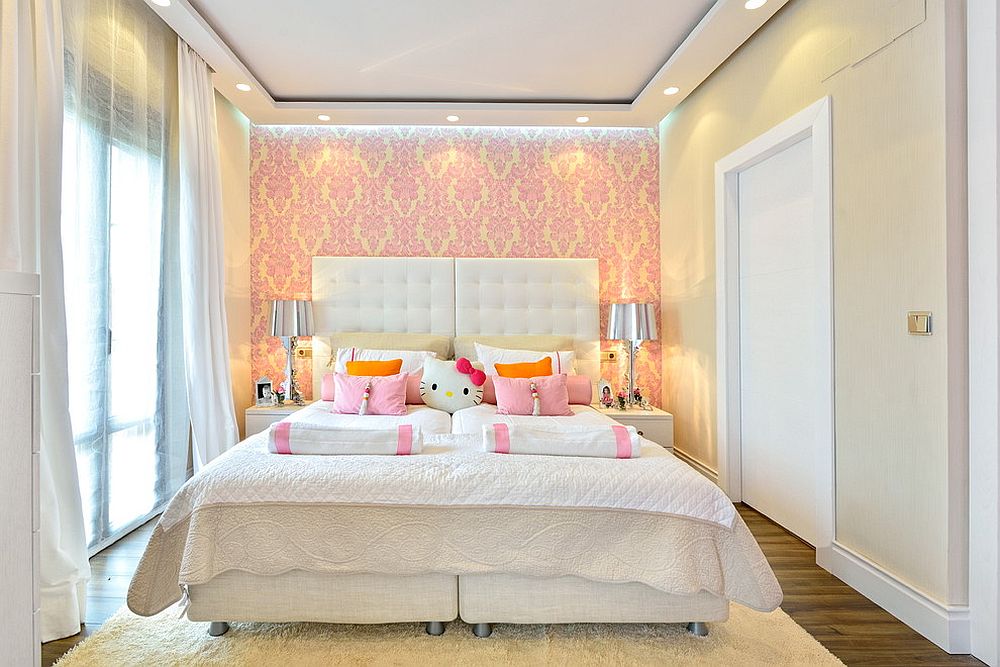 Taking It Beyond Pink
Yes, kids' Hello Kitty bedrooms are most often filled with different shades of pink. But this need not be the norm. You can use a neutral backdrop in light blue or cooler shades of gray along with pops of purple and red to create an alternate color scheme that is equally appealing. If you wish to paint a refined and contemporary picture, make sure that there is no overdose of pattern or color, with elegant Hello Kitty bedding becoming the focal point of the space.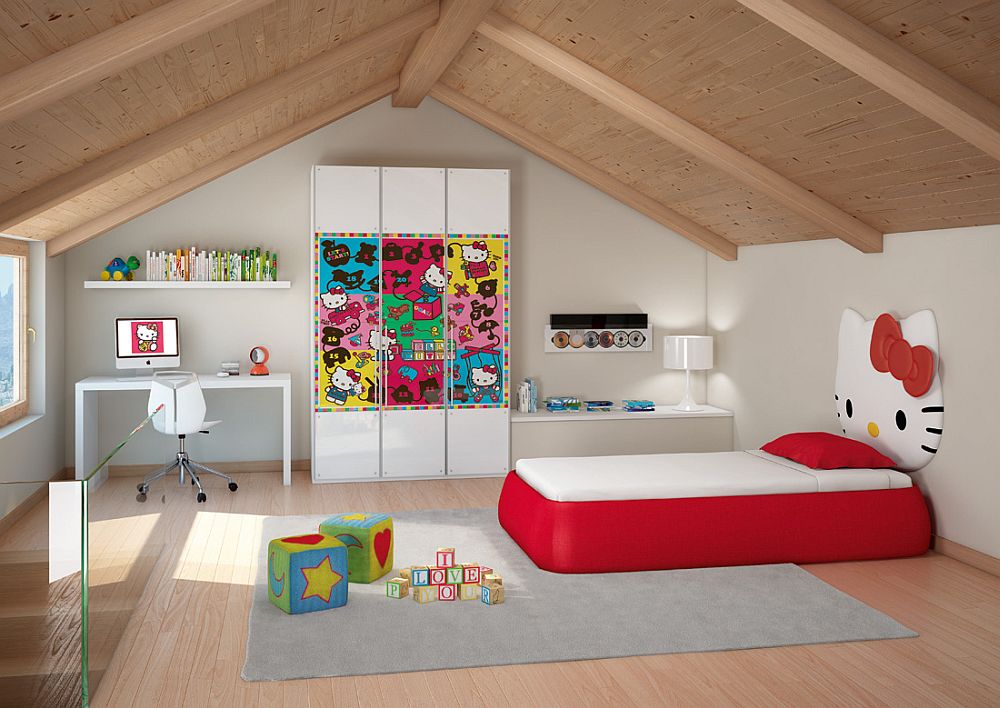 There is no doubt that the popularity of Hello Kitty has ebbed and flowed over the last four decades. But you can rest assured that it is a style statement that is always relevant and never seems to fade away. And if your little princess is fascinated by this little missy, then a Hello Kitty themed bedroom is definitely the way forward.