With summer in full swing, out-of-town company may be headed your way. Is your guest room ready? Today we've rounded up a collection of accommodating, stylish spaces that welcome guests with an array of details. Yet these rooms are anything but fussy. What are the essentials? What are the small touches that can make a big difference? Check out the 20 guest rooms that follow (including a few guest bathrooms), and discover a range of easy-to-execute design ideas…
Sleeping Solutions
Let's start with one undeniable necessity: a place for guests to sleep! Comfy bedding is key, and small yet important touches such as a couple of extra pillows can make down time before bed all the more relaxing. [photo from CB2]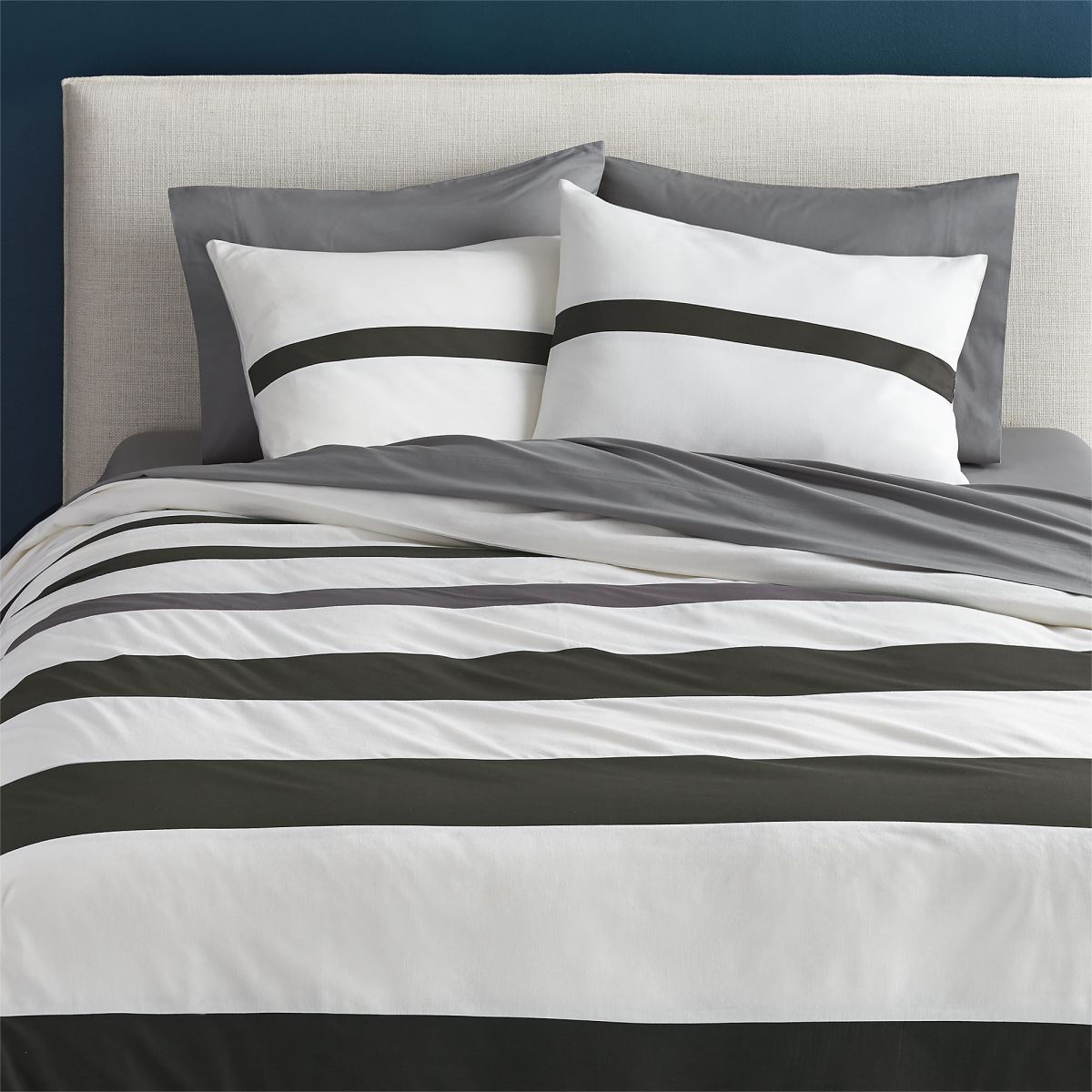 Sugar & Cloth blogger Ashley Rose created a welcoming guest room with the help of a DIY Mid-century daybed project that provided an affordable sleeping solution. Retro-modern style is alive and well in this space. [photos by Jared Smith]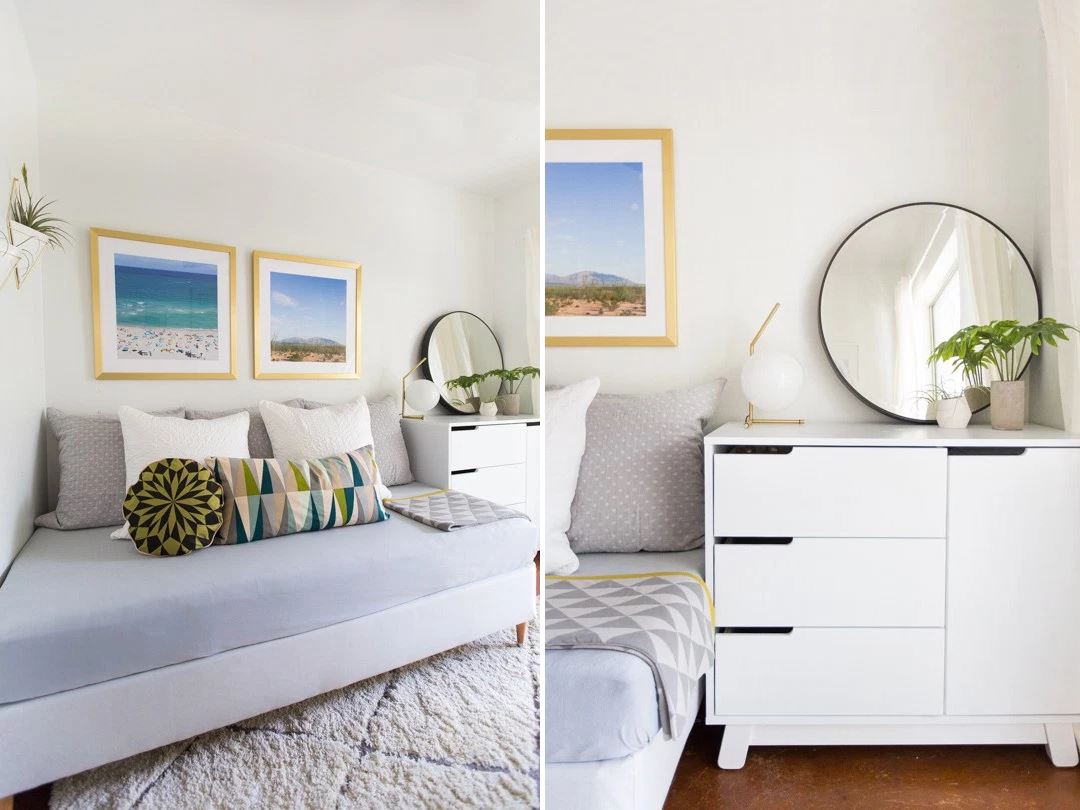 For a guest room that can house a couple (or a couple of friends), twin beds might be the perfect option. A crisp, tailored look is created by matching beds, as shown below. [from Helen Green]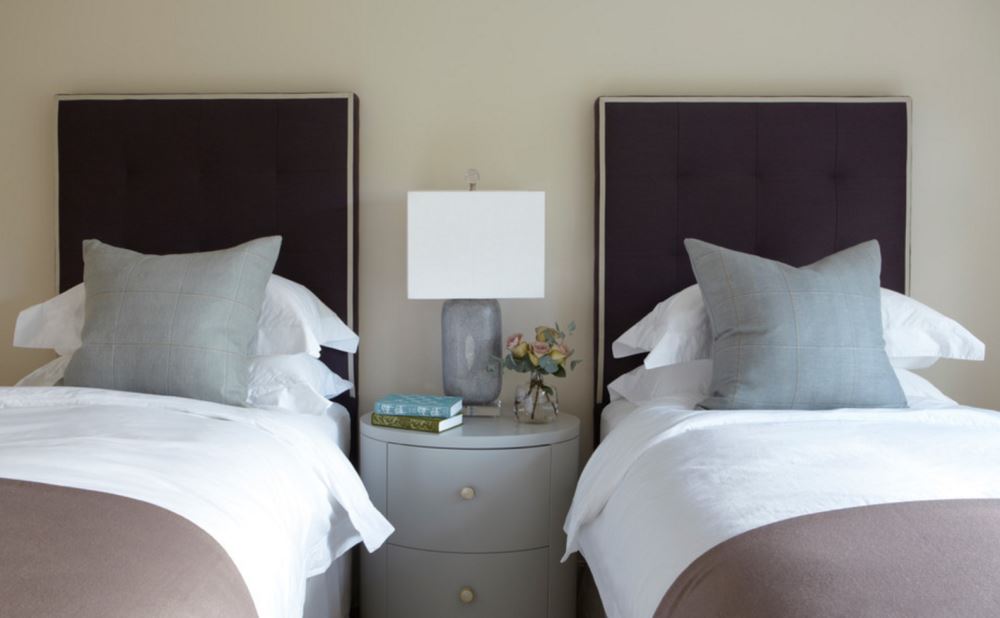 If you want your guest room to sleep multiple people, consider getting creative with bunk beds or loft sleeping solutions, as shown in the beachy guest room that follows. [photo by John Dimaio for Beach Dwellings Design]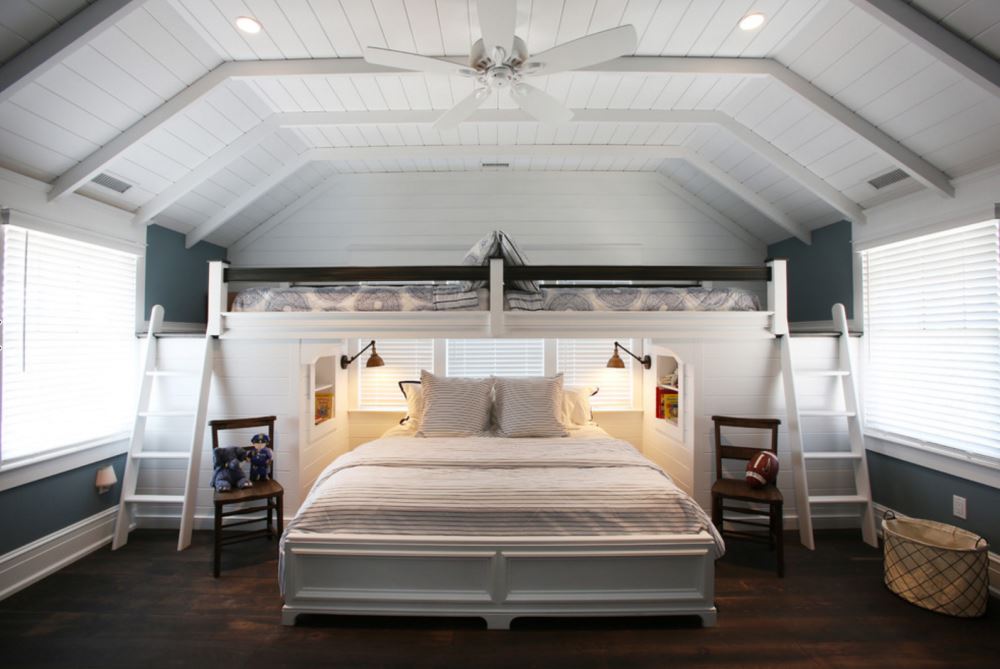 Wouldn't it be nice if every guest room featured a privacy wall? While a construction project might not be in your immediate future, consider a solution such as a privacy screen to separate beds when personal space is preferred. [from Sullivan Building & Design Group]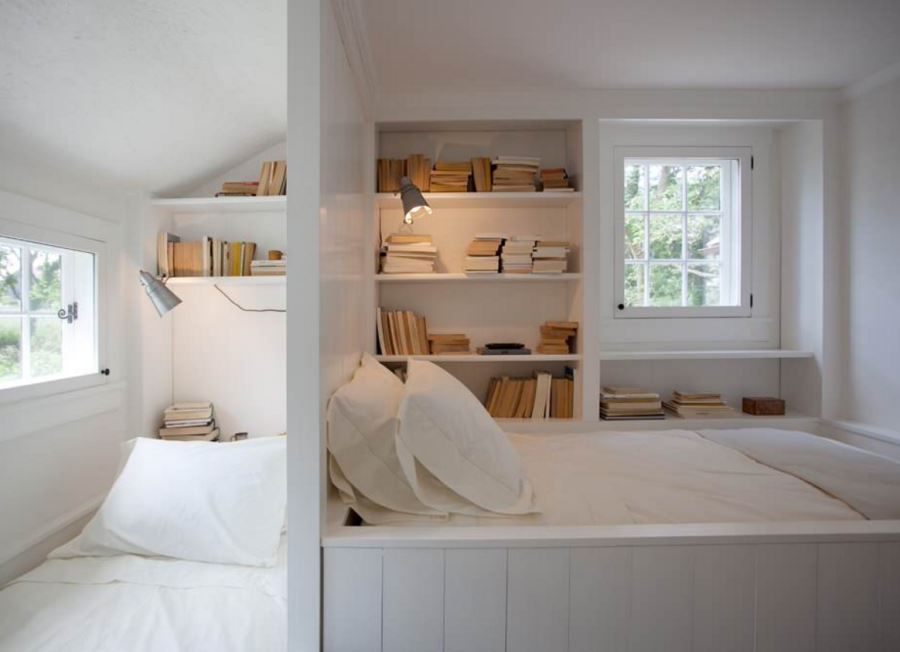 A Murphy bed can make a big difference in a space that is short on square footage. This solution also works well for guest rooms that double as other functional spaces, such as home offices. [from Hufft Projects]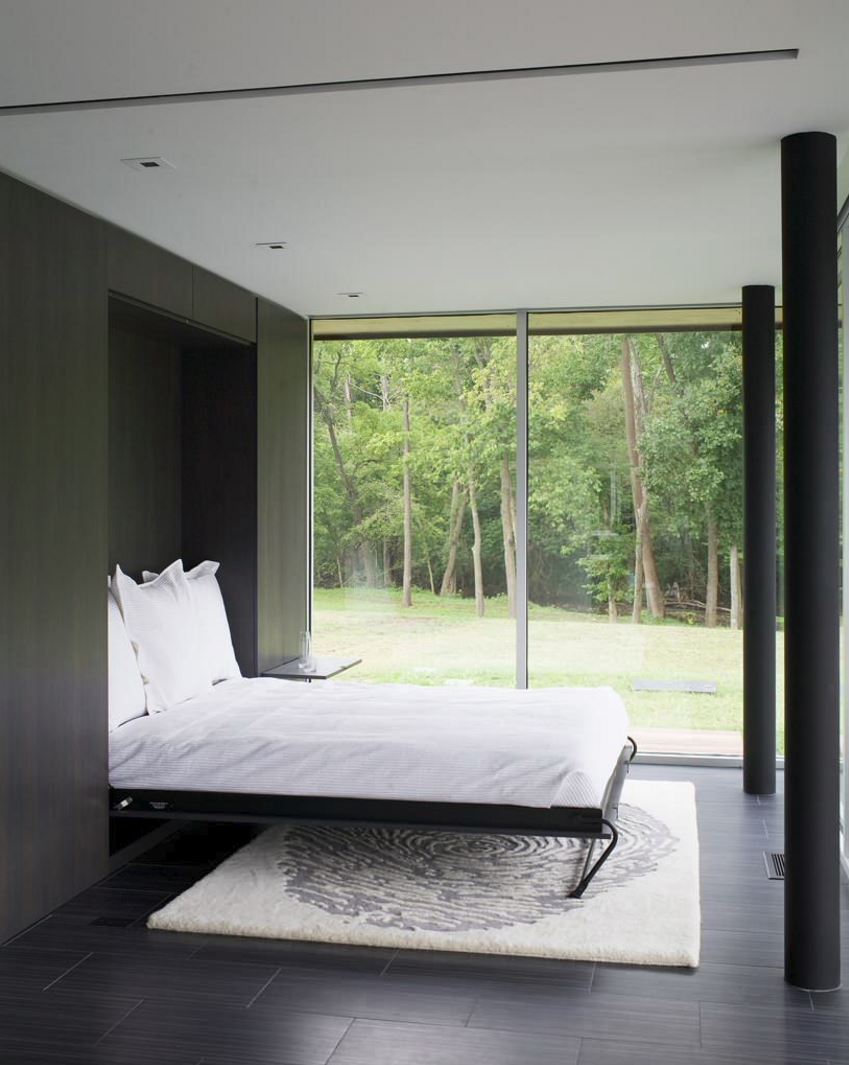 Guest Room Essentials
Don't forget about essentials such as nightstands and lighting! When it gets dark outside, your guests will need to be able to find their way around the room, especially if it is new to them. Not only is a bedside table the perfect place for extra lighting, it comes in handy for holding a cell phone, reading materials and more. [photo from Lonny]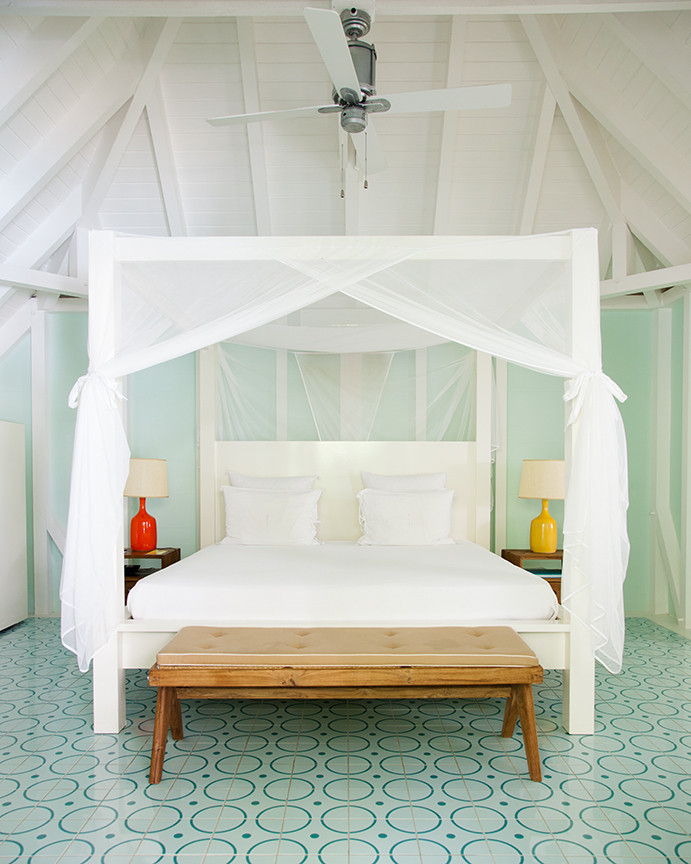 Your guests will appreciate a place to stash their luggage. Offering a solution that keeps suitcases off the floor takes the hospitality factor up a notch!  A luggage rack or ottoman will do the trick, but doesn't a chic bench add a stylish touch?! [guest room makeover from Emily Henderson]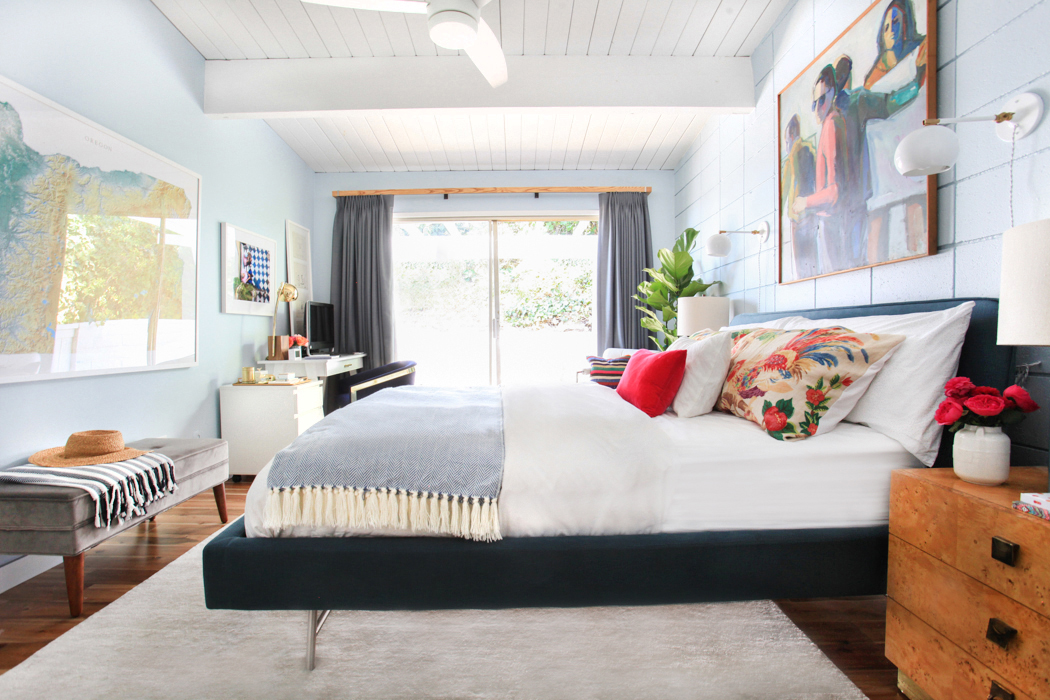 Anchor your guest room with a floor rug, like the affordable Target selection below, featured in a guest room makeover by Emily Henderson: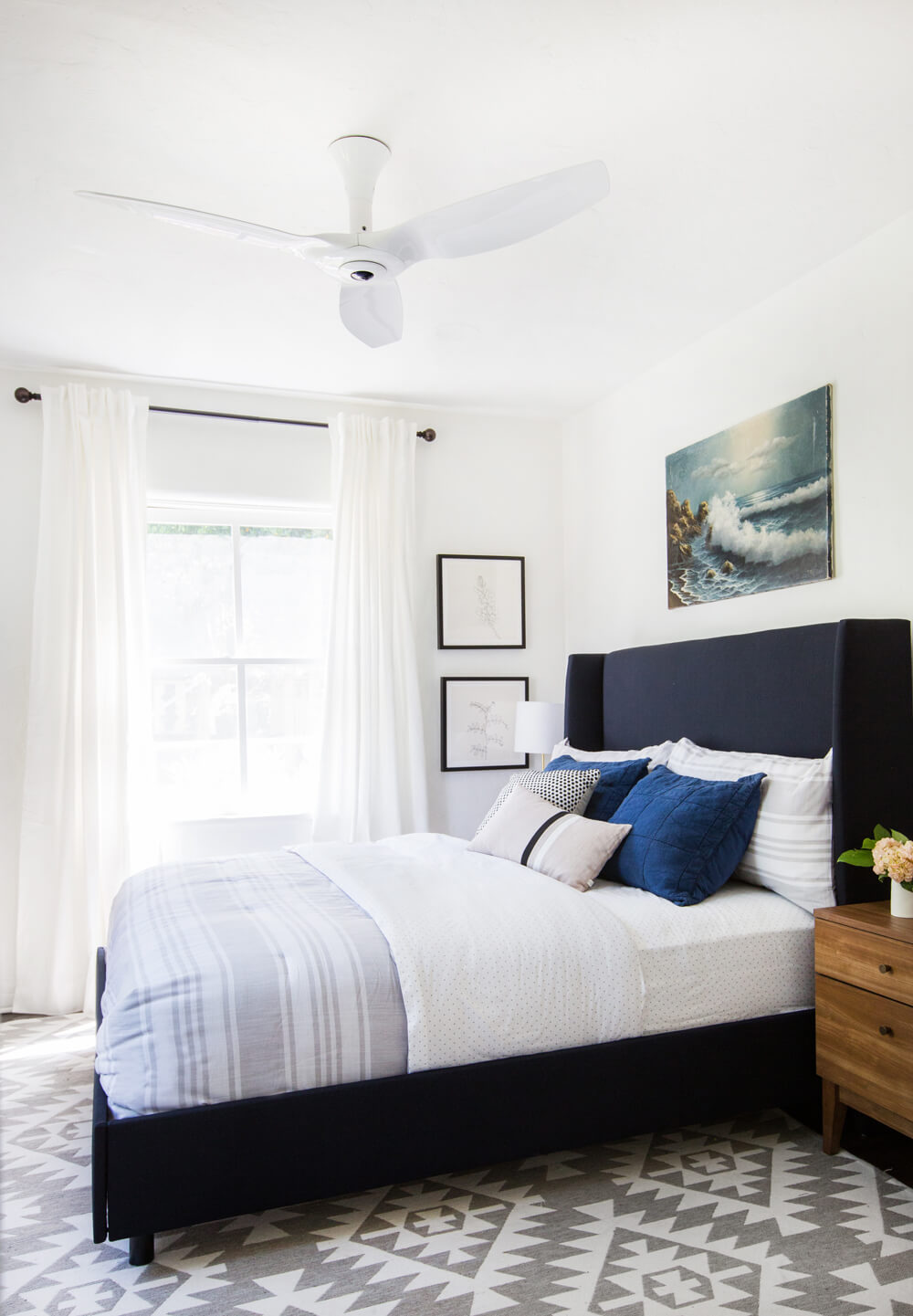 Some say you should spend the night in your guest room to get the full experience. And of course, to see if it truly IS comfortable. For example, you might realize that essentials such as curtains are necessary when the morning sun wakes you up all too early! [photo from The Couture Rooms]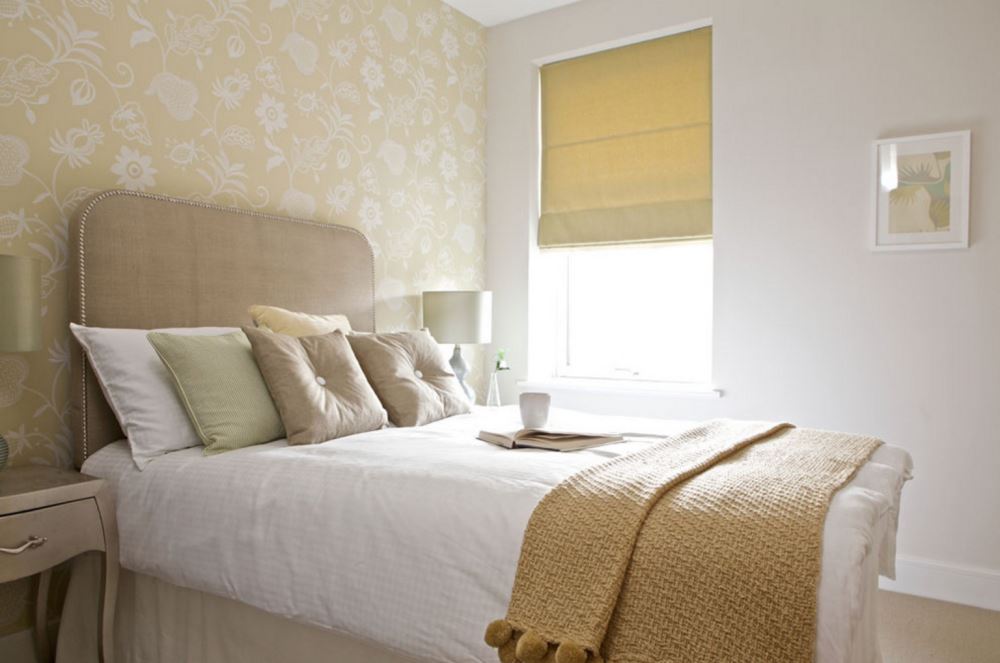 Special Touches
When it comes to adding special touches to your guest room, think about the impact of details such as wallpaper, hanging planters and interesting pillows. This guest room from A Beautiful Mess is inviting and fun: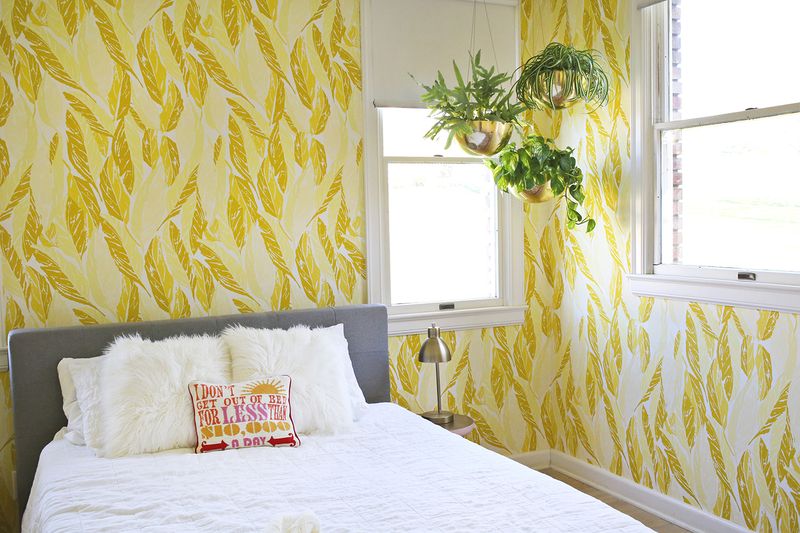 Let your favorite hotel be your guide! Yes, you can get a LOT of design inspiration from guest rooms at hotels, and this welcoming space at Austin, Texas' Hotel San Jose features details such as robes, a bedside chair, and an extra blanket for chilly evenings: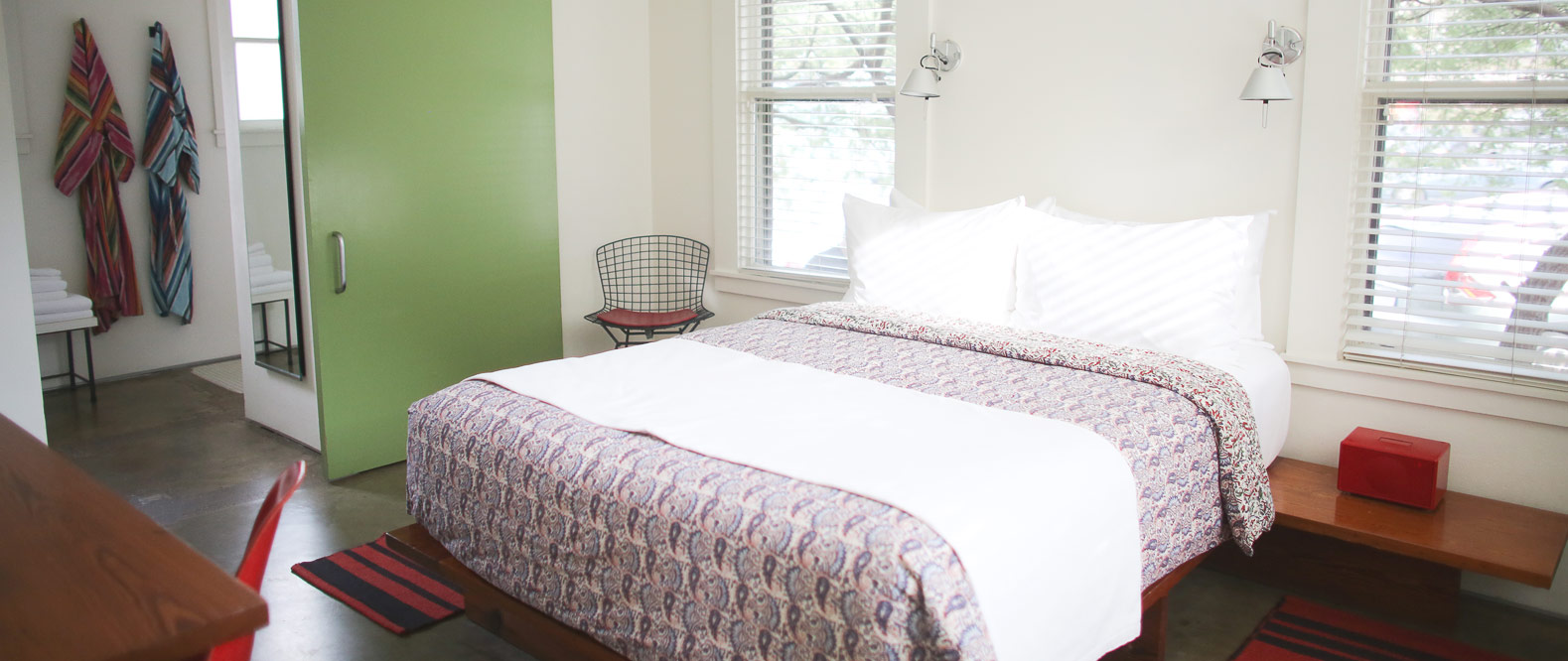 Bottled water (or a caraffe and glass placed on the nightstand before bedtime) can elevate guest accommodations from basic to extra special. [photo from West Elm]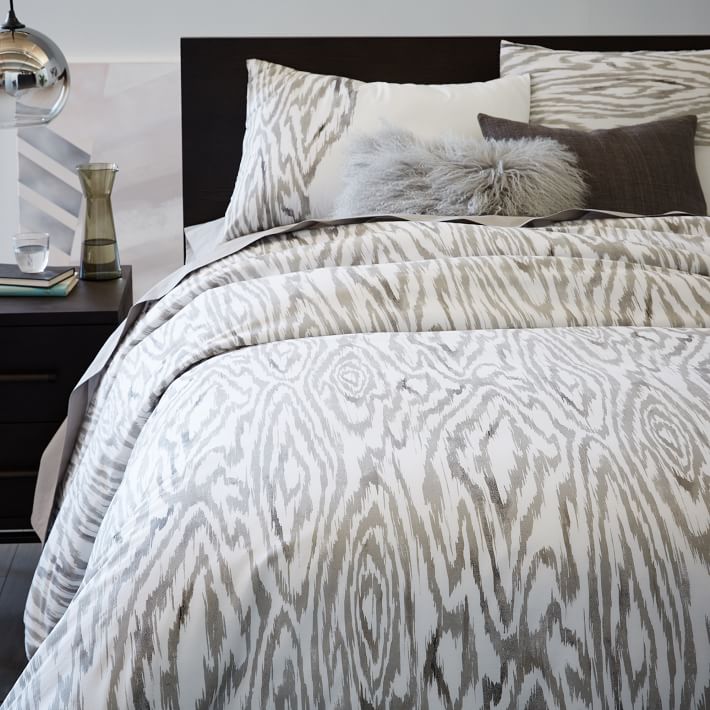 Bonus points for details such as fresh flowers, reading materials, and bedtime snacks! [photo from Lonny]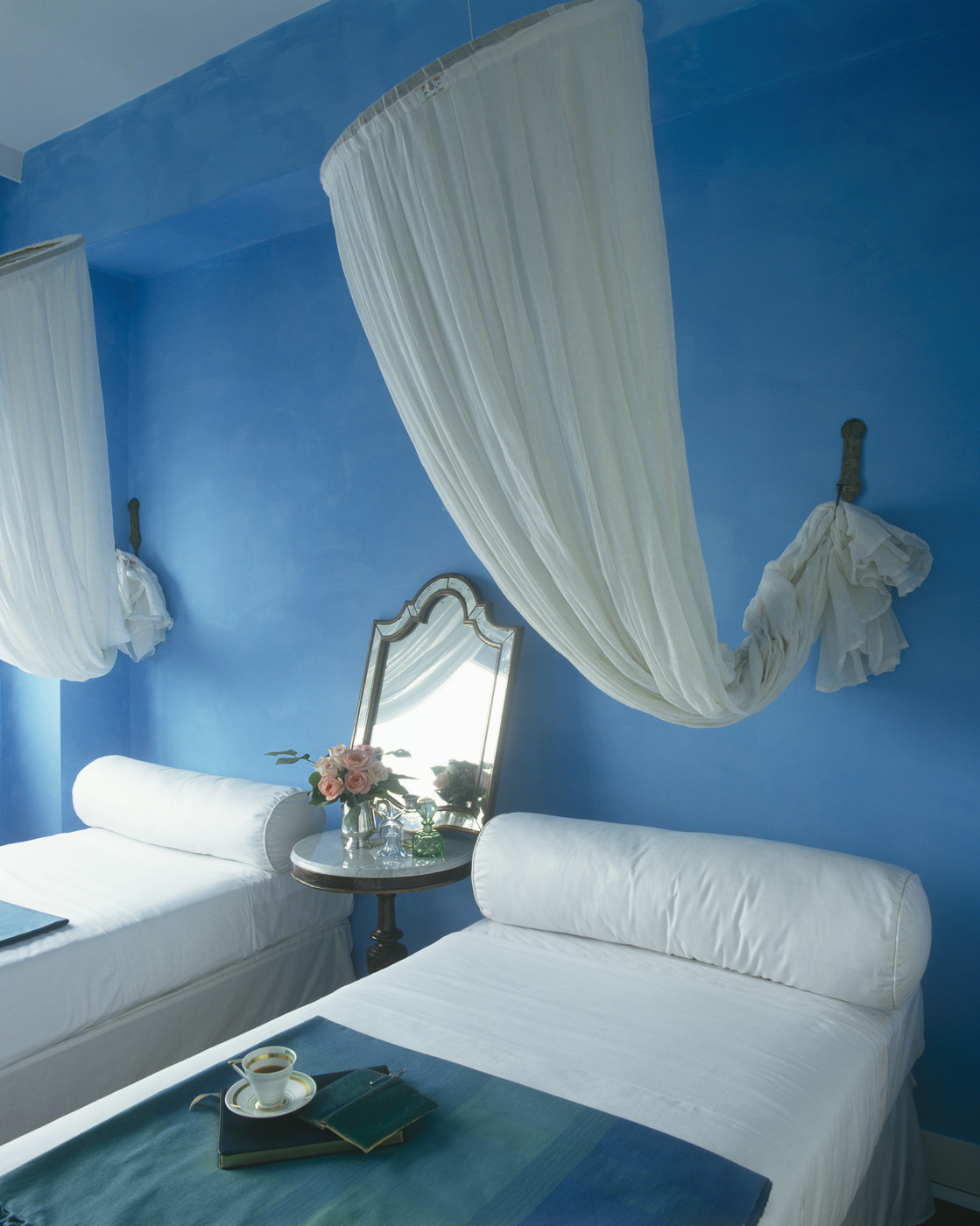 Personal touches in the guest room DO matter, and fun accents like this DIY matches tray by Ashley Rose for Design Love Fest serve as fun focal points and interesting conversation pieces. [photos by Jared Smith]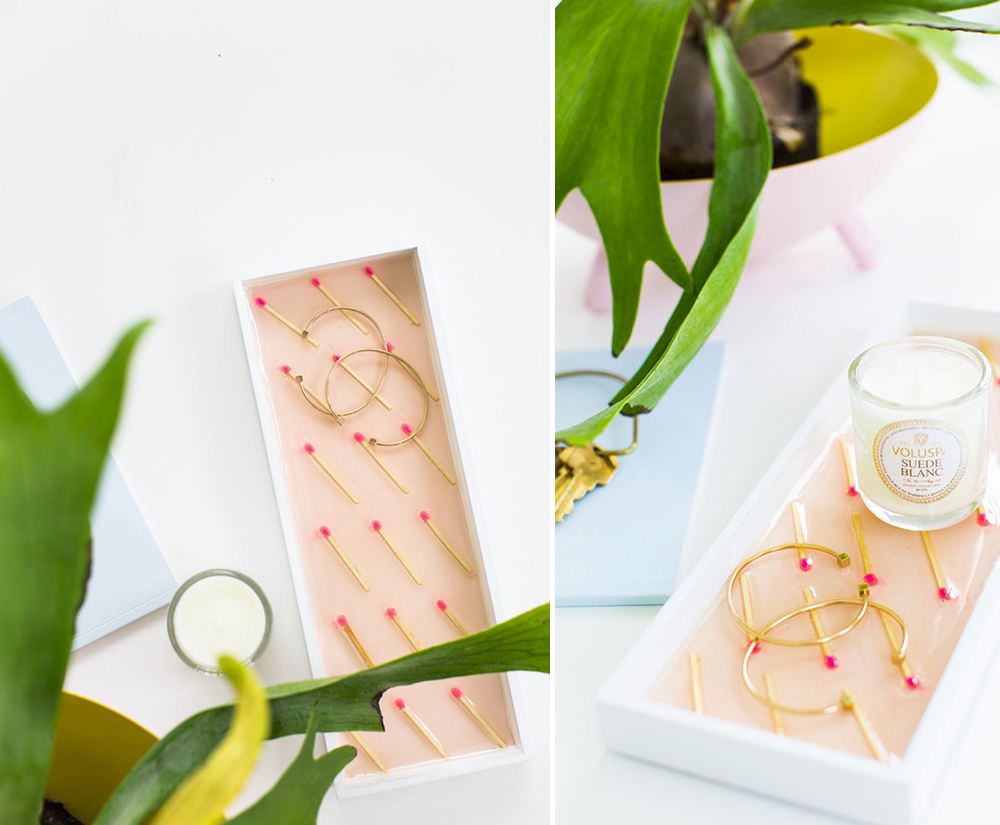 Don't forget about accommodating little ones! This kid-friendly guest room from A Beautiful Mess is filled with clever accents, from the painted bunk beds to the large plush swan. Palm Springs style is alive and well in this comfy space!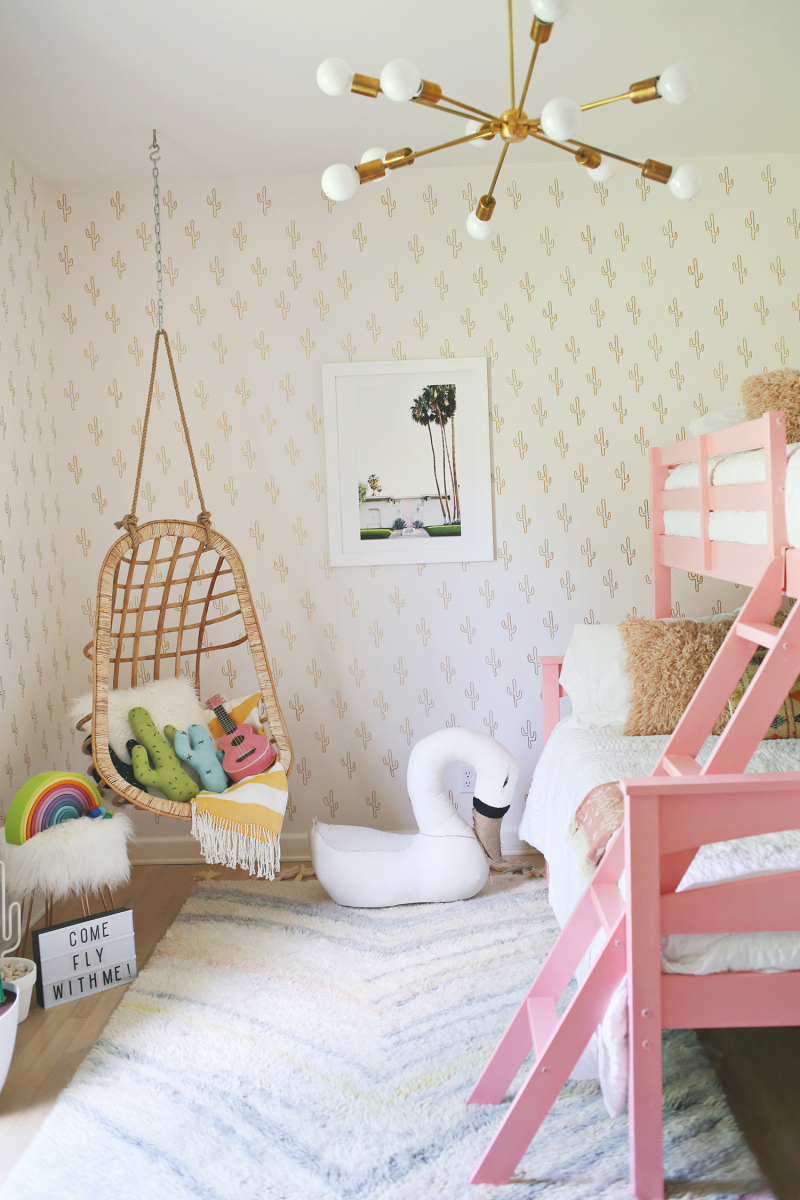 And of course, if your guest room is naturally stunning with a view, do what you can to call attention to it! In other words, accentuate the room's strengths. Flowing curtains that can be moved as needed get the job done in the relaxing space below. [photo by Eric Roth for Andra Birkerts Design]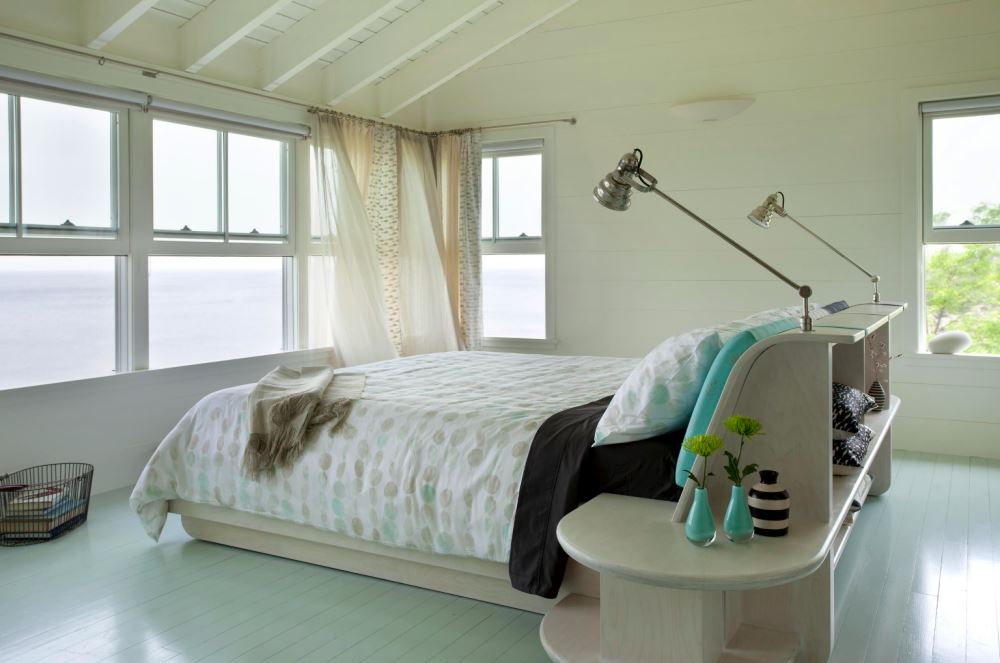 Guest Bath Style
Don't forget the guest bath! Once again, hotel powder rooms can be a big source of inspiration. Having grooming products on hand can be helpful for guests who forget essentials such as shampoo, body wash or an extra toothbrush. [photo from Hotel San Jose]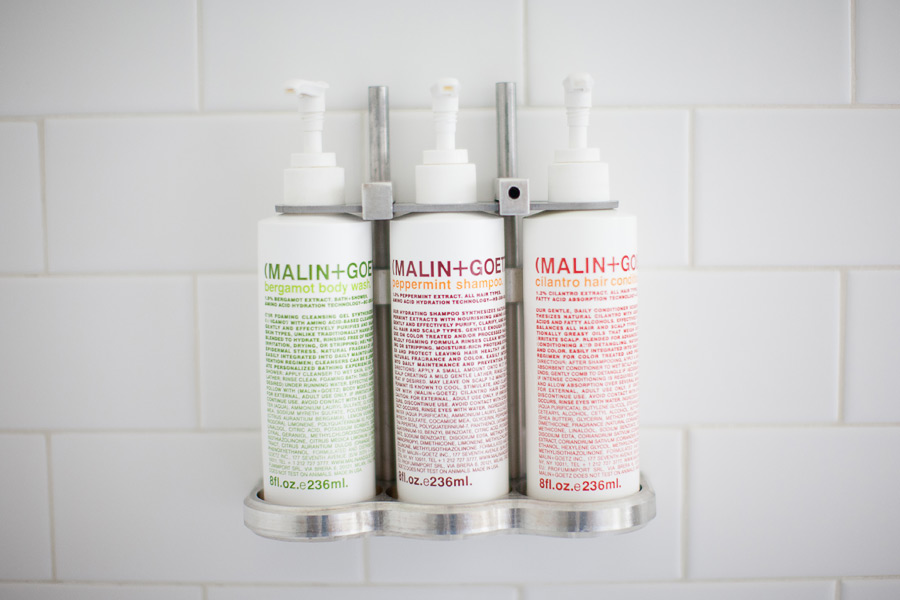 A Beautiful Mess blogger Laura gave her guest bath a bright makeover that included a fixture upgrade, a paint job and a fun new pattern for the walls. Special DIY touches such as Lucite towel holders add personality and style: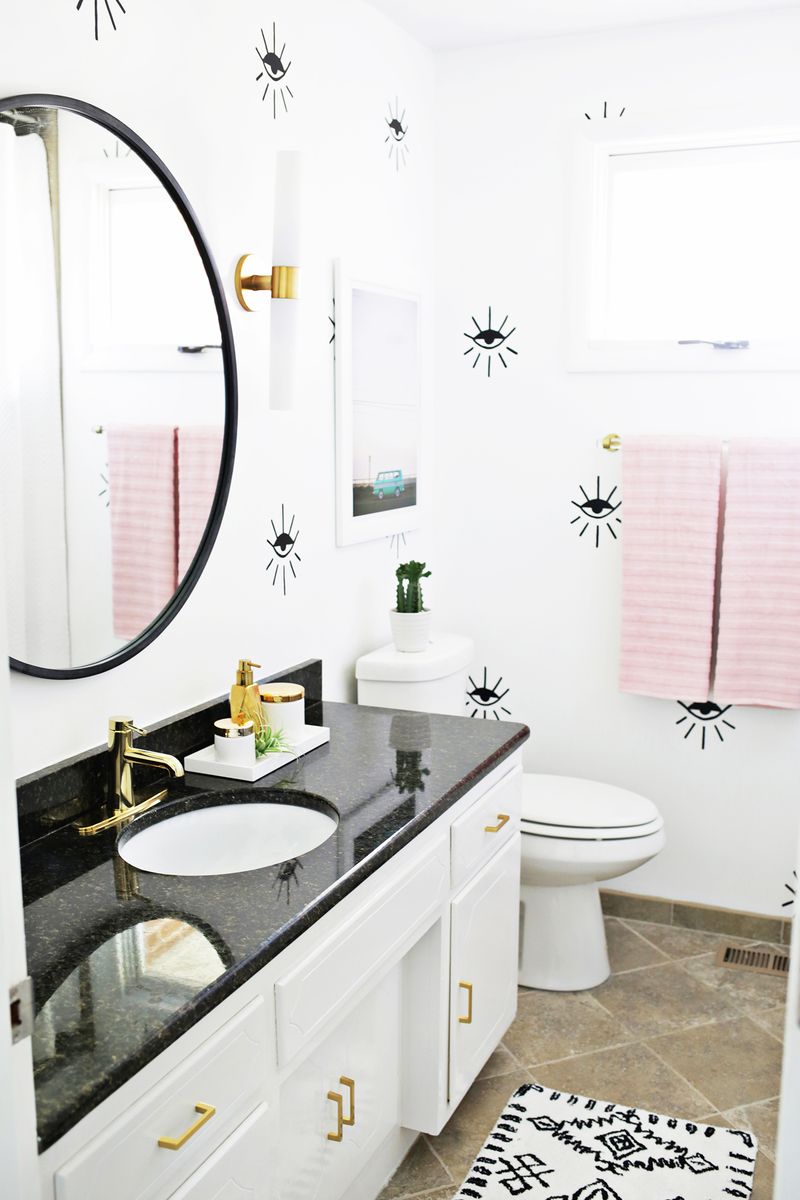 This budget-friendly guest bath makeover from Paper & Stitch illustrates the power of vivid accents. Note details such as red-orange towels, colorful ceramics and a neon washi tape border for the large triangle mirror! No major renovations took place, yet the result is fresh and bold: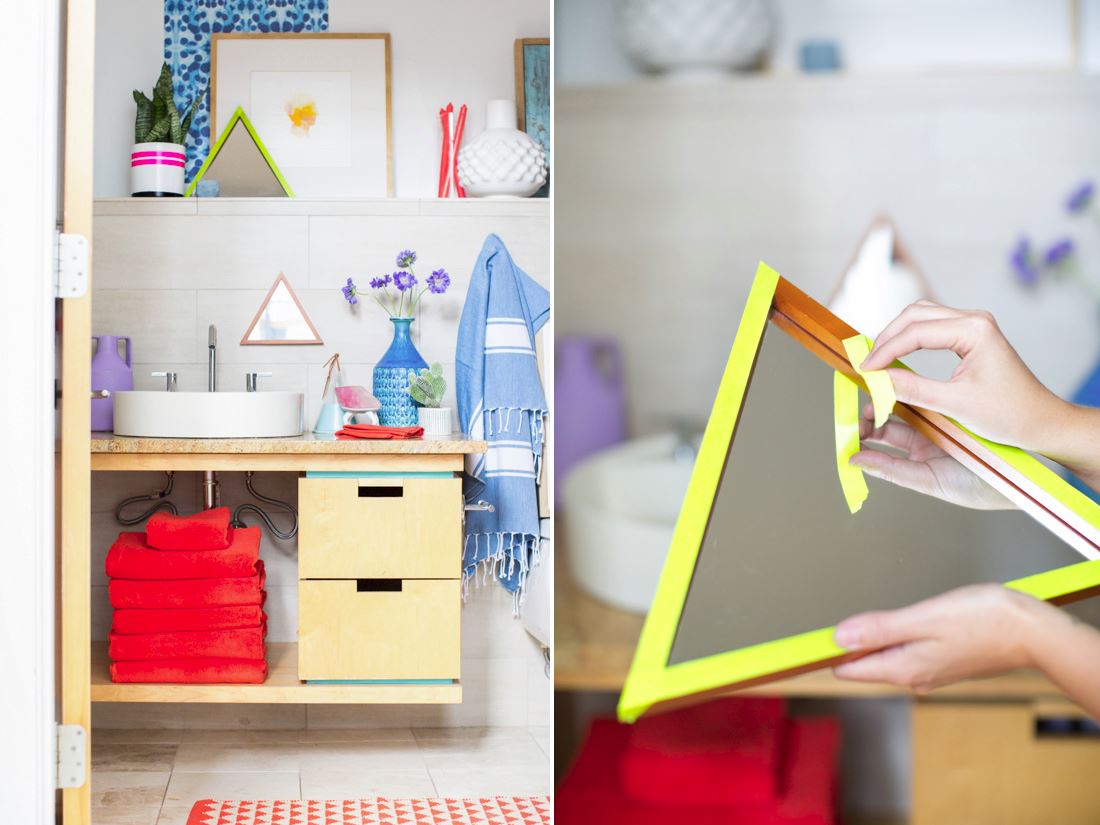 Are you preparing to welcome guests this summer? Wishing you and yours a relaxing yet festive season…
Liked the story? Share it with friends.