When fall hits, the weather gets crisp and a little bit moody. As we prepare to say goodbye to the red and orange falling leaves outside and embrace a more barren winter landscape, there's something so appealing about the combination of grey and wooden tones. Design bloggers and food stylists have adopted this palette for their photos, as it creates a rich, deep composition and allows colors (even subtle ones) to truly pop. Whether your home features grey walls and wooden paneling or you're searching for little ways to bring the look home, keep reading as we explore some of our favorite images, tabletops and products that showcase the perfect pairing of grey and wood…
Grey Walls Meet Wooden Accents
While one common instinct is to combine grey walls with bright white trim and furnishings, sometimes keeping it rich and neutral is the recipe for design bliss. When grey walls combine with wooden furniture and accessories, the result is striking. For starters, a deep palette with wooden accents can create a variety of styles and moods, including earthy, contemplative, and rustic. Throw in metallic touches (and a hint of marble), and a luxe, decadent feel results.
RELATED: Chic Design Ideas For A Grey Kitchen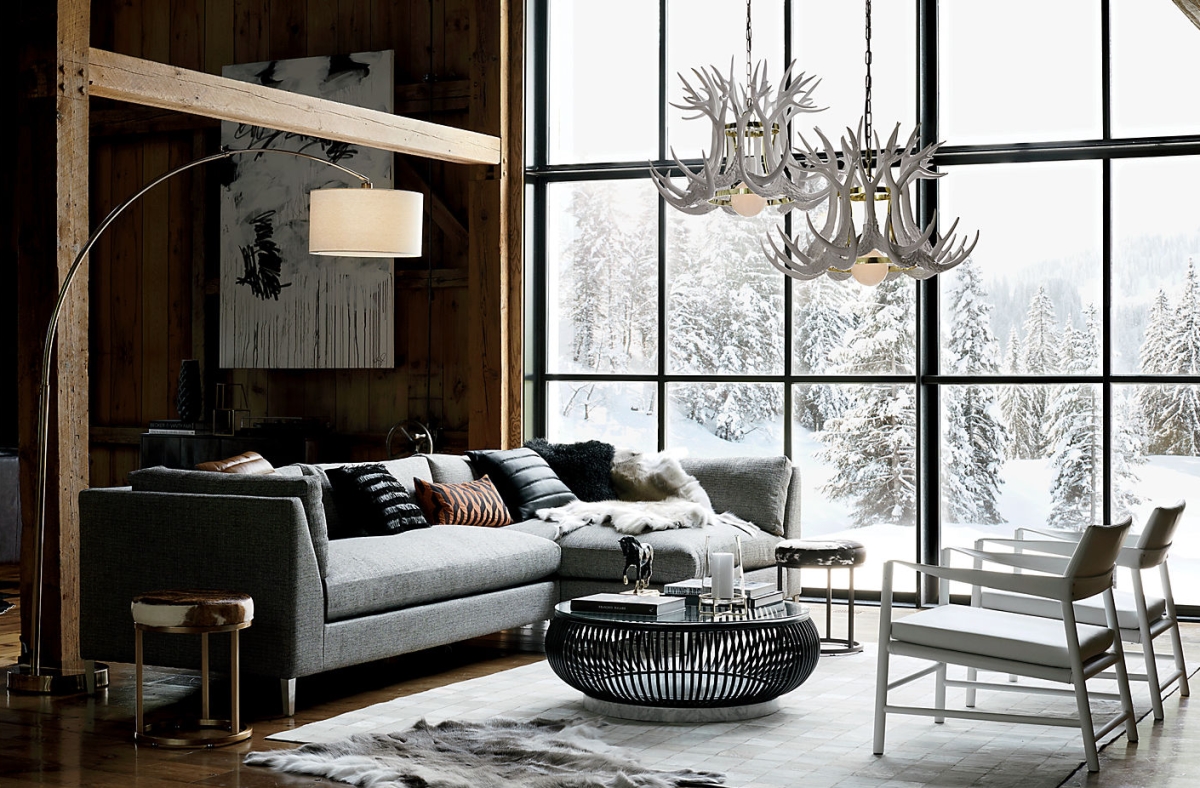 To get the look, start with a grey accent wall. Add wooden shelving to the wall, as well as accent pieces such as mirrors framed in wood. When it comes to furniture and accessories, don't be afraid of brass, copper and marble. Keep in mind that the more metallics you add, the less rustic the room will be, so choose the right amount of shine for the vibe you wish to cultivate. Dark charcoal greys and deep wooden tones can also create interest. Check out the unforgettable rooms that follow: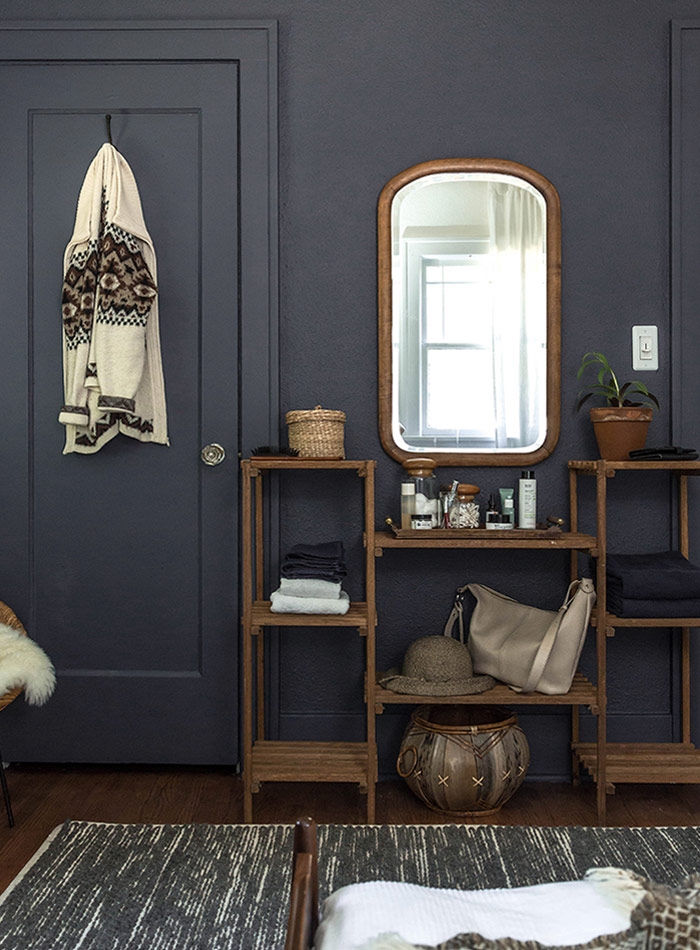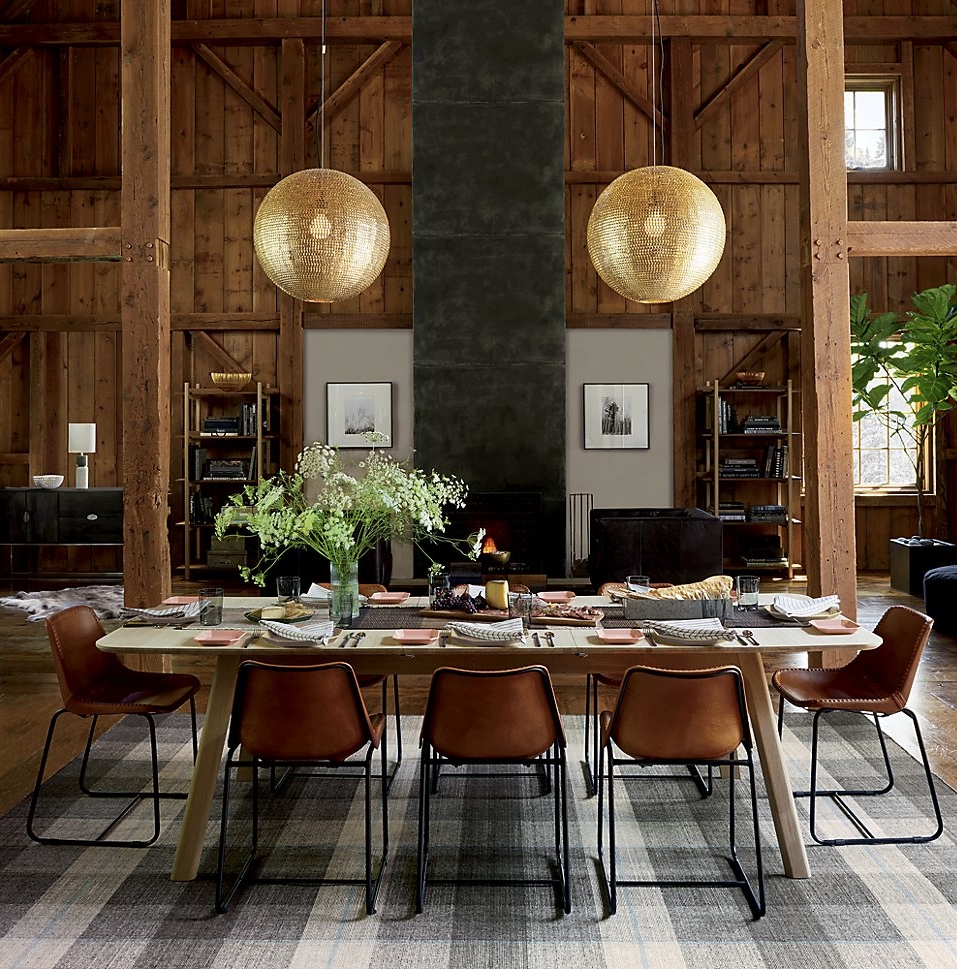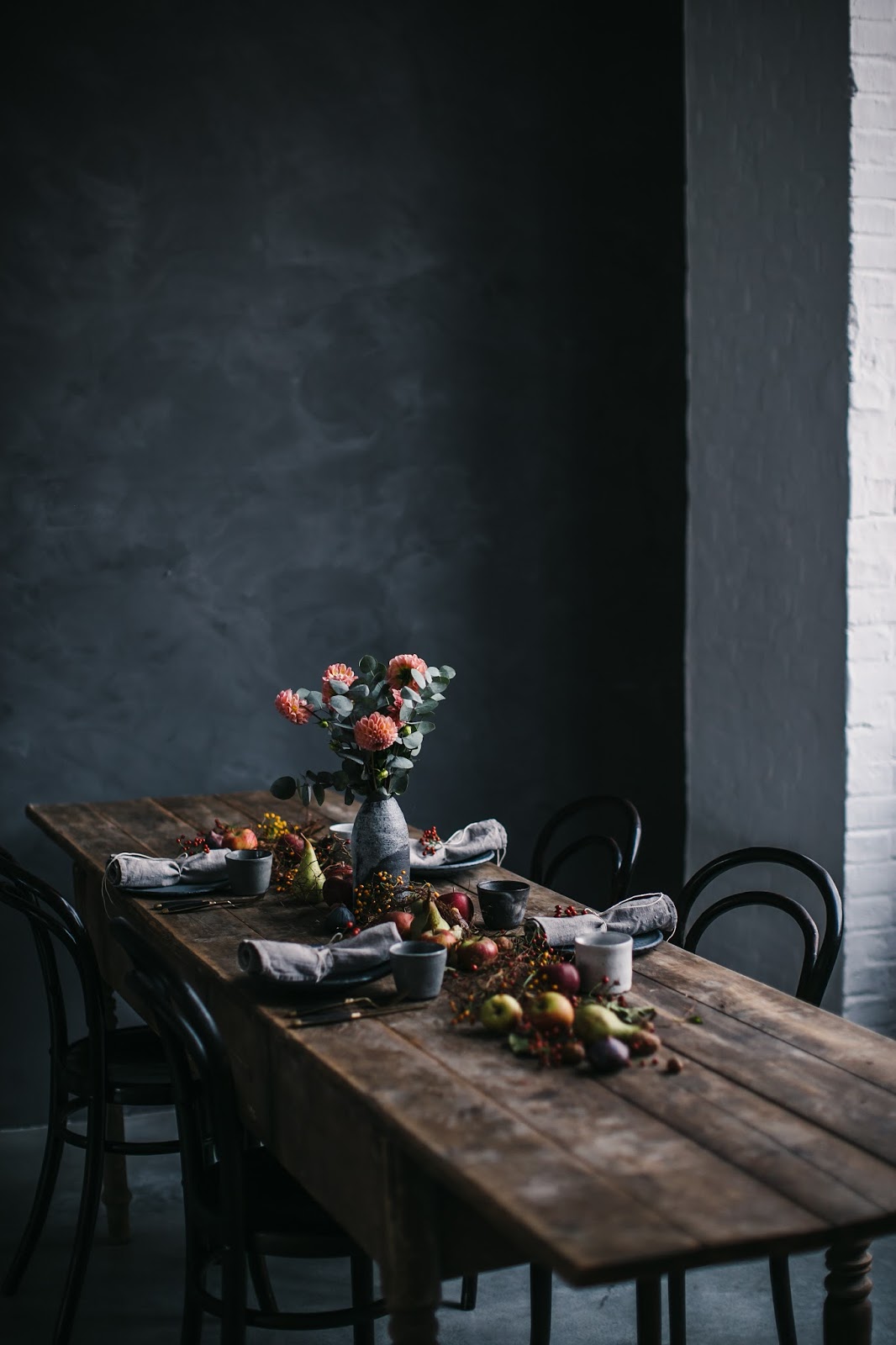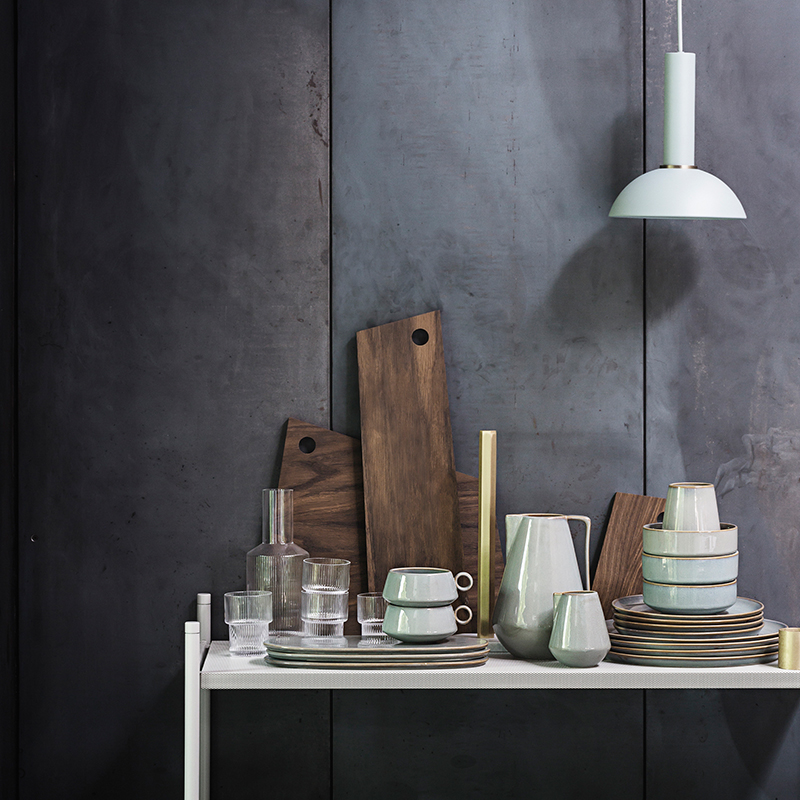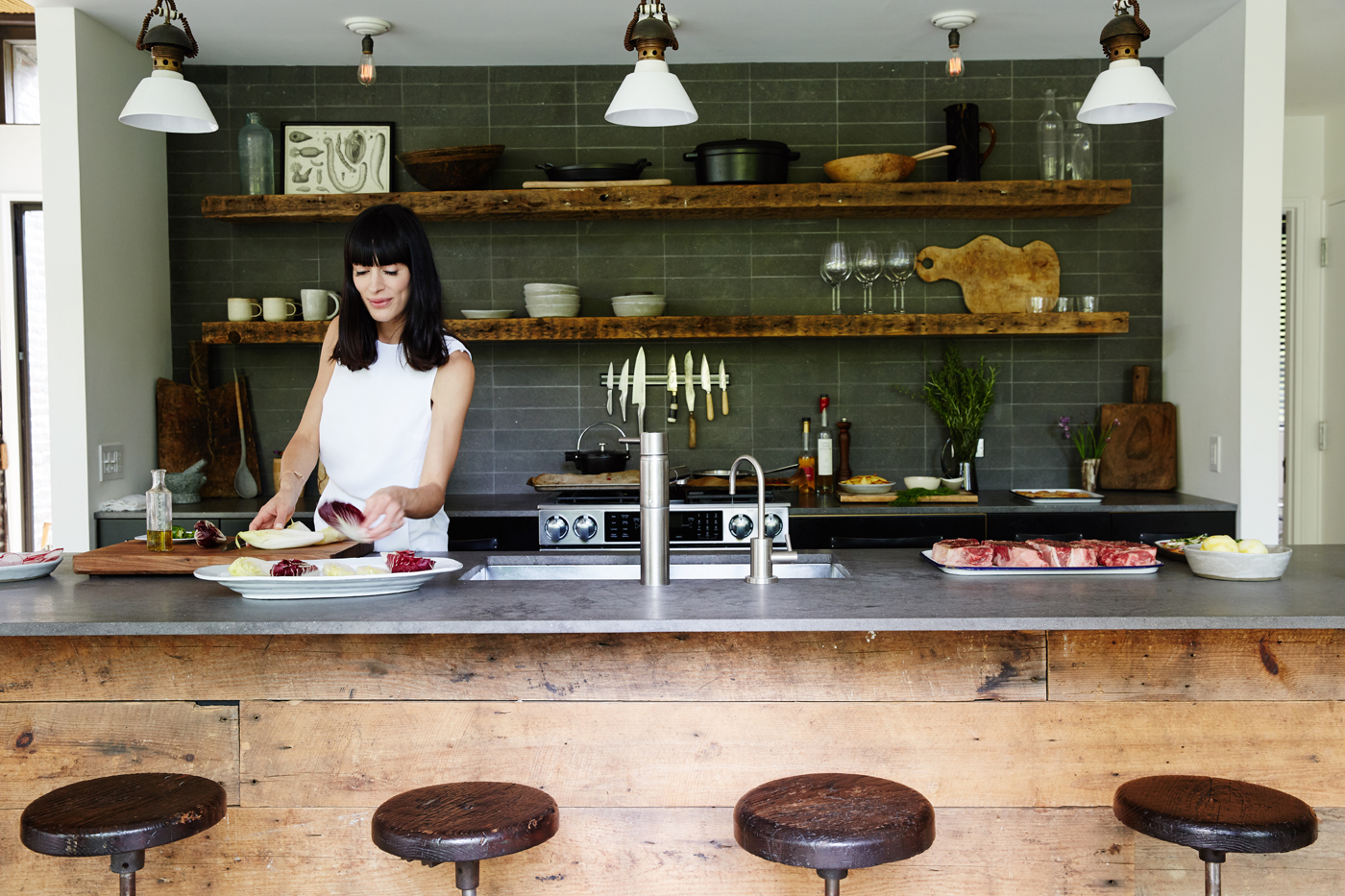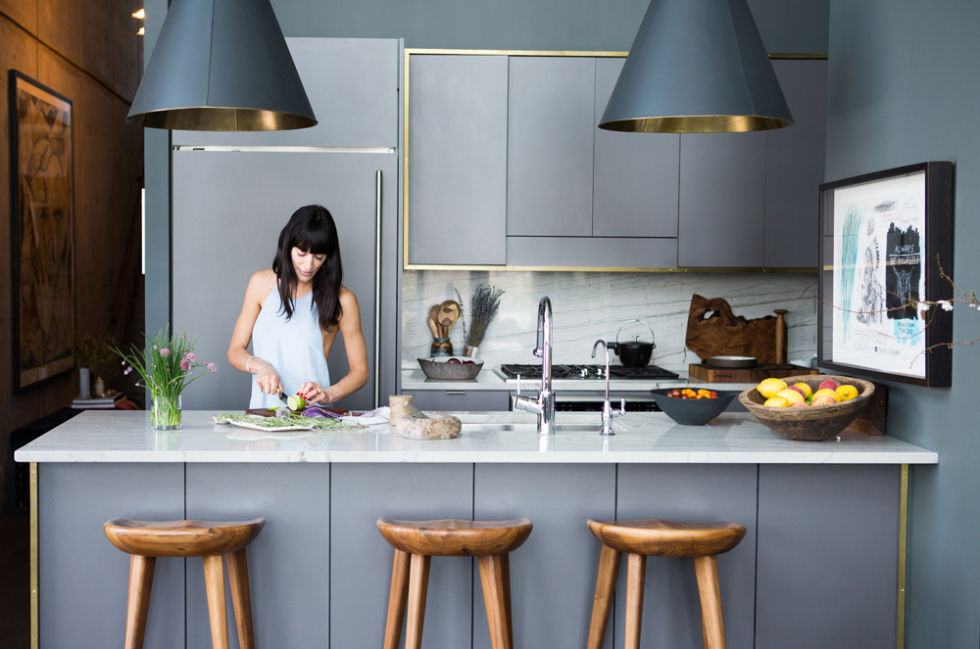 Tabletops of Grey and Wood
Embrace the look that food bloggers can't help but revel in! For awhile now, we've seen the trend of dark tabletops take center stage in food styling. While you can't argue with the appeal of bright white marble countertops, there's something undeniably striking about a deep, rich palette.
RELATED: Design Tips for Rooms with Grey Walls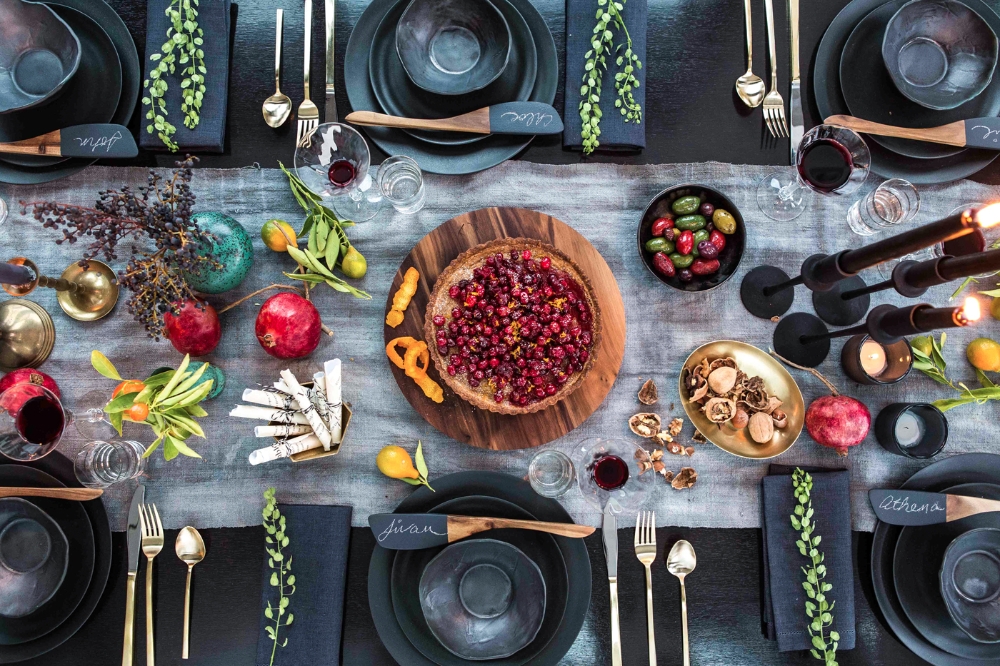 Pair wooden serving pieces with charcoal grey linens. Throw in a dash of brass or copper in the form of flatware and accent bowls. Use black accessories, such as candle holders. Don't be afraid to integrate natural elements, such as branches and produce, into your tablescape. With everything mellow and dark, the food can truly shine. The look is dramatic, decadent and layered: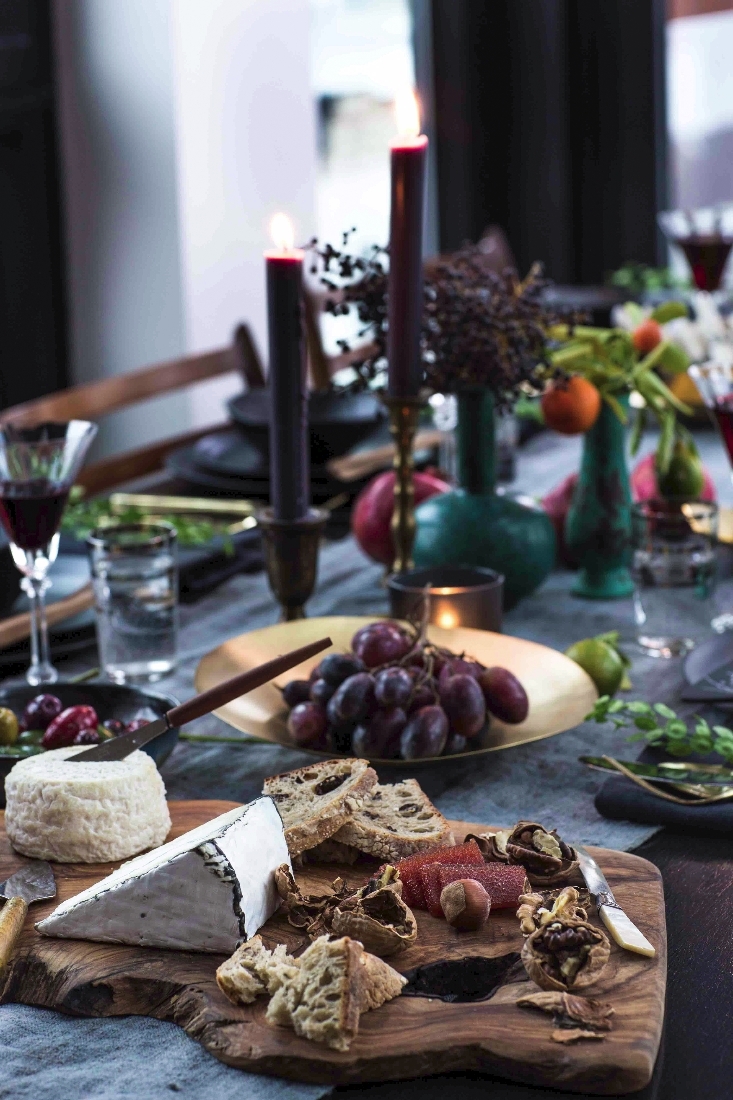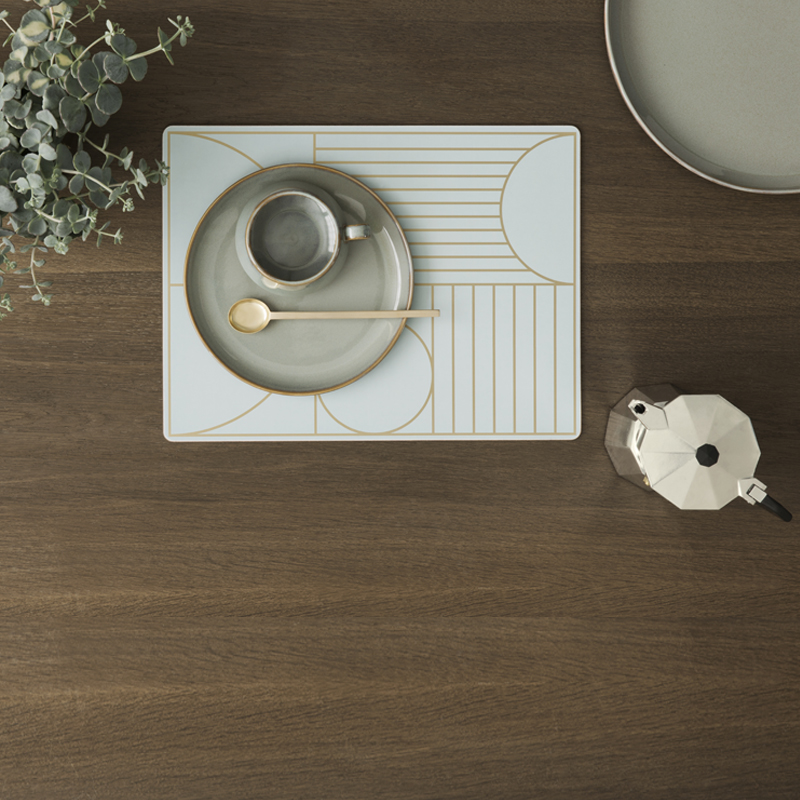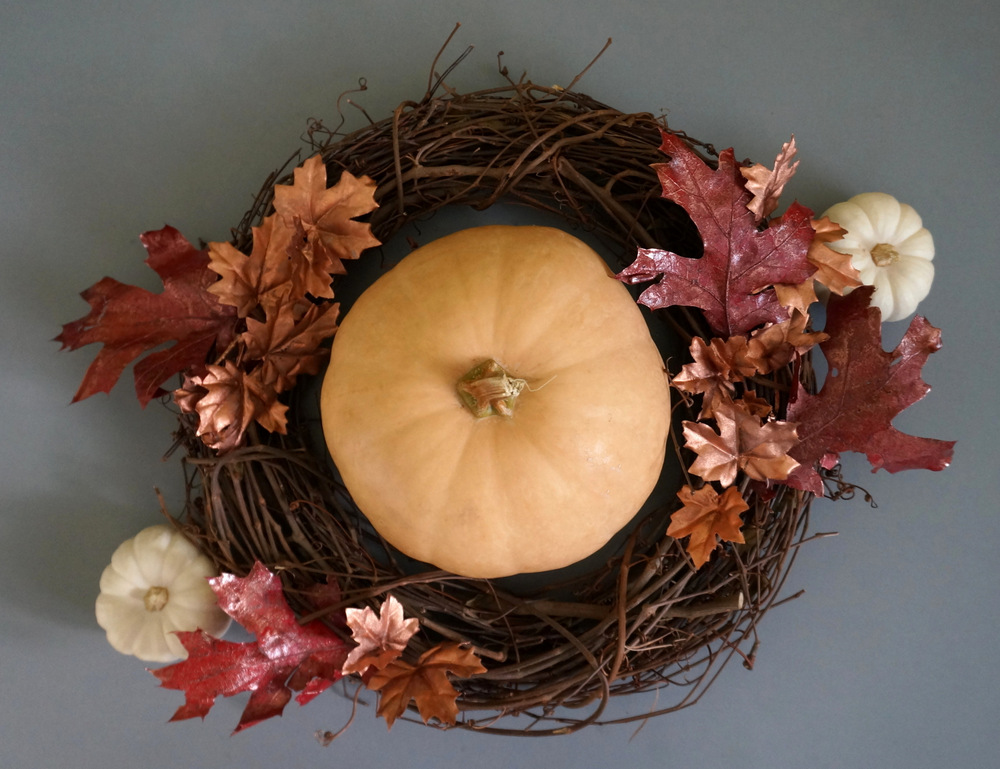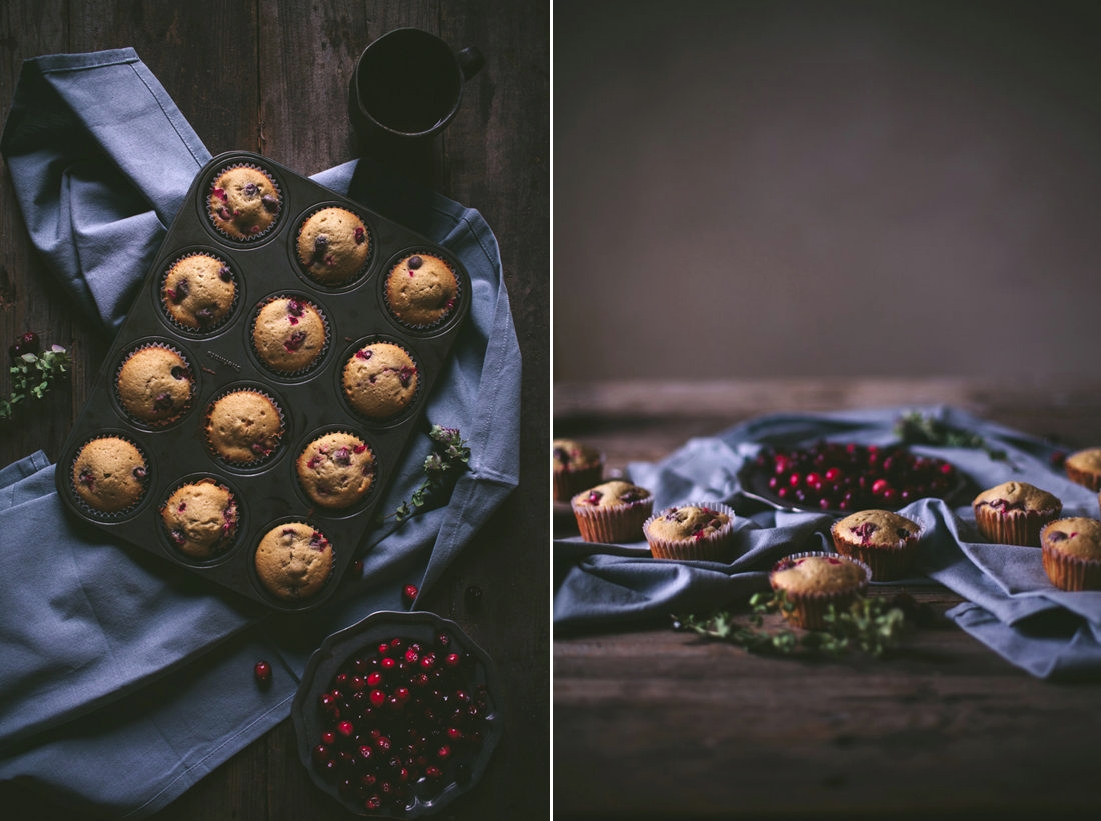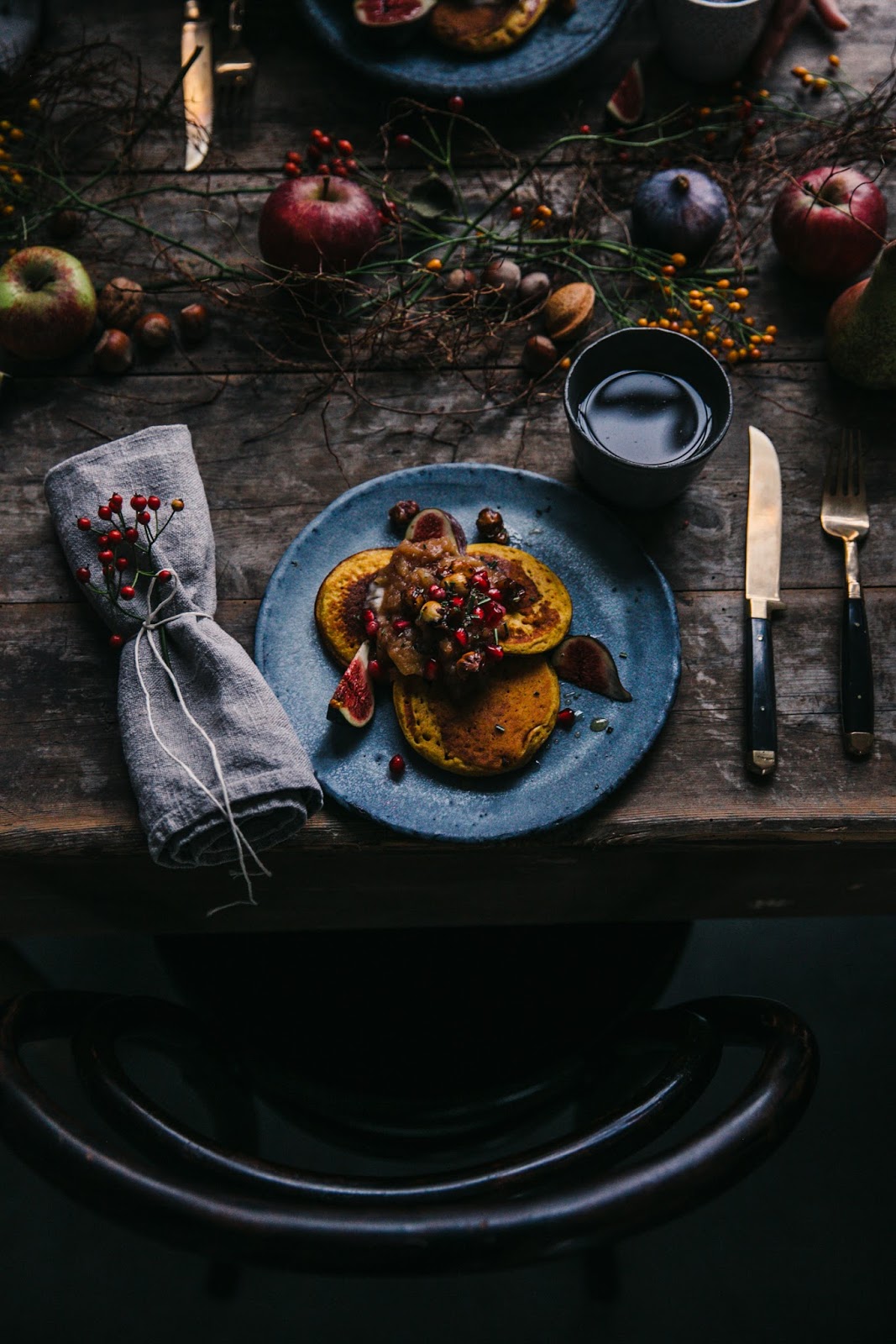 Interesting Finds
If you're shopping for furniture and accessories that celebrate the pairing of grey and wood, keep reading for a quick roundup of top finds. The strategy: Create a grey backdrop and layer on the wooden accessories. Or place grey accessories against a wooden backdrop! These wooden geo candle holders from ferm LIVING are bold and beautiful against soft grey wallpaper: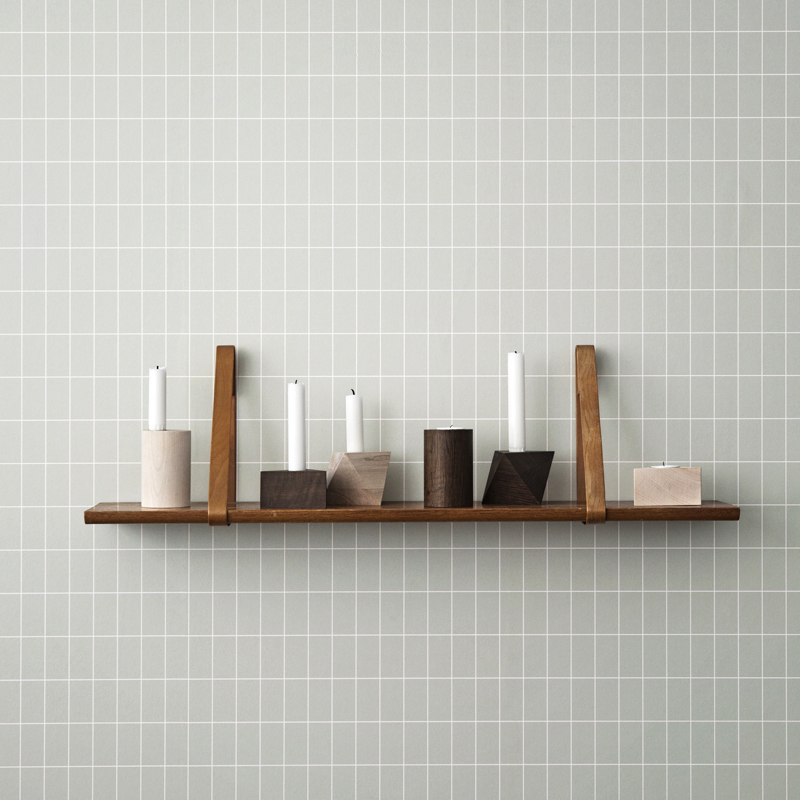 RELATED: Wood Meets Geometric Design In One Of Today's Top Trends
ferm LIVING's Winterland Forest includes three beautifully designed trees in wooden tones, as well as grey. Smoked oak is the material of choice: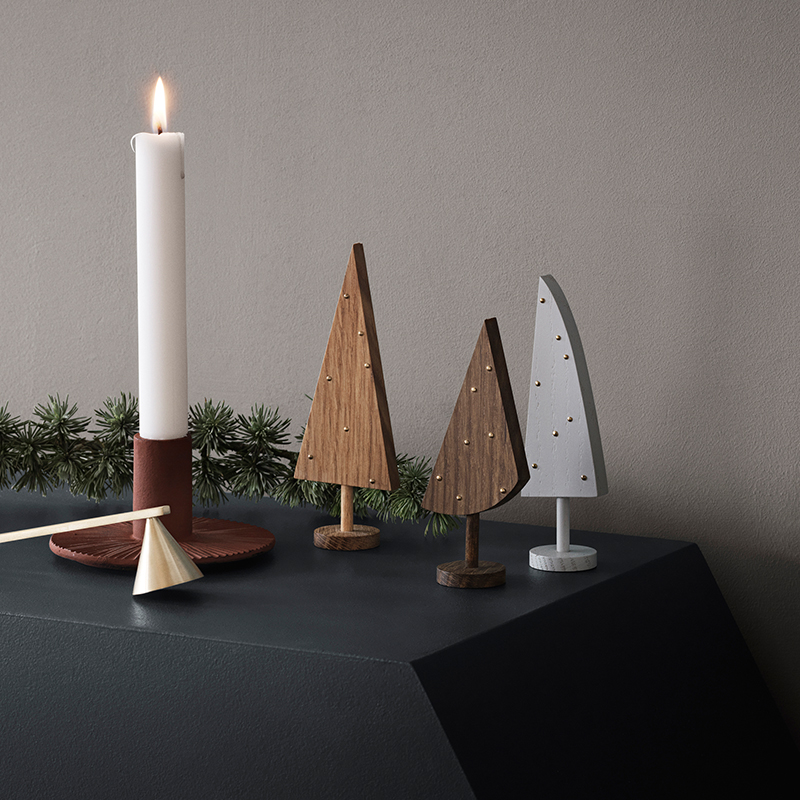 Another ferm LIVING find, this Neu Stoneware in grey will stand out against a wooden tabletop, creating a mellow yet enticing vignette: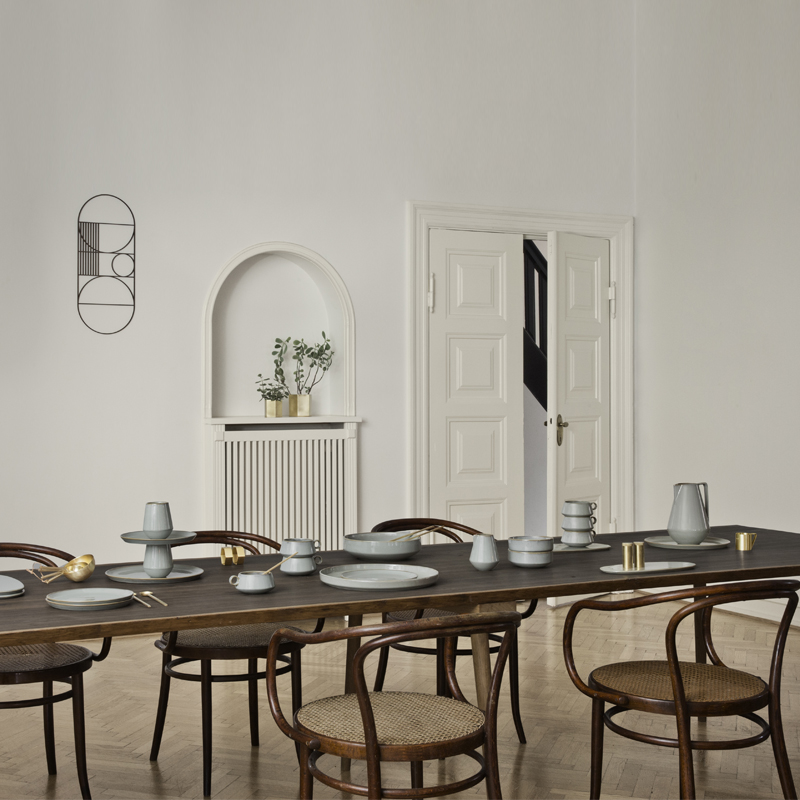 H&M Home's Round Wooden Tray is simple, modern and stunning, especially when displayed on a grey tablecloth: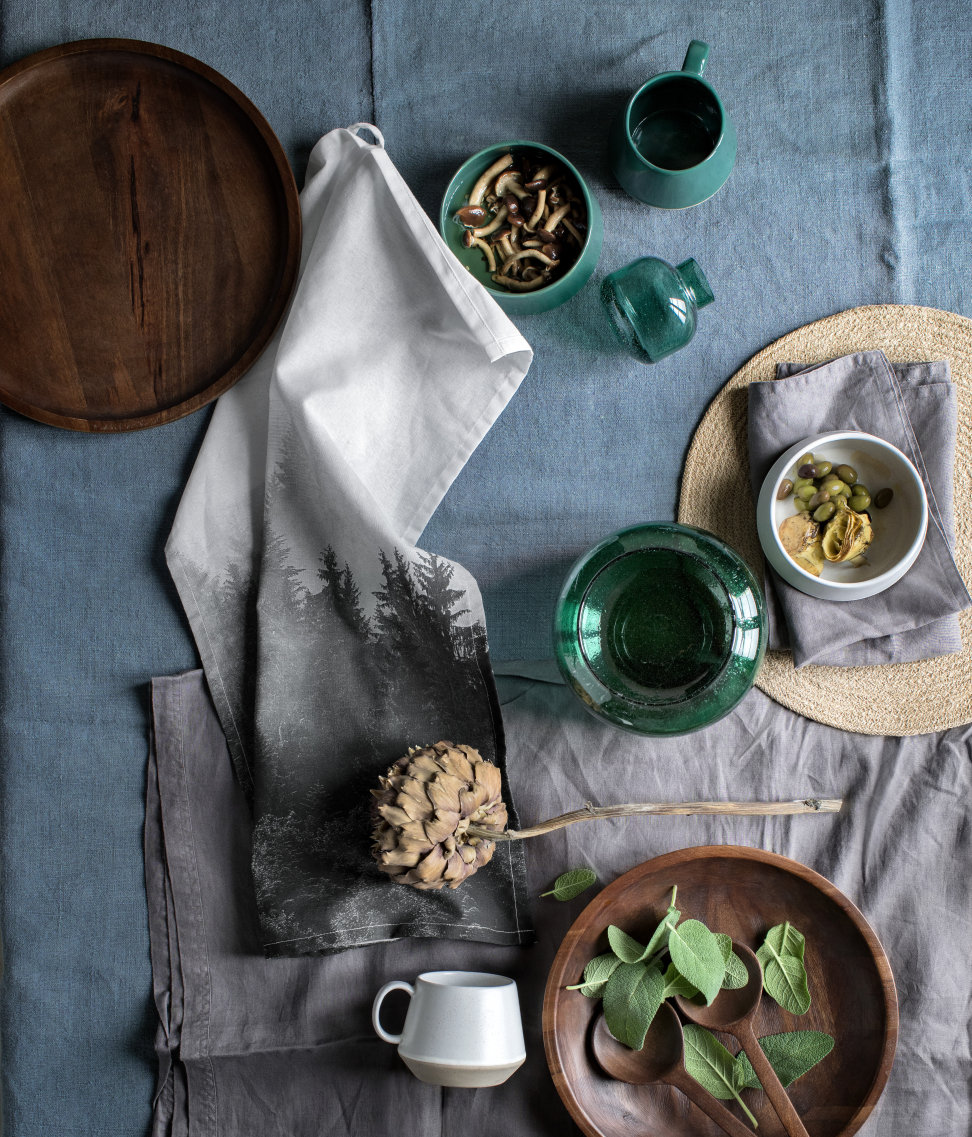 Did somebody say grey tablecloth?! Start with a sleek foundation. The tablecloth below is from H&M Home (pictured in dark gray). Purchase one, and let it grace your tabletop during celebratory meals from Thanksgiving through New Year's Eve!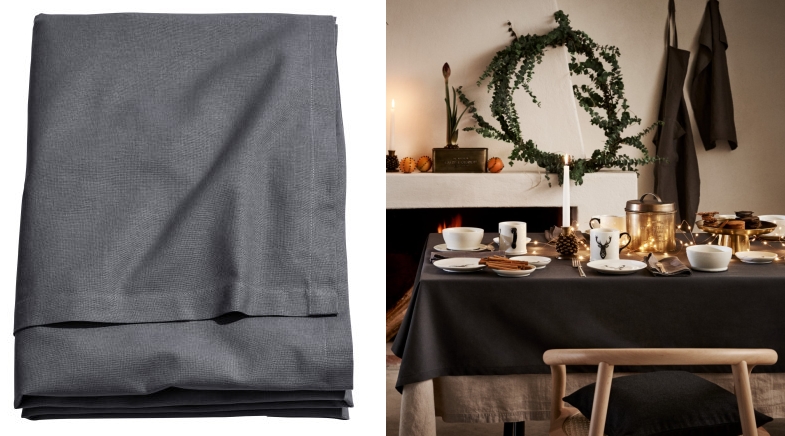 We hope today's post has inspired you not to fear the grey skies of fall and winter. Embrace the moody weather and let it inspire a beautiful interior, cozy dinners with the people you love, and fun new purchases. Enjoy!