The 4th of July has come and gone, but that doesn't mean your days of summer entertaining are over! Far from it. Consider the 4th to be the beginning of the summer party season, and get inspired to plan a few more fetes before the long, laid-back days are good and gone.
From an afternoon tea to a kid-friendly tropical gathering (and everything in between), today's featured summer party themes can be adapted to any summer event you have planned. A breezy dinner party? Check! A tropical brunch? Consider it done! Keep reading for LOTS of seasonal inspiration and a slew of picture-perfect photos that illustrate 5 distinct party themes. Enjoy…
Beachy Style
The first party theme is beachy! The more it looks like you wandered in from the ocean and found your table waiting for you on the dunes, the better! This spread by Kate Holstein (featured at Camille Styles) is truly inspiring:
Glassware and dinnerware that mirrors the blue of the ocean is a lovely counterpart to the blush tone of the rosé at Holstein's table. Note the organic and natural elements, which will allow the food to take center stage. Effortless yet beautifully crafted!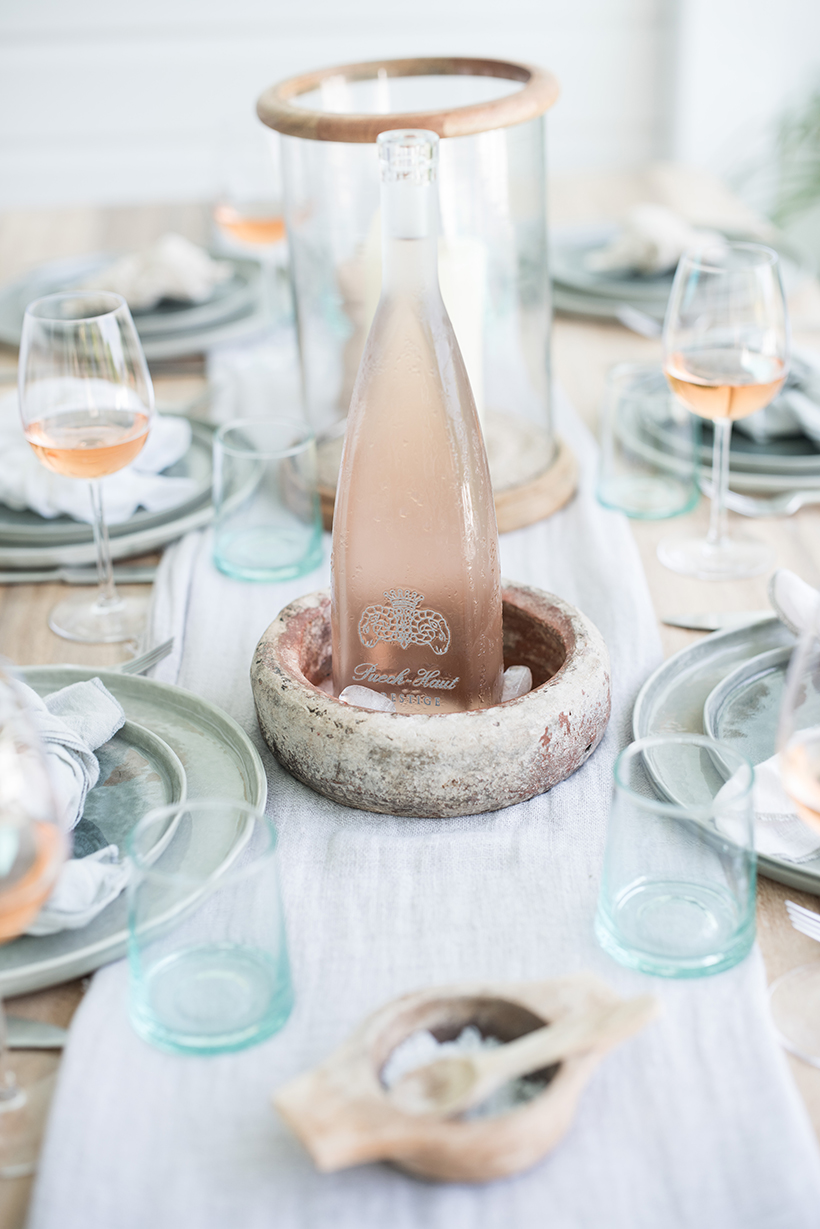 Tableware can range from the lightest of tinted blues to the most vibrant of turquoises. Bonus points if multiple shades of blue are represented at your beachy summer party. These stoneware dinner plates from Anthropologie are truly stunning: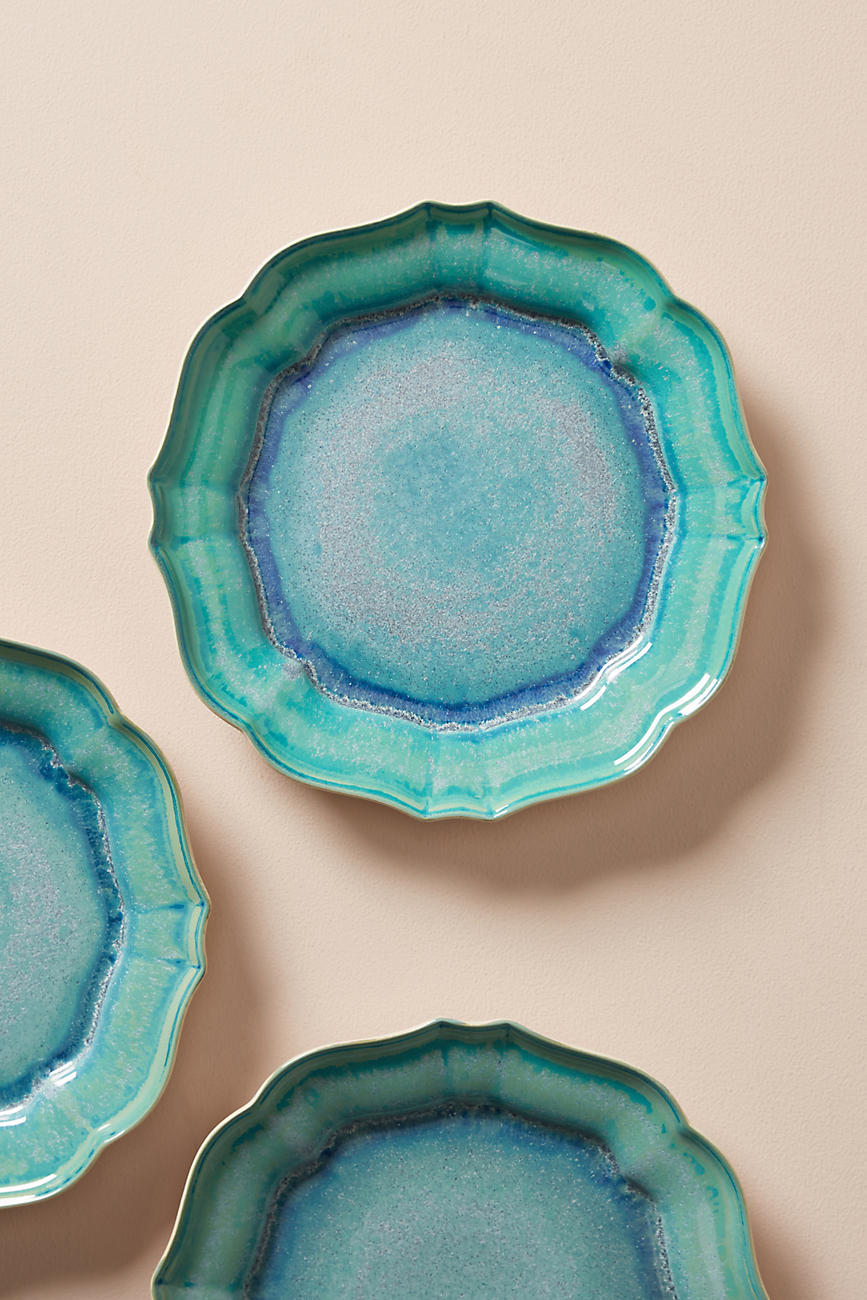 Anthropologie also offers a range of napkins that channel the relaxed vibe of the beach. When paired with wooden pieces and unfussy flatware, the feel is tranquil, with a dash of earthy style.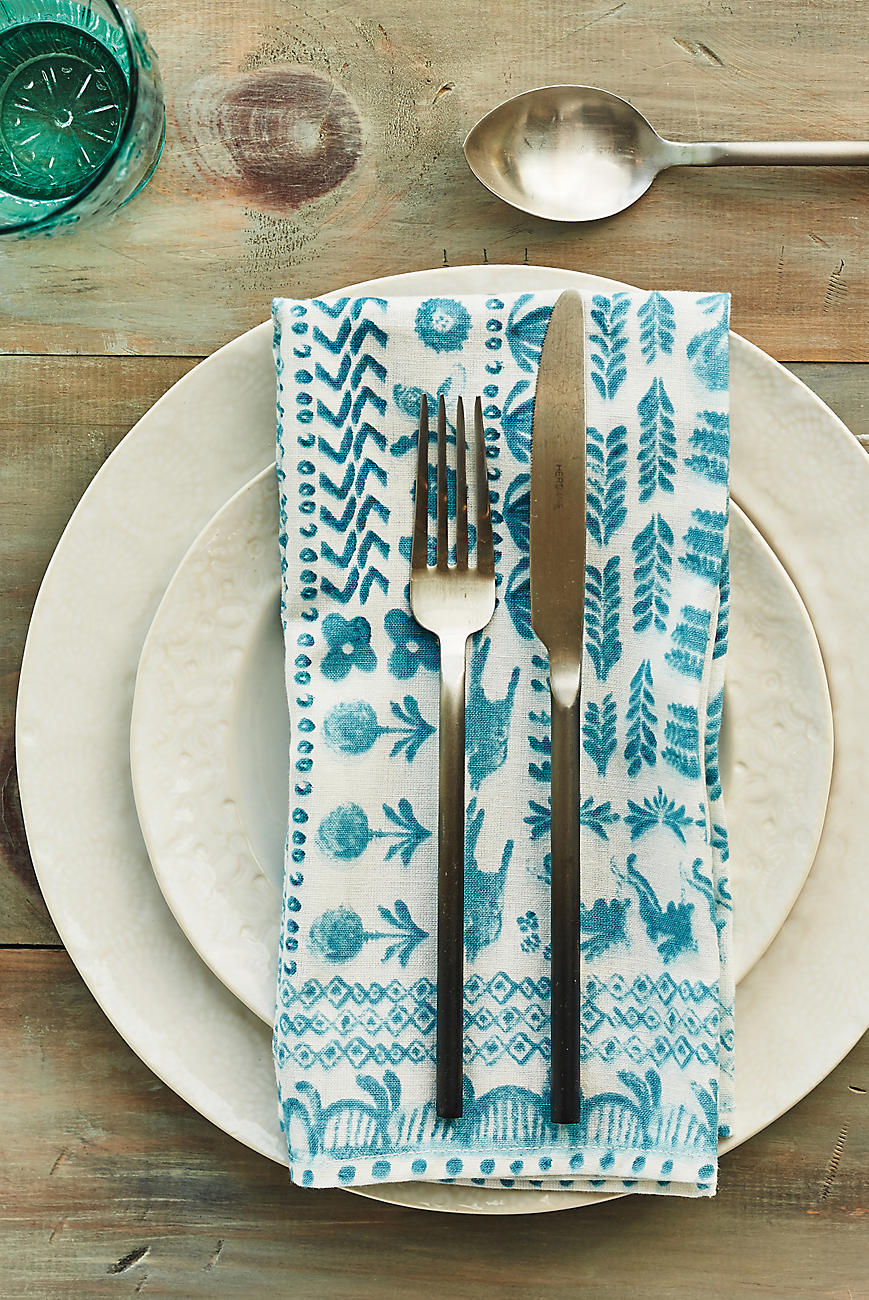 If you can secure a seaside location for your gathering, more power to you! If not, you can capture the beach experience with a beautifully set table (candles are fun for evening entertaining), as well as salty elements that remind you of the ocean's salty air. Don't forget to have plenty of fresh water on hand, and don't hesitate to flavor it with produce such as cucumber and citrus. It IS the hottest season of the year, after all! [photo below features decor from H&M Home]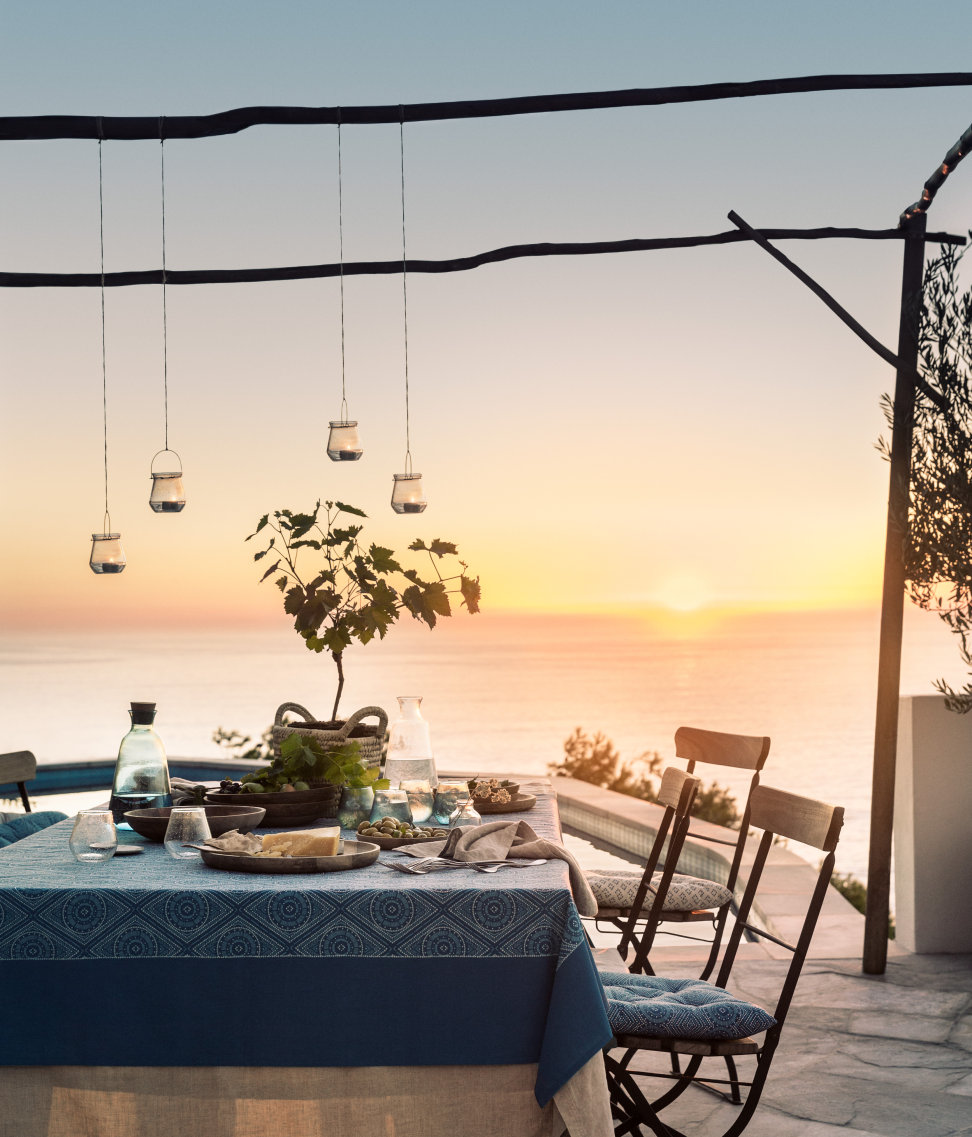 Easy, Breezy and Woven
This next party theme can easily go hand-in-hand with the one above. Yet the focus is on woven decor that creates an effortless, earthy feel. And boy is this the summer to enjoy woven decor! So pick up another basket for the living room, and stock up on woven napkins, runners and tablecloths.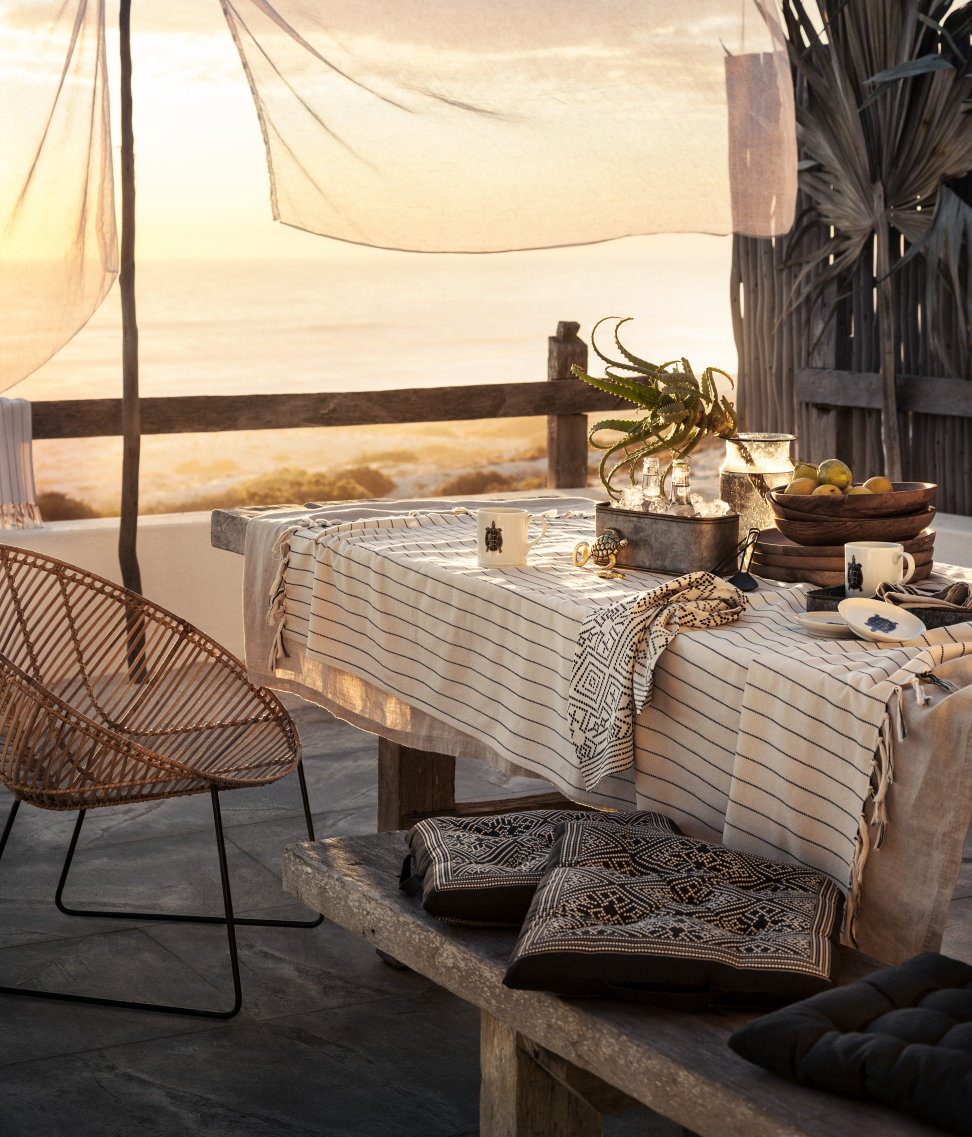 Did we mention woven throw pillows? Because they instantly create the feel of a 5-star resort. Don't believe us? Don't the photos above and below from H&M Home make you want to leave right now for a long summer vacation? They also remind us that hanging lanterns, succulents and driftwood help this party theme take flight.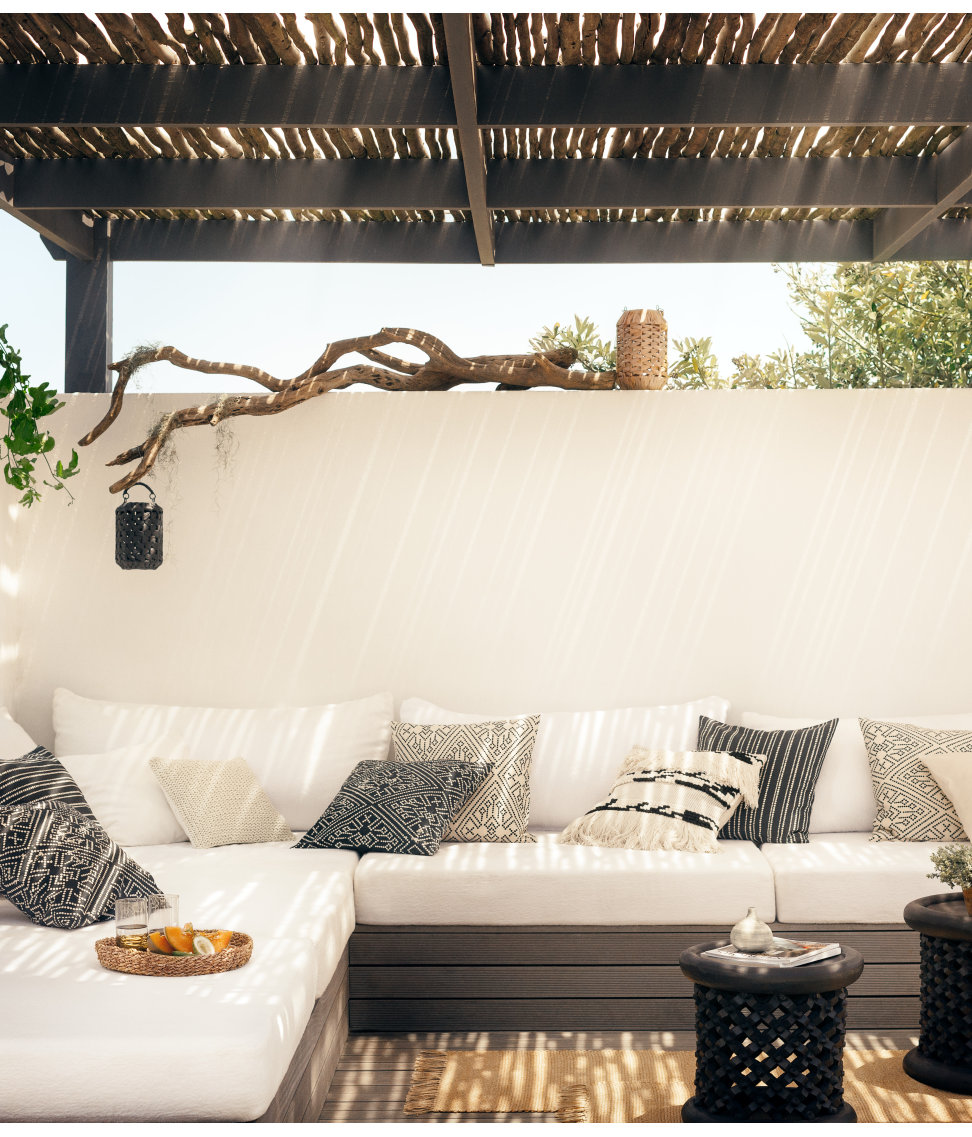 Don't be afraid to throw in some color! This woven tray (featured at Camille Styles) is perfect for serving drinks on a hot summer day!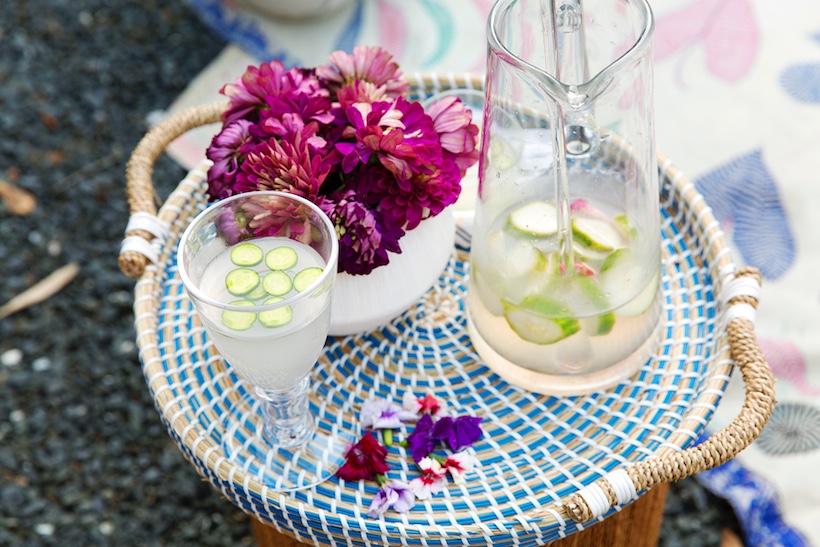 Whimsical-Tropical
Ready to head into tropical territory? This tropical theme is whimsical, thanks to bright colors and fluid floral patterns featured on napkins and dinnerware. We're loving the Lilly Pulitzer for Target napkins showcased in this sparkling hibiscus sangria photo shoot from A Beautiful Mess: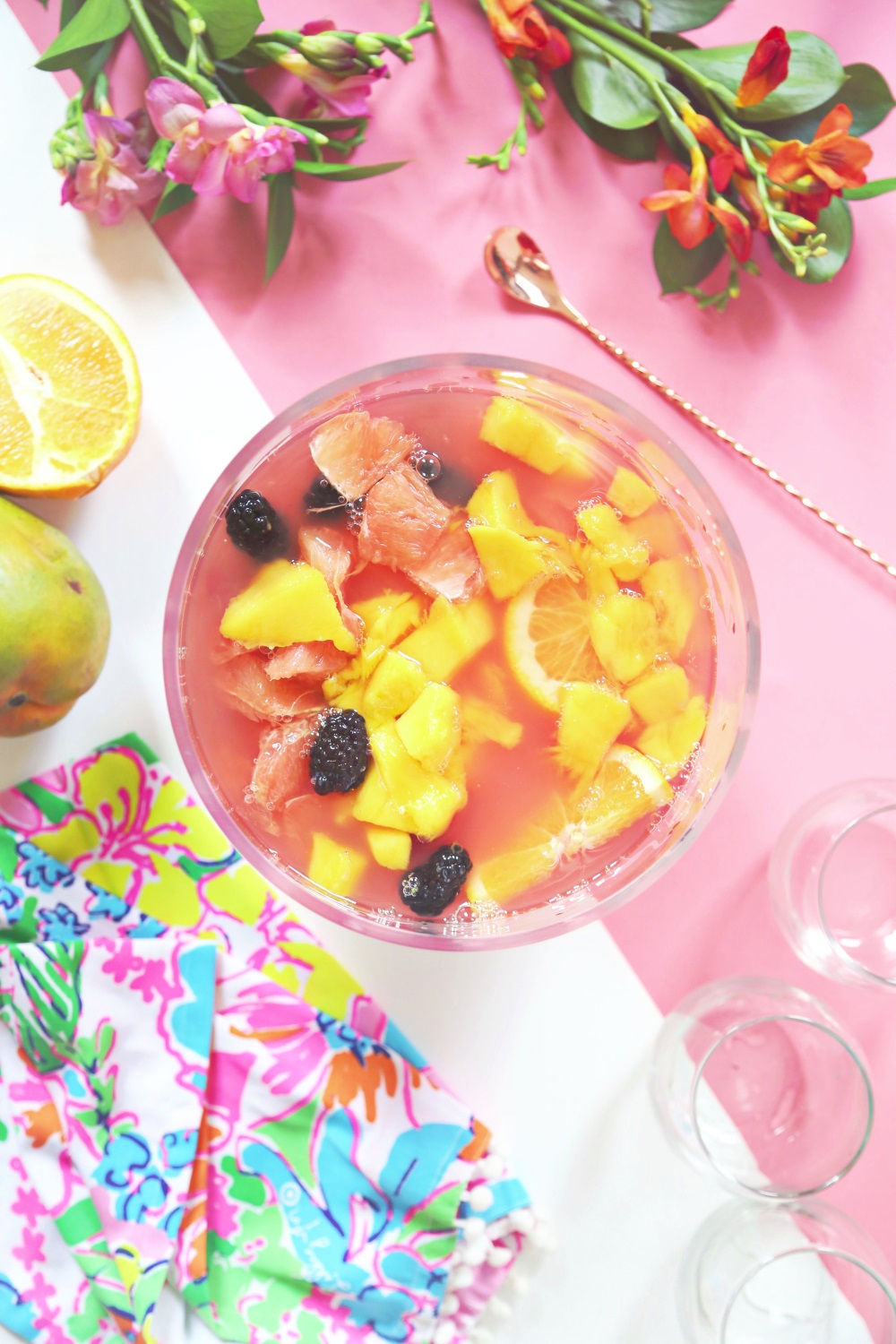 Don't forget the palm leaves! Simple paper napkins from the party superstore, tropical greenery and woven yellow placemats give this next featured summer party its punch. Details at Mirror80: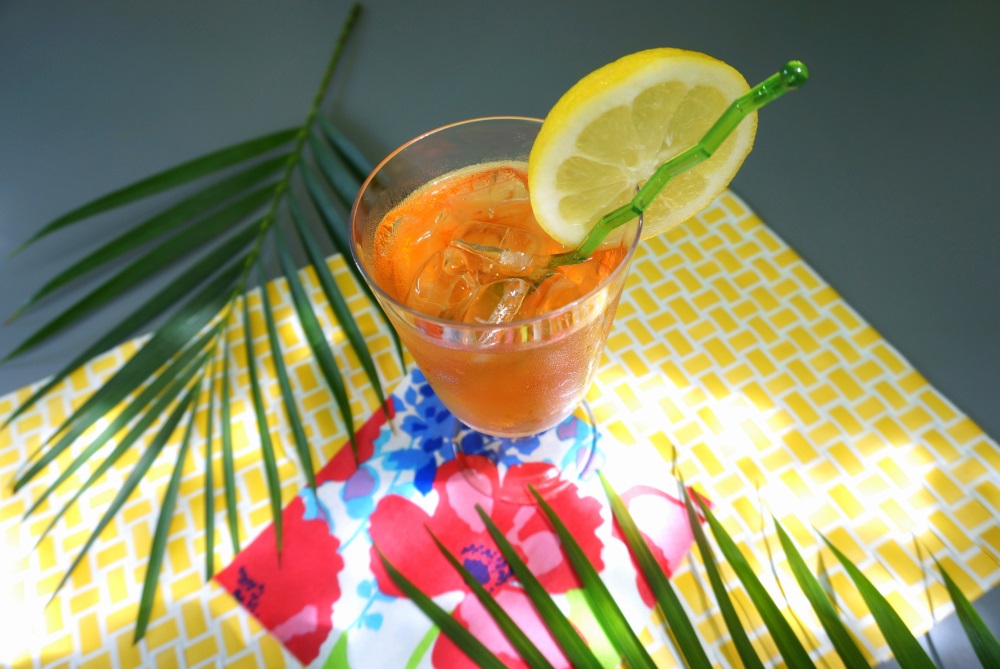 Sur La Table is currently featuring a range of tropical tabletop options, and these vibrant tropical melamine pieces are summer party-perfect. Pair them with even more turquoise for a festive touch.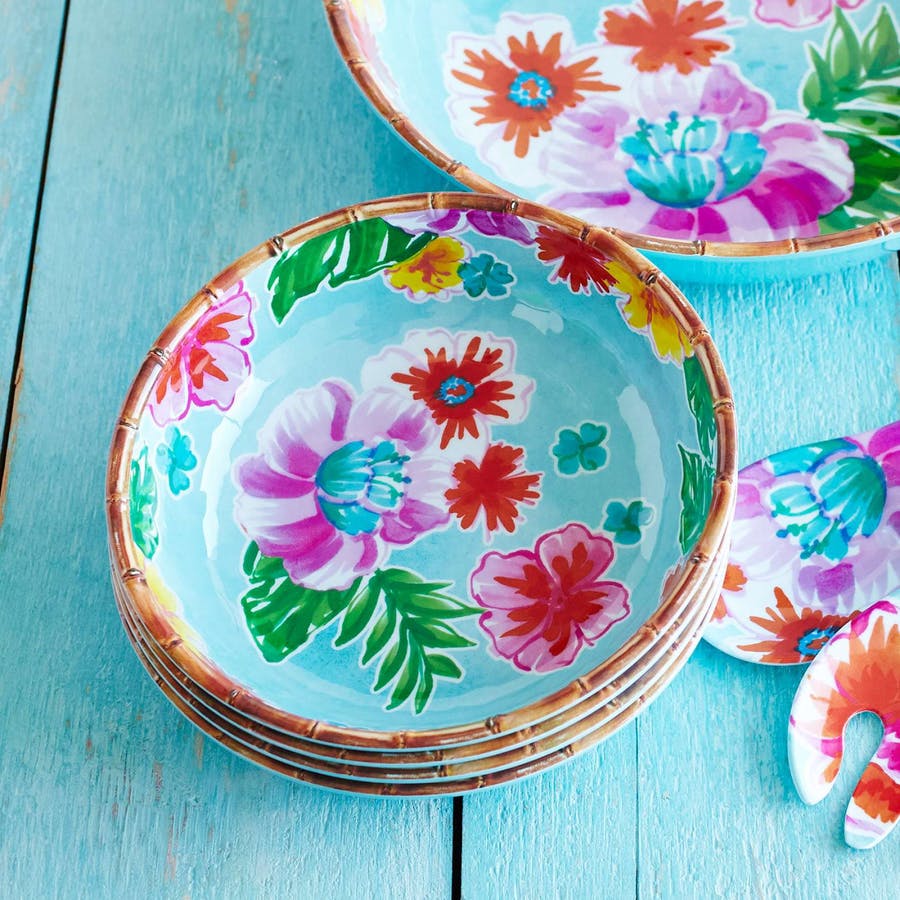 Anthropologie's Lulie Wallace Melamine Appetizer Platter is the picture of floral summer style. Interesting color combinations are a highlight of Wallace's work, and they can be the highlight of your party table this season as well! Pair them with citrus for a tropical touch.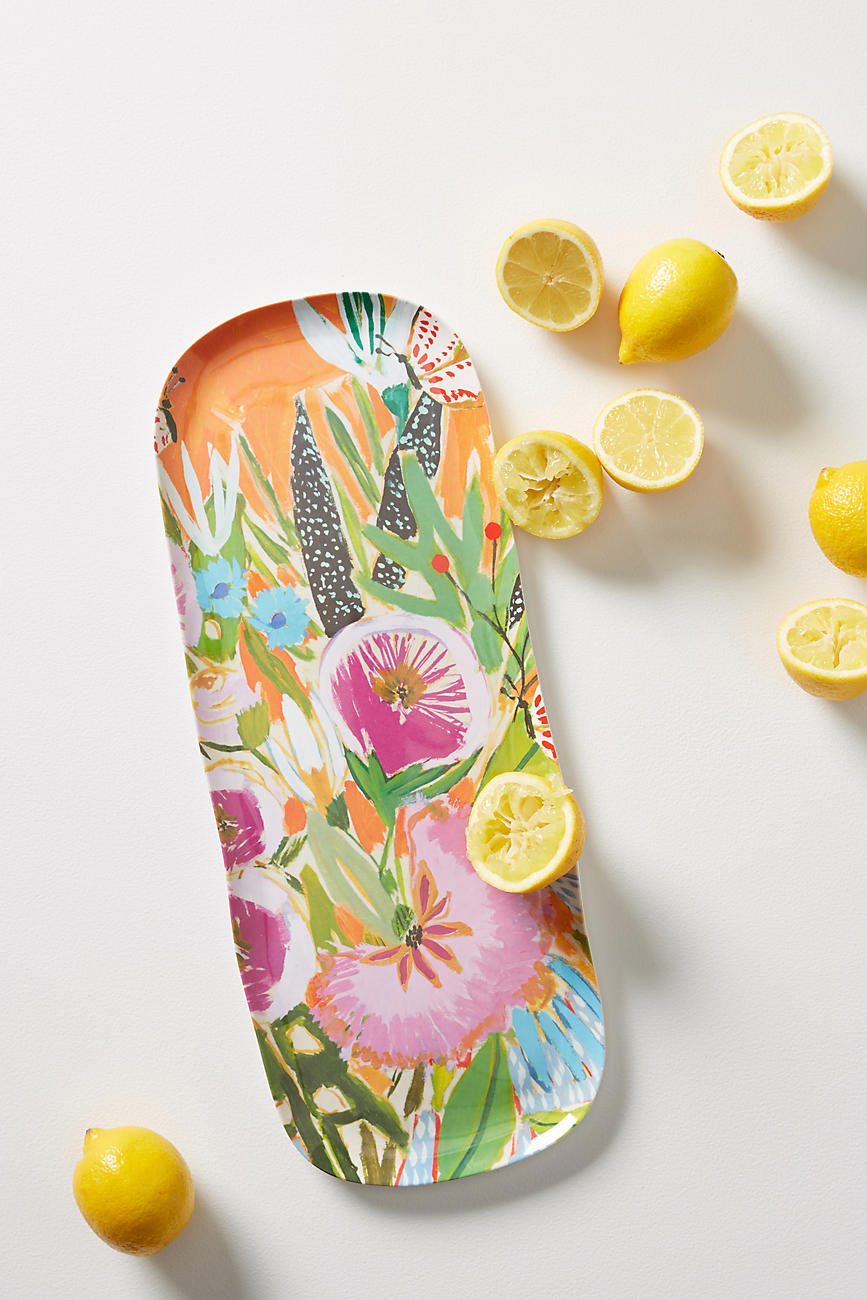 If you have time for a fun project before your party, there's nothing like painted seashells to play up the tropical whimsy! This could even be a kid-friendly party activity if you're looking for something crafty to do. Check out all of the dazzling details at A Subtle Revelry.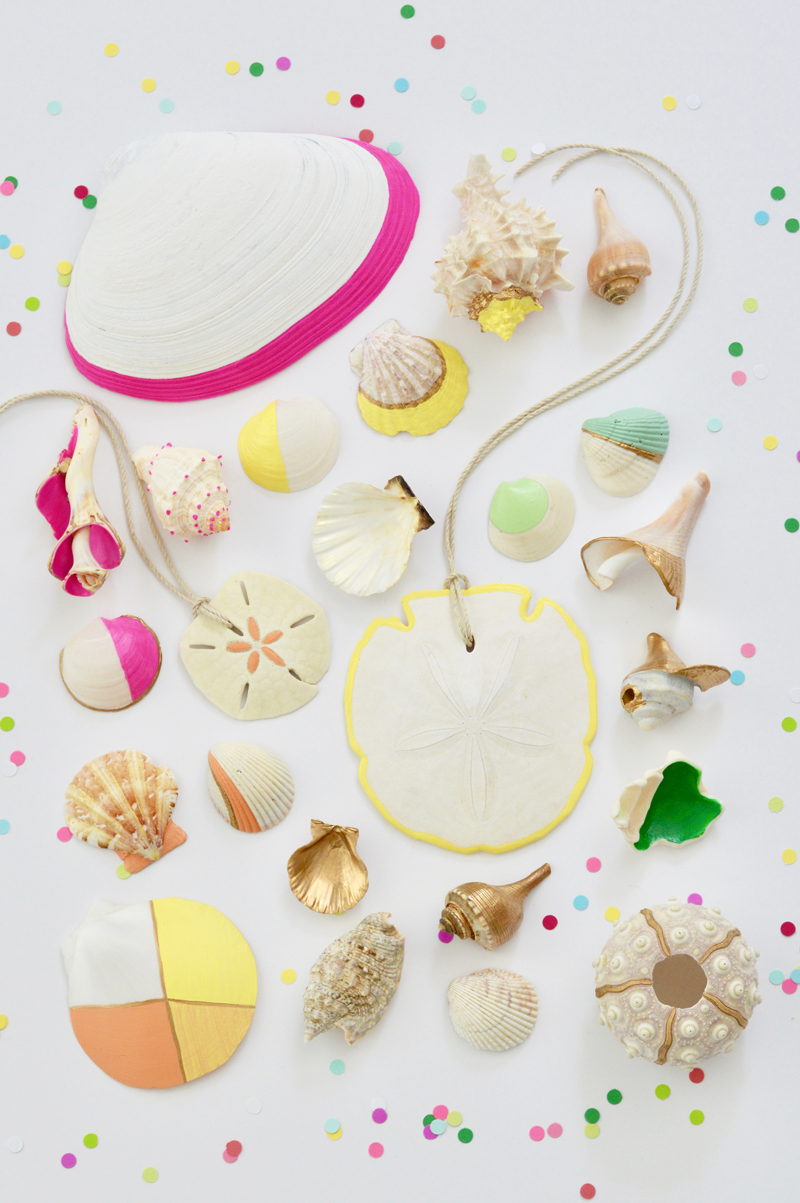 Candy-Colored Fun
There's plenty of tropical fun to go around in today's featured themes, and if you play up the candy colors, you get a whole different look. So set the stage with vibrant magentas, yellows and turquoises. Give yourself a radiant manicure, and top it all off with a collection of bright drink umbrellas! [photo below from A Subtle Revelry]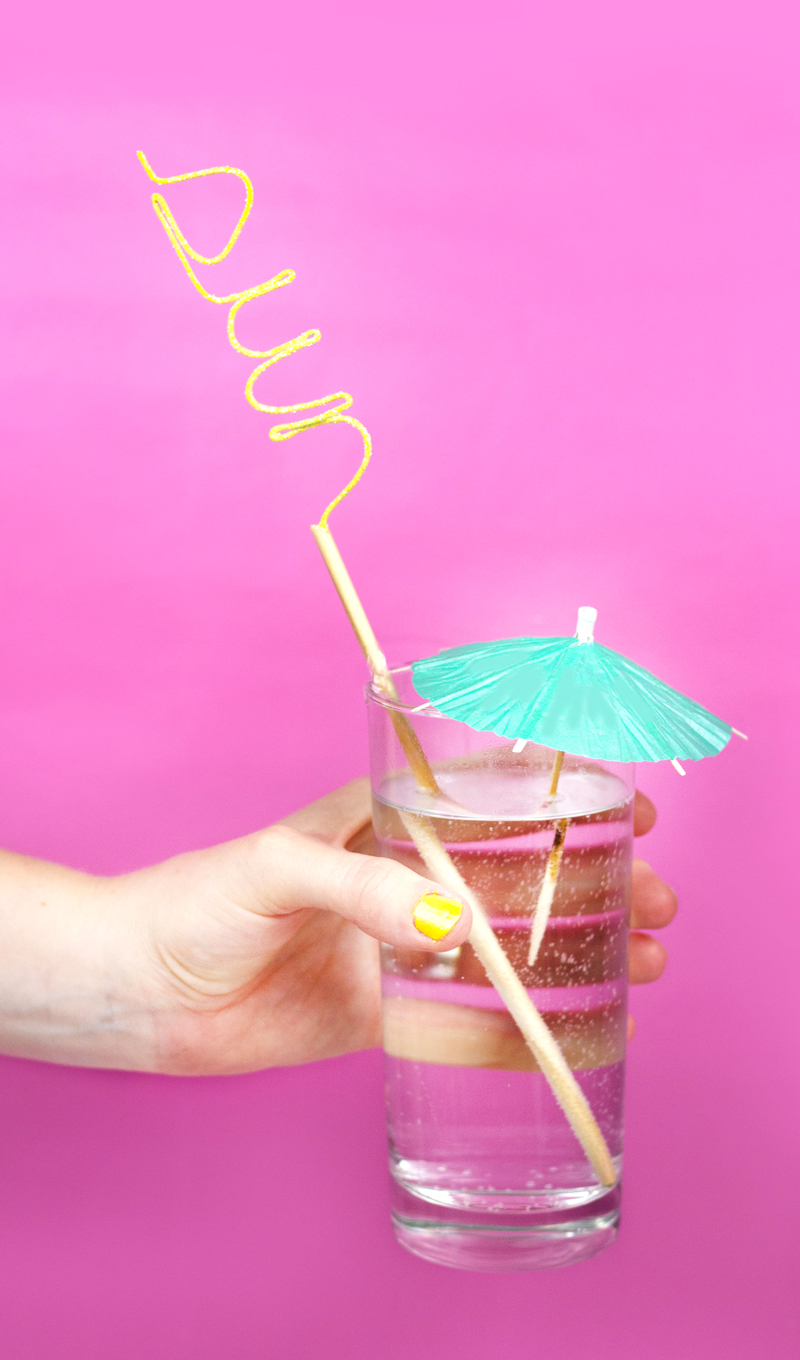 If your gathering is outdoors, create a summery vignette with the help of a picnic blanket in vivid tones. Bonus points if you line it with pom-poms!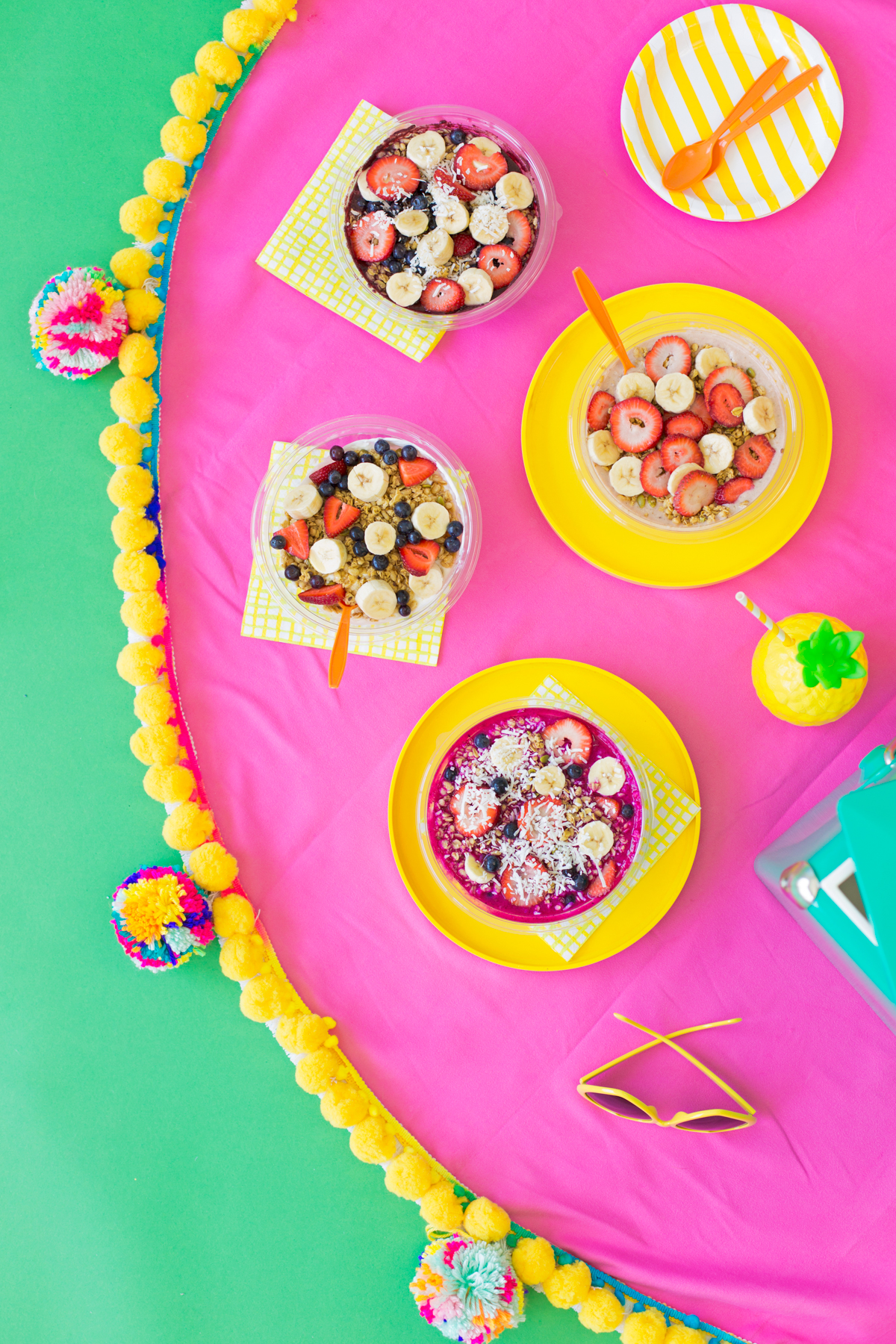 Design bloggers love this party theme, because the intense color palette pairs well with tropical accents. Plus, when set against a brilliant backdrop, the party decor looks good enough to eat! Not to mention, there's no time like summer to live in a candy-colored tropical dream. Let bright accessories and accents do the bulk of the work for your gathering, and don't be afraid to combine colors you would never mix in your own home. This is a party, after all! [photo below from Mirror80]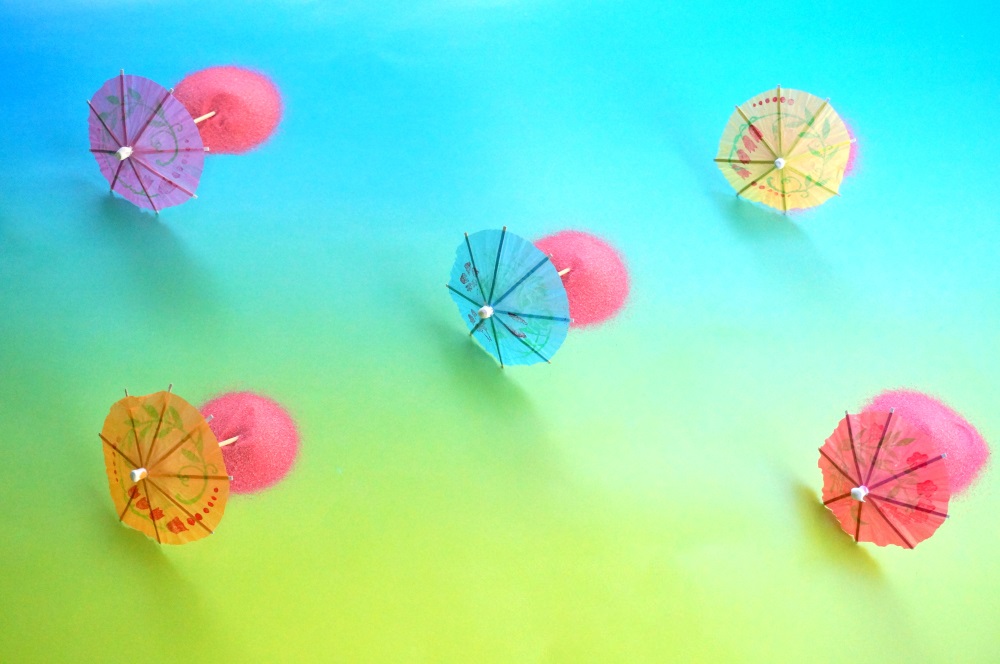 Palm Springs Flair
Today's final featured theme takes the Palm Springs look to new heights! We're talking about tropical flair, as well as a desert vibe. Don't hesitate to use a dash of pink, as shown in this Palm Fronds + Bon Bons dinner party from Studio DIY: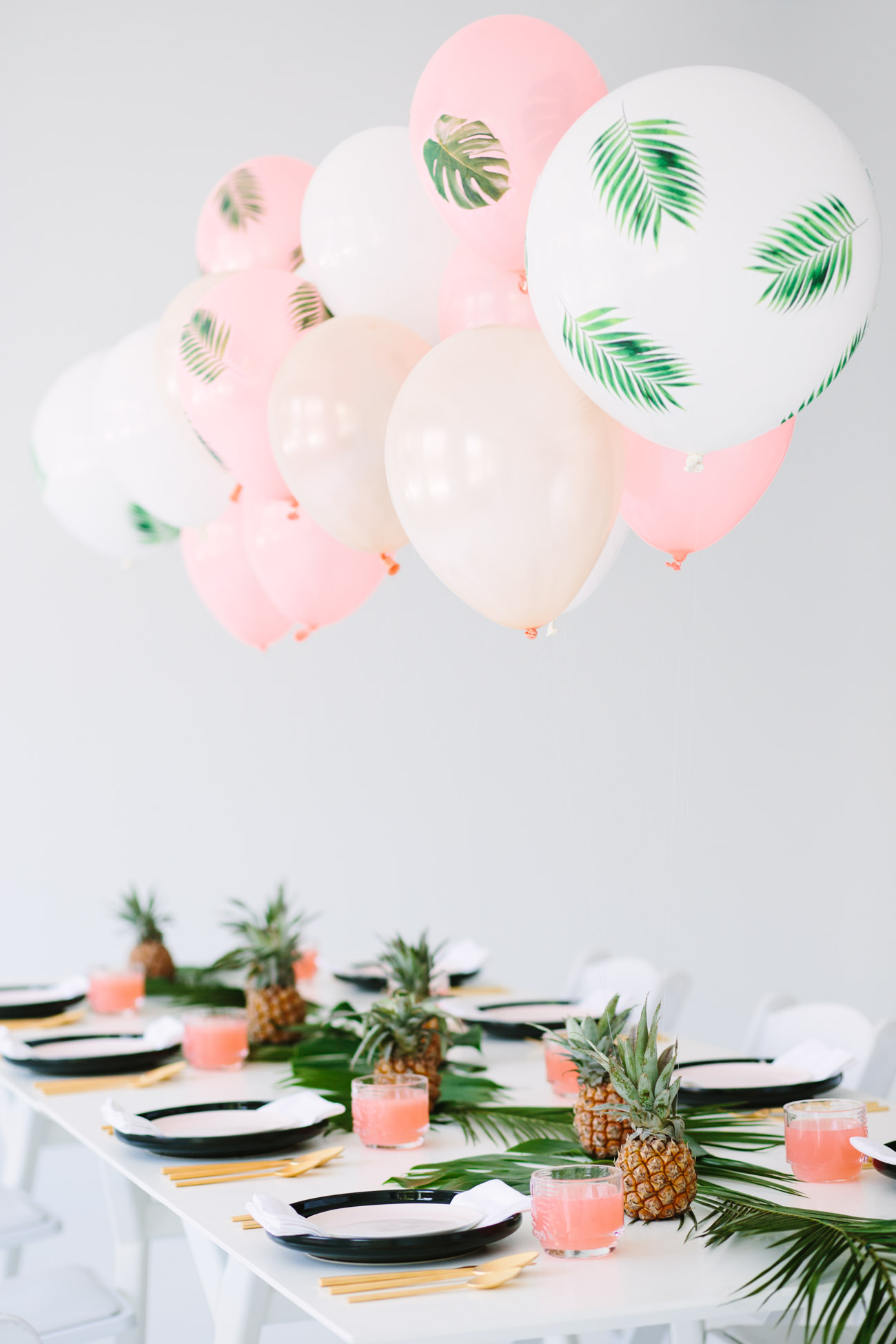 It's hot in the desert. That's why having a pool party is always a good idea! Play up the balmy look with a display of tropical beach towels, such as these chic options from H&M Home: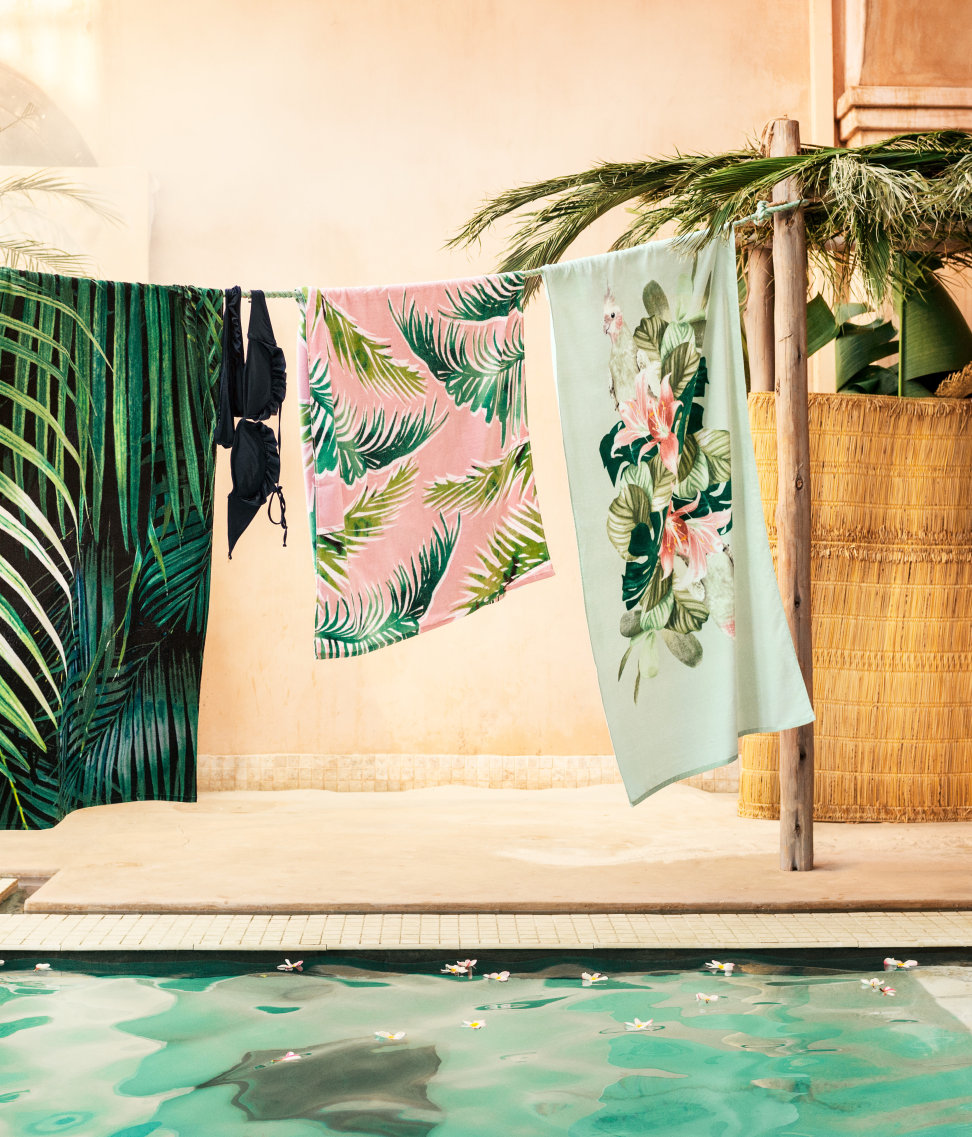 Which plants thrive in the desert? Succulents! If you're not aware of the succulent dessert trend that's taking over the world of cakes, cookies and cupcakes, consider this your introduction. It's all about the icing! When A Beautiful Mess threw a Palm Springs-themed baby shower for beloved blogger Laura, this cake took center stage: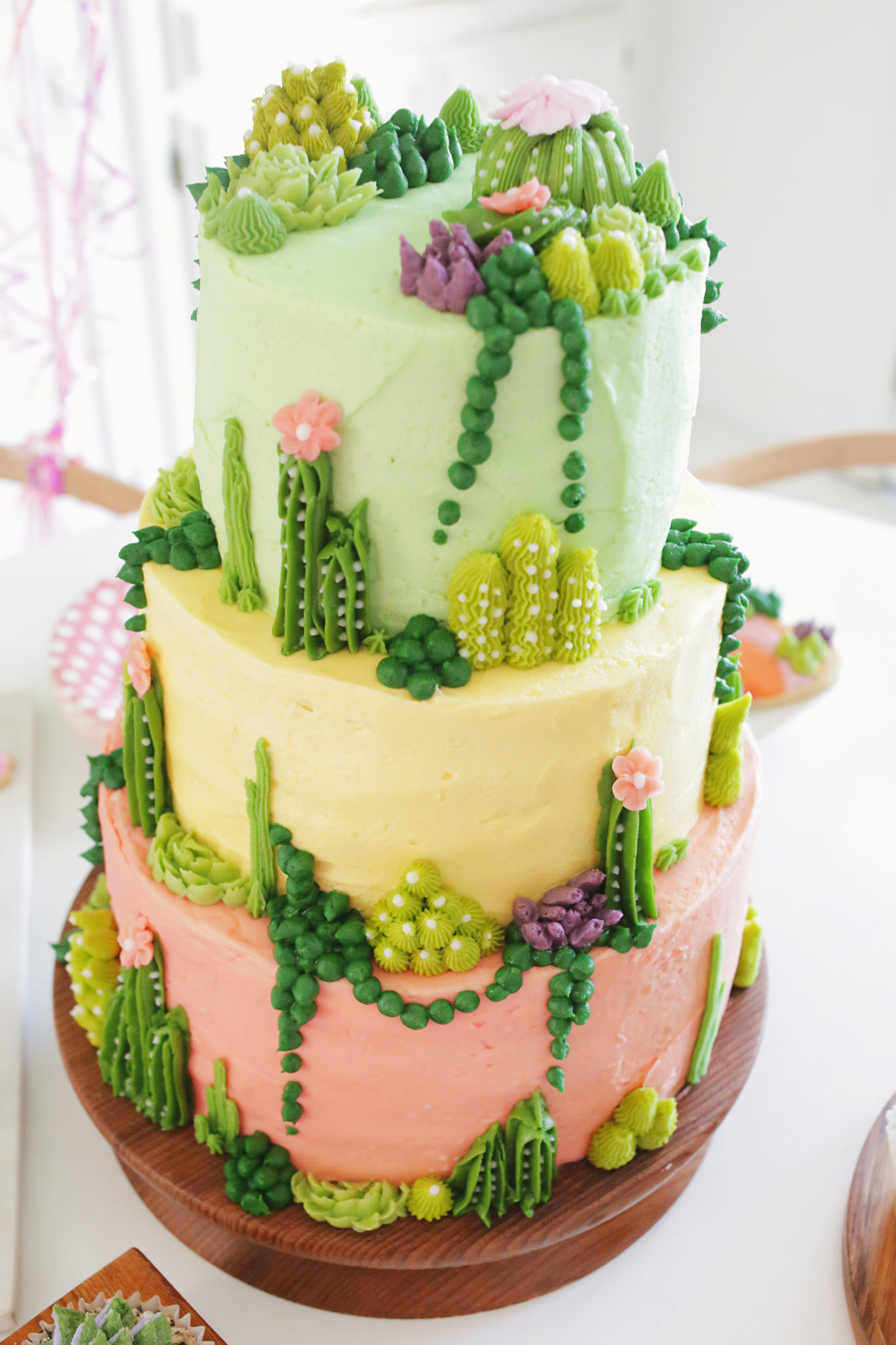 And we can't forget these fabulous cookies…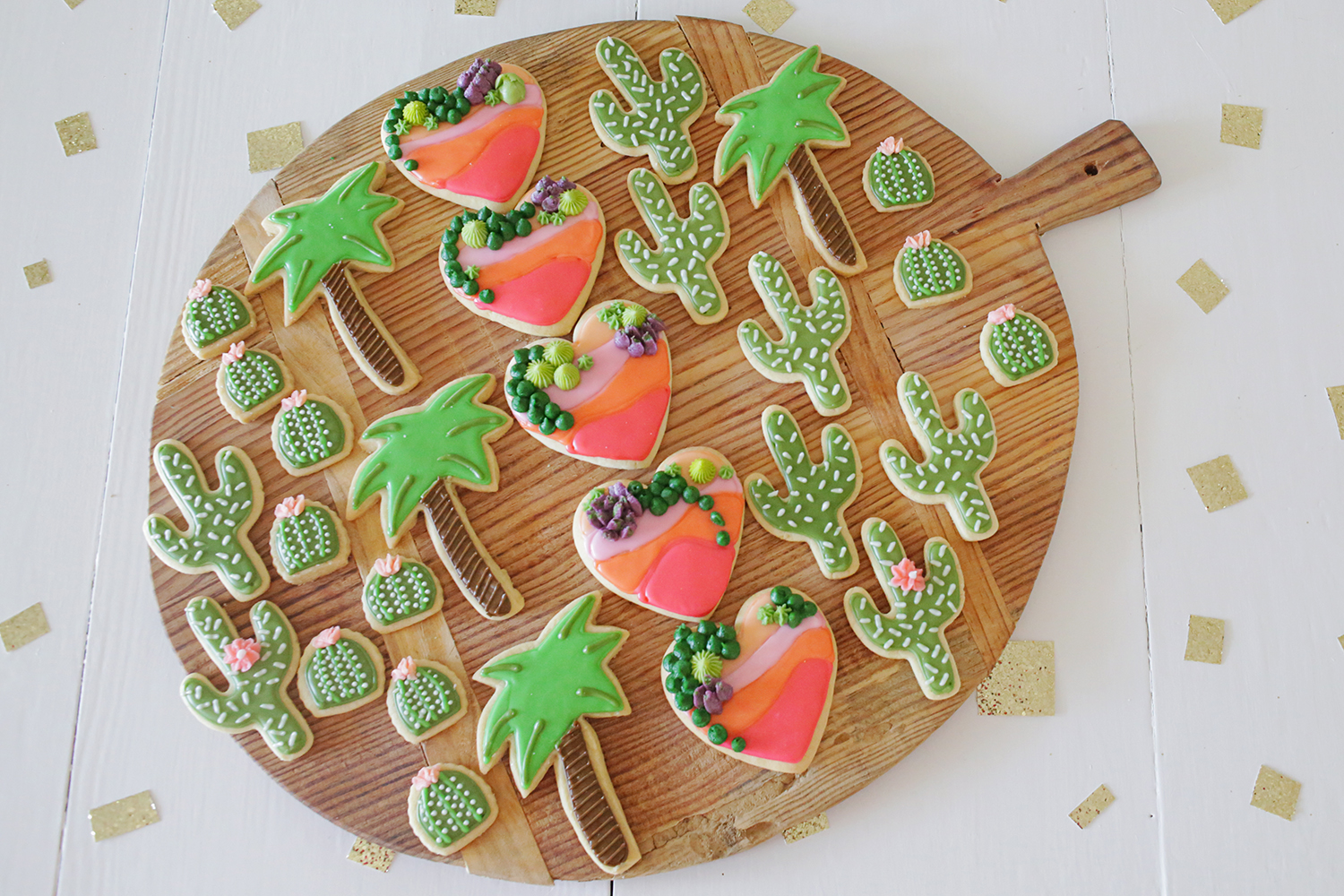 A dose of brass is right at home with the Palm Springs theme, and it will add a retro-modern element to your summer party. The colors of the desert sunset are also welcome, as shown in this spread from Sugar & Cloth: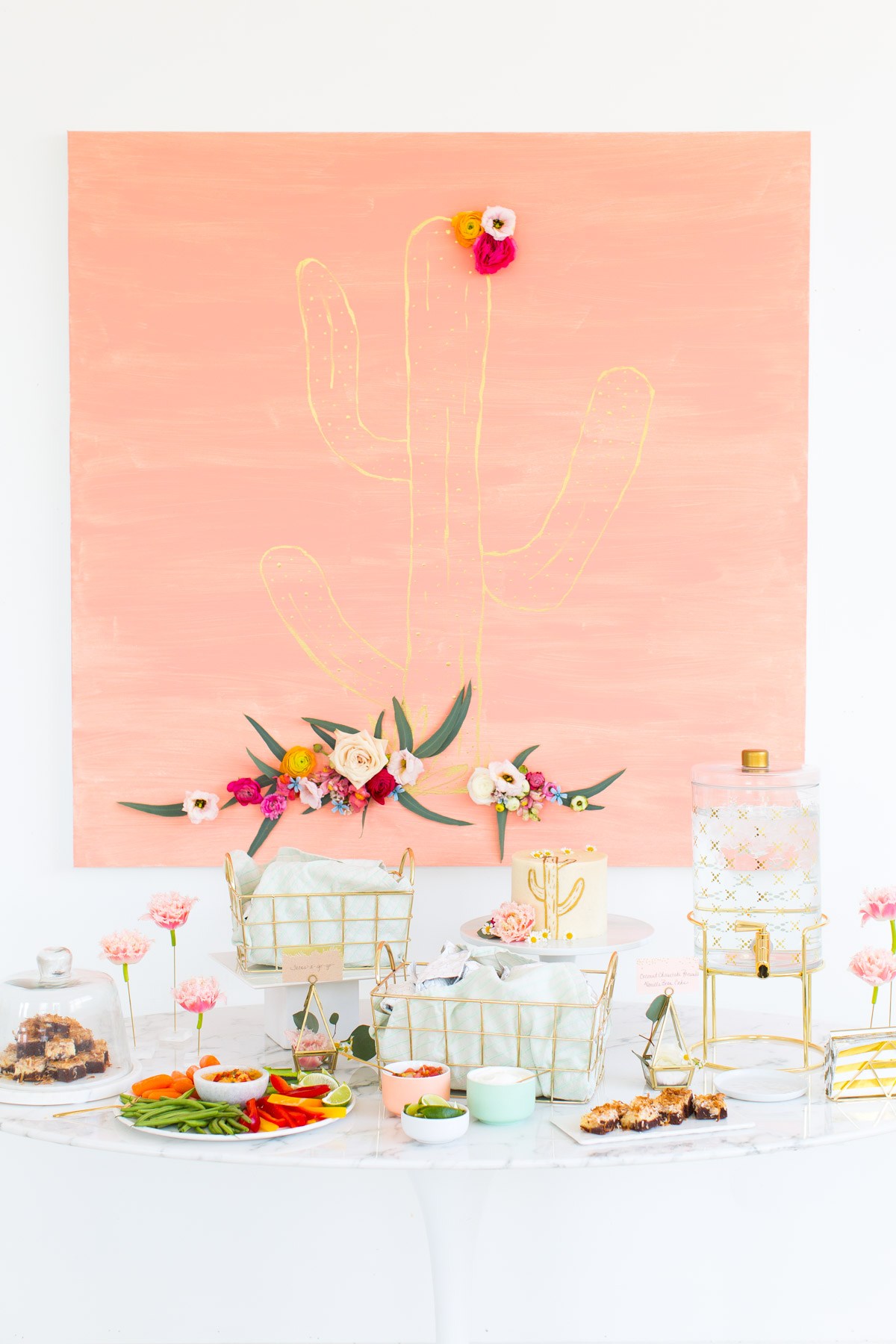 Now who's ready to throw a summer party?! Cheers to that!