Decorating at Christmastime often has special meaning, where the unboxing of baubles and trinkets rekindles happy memories of Christmases past. The tradition grew to be (in Great Britain at least) much more elaborate and prominent in the 19th century and is attributed to Queen Victoria and her marriage to German-born Prince Albert (where celebrating around a decorated Christmas tree was evocative of Albert's childhood in Germany). [Source]
Christmas decorations are many and varied, and embody a cornucopia of pleasing symbols and shapes, materials and textures. From tasteful to garish, understated to exaggerated, decorations have for years played a significant role in symbolizing and trimming Christmas.
Here is a pick of nine festive adornments that will add some Christmas cheer.
Kay Bojesen Santa
Kay Bojesen designed his original wooden Santa, with its sack and walking stick, in the 1940s. Something to cherish and rediscover each and every Christmastime, this festive Bojesen toy will bring much merriment year after year, from generation to generation.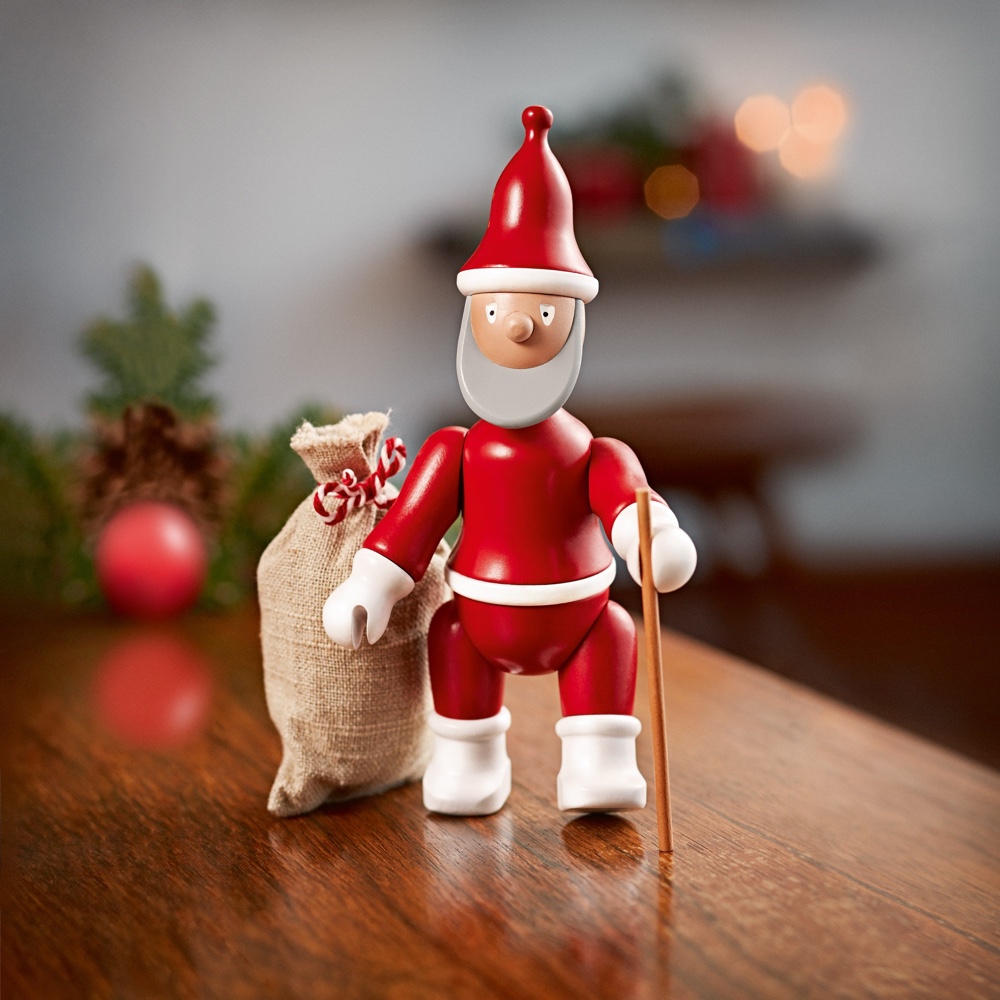 Image via Skandium.
Finnish Wooden Baubles
These wooden baubles were designed by industrial designer Anne Paso for Finnish company Lovi OY. Made in Finland from PEFC-certified birch plywood, the delightful do-it-yourself ornaments are assembled by simply slotting the wood pieces together (similar to a 3D puzzle). Their Finnish credentials ensure they are all the more down-home Christmassy.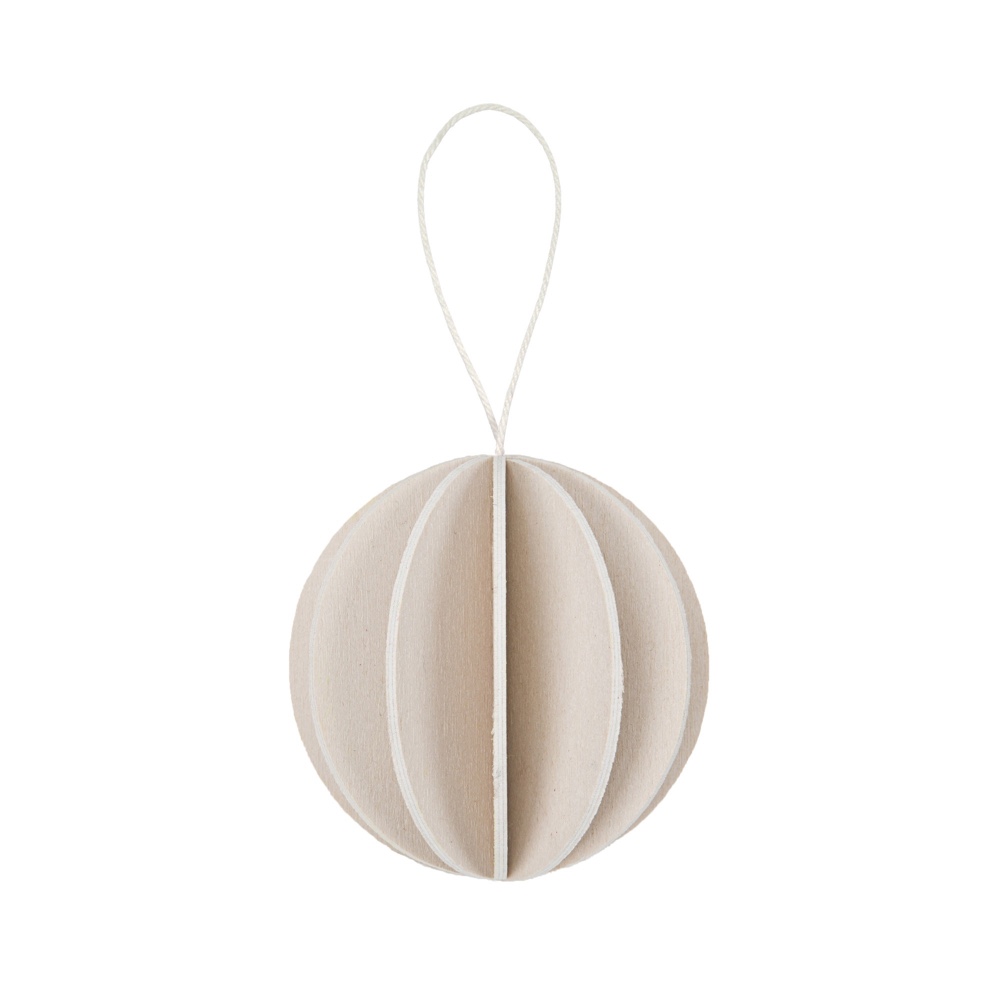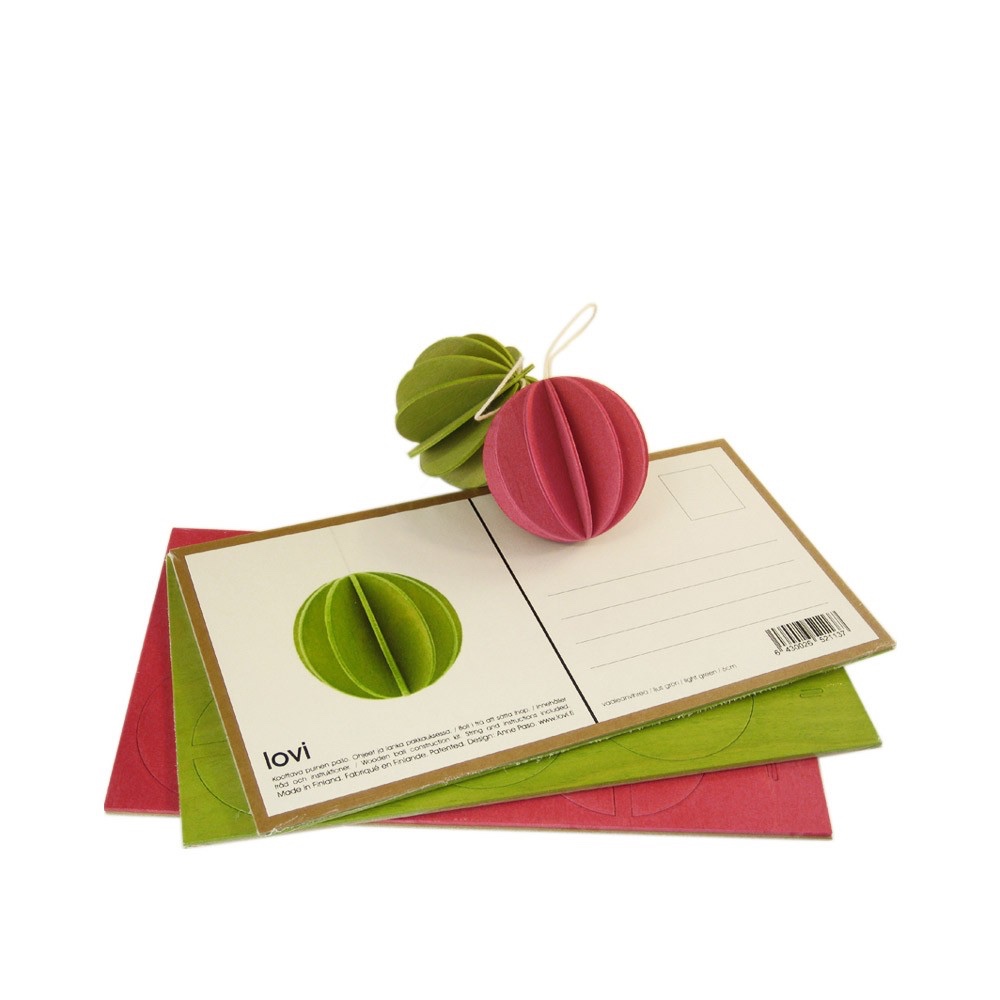 Images via Skandium.
Alessi Presepe Group
Presepe (meaning nativity scene) is a winsome porcelain igloo-style crib with a cast of lovable, individual characters, designed by Massimo Giacon for Alessi. This diverse range of porcelain figurines are enjoying the festive celebrations and saying a big "happy birthday" to the little baby Jesus. Why not present a theatrical, quirky, OTT and less conformist view on the traditional Christmas story?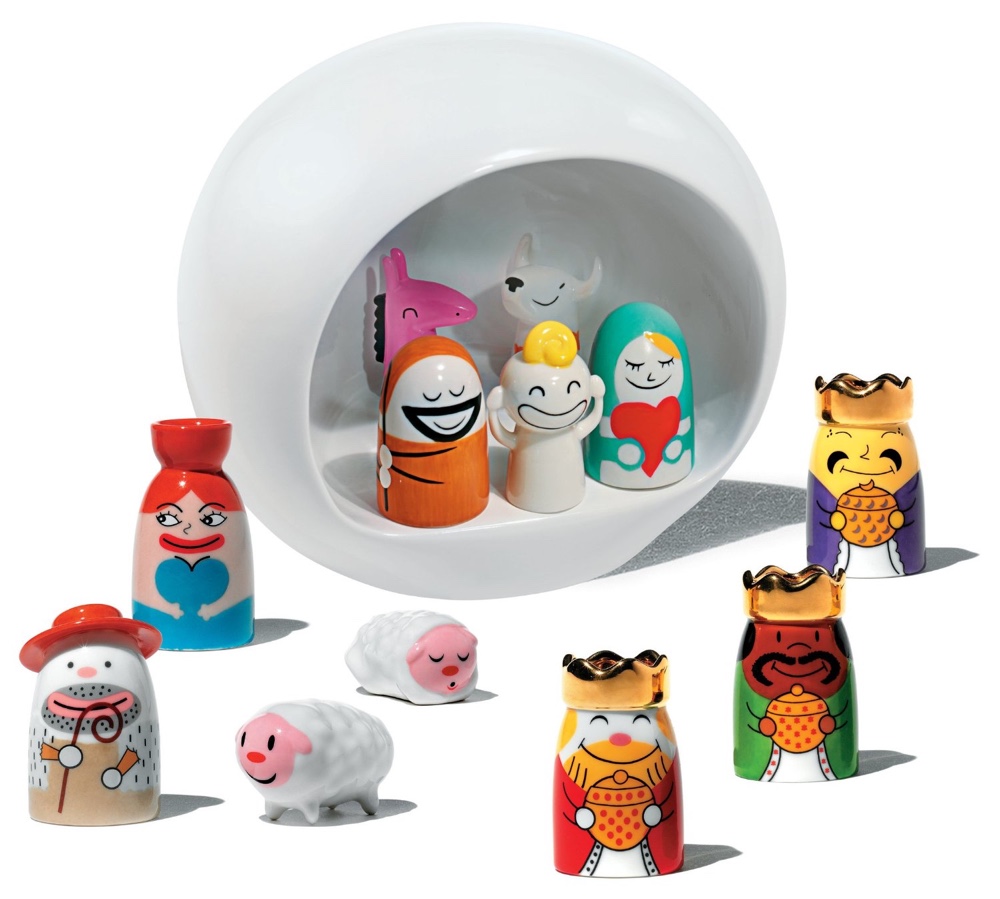 Image via Modern Interior Design.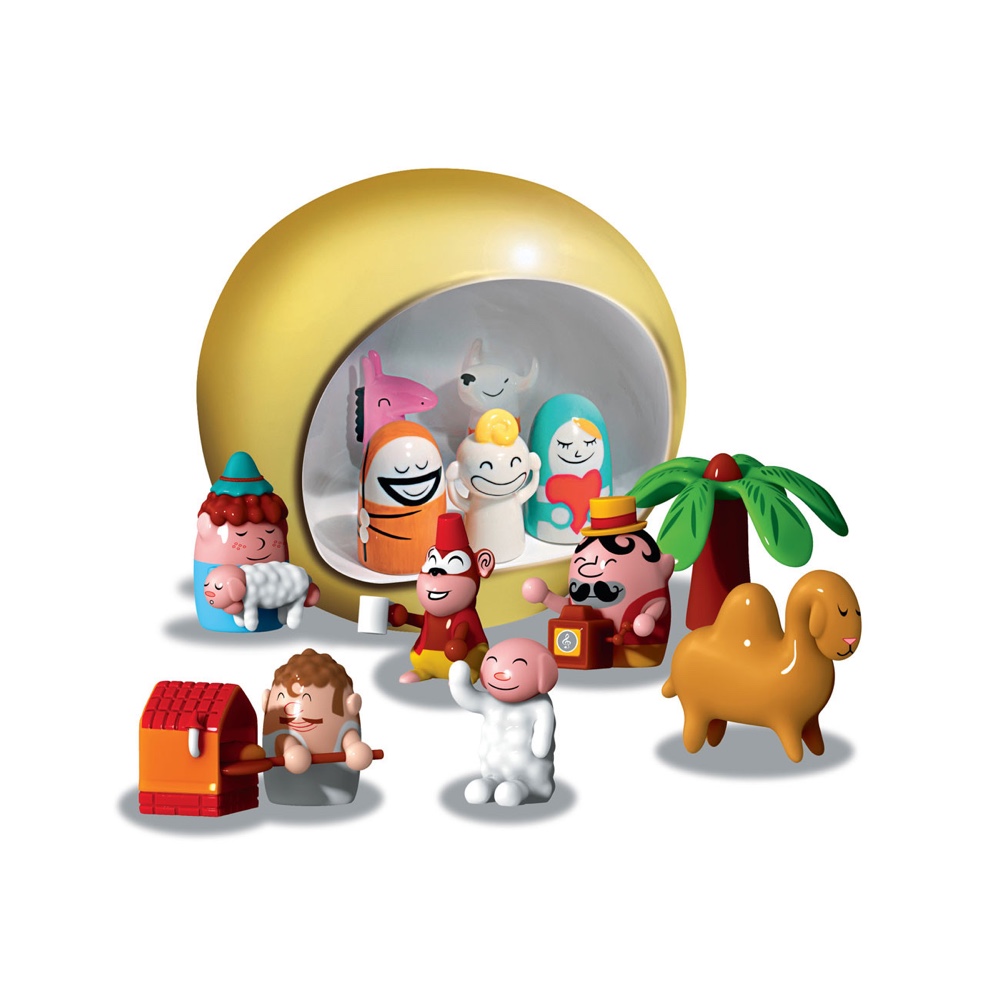 Image © Alessi Shop.
Alessi Le Palle Presepe
Also from Alessi, these hand-decorated glass baubles were designed by Marcello Jori and unite the nativity scene with Christmas tree decorations.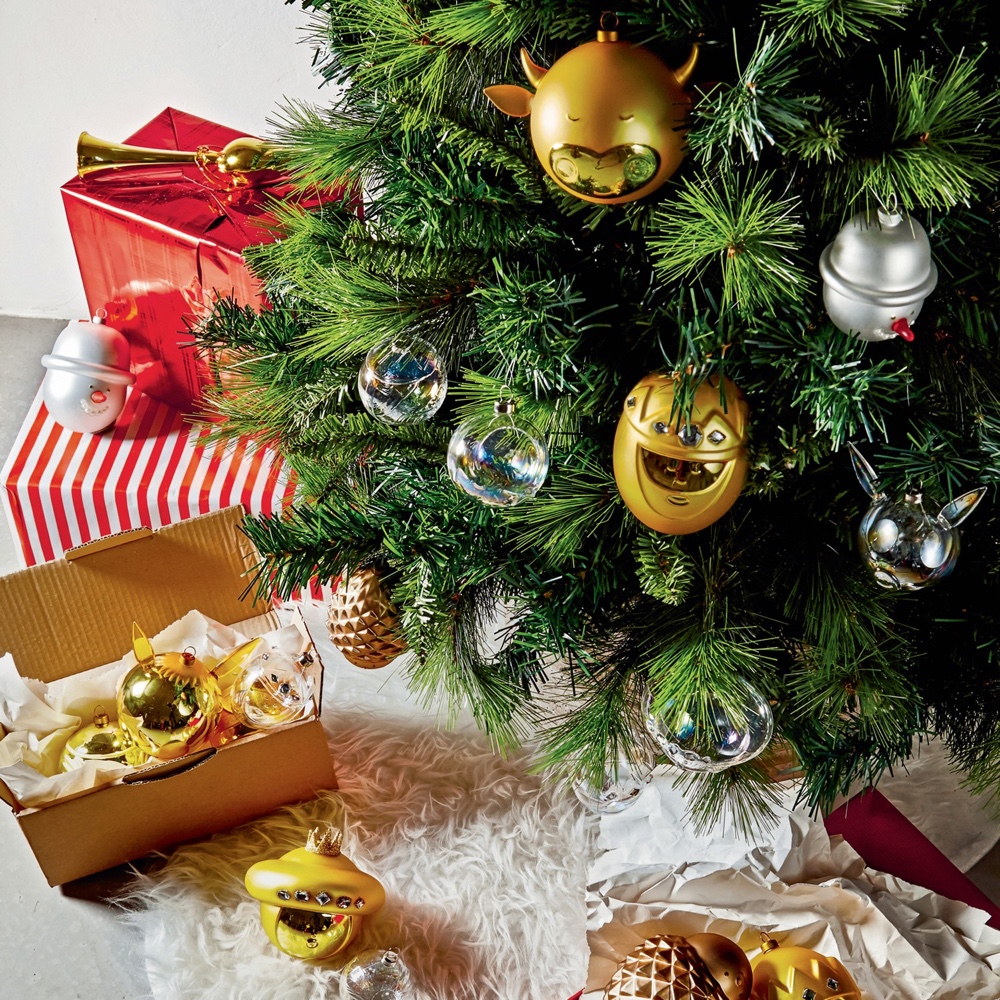 Image © 2015 YDesign Group, LLC.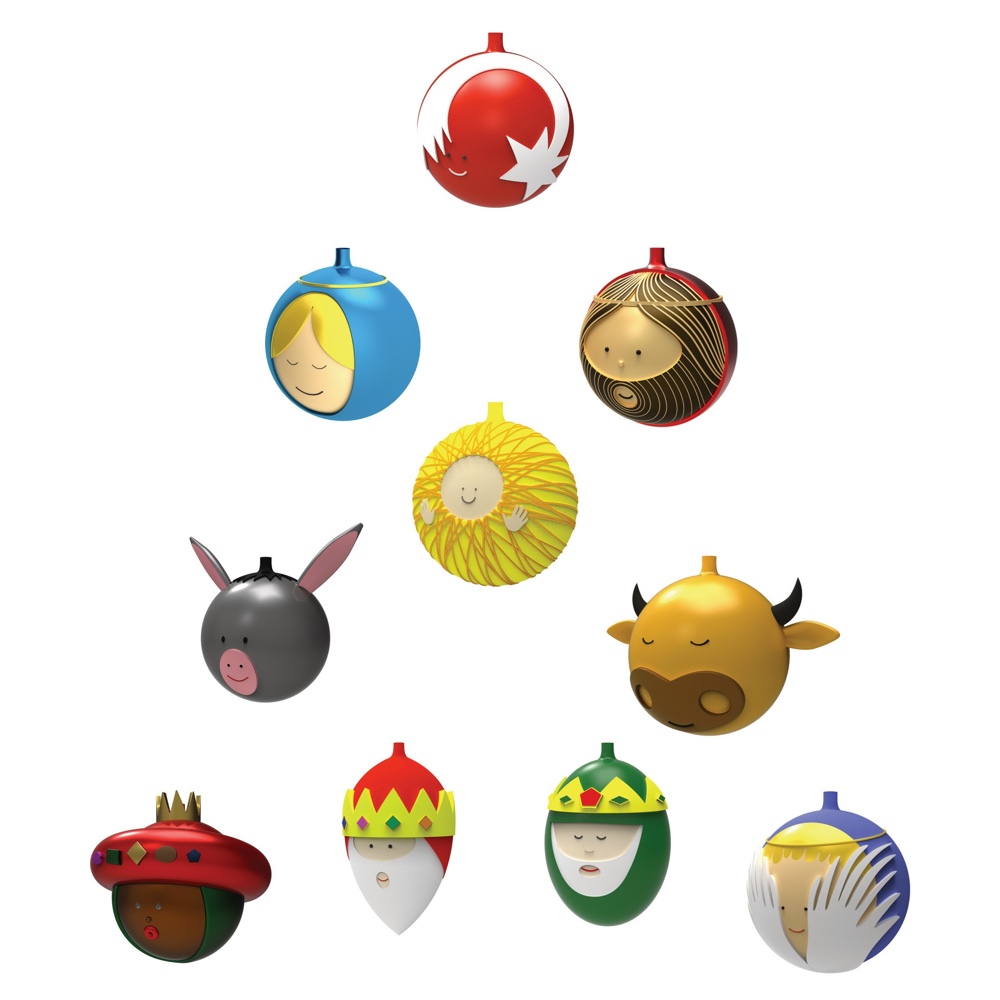 Images via Archiproducts.
Nativity Scene Matryoshka Dolls
These nativity scene Matryoshka dolls were designed by Ingela Arrhenius for the Swedish design house Omm Design. Curious and colourful, they offer an alternative to the traditional (read dull) Christmas story characters.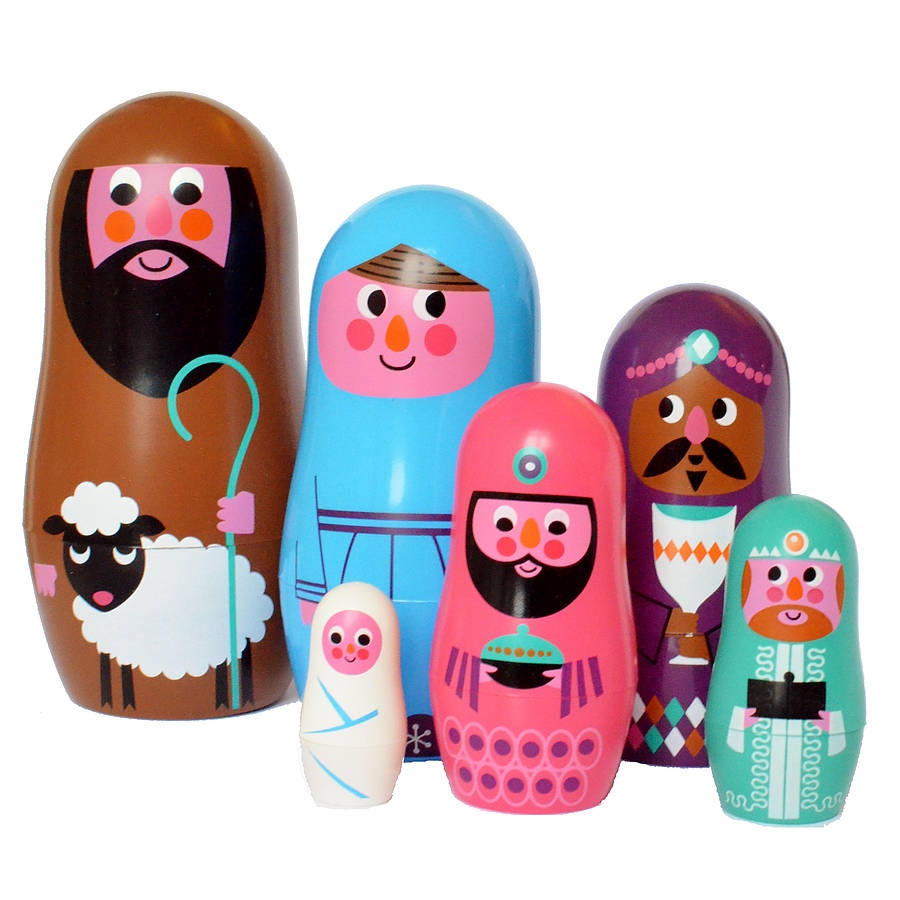 Image via Notonthehighstreet.
OYOY Angel
This large hanging angel was created by Danish company OYOY. Made using a mix of beech and oak woods, with leather wings and string, the angel presents a fun-loving and festive character.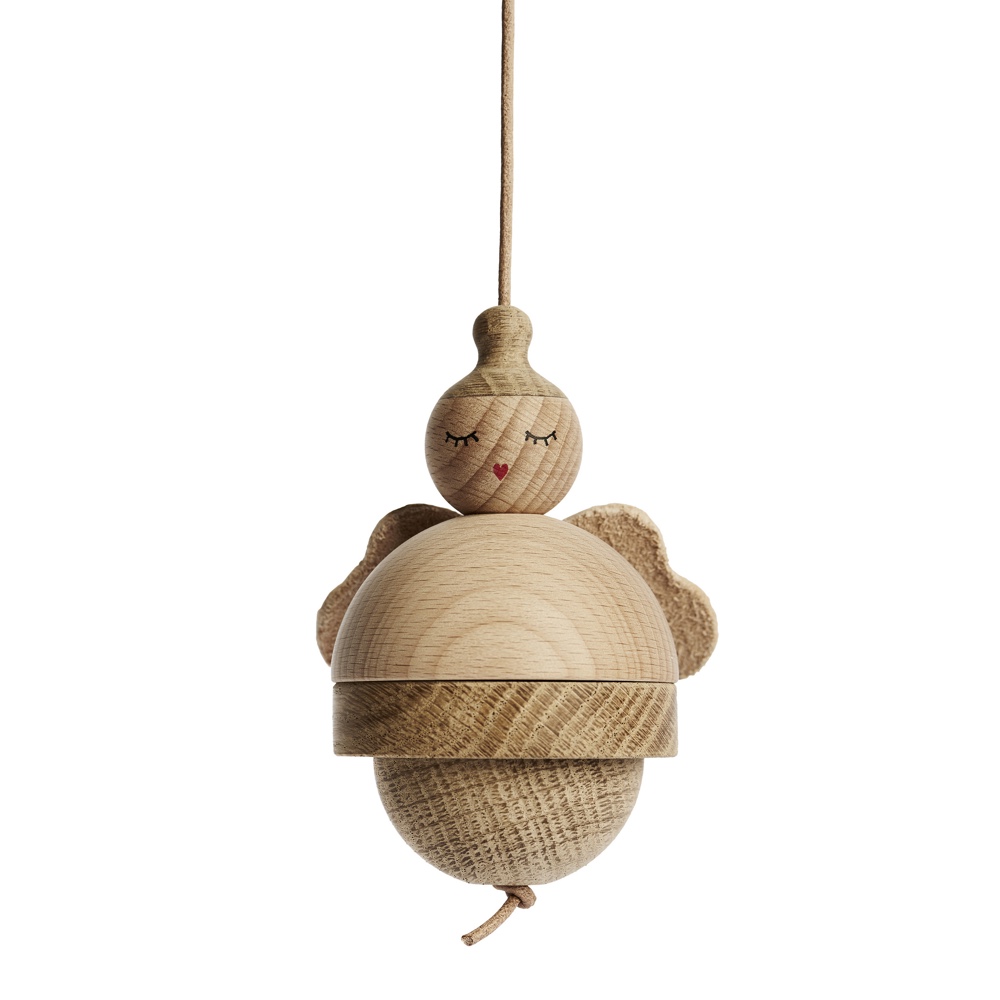 Image © OYOY Living Design.
Flensted Chrismas Trees Mobile
The green trees, red hearts and yellow stars on this mobile coalesce to form one Christmas tree shape. Designed by Ole Flensted of Flensted Mobiles, the Christmas tree mobile is handmade in Denmark (every Flensted mobile is assembled by a dedicated team of homeworkers who live on Funen, Denmark's third-largest island).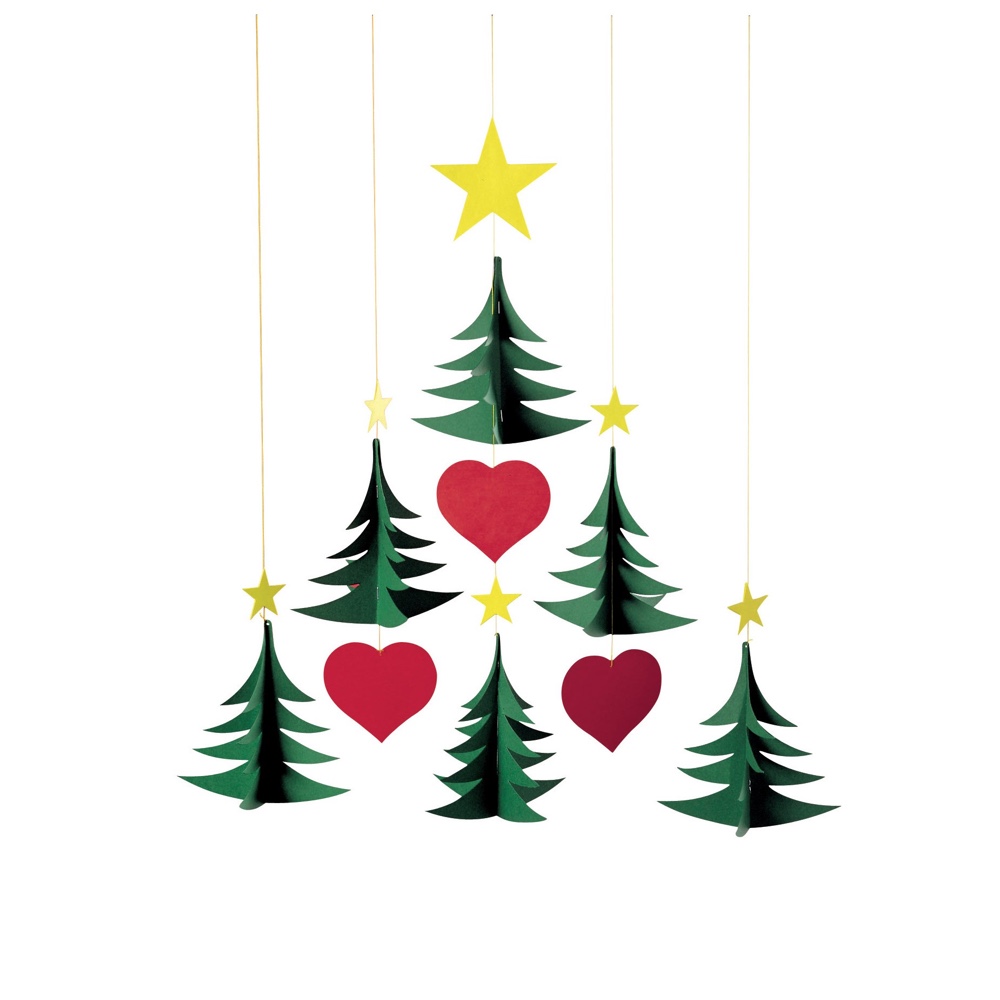 Image via Skandium.
Tomte
The stuff of Scandinavian folklore, the Tomte is a mythological fellow typically associated with the winter solstice and Christmastime. He was, in bygone times, believed to be the soul of a home. Tradition tells us that the Tomte is a kind-hearted spirit, yet if offended he is apt to cause much mischief. Putting out a bowl of warm porridge on Christmas Eve will ensure the Tomte remains friendly in the year to come.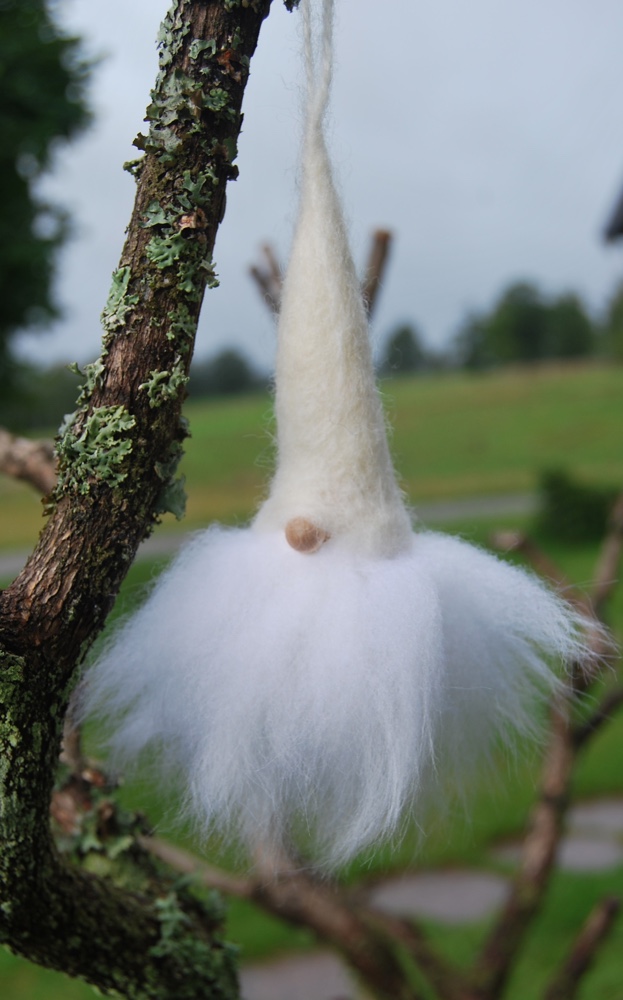 Grankvist Tomte.
The Tomte is designed by Åsa Götander and made at the Åsas Tomtebod workshop in Sweden. It uses wool from the free roaming sheep found on the Swedish island of Gotland.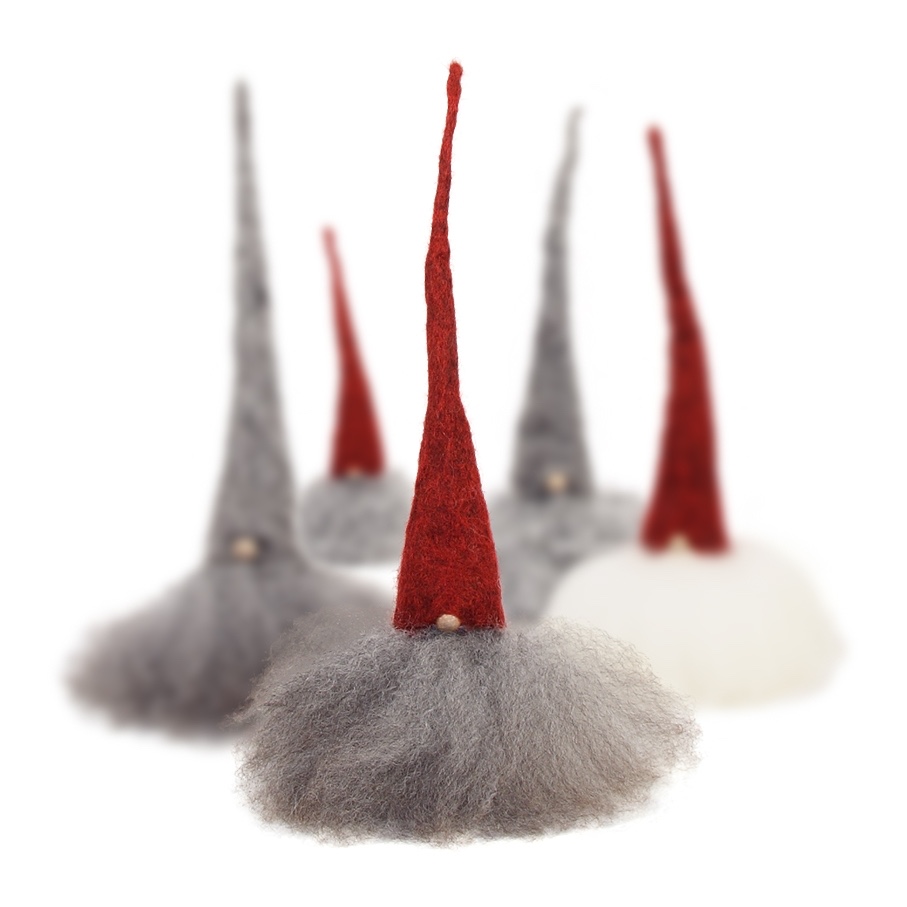 Small bearded Tomte.
Images © Åsas Tomtebod.
Tanssi
Appealing and alluring, the magical illustrations of Finnish artist and designer Klaus Haapaniemi are sure to delight and enthral. Enchanting, colourful and gracious in its mythical form, Haapaniemi's work embraces elements of fantasy, wonder and traditional crafts, referencing Finnish folklore coupled with an astute modern edge. The Tanssi collection was inspired by Klaus Haapaniemi's debut set design for the Finnish National Opera production of The Cunning Little Vixen.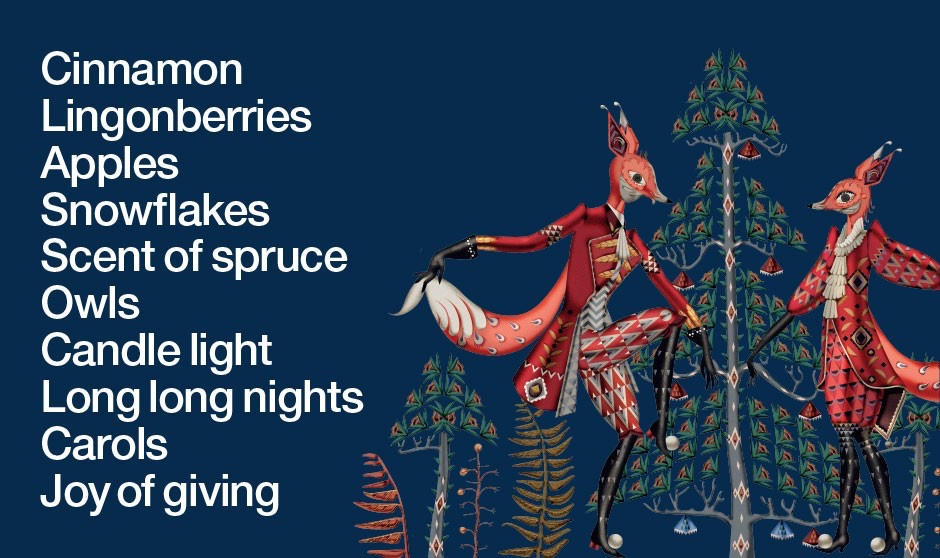 Image © Fiskars Finland.
In collaboration with Finnish brand Iittala, Klaus Haapaniemi designed 'Tanssi' (meaning 'dance'), a fabled tableware and interior textile collection. Set in a fairytale forest, we meet a series of colorful characters: a deer who charms with the sounds of his flute; a badger parading in his fur coat and silk shoes; a vixen and a fox pirouetting amid the trees. Beautifully executed in earthy tones of brown, grey and red, Tanssi's vivid illustrations are made lifelike on tableware created by Finnish designer Heikki Orvola.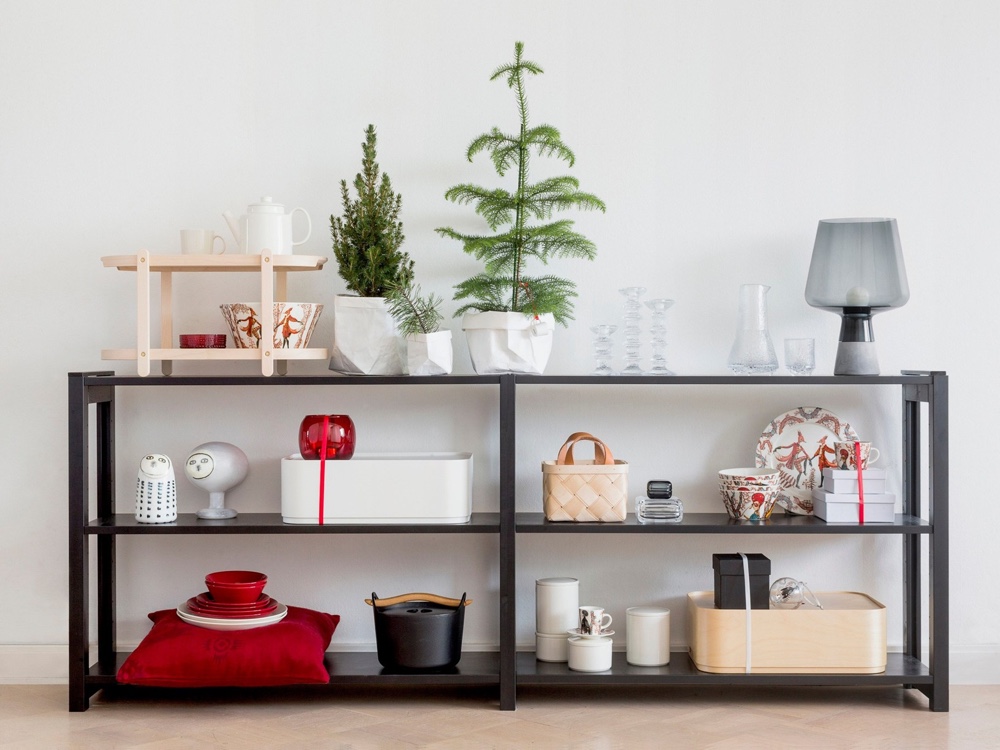 Tanssi collection alongside Klaus Haapaniemi's pick of his ten favourite Iittala gifts.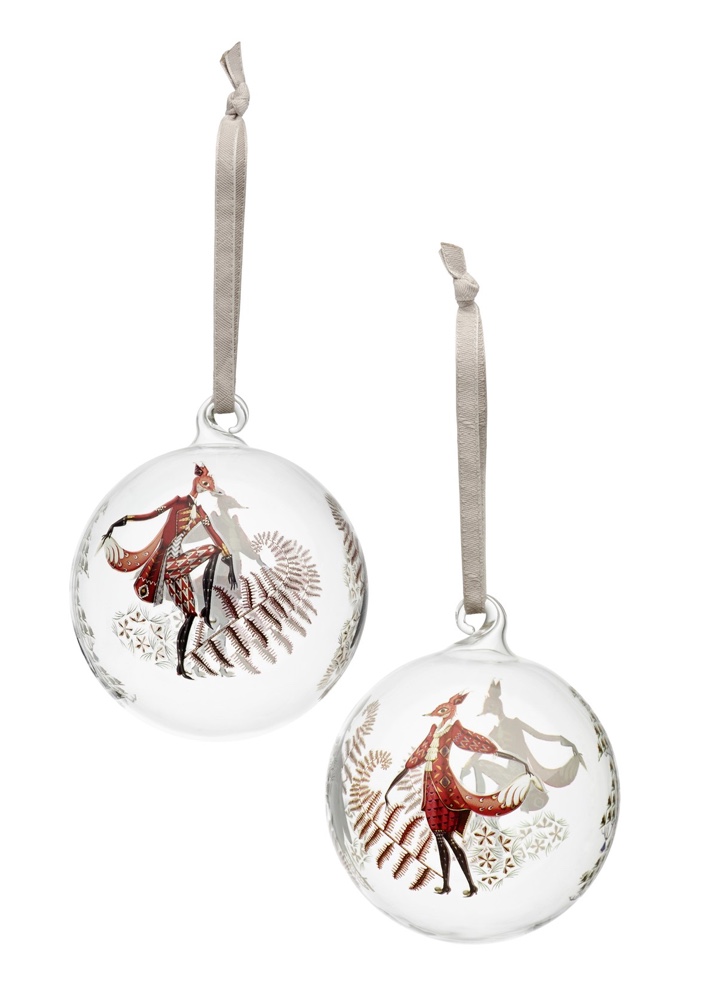 Tanssi glass balls.
Tanssi table runner.
Images via Archiproducts.