Are you traveling this holiday season? If you're looking for a magical city where you can spend the holidays, perhaps today's post will give you an idea or two… We're excited to share our latest roundup–20 exquisite Christmas trees that celebrate the magic of the season! Some would call them the most beautiful Christmas trees in the world! But we know that beauty is truly in the eye of the beholder. In our eyes, not only are these trees gorgeous, many of them showcase the best in innovative holiday design.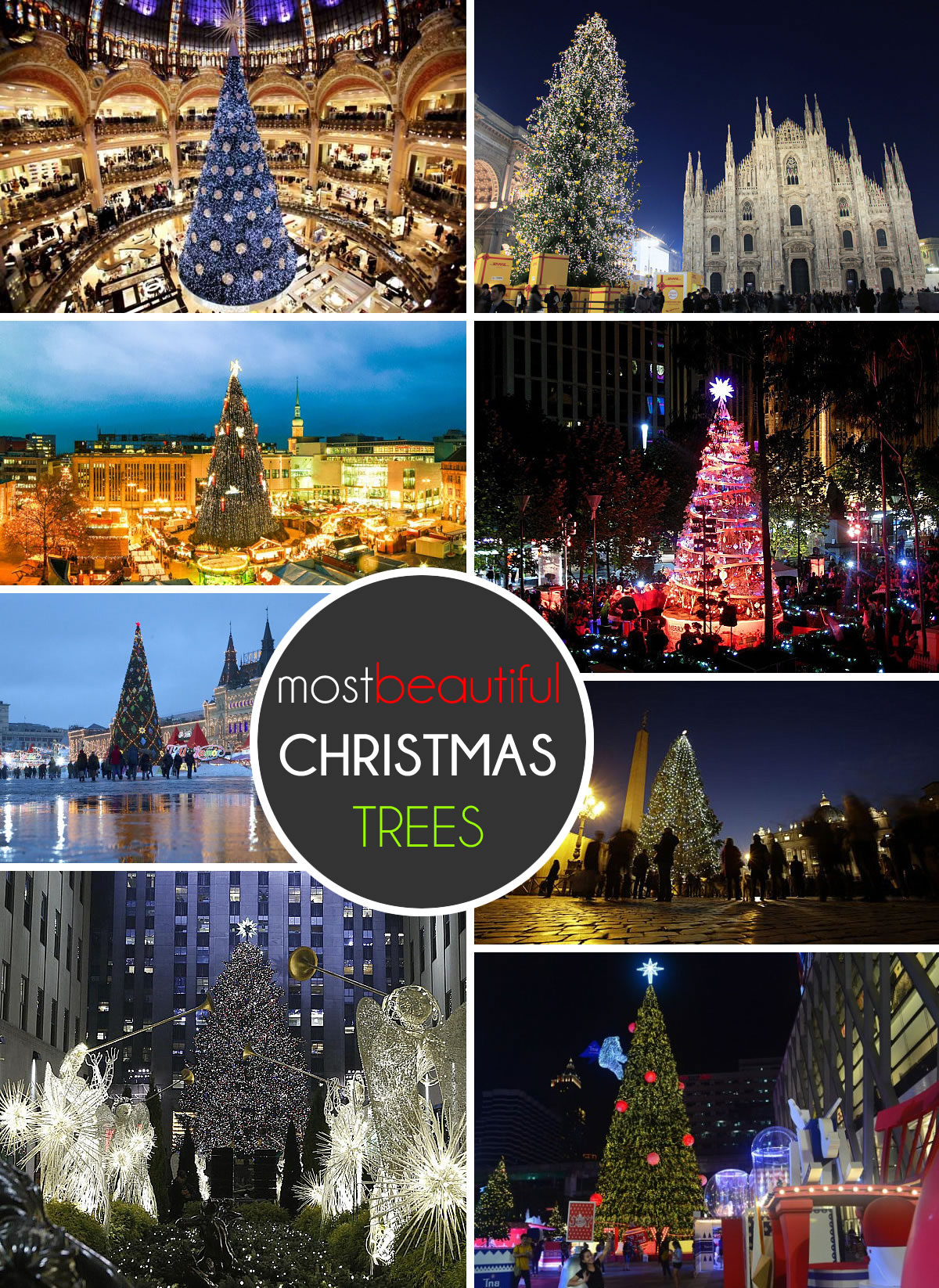 If you're not traveling this Christmas, let today's post be your ticket around the world! From a stunning Paris department store to a Bangkok mall, the locations of the featured trees below are well worth checking out. And while you're reveling in the twinkling surroundings, you won't be able to miss the giant trees! Happy Holidays from all of us at Decoist. We hope the images below light up your week and make your Christmas truly enchanting…
Evergreen Christmas Trees
We begin with live trees–towering evergreens that dazzle with their natural beauty. Like this 4-story Christmas tree at Galleries Lafayette in Paris, which is adorned with Swarovski crystals. No wonder it sparkles in its elegant French department store setting! [from Hello!]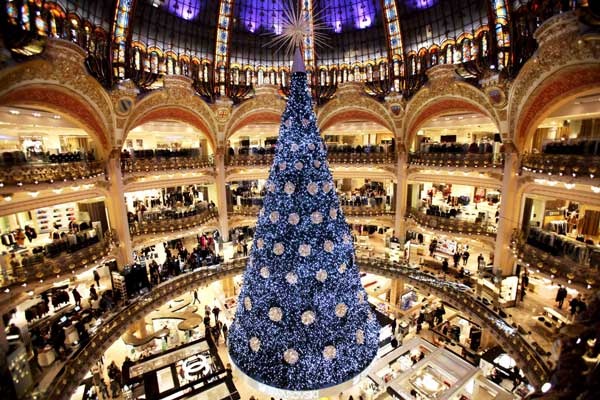 London's Trafalgar Square tree is memorable for many reasons. Our favorite feature: the vertically-oriented lights, which create a striped effect that emphasizes this tree's sheer height! [from London Life with Bradshaw's Hand Book]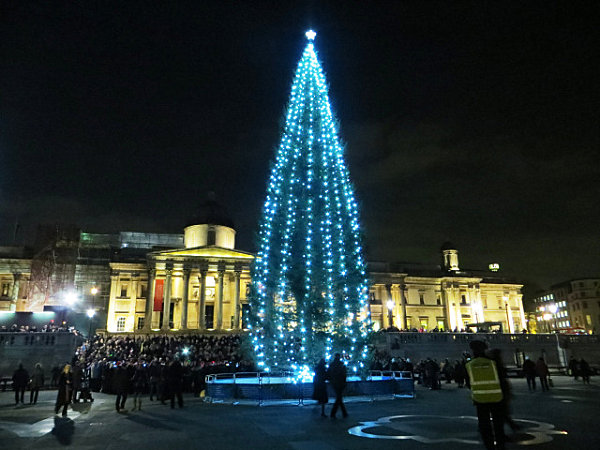 Edinburgh's glorious tree is a gift from Norway. A regal tree deserves a grand setting–this tree stands on The Mound, which connects New Town and Old Town. The lighting of the tree marks the beginning of Edinburgh's Christmas and New Year's celebrations… [from Edinburgh's Christmas]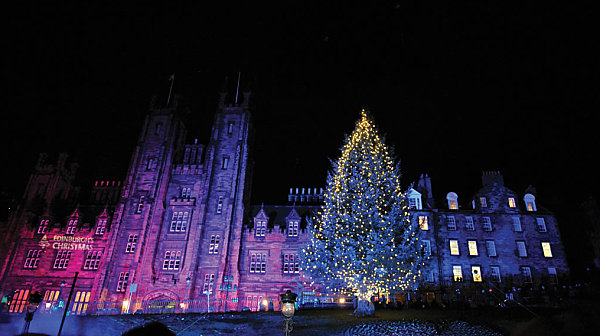 There's more than meets the eye with this next featured tree. In fact, it's created by combining 1,700 individual fir trees (yes, you heard us)! And at 45 meters tall, you can bet it requires lots of lights. 48,000 to be exact! No wonder this tree is the centerpiece of Germany's Dortmund Christmas Market! [from dortmund.de]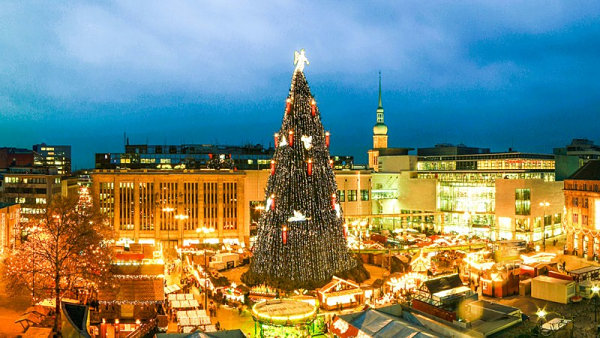 Is there anything more magical than Christmas in Milan? Standing tall next to the Milan Cathedral, this beautiful tree at the Piazza del Duomo has a lacy appearance that's as intricate as the architecture of the cathedral itself… [photo by Adriano Castelli, from European Real Estate Trends]
The object of admiration by crowds of tourists, the Vatican Christmas Tree in St. Peter's Square is 82 feet (25 meters) tall. Donated by a town in Bavaria, Germany, this fir tree will be on display through the end of the holiday season in January. At that time, its trunk will be used to make toys and other items–let's hear it for recycling! [image from the Associated Press via Fox News]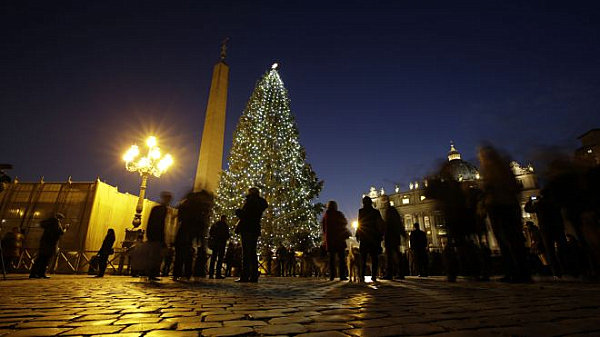 Lights are crisscrossed in a lattice pattern on this Red Square Christmas tree, resulting in a distinct appearance that is equal parts regal and "fairy tale." Perched next to the GUM State Department Store in Moscow, Russia, this towering evergreen also boasts diamond-shaped ornaments… [from VOA]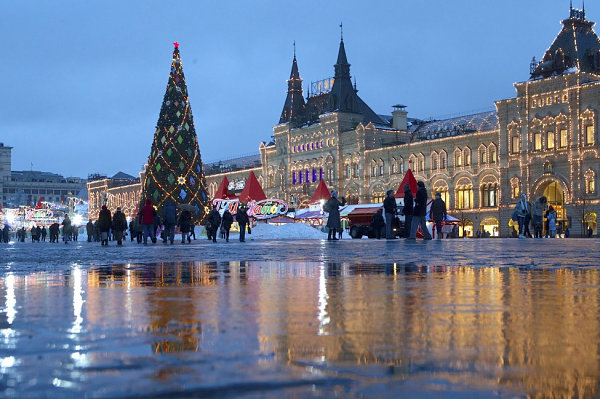 While Tokyo boasts an array of intriguing shapes in its skyline, one shimmering tree couldn't help but catch our eye. And isn't the star on that Tokyo tree simply fabulous?!… [from exoticandtravel.com]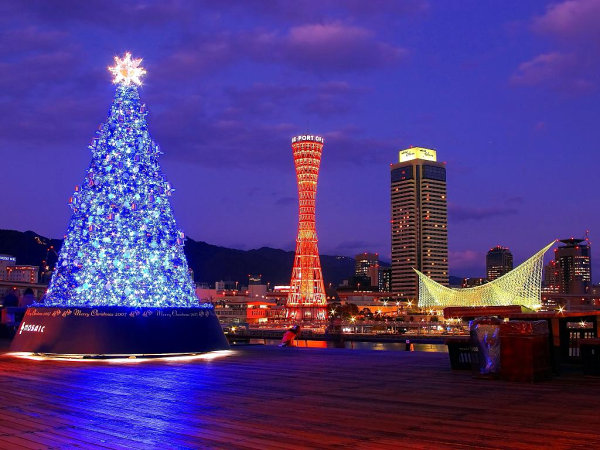 Bangkok's tallest Christmas tree can be found in the activity square of mega mall Central World. Strategically placed over-sized ball ornaments make the perfect holiday statement. Simple. Powerful. Eye-catching. This is one unique take on Christmas tree design! [from Live Less Ordinary in Southeast Asia]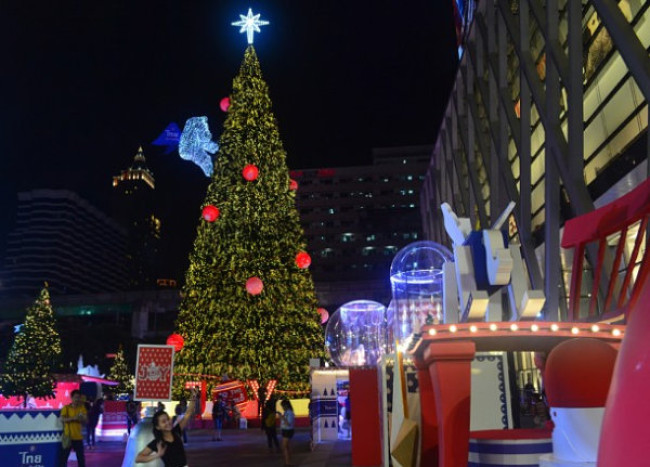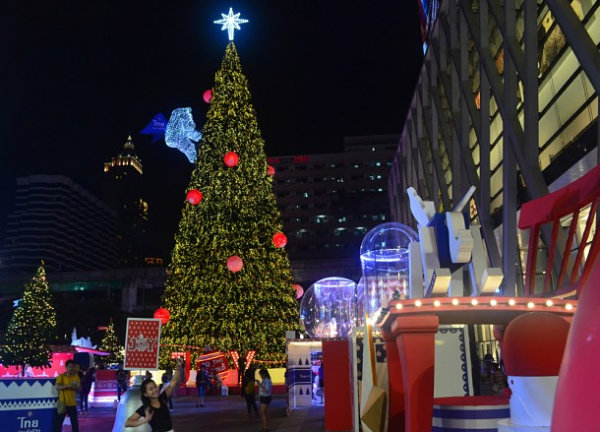 There's something breathtaking about the slender tree at the V&A Waterfront. This extremely popular Cape Town, South Africa destination is bustling and vibrant. But the shimmering tree makes it truly festive during the holidays. [from Cape Town. Live It. Love It. Group Member Ajay via Cape Town]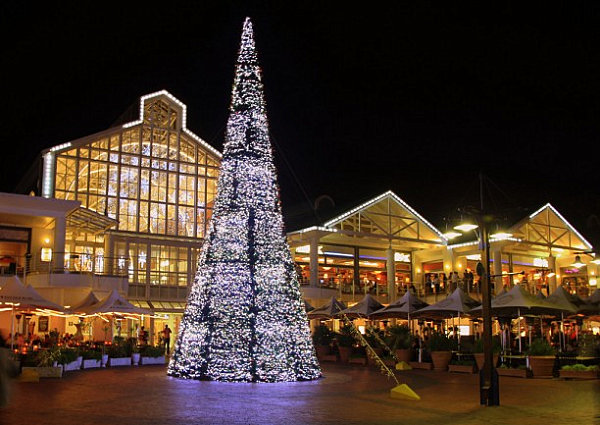 Melbourne, Australia's City Square becomes Christmas Square each holiday, and the image below show us just how… Besides the Rudolph maze and Santa section, there's this striking 9.2-meter living tree. Say hello to Melbourne's Christmas Square tree! [from Weekend Notes]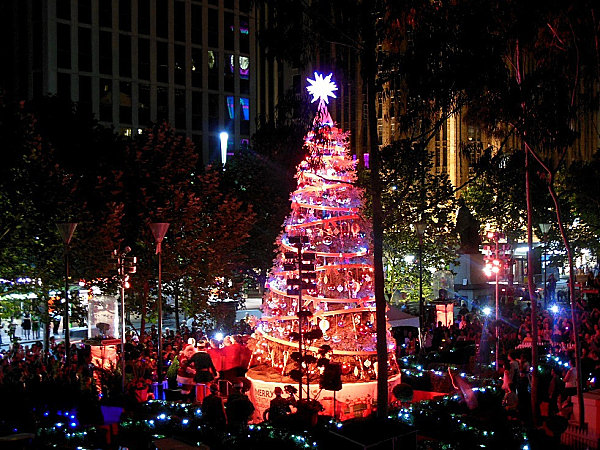 The Rockefeller Center Christmas Tree in New York City is a beloved tourist attraction, complete with glistening lights and a glowing star on top. Did you know that to qualify for the role of Rockefeller Center Tree, an evergreen must be at least 65 feet tall and 35 feet wide?! History fun fact: This tree made its appearance in 1931, and the first official lighting ceremony followed in 1933. [from tv.yahoo.com]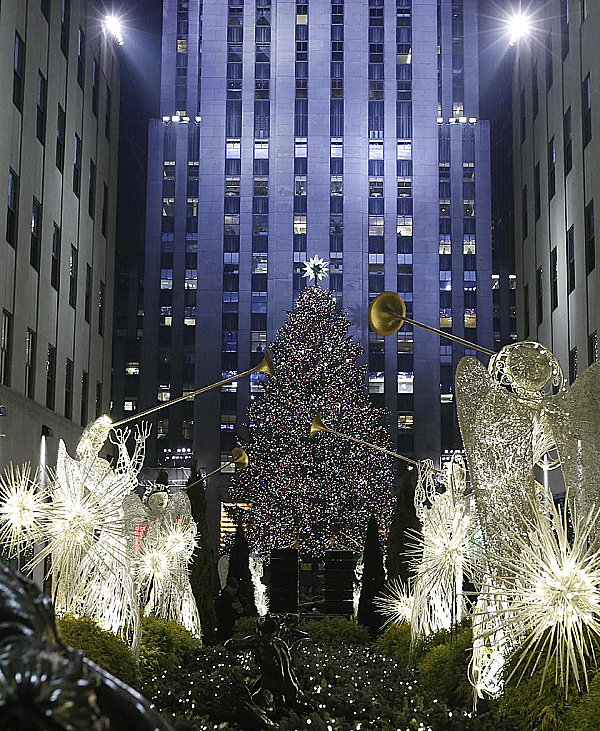 Another famous American tree is the National Tree in Washington, DC. This year the tree boasts a new color scheme! In addition, this 28-foot Colorado blue spruce features 110 sets of net lights, 225 strings of lights, and 265 spherical ornaments, all powered by LEDs. Below we see President Obama and family in front of the towering evergreen… [from Michelle|Pictures]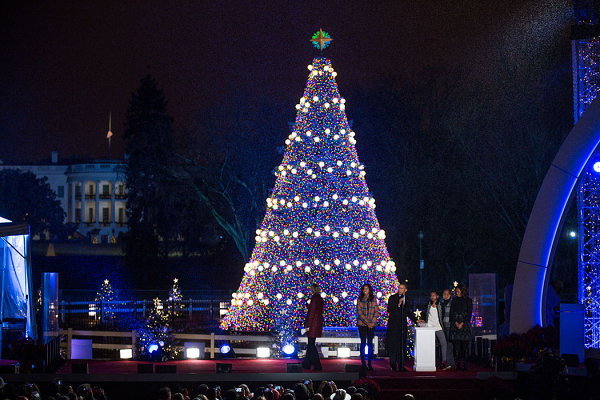 You might not think Idaho is a likely choice for "the tallest living Christmas tree in America." But this towering tree at Coeur d'Alene Resort is the home of a 162-foot grand fir. Fun fact: the star itself is 10 feet tall, larger than most residential Christmas trees! For a little perspective, keep in mind that this tree is twice as tall as the tree in Rockefeller Center. Maybe that's why it takes 30,000 lights to decorate it! [from Klyker]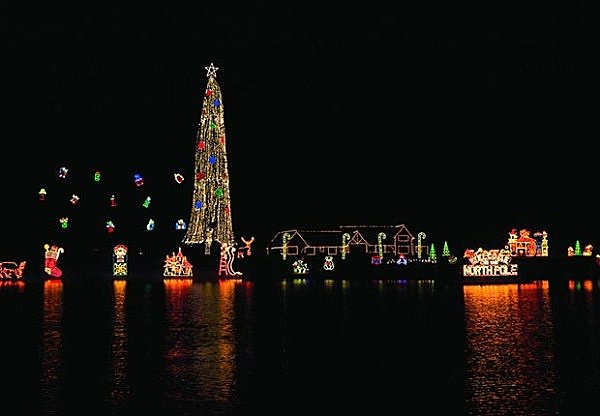 Non-Traditional Christmas Trees
We now turn our attention from green trees to non-traditional trees that grab out attention with their unique design. First stop: Lisbon, Portugal. In fact, Lisbon's Christmas tree is on display in Comercio Square each year. Named "Europe's tallest Christmas Tree," this modern creation changes height each year. Its pinnacle came in 2007, when the tree was 76 meters (249 feet) tall! [from Friendly Rentals]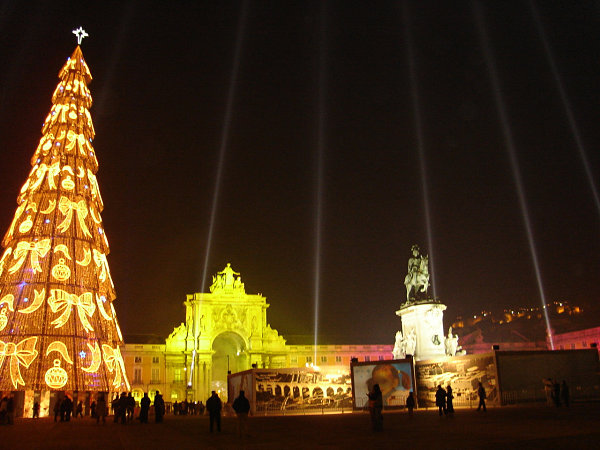 Ready for a glimpse of the largest floating Christmas tree? This famous Rio de Janeiro tree is 85 meters tall, and it slowly floats around the Lagoa Rodrigo de Freitas in Rio's Zona Sul. A spectacular fireworks display accompanies the yearly lighting of the tree, which features more than three million microlights, one hundred meters of hoses, one hundred LED reflectors and two thousand strobe effects. And what about this year's theme? It's a celebration of life, featuring patterns that evoke the majesty of creatures such as dolphins, starfish, butterflies, birds, monkeys and macaws! [from International Business Times]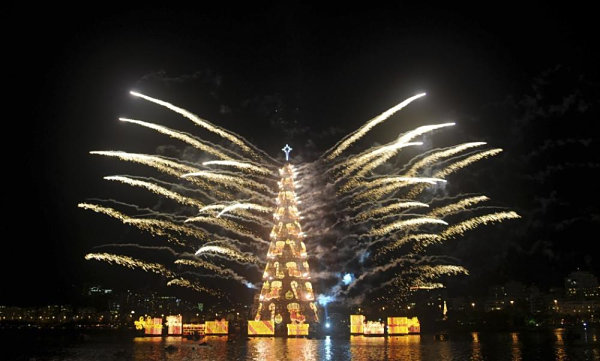 Glass and metal are the materials of choice for Madrid's Christmas tree, which casts a golden glow against the night sky. Anyone else noticing a warm-toned theme in this years non-traditional trees?…  [from AllMadrid via Huffington Post]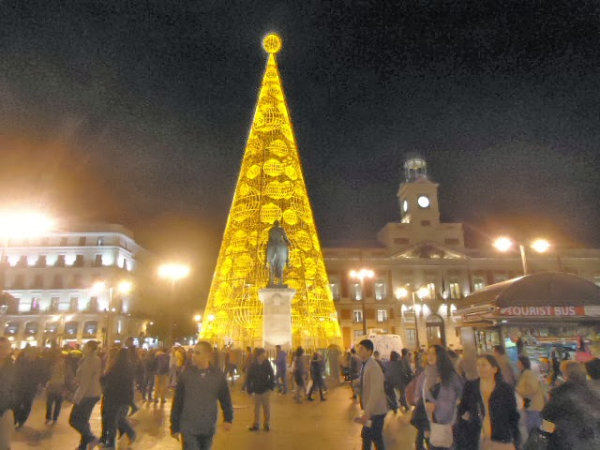 Malls and hotels are popular locations for attention-grabbing trees in Kuala Lumpur, Malaysia. This unforgettable Kuala Lumpur tree can be found in a downtown shopping mall. The spiral design and draping "vines" create a true work of art! [from Los Angeles Times]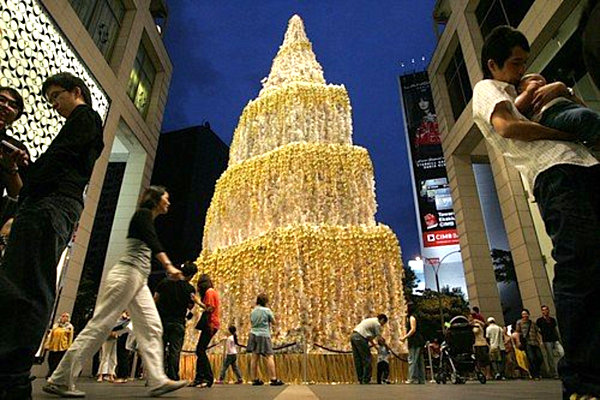 Anyone collect Murano glass? If you love bold colors and contemporary design, you just might find this Murano Glass Christmas Tree in Venice to be absolutely captivating. Lights combine with glass tube-like structures to create a bold form with oodles of personality… [from Walks of Italy]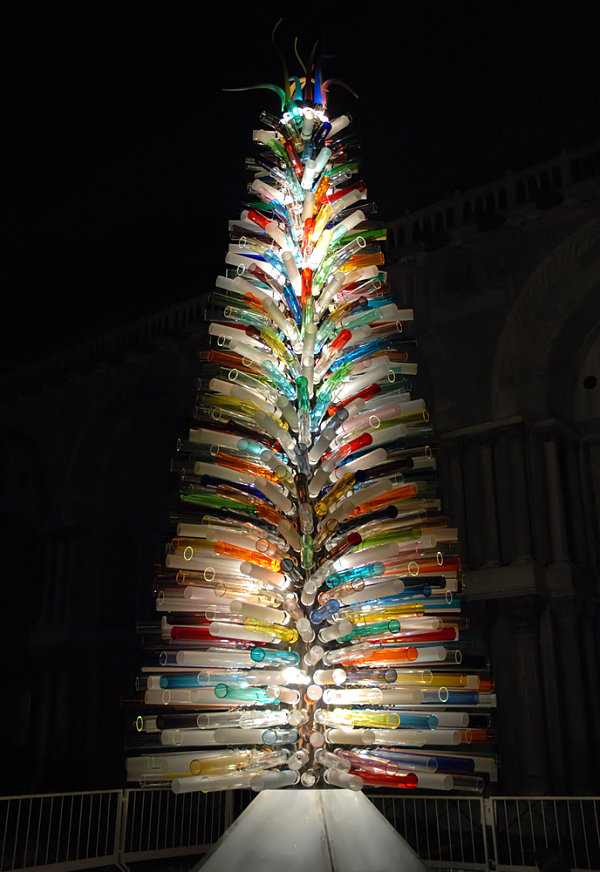 We end today's Christmas tree roundup by traveling outside of Gubbio, Italy, where the Mount Ingino Christmas Tree makes its mark on the slopes of Mount Ingino (of course). In fact, this "tree" is made from many small living trees illuminated with lights. The result: the form of one large tree that's 2,130 ft high and 350 meters wide. Another fun fact: This holiday display has been in the Guinness Book of World Records since 1991. Known as the "World's Biggest Christmas Tree," it stretches over 10,760 square feet! [from UnCommon Misadventures]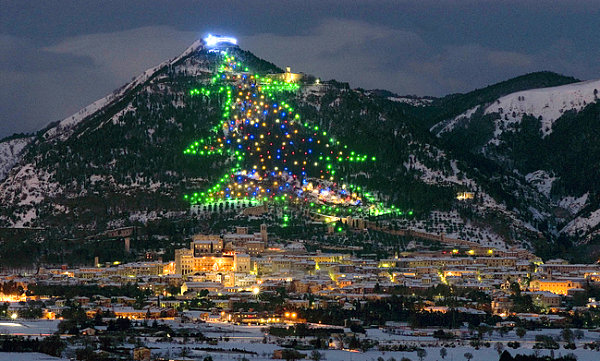 Have you seen any of these stunning Christmas trees in person? Tell us about your holiday adventures by leaving a comment below…
Liked the story? Share it with friends.