If you're a design lover who enjoys decorating for the new season, browsing the latest in product photography and savoring food styling concepts, today's post is for you! With fall comes a whole new range of color combinations, recipes and design ideas. Using the latest and greatest vignettes and photos from top bloggers, retailers and designers as visual inspiration, today we share a fall checklist that celebrates the best of autumn. Enjoy!
Decorate for Fall
This year has been all about a unique approach to fall decor. If you checked out our recent posts on fall style with a twist and the beauty of rust decor, you've seen how the design realm has embraced fall 2015. Make fall decorating one of your checklist items this season, and don't hesitate to be tempted by the dark, rich designs and geo forms that abound! Below we see a range of finds (including Halo Candle Holders) from CB2: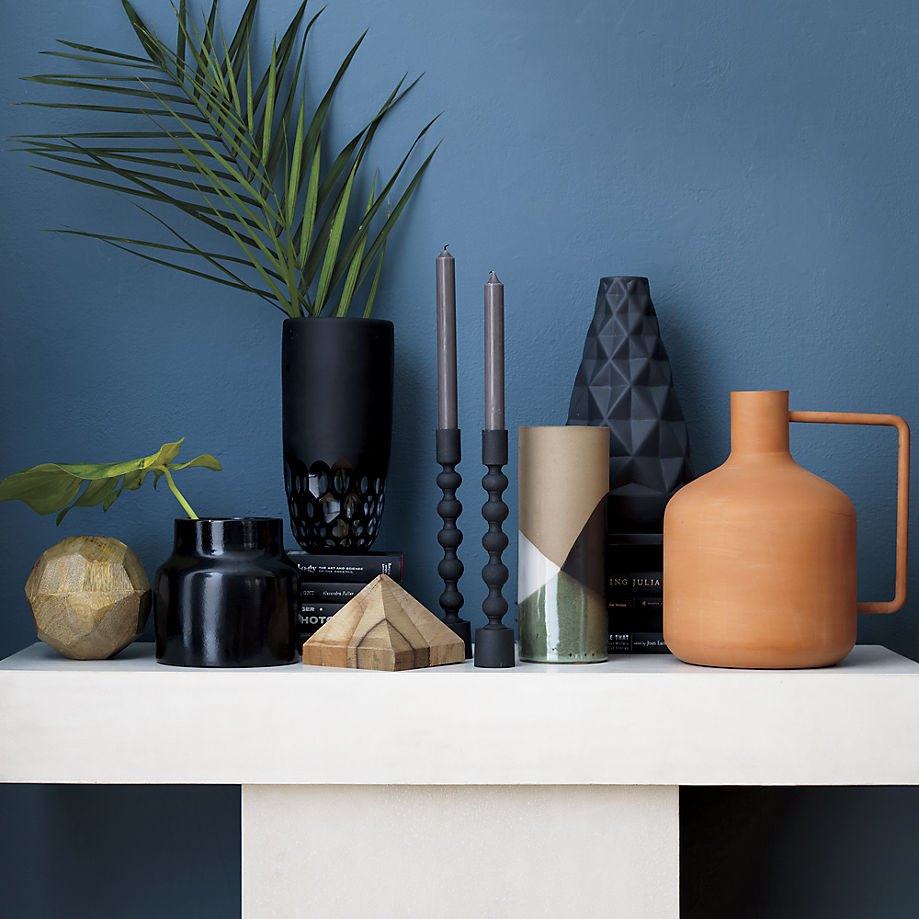 The beauty of black vases and vessels is their ability to seamlessly transition from early fall to the Halloween festivities! These Carla Peters Chulucanas Vases from West Elm are striking with their blackened finish, created "by smoking kiln-fired terracotta with smoldering mango leaves":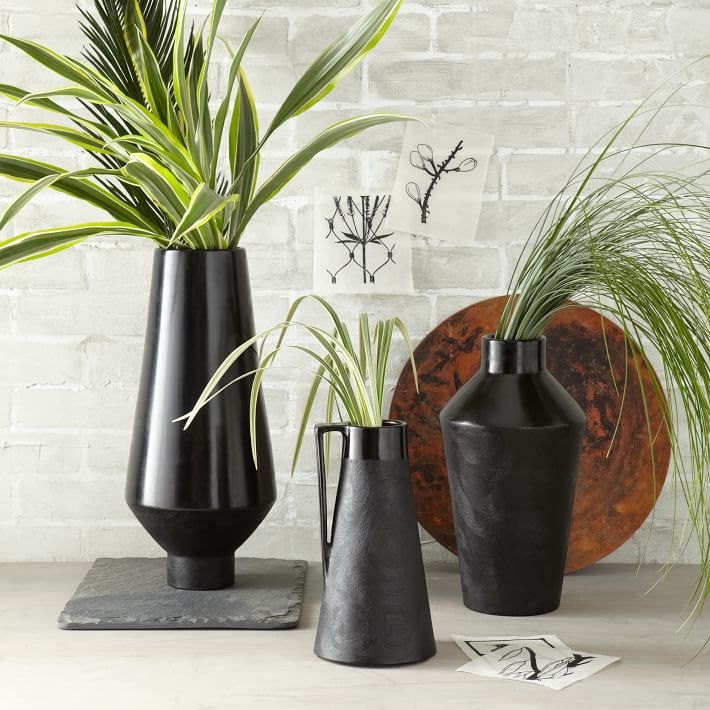 Fall decor doesn't have to be fall-specific. As mentioned, geo designs that call attention to materials such as marble and metal are a big hit this season. These Candle Blocks from Apparatus Studio are triangular forms crafted from waxed brass over steel: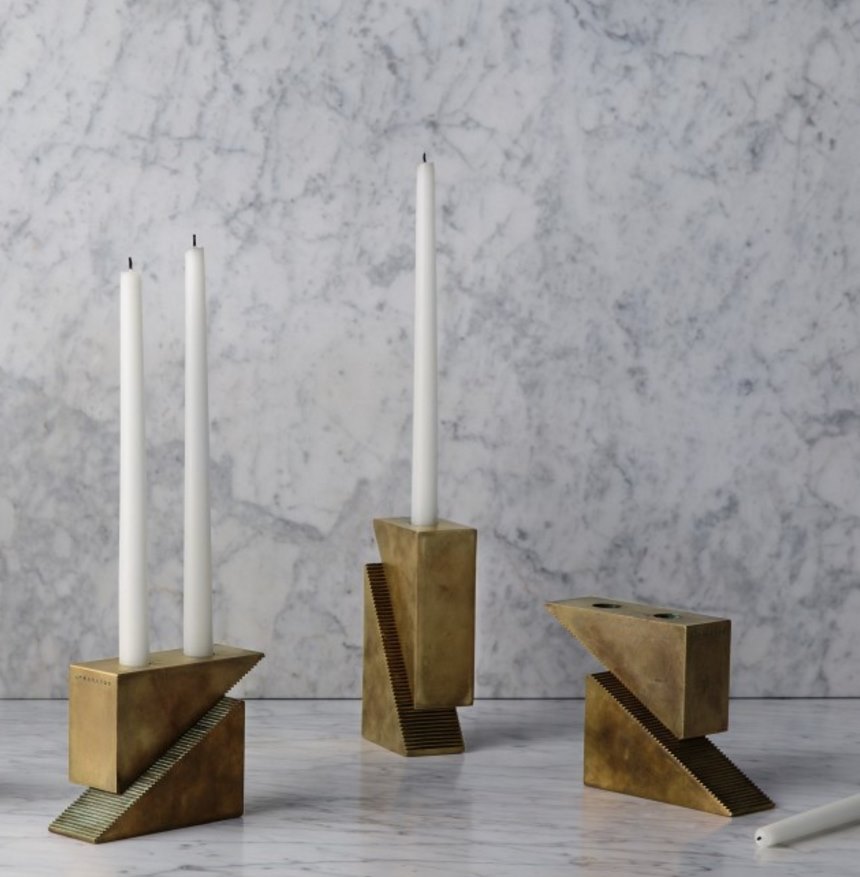 Go Thrifting in the Crisp Weather
If you enjoy a good hunt for retro, vintage and antique treasures, this is your season! Garage sales, estate sales and antique festivals abound, and this is a beautiful time of the year to be outdoors rummaging through collectibles. A Beautiful Mess blogger Elsie Larson has decided to amass a collection of rainbow glassware to add the perfect pop of color to her breakfast nook. She'll be collecting more pieces this fall. Do you enjoy thrifting?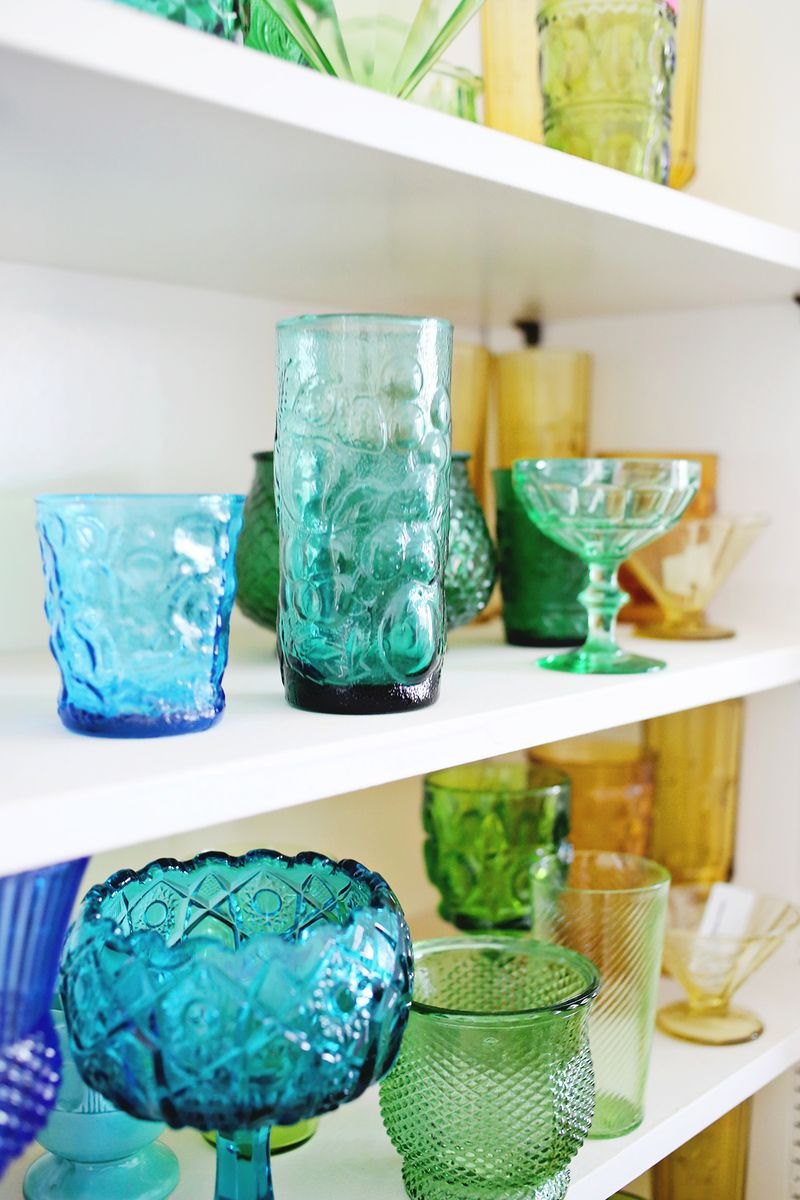 Remember when we profiled Texas Antique Weekend last fall? This collection of festivals and shows that takes place each fall and spring attracts designers and design lovers from all over the United States and beyond, and it runs through Sunday, October 4th.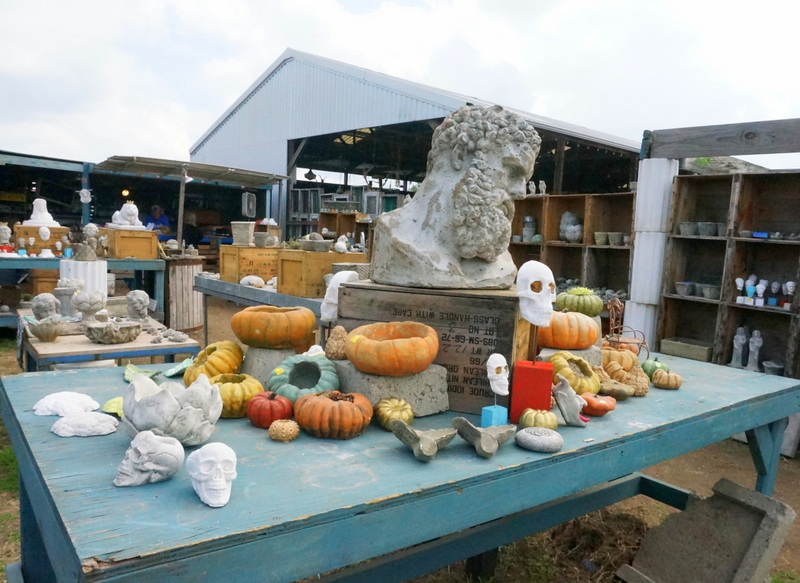 Bake and Entertain
The crisp fall weather always seems to stimulate the appetite, doesn't it?! And if you enjoy styling a beautiful fall table, now is the time to get your bake on and invite your friends and family over to enjoy the foodie goodness! Once again, we're inspired by the understated yet striking look of this season's geo decor, and the Shift Porcelain line from Apparatus Studio has definitely caught our attention: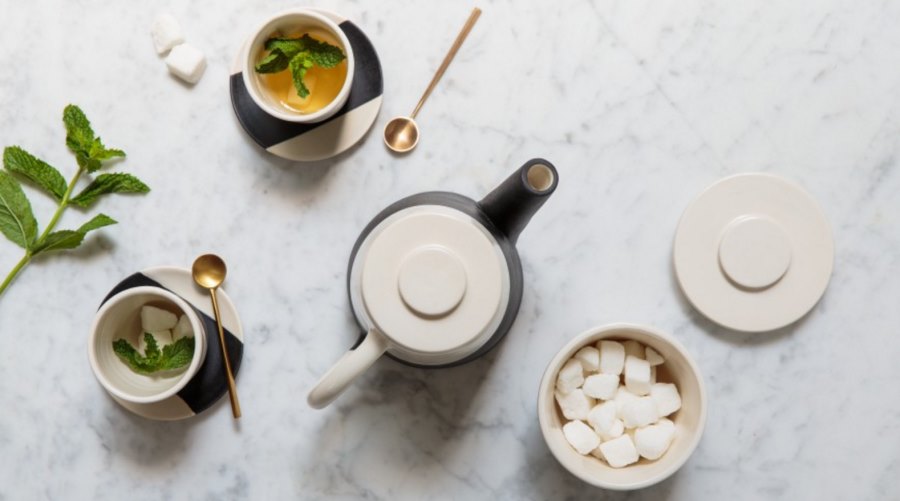 Bake in style by purchasing a new bowl for mixing and pouring. Below we see the Dipped Orange Bowl with Spout from Crate & Barrel, fall-perfect with its two-toned high-fired earthenware design. Keep it on display all season long!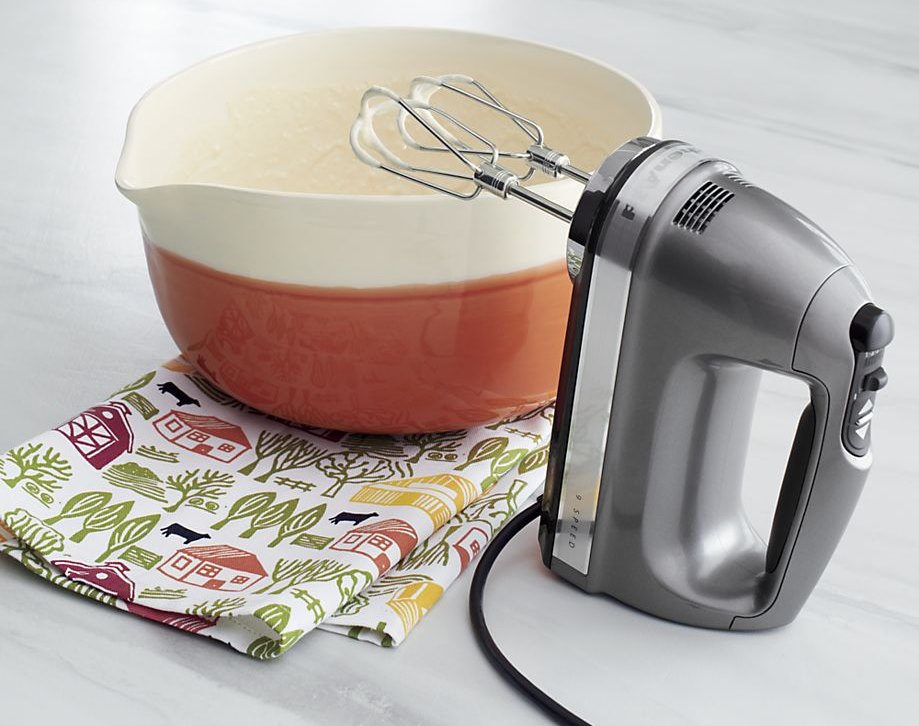 Now for some foodie inspiration…these Maple Molasses donuts by Julia Gartland for Camille Styles would be the perfect fall brunch treat!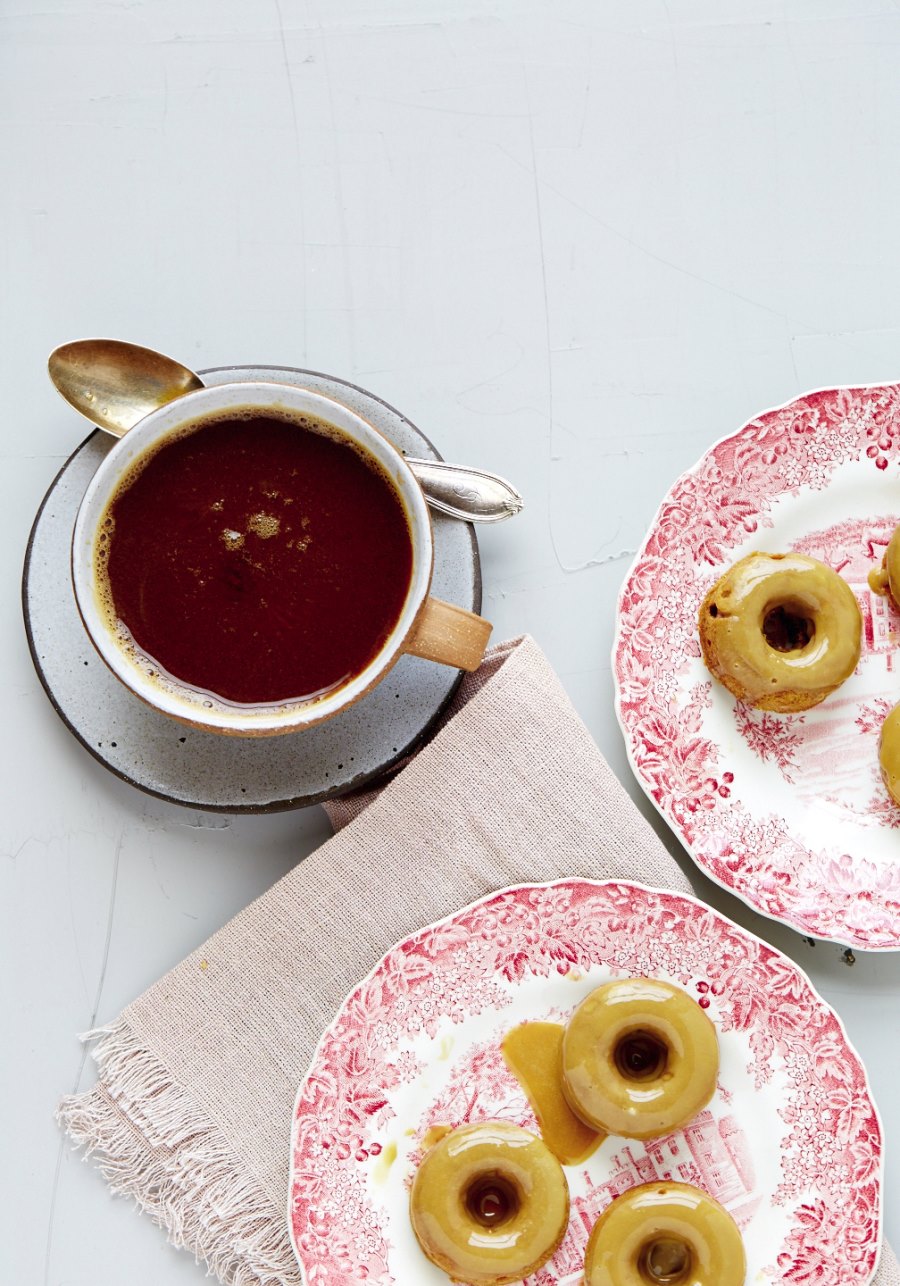 One food styling trend we're loving is the use of rich hues and earthy materials. These scrumptious photos showcasing Pumpkin Apple Muffins with Fresh Cinnamon Cream Butter from Say Yes are gorgeous, not only because they introduce an amazing recipe, but because they celebrate the art of fall nourishment!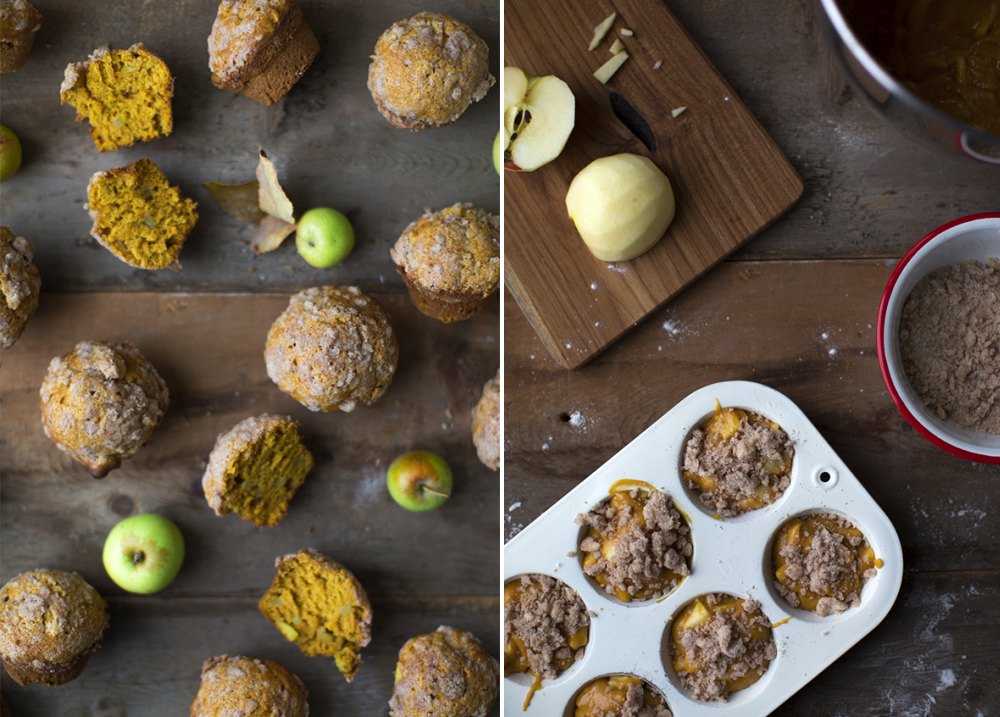 A colorful plate can do wonders for the fall table. And if you're looking to top the plate with a dessert option that's great for the summer-to-fall transition, these Crepes with Brown Sugar-Grilled Peaches and Maple Glaze from Proper should do the trick: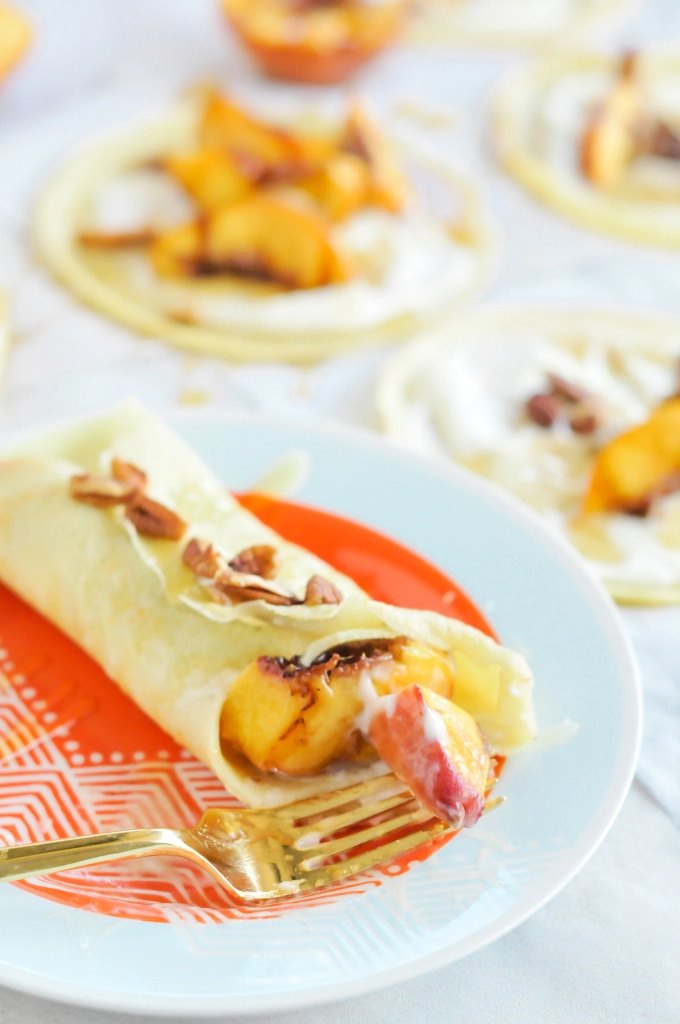 When suppertime rolls around, keep it simple yet delicious with this Roasted Cauliflower Pasta from Design Love Fest. It's an easy dinner recipe featuring a homemade creamy sauce. Plus, for the second time in this post, we see the beauty of plates with antique flair: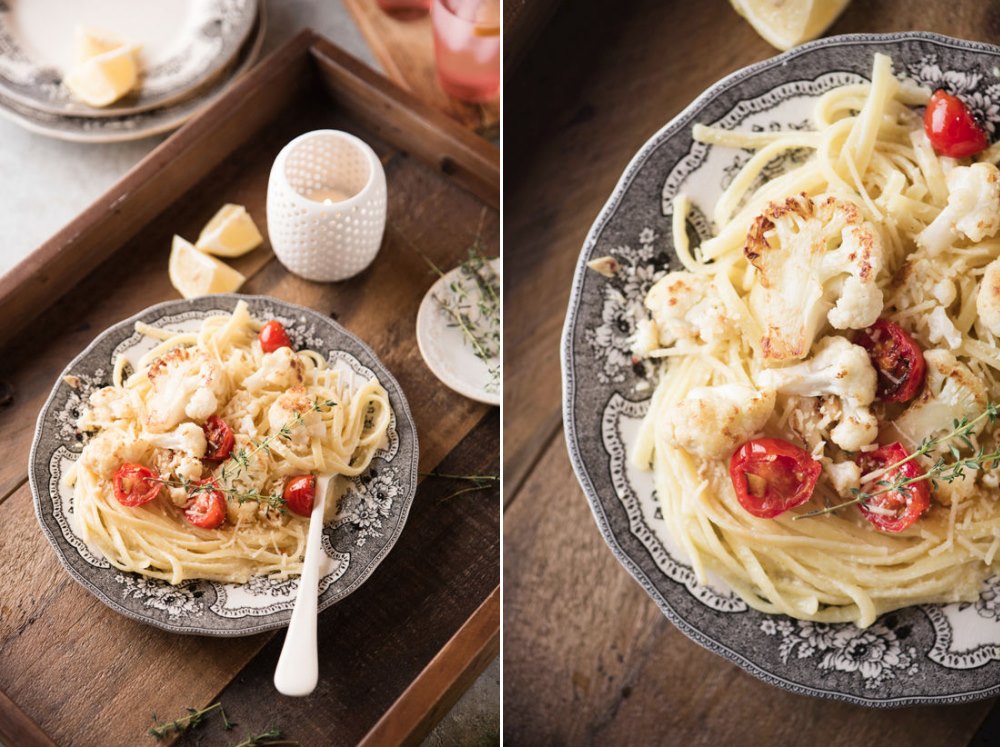 Decorate for Halloween
Raise your hand if you enjoy decorating for Halloween! We do too. And sometimes it's nice to go modern and unexpected with the Halloween decor. This Metallic Barware from CB2 is styled in the perfect seasonal vignette, complete with a lime green skull candle: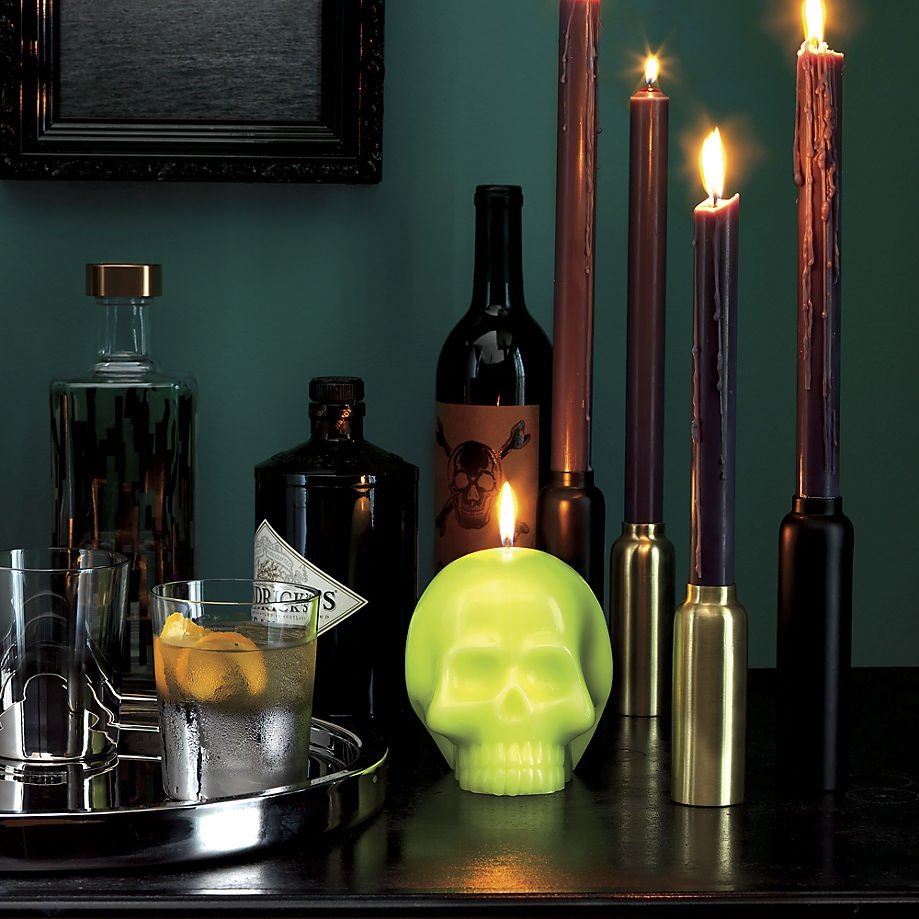 Keep a bowl of candy out all October long so visitors (and family members) can enjoy a tasty nibble when a craving strikes. This Small Textured Skull Bowl from West Elm is festive yet subtle: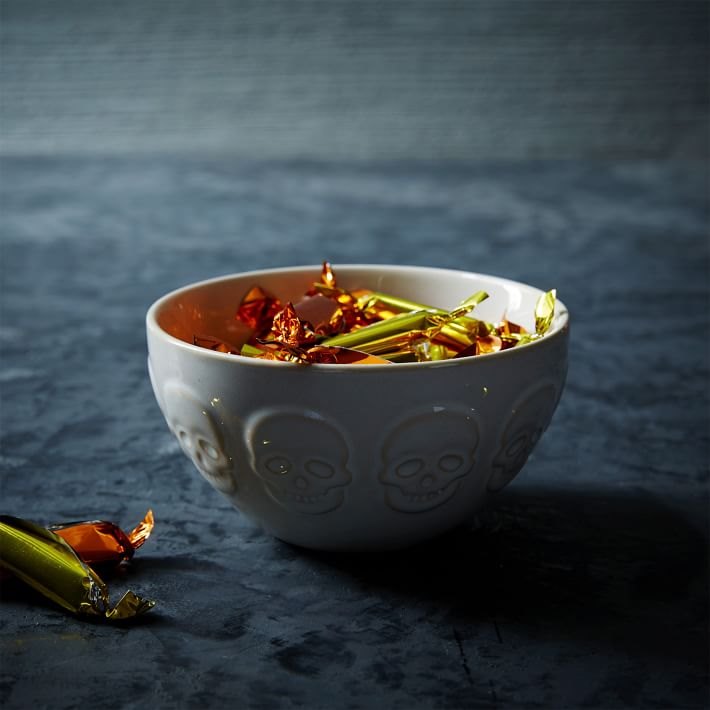 For a spooky vibe that reeks of high-end design, check out Censer from Apparatus Studio, which boasts a chalice-like form that can be used to burn incense or display a candle: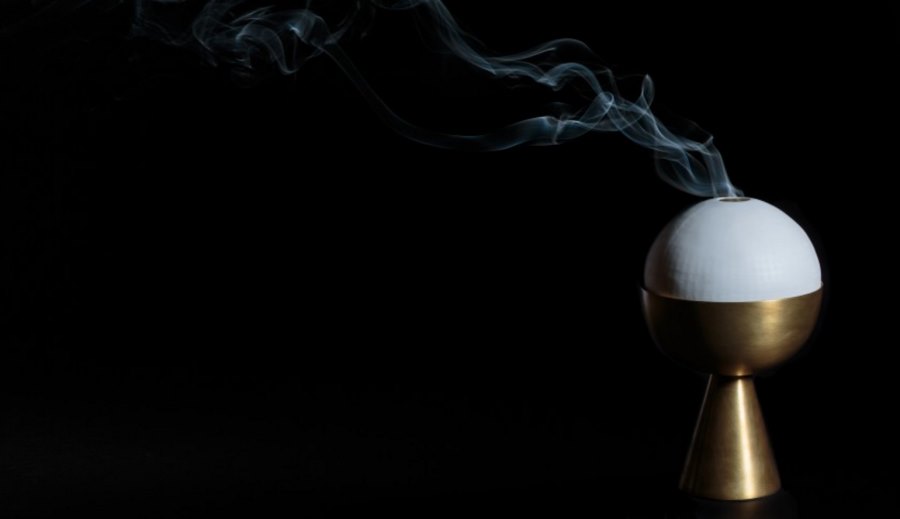 Host a Halloween Movie Night
As Halloween approaches, combine your love of design with your love of food and entertainment by hosting a Halloween movie night. Try a modern look with white pumpkins, stone accents and geo napkins. Below we see a Halloween Movie Party vignette featured at Mirror80: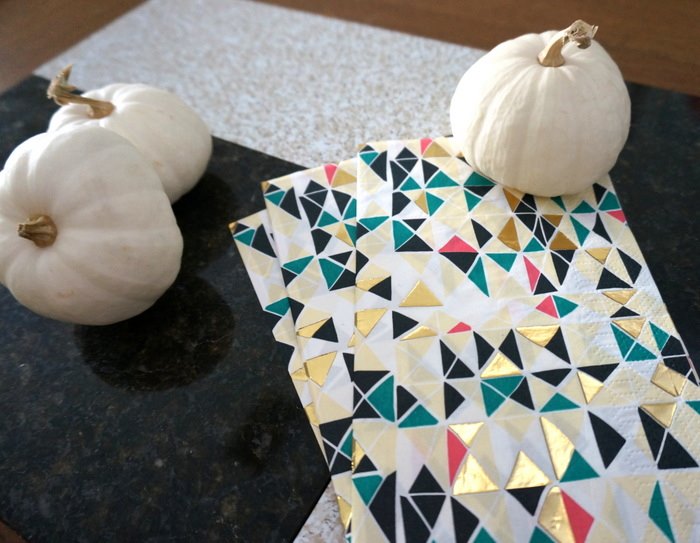 Instead of the traditional black and orange party combo, let the food double as decor for your fete. Red wine in decanters can set a spooky mood while celebrating the tastes of the season! These Glass Bottles with Wood Stoppers from West Elm are an excellent party decor/barware choice: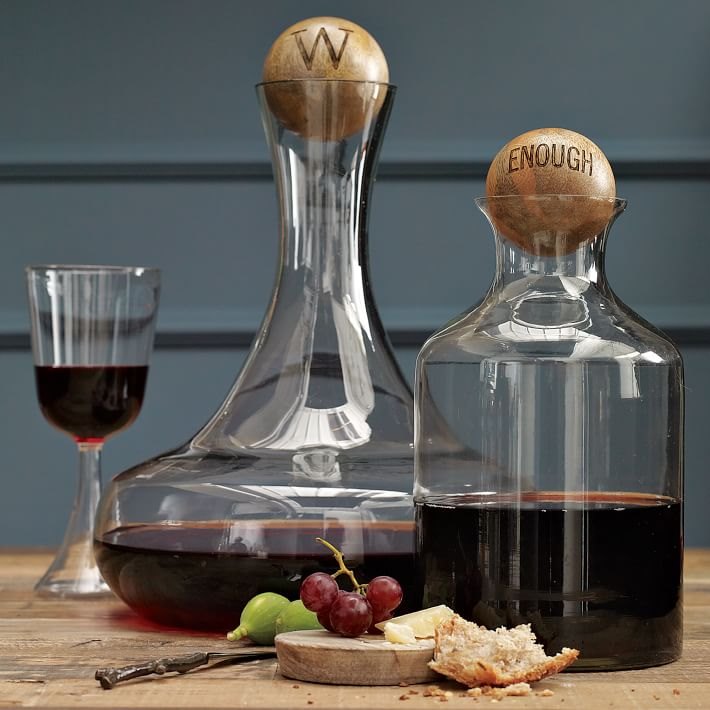 Don't hesitate to mix up a signature cocktail, especially if you serve it in glasses or cups with a Halloween vibe. Below we see The Shrunken Skull, a cocktail that gets its pizzazz from ingredients such as rum, grenadine, cherries and pineapple cubes. Created by Robin Berwick of Double Trouble, the recipe is featured at Sugar & Cloth. [photo by Jared Smith]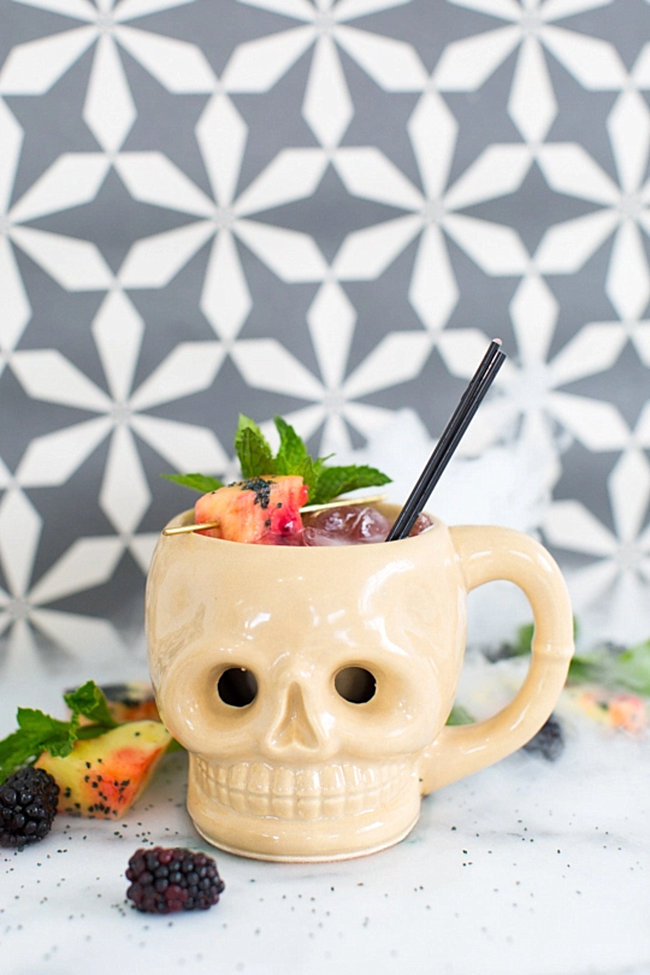 Keep snacks simple yet decadent with a cheese/charcuterie plate featuring the season's bounty. This Feast Platter from Crate & Barrel is the perfect dark backdrop to offset the food, especially since it's crafted from sturdy iron: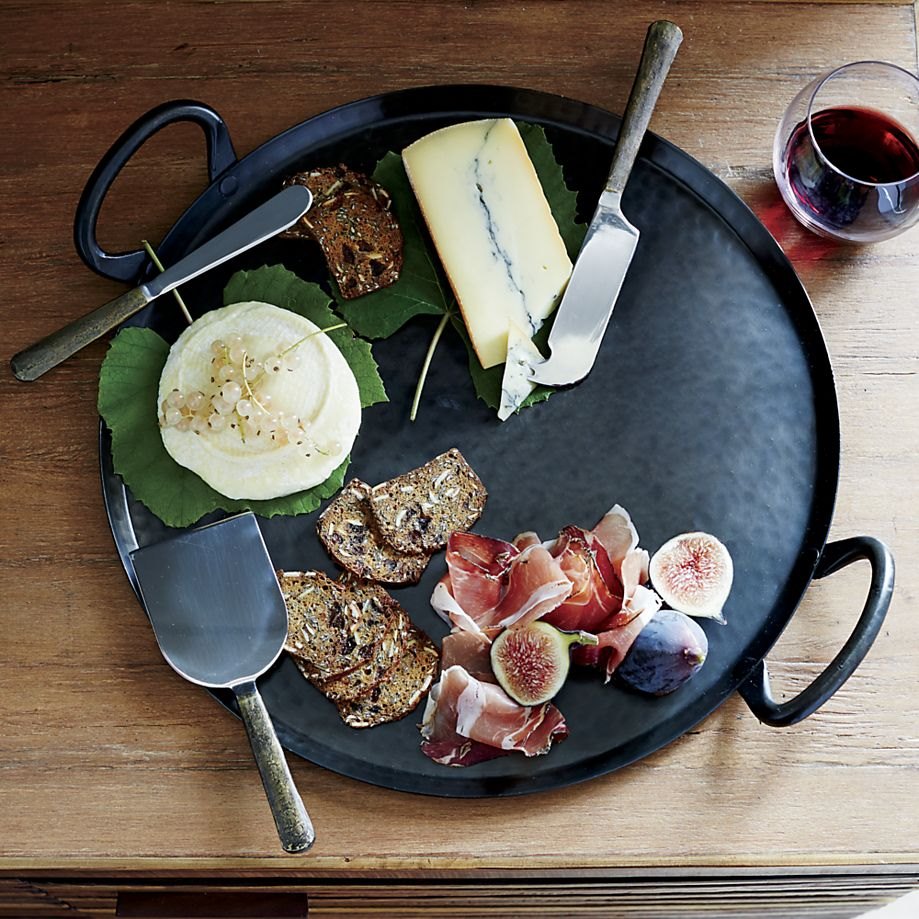 Last but not least, send your guests home with Dyed Halloween Treat Bags from Paper & Stitch, created with the help of muslin bags, rubber bands and fabric dye: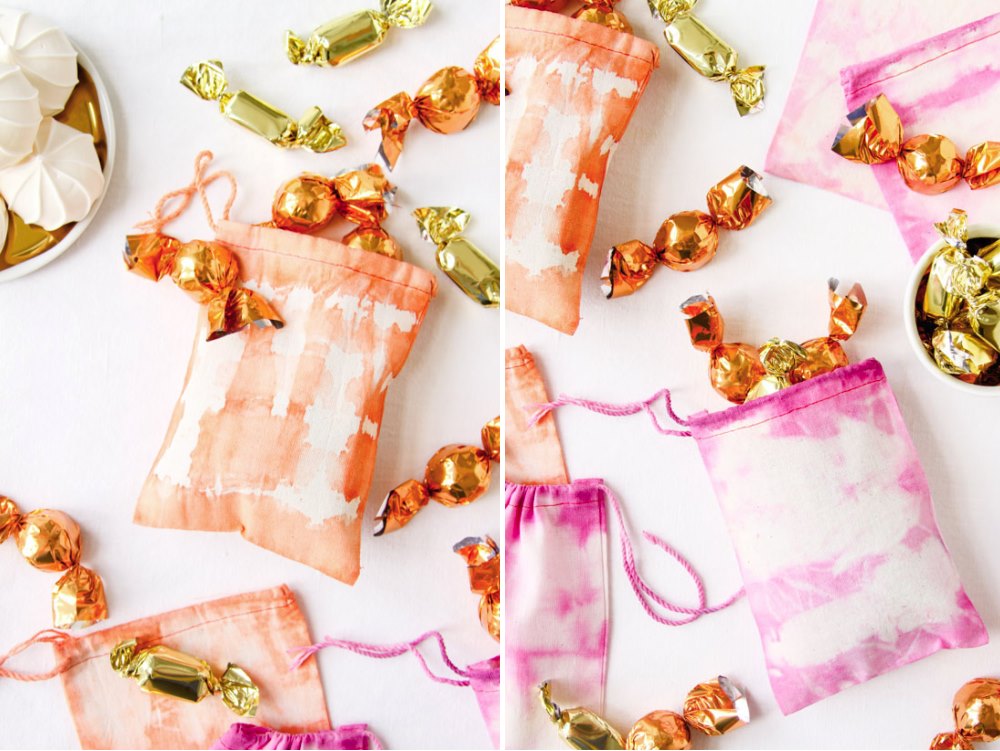 What are some of your fall checklist items? Catching some of the new fall TV pilots? Eating on the patios of your favorite restaurants? Tackling some DIY projects? Share your ideas by leaving a comment below…
Liked the story? Share it with friends.