It's that time of year again! Everyone is getting ready to head back to school. If you're stocking up on dorm room essentials, today's post is for you. The suggestions that follow are also perfect for apartment living, as well as for anyone focused on covering the basics while celebrating great design. There are many sources of inspiration for dorm room decor, including brands dedicated to the college demographic (such as Urban Outfitters). Below we see a vignette from Target, which serves as a great reminder to budget for creature comforts, such as comfy pillows for supporting your back during those late-night study sessions! But that's just the tip of the iceberg…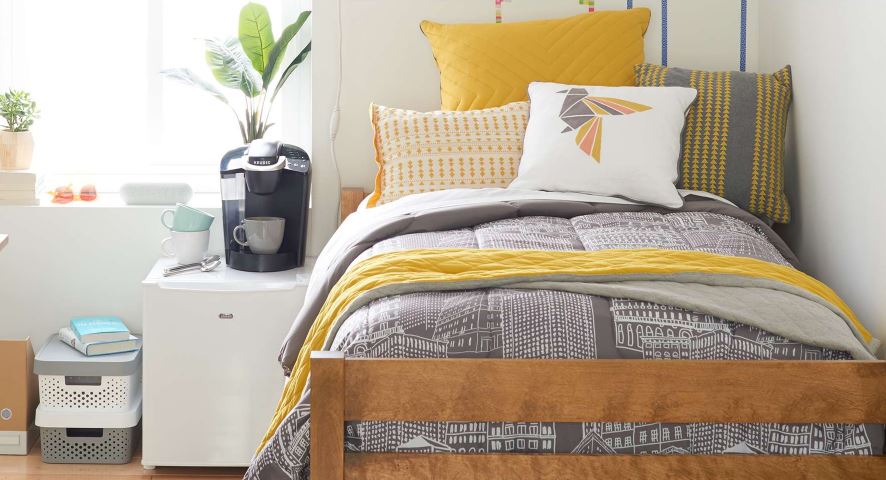 Bed and Bath
Since we began the post by featuring throw pillows, let's continue with another key dorm room essential: bedding! Luckily there are many fun, interesting designs to choose from, thanks to an increasing number of retailers dedicated to manufacturing affordable bedding that's perfectly on trend. We're loving Urban Outfitters' Wonky Grid Duvet Cover, which is neutral in its classic motif yet bold in its linear design. Plus, it's easy to mix with other colors and patterns for an eclectic look.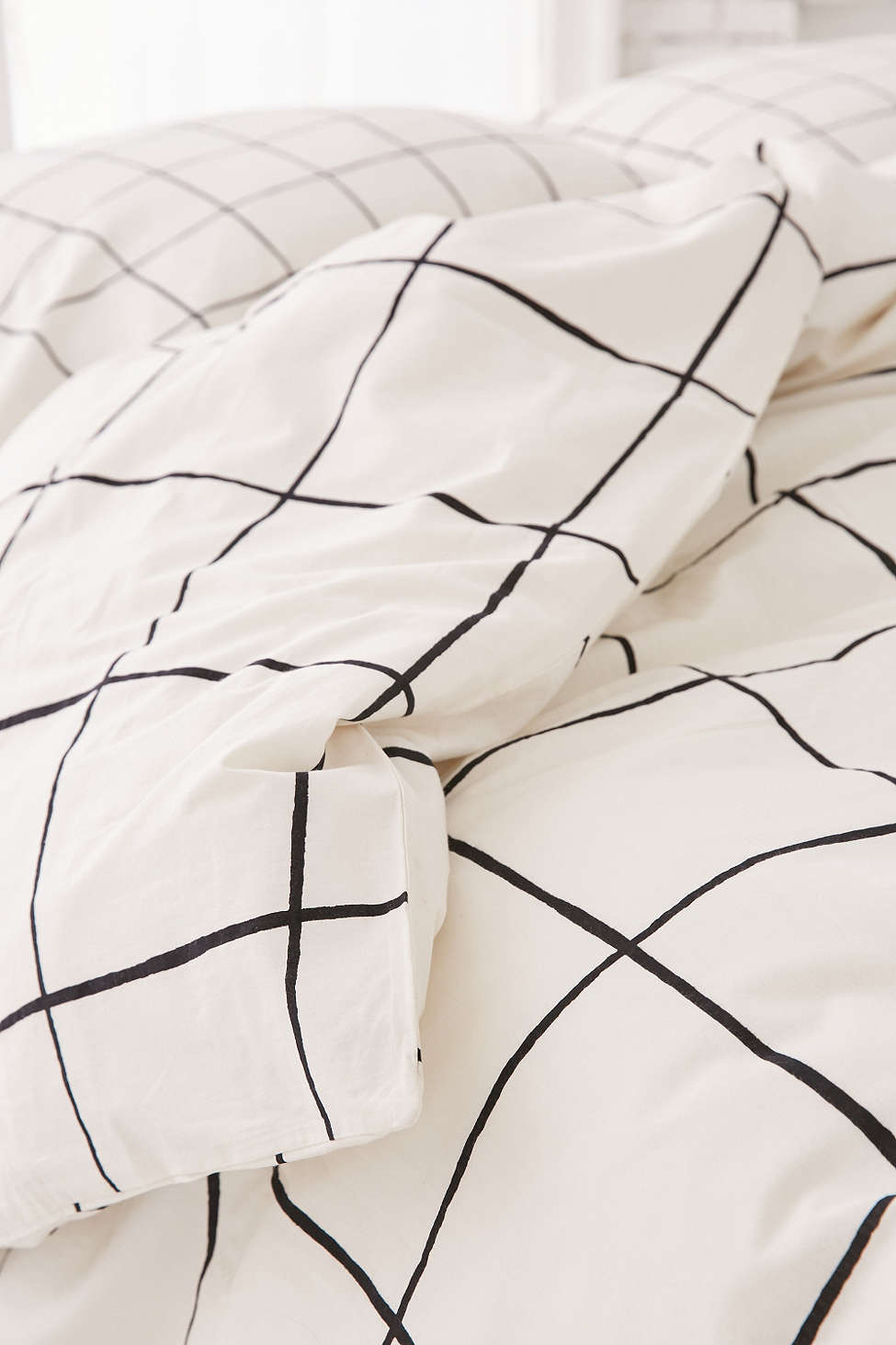 CB2 has you covered when it comes to bath essentials. No detail goes unchecked, so be sure to grab small items such as shower curtain rings, which will allow you to hang that stylish curtain and add a dose of color or pattern to the powder room!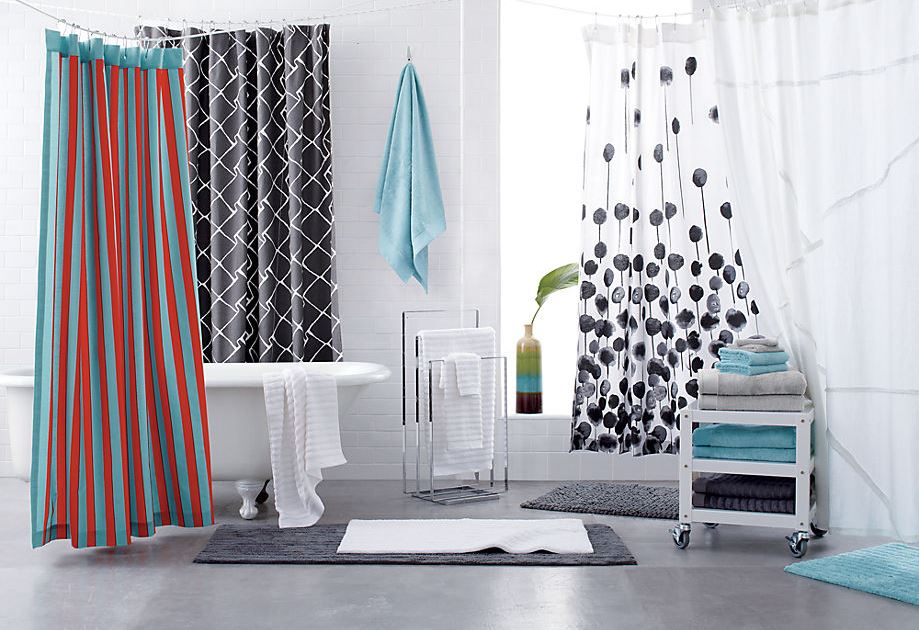 Browse an array of interesting, affordable shower curtains at Society6, which features the work of many artists, offering a range of prints, designs, products and styles. Below we see two shower curtains from the shop of Cassia Beck: Pineapple Top (left) and Morning Swim (right).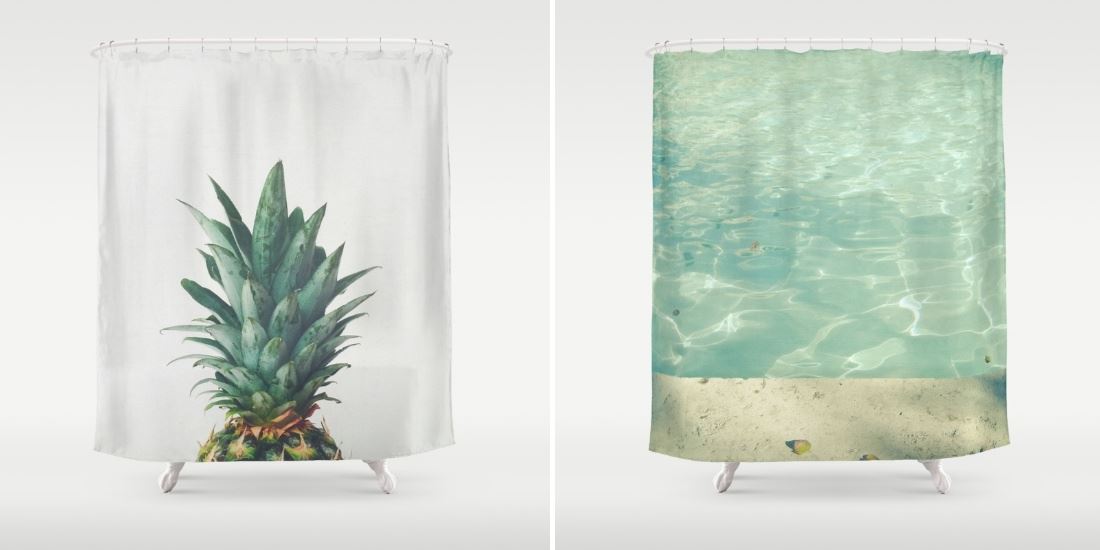 Make sure you have everything you need to keep the bathroom tidy. These Stainless Steel Bath Accessories from CB2 are a great place to start: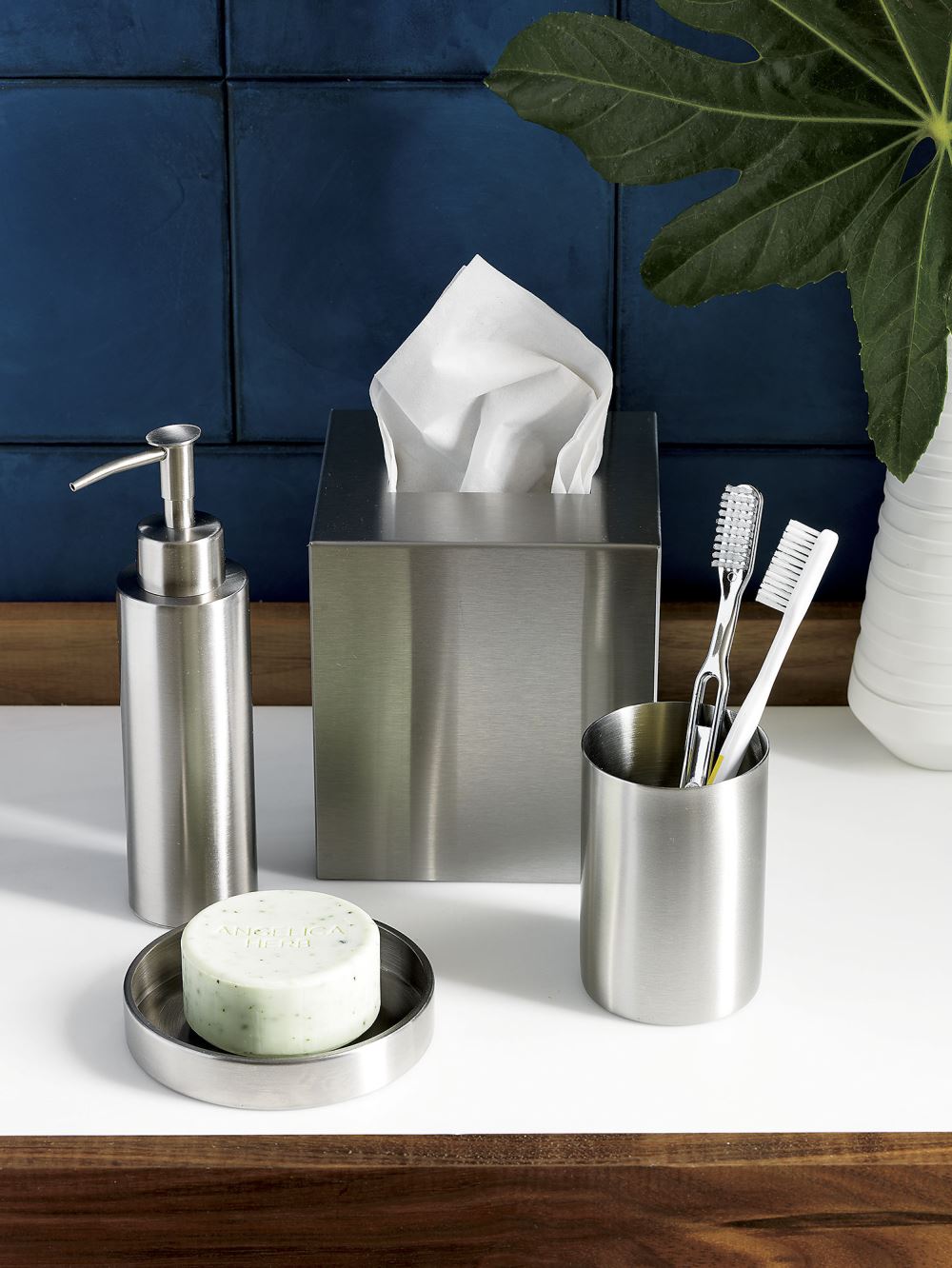 Wishing that some additional bathroom storage would appear out of thin air? Luckily CB2's Grid Tower is at the ready. Use it to hold essentials such as washcloths and towels.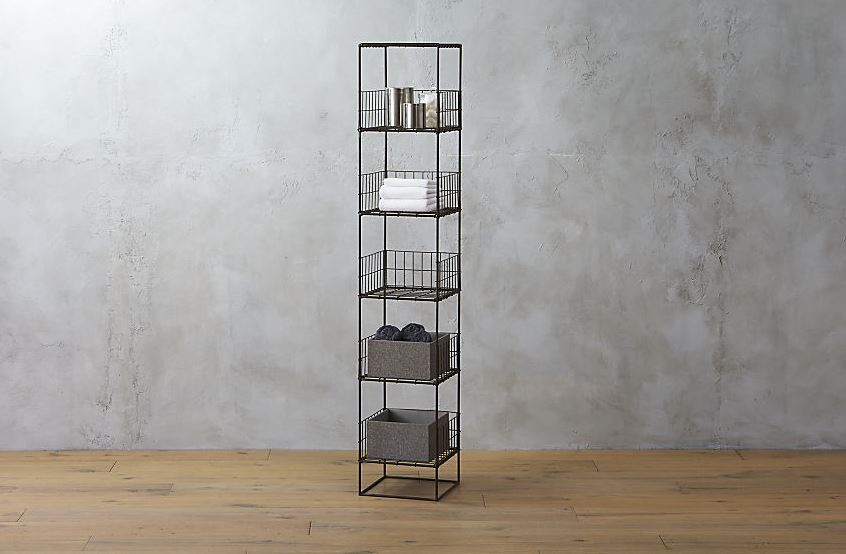 Speaking of towels, make sure you stock up so you can wrap yourself in comfort every time you leave the shower. Target offers a range of affordable options in many different colors and patterns. You can also find some spa-style offerings at CB2, shown below. You know, if you want to pretend you're at a resort instead of in a dorm room bathroom!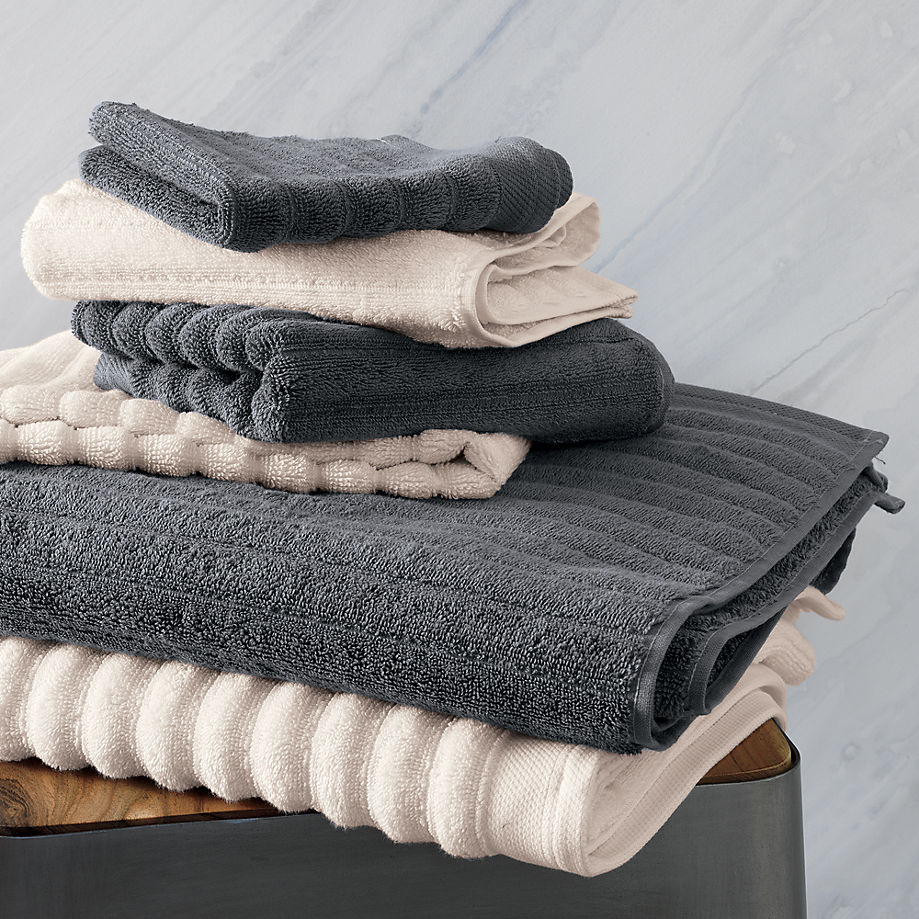 For additional bathroom storage needs, you can also consider a rolling cart, such as CB2's Go-Cart White Rolling Cart. This versatile piece can be repurposed for another job in another room should you move or acquire more space as time goes on: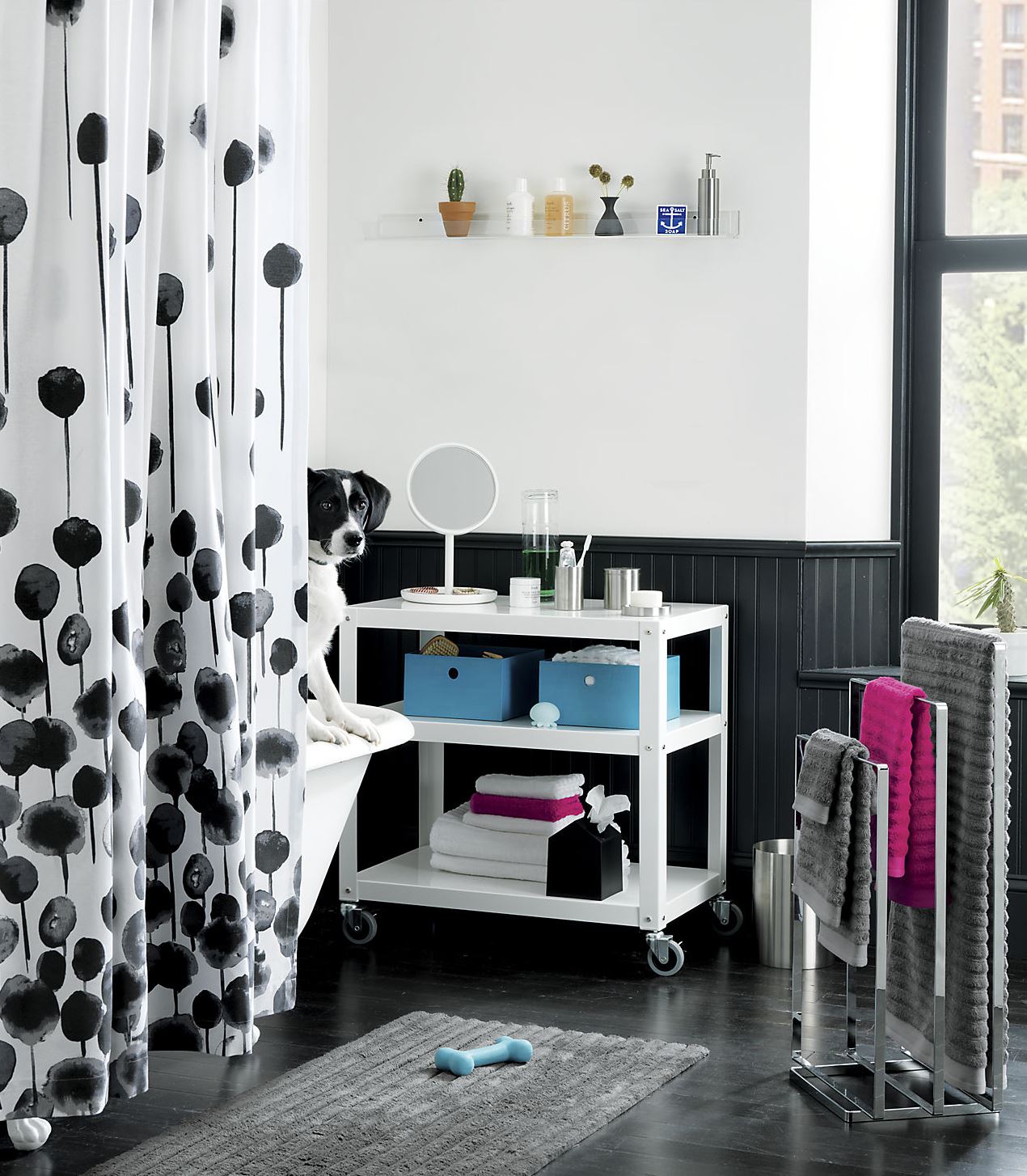 Kitchen Essentials
Does your dorm room have space for a few kitchen items? Or perhaps you're getting settled in your first apartment. If you're short on space, the fabulous finds that follow will provide you with the necessities. With a retro look, this Mini Refrigerator from Urban Outfitters includes an ice cube tray and slide-out shelf. Available in coral, black and blue (pictured below):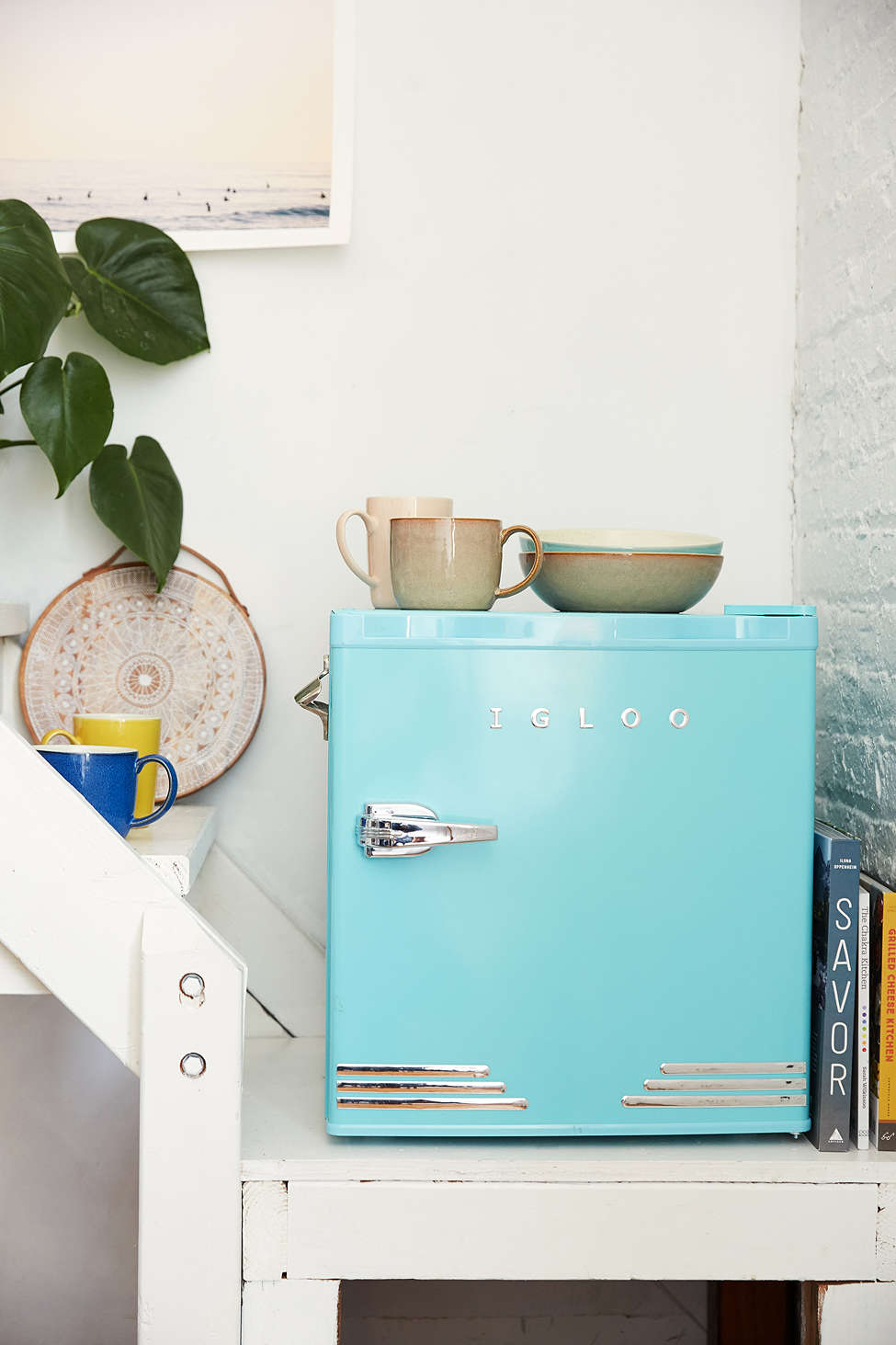 Just the basics. Sometimes that's all you need when it comes to dorm or apartment life. Luckily Urban Outfitters offers a few different kitchen packages so you can easily purchase key items such as measuring cups, pans, and utensils. Below we see the 59-Piece Total Kitchen Set: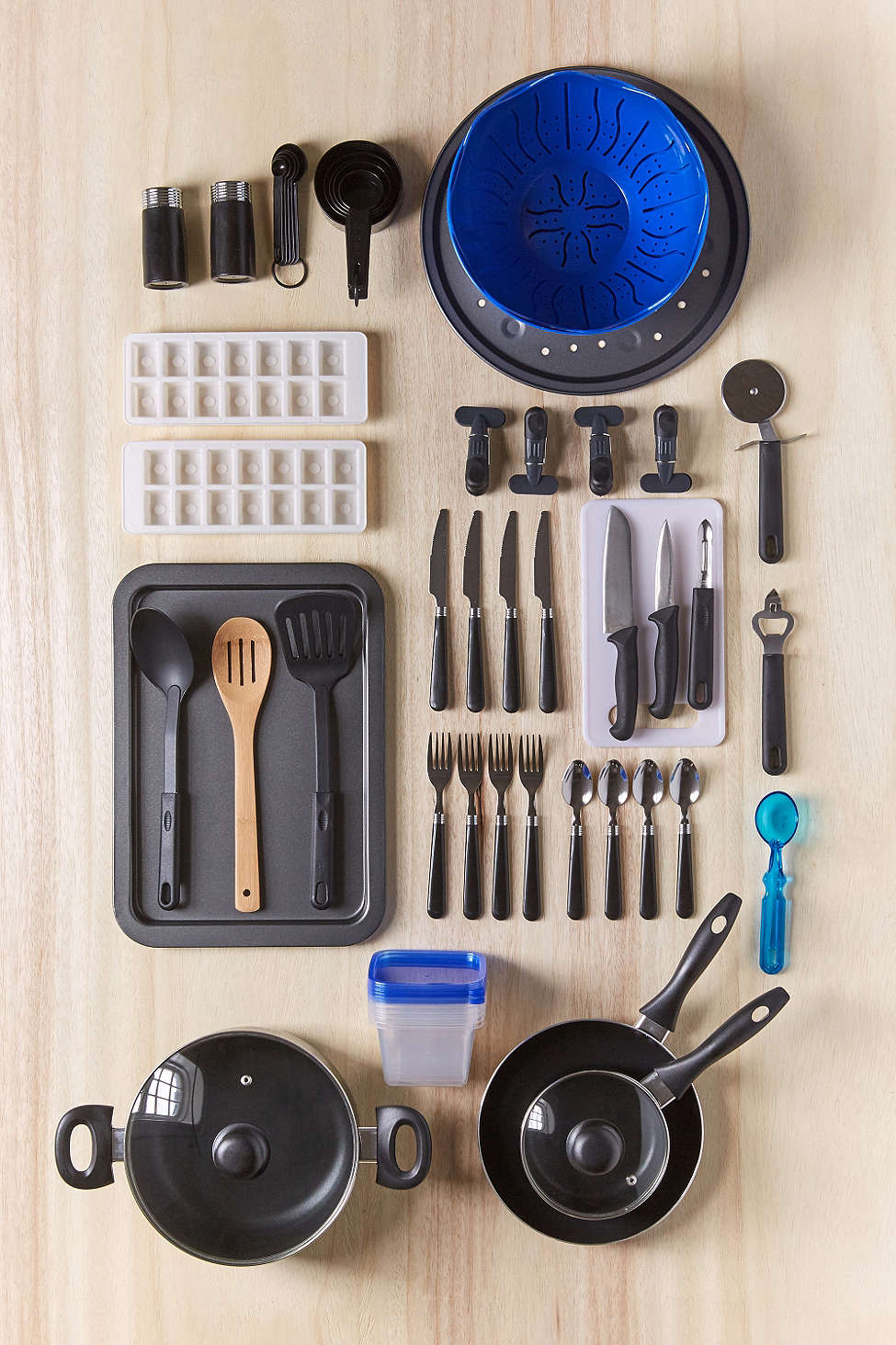 A set of dishes can also come in handy, and this Cafeware II 16-Piece Dinnerware Set from Crate & Barrel offers a lot of substance for the budget-friendly sale price of $49.95: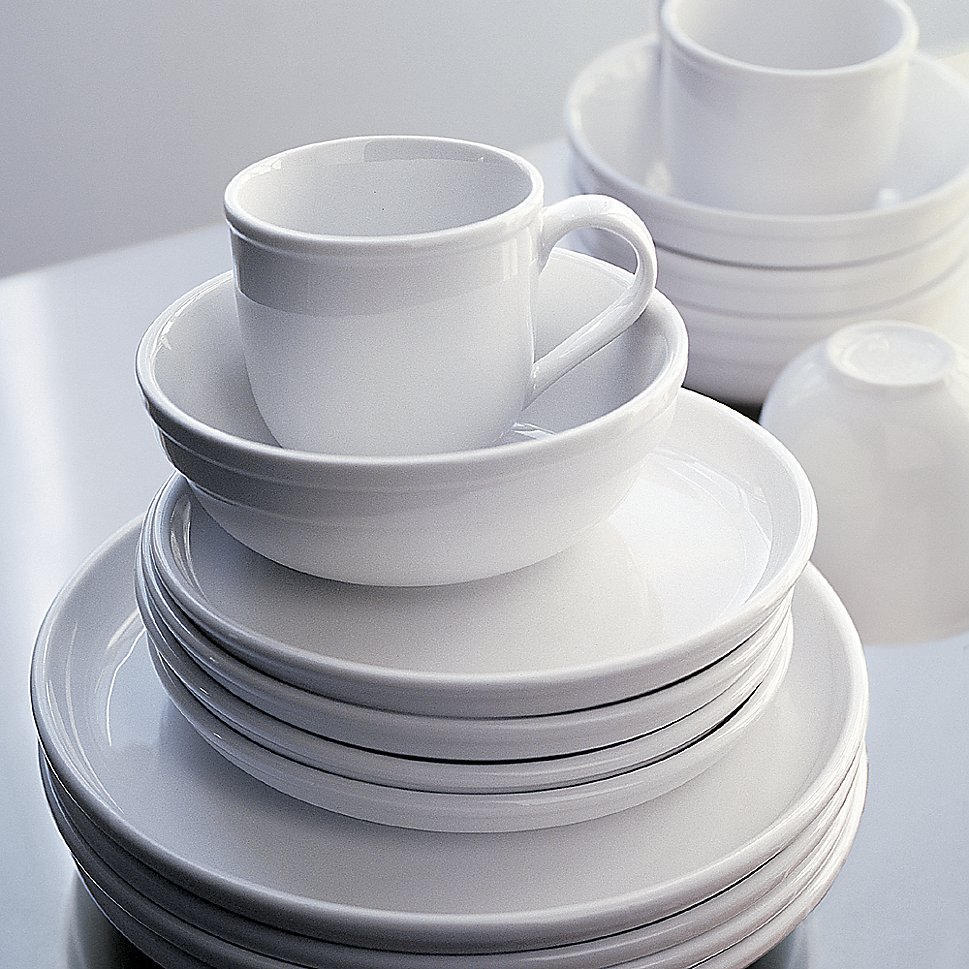 Need a microwave for your dorm room? Rest assured you can find one of these helpful kitchen essentials at any price range. Below we see an Oster microwave, available at Target: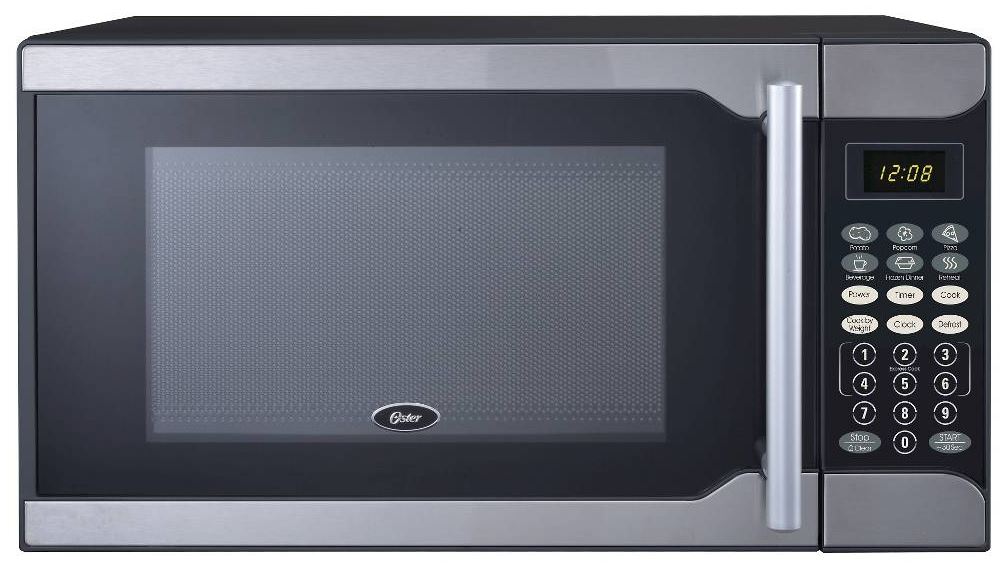 Organization and Storage
Organizing your dorm room has never been easier, thanks to a large array of stylish options for keeping clutter in check. Let's start with the desk area! Available in copper and black, Urban Outfitters' Large Wire Wall Grid is perfect for displaying photos, artwork, important reminders and more. There's even a smaller version so you can get just the right fit for your space.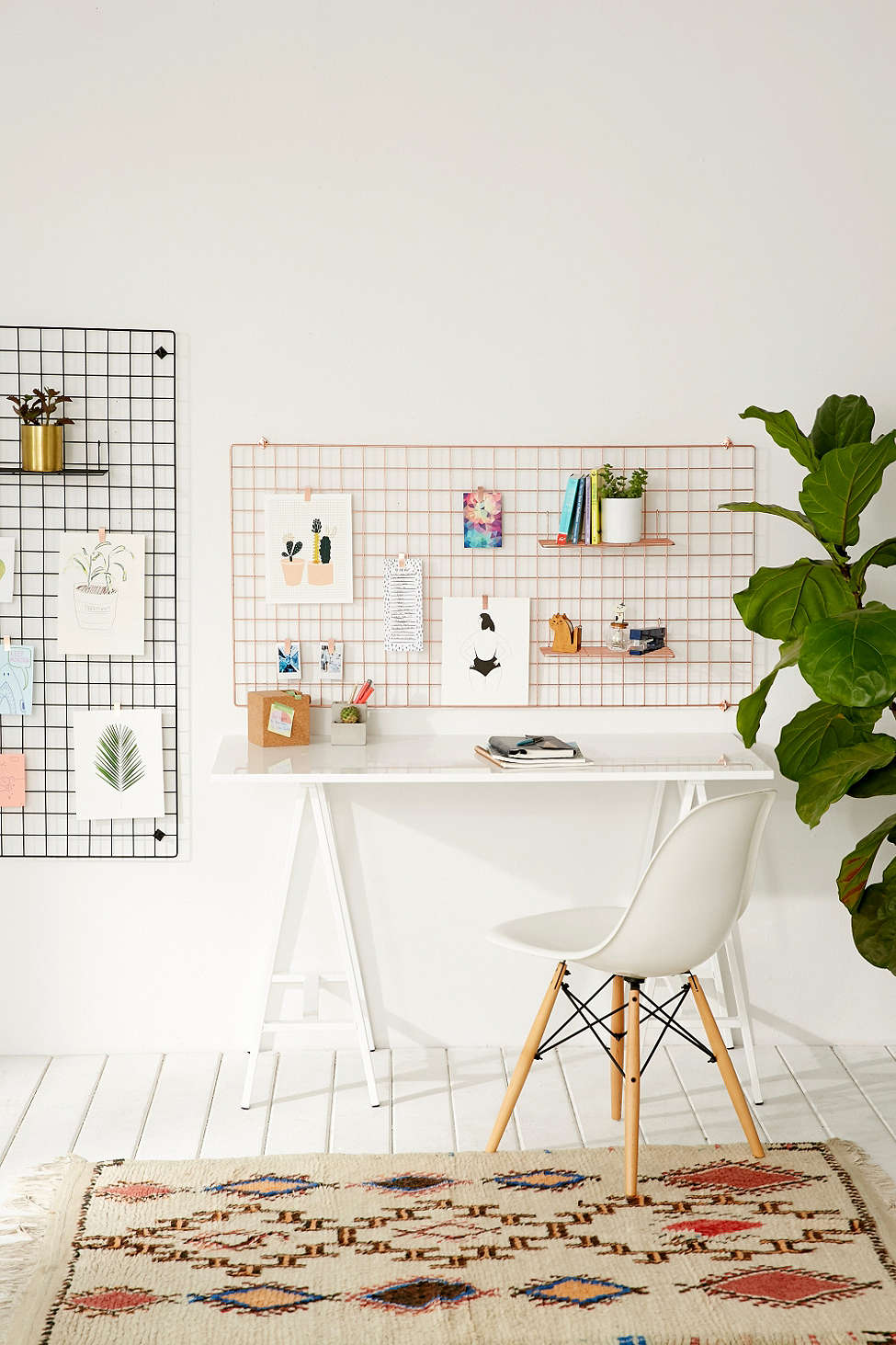 Great storage is a key component of dorm life, and ferm LIVING offers a range of baskets and bins that bring chic, functional flair to your space. Below we see selections such as the Triangle Basket. And there are many more where that came from…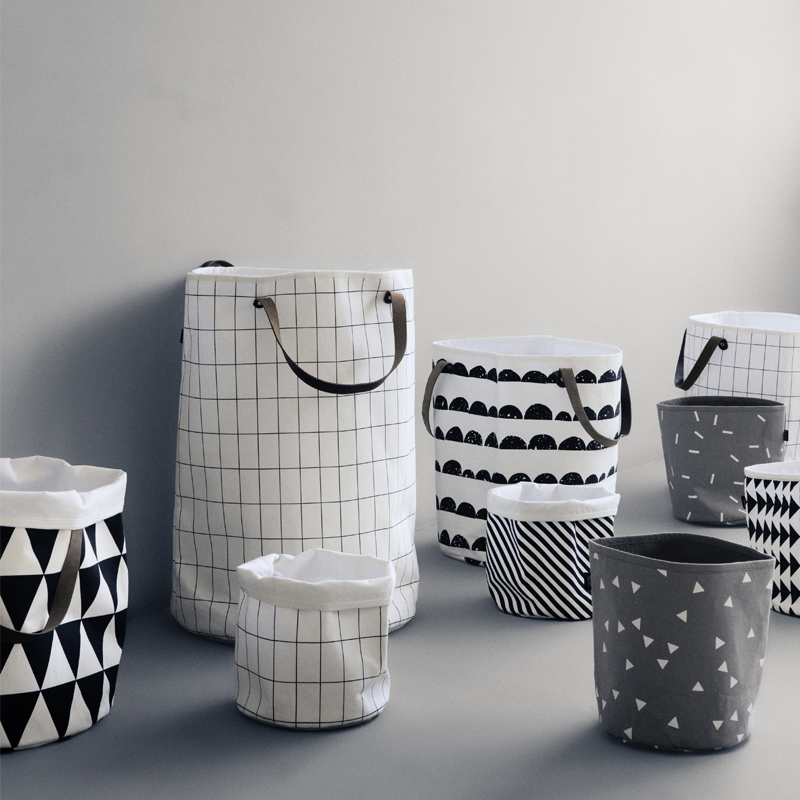 This Copper Wire Storage Basket from CB2 couldn't be more on trend. Not to mention, it will wrangle books, magazines, papers and other supplies that can quickly take over your desk or shelves.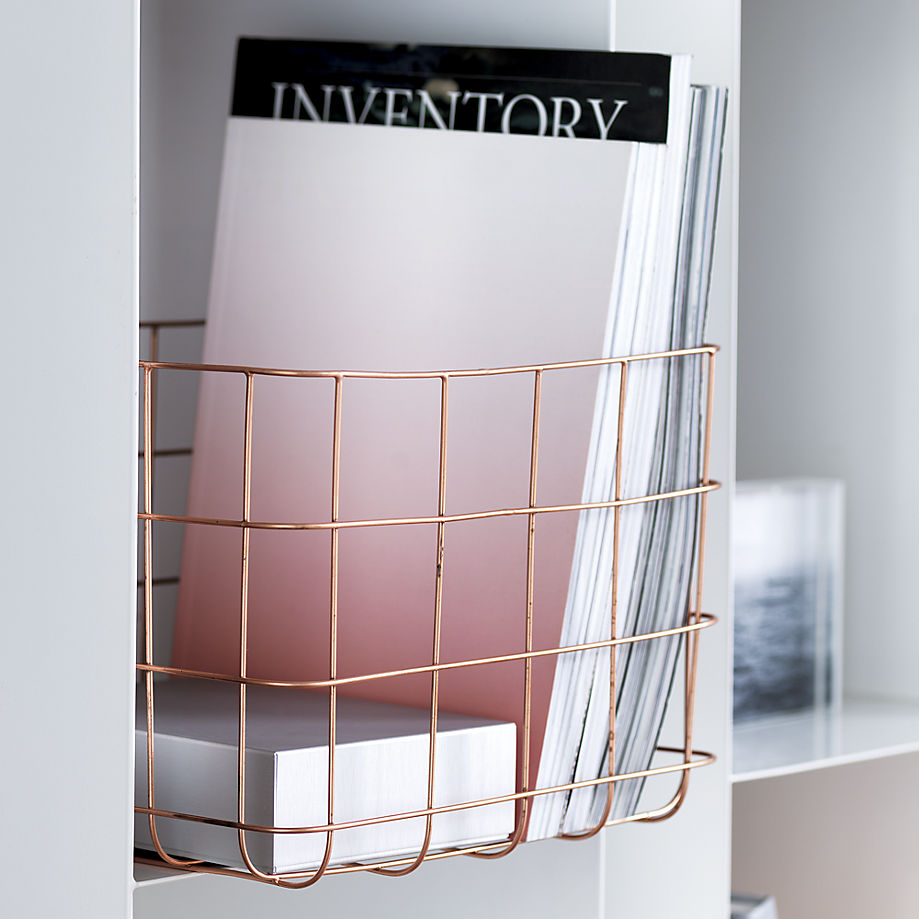 If you need even more room to stash items that could enter clutter territory if left unchecked, have a look at these Ready To Roll Storage Carts from PBteen. Canvas bins meet an iron frame in 3- or 5-drawer options, plus three different fabric choices. Store your cart out in the open, or stash it in the closet for added organization!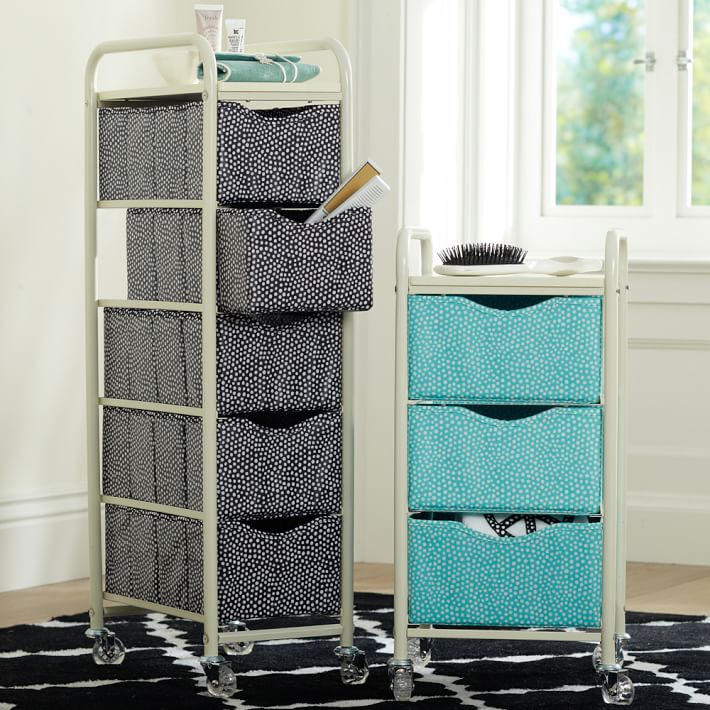 Special Touches
The fun part of dorm decorating is putting the finishing touches on your interior. These Carter Triangle Wall Bracket Shelves are a stylish way to give dorm room walls personality. Wood and iron (with a copper finish) are the materials of choice, and at $8-$12 apiece, you can afford to purchase a few!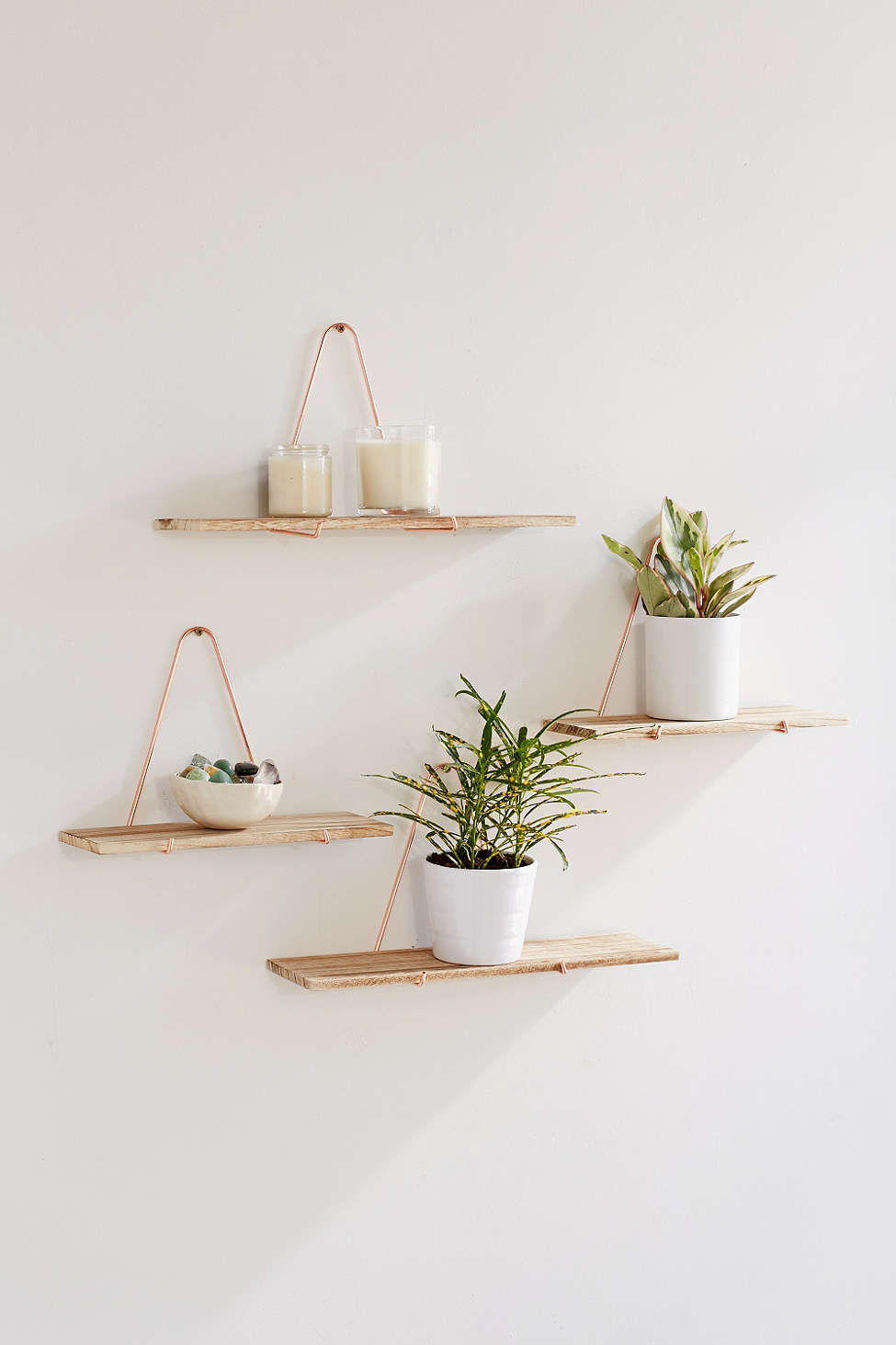 Another great way to spruce up those dull dorm walls? Wall art, of course! Once again, Society6 comes through with a wide selection of affordable options in any style or motif you can imagine. Remember these favorites by Oh Clog!, from our recent post on the terrazzo trend?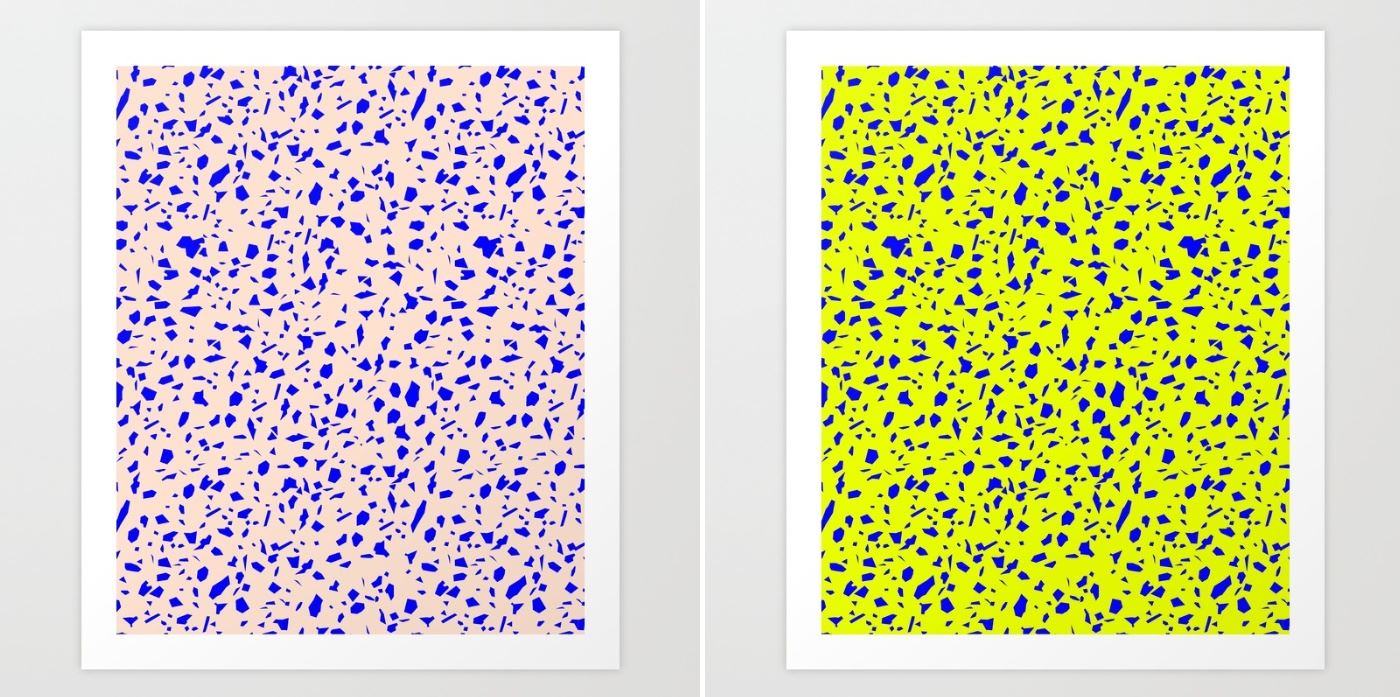 You can also pick up a wall tapestry from Society6, as well as Urban Outfitters. Below we see UO's Malibu Palm Tapestry, which is currently on sale. Yes, folks, now is a great time to hit those end-of-summer sales as you shop for your dorm room or apartment!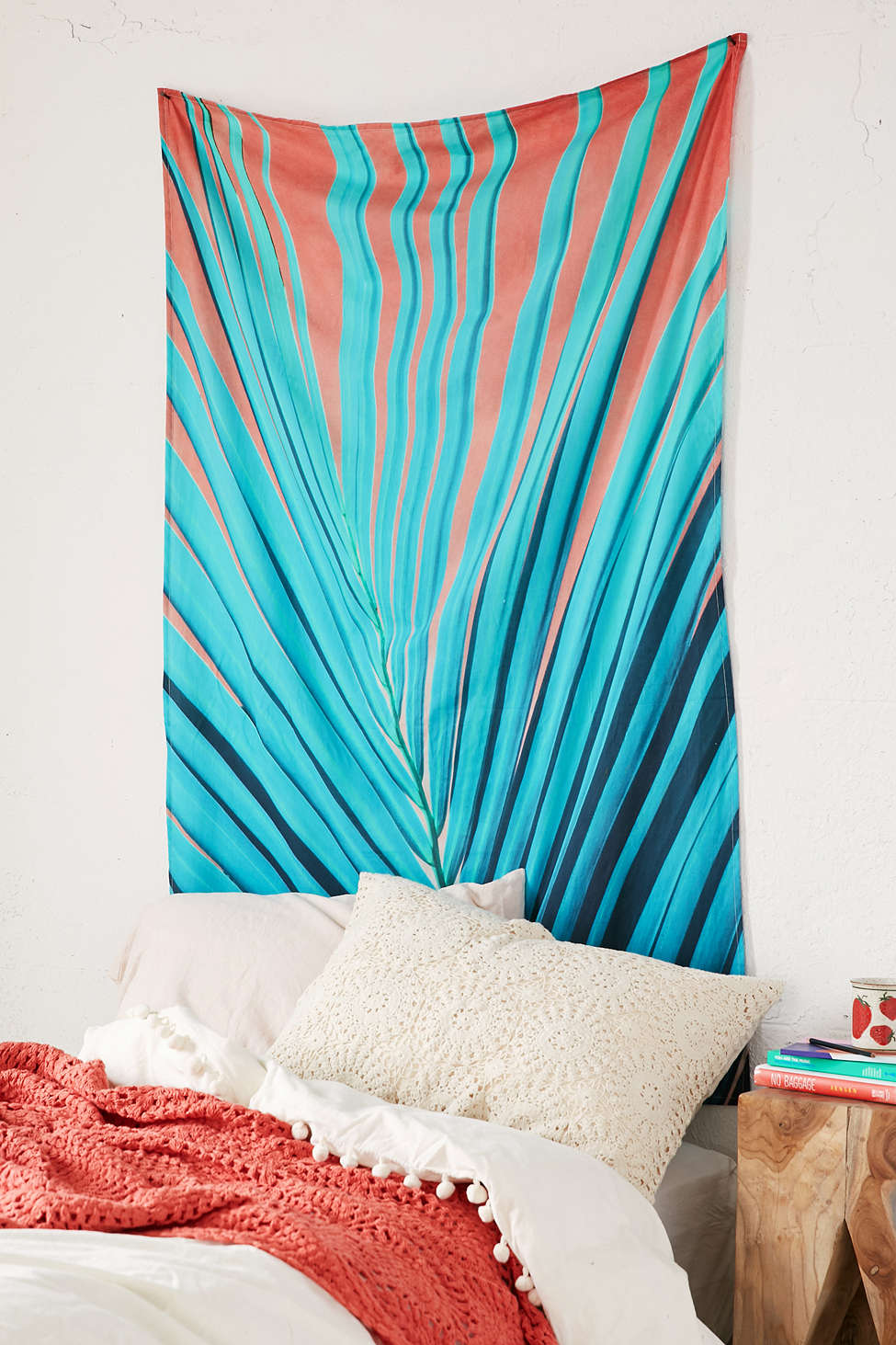 Don't forget the plants! In fact, Urban Outfitters makes it easy to find sleek containers, thanks to offerings like their Mod Metal Planters, available in gold and white: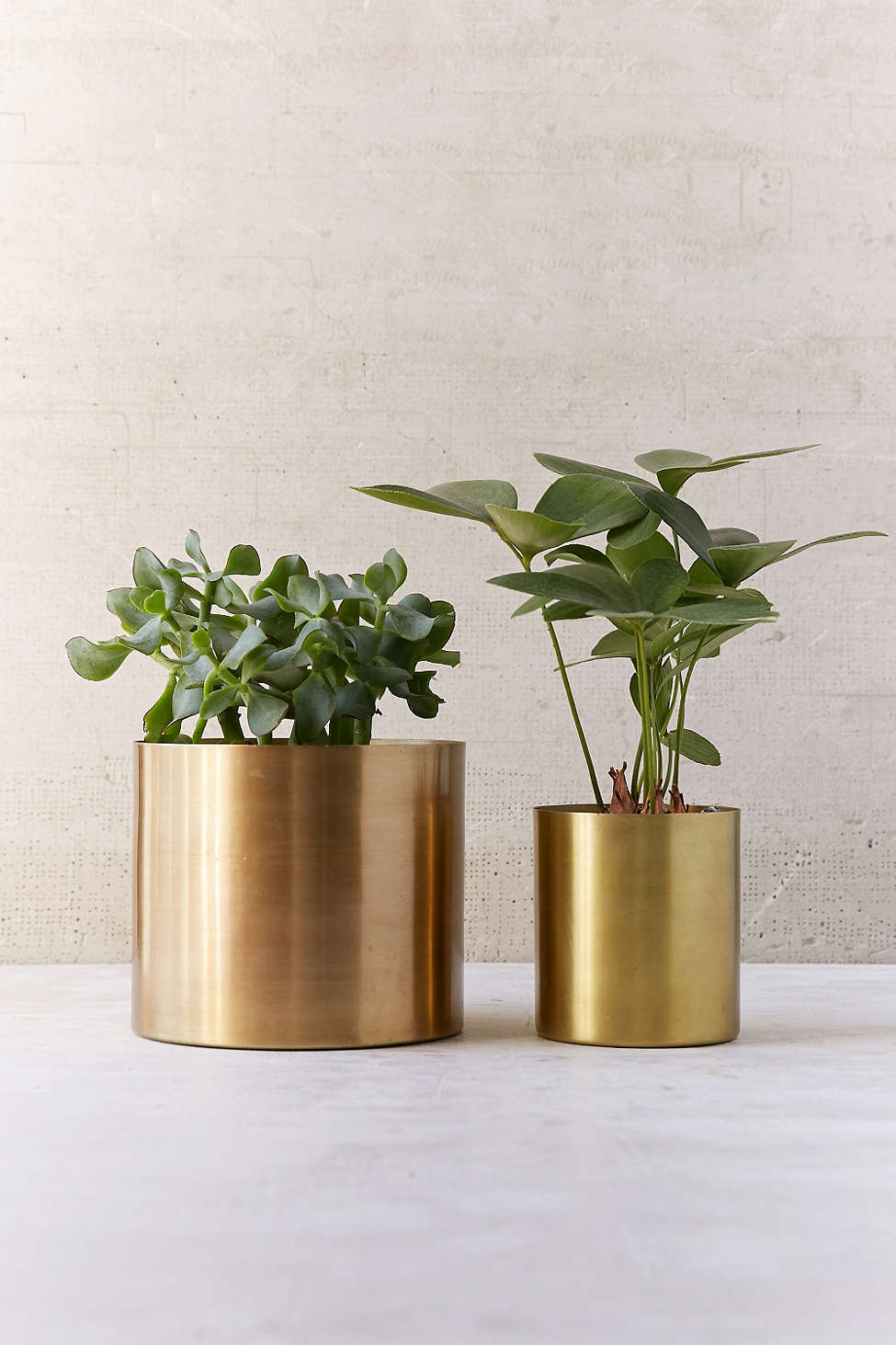 Are there any essentials we've left off the list? Share your ideas in the comments section below…