Desk accessories can be helpful, but too many of them will create clutter. How do you cultivate a streamlined, functional desk? By choosing wisely! Below we're highlighting an assortment of eye-catching desk accessories that are thoughtfully designed to make your life easier. From keeping papers in check to shining the light on your work area, the interesting finds that follow add function and style to the modern office… [photo from CB2]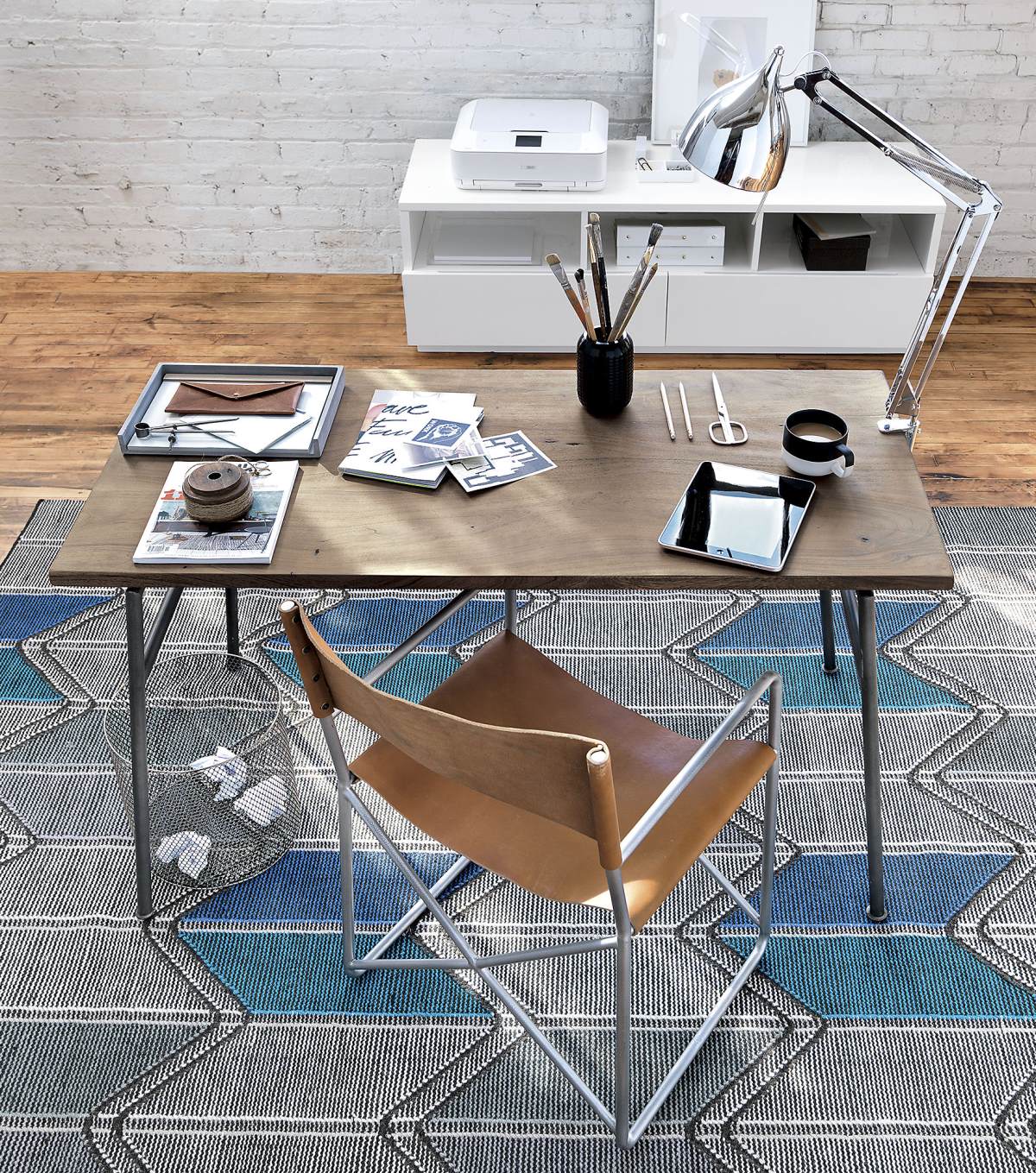 Don't Sweat the Small Stuff
Small items such as paperclips and USB drives can clutter your desk or become lost under stacks of documents. By simply giving the "little things" a place of their own, you're on the path to an organized desk. This Organiser in Mint from ferm LIVING (pictured at the center of the photo above) is a great place to start: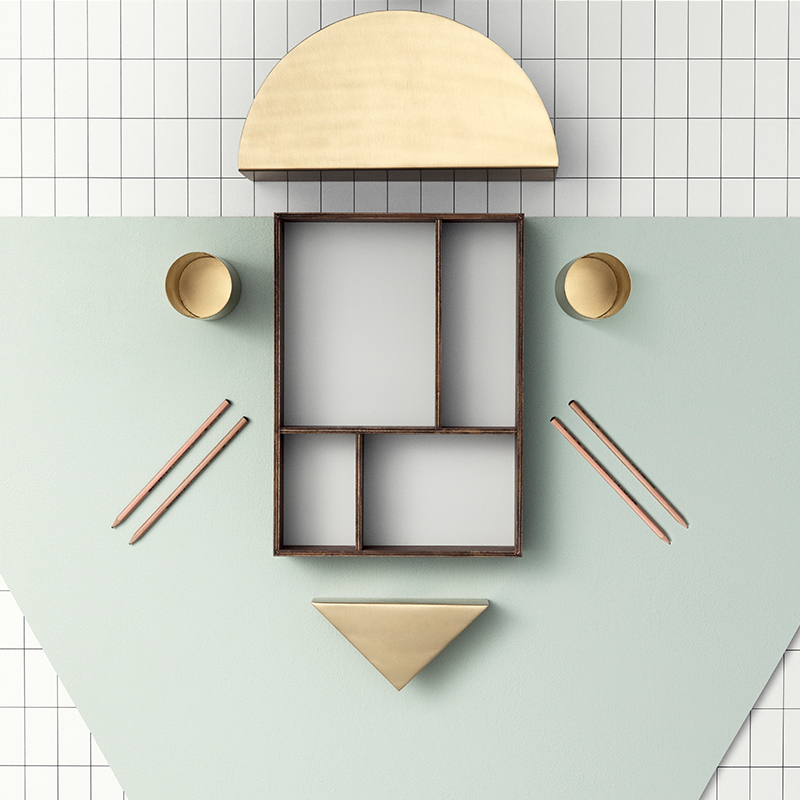 On a similar note, Urban Outfitters' Desk Organizer Tray gets the job done with a nod to retro lunch tray design! Crafted from melamine, it's also available in pink and white: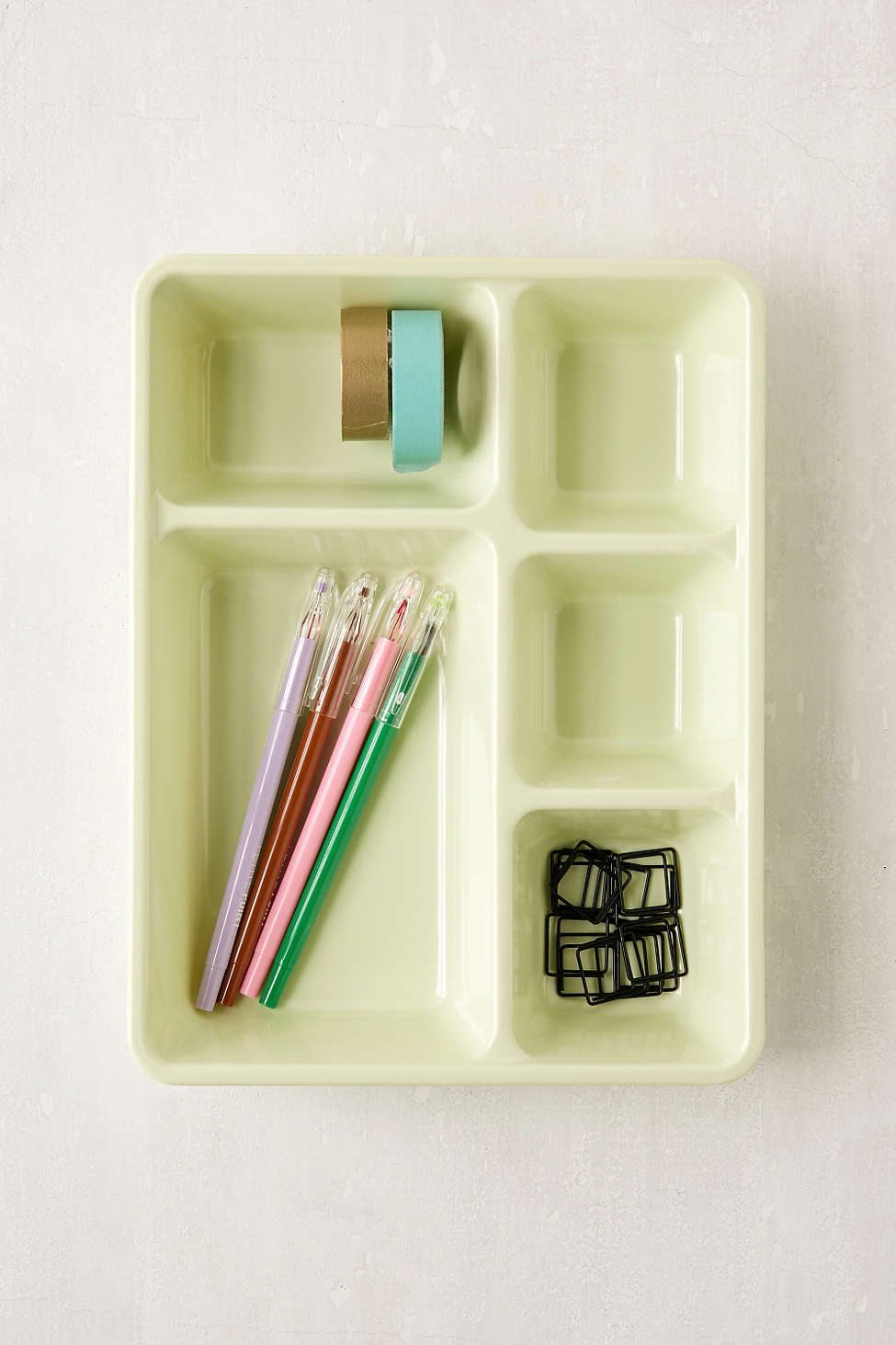 If the tray dividers are limiting, opt for a sleek, open design like this Aluminum Tray from Present & Correct. Corral writing materials, stationery and more. Side note: we're loving the styling of this photo!…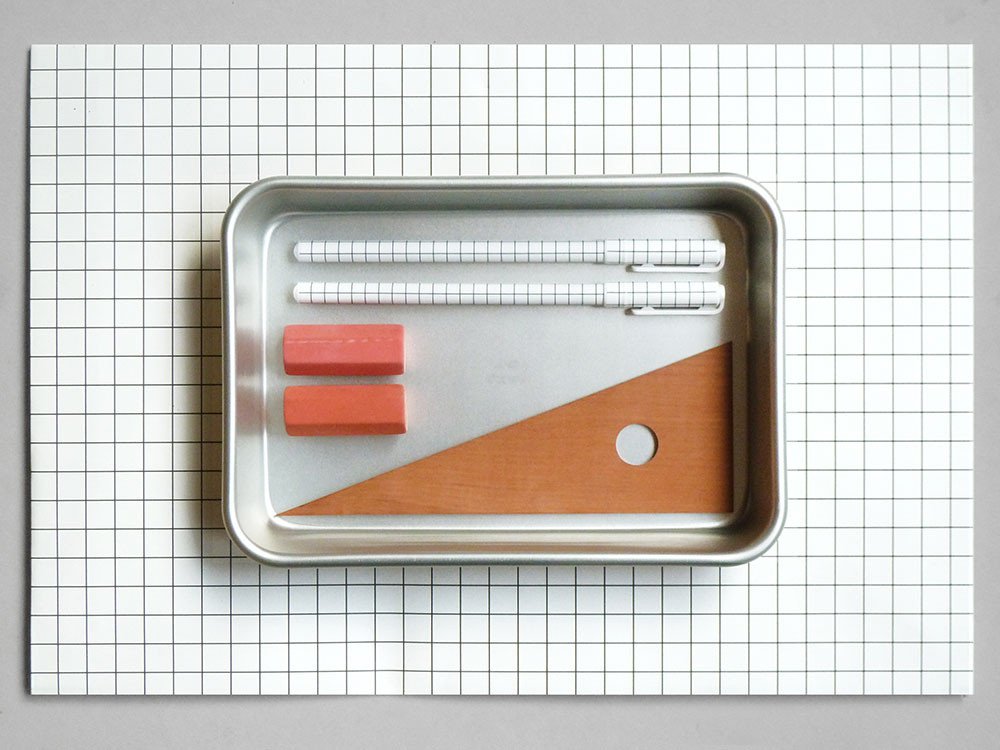 Wrangle scissors, pencils and other items with this modular SAIC 5-Piece Mountain Caddy Set from CB2. Designed by School of the Art Institute of Chicago student Mathew Devendorf, it channels the serenity of the mountains while utilizing a segmented form to hold supplies in a range of sizes. White porcelain is the material of choice.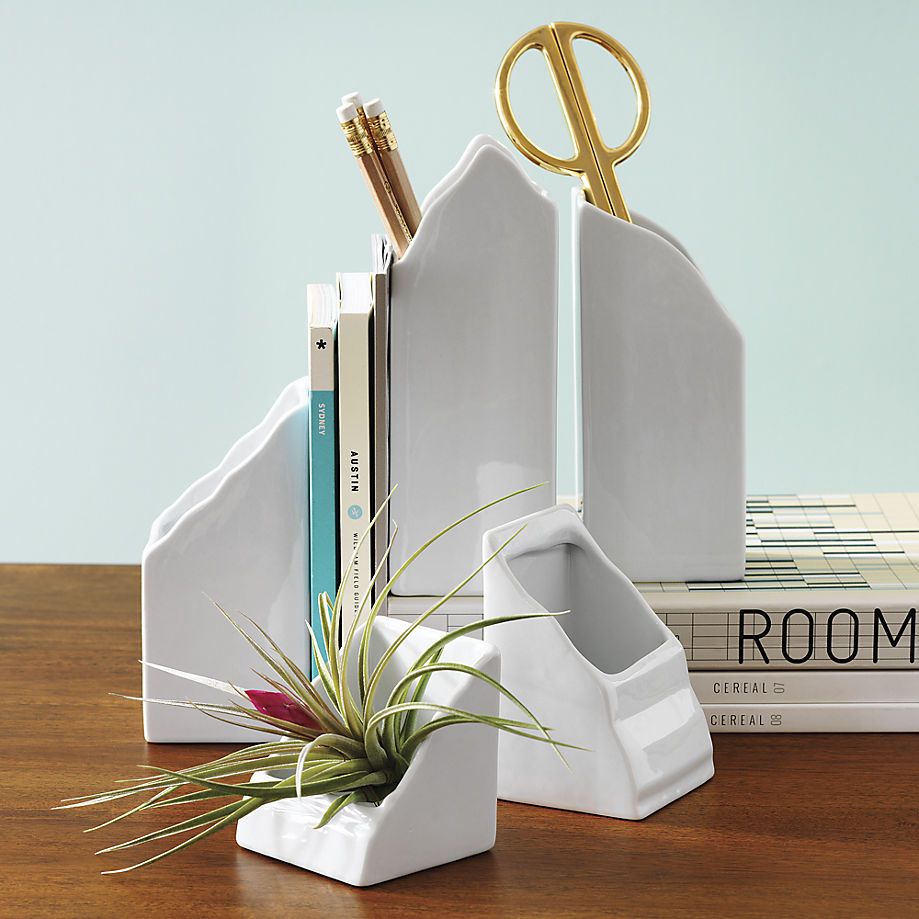 After all, if you're going to display a desk organizer, it may as well be fabulous! ANGLE from Finell uses folded stainless steel to its advantage: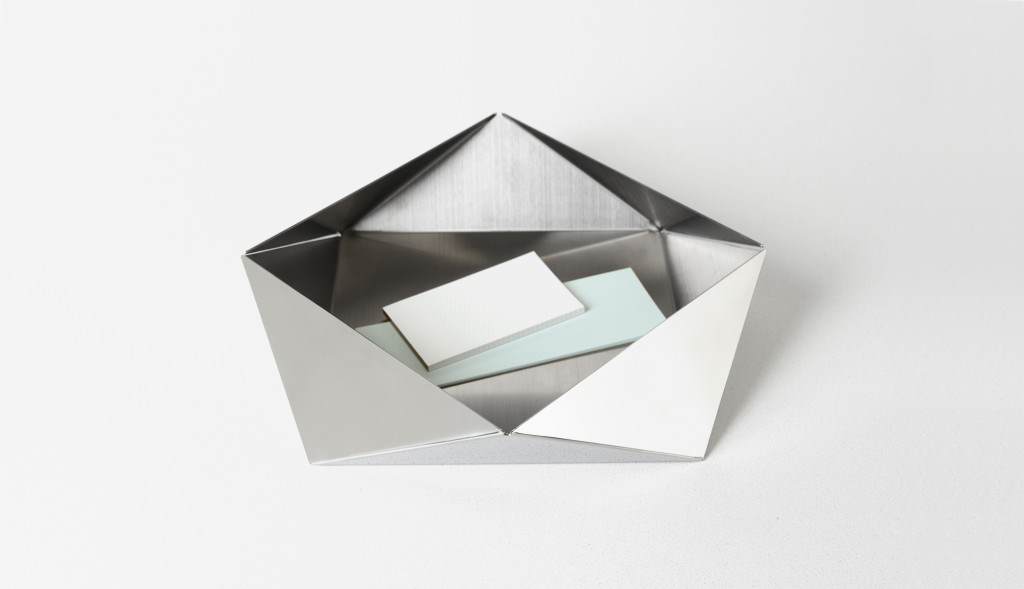 Also from Finell, Crawl is a silicone vessel that is unbreakable AND easy to clean. Plus, it looks otherworldly in the best possible way! Also available in black and grey: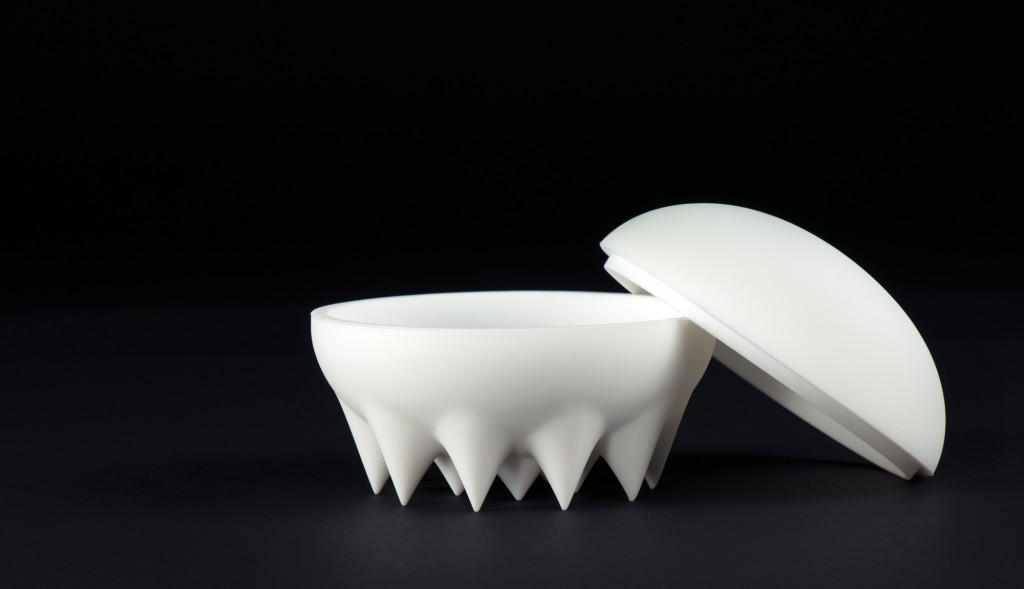 Keep Papers in Check
We now shift gears and move from small items to paperwork! These Cement Desk Accessories from CB2 include a handy letter tray, and the concrete construction couldn't be more on trend: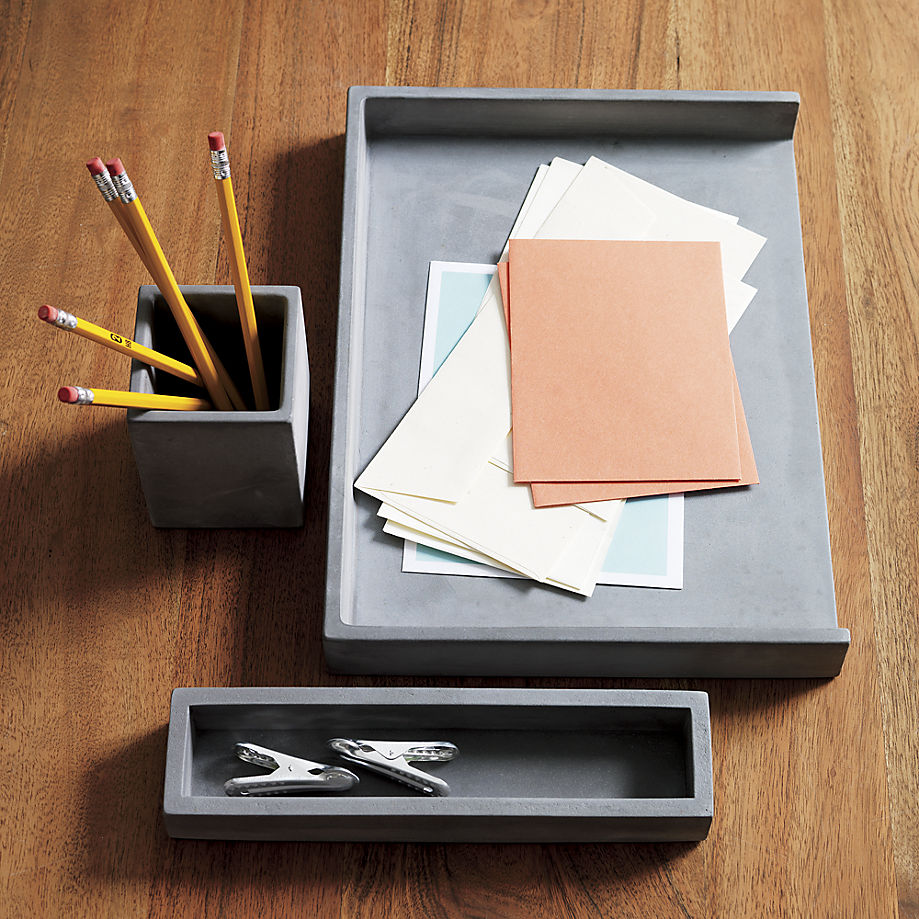 "Simple and modern" makes a clean-lined statement, as shown by these metal trays from ferm LIVING, available in an array of colors. Perforated powder-coated metal helps contain papers and small items. Plus, as you can see below, the small tray even fits into the larger one so you can customize your desktop storage: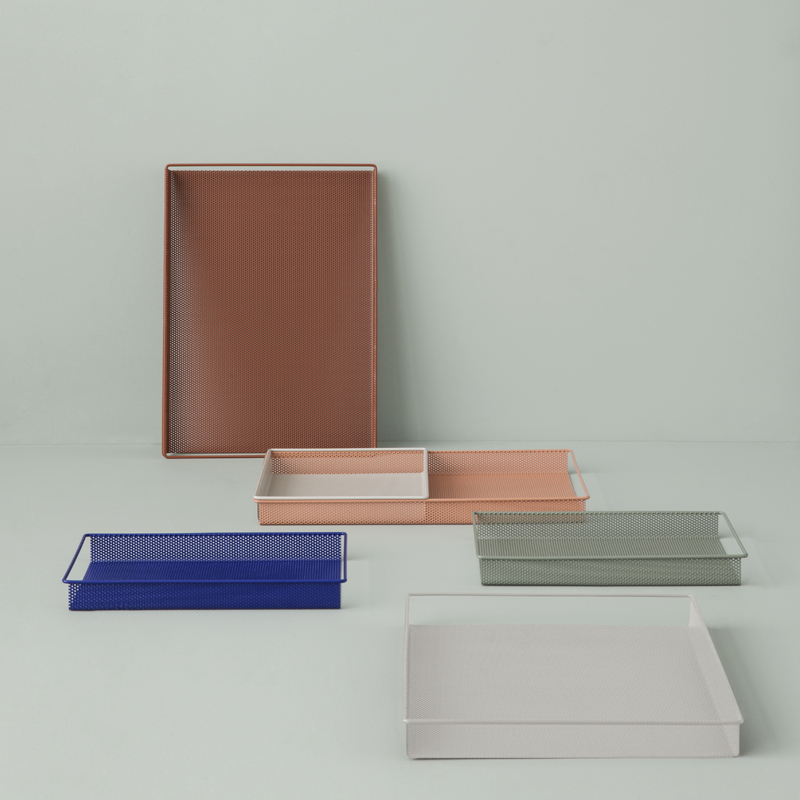 For file folders and notepads that need to stay out in the open, check out the Gilded File Holder from CB2. Four triangles divide and secure, thanks to an iron construction. A gold electroplated finish adds the perfect dose of shine.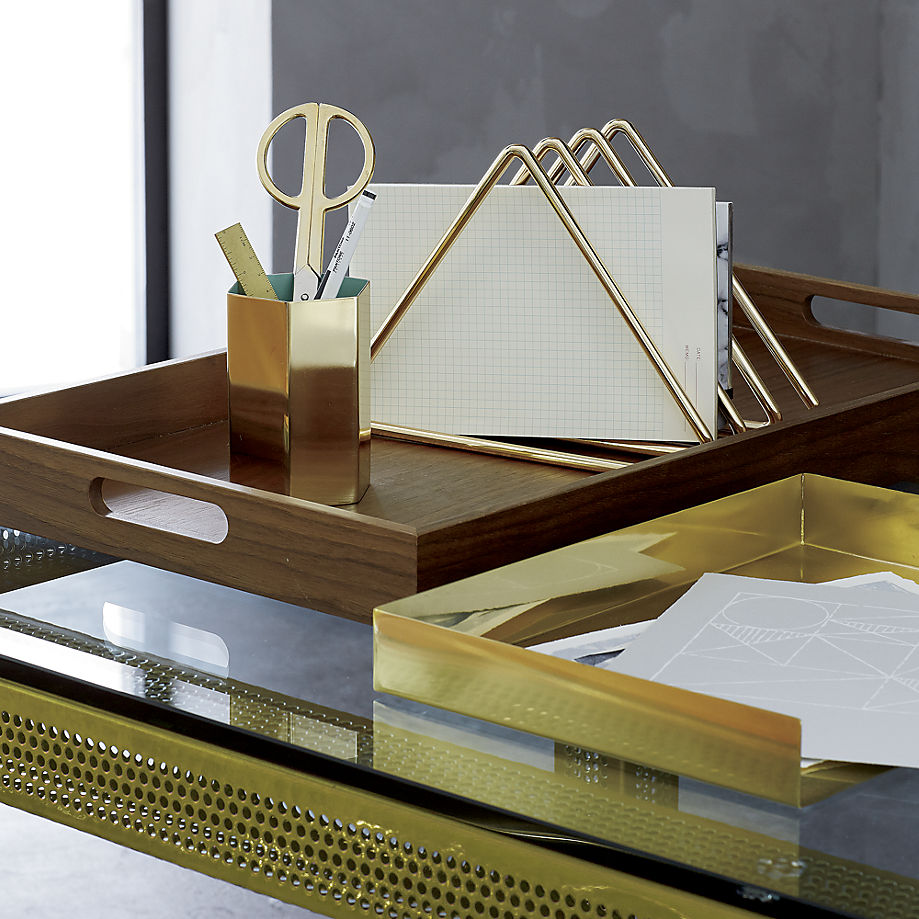 And if you're hoping to keep papers, photos and memos off your desk completely, consider the Frame Pinboard in Blue from ferm LIVING. Take it to the wall with fabric and powder coated metal, each framed in ash wood to create a board that's worthy of display. Choose from small and large sizes, and you can select grey instead of the blue board featured below: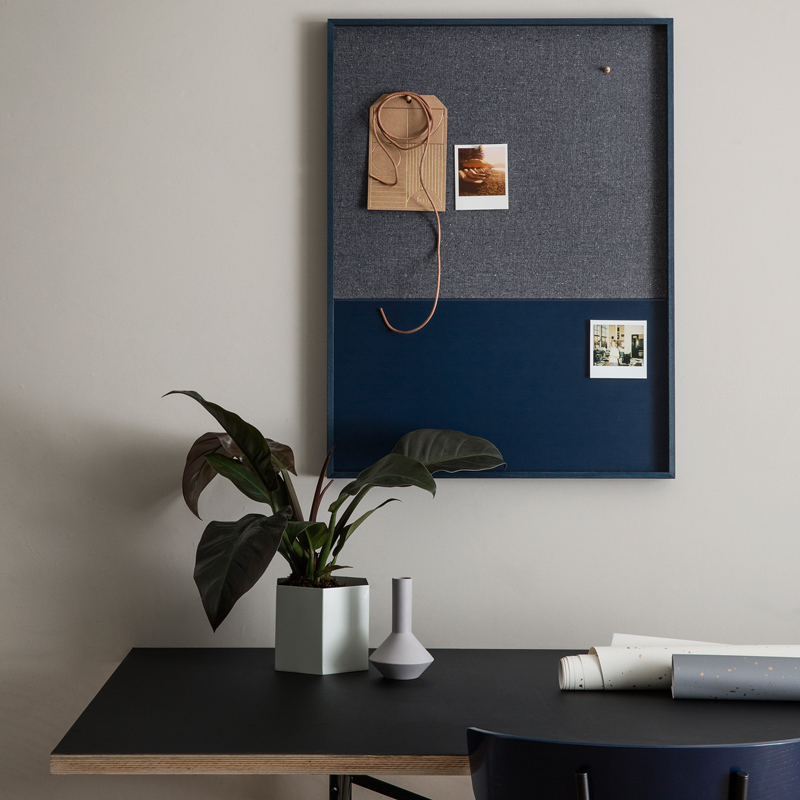 For another off-the-desk option, these wall grids from Urban Outfitters exude retro-modern style. Clips are included to help get the display started!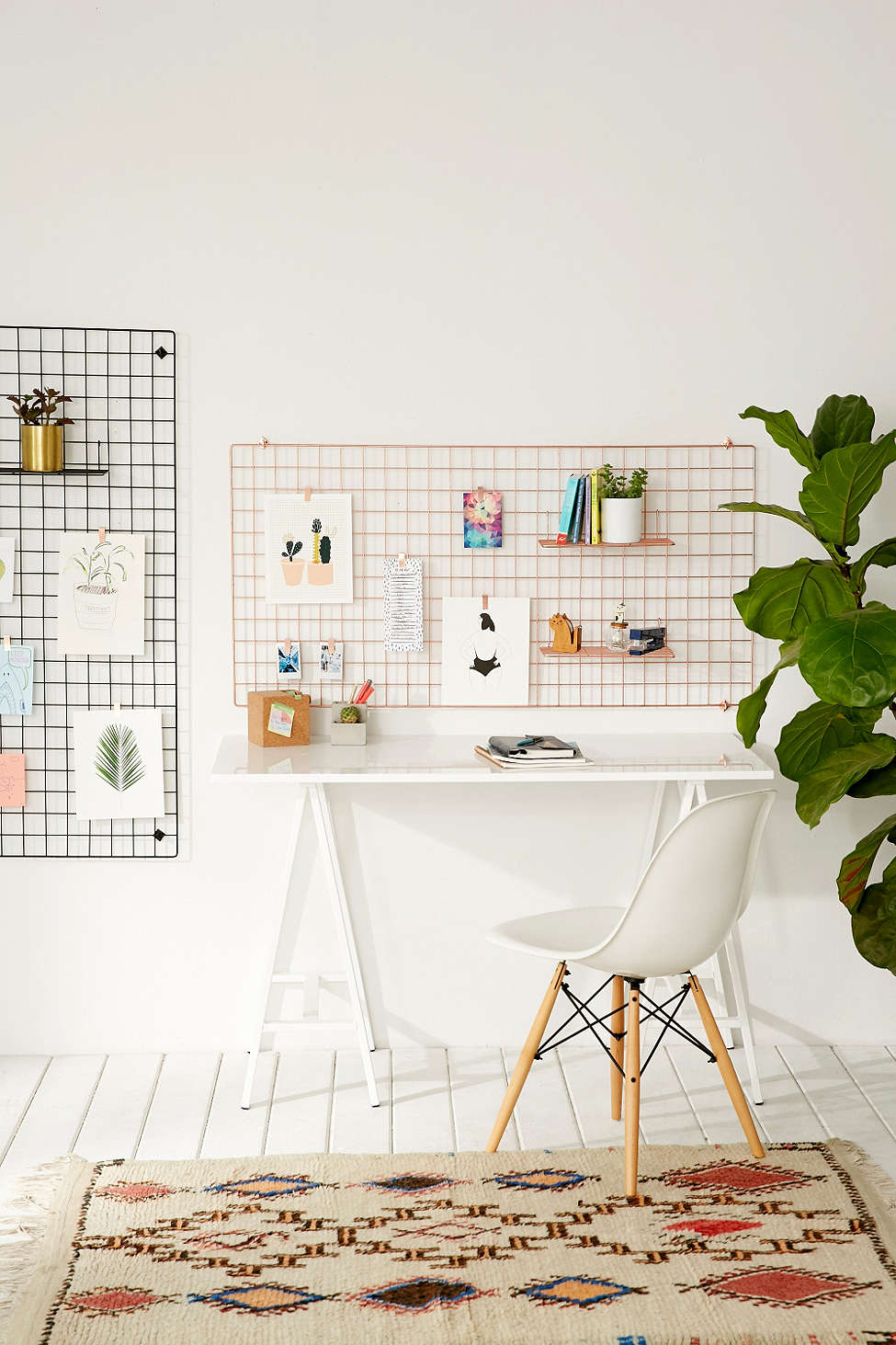 Function at Its Finest
We cap off today's post with a collection of beautifully designed items that will make your office space as functional as it is sleek. The Uprise Monitor Riser from Uncommon Goods is a two-tiered organizer that gives your monitor just the right lift. As you can see below, the piece (designed by Gwen Weinberg) can also be displayed upright to serves as a caddy or sorter: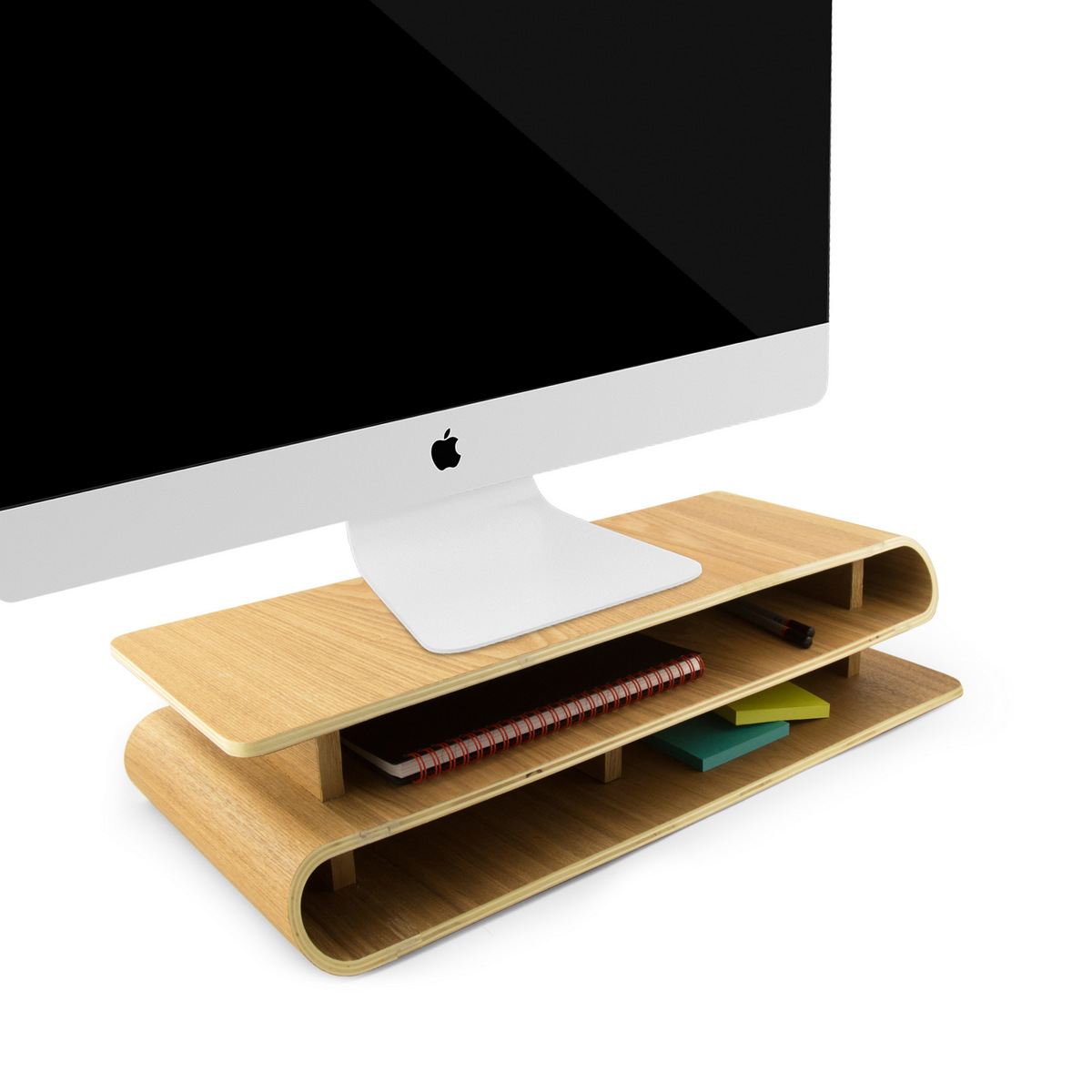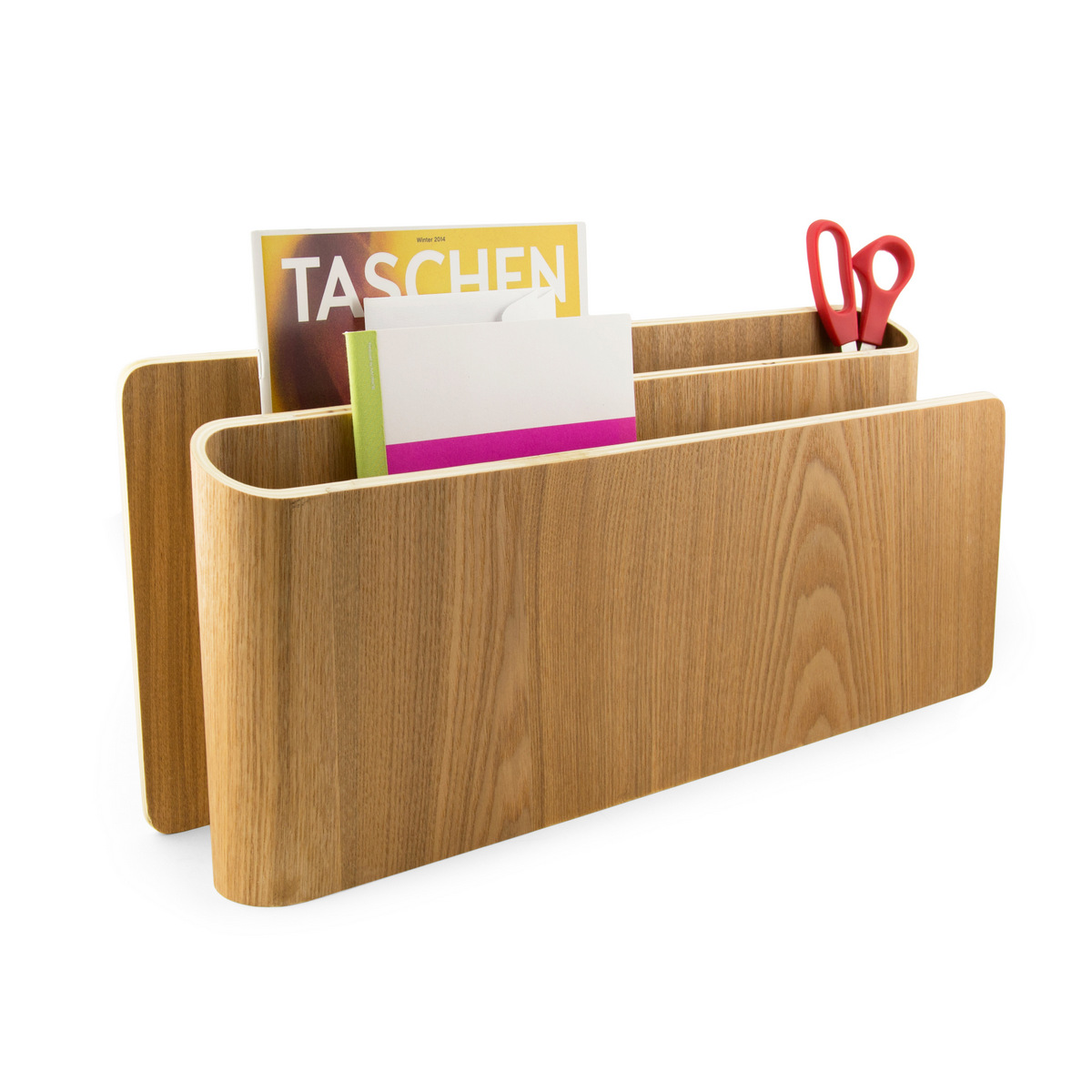 Urban Outfitters' Gumball Desk Lamp provides a helpful dose of lighting while adding Midcentury style to your work space. Metal with a high-shine finish makes a big impact, especially when combined with the lamp's spherical shade: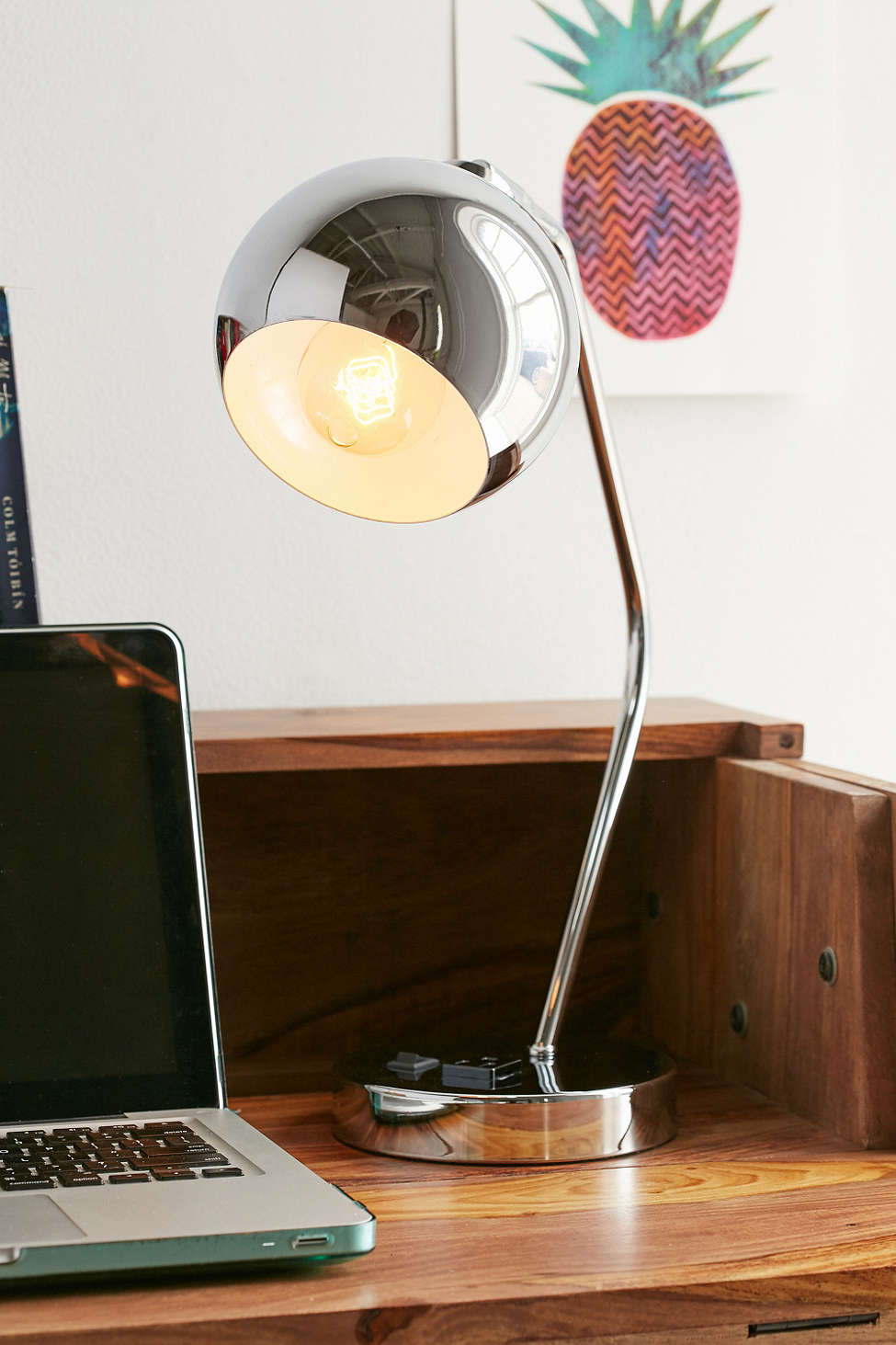 For a colorful lighting option, the Glass Sleeve Desk Lamp from Uncommon Goods features hand-blown glass and a round cork base. Made in Portland, Oregon and designed by Gary Bodker, the lamp is available in Turquoise or Amber.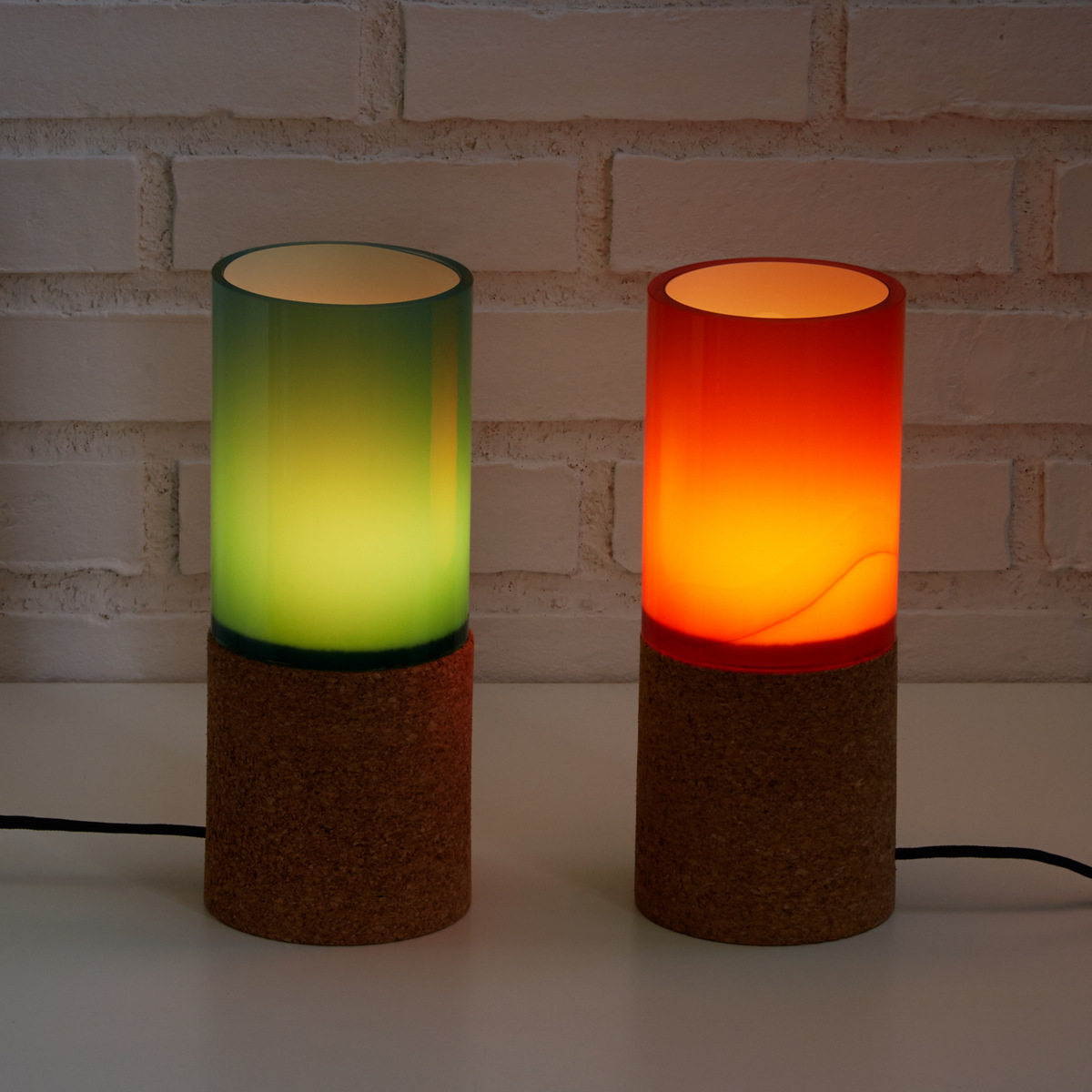 Need a cool breeze to help make your workday a more productive one? The 11+ USB Mini O-Fan from Urban Outfitters is quiet and effective. Let it refresh you as you knock out your to-do list: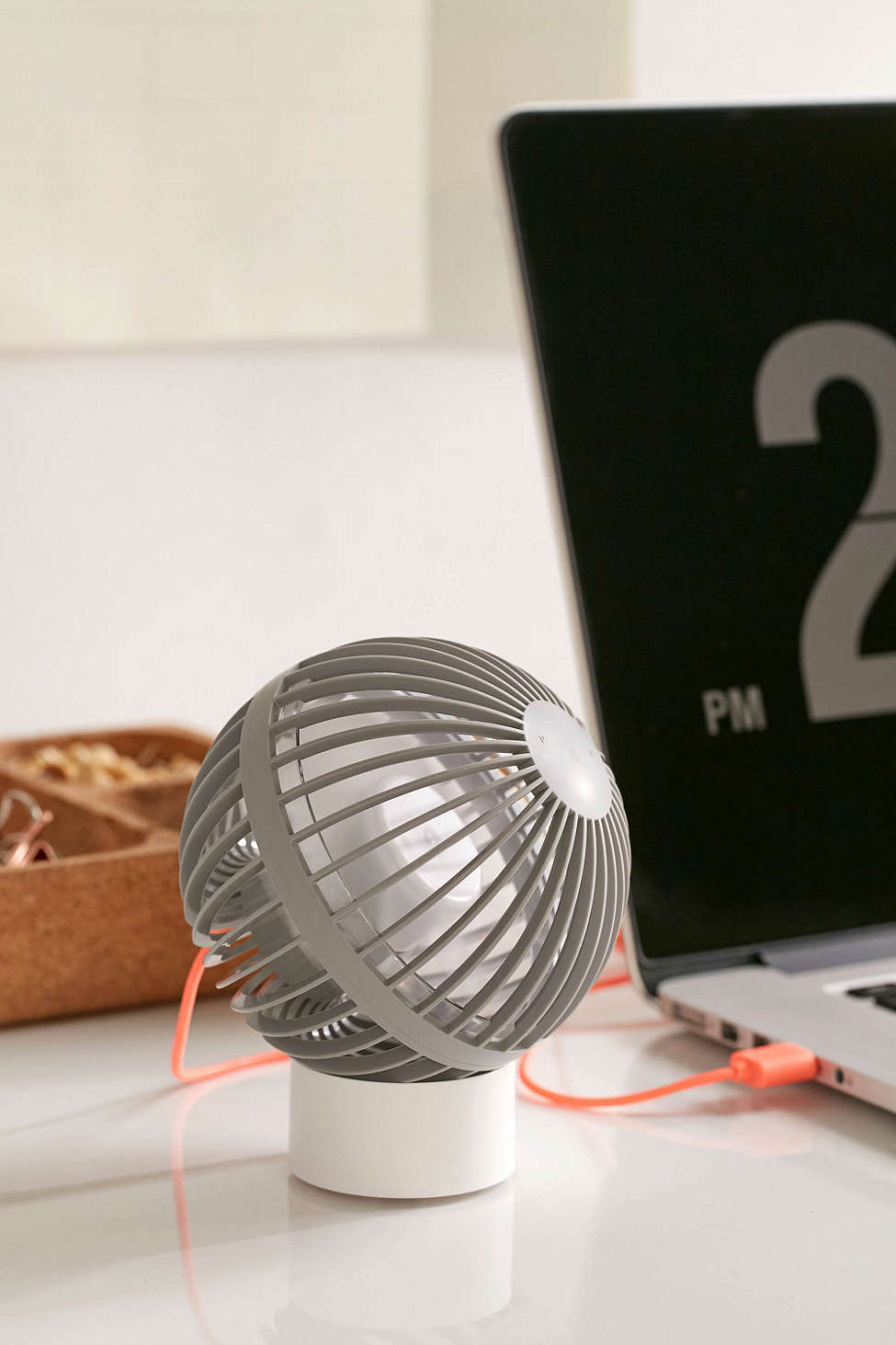 Keep wires in check with the blueLounge Mini Cable Drop Set, which can help you attach those stray strands to your desk, wall, or the surface of your choice. Sold in a set of nine.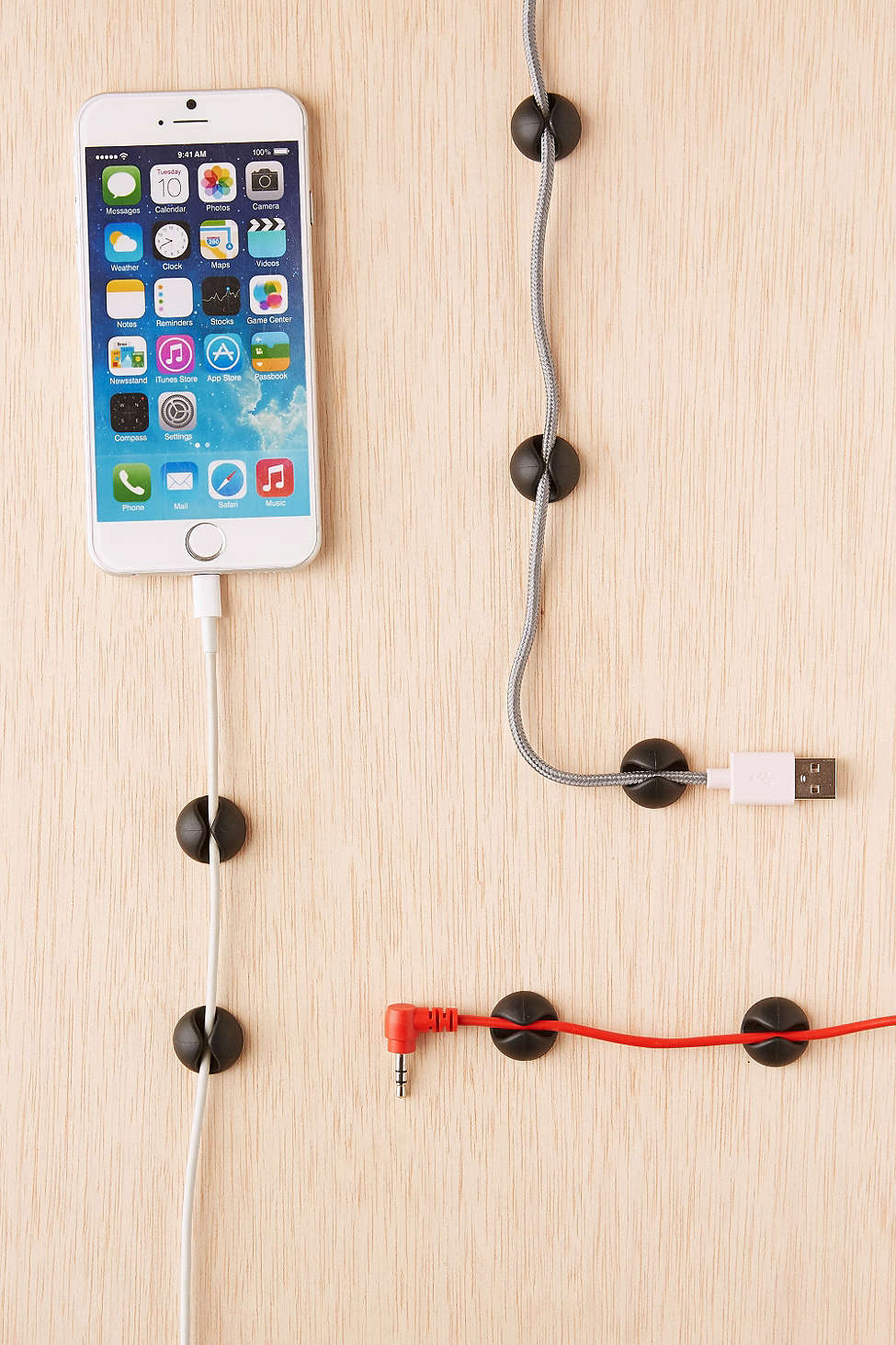 Never lose your glasses again! Uncommon Goods' Eye Glasses Holder is handmade of sustainable shesham wood and hand-carved by craftsmen in India. Not to mention, the piece is created by HSSS, a non-profit in India known for helping underprivileged artisans find just the right audience for their beautiful treasures.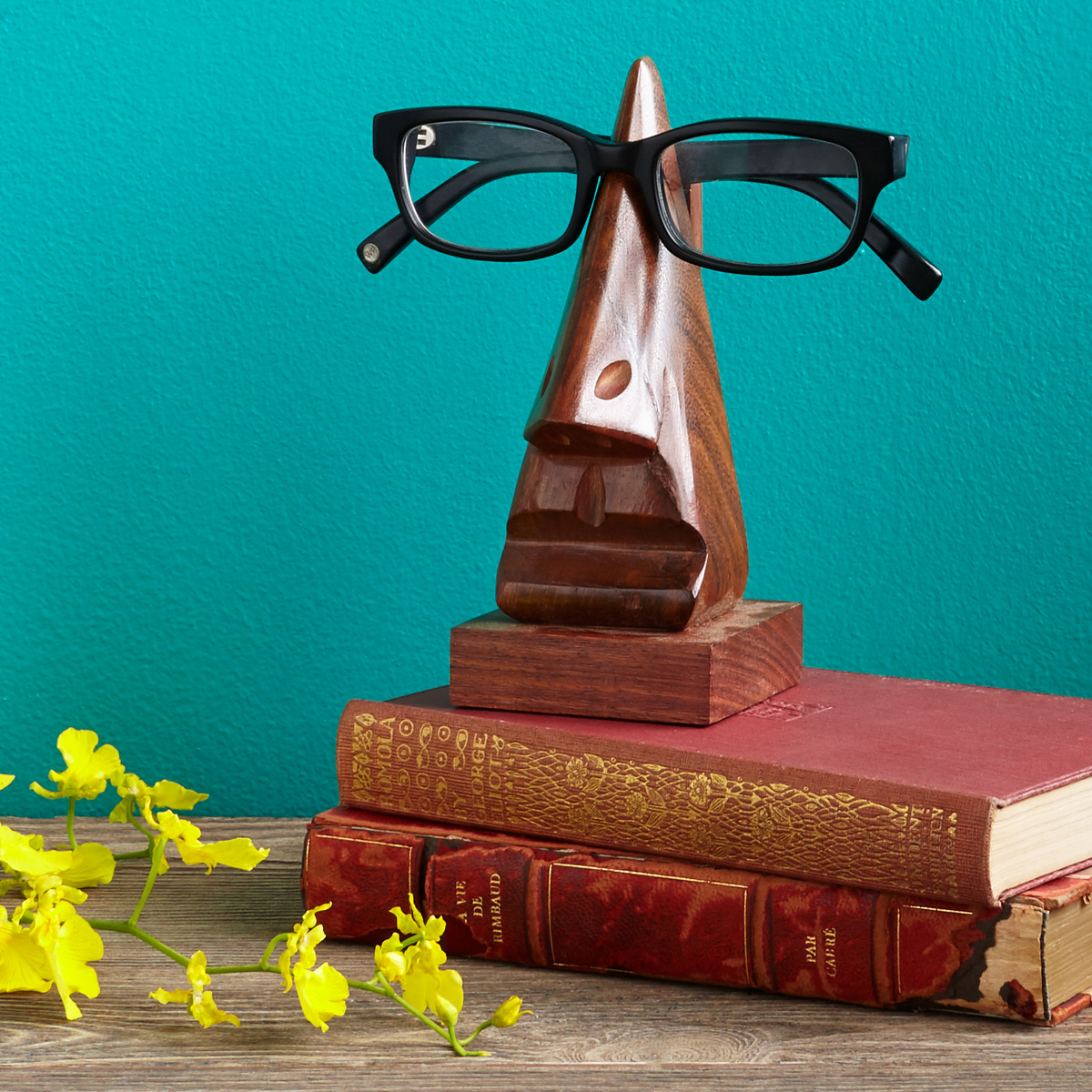 Need more surface area on your desk? Just clamp it! The Clamp Tray from Present & Correct is perfect for adding that extra tray (or extra plant)! Extend your desk in style, and choose from two sizes and three colors to get just the right effect.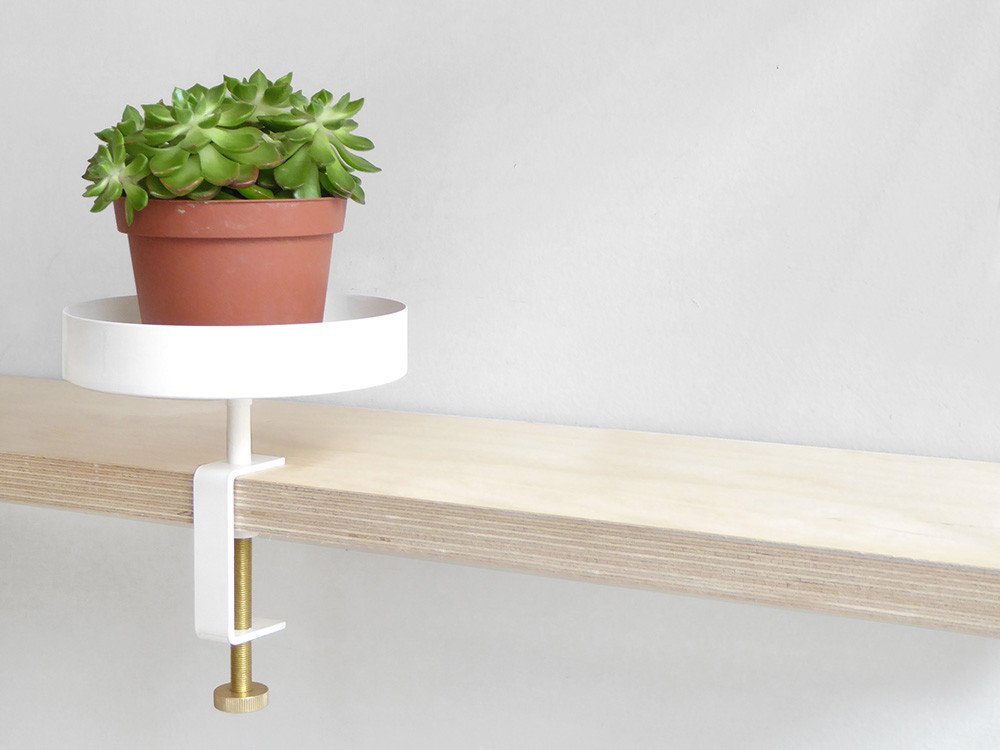 Happy decorating as you organize your desk! Remember, it IS possible to combine function and style in an artful, helpful desktop spread that's just right for your space. [photo from ferm LIVING]