A room refresh can be as complex as a total redo or as easy as creating a statement wall. Today's post is dedicated to the power of a beautifully designed feature wall. From large-scale projects involving tile to smaller DIY endeavors, creating a surface that speaks volumes can be an engaging, fun and rewarding process. Not only does it create a focal point in the room of your choice, it's a great way to showcase your creativity and make a space truly special. While painting an accent wall or using wallpaper are strategies often used in feature wall projects, below you will find range of options that go beyond the obvious. Enjoy! [photo of Fireclay Tile backsplash by Laura Petrilla]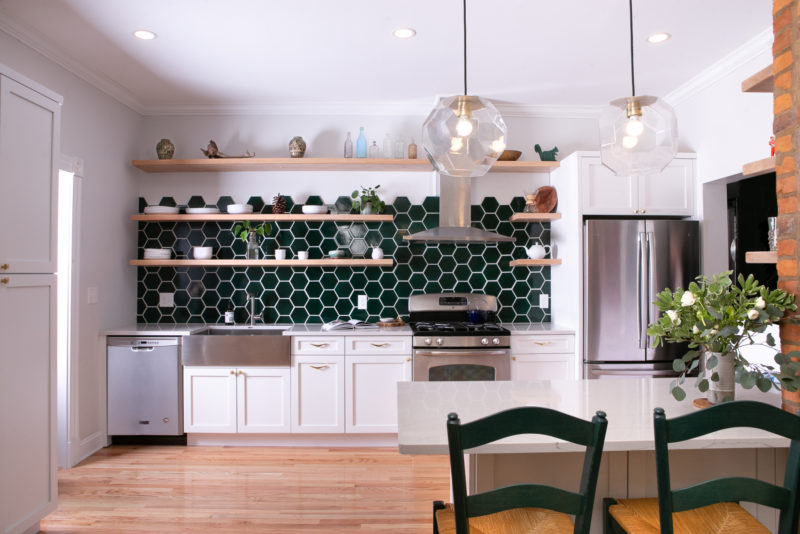 Tile Talk
We begin with a more involved approach to creating a feature wall: tile. It's an exciting time to be working with tile, as a wide range of new products, designs and brands are continuing to emerge. Tile design approaches the level of mosaic art in the image below, featuring Braided Picket Bathroom Wall Tiles from Fireclay Tile. [photo by Kuoh Photo & Creative, design by Nest Design Co.]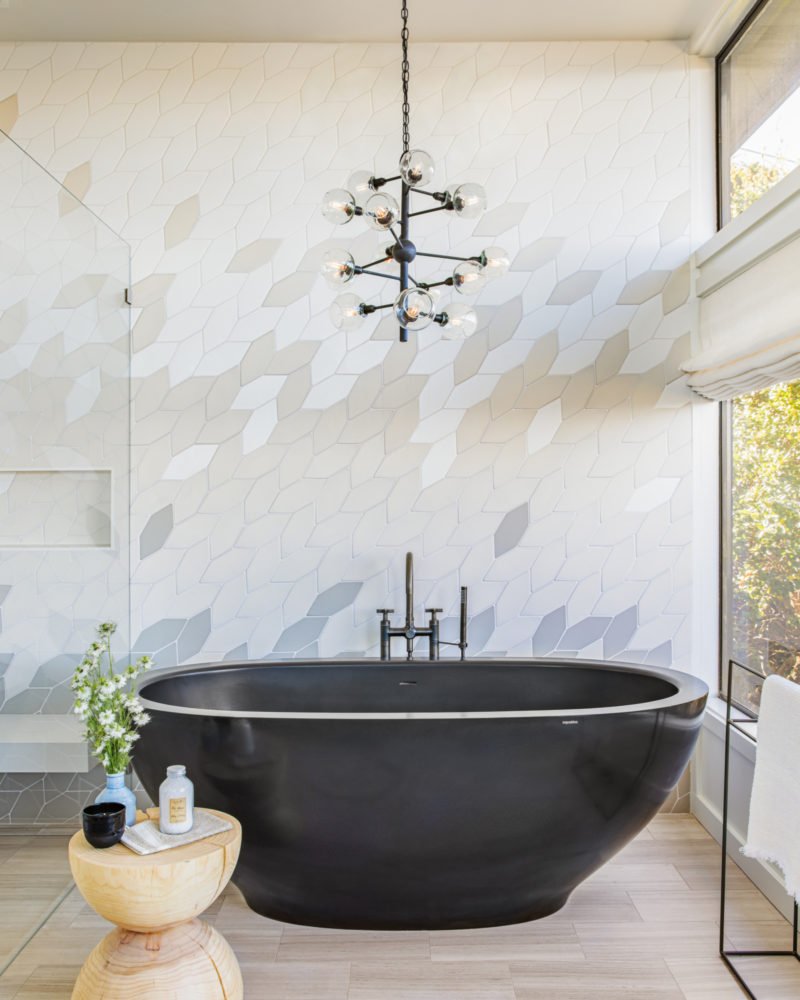 Also from Fireclay Tile, this Small Diamond Sheeted tile is perfect for a kitchen backsplash that makes a statement. As you can see, tile feature walls make a lot of sense in spaces such as the kitchen and the powder room. By choosing an interesting pattern or a vibrant color, you can take functional areas of the home to the next level. [design by Destination Eichler, photo by John Shum]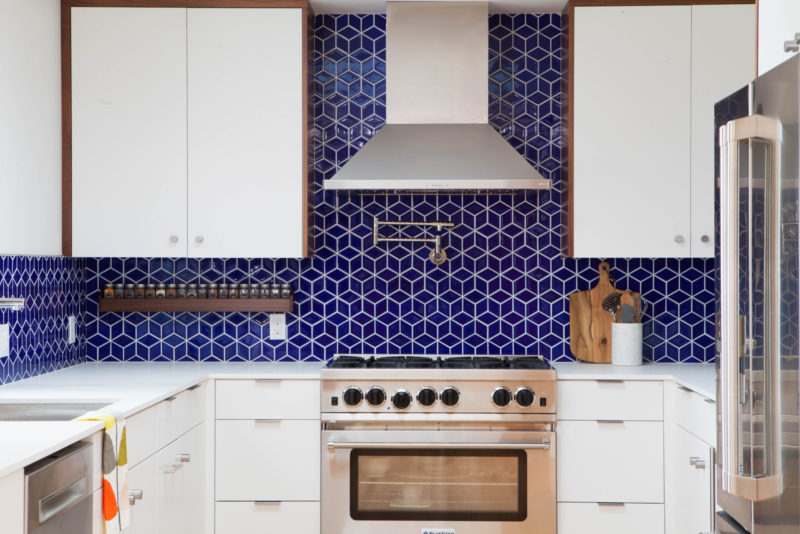 Terrazzo Tricks
This next section of the post explores how one motif (terrazzo) can be featured on a wall using a variety of techniques. Perhaps you can use one of these strategies to create the motif of your choice. Up first: stencils! Dizzy Duck Designs' Terrazzo Stencil takes the guesswork out of painting a feature wall. If you think painting with a stencil is outdated, the on-trend, modern result below just might change your mind: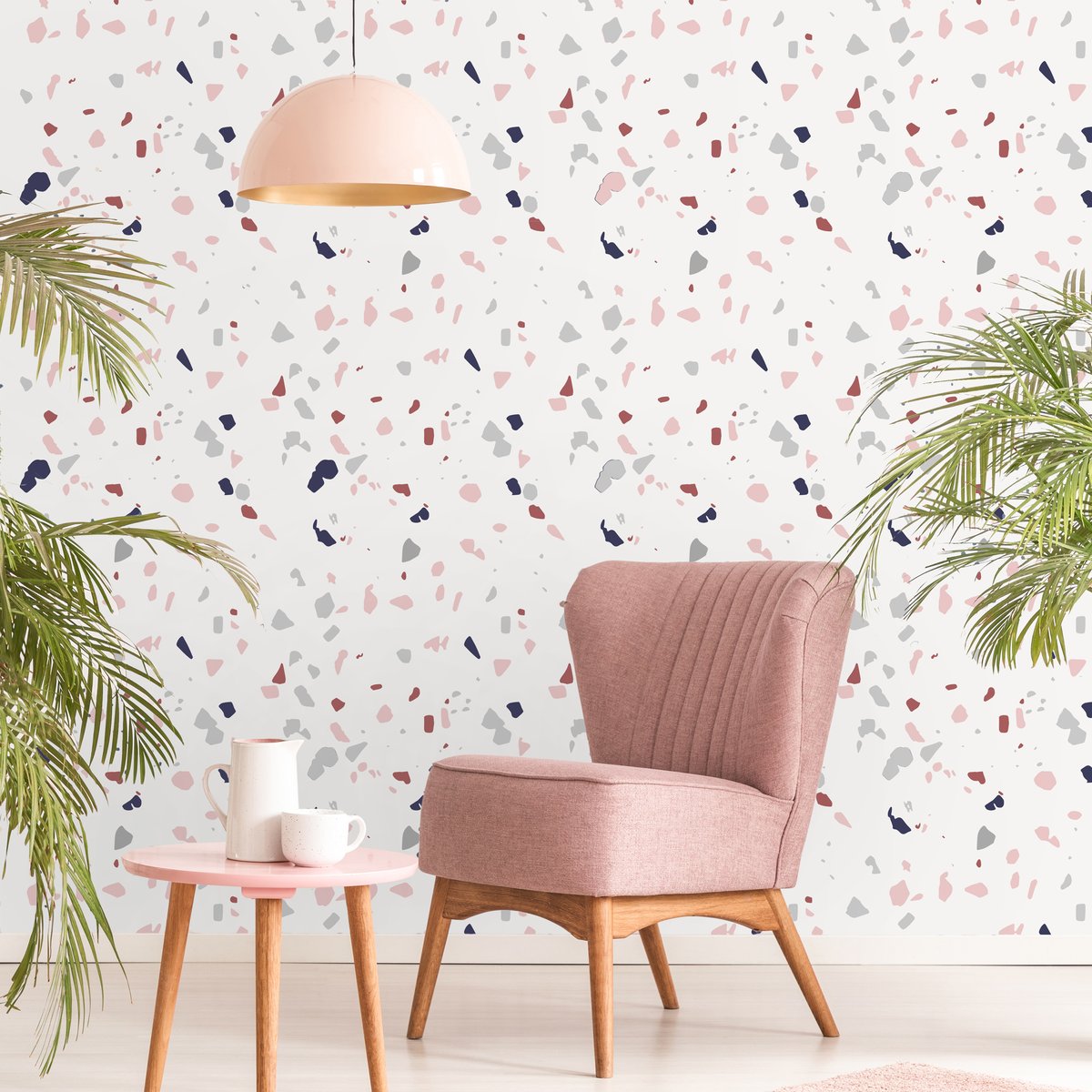 If you're not up for painting, consider wall decals. Trendy Peas' Terrazzo Wall Decal set includes fabric stickers that are easily removable, as well as reusable. Let your creativity take hold without worrying about permanent implications!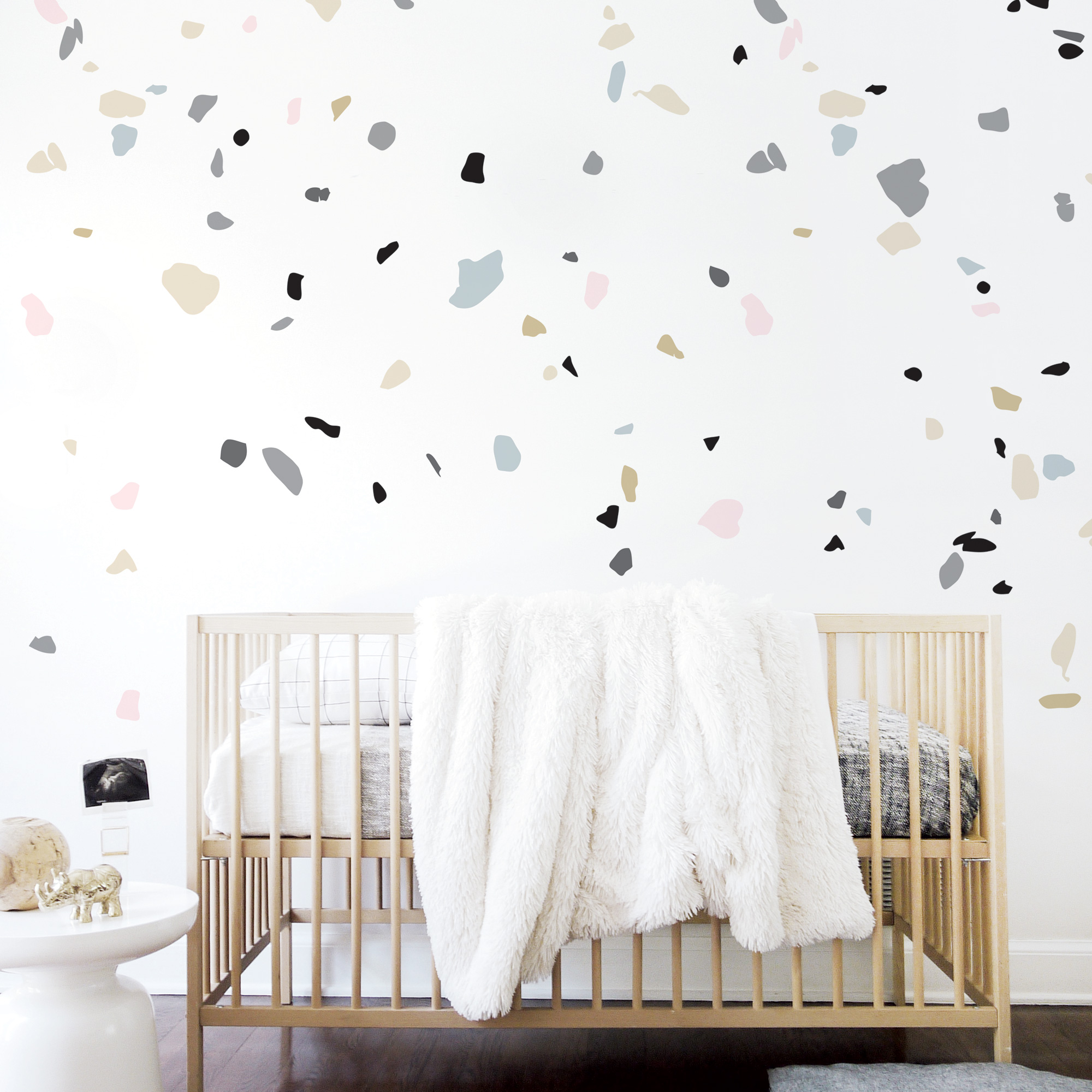 As you can see from the photos above and below, terrazzo patterns range from the rounded to the angular. Below we see Project Nursery's Modern Terrazzo Wall Decals, a set that consists of 125 individually cut shapes. Also featured in the set: an on-trend palette of neutral hues.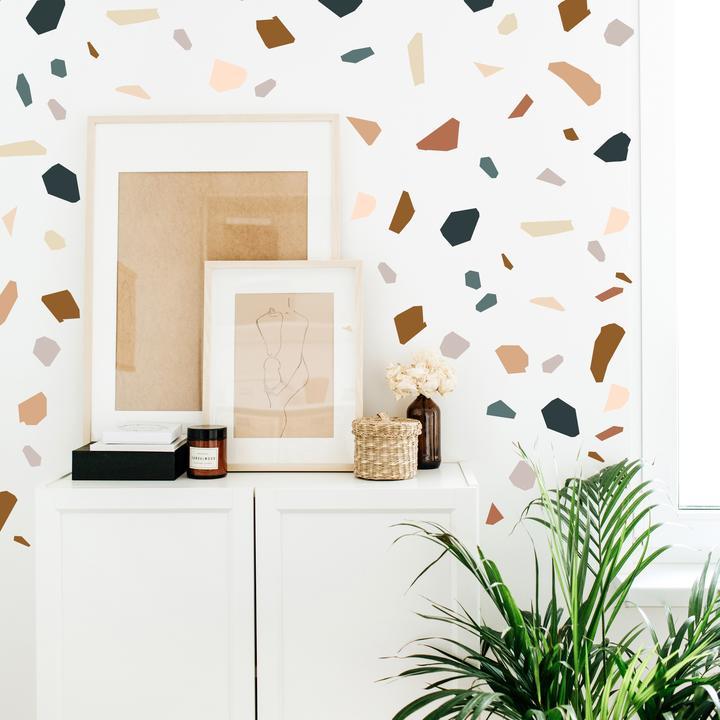 If you're looking to make a statement that's more permanent, consider a wall panel. Maestro's Wall Freckled Terrazzo creates the perfect accent wall. Check out the brand's Wall Terrazzo Blue for a vibrant option.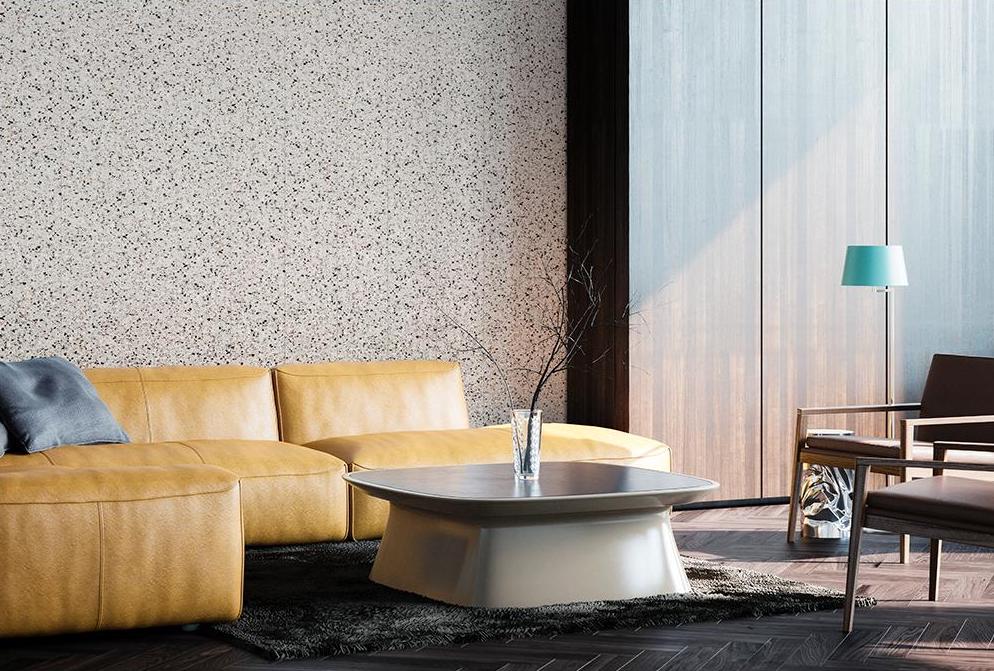 Below we see a closer view of the panel. Note how the detailed pattern truly shines in a room where clutter is kept at bay. A feast for the eyes, terrazzo is all about the beauty of small pieces that connect to make a big statement.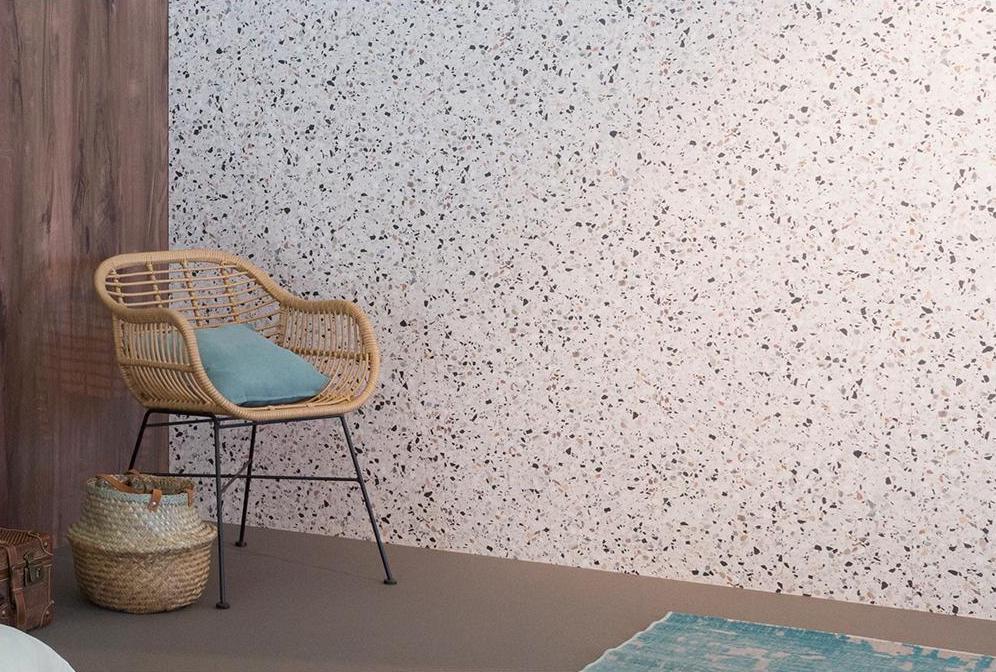 Keep in mind that the three options featured above (stencils, wall decals and wall panels) can all be used to achieve the motif of your choice. In other words, terrazzo not required. Whether you use decals for your feature wall or you decide to freehand a pattern, choose a design that you love and a strategy you can handle. Then let the design magic unfold!
Sculptural Style
Have you ever been tempted to create an art installation on a wall in your home? Perhaps a few sculptural touches can call attention to the area of your choice. Sconces that double as modern art are a great place to start! Below we see the Amagansett, NY beach house of author and interior designer Athena Calderone. Did the round Medican Sconces from Apparatus catch your eye? Because they sure caught ours… [photo from Architectural Digest]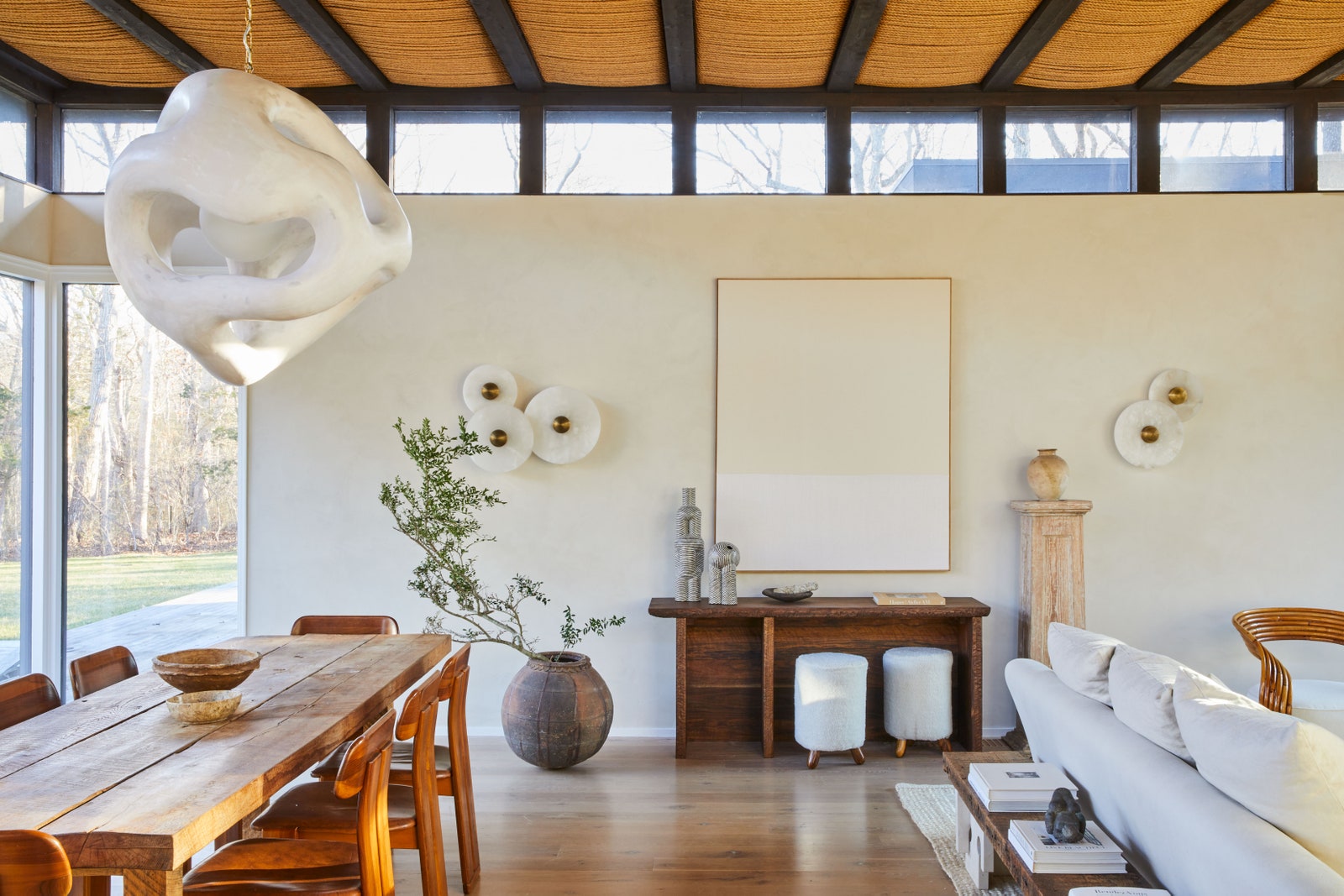 And now for a close-up of the sconces, which are crafted from translucent alabaster and fluted brass: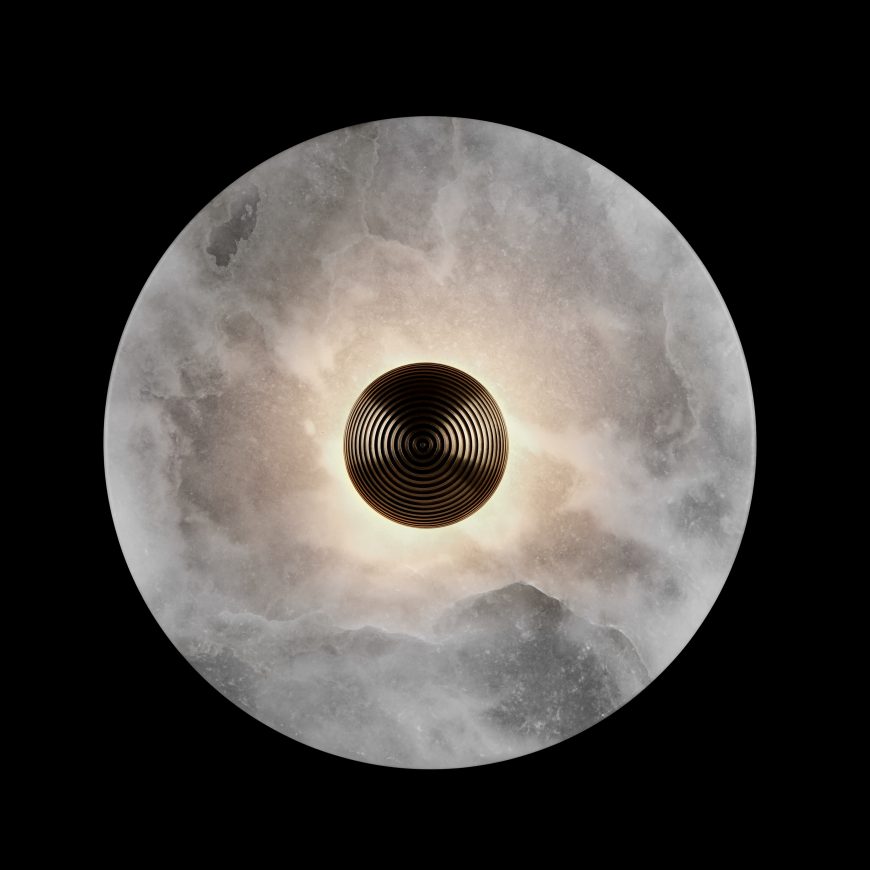 Piecing together smaller sculptural pieces can create an artistic focal point, and so can purchasing one large sculptural item. The metal sculptures of Curtis Jere are iconic, so it's no wonder that Jonathan Adler exclusively partnered with the studio to reissue some truly unforgettable selections. Raindrops can be seen in the next featured image.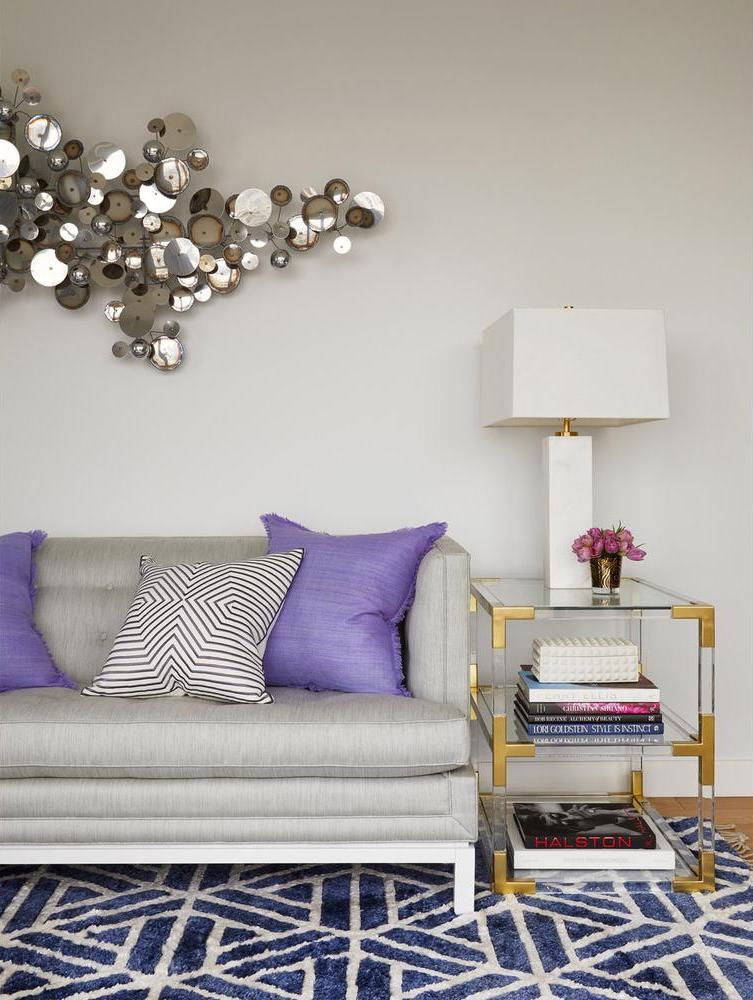 Curtis Jere's Urchin sculpture is on display below, with its sunburst-style forms that can turn any blank wall into a showstopper. While some may not consider hanging a wall sculpture to be the equivalent of creating a feature wall, we think it's a clever and creative way to make any wall in your home a true standout.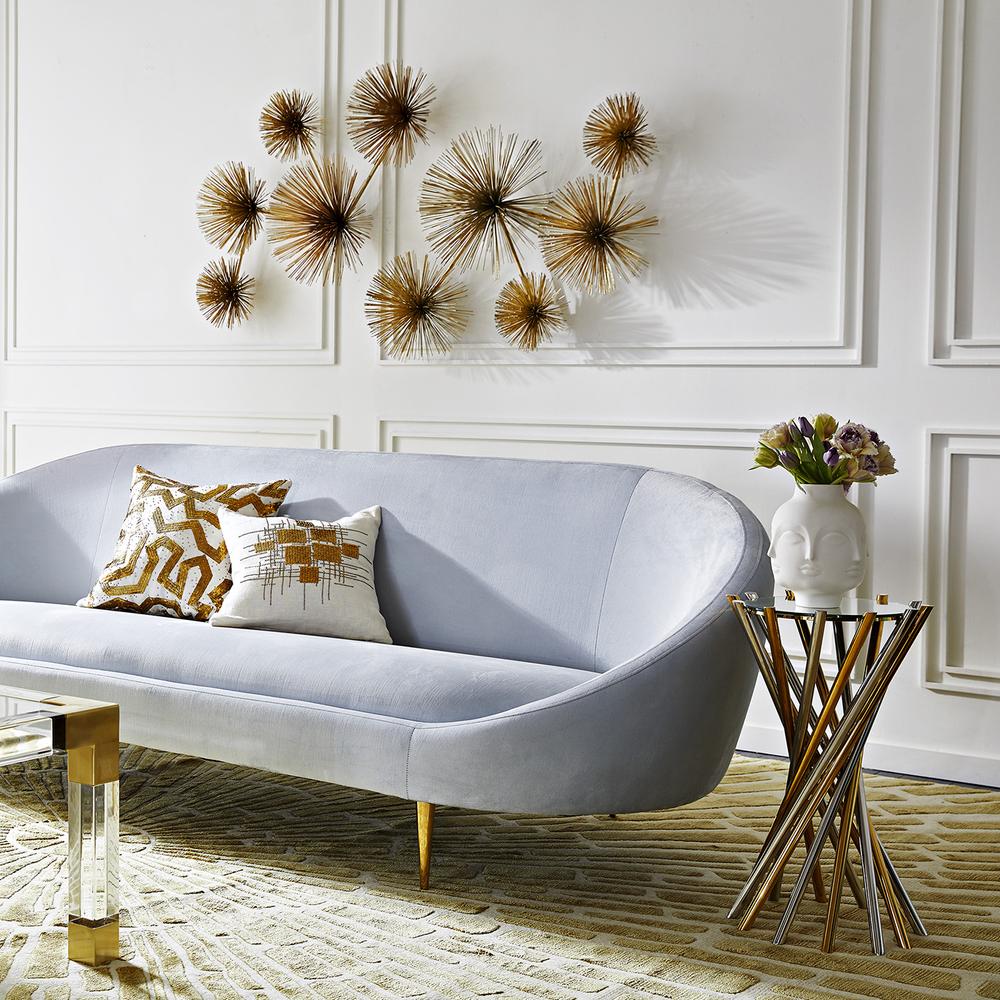 Don't be afraid to think outside of the box as you plan and execute your feature wall endeavor. For example, Urban Outfitters' Palmera Fan Headboard is so much more than a headboard. This giant bamboo fan is a large-scale statement just waiting to transform the wall of your choice: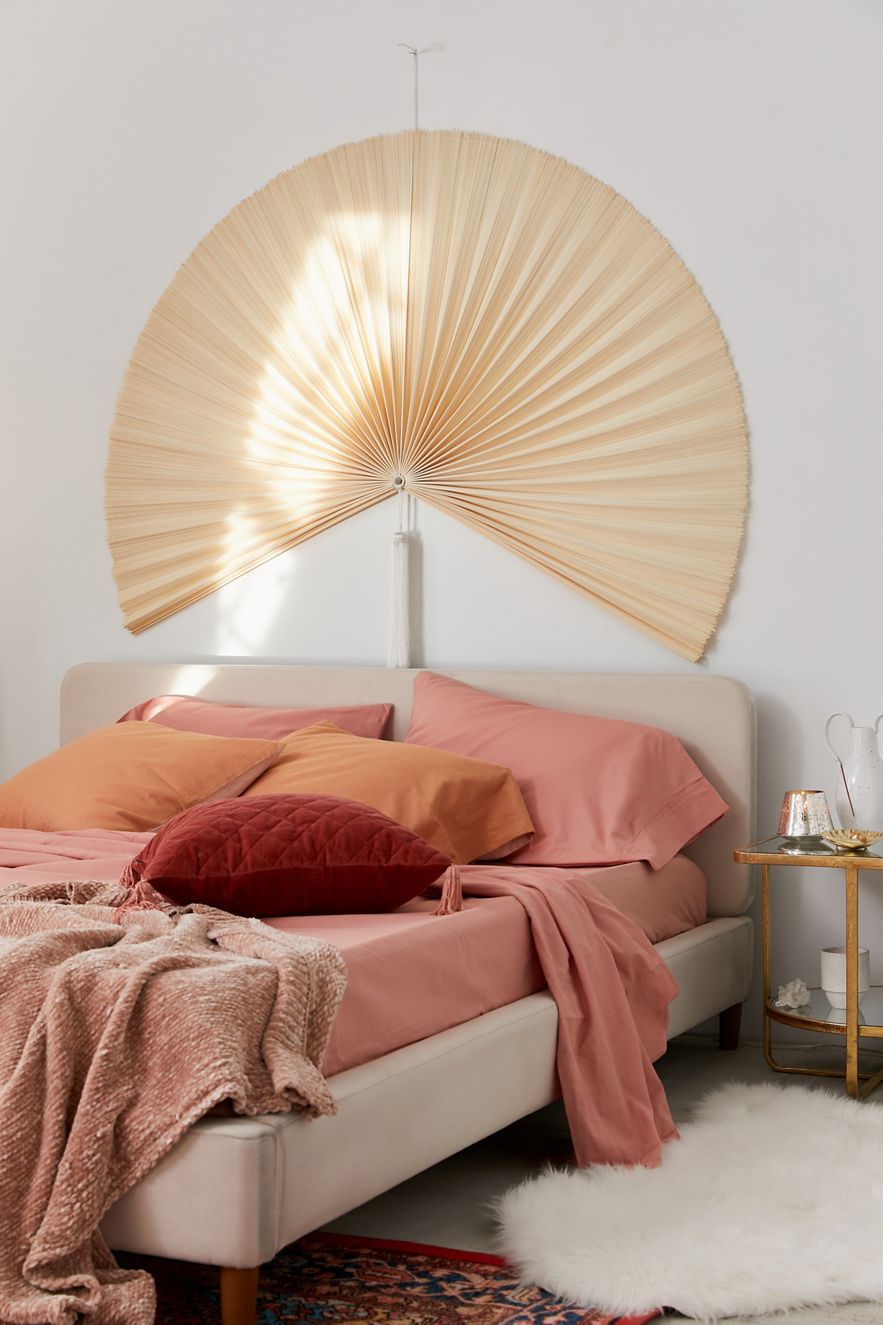 Plant Power
We end today's post by focusing on the power of plants. Real or faux, they have the ability to bring the outdoors in and connect us with nature. This isn't the first time we've featured A Beautiful Mess blogger Emma Chapman's living wall. It makes her home office truly spectacular. In this post, she tells us just how to create a feature wall using a large number of faux plants. The results are impressive, don't you think?!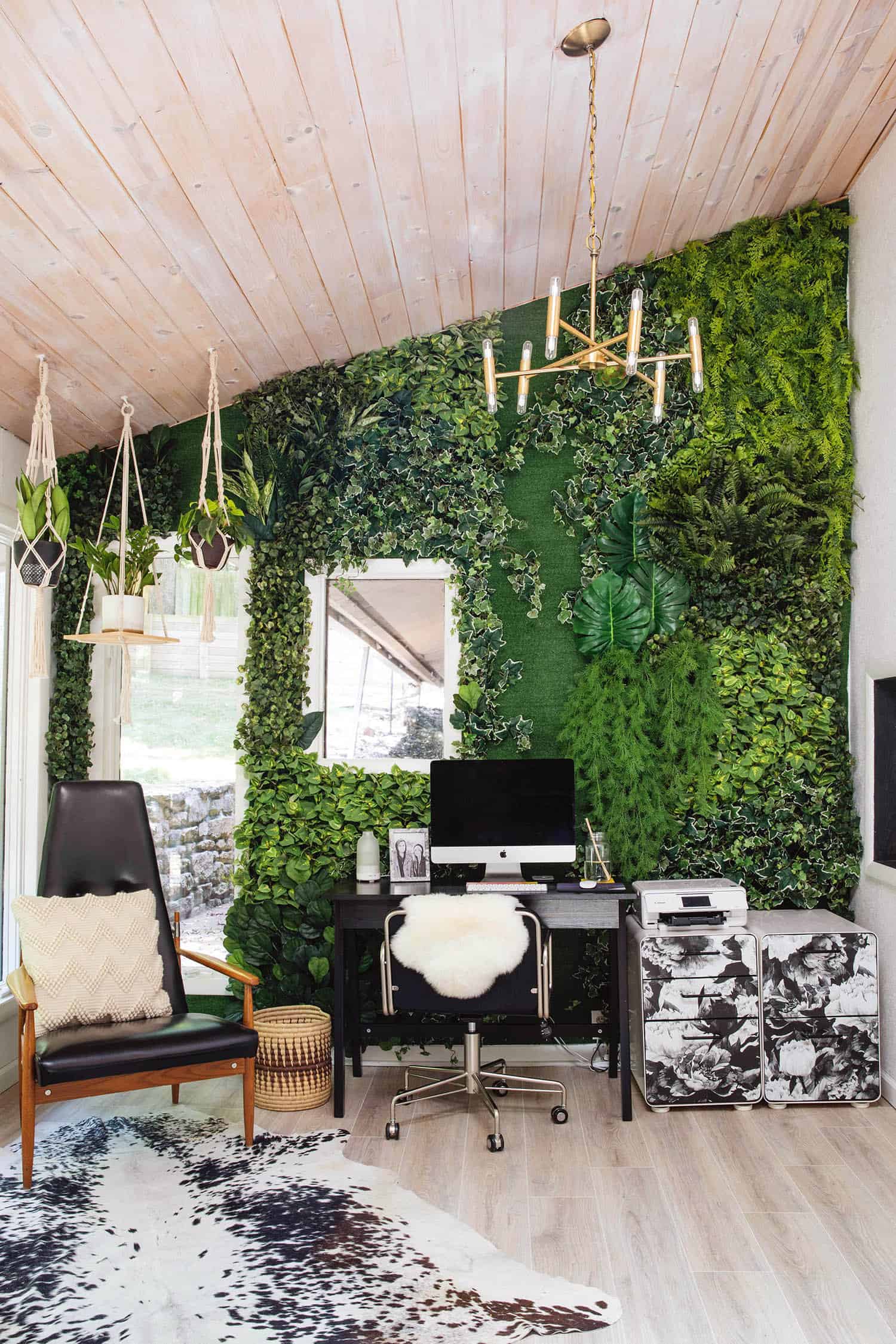 You can scale this project down by creating a small faux living wall using artificial plant panels and the faux greenery of your choice. Check out our Decoist tutorial, which takes you through the easy steps. Bonus points if you keep the budget low by purchasing your greenery on sale.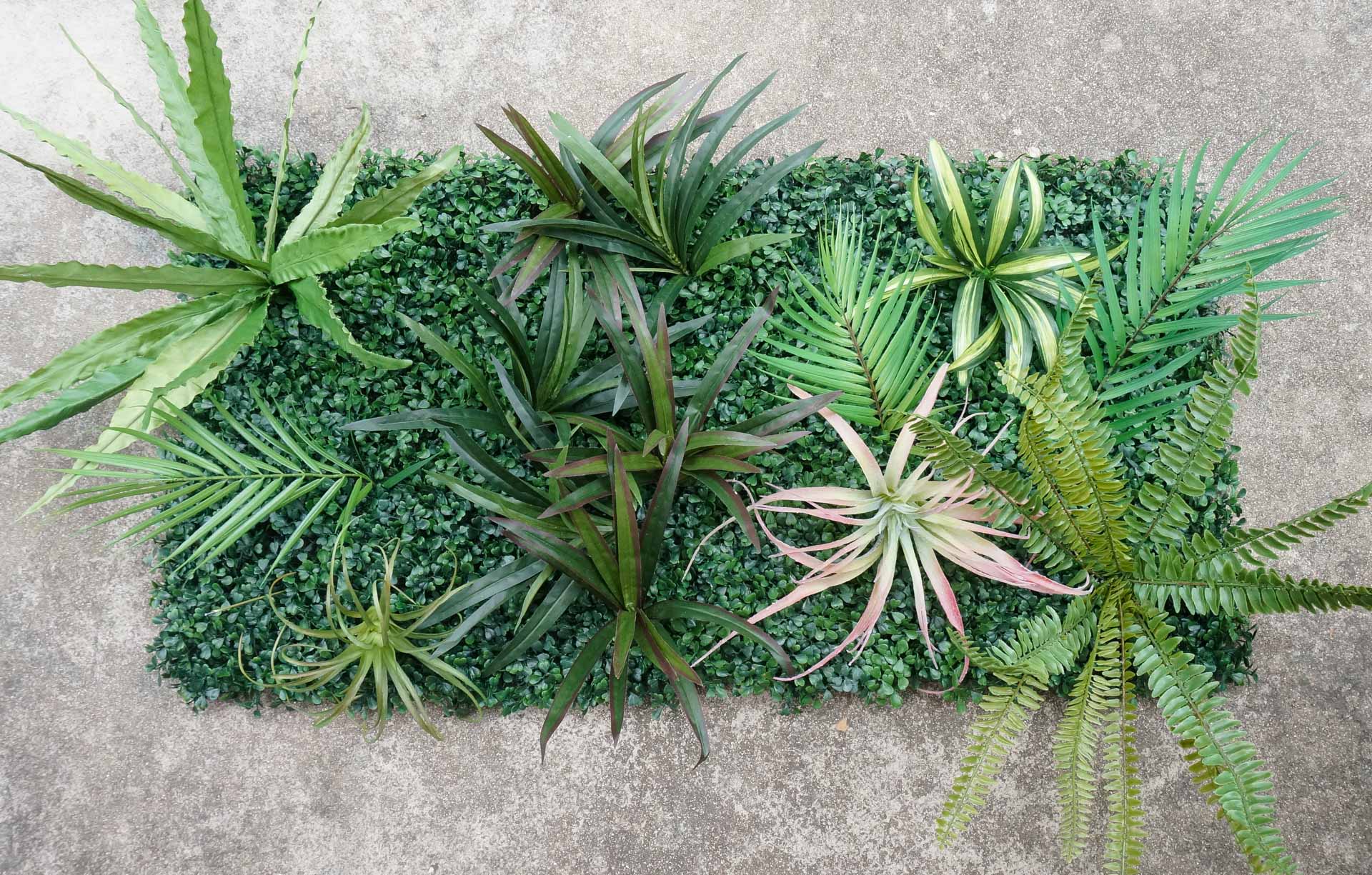 From faux plants to dried plants, note that dried foliage is one of today's top design trends. Brands and online marketplaces such as Etsy are filled with dried greenery options if you're in a shopping mood. And if you're in a design mood, you can easily create a feature wall by covering it in dried palm leaves, pampas grass and more. Or you can purchase a set of Lenora Wall Hangings (one is pictured below) and hang these modern dried palm leaf creations on the wall of your choice. When it comes to creating a feature wall, the more the merrier.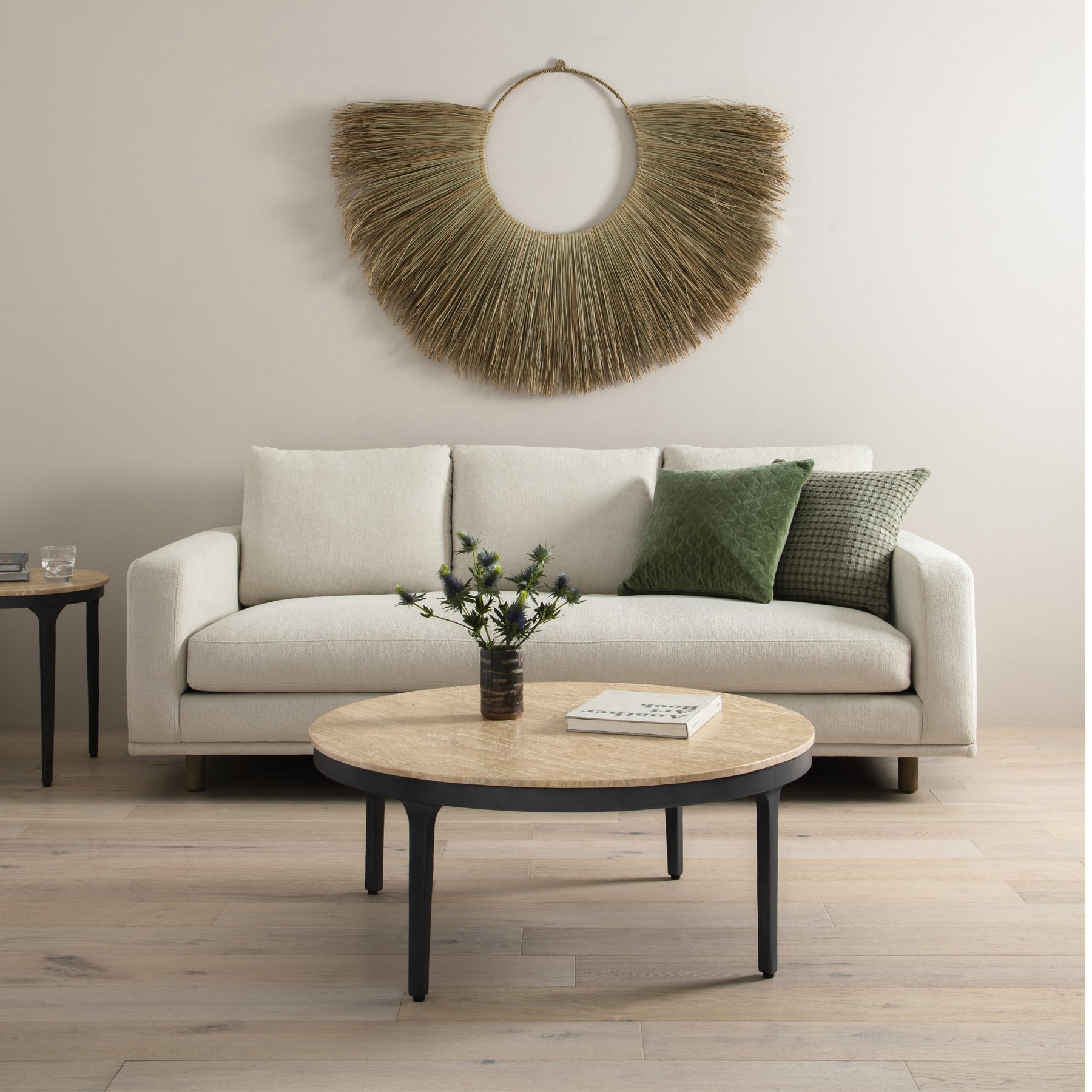 We hope today's post has inspired you to create a feature wall of your own. Whether you go big or you're on a small budget, there are many opportunities for amazing design. Happy decorating!