Creating a faux living wall is a great way to make a big statement on a budget. As a bonus, the "faux" part of the project means no plant maintenance! Today's DIY project makes use of easy-to-hang faux plant panels rather than hex netting. Whether you frame it or leave it as-is, you'll have fun seeing your vision come to life with each plant placement on the verdant backdrop! Keep reading for easy-to-follow project instructions and more…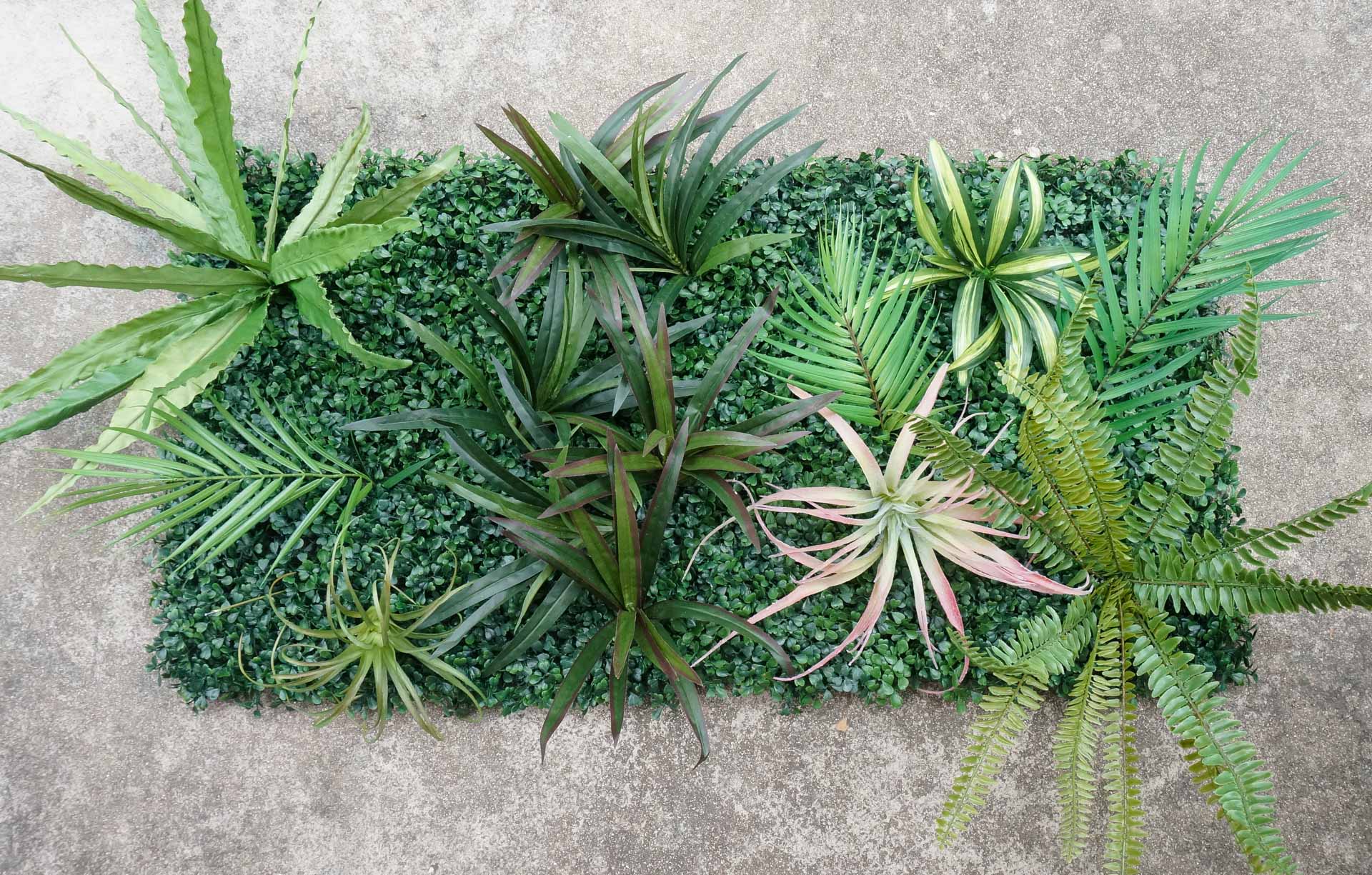 *Styling and photos by Kate Simmons for Decoist
Faux Living Wall Supplies
This beautiful DIY project is definitely budget-friendly, especially if you purchase your faux greenery on sale. Here is your project supply list:
faux plants
artificial plant panels (see below for details)
wire cutters
pipe cleaners
hammer and nails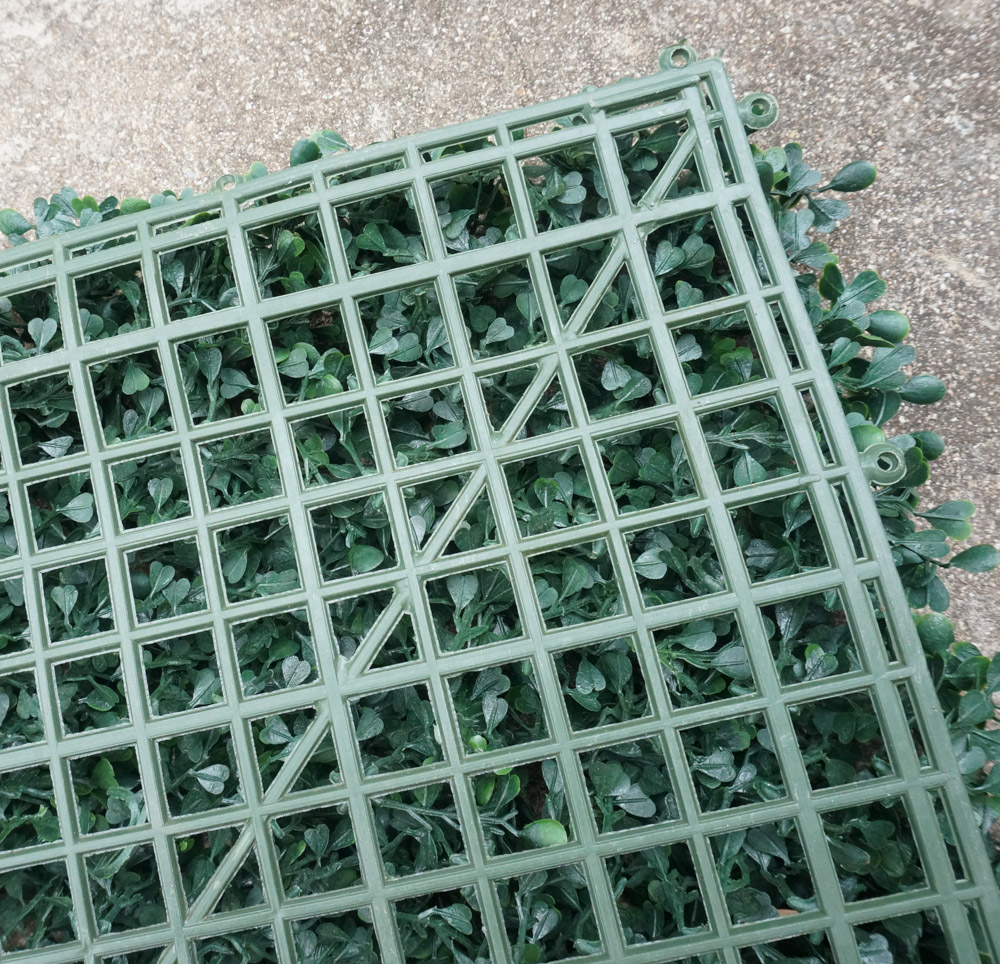 The beauty of artificial plant panels is the fact that they already have a grid backing. This will come in handy as you attach plants to the green backdrop. Today's project was created using two NaturaHedge faux boxwood panels (from an affordable, lightly used set purchased on eBay). If you know someone who has used NaturaHedge and may have some leftover greenery to give you, even better for your budget! Not to mention, two super affordable faux plant panel options are available through IKEA.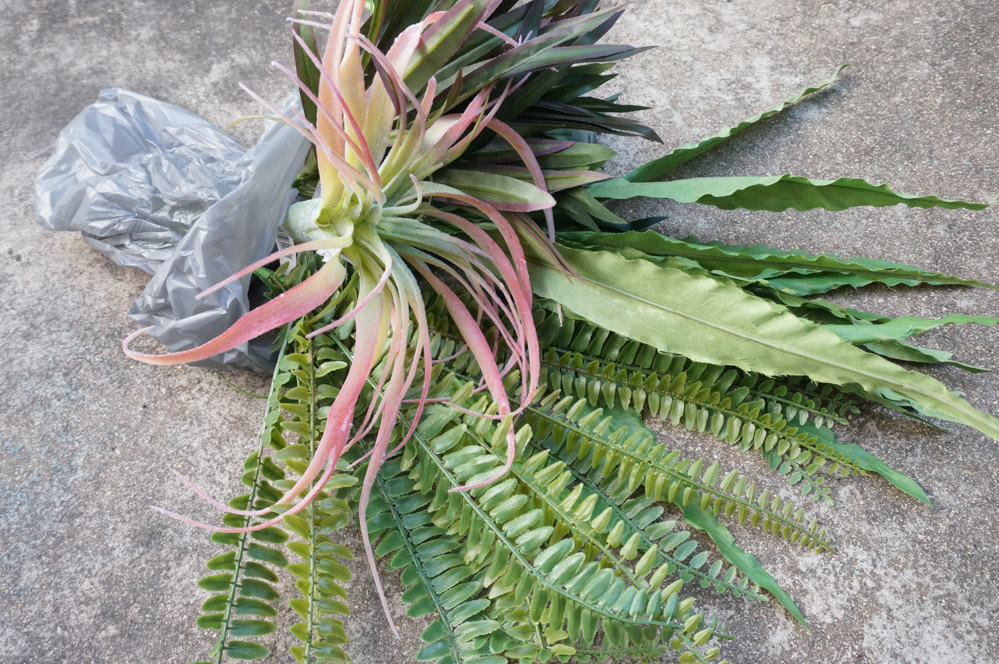 When it comes to selecting artificial plants, try to purchase your faux greenery on sale. This is easy to do when you hit a craft store such as Michaels, which offers frequent discounts and sales. The greenery above (which consisted of 7 different selections) was purchased for under $28.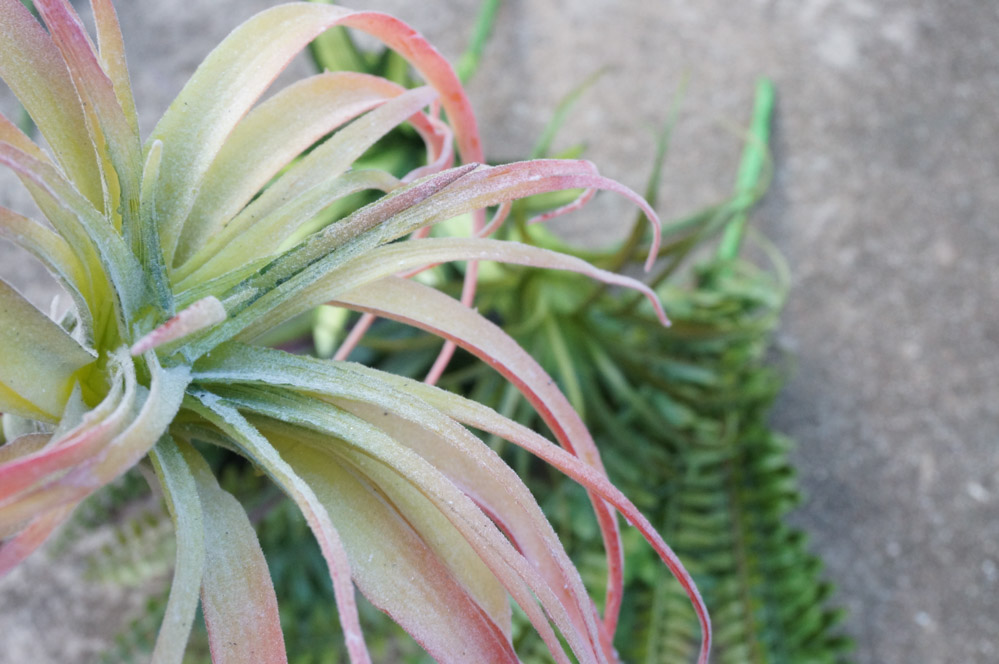 As you shop for faux greenery, it never hurts to select items that represent "faux-looking" plants. For example, succulents and air plants are so perfect-looking in real life, it can be hard to tell if they're real of fake. Use that quality to your advantage for this project!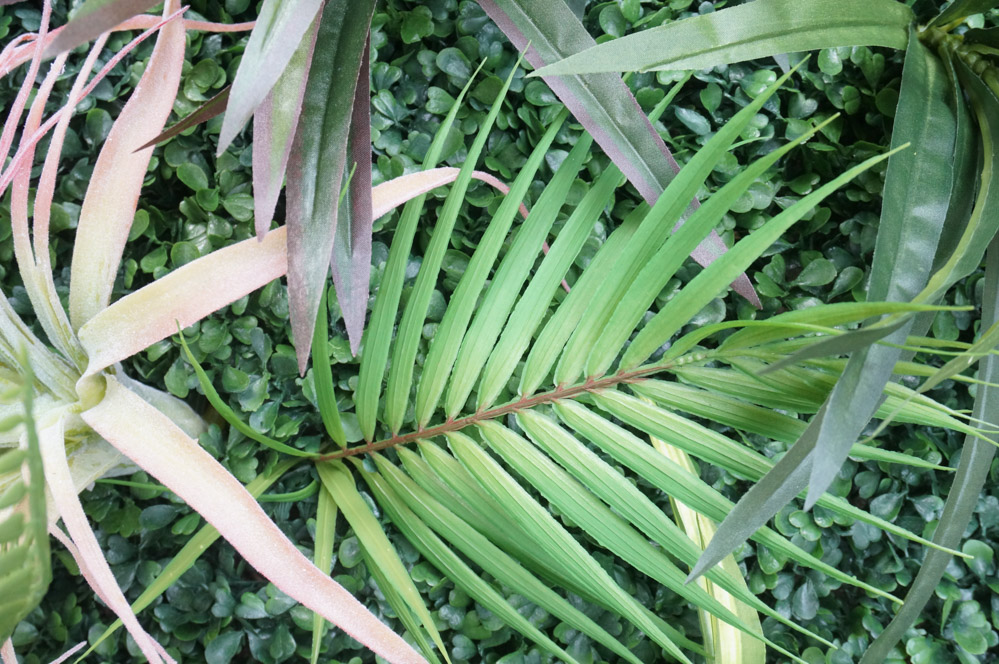 To give your living wall an interesting, diverse look, opt for a variety of colors, shades, and leaf shapes. And since you're going faux, don't hesitate to choose items such as palm leaves, which may be hard to pull off when creating a living wall using real plants. Most importantly, have fun gathering your greenery!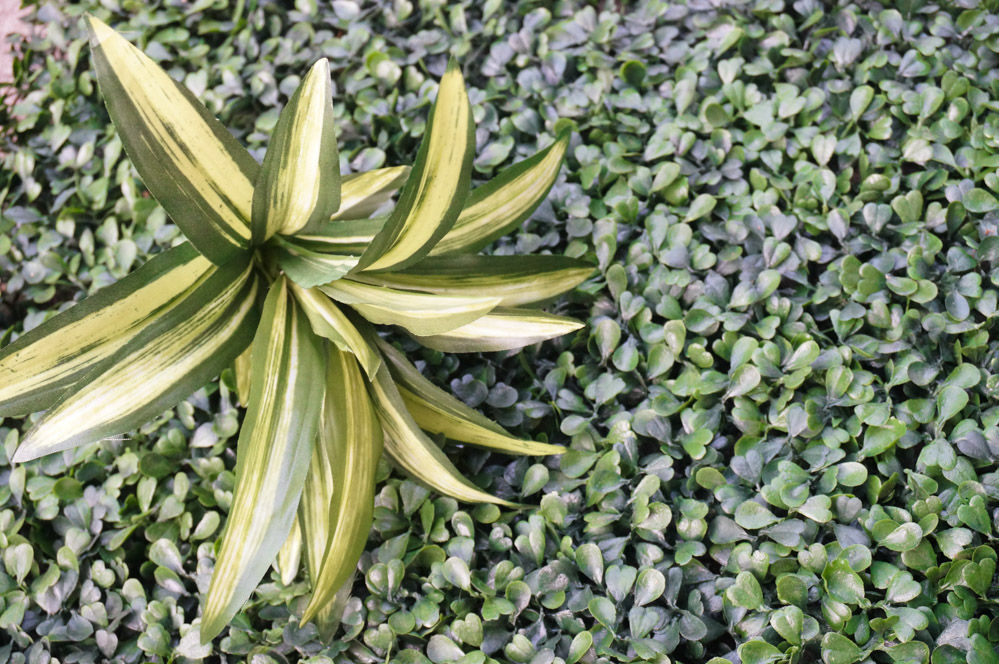 One final thought as you make your selections: consider faux plants that create a bit of drama. For example, a bundle of faux fern fronds can really pop when placed on a green backdrop.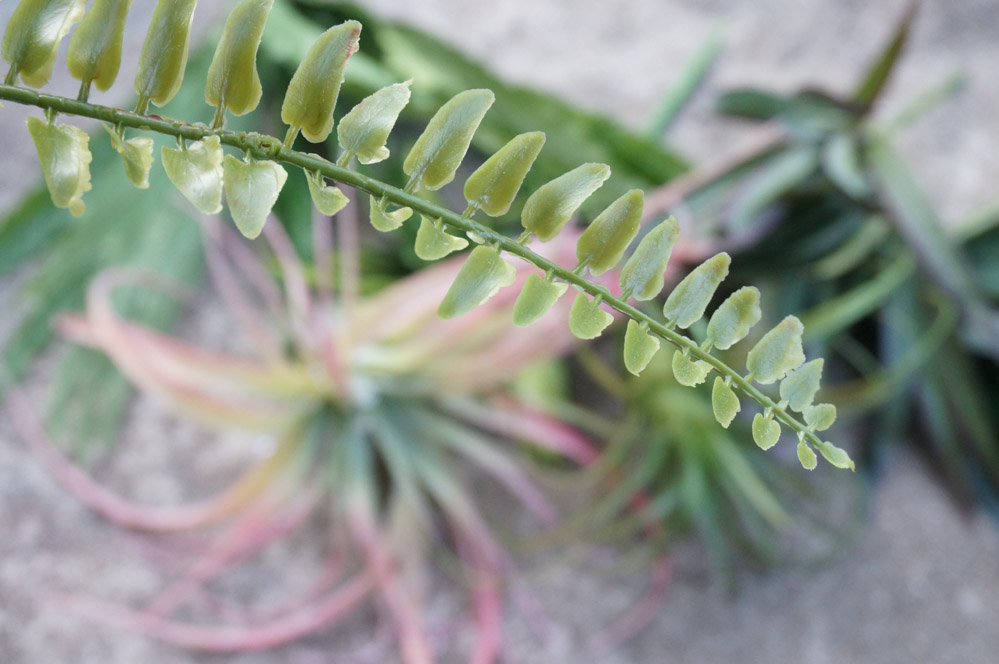 Creating Your Faux Living Wall
Ready to get started?! Here are your easy-to-follow steps:
1. Assemble your backdrop. Since you're using faux plant panels, this should be as easy as snapping a couple of them together. However, if you're cutting the panels to a smaller size or making other adjustments, you may need to wire a few together using pipe cleaners.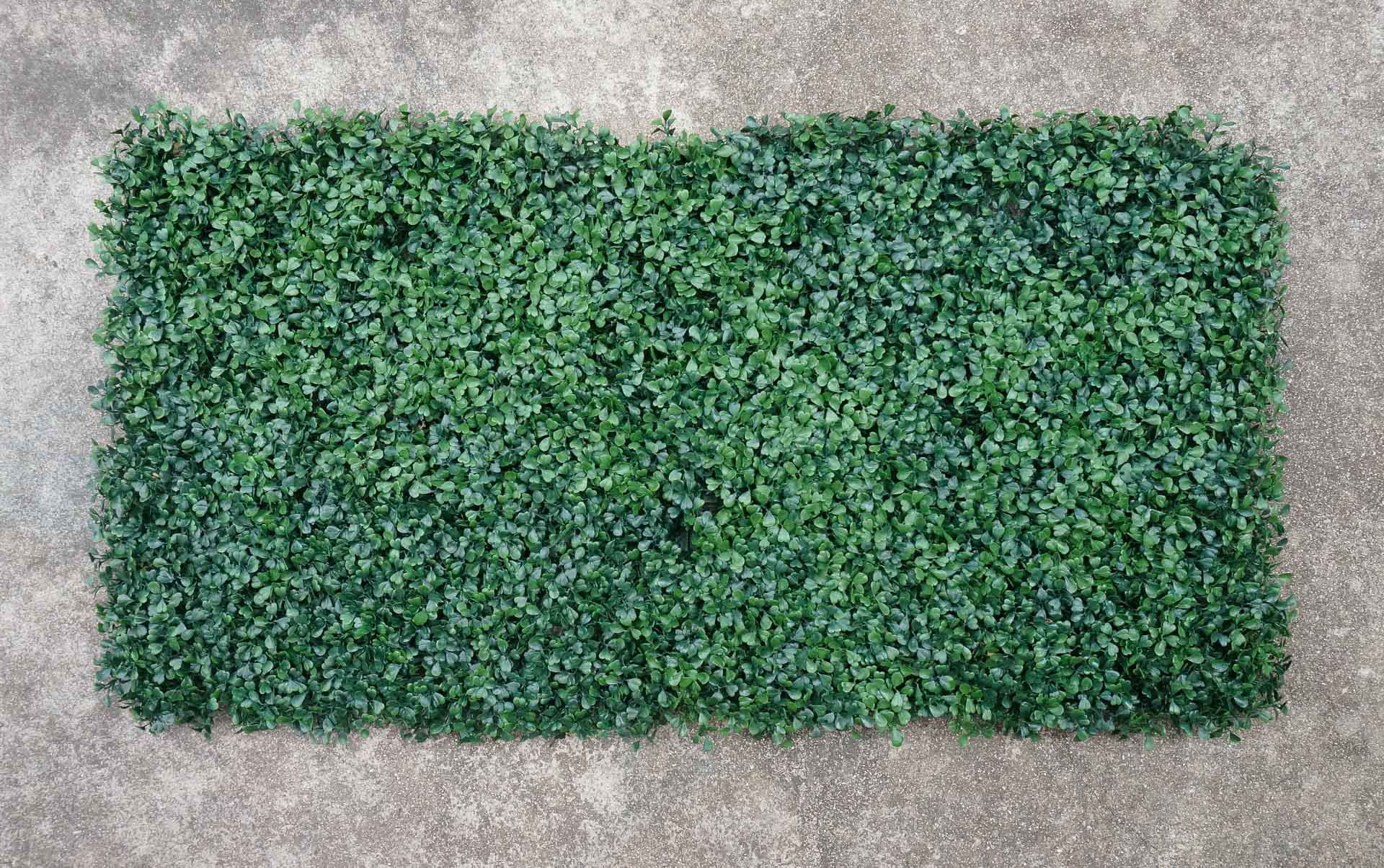 2. Begin placing faux plants onto the backdrop. We suggest setting your backdrop on the ground and trying out a few arrangements before permanently attaching anything. This will give you time to play with the design and find just the right composition.
Since you'll likely gave various shades of green, as well as other hues of your choice, make sure the light and dark tones are evenly distributed for maximum effect. Doesn't the boxwood backdrop below create the perfect canvas for the peachy, pink leaves of the faux air plant in the photo?: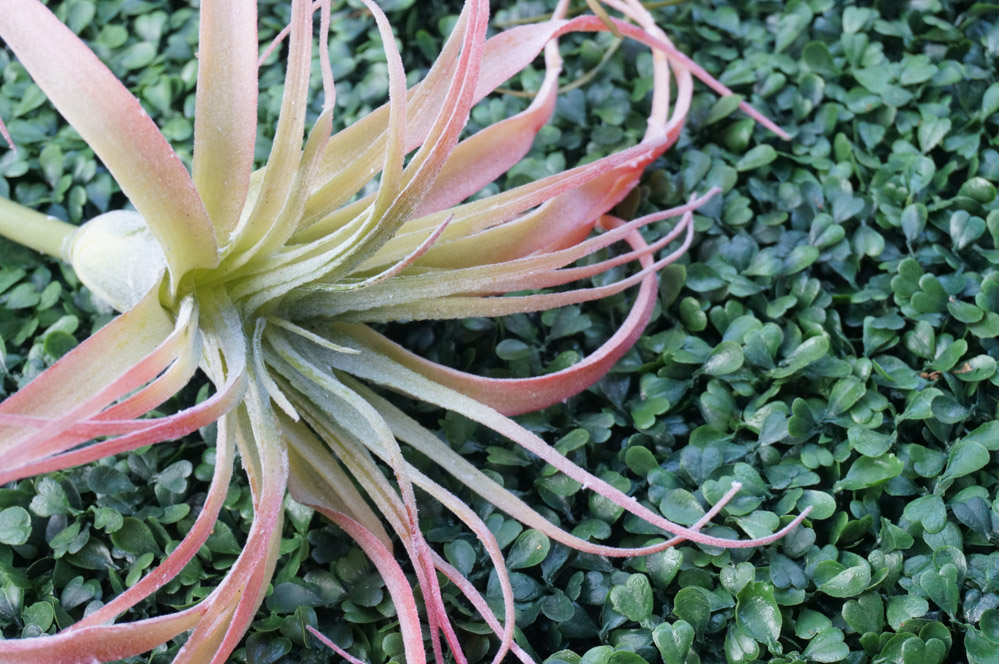 3. Use wire cutters to separate bunches of greenery when possible. Not only is it easier to attach greenery from smaller bunches, you'll also be able to maximize the greenery you have by splitting it up into smaller sections at times.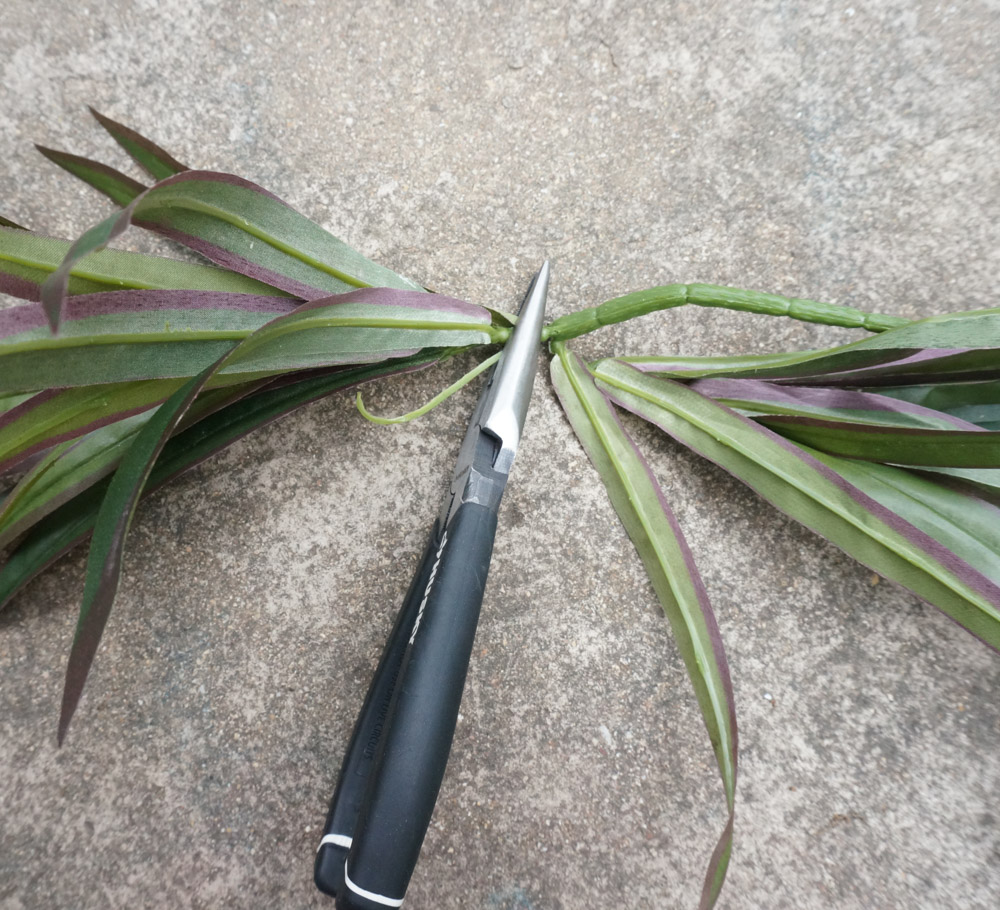 4. When you're happy with the layout, use pipe cleaners to firmly secure plants to the backdrop. You may not need to use pipe cleaners for every greenery selection. After all, some may have internal wires that easily bend, making it easy to attach the plant as is.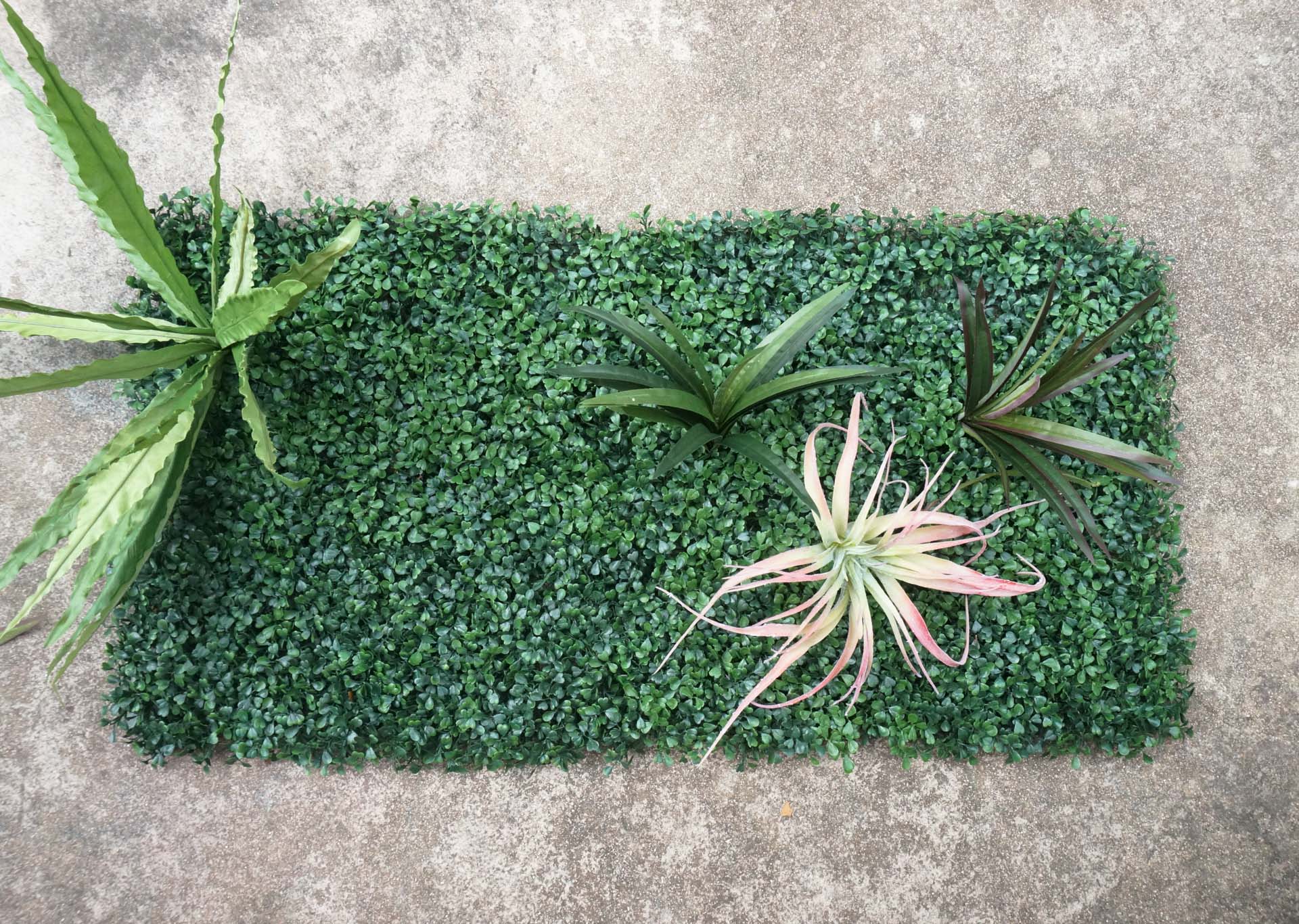 5. Continue adding faux greenery to any areas that need embellishing. Consider this the "icing on the cake" of your project! Have fun topping it off and creating a finished product that you absolutely love.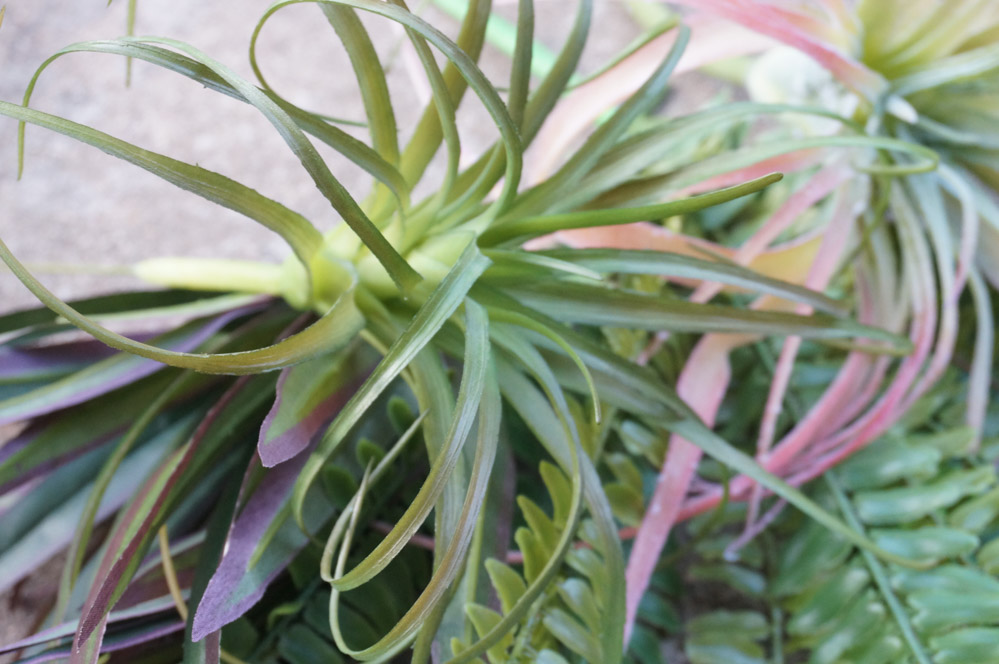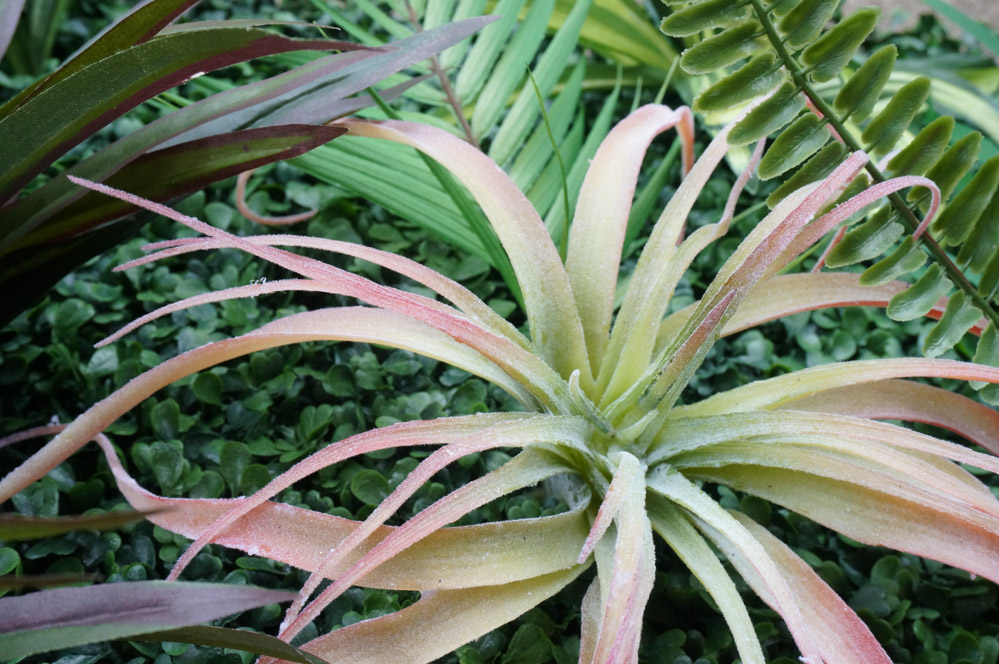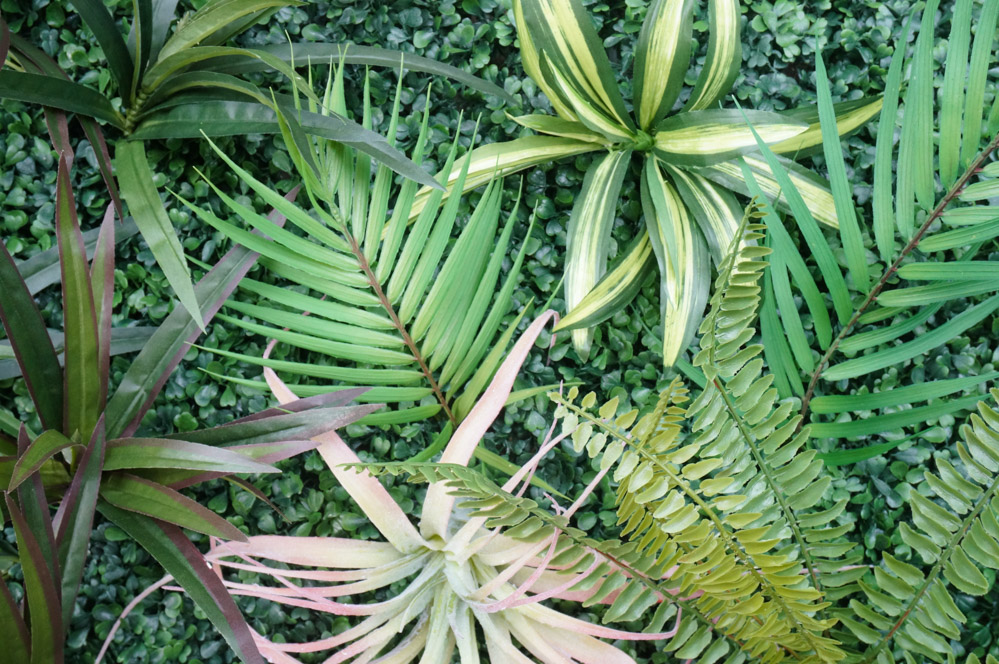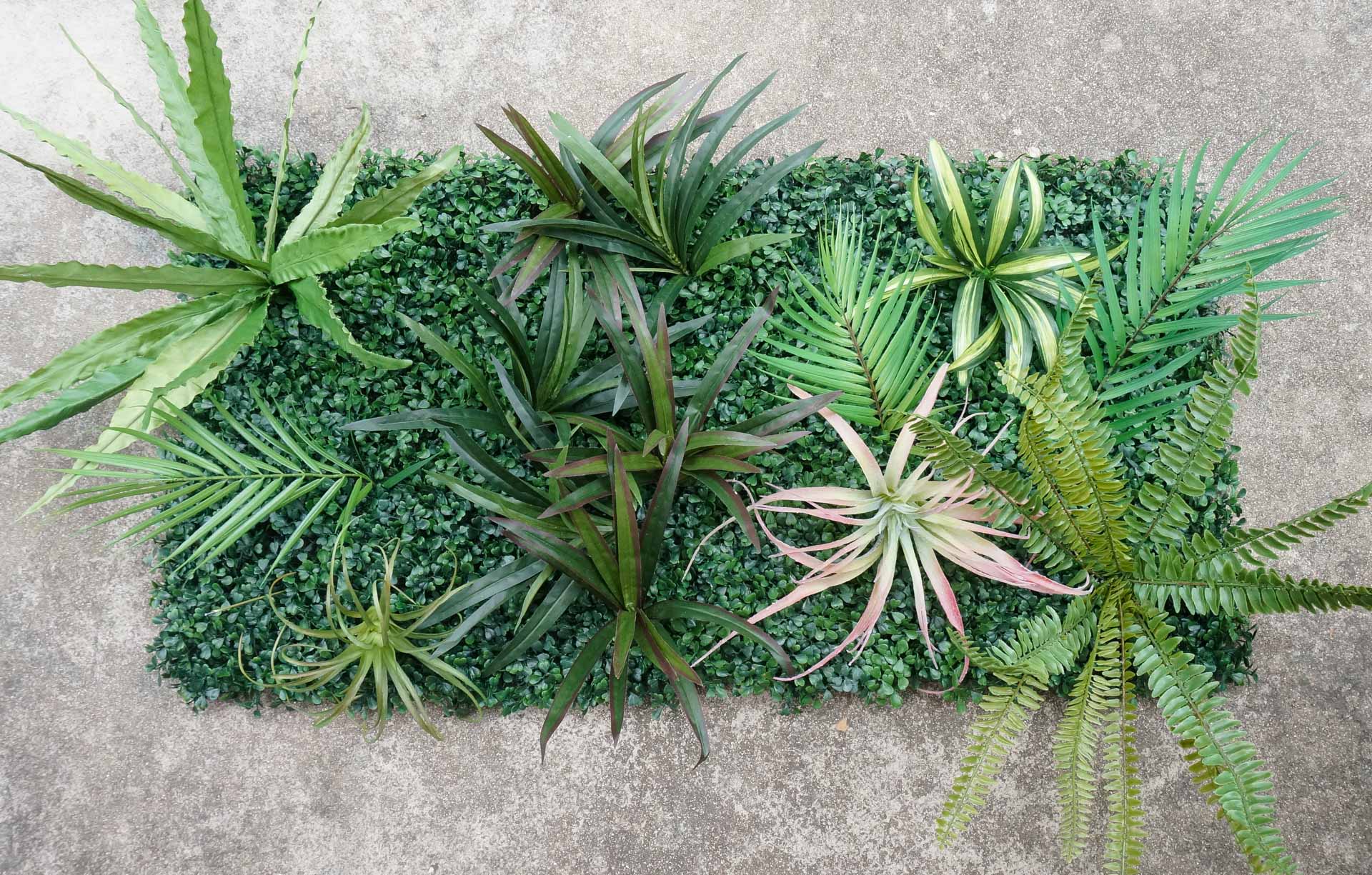 6. Display your living wall with pride! A hammer and a few nails can easily get the job done, especially if your living wall isn't too large. If you choose to hang the living wall outside, you may want to avoid placing it in direct sunlight (which may fade certain plant selections). Below we see the living wall on display in a modern dining room: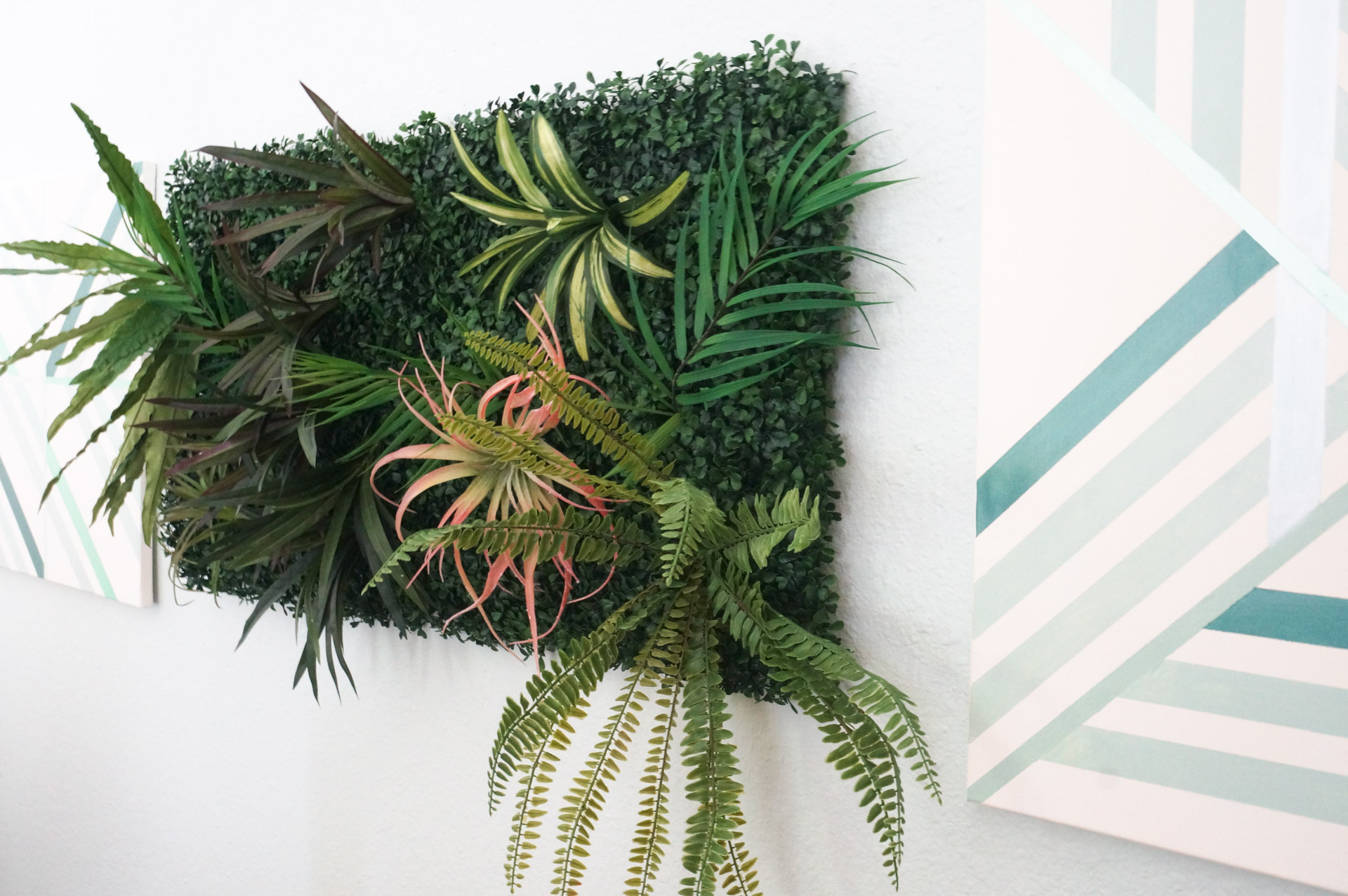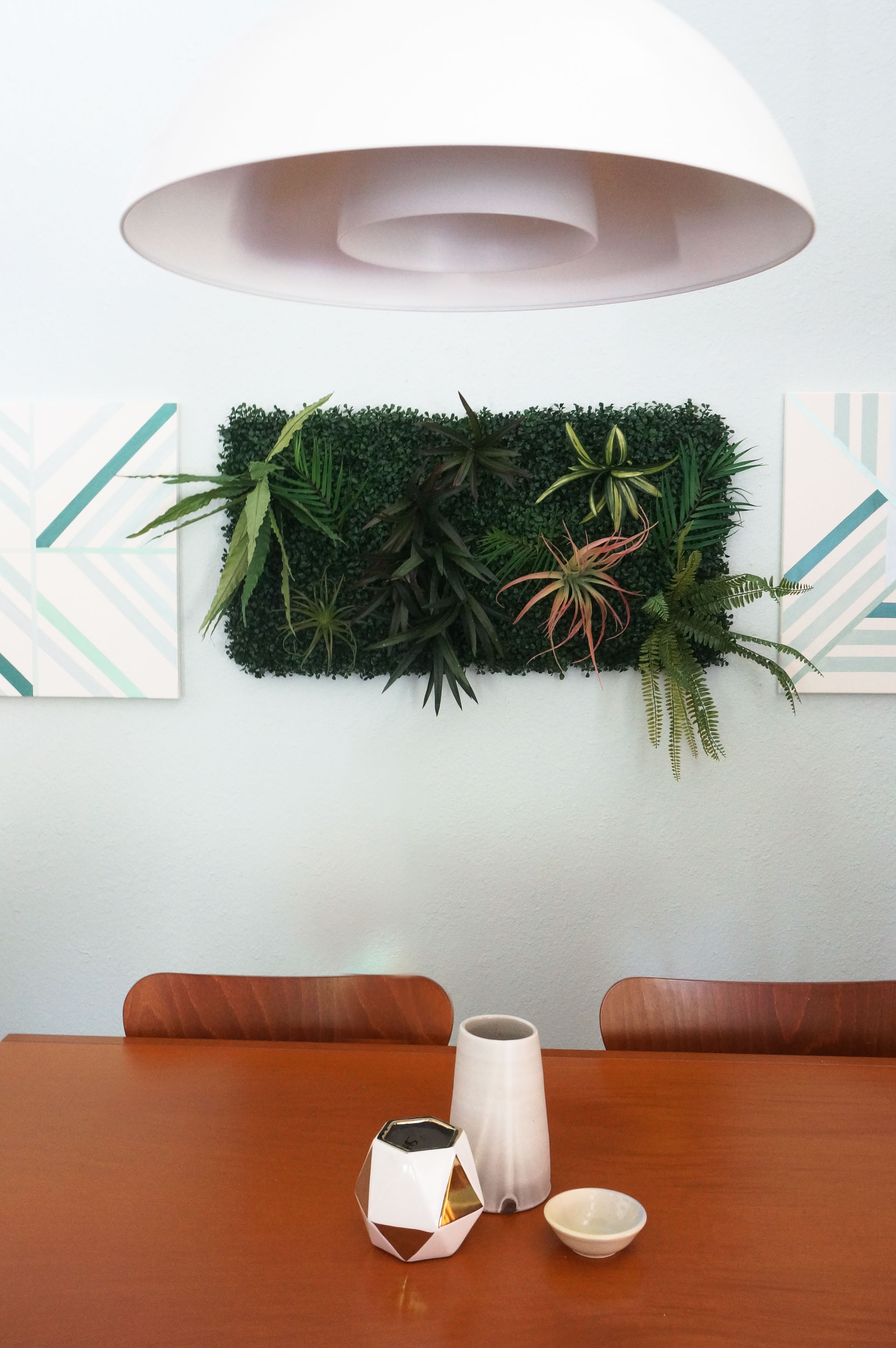 Don't you love a DIY project that's easy to create, budget-friendly, and "wow-factor" fabulous?! Happy crafting.